Autumn in most cities is a gorgeous time to visit, and Melbourne is no exception. As the leaves turn golden and red, the weather in Melbourne cools down and some incredible festivals and events pop up.
If you're thinking about visiting Melbourne in autumn, then here's everything you need to know and what to plan your visit around.
When is autumn in Melbourne?
The autumn months in Melbourne are March, April and May. During these months, temperatures in Melbourne ranges between 11 and 24 degrees (51 to 75 degrees Fahrenheit), but can often hit 28 degrees (82 Fahrenheit) in March.
March and April can see a bit of rain, but it usually only rains on a handful of days throughout both months.
Daylight saving time sadly ends on 2 April, which means we are back to seeing the sun set around 6pm.
For full details about all the seasons in Melbourne, you can read my guide to the best time to visit Melbourne.
Public and school holidays in autumn
In 2023, the autumn school holidays in Melbourne start on 7 April, and kids go back to school on 23 April. This coincides with the Easter break.
As for public holidays, we have four in Melbourne in autumn:
Labour Day – Monday 13 March
Good Friday – Friday 7 April
Easter Monday – Monday 10 April
ANZAC Day – Tuesday 25 April
Things to do in Melbourne in autumn
So, now you know what to expect of the weather in Melbourne in autumn, here are a few ideas for festivals, events, attractions and things to do in Melbourne during these beautiful months.
1. Watch the autumn leaves change colour
Autumn in Melbourne is a magical time to be in the city, as the leaves change from green to yellow, orange and red.
The best places to see autumn leaves in Melbourne are the Botanic Gardens, Carlton Gardens and Fitzroy Gardens.
Further out of the city, the Alfred Nicholas Memorial Gardens, George Tindale Memorial Gardens, Cranbourne Botanic Gardens (all in the city's eastern suburbs) and Seawinds Gardens at Arthurs Seat are all worth a day trip. Or head out to the Yarra Valley to see the vines going from green to gold – and check out some of the wineries while you're there.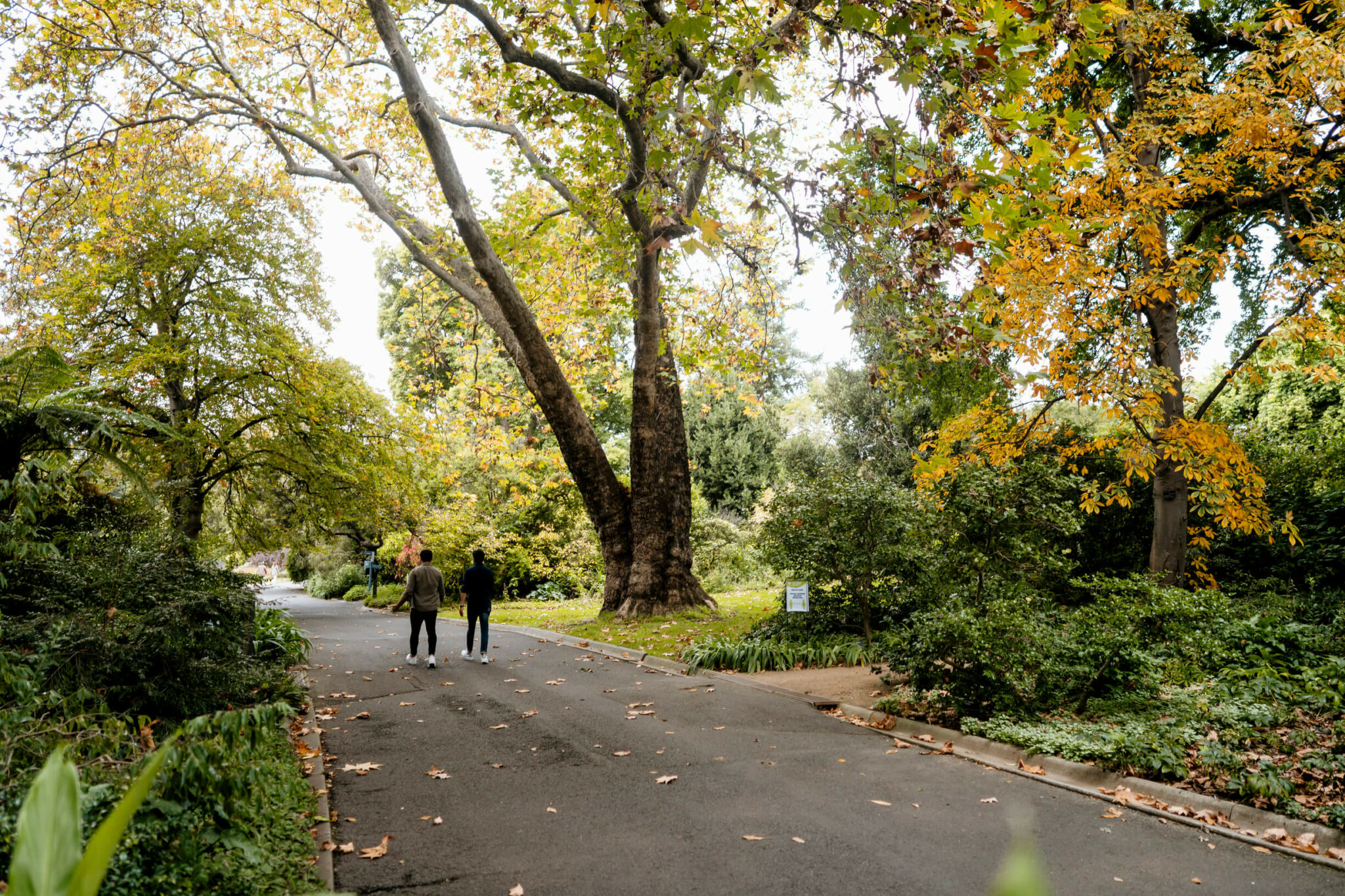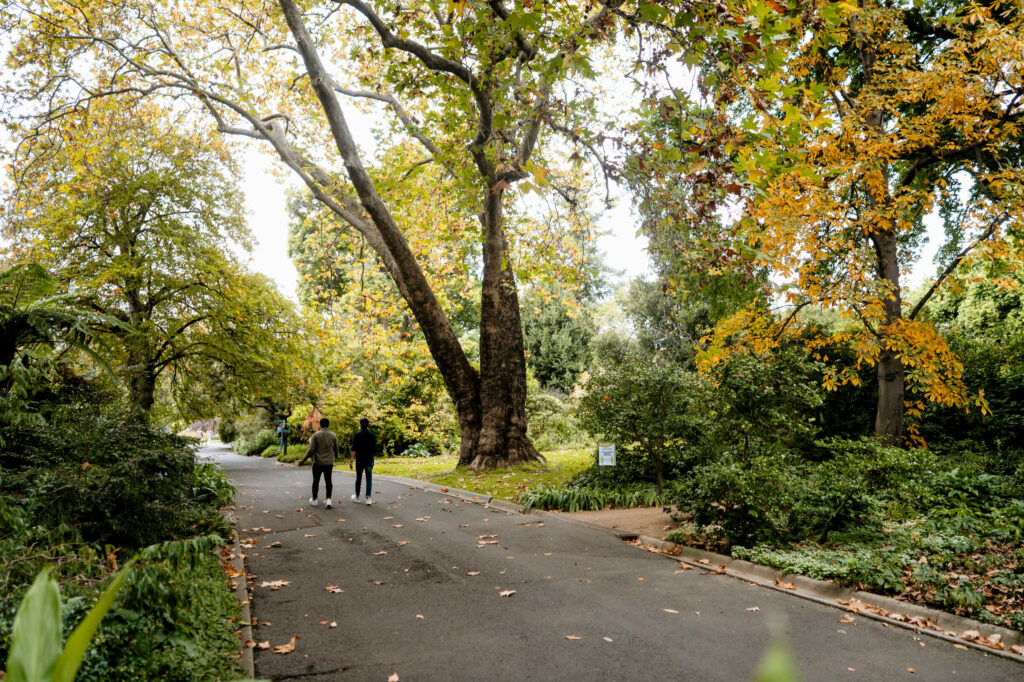 2. See amazing views of the city
One of Melbourne's most iconic buildings has opened a hidden part that hasn't been open to the public in 100 years.
The Royal Exhibition Building's recognisable Dome is now available to tour with a guide, with incredible views over Melbourne's skyline. The tour includes an overview of the history of the iconic building.
From up here you'll also have a spectacular view of all those autumn leaves colours.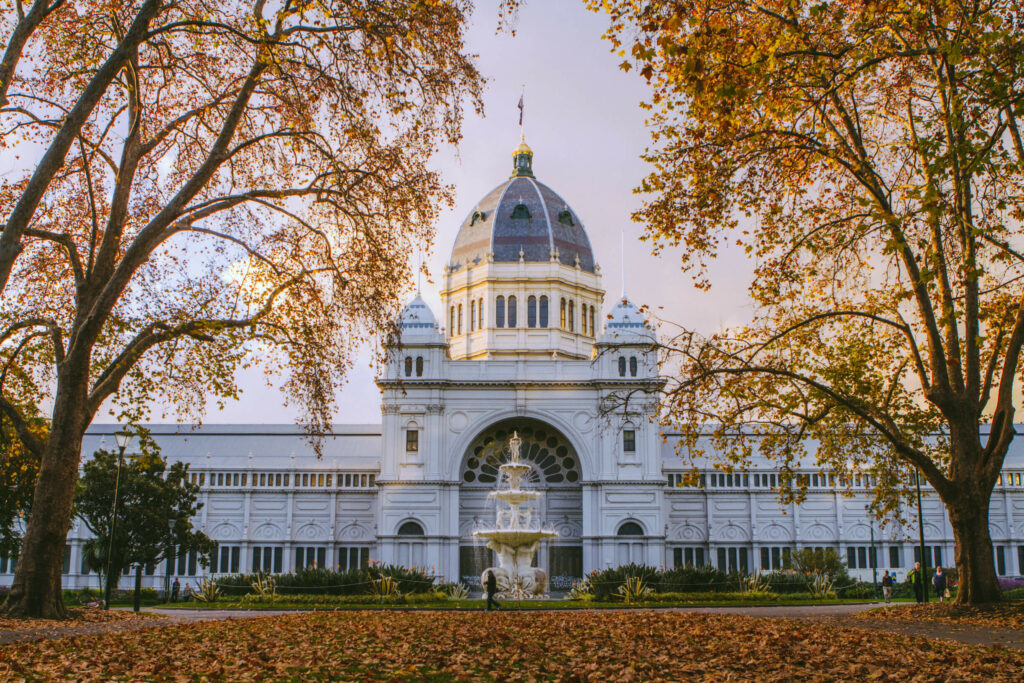 3. Melbourne Food and Wine Festival
Foodies rejoice! Melbourne's best-loved food and wine festival is back for another year, and you can guarantee that there'll be plenty of eating and drinking across the city.
More than 150 events will be held from 24 March to 2 April.
The festival's most famed events, the World's Longest Lunch and World's Longest Brunch, are back, and expected to bring together a combined 3,000 people.
Expert foodies will lead guests on Crawl and Bite tours to explore neighbourhoods including Collingwood, Balaclava and Fitzroy, while the Westside Wanders introduce visitors to an array of food in parts of the city they may never have been before.
Check out the program and book tickets online.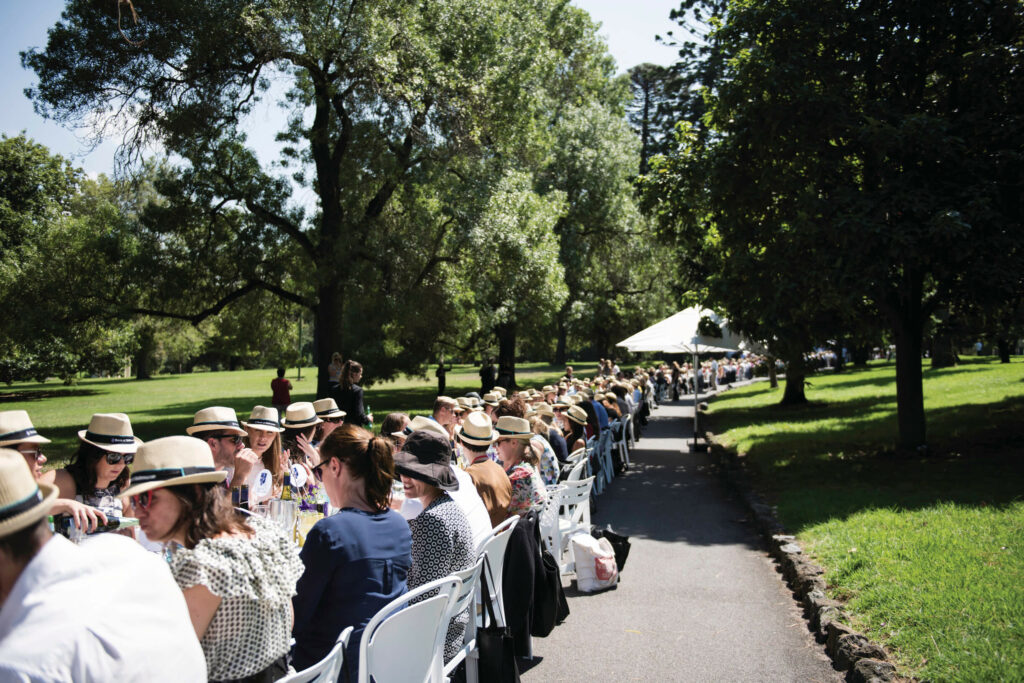 4. Check out the blooms at the Fitzroy Gardens Conservatory
Flower lovers will enjoy whiling away a few hours at the Fitzroy Gardens Conservatory. This stunning Melbourne tourist attraction is housed in a building in the style of a Spanish mission.
With five displays each year, the space is filled with the sight – and smell – of stunning flowers meticulously cared for and displayed. In the autumn months this year, you'll be able to see two different displays: Tuberous Begonia / Gloxinia (March and April) and Tropical / Poinsettia (May). I don't have a green thumb, so I had to look these flowers up online and they are all so colourful and bright!
The Conservatory is open daily from 9am to 5pm. There will be one closure in autumn in Melbourne as the display is changed from 3-7 April.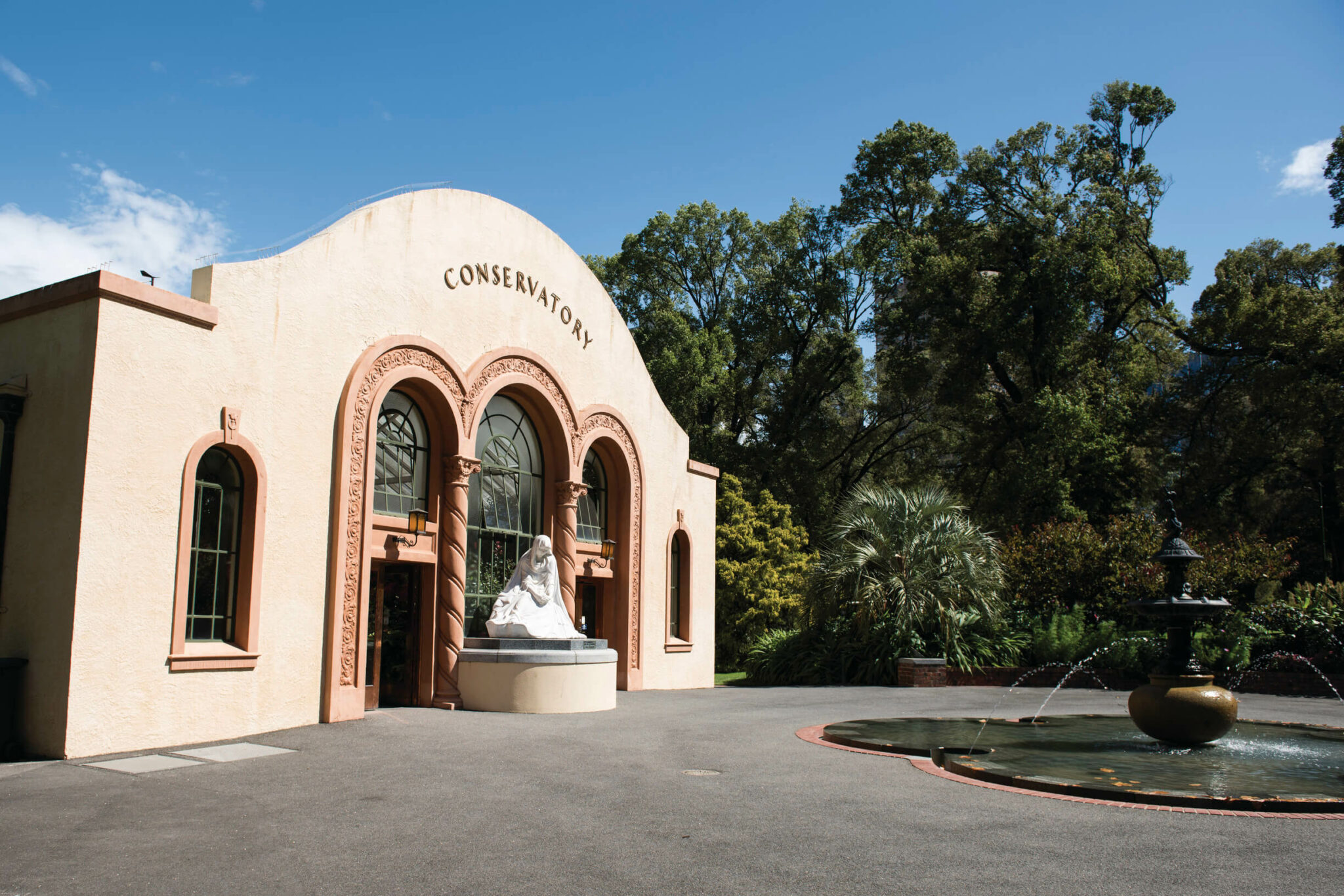 5. Enjoy family fun at Moomba
Set on the banks of the Yarra River, Moomba is Australia's largest community festival. Over the Labour Day weekend, there'll be a street parade, fireworks, water sports and live performances, along with plenty of food.
The famous Birdman Rally sees courageous competitors hurtle themselves over the Yarra in the name of supporting various charities, while face-painting, drumming workshops and silent discos make it fun for the whole family.
Entry is free, with events at both Alexandra Gardens and Birrarung Marr from 9-13 March. Check the website for the full program.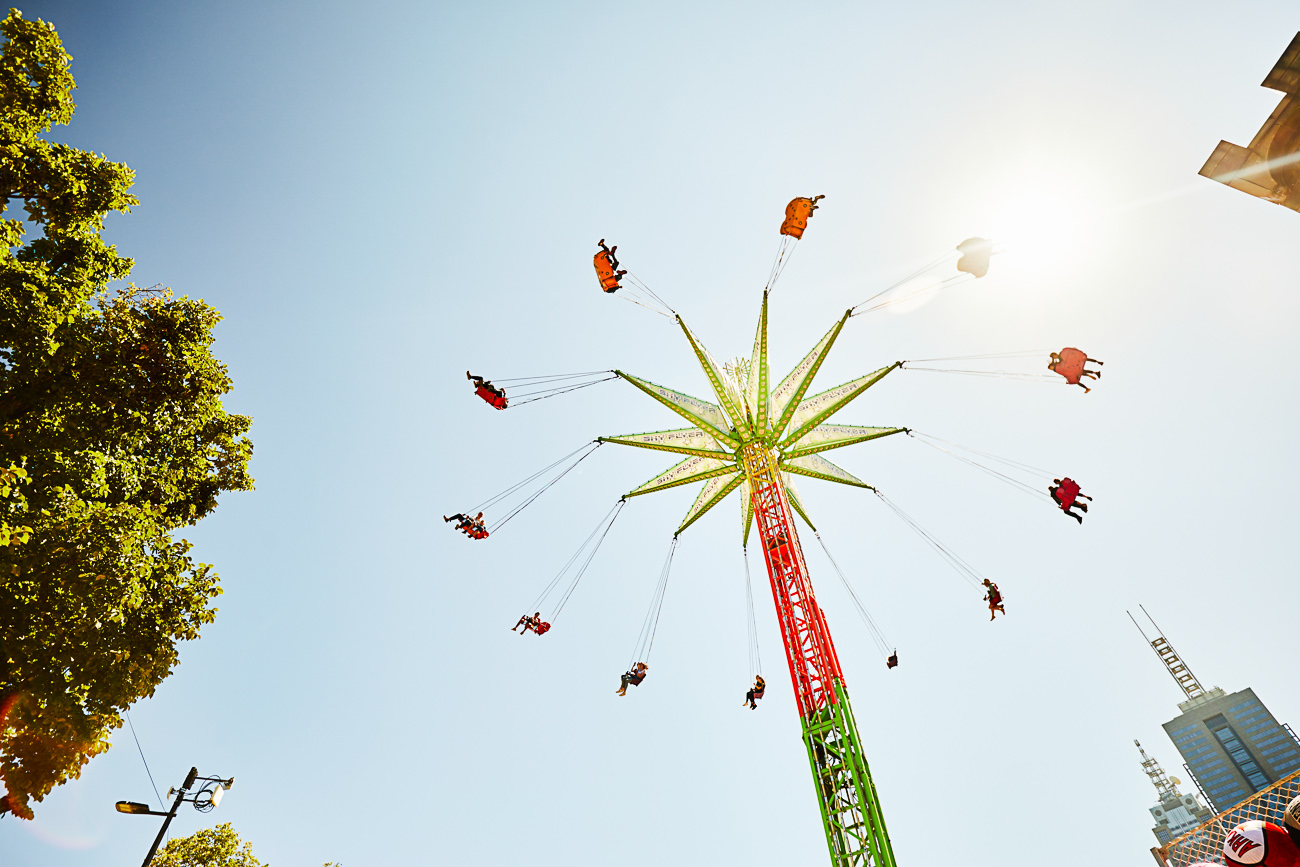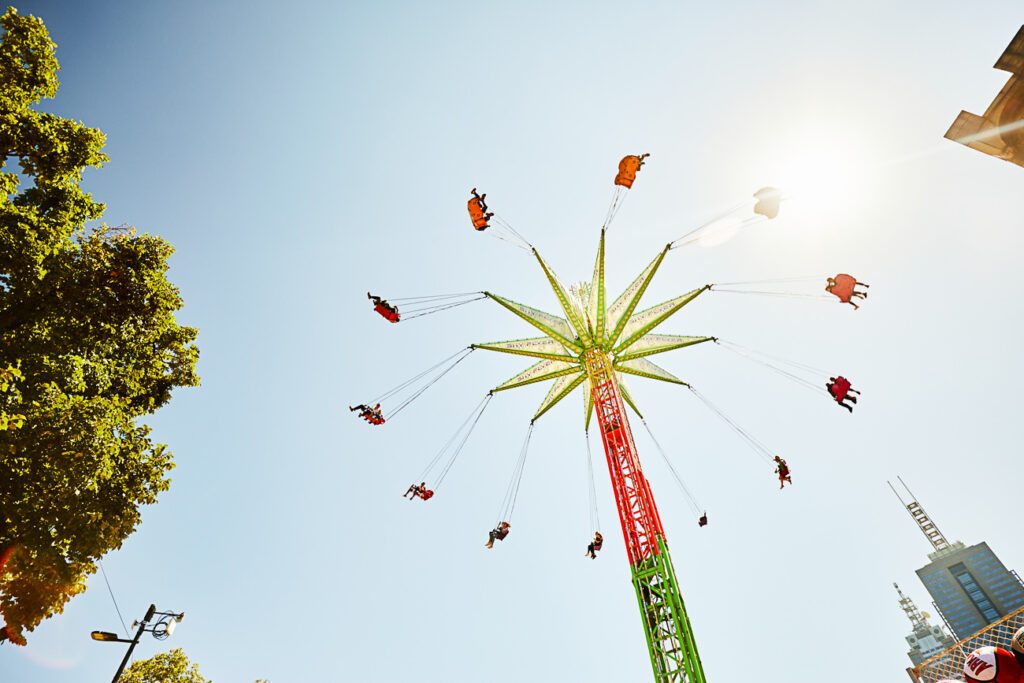 6. See a gig at Live at the Bowl
Melbourne's a music-filled city, and continuing into autumn you can find free and ticketed concerts at the famous Sidney Myer Music Bowl.
Major acts performing throughout autumn include Lorde, Bon Iver, King Stingray and Fatboy Slim.
For the full program and to buy tickets, visit the Arts Centre website.
7. Laugh yourself silly at the Melbourne International Comedy Festival
Australia's biggest and best comedy festival returns, with laughs aplenty. The festival runs from 29 March to 23 April at venues across the city.
Acts include international and Australian performers such as Arj Barker, Dylan Moran, Dave O'Neil and Claire Hooper.
Buy tickets online.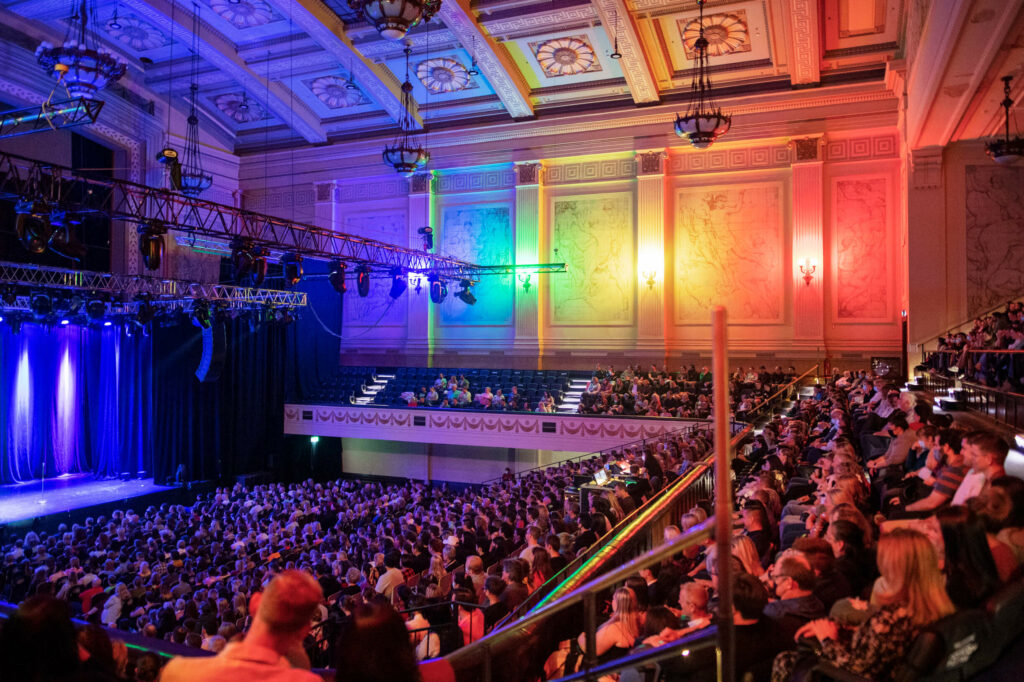 8. See the works of one of the world's most influential fashion designers
The stunning designs of Alexander McQueen are on display at the NGV until 16 April.
Wander through more than 120 garments and accessories at the Alexander McQueen: Mind, Mythos, Muse exhibit, which showcases the works of one of the world's most influential and innovative fashion designers.
Drawn from the collections of the National Gallery of Victoria and the Los Angeles County Museum of Art, you'll get an insight into McQueen's creative processes.
9. Feel the thunder at the Formula 1 Australian Grand Prix
There's no sound quite like the roar of Formula 1 cars racing around a track. It's a sound that you can actually feel reverberating through your body.
I was lucky enough to get invited to the Formula 1 Australian Grand Prix last year and unexpectedly had such a great time!
Over four days there are plenty of events and activities to keep rev-heads interested – from Supercars to exotic and classic cars demonstrations and of course the Grand Prix on 2 April.
Then there are all the events off-track, with performances from the likes of King Stingray and Sneaky Sound System, to the chance to see your favourite driver on the Melbourne Walk.
If you're lucky enough to nab a ticket to the hospitality spaces, expect to hob knob with celebs while sipping Champagne and nibbling on snacks.
Even if you're not a racing fan, it's a really fun few days!
10. Groove at Bluesfest
No need to go to Byron Bay – Bluesfest is coming to Melbourne for the very first time!
Over the Easter weekend, the Melbourne Melbourne Convention and Exhibition Centre will host performances from international superstars and the cream of Australian talent including Ash Grunwald, Xavier Rudd, Buddy Guy, Keb Mo', Paolo Nutini, Robert Glasper, Steve Earle and many, many more.
Tickets are available online.
11. Commemorate Anzac Day
On 25 April every year, we remember those who fought and sacrificed their lives for Australia and New Zealand in wars across the world.
Join the moving dawn ceremony at the Shrine of Remembrance and pay your respects.
12. See trail-blazing screen goddesses at ACMI
Marilyn Monroe. Geena Davis. Halle Berry. Margot Robbie. Michelle Yeoh.
These – and more – screen goddesses are recognised in a new exhibition at ACMI, Goddess: Power, Glamour, Rebellion. The exhibit celebrates the women who shaped their own roles, took creative control and fought a system that tried to exploit them.
Costumes, sketches and other cinematic treasures are on display in a celebration of girl power at its finest.
The exhibition launches on 5 April. Register for updates and book tickets online.
13. Have a brew at one of two beer festivals (or both!)
Beer fans have the chance to sip brews from dozens of local and international craft brewers in May.
First up is the Great Australasian Beer Spectapular (GABS), your chance to try beers you'll never taste anywhere else. Tim Tam beer? Yes. What about a Dunkin Donuts-inspired beer, or something that reminds you of red frogs? They've got that too. As well as more than 120 beers, there'll be a tonne of entertainment activities. More info on the GABS website.
Good Beer Week is a week-long festival that kicks off on 20 May. Presented by the Independent Brewers Association, it's the biggest single platform for brewers and beer businesses to showcase their products to a broad audience. Check out the website for more information.
14. Learn from the best at the Melbourne Writers Festival
Each year, the Melbourne Writers Festival brings together dozens of writers, authors and poets to explore literature and big ideas.
It's the chance to hear from some of your favourite – and many provocative – authors in person.
Events take place across the city from 4-7 May. The program is online and jam-packed with thought-provoking and entertaining events.
15. Explore ancient landscapes at the Melbourne Museum
Gondwana – the huge supercontinent that formed a mere 500 million years ago and connected Australia to much of the Southern Hemisphere – is brought to life in a new exhibition at Melbourne Museum.
The continent broke apart into the continents we know today, and in the Gandel Gondwana Garden exhibition you can step back in time to explore Victoria's ancient landscapes and learn about creatures that once walked this land, from dinosaurs and megafauna to giant prehistoric kangaroos.
Touch replicas of the bones, teeth and claws of ancient creatures, and learn about First Peoples' knowledge that has been passed through thousands of generations.
The exhibit opens 3 March, and entry is included in the ticket price for Melbourne Museum. Tickets can be purchased online.
16. Have a picnic while the weather is still nice
Barring those few rainy days, the weather is still ideal for a picnic in one of Melbourne's gorgeous parks and gardens.
So gather up some cheeses and meats, a few sandwiches and maybe even a bottle of bubbles, and lay out a blanket on the lawns at the Royal Botanic Gardens or the Fitzroy Gardens.
Even better – solve a few clues and gather your picnic goodies on a Mystery Picnic. You'll end up with a basket of gourmet goodness to enjoy in a mystery location. You can do the mystery picnics with a significant other, your family or a group of friends. Read my full Mystery Picnic Melbourne review to learn more about what to expect.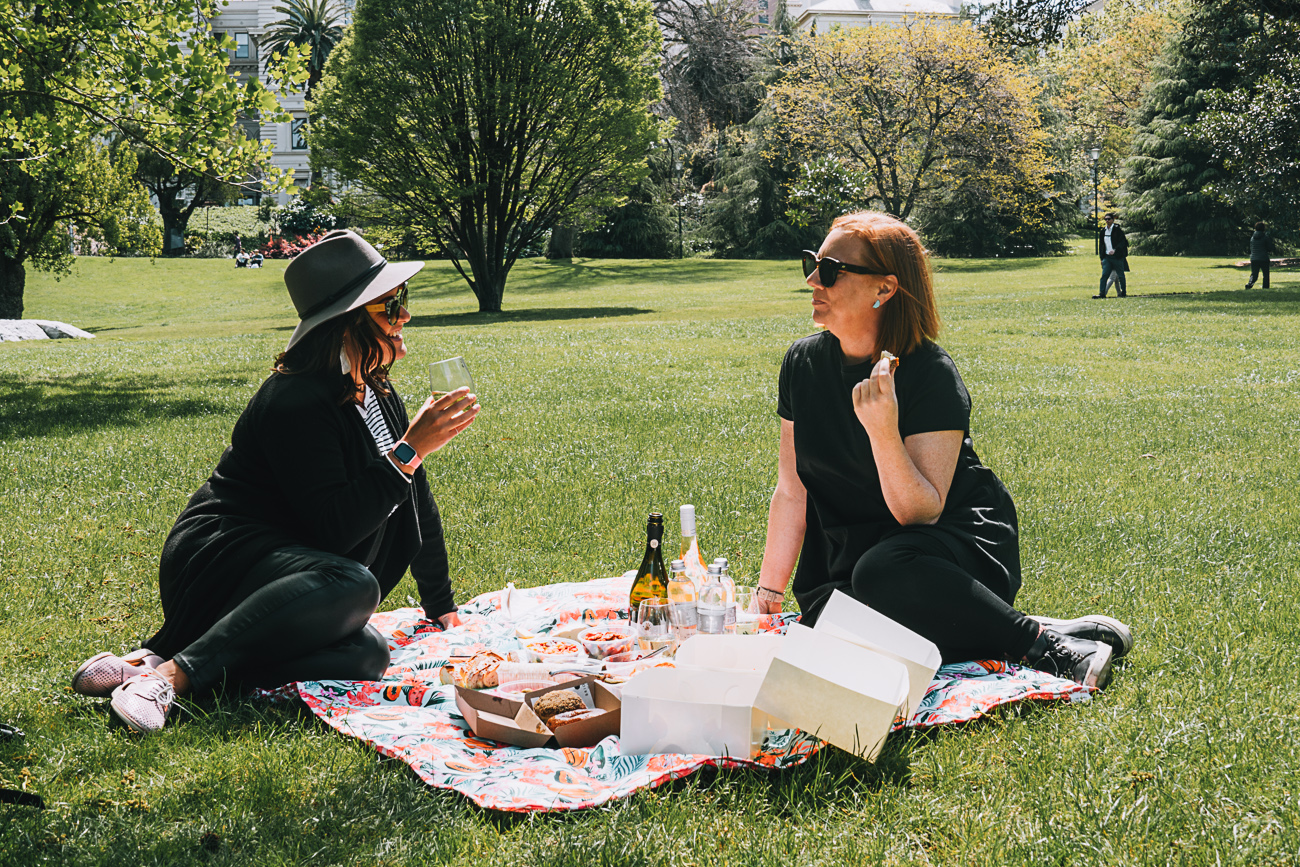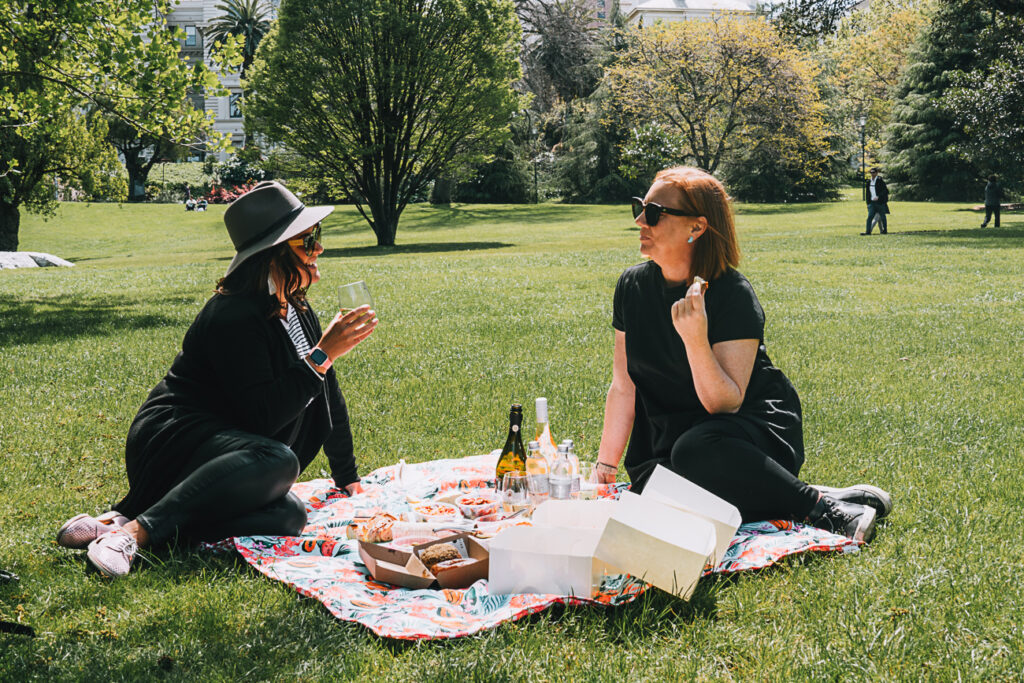 17. Check out the NGV
The NGV is Melbourne's largest museum, and this autumn you can catch Temple of Boom.
Created by Adam Newman and Kelvin Tsang, it is an "evocative reimagining of The Parthenon on the Acropolis in Athens" and just looks plain cool!
More information can be found on the NGV website.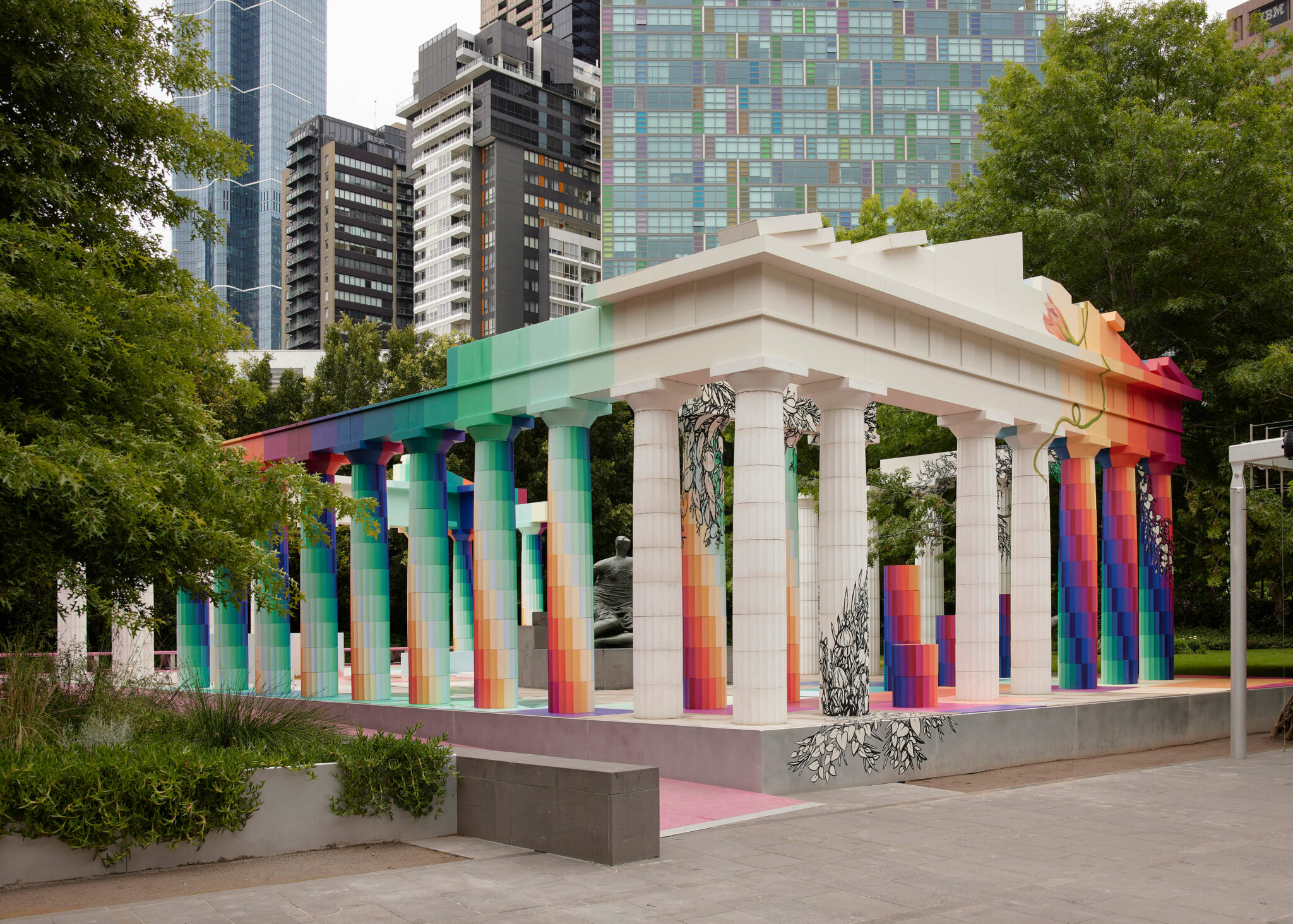 18. Be amazed by The Lume
The Lume is one of Melbourne's most spectacular exhibitions.
Instead of simply looking at art on walls, at The Lume you're actually immersed in the art. The digital gallery is enhanced with sound and aromas, creating a true sensory experience.
The current exhibition, Monet & Friends, immerses visitors in French Impressionism. I haven't seen this one yet, but I did see the first exhibition, Van Gogh, and it was stunning.
Sessions run daily, from 10am on weekdays and from 9am on weekends, with prices starting at $39 for adults. Tickets are available online from Ticketmaster. Book online here.
19. See street art in an abandoned ballroom
If you've never been in Flinders Street Station's abandoned upstairs wing, now's your chance. Melbourne street artist Rone has brought his incredible art to the Flinders Street Station Ballroom.
In "Time", eleven installations will transport visitors to post-World War II Melbourne. Each features Rone's distinctive murals and incredible set designs in a fully immersive scene.
Book tickets online – but do so quickly, as so many dates have already sold out! The exhibition closes 23 April.
20. Head to the theatre
Melbourne is known for attracting blockbuster theatre performances, and this autumn in Melbourne we have some great shows underway, including:
21. Catch a footy match
Footy fans rejoice as the AFL returns. Will your team make the final this year? Or will they slump to the bottom of the ladder?
Going to a footy match is a must-do when you're in Melbourne. Even if you don't really like the footy, you'll still have a fun time. Between the fatty foods, the beer, and the happy (depending on how your team's going) and excited atmosphere, you'll find yourself shouting for your favourite team before you know it.
For the best experience, try to get tickets for a game at the MCG, the biggest stadium in the southern hemisphere.
Check out the AFL website for ticket information.
22. Tour Robin Boyd's family home
Robin Boyd was one of Australia's foremost architects, and you can tour the iconic home at 290 Walsh Street that Boyd designed for his family in 1957.
A guided tour of the residence will give you insight into Robin Boyd's family background, influences, the design of the house, his critical works and lasting legacy.
There are a limited number of tours in March, so book quickly to get a spot.
23. Explore the city on foot
Now that the weather's cooled down, it's time to pound the pavement and see the city without sweating too much. Check out Melbourne's famous laneways and arcades, or catch a street artist in action.
There are several walking tours that cover history, art and culture. I list quite a few (both free and paid tours) in my guide to the best Melbourne tours.
Otherwise, Melbourne is such a walkable city, you can easily while away a few hours on a self-guided tour of the city highlights.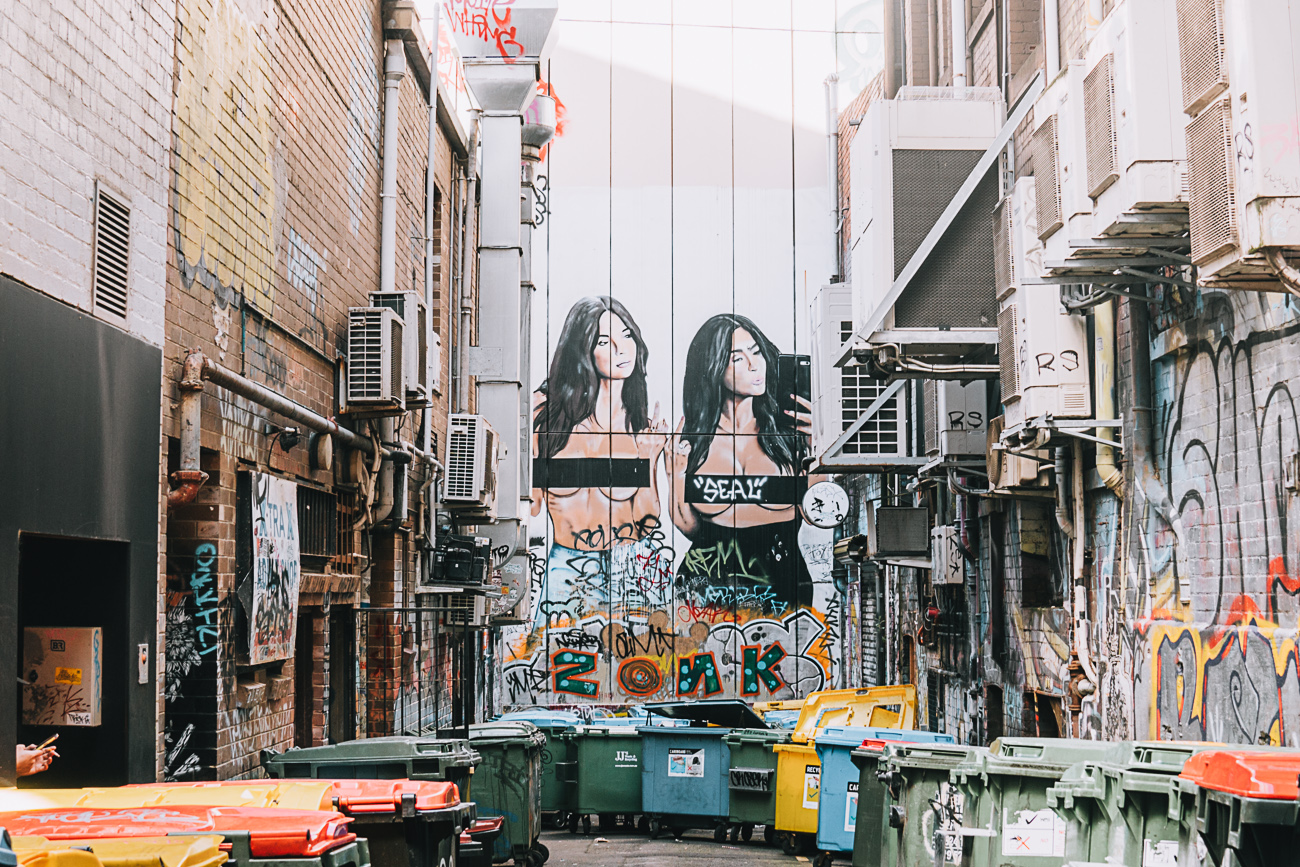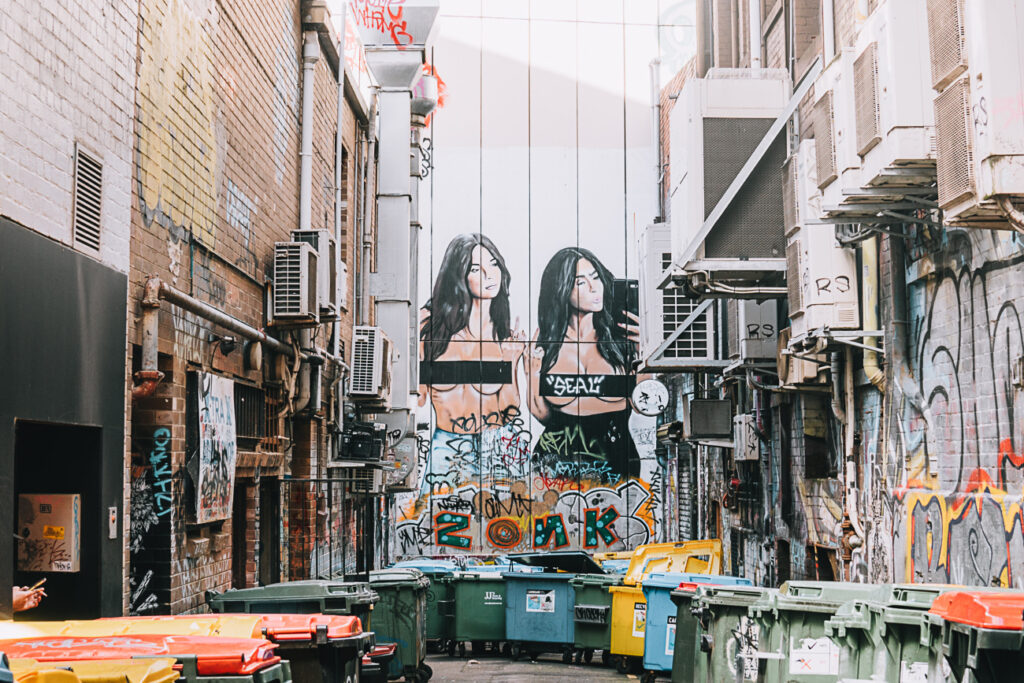 24. See the finest fashion
The Melbourne Fashion Festival returns in early March, with runway shows featuring Australia's best designers, along with exhibitions, film screenings, shopping events and live entertainment.
If you like to get your hands dirty, try one of the workshops: make your own bucket hat, craft your own ring or learn how to up-cycle and repurpose used garments.
Listen to fashion experts discuss the latest trends in the industry, including topics on innovating for the future of fashion, sustainability and the ever-topical Oscars fashion.
Find the full program online. The Melbourne Fashion Festival runs from 3-11 March.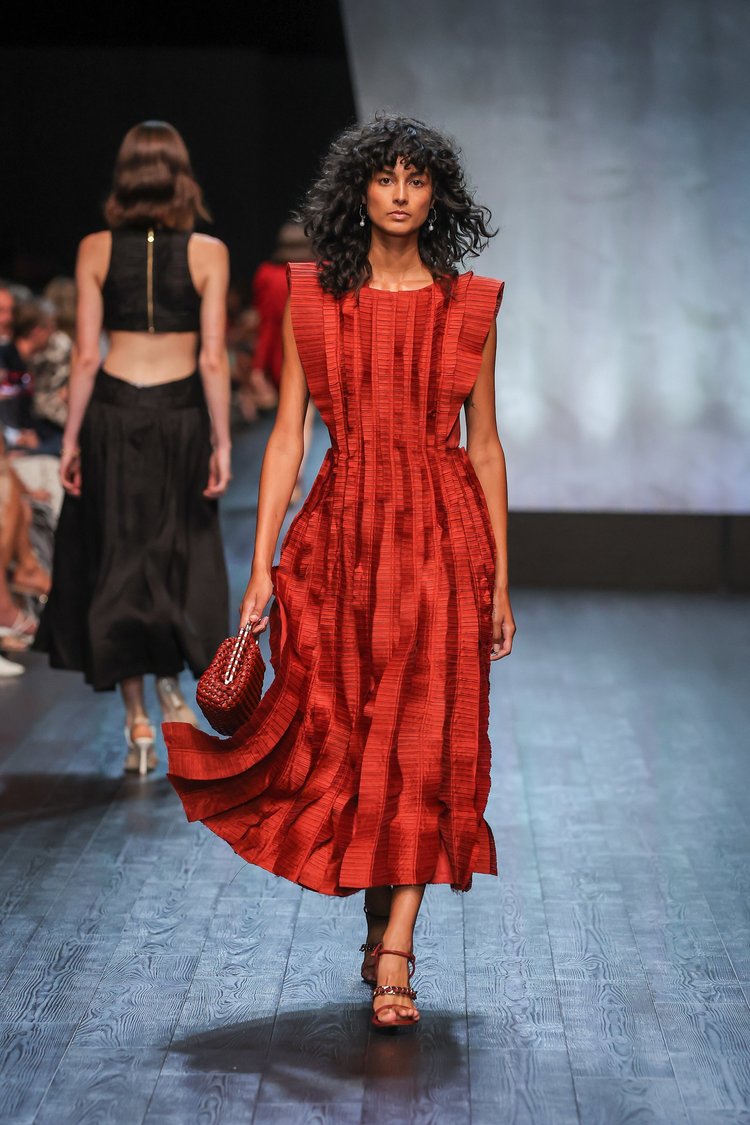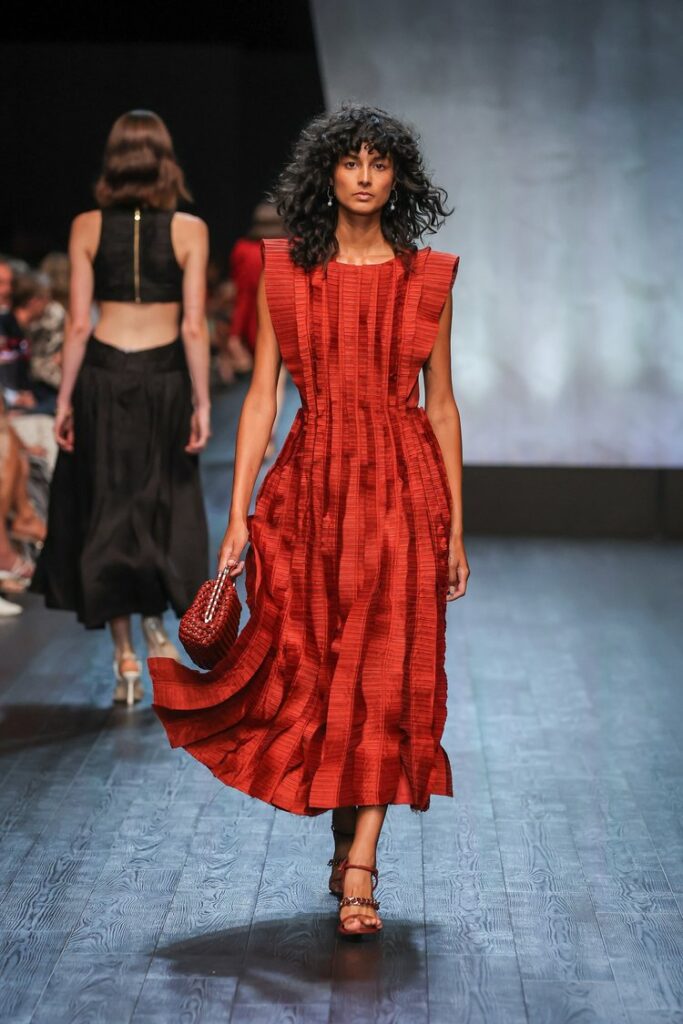 25. Explore beautiful gardens at the Melbourne International Flower and Garden Show
The Melbourne International Flower and Garden Show brings together the best landscape and floral talent from Australia and around the world.
Be amazed as the Royal Exhibition Building is transformed into the Great Hall of Flowers or get some inspiration from the Landscape Design Show Gardens.
Don't forget to pick up a few flowers and plants to take home for your own garden!
Tickets start from $33 – you'll save money if you buy your ticket online in advance rather than at the gate. The event runs from 29 March to 2 April.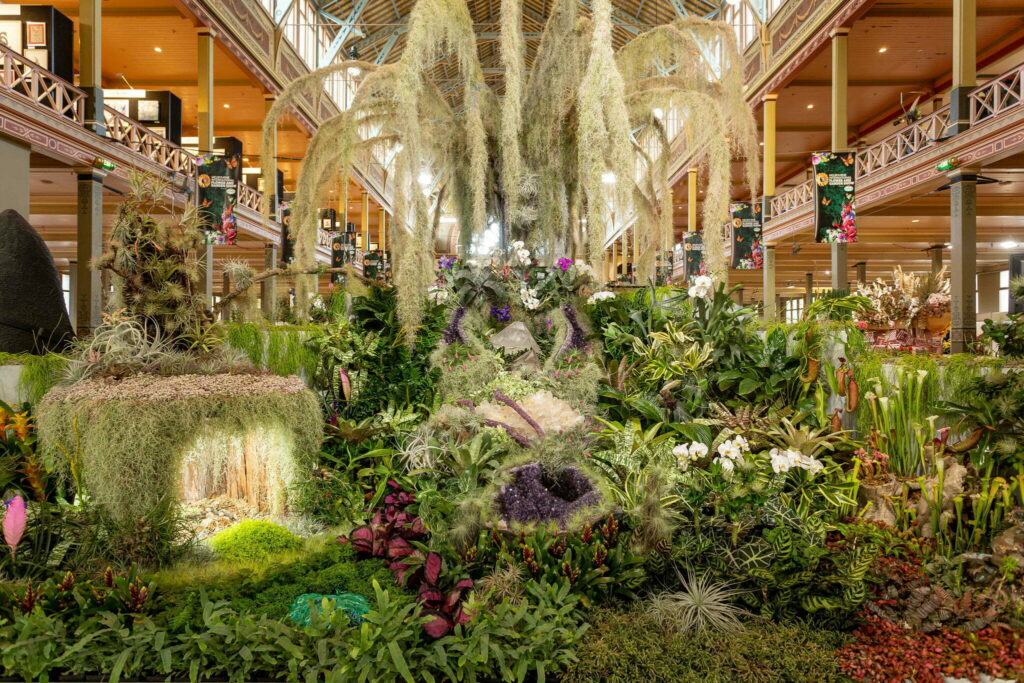 26. Celebrate First Nations creative talent at YIRRAMBOI
The YIRRAMBOI Festival is back over 10 days in 2023, bringing together First Nations creatives.
From 4-14 May, enjoy this feast of Indigenous music, song, dance, drag, comedy, fashion, film and workshops. There will be more than 300 creatives across 170 shows at 40 Naarm (Melbourne) venues.
This year's festival will centre around a dedicated event hub, The Uncle Jack Charles Festival Hub, named in tribute to the late Aboriginal actor, activist and Elder. 
Check out the full program online.
Final thoughts on Melbourne in autumn
As always, there's so many things to do in Melbourne this autumn. With fantastic events and festivals, exhibitions and music, autumn is a great time to visit Melbourne.
PIN IT FOR LATER: