So, you've got your heart set on a trip to Australia's capital of culture but you're not quite sure when to visit? The best time to visit Melbourne all depends on what you want to do, what type of weather you love and how much (or how little) you're into crowds.
In this article, I'm breaking it all down for you, season by season, month by month. Having lived in Melbourne for half my life, I'm very familiar with Melbourne's seasons – and have lots of advice about when to visit.
Regardless of when you decide to visit Melbourne, this is one lively city with so much to do – I can guarantee you'll never get bored here. Check out my Melbourne bucket list and you'll see what I mean!
This blog post may contain affiliate links, meaning if you book or buy something through one of these links, I may earn a small commission (at no extra cost to you).
Best time to visit Melbourne
The best time to visit Melbourne is springtime (September – November). Temperatures are mild and pleasant. It's the shoulder season, so prices are generally more affordable, and crowds are fewer. The city comes alive with festivals and events, so you won't be short of things to do.
But the great thing about Melbourne is that it's a year-round destination because of our amazing events calendar. Every week in this city there's something happening – as you'll see when you keep reading.
Best time for good weather: November to April
Best time to avoid the crowds and save money: Any time there are no school holidays – particularly avoid the summer holidays, which is peak travel season
Best time for the beach: January and February
Best time for festivals and events: Year-round! Read on for a list of the best events throughout the year
But beware: no matter what time of year you visit Melbourne, our reputation for having "four seasons in one day" is indeed true!
Even in the middle of summer you need to come prepared for unexpected Melbourne weather: blistering heat followed by a rain shower and then a possible drop of 10 degrees. Yep, it happens regularly. If it does rain during your visit, check out my guide to indoor activities in Melbourne.
And remember, the best time to visit Melbourne may not be the best time to visit other parts of Australia – this is one big country with many different climates, and events and festivals.
Read on for more information about weather in Melbourne as well as the best events throughout the year.
Melbourne weather by the seasons
Melbourne has a temperate climate, with four distinct Melbourne seasons:
Summer: December to February
Autumn: March to May
Winter: June to August
Spring: September to November
I'm going to lay out what to expect of Melbourne weather each season, the pros and cons of each, and some key events to consider planning a trip around.
You can also check the Melbourne forecast and current temperature online here.
Summer in Melbourne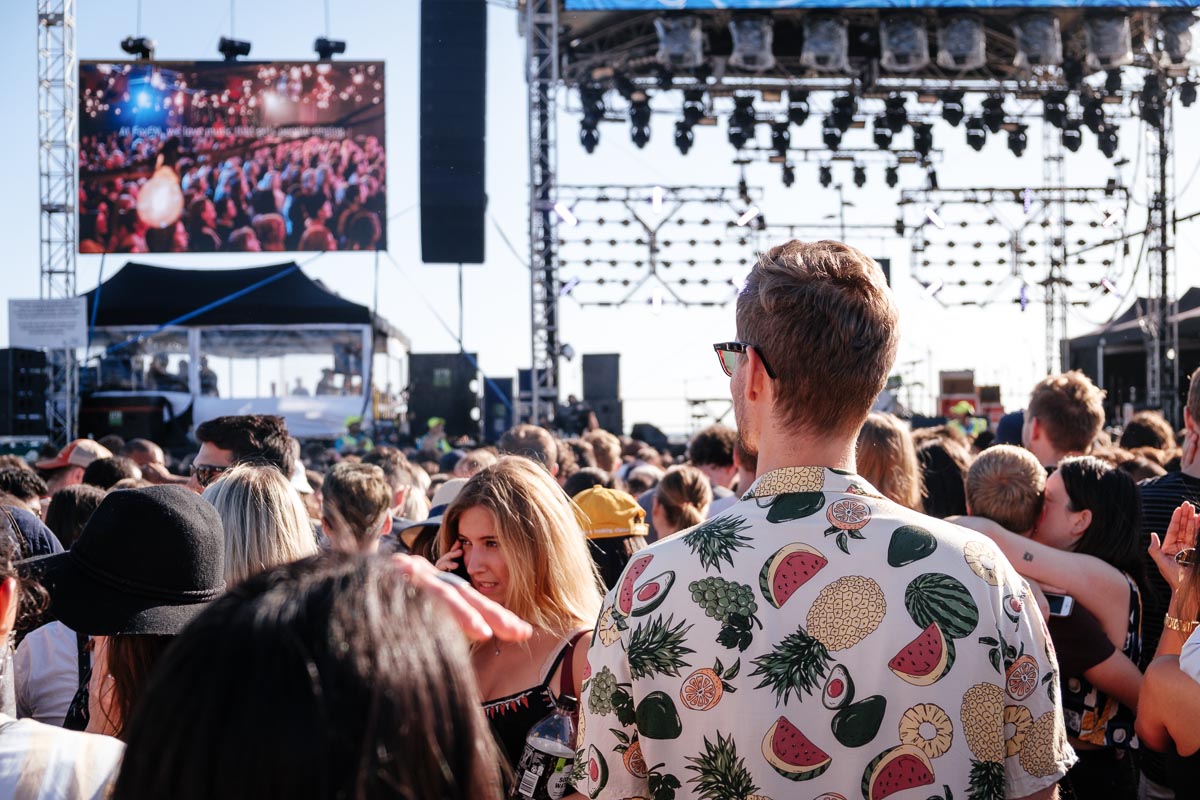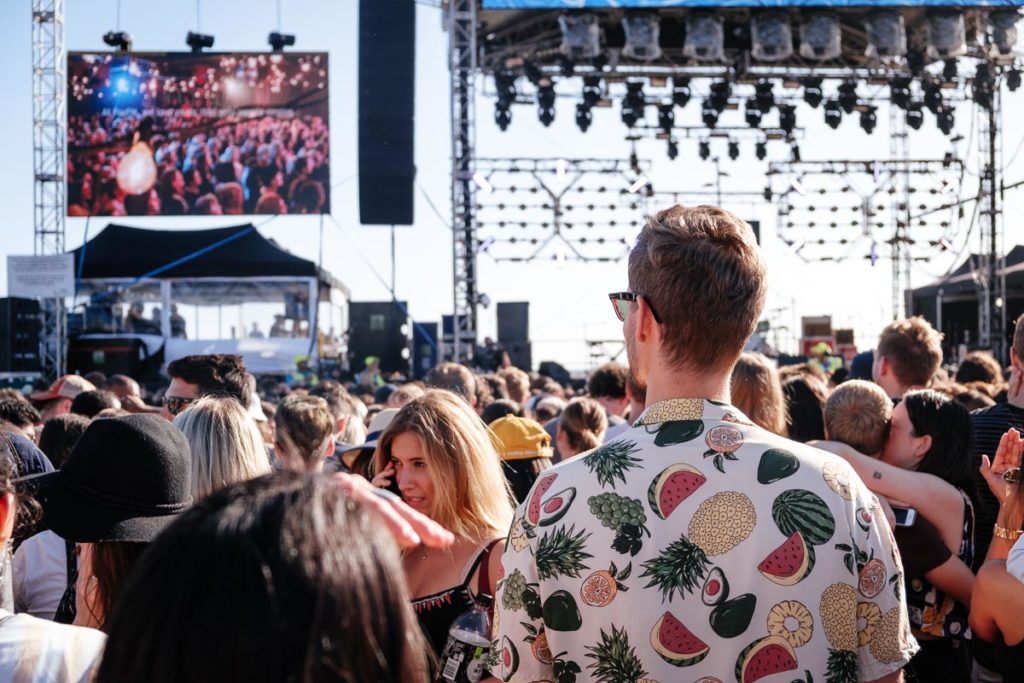 Ah, summer in Melbourne. There's nothing quite like it. The days are heating up (sometimes a wee bit too hot), bars throw open their windows, the days are longer and there's a palpable buzz in the city.
Despite the occasional hot spells, where temperatures can soar above 35 degrees Celsius, summer in Melbourne is generally marked by few rainy days (although, as I said already, don't let that fool ya!).
The season is perfect for outdoor activities and beach time, thanks to the warm weather. Melbourne's summer is packed with plenty of sporting and cultural festivals and events. The benefit of daylight savings means longer days, which means you can pack more activities into your itinerary.
However, summer in Melbourne does have a few drawbacks. The peak season brings crowds, which can lead to overcrowded attractions and a spike in hotel prices, as well as accommodations filling up quickly.
December in Melbourne
In December in Melbourne, the average temperatures range from approximately 13°C to 24.2°C (55°F to 75.6°F), marking the beginning of the warm and festive summer season. It's the perfect time to get outdoors. Some of the best things to do in December in Melbourne include:
January in Melbourne
In January, Melbourne experiences peak summer, with average temperatures typically ranging from 14.3°C to 26°C (57.7°F to 78.8°F). The city buzzes with energy as it hosts several major events, including the famed Australian Open, alongside vibrant cultural festivals and lively outdoor activities. Some of my favourite Melbourne in January events include:
Australian Open – one of the most famous tennis tournaments in the world 2024 dates: 14-28 Jan
Midsumma Festival – Australia's premier queer arts and cultural festival 2024 dates: 21 Jan-11 Feb
Queen Vic Market Summer Night Market – these weekly night markets are filled with great food and live music 2023-24 dates: 22 November 2023-13 March 2024
February in Melbourne
February in Melbourne continues to embrace the warmth of summer, with average temperatures hovering between 14.6°C and 25.8°C (58.3°F to 78.4°F). School is back, which means there's fewer tourists, but there are still plenty of things to do in February:
What to pack for summer in Melbourne
Pro tip: Book your accommodation well in advance in summer to avoid high prices and rooms filling up
Autumn in Melbourne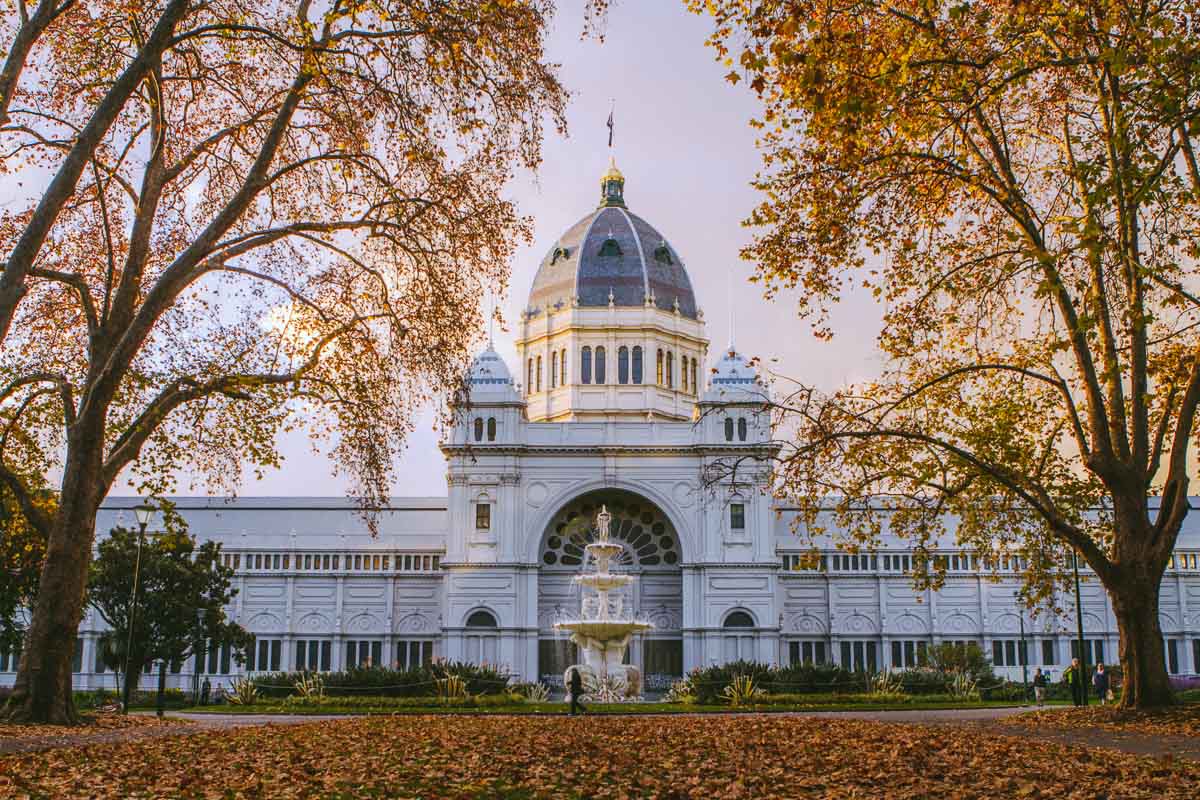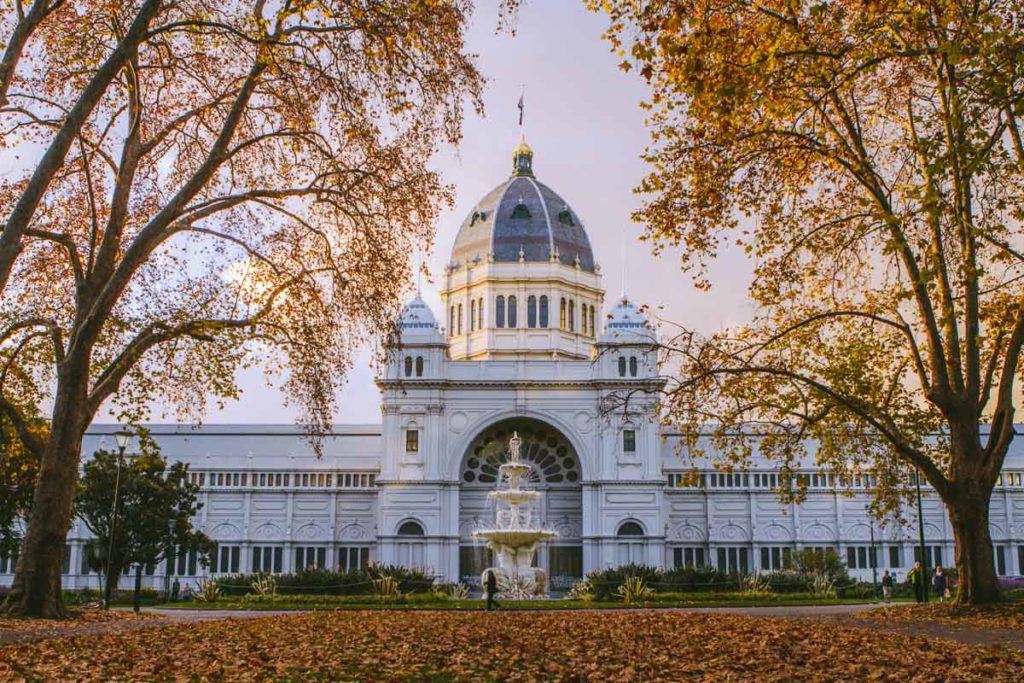 Autumn (or Fall for you North Americans) is a great time to visit Melbourne. The days get cooler and the leaves begin to change colour. It's the shoulder season, so there are fewer crowds – but still some fantastic events to keep Melburnians and visitors entertained.
In March and April, temperatures hover between 12 and 24 degrees (54 to 75 Fahrenheit). May is significantly cooler, with an average temperature of 14 degrees (57 Fahrenheit). May is also the month with the highest rainfall, so expect several showers.
While the weather is cooler in autumn in Melbourne, it's still warm enough to enjoy the city's beautiful outdoors. There are fewer crowds, which comes with the added benefit of lower prices for both hotels and airfares. The city is especially beautiful in autumn, as the foliage turns into vibrant hues.
March in Melbourne
As autumn begins, Melbourne experiences milder weather with average temperatures ranging from 13.2°C to 23.9°C (55.8°F to 75°F). The city hosts the Melbourne Grand Prix, so be aware that weekend is very busy. Here are some of the best Melbourne events in March:
April in Melbourne
With temperatures averaging 10.8°C to 20.3°C (51.4°F to 68.5°F), April sees the city in full autumnal charm. It's a great time for exploring the arts and culture scene, including the Melbourne International Comedy Festival.
Melbourne International Comedy Festival – the best Aussie and international comics will have you laughing your socks off 2024 dates: 27 March-21 Apr
Anzac Day – pay your respects at the moving dawn service 2024 date: 25 April
May in Melbourne
In May, it's clear that winter is coming our way, as temperatures cool right down to between 8.7°C and 16.7°C (47.7°F to 62°F). It's a bit quieter around the city, but there are still plenty of things to do in May in Melbourne:
What to pack for autumn in Melbourne
Pro tip: Wander through the Royal Botanic Gardens to see the leaves changing to golden hues. The Royal Exhibition Building at the Carlton Gardens is another beautiful spot.
Winter in Melbourne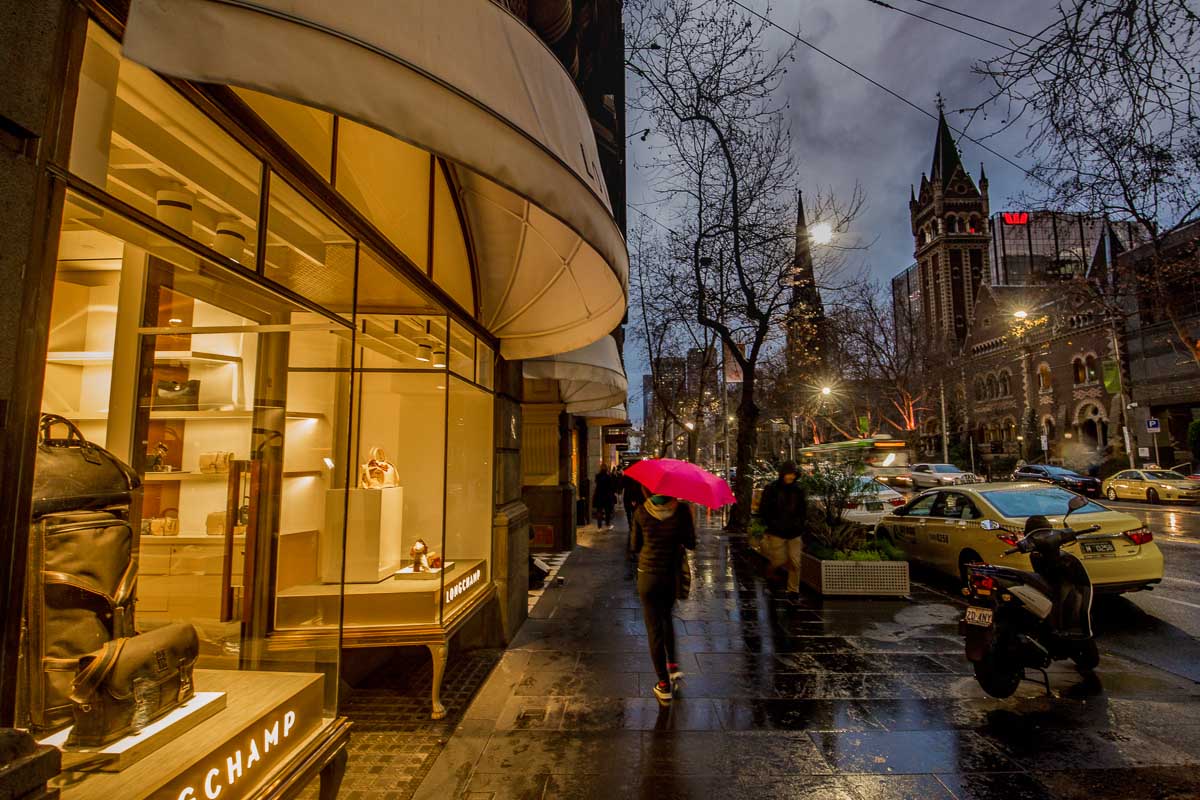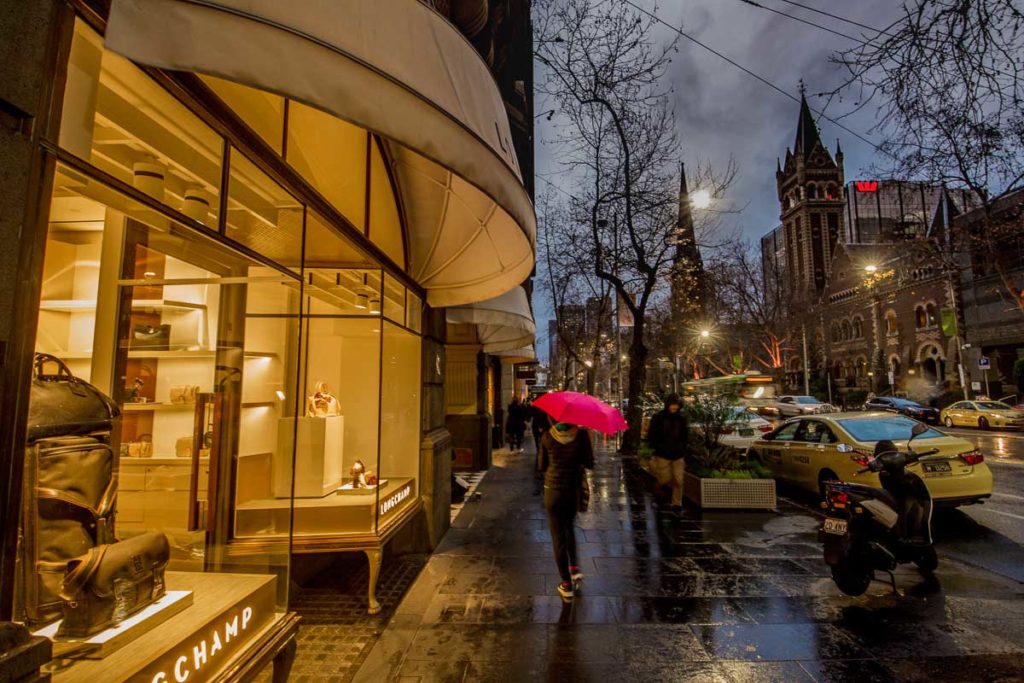 The weather is cooling down significantly (although rarely to the point of snow), everyone's rugged up in their cold weather gear and people are slipping into cosy bars and restaurants. Or getting spooked on a ghostly tour of Melbourne.
In winter in Melbourne, expect temperatures of between 6 and 15 degrees (43 to 59 Fahrenheit). Melbourne weather in June is fairly mild, with the lowest rainfall of the whole year. The average temperature in July (the coldest month of the year) is around 10 degrees (50 Fahrenheit) and it rains around half of each month.
Visiting Melbourne in winter means fewer crowds and ample hotel availability, with significantly reduced prices for both accommodations and airfares. Despite the chilly weather, Melbourne remains vibrant and active, with plenty of indoor and outdoor activities – we Melburnians don't hibernate!
However, like winter in most cities, be prepared for the cold temperatures that winter brings, often accompanied by rainy and dreary conditions.
June in Melbourne
With winter temperatures ranging from 6.9°C to 14.1°C (44.4°F to 57.4°F), June in Melbourne is a time for enjoying the city's rich café culture and vibrant indoor events, including food, culture and music festivals.
Good Food and Wine Show – sample food and wine from hundreds of local and international exhibitors 2024 dates: TBA
RISING – this festival is a stunning array of performances, art and music 2024 dates: TBA
July in Melbourne
The coldest month, July sees temperatures between 6°C and 13.5°C (42.8°F to 56.3°F). This is a great month for staying indoors and experiencing Melbourne's renowned food and coffee scene. In July in Melbourne, some of the great events on include:
Open House Melbourne – take a peek inside some of Melbourne's most prestigious buildings 2024 dates: 27-28 July
August in Melbourne
As winter begins to fade, temperatures in August range from 6.7°C to 15°C (44.1°F to 59°F). The city slowly awakens with a still-active arts and cultural scene. Events in August in Melbourne include:
What to pack for winter in Melbourne
Umbrella
Thick scarf and gloves
Pro tip: Expect cold weather! Don't expect to do much outdoors, and plan to spend your days wandering through galleries and museums, and enjoying our fabulous restaurant and bar scene.
Spring in Melbourne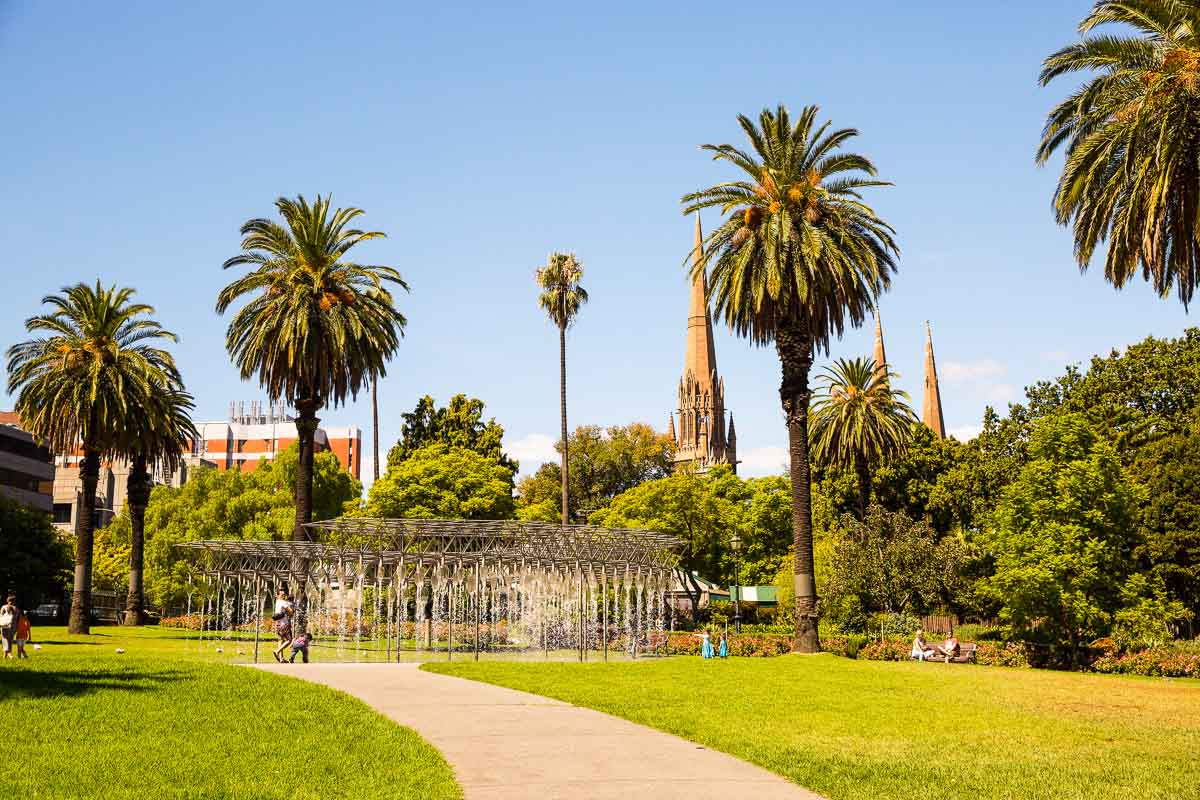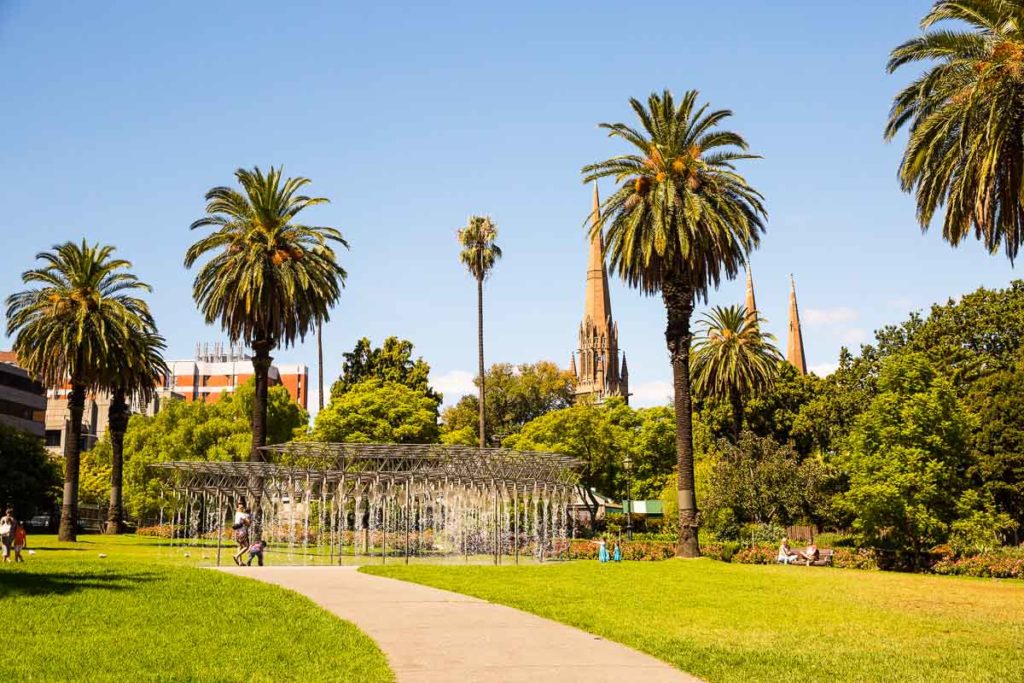 A Melbourne spring is usually glorious: the weather is warming up and the days are sunnier. D daylight saving time starts in October so the days are longer and you can pack more in to your visit to Melbourne.
September has the tail end of winter weather, with temperatures between 9 and 17 degrees (48 to 63 Fahrenheit). It warms up in October and November, with average temperatures around 15 to 17 degrees (59 to 63 Fahrenheit). October has the second-highest rainfall of the year.
Spring is a great time for a walking tour in Melbourne or a picnic. These Mystery Picnic Dates are a lovely way to spend a day with your significant other or a group of friends. (Read my full Mystery Picnic Melbourne review.)
September in Melbourne
Spring arrives with temperatures between 8°C and 17.3°C (46.4°F to 63.1°F). This month is famous for the AFL Grand Final and the blooming of gardens and parks, making it a picturesque time to explore the city's outdoor spaces. September in Melbourne brings events like:
Royal Melbourne Show – fun for the whole family, but especially the little ones who enjoy the rides, show bags and patting cute animals 2024 dates: 26 September to 6 October
AFL Grand Final – a fun sporting event, even if you know nothing about footy 2024 date: 28 Sep
October in Melbourne
With average temperatures of 9.6°C to 19.7°C (49.3°F to 67.5°F), October has a pleasant spring climate perfect for outdoor festivals, garden tours and exploring the city's different neighbourhoods. Events in October in Melbourne include:
November in Melbourne
As summer approaches, temperatures range from 11.2°C to 22°C (52.2°F to 71.6°F). This is a great month to visit, before the holiday crowds descend and with plenty of cultural and food festivals to experience. The best things to do in November in Melbourne are:
What to pack for spring in Melbourne
Light jacket / windbreaker
Umbrella
Pro tip: Find some local friends and get an invite to a Grand Final party if you're in Melbourne when it's on!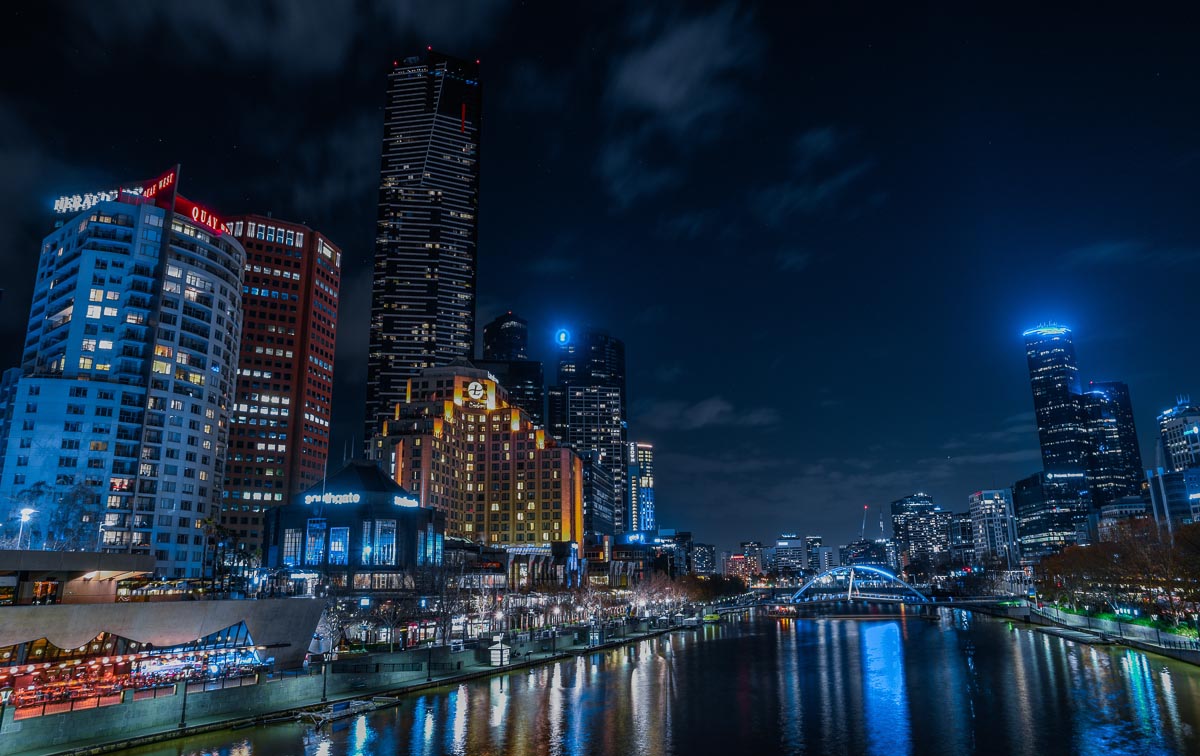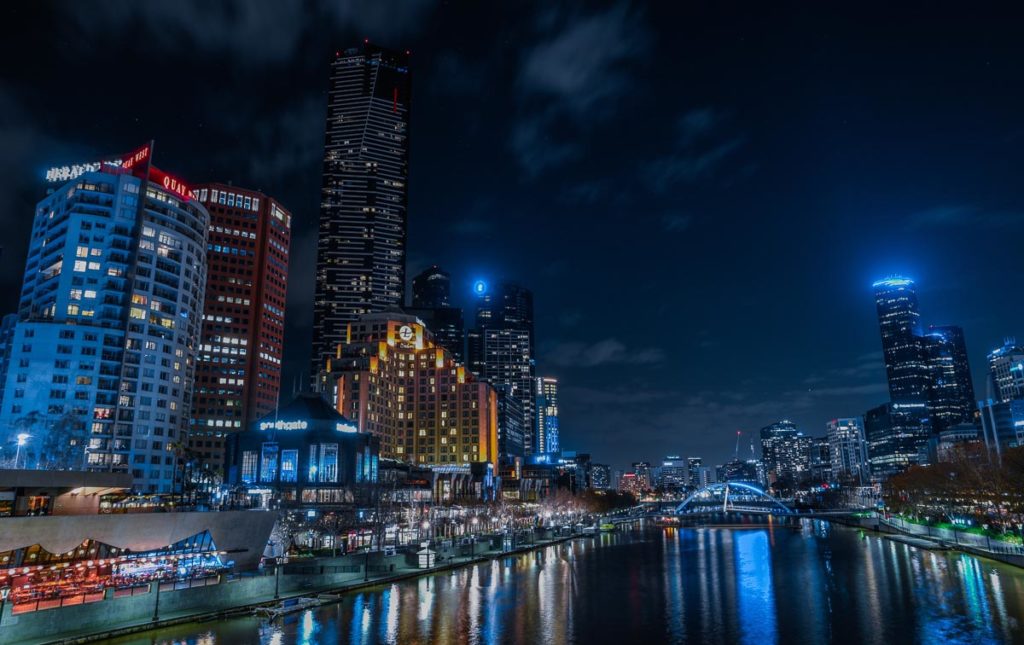 Victorian public holidays and school holidays
When planning a trip to Melbourne, keep in mind upcoming public holidays and school breaks. During these periods, hotels may be booked out in advance and you can usually expect crowds. Read more tips to save money in Melbourne.
Victorian public holidays 2024
| | |
| --- | --- |
| New Year's Day | Monday, 1 January |
| Australia Day / Invasion Day | Friday, 26 January |
| Labour Day | Monday, 11 March |
| Good Friday | Friday, 29 March |
| Saturday before Easter Sunday | Saturday, 30 March |
| Easter Sunday | Sunday, 31 March |
| Easter Monday | Monday, 1 April |
| ANZAC Day | Thursday, 25 April |
| King's Birthday | Monday, 10 June |
| Friday before the AFL Grand Final | Friday, 27 September |
| Melbourne Cup | Tuesday, 5 November |
| Christmas Day | Wednesday, 25 December |
| Boxing Day | Thursday, 26 December |
Victorian school holidays 2024
| | | |
| --- | --- | --- |
| Term | Starts | Finishes |
| Term 1 holidays (Autumn) | Friday, 29 March | Sunday, 14 April |
| Term 2 holidays (Winter) | Saturday, 29 June | Sunday, 14 July |
| Term 3 holidays (Spring) | Saturday, 21 September | Sunday, 6 October |
| Term 4 holidays (Summer) | Friday, 20 December 2024 | Monday, 27 Jan 2025 |
Final thoughts: Best time to visit Melbourne
There's really no bad time to visit Melbourne – there's always something fantastic going on in every season in Melbourne and every month. And even in the colder months, there's still activities to take advantage of the cosy indoors.
So, now that you know when to visit Melbourne, come and visit us!
Is there anything else you want to know about planning your trip around the best time to visit Melbourne? Drop me your questions or comments below!
---
Related posts
Before you go… you might like these other Melbourne articles:
PIN IT FOR LATER
Save this guide to the best time to visit Melbourne to Pinterest so you can plan your trip later.