So, you've got your heart set on a trip to Australia's capital of culture but you're not quite sure when to visit? The best time to visit Melbourne all depends on what you want to do, what type of weather you love and how much (or how little) you're into crowds.
Whether you're into beaches, exploring our diverse foodie scene, browsing world-famous art galleries and museums, or timing your trip with one of our amazing festivals, there's an optimal time to visit Melbourne for you. And in this article, I'm breaking it all down for you, season-by-season.
Regardless of when you decide to visit Melbourne, this is one lively city with so much to do – I can guarantee you'll never get bored here. Check out my Melbourne bucket list and you'll see what I mean!
But be aware: no matter what time of year you visit Melbourne, our reputation for having "four seasons in one day" is indeed true. Even in the middle of summer you need to come prepared for unexpected Melbourne weather: blistering heat followed by a rain shower and then a possible drop of 10 degrees. Yep, it happens regularly. If it does rain during your visit, check out my guide to indoor activities in Melbourne.
And remember, the best time to visit Melbourne may not be the best time to visit other parts of Australia – this is one big country with many different climates, and events and festivals.
Let's get into this guide to the best time to visit Melbourne so you can start planning your trip!
This blog post may contain affiliate links, meaning if you book or buy something through one of these links, I may earn a small commission (at no extra cost to you).
Melbourne weather
Melbourne has a temperate climate, with four distinct seasons:
Summer: December to February
Autumn: March to May
Winter: June to August
Spring: September to November
Melbourne weather by the months
| | | | |
| --- | --- | --- | --- |
| Month | Celsius | Fahrenheit | Rainfall |
| January | 14.3-26° | 57-78° | 46.8mm |
| February | 14.6-25.8° | 58-78° | 48mm |
| March | 13.2-23.9° | 55-75° | 50.1mm |
| April | 10.8-20.3° | 51-68° | 57.3mm |
| May | 8.7-16.7° | 47-62° | 55.7mm |
| June | 6.9-14.1° | 44-57° | 49.5mm |
| July | 6-13.5° | 42-56° | 47.5mm |
| August | 6.7-15° | 44-59° | 50mm |
| September | 8-17.3° | 46-63° | 58mm |
| October | 9.6-19.7° | 49-67° | 58mm |
| November | 11.2-22° | 52-71° | 66mm |
| December | 13-24.2° | 55-75° | 60.3mm |
Source: Bureau of Meteorology
Victorian public holidays and school holidays
When planning a trip to Melbourne, keep in mind upcoming public holidays and school breaks. During these periods, hotels may be booked out in advance and you can usually expect crowds. Read more tips to save money in Melbourne.
Victorian public holidays 2022
| | |
| --- | --- |
| New Year's Day | Mon, 3 January |
| Australia Day / Invasion Day | Wed, 26 January |
| Labour Day | Mon, 14 March |
| Good Friday | Fri, 15 April |
| Saturday before Easter Sunday | Sat, 16 April |
| Easter Sunday | Sun, 17 April |
| Easter Monday | Mon, 18 April |
| ANZAC Day | Mon, 25 April |
| Queen's Birthday | Mon, 13 June |
| Friday before the AFL Grand Final | Fri, 23 September |
| Melbourne Cup | Tue, 1 November |
| Christmas Day | Sun, 25 December (Tue, 27 December) |
| Boxing Day | Mon, 26 December |
Victorian school holidays 2022
| | | |
| --- | --- | --- |
| Term | Starts | Finishes |
| Term 1 holidays (Autumn) | Sat, 9 April | Mon, 25 April |
| Term 2 holidays (Winter) | Sat, 25 June | Sun, 10 July |
| Term 3 holidays (Spring) | Sat, 17 September | Sun, 2 October |
| Term 4 holidays (Summer) | Wed, 21 December 2022 | Sun, 29 Jan 2023 |
Melbourne by the seasons
I'm going to lay out what to expect of Melbourne weather each season, the pros and cons of each, and some key events to consider planning a trip around. You can also check the Melbourne forecast and current temperature online here to plan out when to visit Melbourne.
Summer in Melbourne (December, January, February)
Ah, summer in Melbourne. There's nothing quite like it. The days are heating up (sometimes a wee bit too hot), bars throw open their windows, the days are longer, and there's a palpable happy vibe buzzing through the city.
Temperatures average between 15 and 26 degrees Celsius (59 to 79 Fahrenheit) and there are few rainy days (although, as I said already, don't let that fool ya!).
Read my full guide to Melbourne in summer!
Pros of visiting Melbourne in summer
Warm weather – as you can imagine, there are plenty of things to do in Melbourne in summer revolving around beach time and the outdoors
Many incredible sporting and cultural festivals and events
Long days (it's daylight savings) mean you can pack plenty into your Melbourne itinerary each day! (I've got guides to a weekend in Melbourne, 3 days in Melbourne and 5 days in Melbourne)
Cons of visiting Melbourne in summer
It can get really hot – I'm talking 35 degrees Celsius and above. But this rarely lasts for more than a few days at a time
Crowds – this is Melbourne's peak season, so expect plenty of hot, sweaty tourists
Hotels can fill in advance and prices creep up alarmingly quickly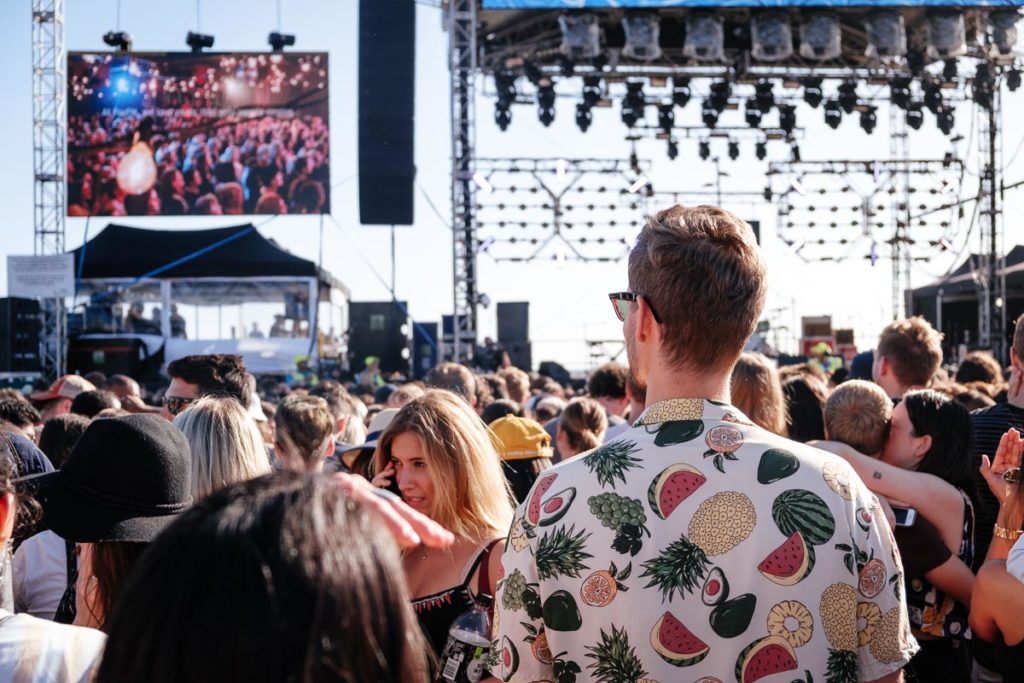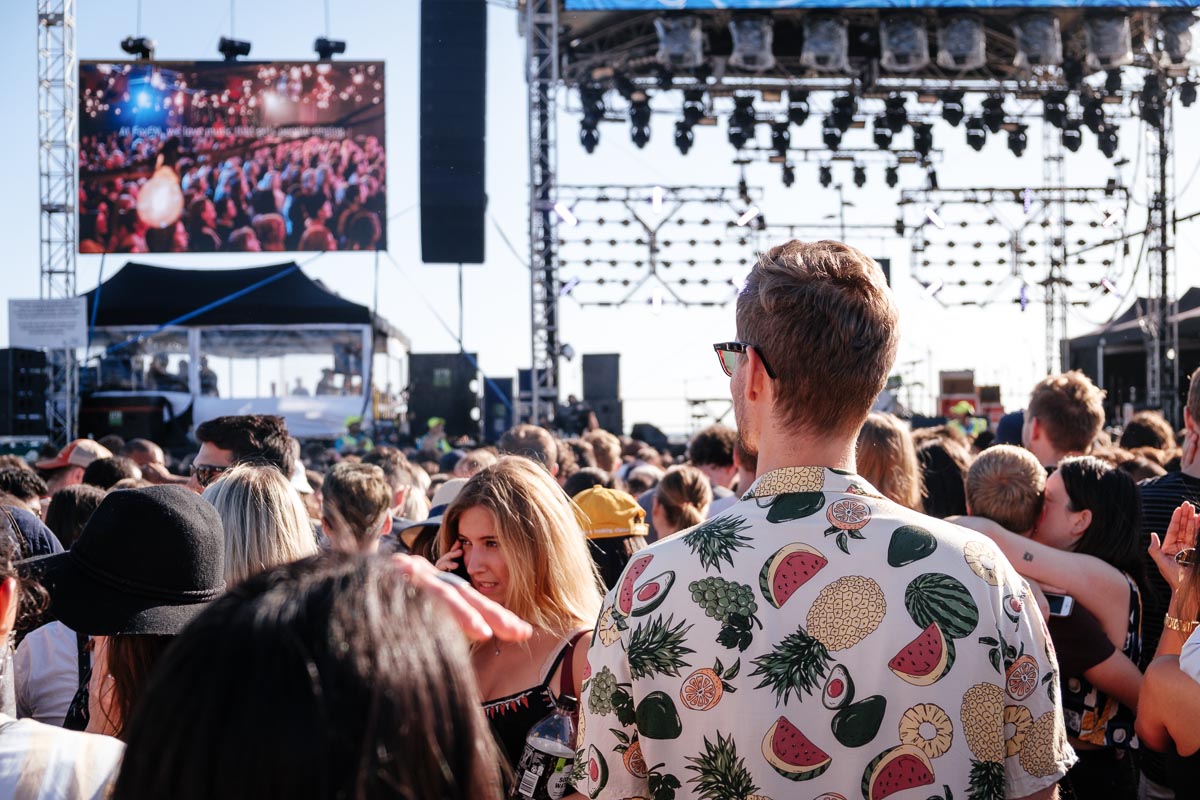 Best summer festivals and events in Melbourne
The Big Design Market (December) – get your Christmas shopping done early 2022 dates: 2-4 Dec
Christmas Festival (December) – check out the famous Myer Christmas Windows or sing your heart out at Carols by Candlelight 2022 dates: throughout December
Boxing Day Test (December) – cricket fans should get themselves down to the MCG the day after Christmas for one of the biggest cricket matches in the world 2022 dates: 26-30 Dec
New Year's Eve (December) – while our fireworks aren't as big as Sydney's, Melbourne's still a great city to ring in the new year 31 December
Australian Open (January) – one of the most famous tennis tournaments in the world 2022 dates: 17-30 Jan
Zoo Twilights (January to March) – listen to great musical acts while also helping to save endangered animals at the Melbourne Zoo 2022 dates TBA
Midsumma Festival (January to February) – Australia's premier queer arts and cultural festival 2022 dates: 23 Jan-13 Feb
Lunar New Year (February) – Chinatown comes alive with traditional dances, music and food 2022 dates: 1 Feb
St Kilda Festival (February) – a free celebration of Australian music, summer and St Kilda 2022 dates: 5-13 Feb
Sidney Myer Free Concerts (February) – the Melbourne Symphony Orchestra puts on a series of free concerts under the stars 2022 dates: 9, 12 and 19 Feb
Laneway Festival (February) – dance the day away to some of the biggest international and Australian acts 2022 dates: cancelled for 2022
What to pack for summer in Melbourne
Pro tip: Book your accommodation well in advance in summer to avoid high prices and rooms filling up
Autumn in Melbourne (March, April, May)
Autumn (or Fall for you North Americans) is a great time to visit Melbourne. The days get cooler and the leaves begin to change colour. It's the shoulder season, so there are fewer crowds – but still some fantastic events to keep Melburnians and visitors entertained.
In March and April, temperatures hover between 12 and 24 degrees (54 to 75 Fahrenheit). May is significantly cooler, with an average temperature of 14 degrees (57 Fahrenheit). May is also the month with the highest rainfall.
Pros of visiting Melbourne in autumn
Cooler weather, but still warm enough to enjoy Melbourne's beautiful outdoors
Fewer crowds
It's shoulder season so prices are going down, both hotels and airfares
The city looks gorgeous as the leaves change colour
Cons of visiting Melbourne in autumn
Chance of rain is higher than in summer, especially if you visit in May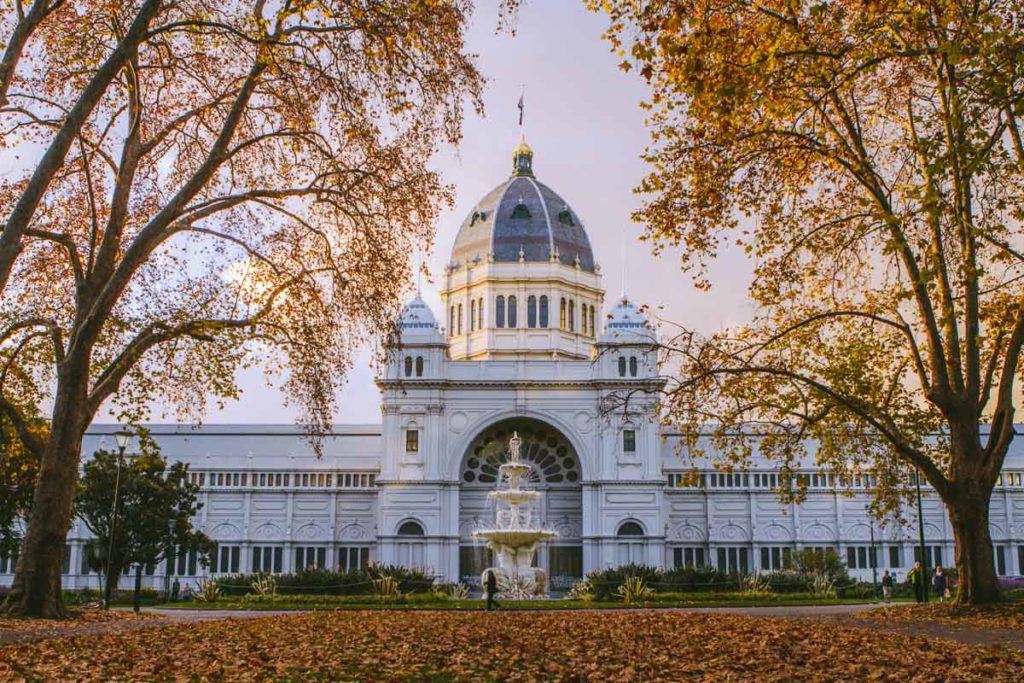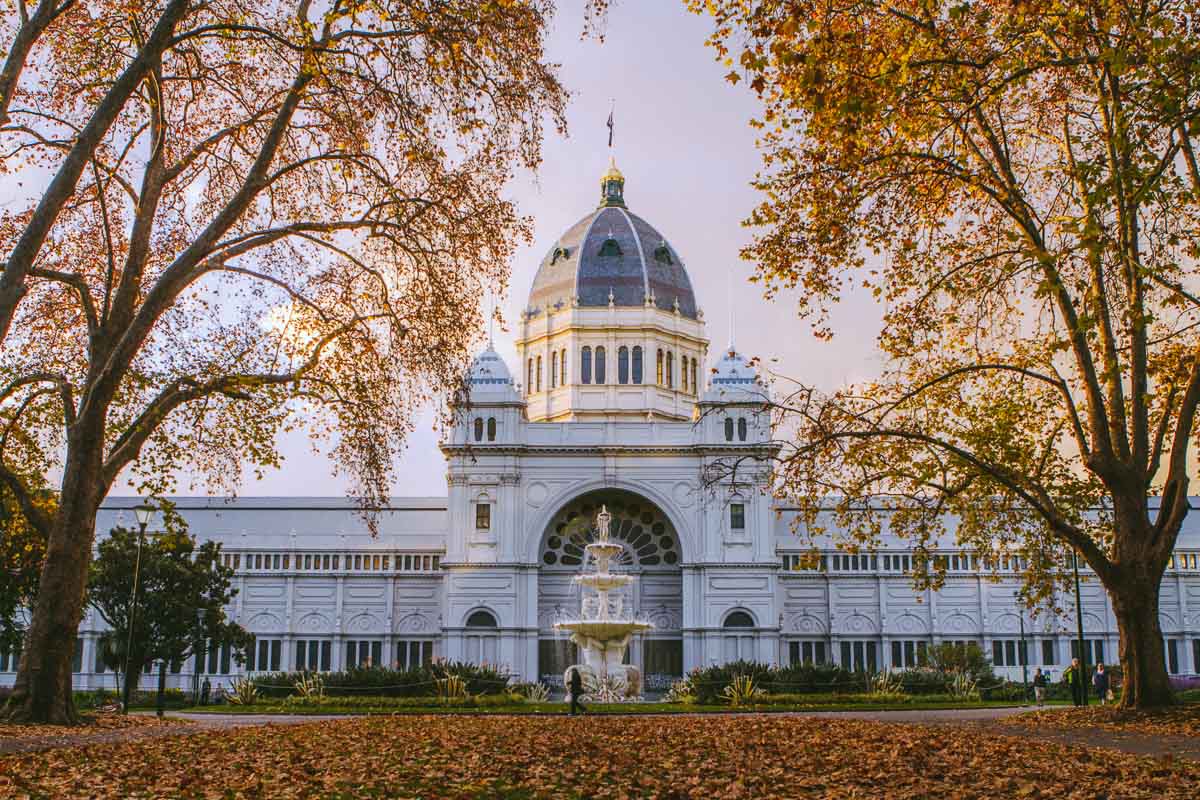 Best autumn festivals and events in Melbourne
Moomba (March) – family-friendly event with carnival rides, the wacky Birdman Rally, and water-skiing acts on the Yarra River 2022 dates: 11-14 March
Melbourne Fashion Festival (March) – Australian and international labels show off their latest designs 2022 dates: 3-12 March
Melbourne Food and Wine Festival (March) – eat your way through Melbourne's top restaurants, often at bargain prices 2022 dates TBA
Melbourne Queer Film Festival (March) – showcases contemporary queer cinema from Australia and overseas 2022 dates TBA
Lonsdale Street Greek Festival (March) – join in on Melbourne's biggest Greek street party 2022 dates TBA
Melbourne International Comedy Festival (March to April) – the best Aussie and international comics will have you laughing your socks off 2022 dates: 30 March-24 Apr
Formula 1 Australian Grand Prix (April) – rev-heads descend on Melbourne for this motor race 2022 dates: 7-10 April
Anzac Day (April) – pay your respects at the moving dawn service 25 April
Melbourne Knowledge Week (May) – talks, workshops, performances and celebrations that explore ideas about our future 2022 dates: 9-15 May
Good Beer Week (May) – sip your way through hundreds of beers from local brewers 2022 dates: 20-28 May
RISING (June) – this festival, which takes the place of the Melbourne International Arts Festival and White Night Melbourne, was supposed to be held for the first time in 2021, but COVID had other plans 2022 dates: 1-12 June
Melbourne Music Week (May-July) – performances, workshops and presentations for musicians and music-lovers 2022 dates: May to July
What to pack for autumn in Melbourne
Pro tip: Wander through the Royal Botanic Gardens to see the leaves changing to golden hues
Winter in Melbourne (June, July, August)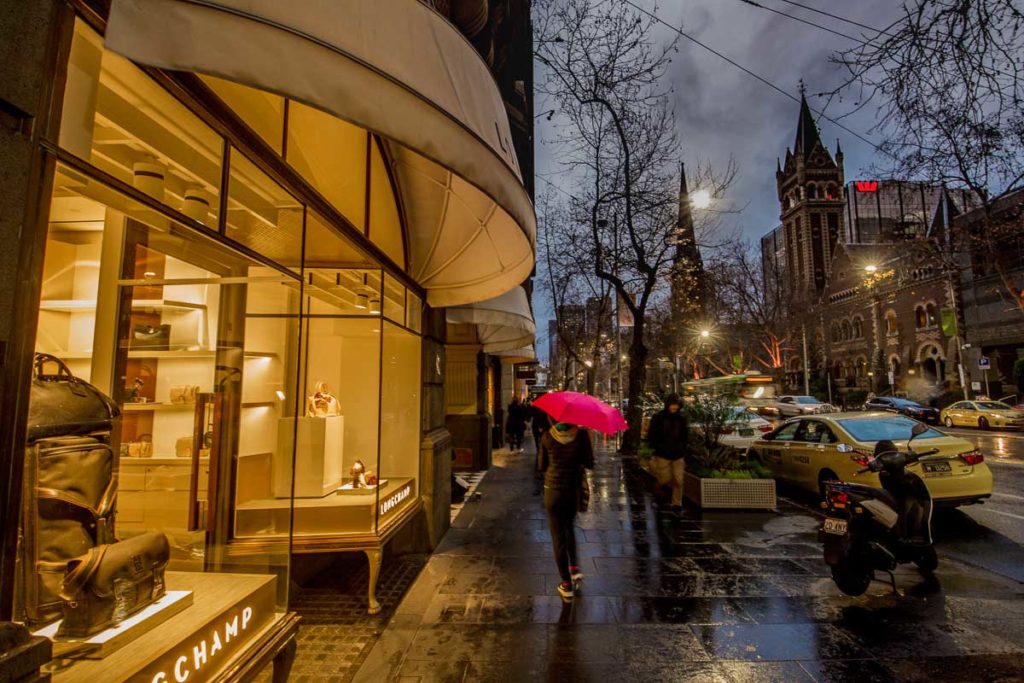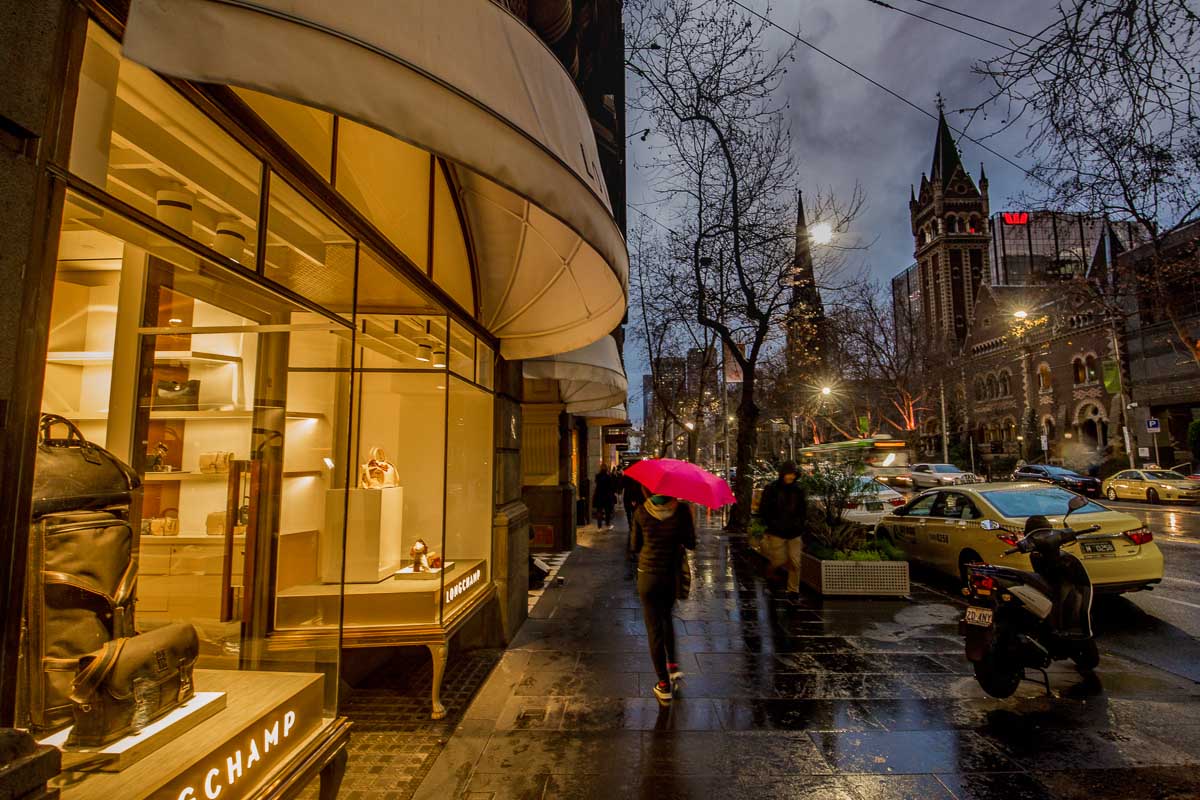 The weather is cooling down significantly (although rarely to the point of snow), everyone's rugged up in their cold weather gear, people are slipping into cozy bars and restaurants for a hot meal or beverage.
In winter in Melbourne, expect temperatures of between 6 and 15 degrees (43 to 59 Fahrenheit). Melbourne weather in June is fairly mild, with the lowest rainfall of the whole year. The average temperature in July (the coldest month of the year) is around 10 degrees (50 Fahrenheit) and it rains around half of each month.
Read my full guide to winter in Melbourne online here!
Pros of visiting Melbourne in winter
Fewer crowds
Low season, so plenty of hotel availability and hotel prices and airfares are way down
Even though it's cold, there are still plenty of things to do in Melbourne in winter (we Melburnians don't hibernate!)
Cons of visiting Melbourne in winter
It's freaking cold!! And often rainy and dreary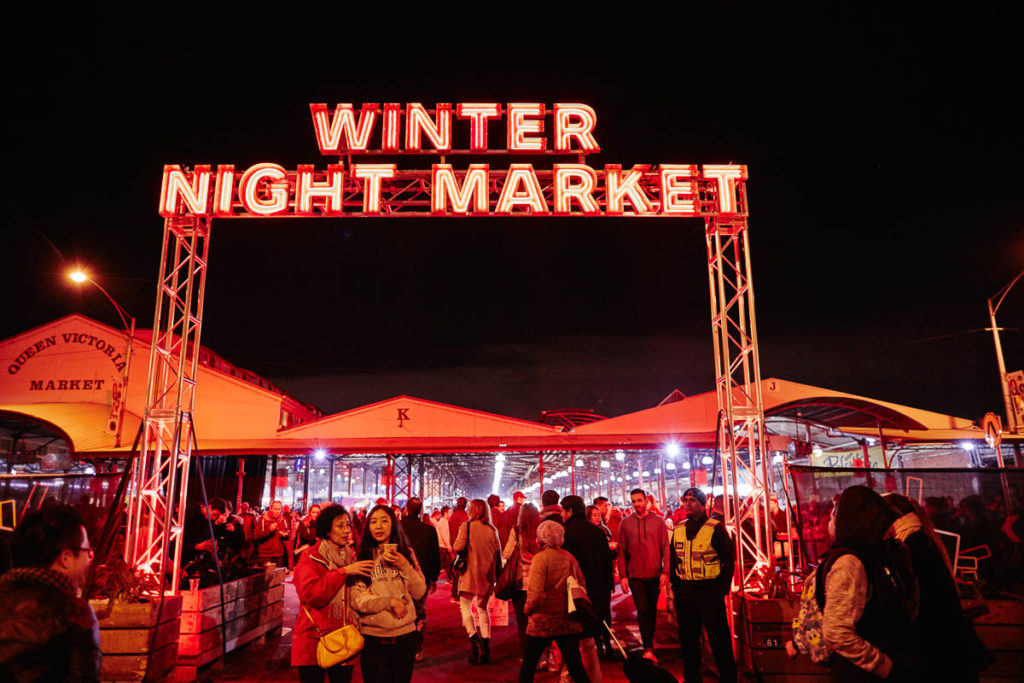 Best winter festivals in Melbourne
What to pack for winter in Melbourne
Umbrella
Thick scarf and gloves
Pro tip: Expect cold weather! Don't expect to do much outdoors, and plan to spend your days wandering through galleries and museums, and enjoying our fabulous restaurant and bar scene
Spring in Melbourne (September, October, November)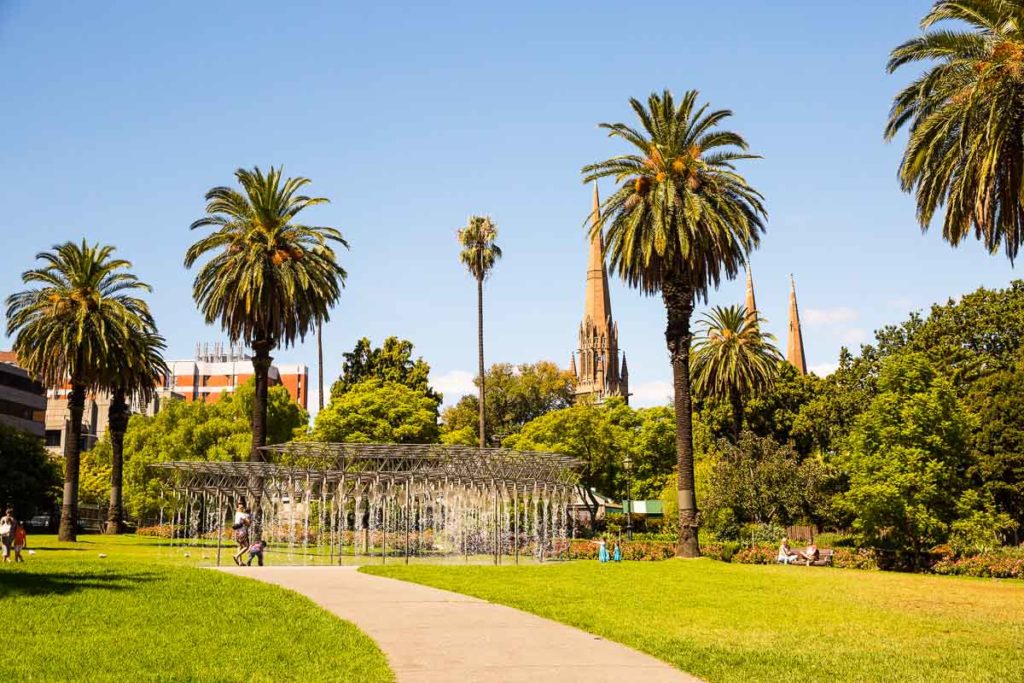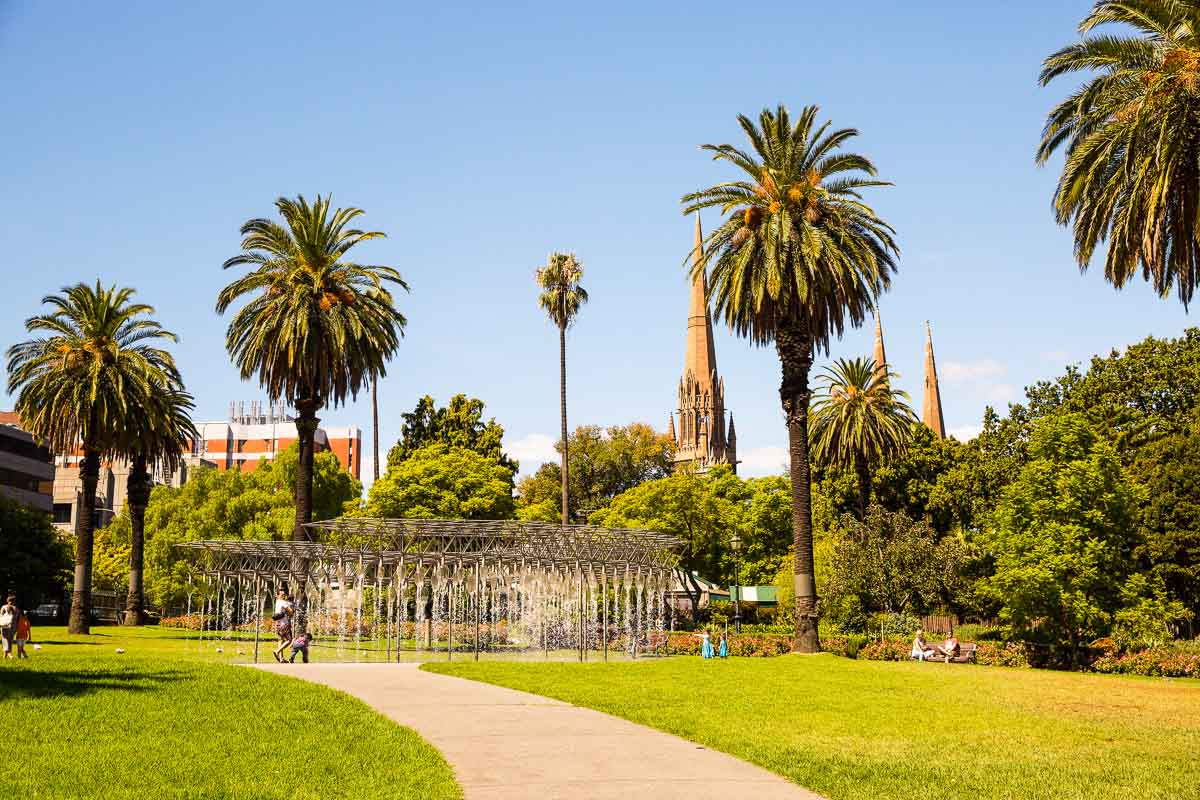 A Melbourne spring is usually glorious: the weather is warming up, the days are sunnier and daylight savings starts in October so the days are longer so you can pack more in to your visit to Melbourne.
September has the tail end of winter, with temperatures between 9 and 17 degrees (48 to 63 Fahrenheit). It warms up in October and November, with average temperatures around 15 to 17 degrees (59 to 63 Fahrenheit) – although as I sit here writing this in October, it was 33 degrees yesterday! Remember what I said about expecting the unexpected…? October has the second-highest rainfall of the year.
Spring is a great time for a picnic in Melbourne, and these Mystery Picnic Dates are a lovely way to spend a day with your significant other or a group of friends.
Read my full guide to the best things to do in Melbourne in Spring.
Pros of visiting Melbourne in spring
The weather is warming up and is usually quite pleasant
Fewer crowds in the shoulder season – which also reflects in lower prices for hotel rooms and airfares
Like every other season, there are plenty of events to plan a trip around
Cons of visiting Melbourne in spring
Hmmm, I can't think of many!
Best spring festivals in Melbourne
Melbourne Writers Festival (September) – Australian and international writers flock to Melbourne to share their ideas and stories 2022 dates: 8-11 Sep
Royal Melbourne Show (September to October) – fun for the whole family, but especially the little ones who enjoy the rides, show bags and patting cute animals 2022 dates: 22 September to 2 October
Melbourne International Coffee Expo (September) – showcasing Melbourne's reputation as a coffee city 2022 dates: 27-30 Sep
Melbourne Fringe Festival (September to October) – this festival showcases every kind of artform imaginable 2022 dates TBA
AFL Grand Final (September) – a fun sporting event, even if you know nothing about footy 2022 dates: 24 Sep
Melbourne International Jazz Festival (October) – venues across Melbourne come alive with the sounds and spirit of jazz music 2022 dates: 14-23 Oct
Antipodes Greek Festival (October) – The city's famous Greek street festival is back and will liven up Lonsdale Street 2022 dates: 22-23 Oct
Melbourne Cup Carnival (October to November) – get frocked or suited up for this world-famous horse-racing carnival 2022 dates: 29 Oct-5 Nov
Queen Vic Market Summer Night Market (November to March) – November is the kick-off of these weekly night markets filled with great food and live music 2022-23 dates TBA
What to pack for spring in Melbourne
Light jacket / windbreaker
Umbrella
Pro tip: Find some local friends and get an invite to a Grand Final party if you're in Melbourne when it's on!
When do I think is the best time to visit Melbourne?
So, now that you know what to expect of the seasons, what do I think is the best season to visit Melbourne?
Summer! Although it can get pretty stinking hot here, it rarely lasts that long. There's a gorgeous buzz around the city and everyone seems to exude good vibes and smiles. There's so much to do and it's fabulous to be able to get outdoors, have barbecues at friends' houses and picnics in the park.
Of course, the heat may not be for everyone, so after summer, I think the second best time to visit Melbourne is spring. Everyone's gearing up for the warmer weather and there are some fun events to attend.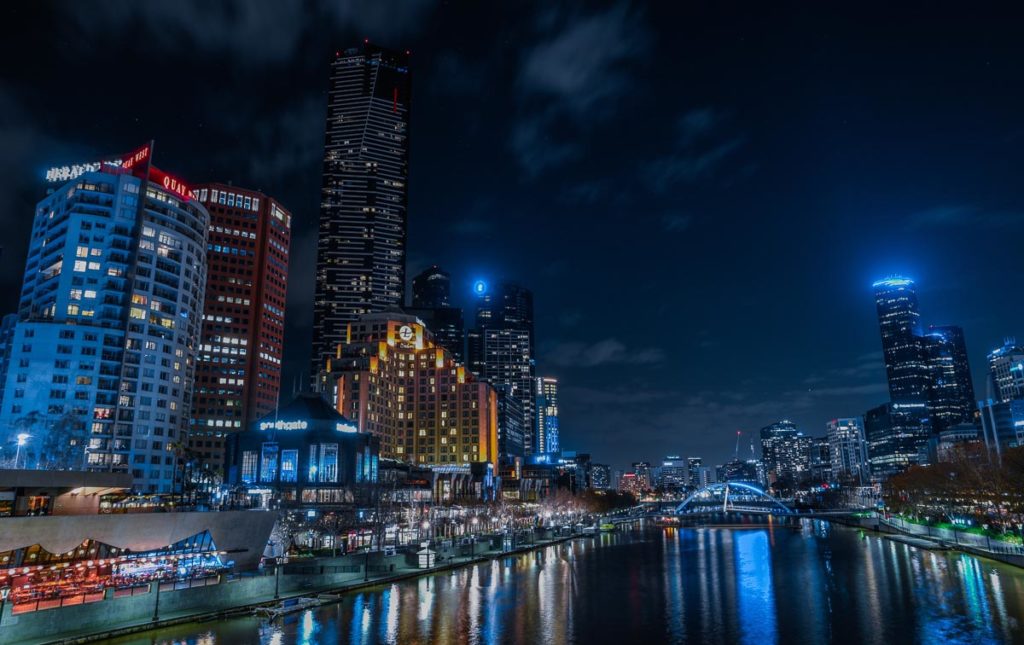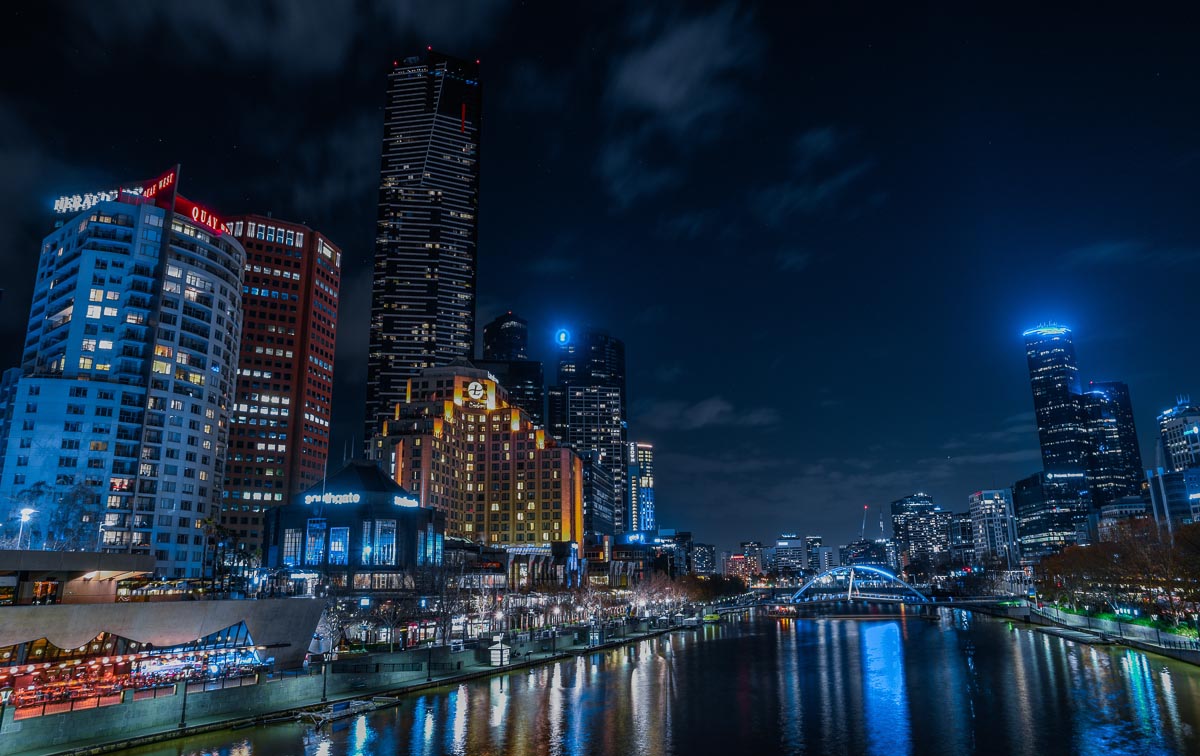 The best months to visit Melbourne
To help you narrow down the best time to visit Melbourne even further, here's a summary of the best months to visit Melbourne:
January is the best time to go to Melbourne for beach weather, drinking and eating outdoors and enjoying Melbourne's great vibe BUT it's also the hottest month of the year
February is the best month if you actually want to go swimming in the sea – the sea temperature is warmest
March and November are great months to avoid the crowds but still have pleasant weather. These two months could just be the best time to travel to Melbourne if beach weather isn't top of your priority list
March and April are the best time of year to visit Melbourne for cool festivals and events
So, now that you know when to visit Melbourne, come on down to visit us!
Is there anything else you want to know about planning your trip around the best time to visit Melbourne? Drop me your questions or comments below!
PIN IT FOR LATER
Save this guide to the best time to visit Melbourne so you can plan your trip later.