Melbourne ain't cheap. Like the rest of Australia, it's an expensive city to visit, and without careful planning you can quickly burn a whole through your pocket.
But while the best things in life may actually not be free, you can still get around this city with some cash left in your pocket. Here are my tips and tricks for finding cheap things to do in Melbourne and how to save some money.
And if you're really tightening your belt, check out my guide to free things to do in Melbourne.
Pick up the Official Visitor Guide for discounts
Melbourne's Official Visitor Guide is released four times a year and this handy little book often has some discounts.
You can pick up a copy at the airport or visitor centres around the city and state, or download it online here.
Book tickets online in advance
You can often save a few bucks by buying an attraction ticket online before you visit rather than at the ticket office.
A few examples of Melbourne attractions that offer online discounts are the Sea Life Melbourne Aquarium and O'Brien Icehouse. Plus, you'll know you're getting guaranteed entry, which is especially helpful if you're visiting during busy times.
So, as you plan your Melbourne itinerary, check out various Melbourne tourist attraction websites to see if you can save!
Use the free tram zone
You'll probably have to shell out some money for Melbourne public transport during your trip, but did you know that if you stick within the Melbourne city limits you can enjoy public transport for free?
The Free Tram Zone has a pretty decent spread over the CBD (central business district) and you don't need a myki card to use it. 
And don't worry about straying into the paid zone – there are announcements on board that alert passengers to when the tram is about to leave the Free Tram Zone (and where you will need a myki card).
We also have a lovely City Circle tram which is completely free – and you get a tour at the same time. These historic trams pass Melbourne sights like the State Library Victoria, Parliament House, Federation Square and the Melbourne Museum.
You can read my full guide to getting around on Melbourne public transport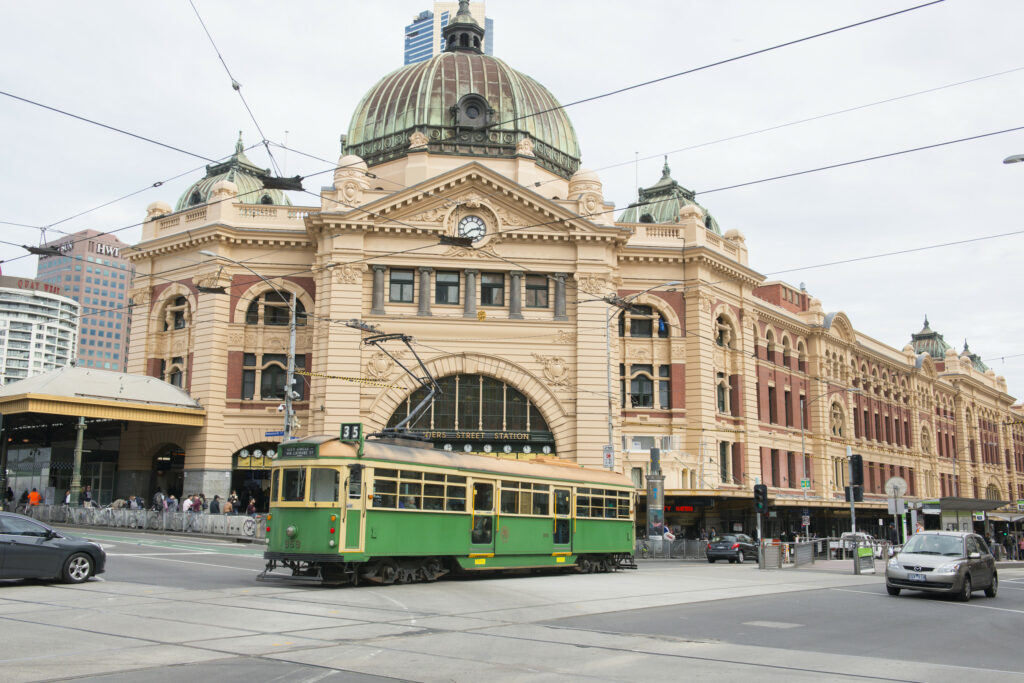 Compare transport options from the airport to the city
If you're flying in to Melbourne Airport, there are several options to get into the city: SkyBus, taxi or Uber.
If you're travelling in a big group, it might be cheaper to pool together and grab an Uber or taxi, but if it's just one or two of you, then the SkyBus might be the better option for your wallet.
You can check SkyBus prices and book online here.
Book a serviced apartment
If you're visiting Melbourne for a few days or more, you might be able to save some money by booking a serviced apartment. Having a kitchen and laundry – plus some have gyms and swimming pools – can cut down your food bill and reduce the need for incidental costs.
Look for serviced apartments in Melbourne online.
Find the best Melbourne cheap eats
Speaking of eating out, while Melbourne has some of the most amazing (and expensive) restaurants in the world, there are still plenty of bargain bites! Here on this list of cheap things to do in Melbourne, I've got some yummy recommendations.
For cheap restaurants in Melbourne, grab lunch in Chinatown, where you can gorge on piles of plump dumplings. Some restaurants are even BYO, so you can save by bringing your own booze.
Other great options around the CBD are Shujinko (late-night Japanese), Soi 38 (delicious Thai food in a car park), Lulu's Char Koay Teow (legit Malaysian), Butcher's Diner (burgers) and Göz City (piping-hot gözleme and pide).
You can feast on an all-you-can-eat vegetarian meal for less than $10 at Crossways, a Hare Krishna-run restaurant in the CBD.
You can also avoid restaurants altogether and find food at food courts – there are usually plenty of Melbourne lunch deals to attract city workers. Takeaway restaurants along Swanston Street serve up pizza for a few dollars a slice as well as other cheap Melbourne food.
I have plenty more options (from budget to fancy dining) in my full guide to Melbourne restaurants.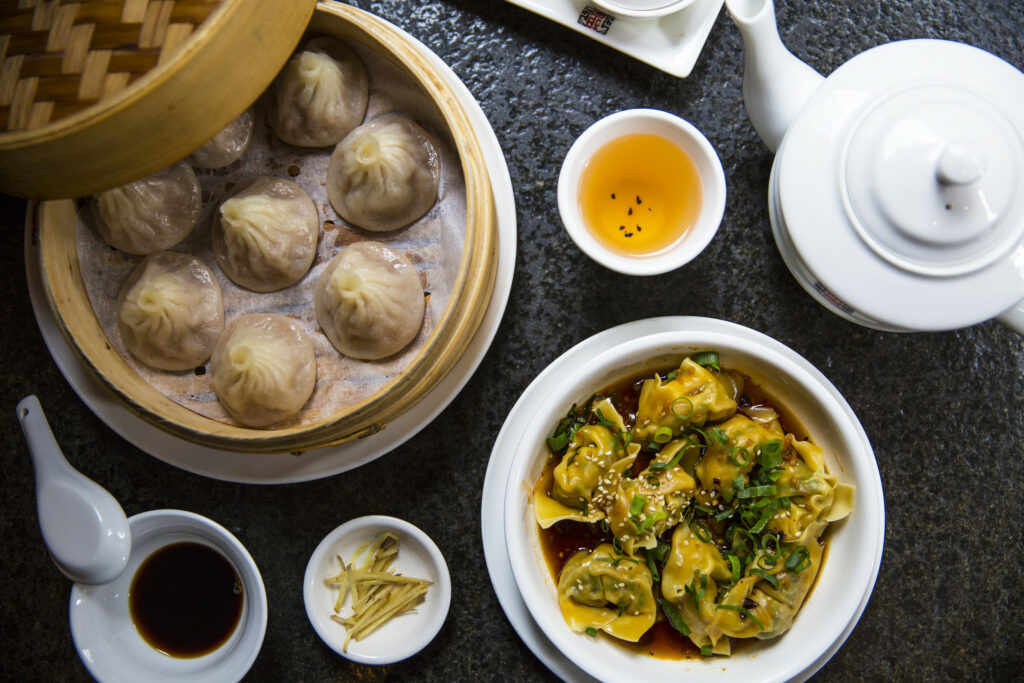 Ask restaurants to pack up any leftovers
If you can't finish everything on your plate, don't be shy to ask the wait staff to pack it up for you so you can take it away to enjoy later.
I would never have dreamed of doing this years ago, but so many restaurants in Melbourne are now happy to send you away with your leftovers. Even the fancy ones are doing it – I jokingly asked at Cumulus Inc (one of Melbourne's top restaurants) and they didn't even blink an eye!
Pack a picnic
Save some money and get out into nature by packing a picnic and enjoying it in one of the city's many beautiful gardens.
You can pick up some delicious cheeses, meats and fruits at the Queen Victoria Market (or Coles or Woolies to make it even cheaper!). Then spread out a blanket at the Royal Botanic Gardens, Edinburg Gardens or Fitzroy Gardens.
One of the best cheap things to do in Melbourne – cheap and beautiful!
If you do want to splurge on a picnic, I highly recommend booking a mystery picnic experience. With the help of clues, you'll find your picnic items around the city, before enjoying your goodies in a park. Read my Mystery Picnic Melbourne review to learn more about what to expect.
Bring a reusable water bottle
This is something that applies in most cities with quality water supply. Don't bother buying plastic bottles – save money and the environment by bringing your own water bottle and filling it up with good Melbourne tap water. There are even some water fountains around the CBD.
I'm a fan of this Nomader collapsible water bottle which has come with me on trips around the world.
Don't visit during school holidays
Prices for airfares, hotels and car hire are jacked up around school holidays and public holidays, so these are definitely times to avoid!
You can check my post about the best time to visit Melbourne to see when Victorian school and public holidays are, as well as major festivals and events.
Catch a discounted show
Looking for cheap things to do in Melbourne that also combine culture and entertainment? Head to Halftix to get heavily discounted tickets for musicals, theatre and other live performances around the city. I've seen tickets on here for up to 50% off which is a huge saving.
Tickets for sale online are usually for shows in the coming days, so you do need to be flexible.
Also check out TodayTix, where you can enter the lottery for ridiculously cheap tickets for shows like Hamilton and Harry Potter. But this is luck of the draw!
Check out some cheap museums
Melbourne has some decently priced museums, where you can while away a few hours on the cheap.
While NGV's blockbuster exhibitions have an entry fee, the main part of the museum is completely free – and huge. ACMI is also free, with seasonal paid exhibits. The Shrine of Remembrance is free, although donations are appreciated.
Other museums and Melbourne tourist attractions like Melbourne Museum, the Immigration Museum and Scienceworks are all under $20 per adult.
Take a self-guided street art tour
Melbourne street art tours like this one can cost up to $70 a person – but you can see our famous outdoor gallery all for free. Just strap on some good walking shoes and hit the streets.
Some of the best lanes for Melbourne street art are Hosier Lane, Caledonian Lane, ACDC Lane, Degraves Street and Union Lane.
Walk the city
On the topic of walking, you can spend several hours just wandering the streets of Melbourne, checking out street art, admiring the architecture and winding your way through laneways and arcades. This is completely free – except for snacks and drinks along the way.
Download for free
Save your downloads by logging into the extensive free wifi network around the CBD. Many don't require logins and are ad-free. You can see a list of free wifi locations in Melbourne online here.
Cheap laughs
Get some laughs on the cheap. Spleen Bar hosts live comedy every Monday night for a gold coin donation. Lido in Hawthorn has comedy on Tuesday nights for around $12 a ticket.
Catch some cheap tunes
It's also possible to catch cheap and sometimes free gigs around the city. Check out what's on around town at The Tote, the Evelyn, the Espy, Section 8 or the Night Cat.
Grab an Entertainment Membership
Entertainment books have been around for yonks and they're now available online as a membership. Sign up for Melbourne (or even multiple cities in Australia) and nab discounts on dining out, cheap activities in Melbourne, reduced hotel rates and more.
I haven't used these discount coupons for years, but I have heard of people making back their membership fee with the money they've saved on just one or two meals out.
Bundle activities and save with a Melbourne and Beyond Pass
Doing multiple activities around Melbourne can quickly add up, but by bundling them together, you can save a lot of money. There are a few different cards available in Melbourne, including the Melbourne and Beyond Pass and the iVenture Melbourne Flexi Attractions Pass.
Pick and choose the activities that you want to do, which include attractions as varied as Melbourne Skydeck, Melbourne Zoo, Old Melbourne Gaol and Legoland.
You can read my review of the Klook Melbourne and Beyond Pass to learn if it's right for you, or read my Melbourne attractions pass post which compares various options.
Drink on the cheap
A night out drinking can quickly add up and before you know it, you've blown the budget and you've got a killer headache to go with it. But never fear – there are plenty of happy hours in Melbourne to keep your budget on track.
Grab $10 margaritas at Mejico all day Monday and Good Heavens has $8 selected beers, cider and wines Wednesday to Friday from 5-7pm. From 4-7pm Wednesday to Friday you can sip on bargain bevvies at Chuckle Park, while the European Bier Café has happy hour Monday to Friday from 4-6pm.
Go op shopping
There's no need to buy any tacky souvenirs on your trip to Melbourne – grab some Melbourne fashion to take home with you instead.
Wearable souvenirs to remember your budget friendly trip to Melbourne can be found at Shag, Retrostar Vintage Clothing, Hunter Gatherer and Storehouse Thrift.
Grab fish and chips and people watch
There's nothing better on a warm evening than grabbing fish and chips, sitting on the beach and people watching in St Kilda. Fish and chip dinner packs can be found for around $10-$15 a person, and people watching is always free!
Plus, St Kilda is home to gorgeous Little Penguins who waddle their way up to their nests each night, as well as regular buskers and free entertainment.
Pet some cute animals
For $15 an adult and $7 a child, you can snuggle with baby goats, learn from the farmers or help put the chickens to bed at the Collingwood Children's Farm.
While the farm is just that – a working farm – there are opportunities for little ones to pet animals, learn about how food is grown and spend time in nature.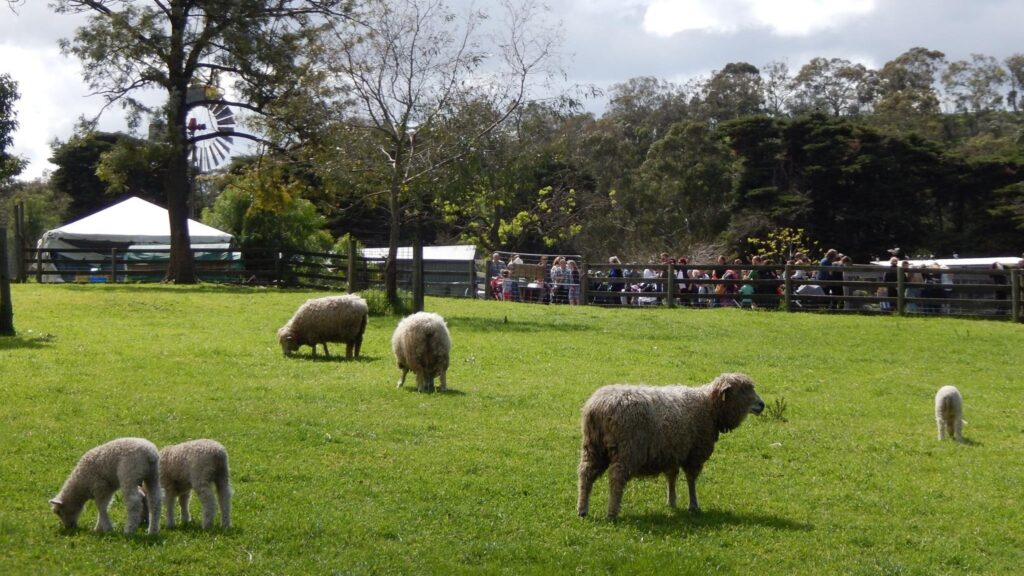 Head to the movies for cheap
Monday and Tuesday nights are the days to catch a cheap flick in Melbourne.
Hawthorn's Lido Cinema has $12 tickets on Tuesday (plus $8 student tickets all day Wednesday), while Cinema Nova sells bargain $7 tickets before 4pm or $10 for sessions after 4pm on Mondays. The Kino has $12 tickets on Tuesdays.
Go ice-skating on a Tuesday or head to the zoo with the kids
Much like cinemas, some Melbourne attractions also have discount days.
O'Brien Icehouse sells heavily discounted tickets on Tuesdays. Melbourne Zoo is free for kids under 16 on weekends, public holidays and school holidays.
So, look around at the things to do in Melbourne and see if you can plan your itinerary around a discounted day to save some dosh.
Cheap accommodation in Melbourne
Finding cheap accommodation in Melbourne is often hard, but here are a few suggestions for under $150 a night.
Or read my guide to where to stay in Melbourne to find accommodation outside of the CBD.
So there you have it: my guide to cheap things to do in Melbourne and how to save money on your trip to Melbourne. What tips will you use?
PIN IT FOR LATER
Save this guide to cheap things to do in Melbourne for your upcoming budget trip!
All photos courtesy of Visit Victoria