With its cool vibe, great nightlife and range of budget activities, it's clear why Melbourne is a favourite city for backpackers visiting Australia.
And there are plenty of hostels and backpacker accommodation in Melbourne to meet the demand. Spread across the coolest parts of the city, you'll find hostels with traditional dorms where you can forge life-long friendships or get some space of your own in a private room.
We've picked these Melbourne hostels because they're in great locations, have the amenities you'd expect of a backpacker hostel, and get great reviews. At all these backpackers' hostels, the staff are also fantastic and help to make the hostel experience an amazing one!
We hope this guide helps you pick a great Melbourne hostel for your visit!
This blog post may contain affiliate links, meaning if you book or buy something through one of these links, I may earn a small commission (at no extra cost to you).
Quick guide: Best hostels in Melbourne
Don't have time to read the whole article? Here are our top 3 picks for the best hostels in Melbourne.
Space Hotel
#1 pick
---
✔️ Rooftop terrace with jacuzzi
✔️ Central CBD location
The Mansion Melbourne
#2 pick
---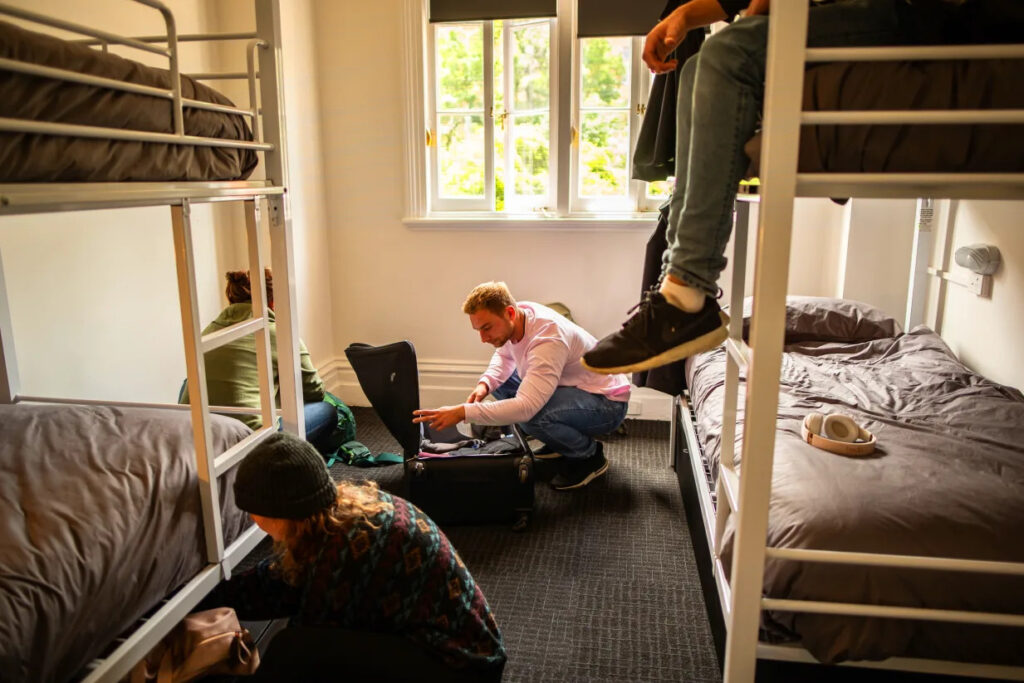 ✔️ Sustainable approach
✔️ Dorms and private rooms
Nomads St Kilda
#3 pick
---
✔️ Close to the beach
✔️ Onsite bar
Rating: 8.8 | Location: Melbourne CBD | View on Hostelworld
If you're looking for place to stay in Melbourne where you can meet lots of new people, Space Hotel is the hostel for you.
More of a hybrid between an upmarket hostel and a cool boutique hotel, Space Hotel has a range of different room types to suit all budgets, varying from dormitory beds to private and ensuite bedrooms. All the rooms are modern, and the private rooms feature iPod docking stations, televisions and super comfy mattresses.
There are also several shared spaces for you to relax and mingle with other travellers, including a lounge area, movie space, kitchen, workout facilities and a bar for grabbing a drink with your new friends. Plus there's a rooftop terrace with BBQs and a hot tub overlooking amazing city views!
Space Hotel is located between the Melbourne central business district (CBD) and Lygon Street, which means it's super central and within walking distance of several cool bars and restaurants. Nearby is the iconic Queen Victoria Market.
Why you'll love this hostel:
Rooftop terrace with hot tub and BBQs
Private rooms with iPod docking stations
Dorm rooms have no more than 8 beds
What other travellers say:
"Probably the comfiest (and quietest) hostel beds I've ever slept in. Space is a like a hostel but with hotel quality facilities, from the fixtures and fittings, to stuff like the gym and, cinema and kitchen. Tight security which is good, and cleaners always on the go. Definitely a mix of clientele. Location great in the free tram zone."

– Read more reviews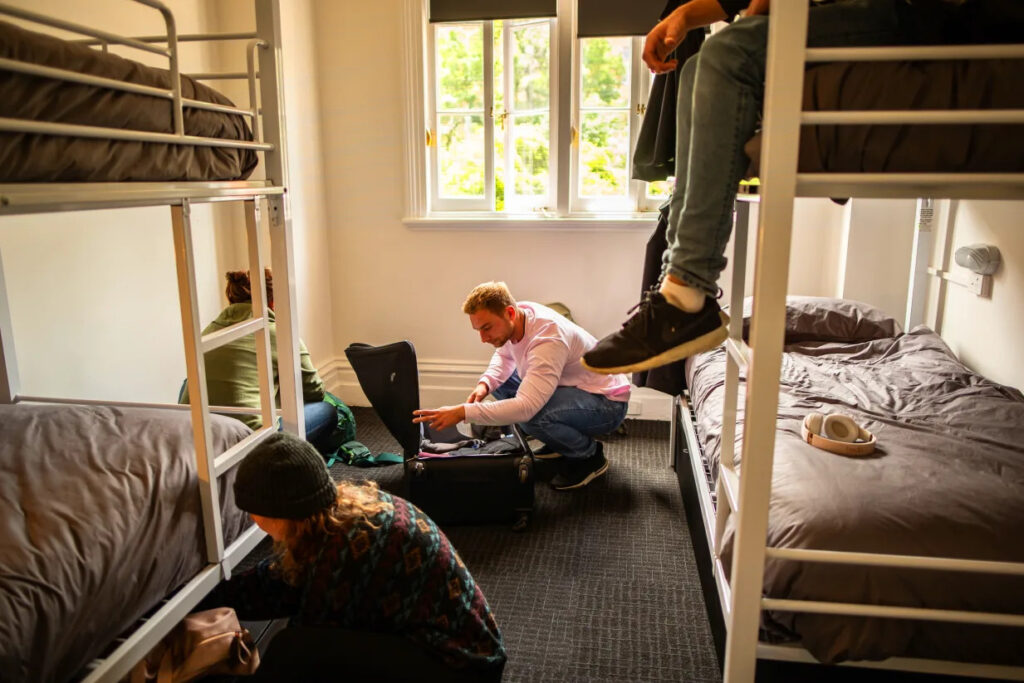 Rating: 8.9 | Location: East Melbourne | View on Hostelworld
The Mansion Melbourne is all about creating a fun, community-based atmosphere, all within a grand, heritage-listed building. The hostel is also on a mission to become a sustainable business, which makes it a winner in our eyes.
With several different dorm rooms to choose from – ranging from four to 12 beds, some mixed and some single gender – and a few private ones too, you can select exactly what you're most comfortable with and what your budget allows.
In the dorms, beds have privacy curtains, bed lights and a power point, and The Mansion prides itself on its comfy mattresses and pillows.
This hostel is conveniently located between the cool neighbourhoods of Fitzroy and Collingwood and the Melbourne CBD.
Transport is a breeze when you stay at the Mansion, as you're within the free tram zone and only a short walk to Parliament train station, making this one of the best backpackers Melbourne has to offer.
Why you'll love this hostel:
Focus on sustainability
Outdoor courtyard and BBQ
24-hour reception staff to help with questions at any time of the day
What other travellers say:
"An absolute great hostel. Want to start by saying how fab the staff are here so helpful, kind and lovely lot. Facilities are great, good storage system for food (dry and cold) beds and pillows really comfy. Lots of bathrooms and toilets. Location is amazing to the central city but also access to trams and trains. Would highly recommend this hostel."

– Read more reviews
Rating: 8.4 | Location: St Kilda | View on Hostelworld
If you're on the hunt for laid-back but fun hostels in Melbourne, Nomads St Kilda may just be the one for you.
Located just a tram ride away from the CBD in the funky, oceanside suburb of St Kilda, this Melbourne backpackers is a great place to stay if you want to meet people.
The hostel has dorm beds as well as private rooms, and there are also a few communal areas available, including a kitchen, bar, BBQ facilities and a TV room, among other things. Bonus: all rooms have their own ensuite so you don't need to go far to the toilet in the middle of the night!
The Red Eye Bar has activities most nights, including trivia, live music, bingo and plenty of cheap meal deals to help you stay on budget. The hostel also organised short trips to nearby Melbourne attractions such as the famously colourful Brighton Beach Boxes.
There are plenty of things to do nearby, including the beach for a chilled day out in the sun, heaps of restaurants, cafés and bars, and weekend markets.
Why you'll love this hostel:
All rooms have an ensuite and air-conditioning
Great location in seaside St Kilda
Tonnes of activities to keep you busy each night
What other travellers say:
"Best. Hostel. In Melbourne. Beds are great. Rooms are clean. Location is perfect. You will meet tons of new friends and staff is incredible. Shout-out to Isaac, Pahyton, Luke, Georgia and Wally, Josh, Liam, Boi and others for making my stay one of the best. The Red Eye bar downstairs has incredible atmosphere, good music, cheap drinks, and different events 5 days out of 7. I cannot recommend this place enough."

– Read more reviews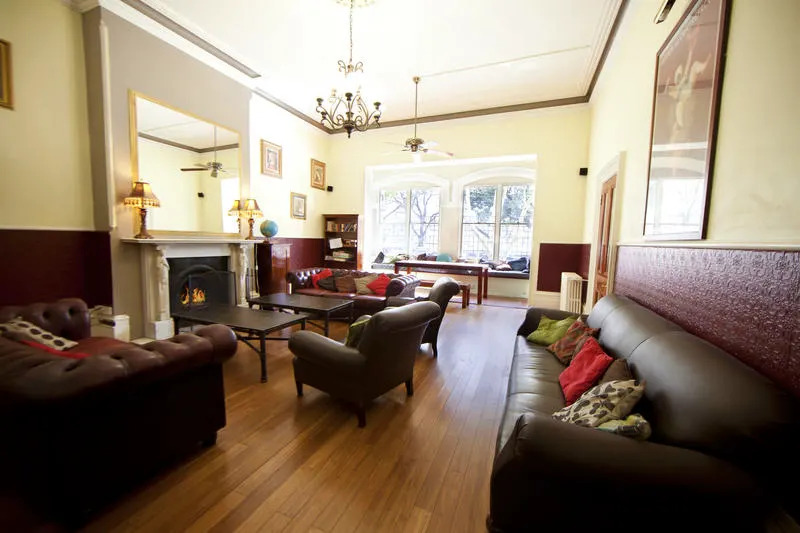 Rating: 7.5 | Location: Fitzroy | View on Hostelworld
Located in hip Fitzroy, The Nunnery is in what used to be the home of the Daughters of Charity – hence the name. Surrounded by hip bars and restaurants, this is the area of Melbourne you want to be in if you love nights out listening to live music and days spent exploring cool street art, cafés and shops.
The Nunnery has two sections – the classic backpackers and the guesthouse – providing guests with plenty of options for all budgets, making this one of the favourite hostels in Melbourne.
The hostel has a range of dorm rooms – some female only – as well as private rooms for one to three people.
The guesthouse is ideal for group bookings or families, and it has six bedrooms and three bathrooms. The guesthouse is kitted out with air-conditioning for the hot summer months. Some of the rooms have (non-working) fireplaces which lend an extra element of charm.
There's a kitchen and coin-operated laundry so you can feel right at home.
Why you'll love this hostel:
Range of fun activities, including pub crawls, trivia nights and yoga
Fantastic location in one of Melbourne's hippest suburbs
Equipment such as DVDs, hair dryers, straighteners, sports equipment and board games available free
What other travellers say:
"AMAZING!! Had the best time at this hostel! Such a nice atmosphere, wonderful people, cute little old townhouse, and located just in the middle of the best area in town! Would 100% recommend!"

– Read more reviews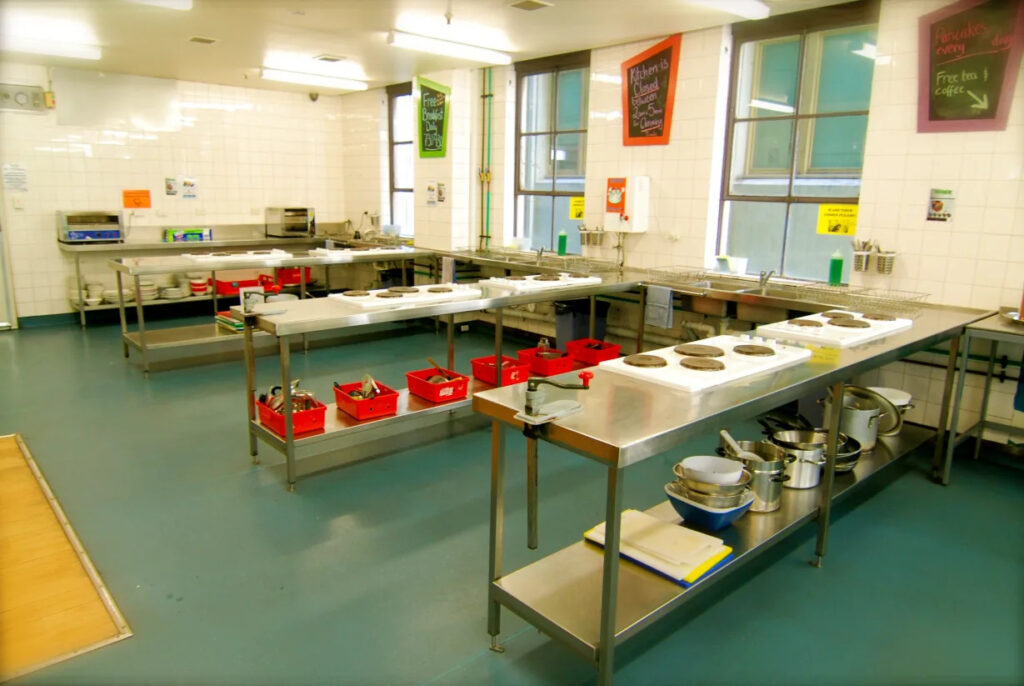 Rating: 8.1 | Location: Melbourne CBD | View on Hostelworld
Easily one of the best hostels in Melbourne – as confirmed by Hostelworld's HOSCAR Awards for several years running! – Flinders Backpackers is situated right in the middle of the Melbourne CBD hustle and bustle.
Flinders Street itself is teeming with awesome spots to drink, dine or go shopping, and the atmosphere in this area is exactly what backpackers dream of. It's also a super convenient place to be for accessing public transport.
Flinders Backpackers has a common room for socialising, a well-equipped kitchen and even a movie room for lazy evenings in.
Each bed in the dorms have their own lamp, charging port and shelf, and there are also lockers available at this Melbourne backpackers to keep your belongings secure. Superior dorm rooms have air-conditioning and heating, while the basic dorms have heating and ceiling fans.
Why you'll love this hostel:
Reception staff are available 24/7 – and can provide tonnes of recommendations
Central location, close to Flinders Street Station and the Royal Botanic Gardens
Dorm rooms have plenty of floor space, as well as lockers for security
What other travellers say:
"This is an outstanding hostel. It is in a great location near the train station. The thing that made this hostel special was the staff, who I found to be especially helpful, from check in to check out. Jared, who was at reception part of Sunday afternoon, went above and beyond at making sure that everyone around was having a great time. The hostel is optimal for socializing as it is one of the rare hostels with both a bar and a common area allowing drinks."

– Read more reviews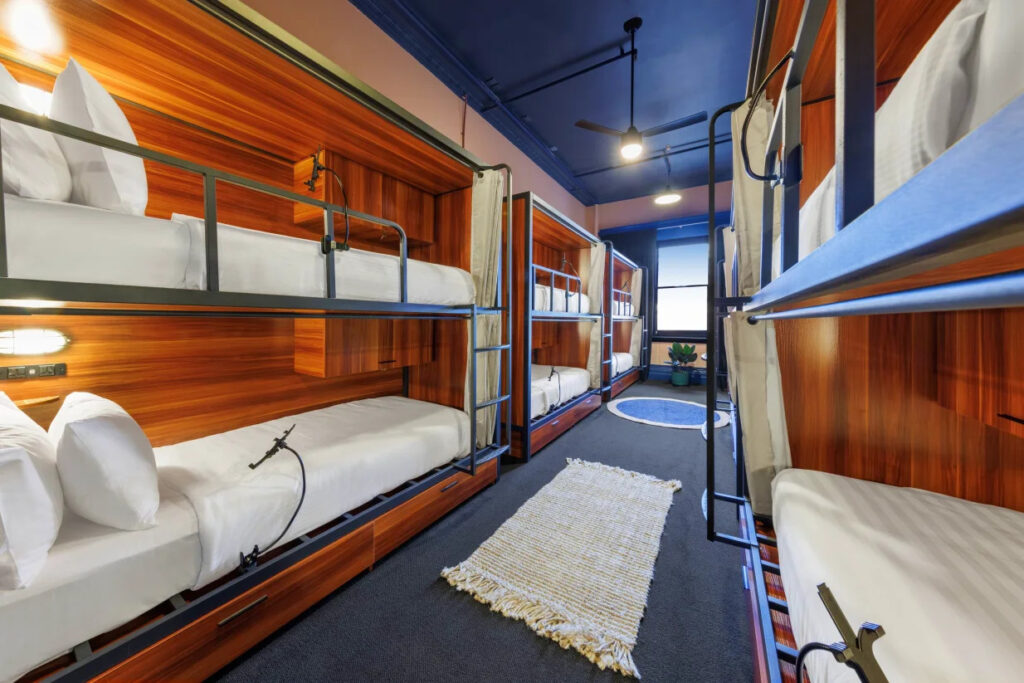 Rating: 8.7 | Location: Melbourne CBD | View on Hostelworld
One of the newest hostels on the scene, Selina Central Melbourne has everything you need and more. It's the ideal place to stay if you're looking for a little more upmarket or somewhere to work while you're travelling.
Located in the heart of the CBD, this Melbourne backpackers hostel is within walking distance of most of the city's most famous sites and attractions, as well as restaurants, cafés and bars.
Rooms are pristine and chic, with both private and shared options available. In the dorms, beds have privacy curtains that make you feel like you're in your own space, along with a personal drawer, cupboard, light and power point.
Guests have access to a kitchen, a co-working space, a library and a TV room, which is what puts this hostel just that little bit above all the rest. Best of all, Selina Central provides guests with breakfast so you can start your day the right way.
After a long day of wandering around, you can venture downstairs to the basement bar and enjoy a drink only a few steps away from your bed – perfect!
Selina also has a similar hostel in St Kilda.
Why you'll love this hostel:
Super stylish design
Central location
Great for people looking for co-working spaces
What other travellers say:
"Yes, just book this place. This is a professional, well run hostel. Central location, good security, electronic key card access control, large lockers, very comfortable beds & pillows, clean white sheets & warm quilt, hot showers with good water pressure, clean bathrooms regularly checked and cleaned, heaters in room, beautiful kitchen (open 24/7), social area (open 24/7), friendly and helpful staff, downstairs bar, washing machine & dryers available. Thanks Selina hostel mgmt & staff."

– Read more reviews
Rating: 8.4 | Location: St Kilda | View on Hostelworld
Located in St Kilda, Barkly Backpackers is the ideal Melbourne backpackers if you're wanting to enjoy a bit of nightlife during your stay. Not only is it situated in one of the most vibrant neighbourhoods in Melbourne, but the staff at Barkly know exactly what guests need after a late night.
Barkly Backpackers has the best budget accommodation in St Kilda. The hostel has shared 6, 8 and 10-bed dorms that are filled with light, clean and well looked after. There's also a comfortable common room for relaxing after a long night of partying or for mixing with fellow travellers.
Barkly Backpackers is also just five minutes from the beach!
This is what I'd describe as your typical backpacker joint – clean, comfortable, nothing fancy but everything you need for a great stay to experience Melbourne.
Why you'll love this hostel:
Great for those on a budget
Close to the beach and St Kilda dining and nightlife
Great common room that's the hub for socialising
What other travellers say:
"Excellent hostel for the price! You can't find a better location and the place was always very clean and well maintained. I stayed for a week and I will definitely be back in the future! I would recommend this hostel to anyone!"

– Read more reviews
Rating: 8.8 | Location: Fitzroy | View on Hostelworld
Located on Brunswick Street in the very heart of Fitzroy, Tram Stop 14 is a traditional cheap Melbourne backpackers, ideal for travellers who want to an affordable place to stay.
This hostel has a chilled-out vibe and close to some fun bars, music venues and restaurants.
This Melbourne backpackers provides guests with access to a fully equipped kitchen, unlimited wifi, laundry facilities and a choice between a dormitory-style or private bedroom. The dorms are 3, 6, 8 and 10-bed rooms so you can take your pick based on how many other people you want to share with. There's air-conditioning and heating to keep the rooms comfortable no matter the season.
Only ten minutes' walk from the CBD, Tram Stop 14 is also close to public transport, so getting around the city will be no problem.
Why you'll love this hostel:
Great location in hip Fitzroy
Affordable rates for those on a budget
Independently owned so you're supporting a local business
What other travellers say:
"Great hostel and amazing value for money! Located right outside a tram stop into the city you are never far from anything! Evan and Joan are really accommodating and always there to help. Social space is great for getting to know people, especially if you are new to the city! Thanks for a great stay!"

– Read more reviews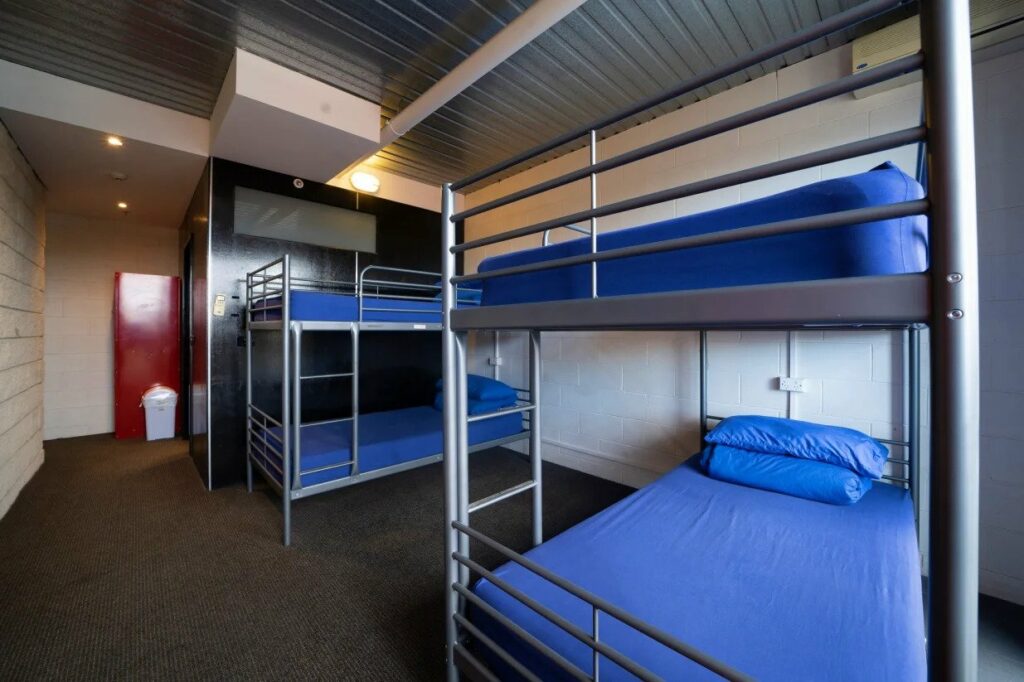 Rating: 8.0 | Location: St Kilda | View on Hostelworld
While it may not be summer year-round in Melbourne (we wish!), you will find warm staff with sunny dispositions at Summer House Backpackers Melbourne.
Opt for a budget-friendly bed in one of the 4, 6 or 8-bed dorms (all with ensuites) or a chic private bedroom. Dorm beds have double power sockets and large lockable lockers (BYO padlock).  
As a guest at this hostel in St Kilda, you'll have access to the ground-level Barkly Public Bar, including daily food and drink specials (score!) or head upstairs to enjoy an evening on the rooftop terrace with incredible views.
This hostel has laundry facilities, a TV room and, of course, unlimited wifi. 
Why you'll love this hostel:
Great for people on working holiday visas or looking for work
Access to a great pub downstairs and rooftop terrace
Nightly activities
What other travellers say:
"Awesome hostel, fantastic location. Ended up here on my way through Victoria, wish I could've stayed longer. It's in the middle of St Kilda. Love the all female dorms and the ensuite is handy and feels luxe. The kitchen is good size and the tv/movie room is an added bonus: good for lounging. The bar has great specials if you show your keycard. I also wanna give a big shoutout to the staff, can't remember their names but the guys at reception made me feel very welcomed."

– Read more reviews
Rating: 8.4 | Location: Melbourne CBD | View on Hostelworld
If you're looking for hostels in Melbourne that are perfectly located, then YHA Melbourne Central ought to be on your list. This hostel is in the heart of the city, very close to the top tourist attractions and a plethora of hip bars, cafes and restaurants.
The hostel offers a choice of dormitories or private rooms, both of which are kept super clean and are well-equipped.
YHA Melbourne is a great option if you're needing to work during your time here, as they have high-speed and reliable wifi.
Guests have access to a large self-catering kitchen, a communal dining area, BBQ facilities, a rooftop terrace, a bar and café, and a balcony area. There's a lot of space and this just feels like a traditional backpackers Melbourne hostel.
Why you'll love this hostel:
Melbourne CBD hostel in a central location
Plenty of space and all the facilities you'd expect of a hostel
Outdoor spaces to socialise or relax
What other travellers say:
"It was an amazing place and stay, the location was great and suited perfectly for what we needed. It was easy to find and had food shops all around for whenever we were hungry. Beds were comfy and rooms were big. Perfect for the little money you have to spend."

– Read more reviews
Rating: 7.9 | Location: South Yarra | View on Hostelworld
Comfortable, affordable and central, Hotel Claremont Guesthouse is an 1886 Victorian guesthouse offering guests a choice between private rooms and dormitories.
If you're looking to spend all your time exploring Melbourne and want somewhere affordable to stay in a safe neighbourhood, Hotel Claremont is a great choice. You'll get everything you need for a comfortable stay at one of the best budget hostels in Melbourne.
All dorm rooms have only four beds in each and all are single gender. The dorm rooms have air-conditioning and ceiling fans for comfort. The bathrooms are shared, but are single bathrooms which offer a little more privacy.
There's no kitchen, but breakfast is provided.
No more than 150 metres away from South Yarra train station (just a few stops to the CBD), this hostel makes a great base during your stay in Melbourne.
Why you'll love this hostel:
Dorm beds have only two bunks/four beds for those who prefer smaller dorms
Individual bathrooms
More residential area so you can explore Melbourne more widely
What other travellers say:
"Great price in the South Yarra. Super close to St Kilda. It's exactly what you'd expect, but great if you just need a place to sleep. There was also good vibes from other travellers there and seemed to be a great hostel for backpackers as well."

– Read more reviews
Rating: 8.0 | Location: Brunswick | View on Hostelworld
Landing Pads Brunswick is specifically set up to help solo travellers settle into the city and establish a home base while searching for work – this includes the practical side of things as well as the social. The idea is that the hostel helps facilitate the process of settling in, hosting in-house events and assisting with other needs too.
With 40 beds, the hostel has a kitchen, an espresso machine, lounge, outdoor area with a BBQ and multiple bathrooms.
It's near to transport options and surrounded by great bars, cafes and restaurants.  
Why you'll love this hostel:
Perfect for working holiday visa makers to settle in to Melbourne
Great location outside of the Melbourne CBD
Close to public transport
What other travellers say:
"Wonderful place with wonderful people. I've now been to 4 different hostels in Melbourne and this one is by far the best. Already missing the people I met at LP."

– Read more reviews
Rating: 7.4 | Location: Melbourne CBD | View on Hostelworld
When it comes to backpackers, Melbourne certainly has a lot to offer, but Melbourne City Backpackers is one for the books. On the corner of Little Bourke and King Street, this hostel is right in the action in the centre of the city. They offer budget-friendly accommodation that even includes breakfast!
Guests can choose between dorms – in which all beds have a locker and reading light – and private rooms. Dorms are 4, 6 or 16-bed rooms, with shared or female-only options.
Everybody has access to the communal kitchen to make a snack or cook a meal. Best of all, if you're hoping to get social, Melbourne City Backpackers has a few lounge areas in which you can chill out. There's even a big projector that's ideal for watching sports or for movie nights.
Want to take a tour? Pick the brains of the hostel staff who can help point you in the right direction.
Why you'll love this hostel:
Free breakfast included!
Central location
Tour desk and information to help you plan out more adventures in Victoria and Australia
What other travellers say:
"The cleanest hostel I have ever stayed in….Also, the quietest! Had such a great nights rest. Located right in the heart of Melbourne CBD, everything is available at your doorstep. Highly recommend!!"

– Read more reviews
Best hostels in Melbourne: FAQ
How do I save money in Melbourne?
Melbourne does have a reputation for being an expensive city – but luckily there are plenty of ways to save money while you're here!
Check out my guides to visiting on a budget:
Where to stay in Melbourne?
If you're wondering where to stay in Melbourne on your backpacking trip, there are a great range of areas to choose from. Backpacker hostels tend to be located in the following areas.
Melbourne CBD
If it's your first time in Melbourne, then the CBD (central business district) is a good choice so you're close to the main attractions.
Fitzroy, Collingwood and Carlton
These areas are close to the city centre but also have their own personalities and identities. It's here that you'll find live music, pubs, unique shopping and great food.
St Kilda
Melbourne's beachside suburb, St Kilda has great restaurants and nightlife. It's a popular area with backpackers.
You can read more in my guide to where to stay in Melbourne.
Map of Melbourne hostels
This map will give you a visual idea of where the coolest hostels in Melbourne are located.
How many days do I need in Melbourne?
To experience Melbourne, you need at least two or three days. This city is all about soaking up the atmosphere, enjoying our restaurants and bars, and exploring at your own pace.
If you need some Melbourne itinerary inspiration, I have guides to help you out!
Got a bit longer? Try these day trips from Melbourne to get out into our gorgeous regional areas.
Final thoughts: Best hostels in Melbourne
If you're coming to Melbourne to experience backpacking life in Australia's coolest city, you luckily don't have to worry about finding cool accommodation for your trip.
This guide has highlighted the best hostels in Melbourne, covering the hippest areas to visit with options for every budget. Enjoy your Melbourne backpackers experience!
Looking for more Melbourne and Victoria accommodation guides? You might like these:
PIN IT FOR LATER