Looking for the best things to do in Fitzroy, Melbourne? Check out our curated guide to what to do, see, eat and drink in one of Melbourne's hippest suburbs.
No visit to Melbourne is complete without checking out one of our coolest suburbs: Fitzroy. Known for its trendy restaurants and cafés, cool bars, eye-catching street art, eclectic vintage shops and overall cool vibe, Melbourne's oldest suburb is a must-visit for anyone looking to explore the city beyond the CBD.
Originally established in the 1850s, Fitzroy was once a bustling hub of industry and commerce during Melbourne's early growth. The area has undergone significant changes since then, morphing into a bohemian hotspot that's brimming with creativity and innovation and draws locals and visitors alike.
As a former north side girl, I'm sharing my guide to the best things to see, do, eat and buy when you're in this 'hood, just a short tram ride north of the CBD. Visiting Fitzroy is all about exploring like a local rather than having an itinerary, so take your time and enjoy the vibe of this area.
Map of Fitzroy
Things to do in Fitzroy
Street art
While the CBD may get all the attention for street art, you'll also find plenty of awesome streetscapes in Fitzroy. Adorning walls and buildings throughout the neighbourhood is art that's colourful, eye-catching and offers a glimpse into the creative spirit that embodies Fitzroy.
Take a stroll through Brunswick Street, Gertrude Street, Rose Street and Johnston Street to spot colourful murals, intricate stencils and thought-provoking pieces by world-renowned artists like Rone and Adnate, as well as up-and-comers.
Even better, join a street art tour with a guide who's actually a street artist. They'll show you all these hot spots as well as hidden street art that even some locals don't know about. I haven't done their Fitzroy tour, but the CBD street art tour is one of the top Melbourne tours I've done. Book online here.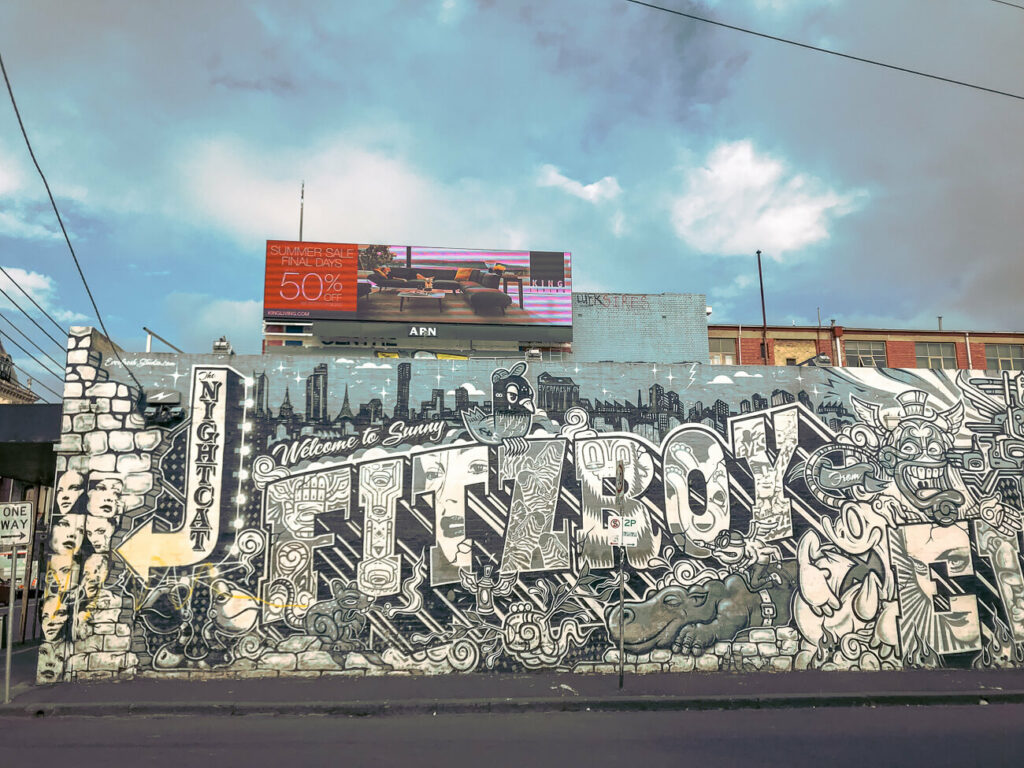 Edinburgh Gardens
In North Fitzroy, Edinburgh Gardens is a great spot on a sunny day. This beautiful park is the perfect spot to take a stroll, have a picnic or just relax and people-watch.
Centre for Contemporary Photography
Art lovers should check out the Centre for Contemporary Photography. This gallery showcases some of the best modern photography from both Australian and international artists. The exhibits change regularly, so there's always something new to see.
Sutton Gallery
Sutton Gallery is a contemporary art space in Fitzroy that exhibits innovative and challenging works by emerging and established Australian artists. The gallery has been showcasing thought-provoking and experimental art since 1992 and has become a key institution in Melbourne's vibrant art scene.
The Mary Glowery Museum
Completely off the beaten path and very unknown, this museum is dedicated to the life and career of Mary Glowery, a pioneering surgeon and nun who worked at St Vincent's hospital in the mid-twentieth century. Visitors can explore exhibits that showcase Glowery's accomplishments and learn about the history of medicine in Australia.
The museum also houses a collection of medical instruments and equipment from the early days of St. Vincent's Hospital, providing a fascinating glimpse into the evolution of healthcare in Melbourne.
Learn about Fitzroy's notorious past
Join a local historian to learn about Fitzroy's shady past on the Fitzroy True Crime Walking Tour. This suburb was once home to thieves, murderers, gang bosses, pimps and other dodgy folks. Historian and author Michael Shelford brings them all to life through his storytelling as he guides guests past former brothels, gang hot spots and the sites of shocking crimes. Book a spot on the tour.
Fitzroy swimming pool
Melburnians love a swimming pool, and the Fitzroy swimming pool is a great place to cool off when it gets hot. With plenty of space to swim and play, it's a great spot for families or solo swimmers looking to take a dip. This is one of the best things to do in Fitzroy if you want to hang out with locals.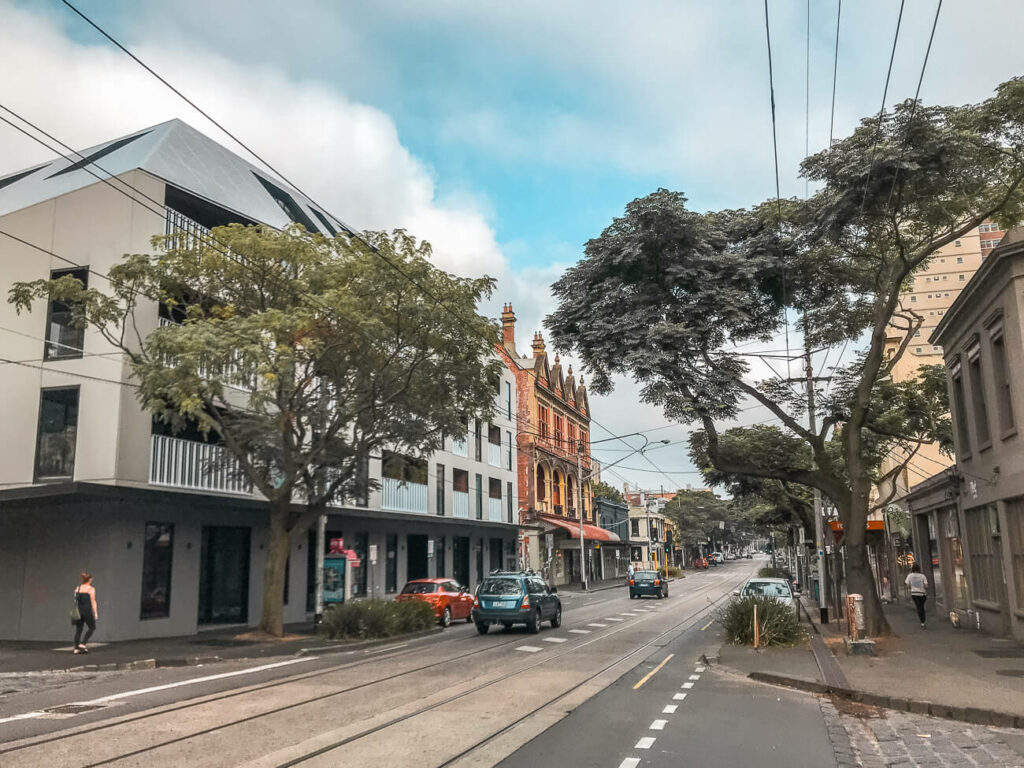 Where to eat in Fitzroy
Keep reading and you'll discover that one of the best things to do in Fitzroy is eat. The Melbourne food scene here is diverse, interesting and ever-changing, but there are stalwarts that will never change and we're so glad for that. Here are just a few of my favourite places to eat in Fitzroy.
Start your day with a coffee at Industry Beans (70-76 Westgarth St, Fitzroy), a specialty coffee roaster and café that has gained a reputation for its exceptional coffee and innovative brunch dishes. The coffee menu is extensive, featuring single-origin beans and blends that are sourced from around the world and roasted in-house. The brunch menu is equally impressive. The space is sleek and minimalist, with exposed brick walls.
For something casual, Alimentari (251 Brunswick St, Fitzroy) is a cozy deli-style café that's been serving up delicious Italian-inspired food for over 20 years. From juicy meatballs to the freshly-made pasta, breakfast, lunch, or dinner, Alimentari is always a good choice.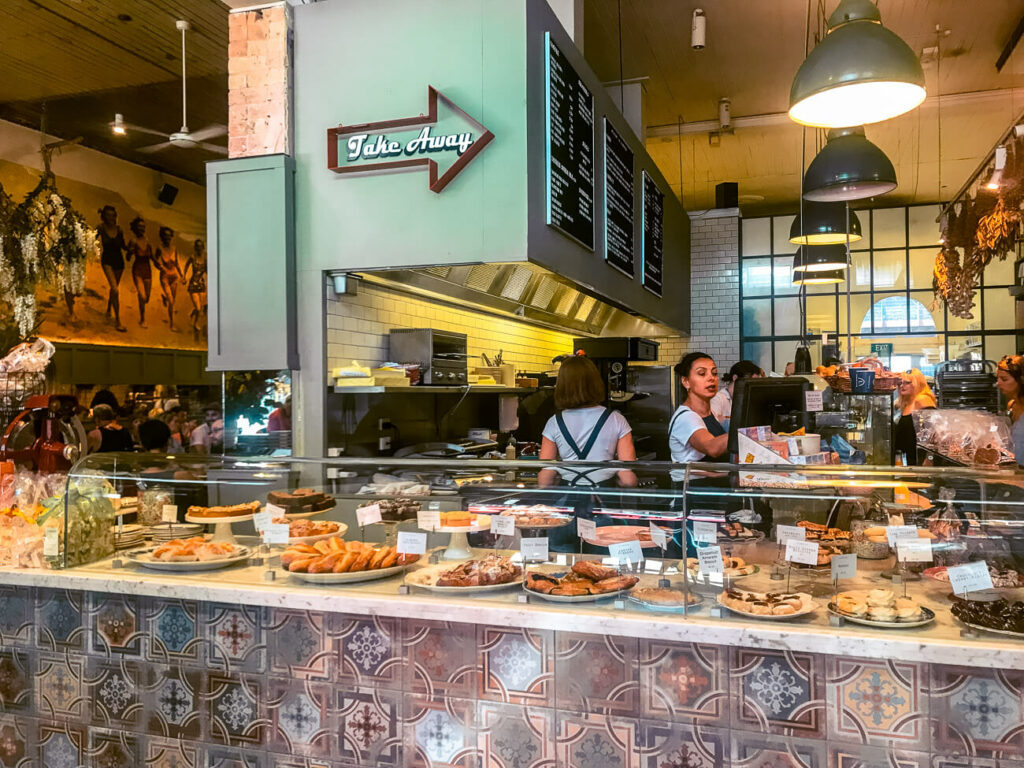 Archie's All Day (189 Gertrude St, Fitzroy) is an all-day breakfast joint that serves up delicious coffee and classic breakfast dishes with a twist. The laid-back atmosphere and friendly staff make for a great dining experience. I'd happily have the Huevos Sucios (tater tots, fried eggs, salsa and avocado – kind of like tater tots nachos) as my last meal.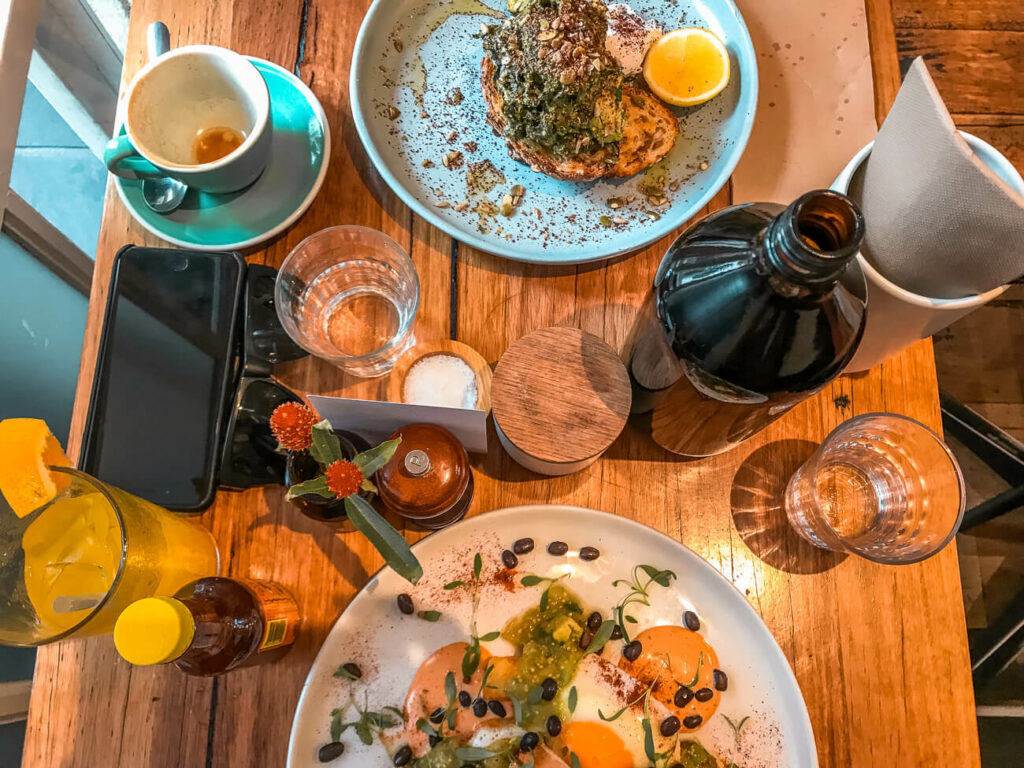 Lune Croissanterie (119 Rose St, Fitzroy) has a cult-like following, with people lining up for the French pastries and freshly baked croissants (the New York Times once described them as the best croissants in the world). Their croissants are legendary and often sell out early, so make sure to get there early.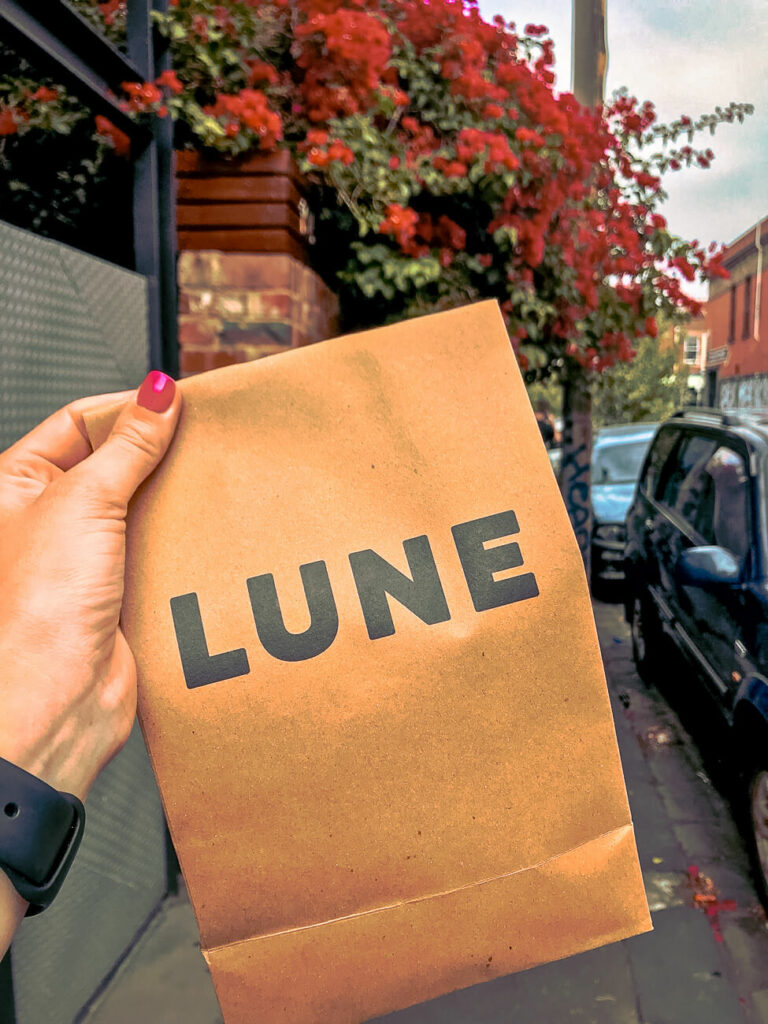 Lebanese icon A1 Bakery has opened up another store in Fitzroy (295 Brunswick St, Fitzroy) so you can get all the Lebanese pizza and hot cheese pastry goodness closer to the city. This shop is far smaller than their Brunswick bakery, with only a few seats for dining in. It's one of the best options for cheap eats in Fitzroy.
If Mexican food is your thing, then Frankie's Tortas & Tacos (30 Johnston St, Fitzroy) is an absolute must-try. Their tortas and tacos have become so popular they have recently moved from their pop-up to a permanent brick-and-mortars restaurant.
For a taste of Southeast Asia, head to Rice Paper Scissors (307 Brunswick St, Fitzroy), a restaurant that serves up Vietnamese street food with a modern twist. Their menu features small plates perfect for sharing, such as crispy spring rolls, sticky pork belly bao buns and papaya salad. Their cocktails are also worth a try.
Belle's Hot Chicken (150 Gertrude St, Fitzroy) is a popular spot for those who love fried chicken with a spicy kick. The restaurant serves up delicious fried chicken that's been marinated in hot sauce and cooked to perfection. Pick how hot you want it, from Original to Really F**kin Hot and add a side like mac and three cheese, fries or slaw.
Kewpie (376 Brunswick St, Fitzroy) is the reincarnation of Bimbo Deluxe, a chilled-out pub with a rooftop. Despite the name change, they're still serving up their $5 pizzas, an absolute bargain.
Another fave spot in Fitzroy is Shop Ramen (329 Smith St, Fitzroy), which offers some of the best ramen in Melbourne, along with bao buns. Their ramen broth is rich and flavourful, with vegetarian options. This place is teeny-tiny, with everyone sharing one big table, so prepare to queue for a bit (it'll be worth it, though).
If you want to enjoy a pint of beer with your meal, head to the Marquis of Lorne (411 George St, Fitzroy), an iconic pub that offers a range of delicious pub grub. Their potato cakes are the stuff of legends and a must-try for anyone visiting Fitzroy.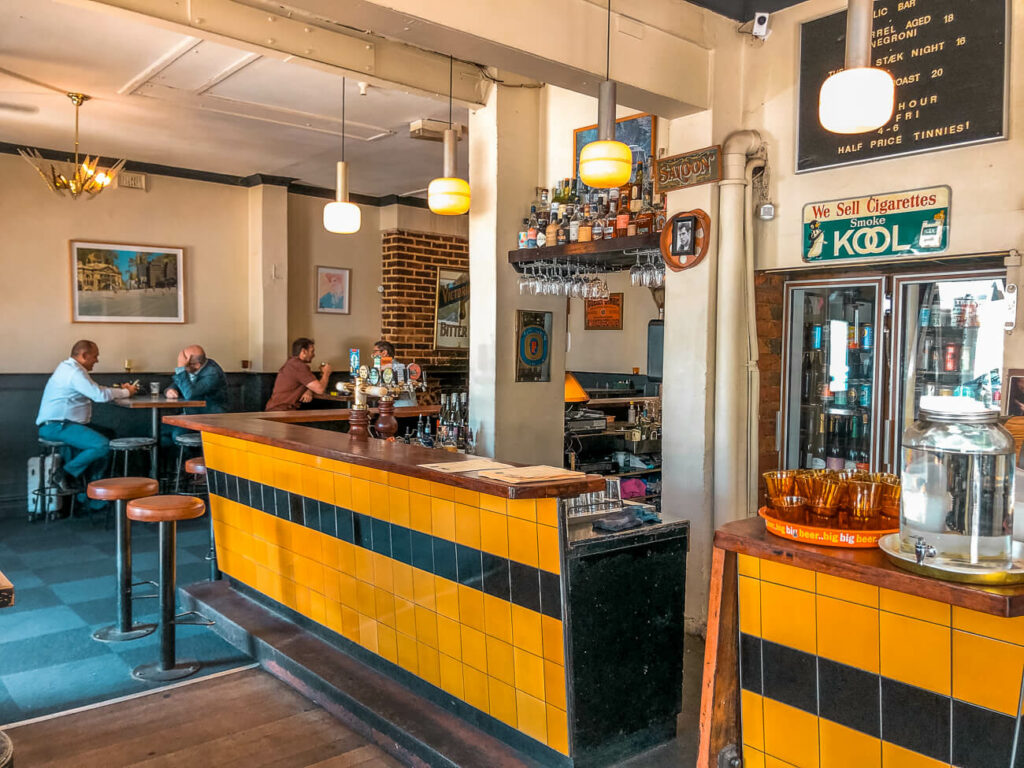 One of the best restaurants in Fitzroy, the Builders Arms Hotel (211 Gertrude St, Fitzroy) is a gastropub overseen by well-known Melbourne chef Andrew McConnell. There's a spacious beer garden, a cozy dining room and a lively bar area, so you really can have any dining or drinking experience here. The menu is focused on modern Australian cuisine, and there's an extensive wine list is extensive.
For a vegetarian menu that could turn a diehard carnivore, head to Transformer (99 Rose St, Fitzroy). The menu is designed for sharing, with a mix of small and large dishes that are packed with seasonal produce and bold flavours. The space is stylish and minimalist, inside a renovated warehouse.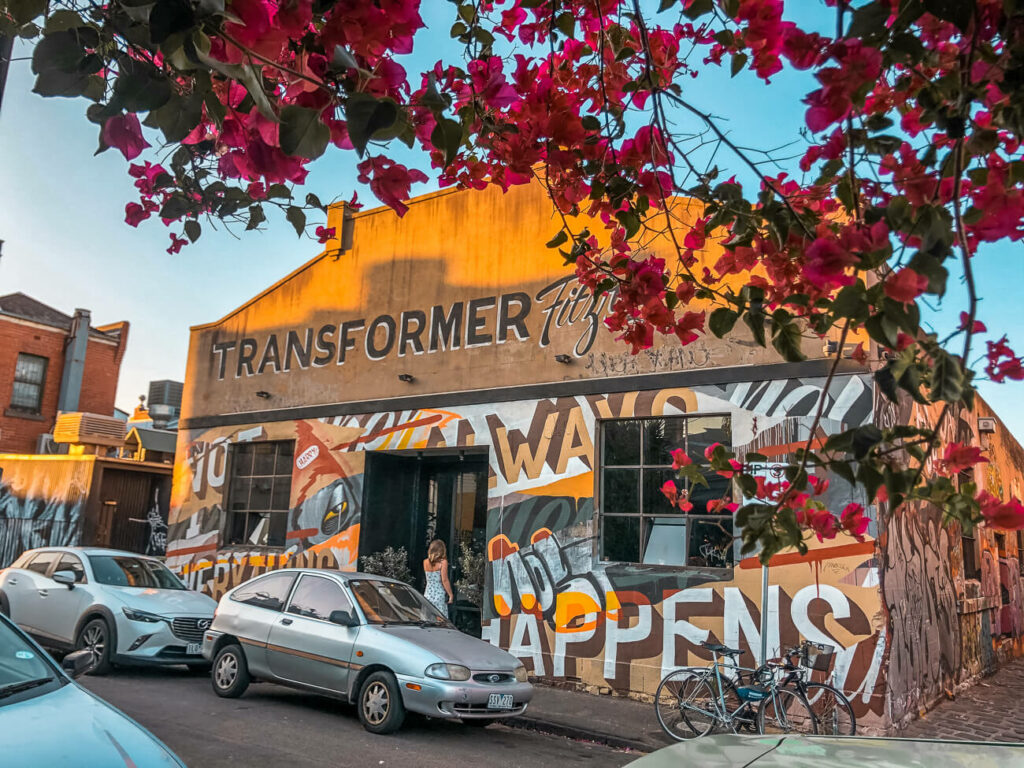 For a more upscale dining experience, check out Cutler & Co's (57 Gertrude St, Fitzroy) contemporary Australian menu with a focus on seasonal produce. The restaurant has won plenty of awards over the years and is known for its exceptional service.
Finally, no trip to Fitzroy is complete without a visit to Gelato Messina (237 Smith St, Fitzroy). No matter whether it's day or night, hot or cold, there's usually a line for some of the best gelato in Melbourne. Their menu features dozens of flavours, from classics like chocolate and strawberry to more luxe options like peanut butter and jelly or crème brûlée.
Best bars in Fitzroy
After you've enjoyed all the food Fitzroy has to offer, check out its lively bar scene. There's everything from chilled pubs to trendy, award-winning bars. The bar scene truly comes alive during Melbourne at night, but there are also some great spots for day drinking.
The Everleigh (Level 1, 150-156 Gertrude St, Fitzroy) is one of the best bars in Fitzroy, known for its classic cocktails and elegant ambiance. I once heard it described as a bartender's bar, and that's pretty accurate – the bartenders here know their stuff and are serious about cocktails. Sit at the bar and watch the masters do their thing, or grab a more private booth. It's a beautiful bar, as well, with dim lighting and vintage decor.
For something more relaxed, Naked for Satan (285 Brunswick St, Fitzroy) has a great rooftop terrace with panoramic views of the city. This is a great spot for a sunny afternoon, to enjoy the tapas-style menu with your bevvies.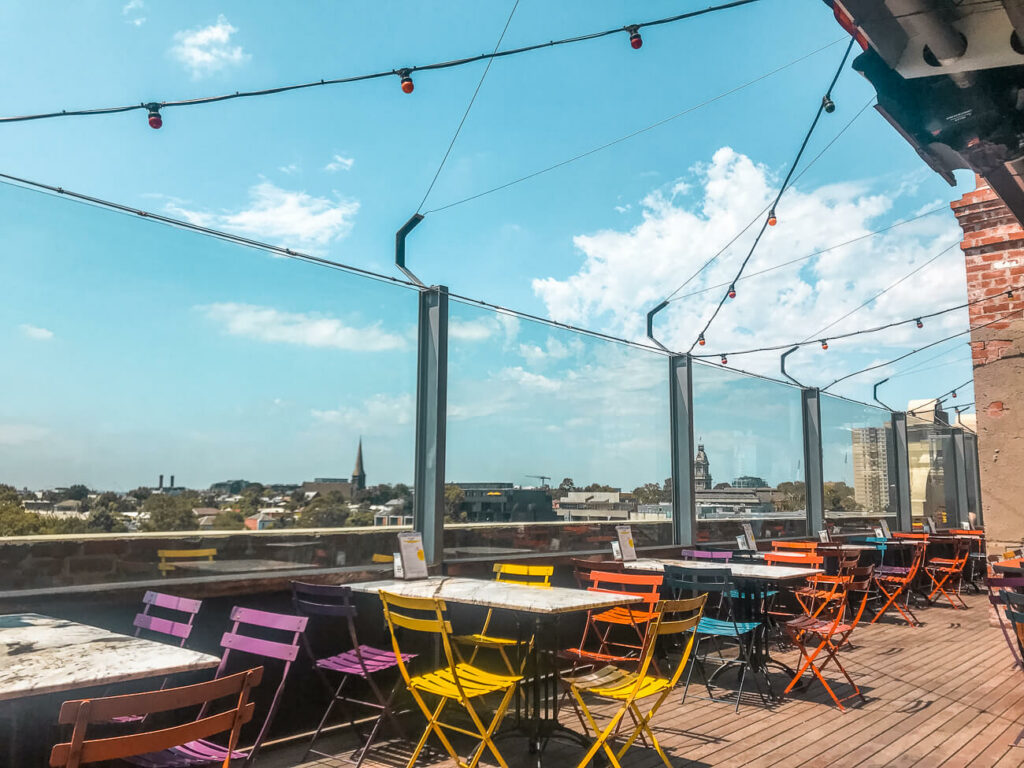 For rum aficionados, The Rum Diary (334 Brunswick St, Fitzroy) is a cozy spot that serves up a range of rum-based cocktails and Caribbean-inspired snacks. Bartenders are friendly and knowledgeable, and they're happy to recommend a drink based on your preferences. And no worries if you don't like rum – they've got plenty of other spirits, wines and beers.
Bad Frankie (139-141 Greeves St, Fitzroy) is another bar worth visiting in Fitzroy. This fun bar is dedicated to all things Australian, with a menu that features local beers, wines and spirits. The bar's signature cocktails are made with spirits that celebrate native ingredients such as lemon myrtle and wattleseed. Hungry? They whip up a selection of gourmet jaffles to soak up that booze.
Black Pearl (304 Brunswick St, Fitzroy) is a legendary bar in Fitzroy that's been named one of the best bars in the world multiple times. The bar's menu is extensive, featuring classic and contemporary cocktails that are expertly crafted by their skilled bartenders. Despite its accolades, the bar has maintained an atmosphere is laid back and friendly.
The Napier Hotel (210 Napier St, Fitzroy) is a classic pub that's been a fixture in Fitzroy for almost 140 years. The pub's interior is decorated with vintage photos and memorabilia, and the outdoor beer garden is the perfect spot to relax with a pint on a sunny afternoon. There's a range of local and imported beers, as well as pub fare like burgers and fish and chips.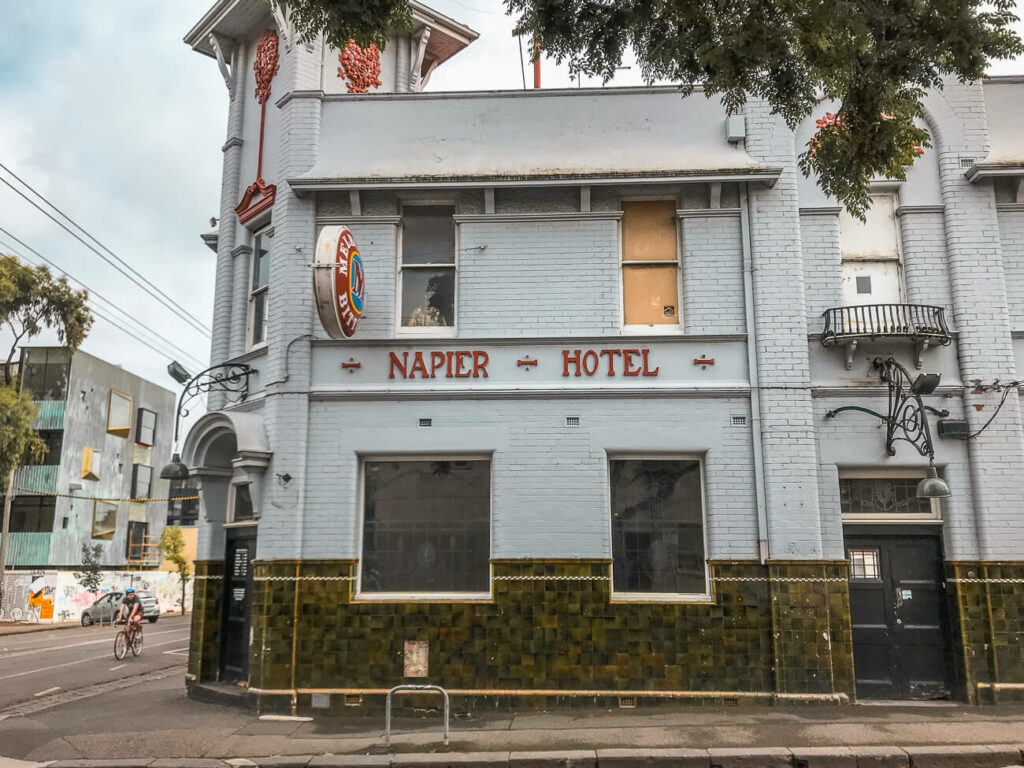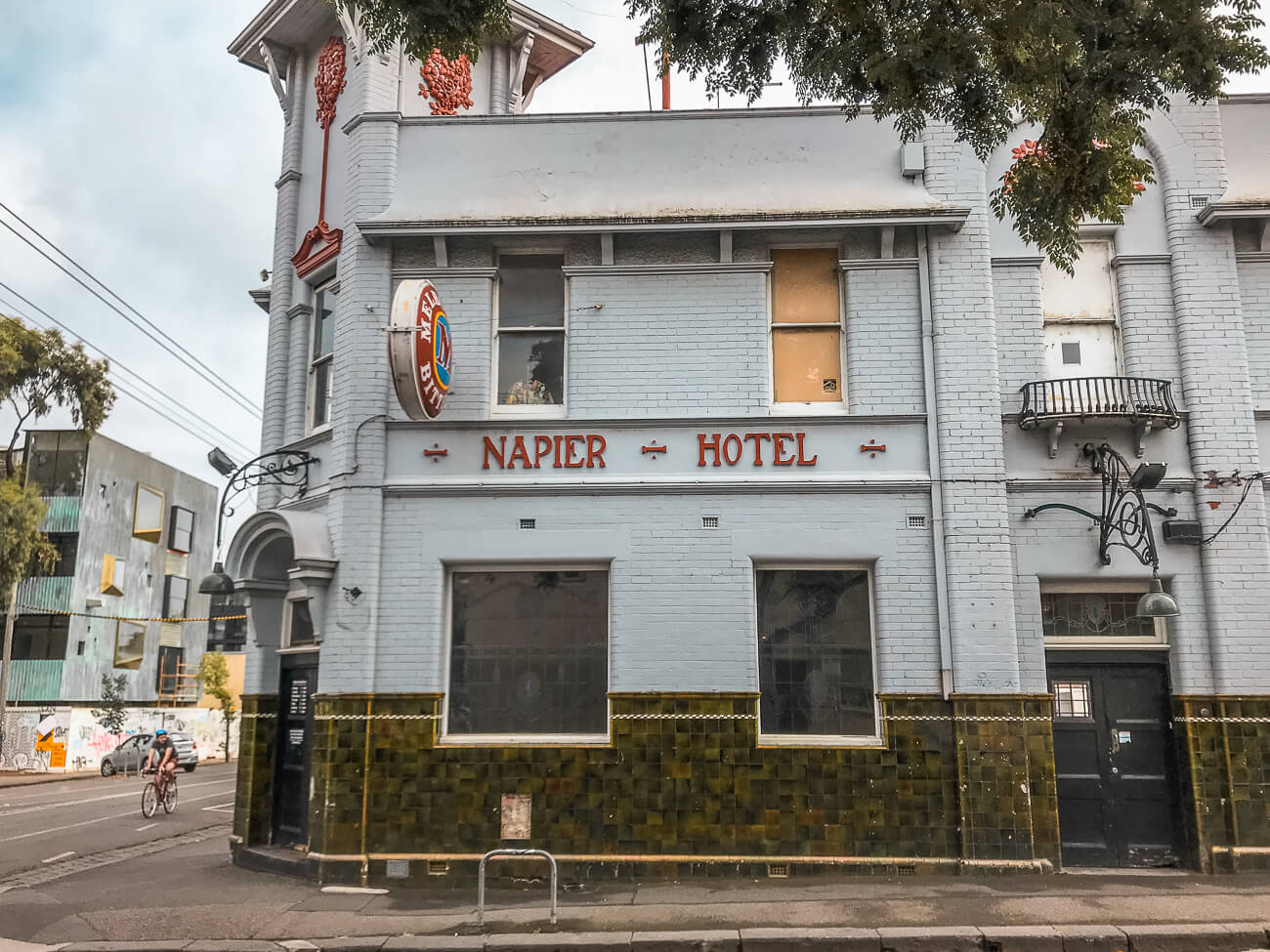 Where to shop in Fitzroy
Fitzroy is famous for its vintage stores, independent boutiques and artisanal markets where you can find unique souvenirs and eclectic gifts.
Markets
First and foremost, don't miss Rose Street Artists' Market (60 Rose St, Fitzroy), an iconic open-air market where local artists and designers showcase their wares. From handmade jewellery to original artworks, the market offers a wide range of unique and affordable products. You can talk directly to the artists and learn about their creative process while supporting the local creative scene. It's held every Saturday and Sunday from 10am to 4pm.
Just a few steps away from the Rose Street Artists' Market, the Fitzroy Mills Market (75 Rose St, Fitzroy) is all about local produce, food and drinks. Buy directly from local farmers, grab a coffee or a bite to eat for lunch, pick up some vintage and handcrafted clothing and listen to live music. The market is open every Saturday from 9am to 2pm.
Vintage shopping
For vintage and thrift shopping, head to Lost & Found Market, Vintage Garage, or Hunter Gatherer.
Lost & Found Market (288 Brunswick St, Fitzroy) is a vast emporium of vintage and antique treasures, with over 50 stalls selling everything from retro clothing to old vinyl records.
Vintage Garage (323 Smith St, Fitzroy) stocks vintage clothing, records and accessories, as well as plenty of memorabilia, including vintage posters, toys and homeware.
Hunter Gatherer (274 Brunswick St, Fitzroy) is a charity boutique that specialises in vintage clothing and accessories, offering a carefully curated selection of unique and timeless pieces from different eras.
Plug Seven Records
Music lovers should visit Plug Seven Records (313 Smith St, Fitzroy), a record store that sells both secondhand and new records. You'll find every music genre here, and the staff are experts who can find your favourite artists or guide you to some new ones.
Das T-Shirt Automat
For something really fun and quirky, make your own t-shirt at Das T-Shirt Automat (152 Johnston St, Fitzroy). As the name suggests, it's an automated T-Shirt dispenser that allows you to choose a design and size, and then watch a series of mechanical movements that bring your T-shirt to life. It's a fun and interactive way to shop for souvenirs and gifts.
Cottage Industry
Catering to those with a love for beautifully crafted homeware, ceramics and artisanal goods, Cottage Industry (67 Gertrude St, Fitzroy) stocks a gorgeous collection of handcrafted jewellery, ceramics, textiles and artwork, all made by skilled artisans. Cottage Industry has a reputation for promoting ethical and sustainable businesses and has been a favourite of Melbourne locals and tourists alike since its opening in 2008.
Gorman
One of Australia's most-loved fashion labels, Gorman (190 Brunswick St, Fitzroy) is known for bright, bold prints, playful patterns and sustainably-made clothing made from organic and recycled materials. The store is a riot of colour and a great place to browse for your next statement piece.
The Ordinary
Cult beauty brand The Ordinary has landed in Fitzroy (233 Gertrude St, Fitzroy) – its first-ever store in Australia. I love this brand and use it daily, and having a physical store means you can ask one of the beauty experts to customise a beauty regimen just for you.
Where to stay in Fitzroy
Here are three options for accommodation in Fitzroy – and you can check out my Fitzroy hotel guide for further suggestions.
StayCentral – super funky converted warehouse in an old factory built in around 1880 | Check prices and availability online
Tyrian Serviced Apartments – these apartments in Fitzroy are a trendy place to stay with a bit more space than a hotel room | Check prices and availability online
The Nunnery – if you're after a great budget accommodation in Fitzroy, The Nunnery is a Melbourne hostel in what used to be the home of the Daughters of Charity | Check prices and availability online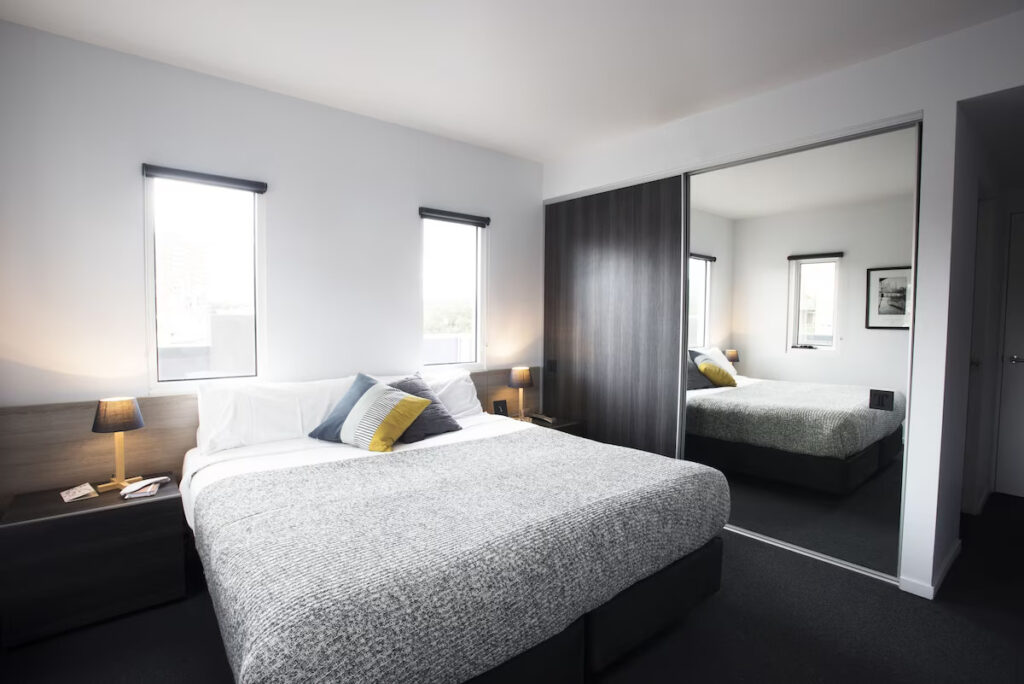 How to get to Fitzroy
Fitzroy is super close to the CBD, so it's just a short tram ride to Smith Street on the number 86 tram or to Brunswick Street on the number 11 tram. The number 96 will also get you to Nicholson Street and from there it's just a quick walk over to Brunswick Street. Not sure how to catch a tram? Read my full Melbourne public transport guide for tips.
The coolest things to do in Fitzroy, Melbourne: Final thoughts
Fitzroy is a great destination for visitors who want a bit more of a "local" experience when they're in Melbourne. With awesome bars, countless restaurants and tempting shops, Fitzroy is the place to be, and this guide has hopefully shown you what to do in Fitzroy when you visit!
PIN IT FOR LATER