Wondering where to stay in Fitzroy, Collingwood or Carlton – some of Melbourne's coolest neighbourhoods? This guide has some great suggestions for apartments and hotels in Fitzroy, Collingwood and Carlton!
One of the most frequently asked questions I receive from people visiting Melbourne is where to stay. While the central business district (CBD) may be the first choice for many – it does have the most hotels, after all – there are plenty of other vibrant areas to make your stay feel a little more "local". Three such suburbs that I highly recommend are Fitzroy, Collingwood and Carlton. 
Located to the north-east of the CBD, Fitzroy, Collingwood and Carlton each have a rich cultural heritage, which is evident in the streetscapes, artsy laneways, and eclectic food and fashion scenes. 
Fitzroy is known for its trendy cafés and bars, vintage clothing stores and street art – there are plenty of things to do in Fitzroy. Collingwood has a strong artistic and industrial past and is now a hub for contemporary art galleries, craft breweries and hipster cafés. Carlton is the perfect blend of old-world charm and modern vibrancy, with iconic Lygon Street lined with traditional Italian restaurants, beautiful boutiques and lovely bookstores. 
Most of the accommodation in these suburbs are going to be serviced apartments, rather than hotels – but I think this adds to the local experience!
So, if you're looking to get out of the city, take a look at one of these suburbs for a Melbourne experience that's a little bit different.
This blog post may contain affiliate links, meaning if you book or buy something through one of these links, I may earn a small commission (at no extra cost to you).
Accommodation map 
Top accommodation picks
Don't have time to read the whole post? Here's our top pick for where to stay in each suburb.
StayCentral
Fitzroy top pick
---
✔️ Funky converted warehouse
✔️ Awesome location
Quest Collingwood
Collingwood top pick
---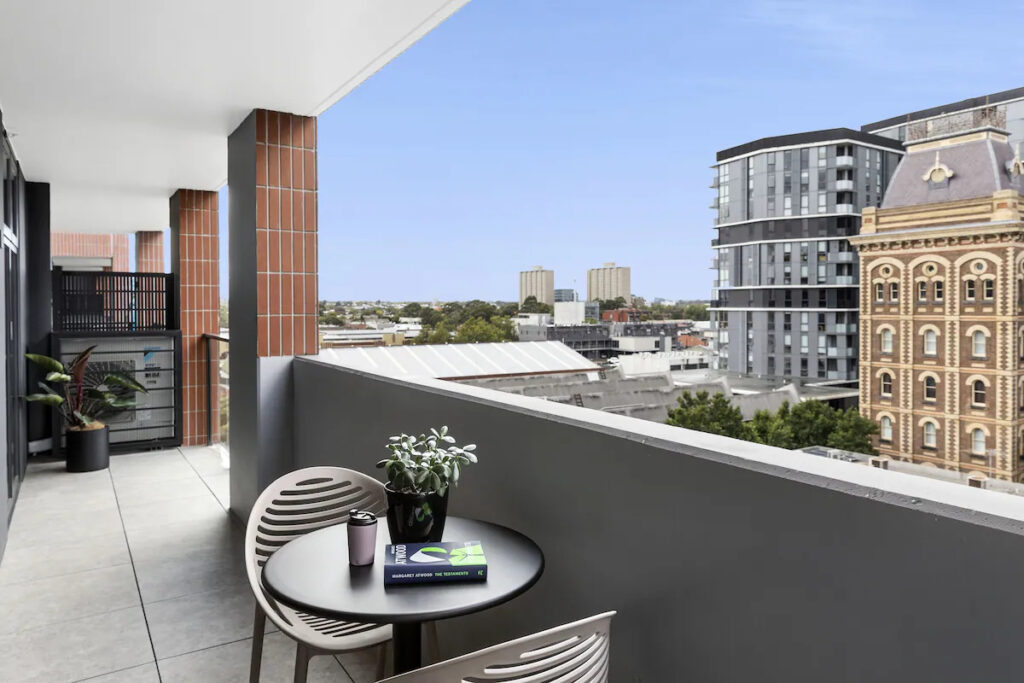 ✔️ Stylish and modern
✔️ Great location
Zagame's House
Carlton top pick
---
✔️ Beautiful design
✔️ Close to amazing restaurants and bars
Fitzroy accommodation options
Rating: 8.7 | View on Booking.com
If you're in the mood for something a little different and a little more homely, StayCentral, a converted warehouse, is a super funky accommodation option in Fitzroy. The warehouse is in an old factory that was built in around 1880, and it's a gorgeous combination of heritage architecture and modern decor.
The warehouse has two bedrooms, a living room, two bathrooms and a fully-equipped kitchen, ideal for a nice quiet night in – but why would you want to when you're just off Smith St and can head to amazing restaurants and bars? There's also a private terrace with Melbourne views. The warehouse can sleep up to 6 people.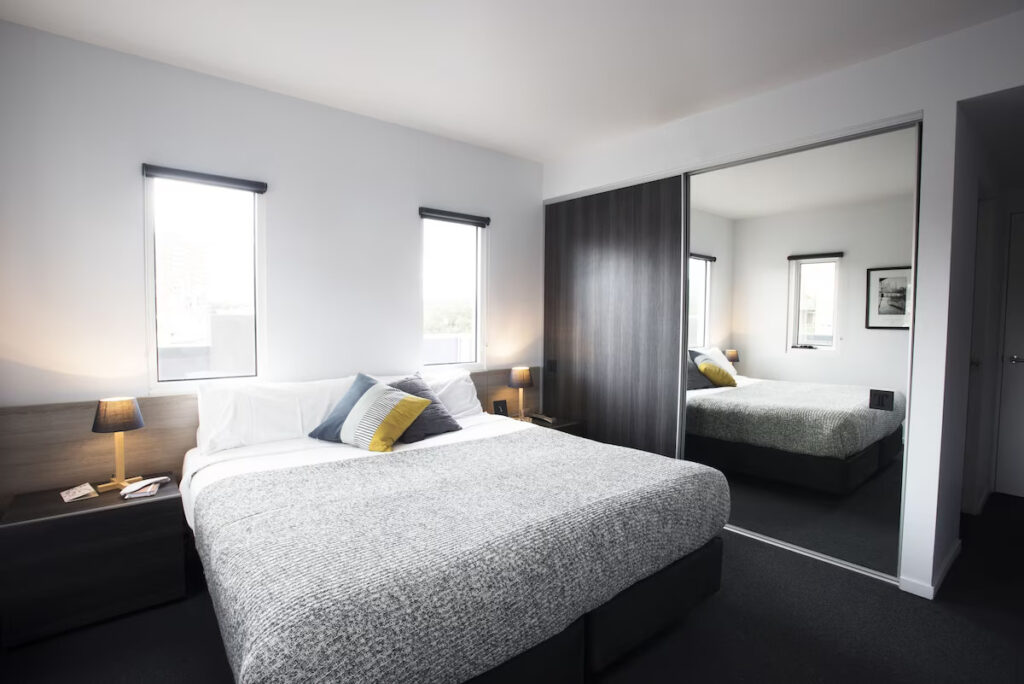 Rating: 9.1 | View on Booking.com
If you're looking for a trendy place to stay with a bit more space than a hotel room, you can't go wrong with the Tyrian Serviced Apartments in Fitzroy. Located in the heart of this bohemian suburb, the serviced apartments strike the perfect balance between modern luxury and functional design. 
The apartments come in one, two, and three-bedroom configurations, with fully-equipped kitchens and private balconies in each room. Whether you're traveling solo, as a couple, or with a group, the Tyrian has you covered. They're even willing to configure the beds in each apartment to your needs and group size, making it a great option for families and larger groups. 
One of the best things about the Tyrian Serviced Apartments is its location. Situated on the corner of Johnston St and Brunswick St, it's close to some of the best bars, restaurants, and shopping in the area. But despite being on a busy street, the rooms are quiet, making it easy to get a good night's sleep. 
If you've got a car, guests can take advantage of free parking in the secure, underground lot.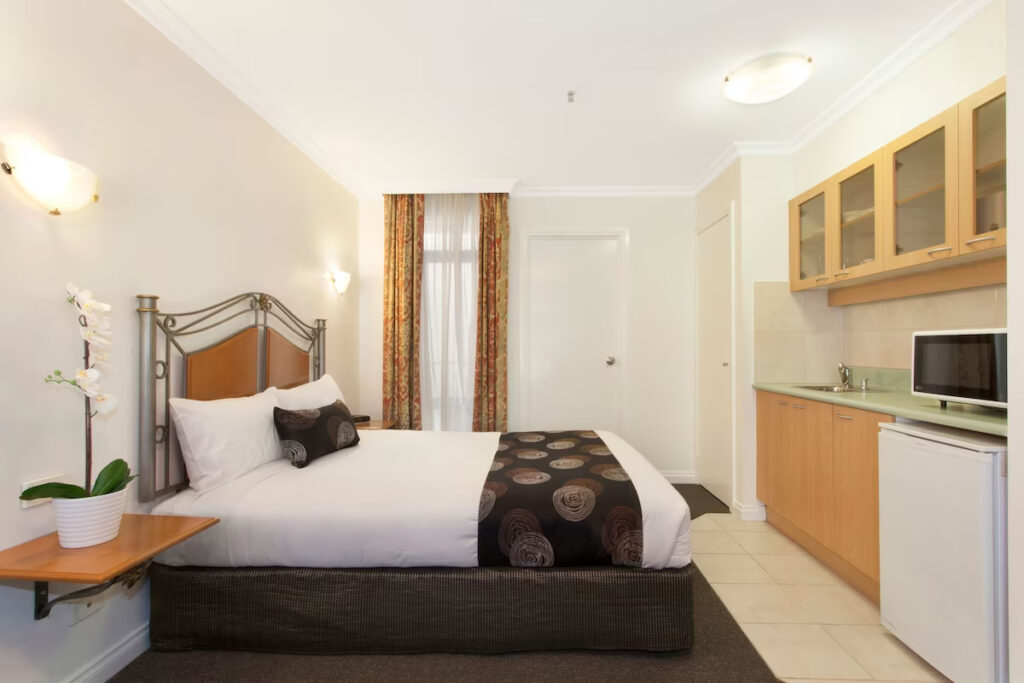 Rating: 7.7 | View on Booking.com
One of the few hotels in Fitzroy, if you're looking for a place to stay in Melbourne that's in a great location and offers great value for money, the Melbourne Metropole Central in Fitzroy is definitely worth considering. It's at the bottom of Brunswick St, so you're close to both the action of Fitzroy and Carlton as well as the CBD (the CBD is only a short tram ride or walk). 
One of the biggest advantages of this hotel is the range of suite options available to guests. From studios to deluxe suites, you'll find everything you need here for a comfortable and convenient stay. All rooms come with a kitchenette, so you can prepare your meals and snacks as needed without having to dine out every meal. Plus, with Foxtel in every room, you can enjoy some quality entertainment during your downtime.
There's free undercover parking for all guests – a particularly useful feature in a busy city like Melbourne where parking can be hard to come by.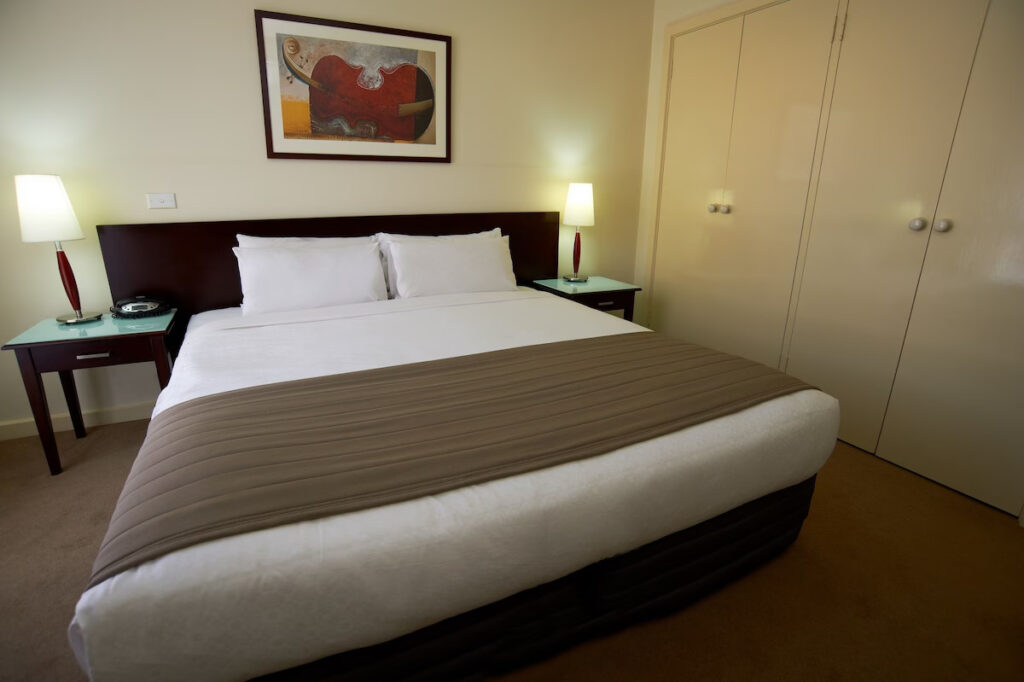 Rating: 8.6 | View on Booking.com
Situated opposite the Royal Exhibition Building, IMAX Theatre and Melbourne Museum, Comfort Apartments Royal Gardens is in a fabulous location in a peaceful and leafy environment.
There's a range of apartment sizes available – from one to four bedrooms – making it a great option for families or groups travelling together. And with onsite parking and BBQ facilities, you'll have everything you need for a comfortable and convenient stay.
If you're looking to take a dip or soak up some sunshine (when the Melbourne weather is cooperating, of course!), you'll love the outdoor swimming pool and tranquil garden area. And for those busy days when you're on the go, grab-and-go breakfasts are available to ensure you're fueled up for the day.
It's right on the tram line, making it easy to hop on and explore the city or further north without any hassle.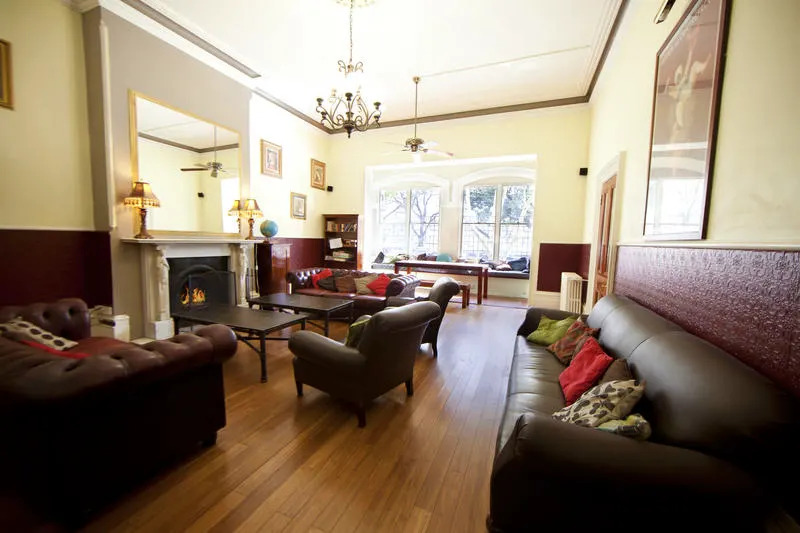 Rating: 7.5 | View on Hostelworld
For budget accommodation in Fitzroy, The Nunnery is a hostel in what used to be the home of the Daughters of Charity – hence the name. There are two sections – the classic backpackers and the guesthouse – providing guests with plenty of options for all budgets, making this one of the favourite hostels in Melbourne.
The hostel has a range of dorm rooms – some female only – as well as private rooms for one to three people.
The guesthouse is ideal for group bookings or families, and it has six bedrooms and three bathrooms. The guesthouse is kitted out with air-conditioning for the hot summer months. Some of the rooms have (non-working) fireplaces which lend an extra element of charm.
There's a kitchen and coin-operated laundry so you can feel right at home.
Where to stay in Collingwood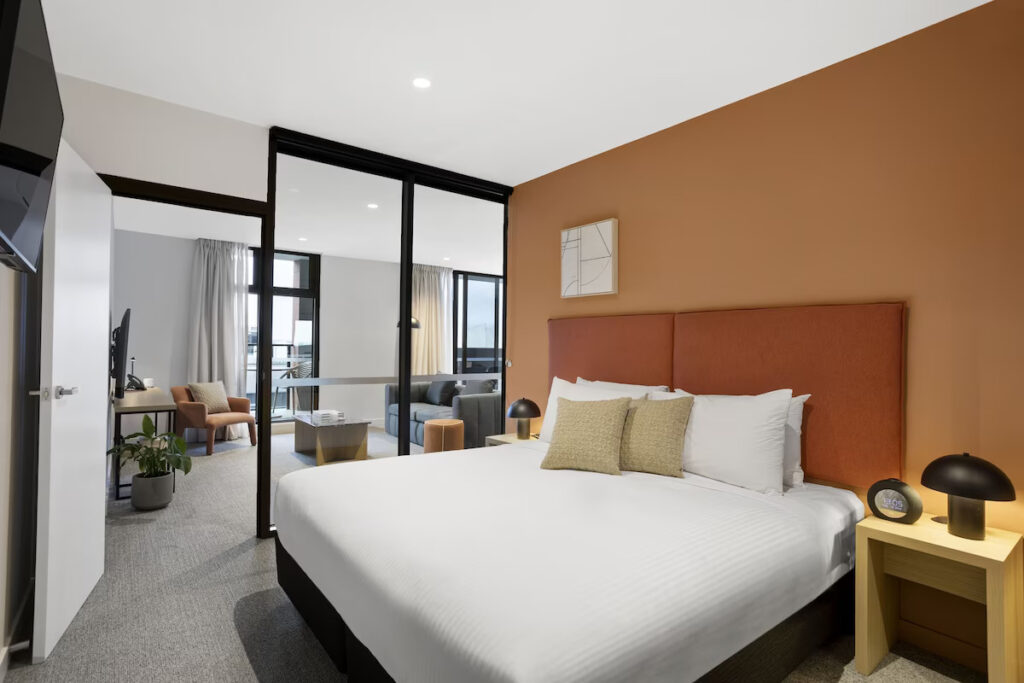 Rating: 9.3 | View on Booking.com
Probably one of the most stylish Quest properties I've seen in a while, Quest Collingwood is located on the quieter Wellington St, just a few blocks from Smith St. If you're in town for a footy match, it's just a 6-minute drive to the MCG so this is one of the most well-located Collingwood hotels.
The apartments have only just recently opened, so everything is brand new and guests say the staff are great.
The great thing about these apartments – like many of the others in this article – is that you'll have access to a home away from home, with a kitchenette and laundry facilities. Choose from a studio or 1-, 2- or 3-bedroom apartment depending on your needs. There's also a fitness centre as well as BBQ and laundry facilities. 
There's onsite car parking, but it is $30 per night per car.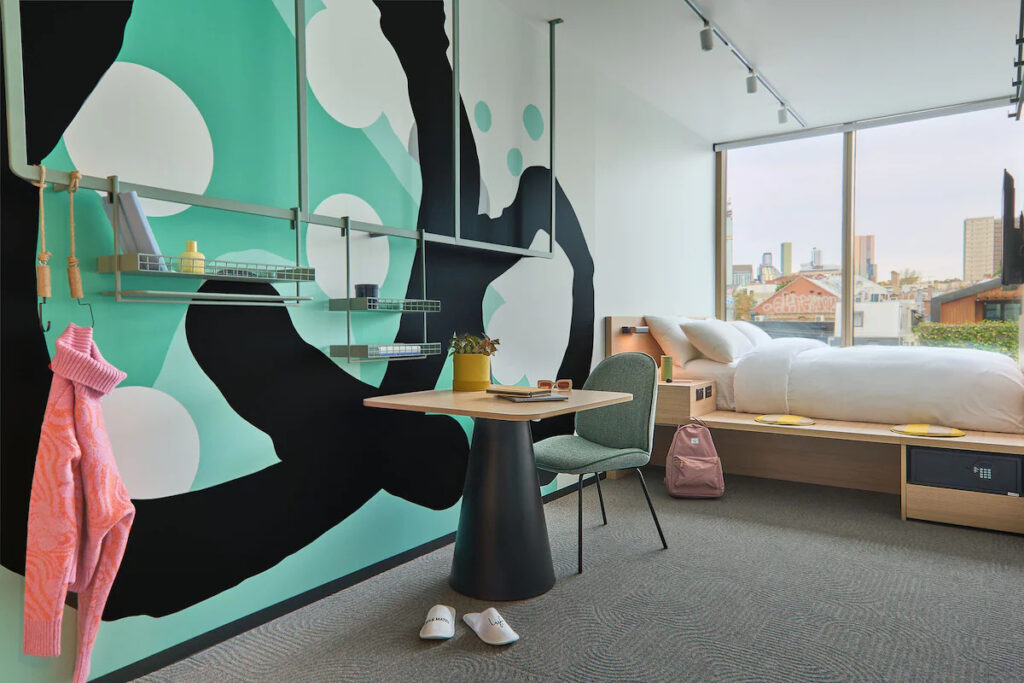 Rating: 8.6 | View on Booking.com
One of the newest and most hip places to stay in Melbourne, lyf Collingwood offers guests short stays or more long-term options. Described as a co-living space, this accommodation option is located just a few minutes from Smith St, Melbourne. Smith St was named the "coolest street in the world" in 2021, so lyf Collingwood is a great base to explore the alternative side of the city. 
On the other hand, the Melbourne CBD is just minutes from the hotel, so if you're keen on checking out the more traditional attractions, you're super close by.
One of the most hip Collingwood hotels, this accommodation has 128 units of different sizes and designed for either singles or pairs, so you're sure to find something that suits your situation. There's also a social lounge, a community kitchen and a laundry area where you're sure to meet other like-minded travellers. Don't want to hang out? There are Smart TVs in the rooms so you can stream Netflix.
If you're only visiting Melbourne for a short while, don't be put off by "co-living" – these apartments are also great for short stays and have no minimum stay.
Soon to be one of the best hotels in Collingwood, Melbourne, Veriu offers multiple room options depending on how many people you're travelling with, how much space you need and what your budget is. 
Located in one of the most hip parts of Melbourne, right on Johnston St and between much-loved Smith and Brunswick Streets, this hotel boasts 95 rooms, a swimming pool, a rooftop bar, a gym, a working space, a laundry room and more. 
All the bedrooms feature several awesome amenities, including a dishwasher, a Nespresso machine, an oven and a fridge, while some even have private balconies. The interiors have modern, sleek décor, and some rooms have balconies.
Carlton hotels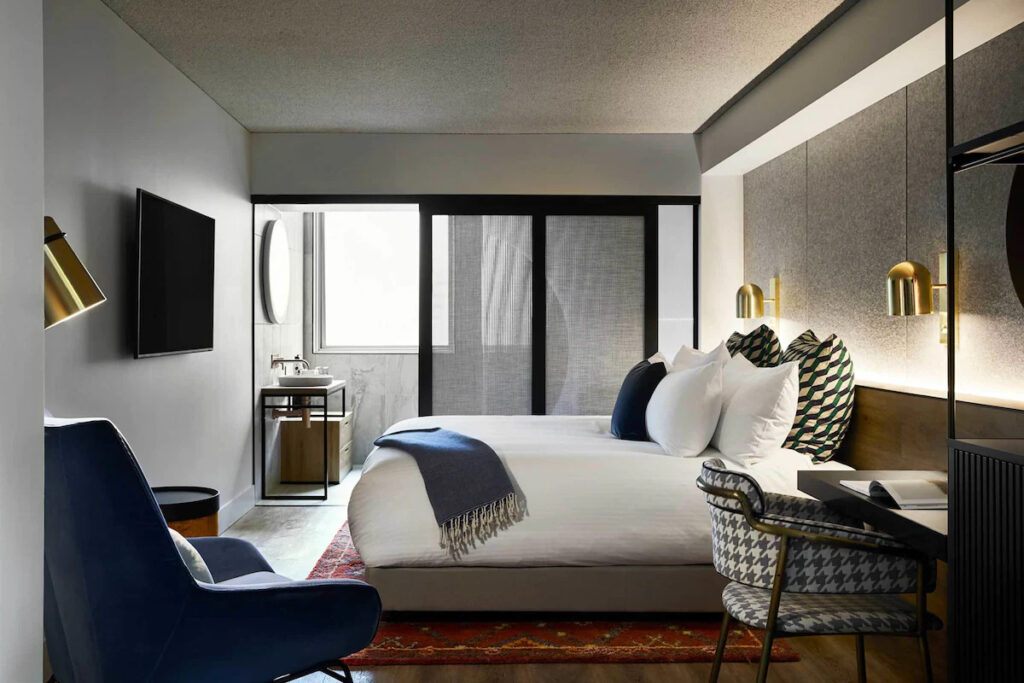 Rating: 8.9 | View on Booking.com
Offering a combination of luxury, comfort and convenience, Zagame's House is one of the best boutique hotels in Melbourne and a truly unique Carlton offering. The hotel has gorgeous interior design as well as a plethora of facilities and amenities that'll ensure that your every need is catered for.
The Carlton hotel has 97 rooms in total but it doesn't feel that big. Decor is moody and luxe – although some do say that the lighting in each room isn't great. 
While you've got plenty of restaurants, bars and cafes nearby in Carlton, you don't even have to leave the hotel – dine at 1851 Coffee + Kitchen or visit the Lord Lygon Wine Shop and Bar, both within Zagame's House.
It's close to the CBD, as well as Melbourne Museum and the Royal Exhibition Building and Carlton Gardens, and you can easily get to Collingwood and Fitzroy.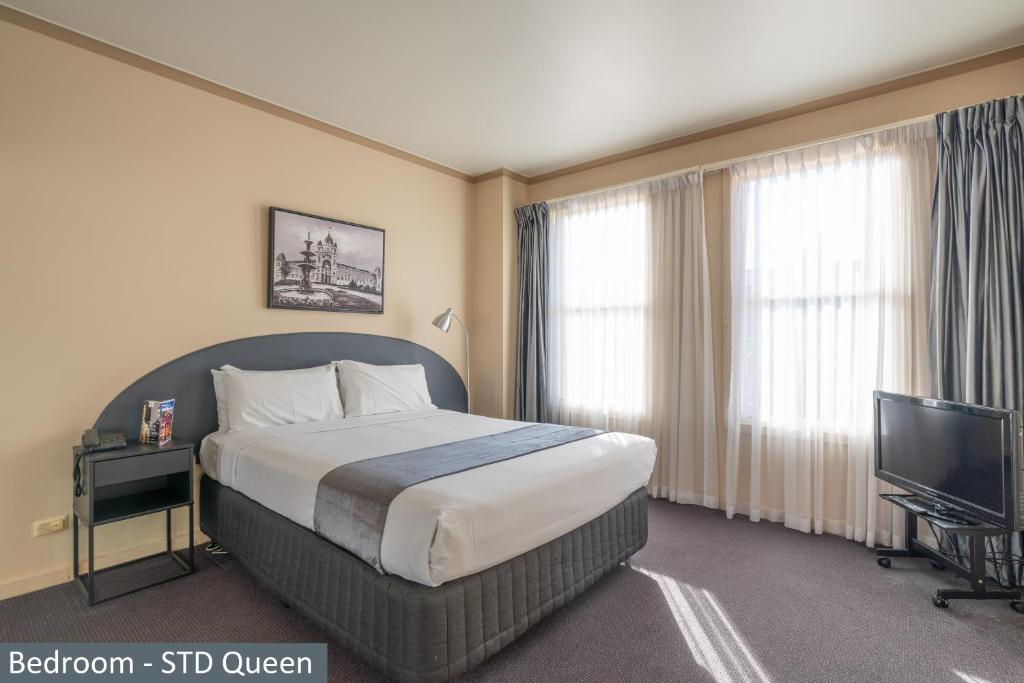 Rating: 7.8 | View on Booking.com
If space and privacy is what you're after, the Clocktower Apartment Hotel is sure to be the one for you during your stay in Melbourne. With a choice of a one or two-bedroom apartment, you've got access to a living area, fully functional kitchen and a bathroom with a tub and separate shower.
The decor is pretty simple but the apartments are equipped with all the little things you may need for your stay – and it's in a fab location, right on Drummond St.
Private parking onsite is available for $18 per day.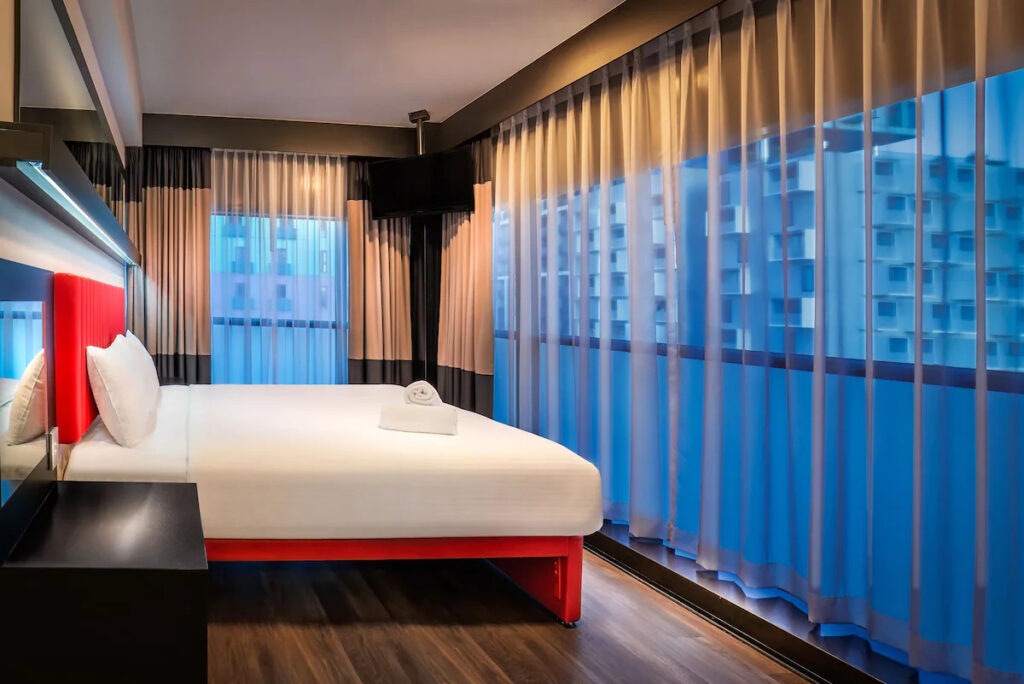 Rating: 7.3 | View on Booking.com
Centrally located nearby a plethora of Melbourne's best attractions and places to see – including the likes of things like Melbourne Museum and Queen Victoria Market – Essence Hotel Carlton is sure to feel like a home away from home. 
One of the top hotels in Carlton, Essence Hotel offers guests a range of options depending on budget and preference – these include several different types of private rooms as well as a co-living single room. 
The list of amenities available is seemingly endless – a few include a roll-in shower, high-speed Wi-Fi, laundry facilities, a common room and BBQ area and air-conditioning.  
Rating: 7.8 | View on Booking.com
Ideal for both returning and first-time visitors to Melbourne, Best Western Plus Travel Inn Hotel is situated right on Carlton's famous Lygon Street, known for its Italian influence. With rooms specifically tailored for the needs of couples, families with children or corporate travellers, this is one of the most versatile hotels in Carlton.
Best Western is great value, and has a 24-hour reception, an outdoor heated pool and an onsite restaurant (Grattin on Grattan) that serves breakfast and dinner. There's also free, onsite parking – a must in Carlton's narrow residential streets.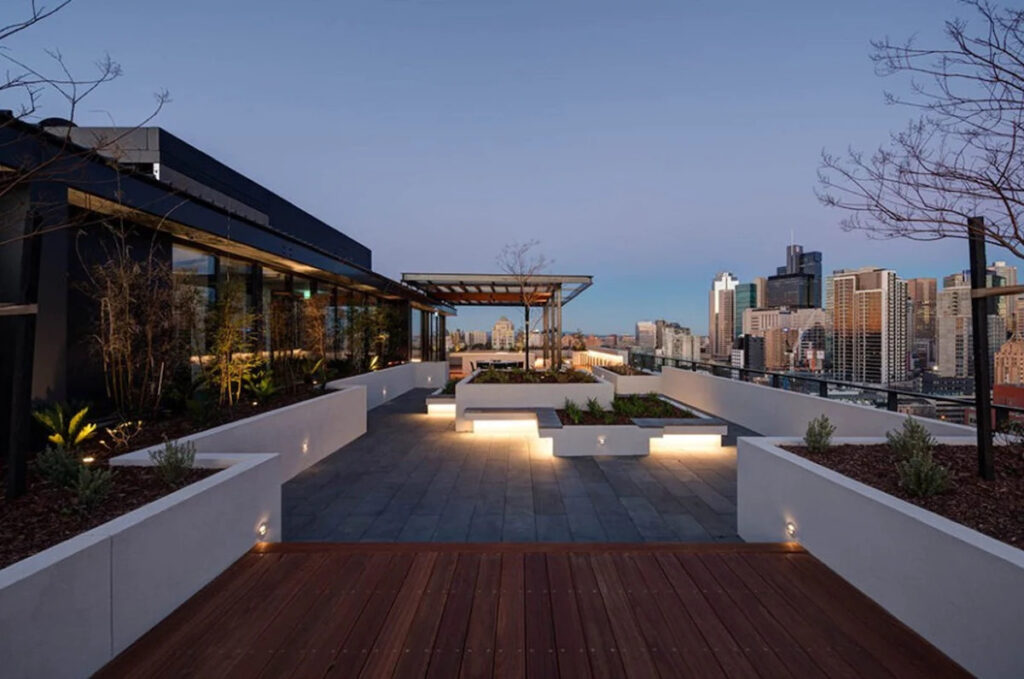 Rating: 8.3 | View on Booking.com
Simply oozing luxury, the Eminence Apartments by CLLIX are one of the most modern accommodation options available in the Carlton. It's got gorgeous, spacious apartments with impeccable interior design, and they're available in different sizes – perfect whether you're on your own, travelling with a partner or on holiday with the whole family. Each apartment has a private balcony as well as air conditioning and kitchen facilities.
The Eminence Apartments are situated in Carlton, just a short walk away from some of the city's most popular attractions including the Queen Vic Markets. 
Accommodation in Fitzroy, Collingwood and Carlton: FAQs
Are there more serviced apartments than hotels in these suburbs?
Yep, you'll find more serviced apartments in Fitzroy, Collingwood and Carlton than hotels (the CBD is where you'll find most Melbourne hotels). This means you'll get access to amenities like kitchens and laundry facilities, so your stay in these cool suburbs will feel a bit more local. 
Do these suburbs have good access to public transportation?
All three suburbs have access to Melbourne's tram network, which makes it easy to get to other parts of the city on Melbourne public transport. From many of these accommodation options, you can even walk into the city. You'll need to get into Parliament to access the train network if you want to go further afield. 
Where to stay in Fitzroy, Collingwood and Carlton: Final thoughts
Fitzroy, Collingwood, and Carlton are some of the most vibrant suburbs to stay in when visiting Melbourne – and a bit of a reprieve from the CBD. Staying here means you can immerse yourself in Melbourne's cultural heritage and explore the more alternative side of the city. Whether you're a foodie, an art lover, or a fashion enthusiast, these suburbs have plenty to offer.
There's also an abundance of serviced apartments in these areas, so you can have a more authentic, local experience and have access to amenities that you won't find in traditional hotels. With great access to public transportation and all the attractions of Melbourne within easy reach, these suburbs are the perfect base for your next visit.
Looking for more Melbourne and Victoria accommodation guides? You might like these:
PIN IT FOR LATER