Looking for five-star hotels in Melbourne for a luxe getaway? This curated guide has 15 of the best luxury hotels for a lavish stay.
As the most vibrant and dynamic city in Australia, you can have every kind of experience in Melbourne. And if it's a luxe experience you're after when you visit, then you need a five-star hotel. From iconic landmarks to stylish boutique hotels, there's an incredible selection of luxury hotels in Melbourne to choose from.
Here, we've handpicked 15 of the finest five star hotels in Melbourne, each offering an unforgettable experience. Whether you're looking for a five-star hotel for a honeymoon or a birthday splurge – or if you're always a high roller! – this curated list will have something for your special visit.
So, let's discover the crème de la crème of Melbourne's hotel scene.
This blog post may contain affiliate links, meaning if you book or buy something through one of these links, I may earn a small commission (at no extra cost to you).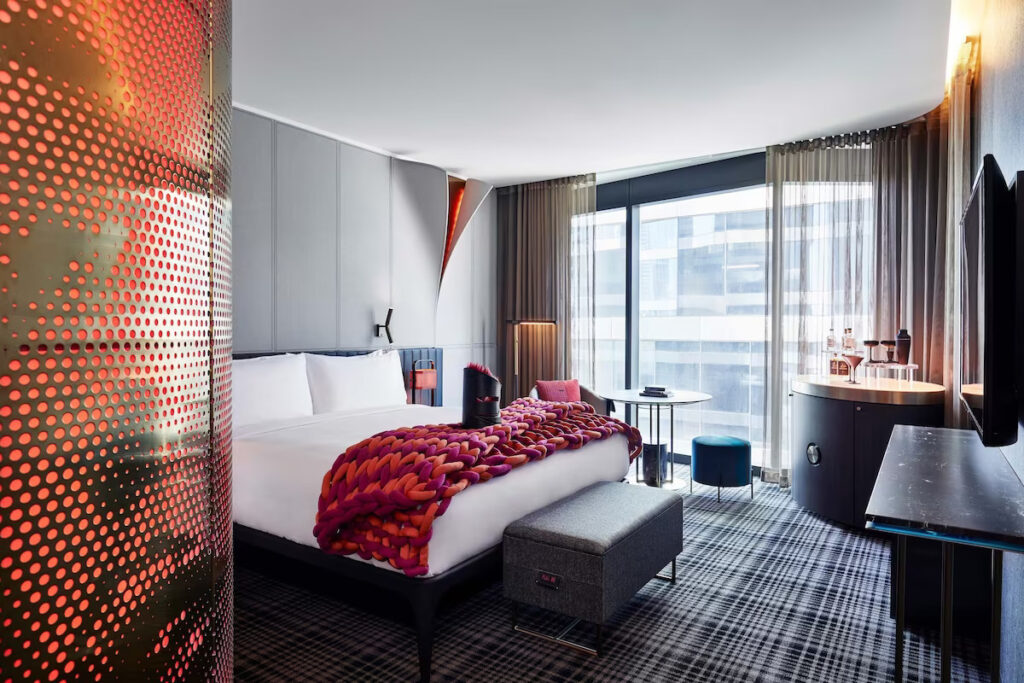 Best 5-star hotel in Melbourne
⭐️⭐️⭐️⭐️⭐️
Don't have time to read the whole article?
Our hands-down favourite pick of luxury hotels in Melbourne is the very funky W Melbourne.
Quick guide: Best 5-star hotels in Melbourne
W Melbourne
#1 pick
---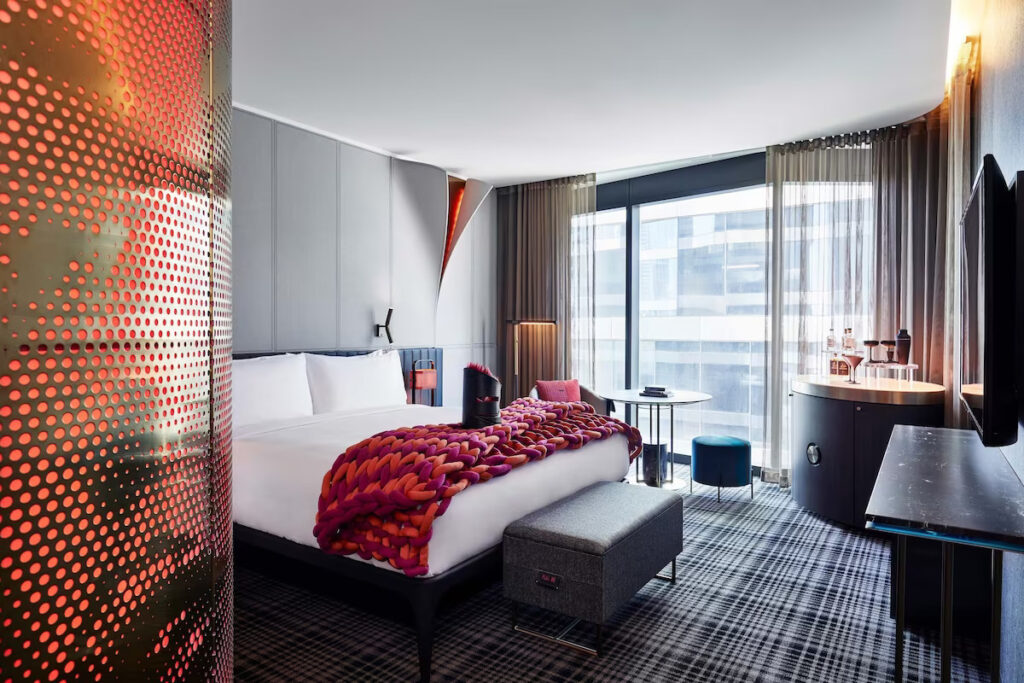 ✔️ Funky vibe
✔️Amazing dining options
Le Méridien
#2 pick
---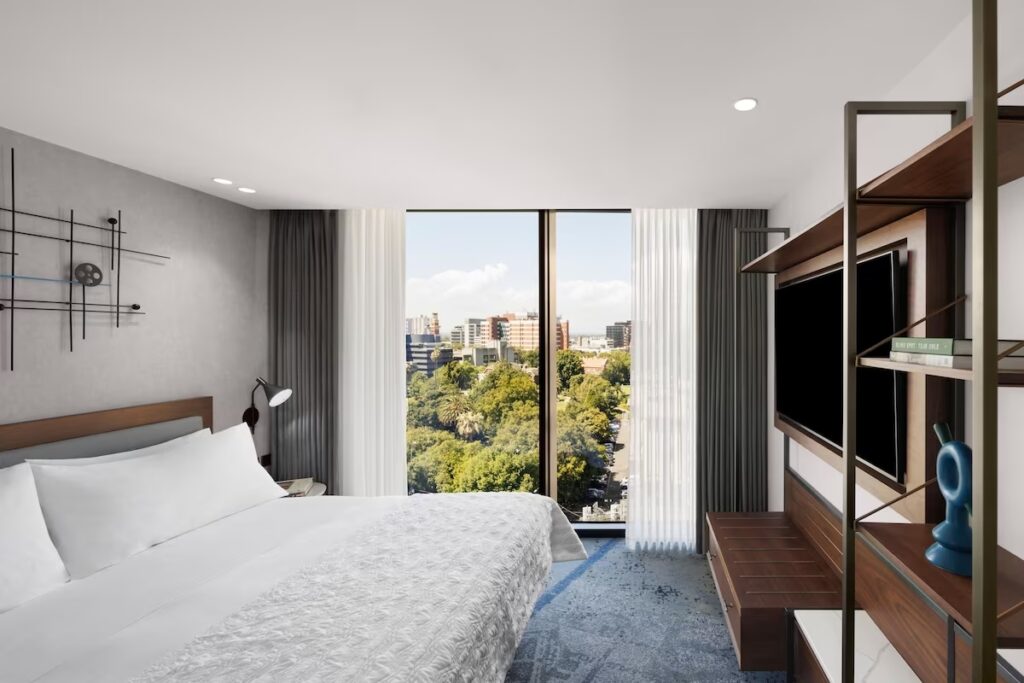 ✔️ Fabulous location
✔️ Great room designs
The Ritz-Carlton
#3 pick
---
✔️ SIX star hotel!
✔️ Views, views, views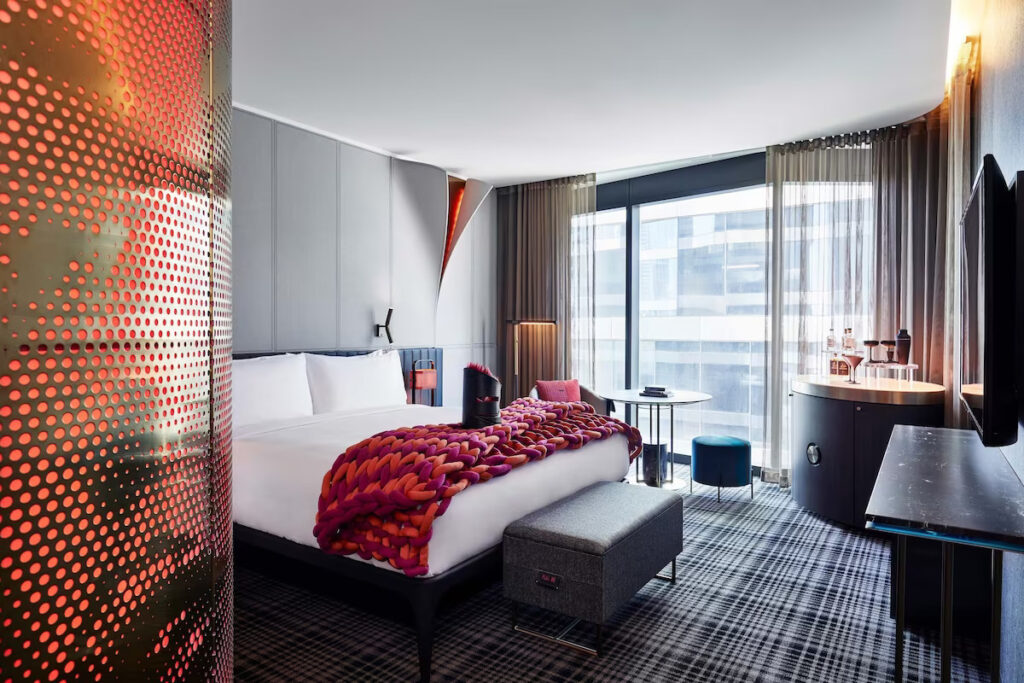 Rating: 8.7 | Location: Melbourne CBD | View on Booking.com
With a fun and funky atmosphere, the W Melbourne is the ultimate choice for luxury accommodation in Melbourne if you're seeking both comfort and a bit of cheeky opulence.
Situated on Flinders Lane, this hotel is stylish but it also has serious personality. On a recent birthday weekend (booked by the hubs, he's a keeper!), we were offered a cocktail on arrival during a busy Friday evening, before being ushered to our glam room. Suites are decorated with chunky, colourful blankets, curved brass walls and a strange black leather decoration (you'll see what I mean when you check in). Bathrooms are marble and moody, and have heated toilet seats to keep your tush warm.
And if you're looking for the ultimate indulgence, the Penthouse is simply out of this world – it's an experience you won't forget (wasn't part of our stay though, sadly!).
The pool is downright sexy, with curved, mirrored ceilings and poolside cocktail service until the late hours.
Make sure you book a table at the hotel's striking bar, Curious, to check out the inventive cocktail menu, or stop by for a bite at one of the hotel's three restaurants. Lollo is headed up by renowned chef Adam D'Sylva and celebrates Melbourne's multicultural heritage, while Warabi offers a beautiful Japanese menu. Culprit is the hotel's all-day dining spot.
W Melbourne is a Marriott Bonvoy hotel, so you can also earn and redeem points for your stay.
What past guests say:
"The pool was the highlight, fantastic day bed, gorgeous view, bright luxurious space that was often very quiet. The pool was large enough to still be considerate and have space from other guests. The rooms were beautifully designed with such thoughtful features. Love the bathroom lighting, luggage cupboard and mini bar options. We would definitely stay again."

– Bianca (read more reviews)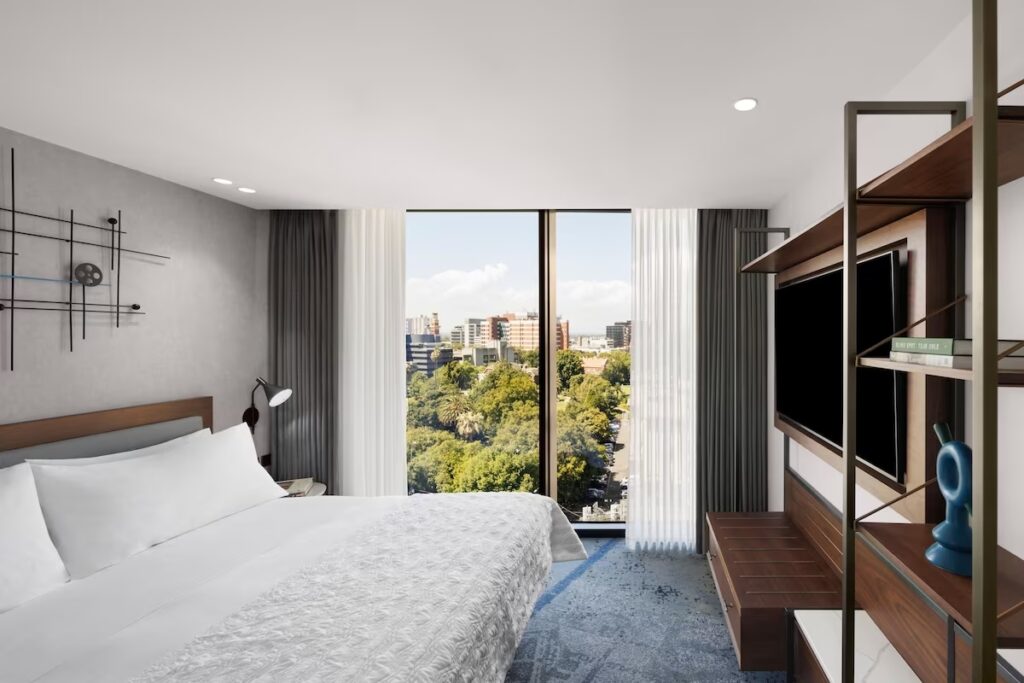 Rating: 8.8 | Location: Melbourne CBD | View on Booking.com
One of the newest hotels on the Melbourne scene, Le Méridien brings Paris chic to the top end of Bourke Street. If you're visiting Melbourne for a theatre show or a weekend of dining out, Le Méridien is perfectly located.  
This 5-star gem gets ticks from me for spacious rooms, friendly (but not over-friendly… you know what I mean) service, and comfortable, modern rooms. The bathrooms are grey marble and black steel with Malin + Goetz amenities in sustainable bulk dispensers. Rooms have thoughtful touches such as wine and style books to flick through, switches that don't leave you confused about how to turn off the lights, and custom cocktails from The Everleigh.
On a recent staycation, I was selected as the "Guest of the Day" which got me a room upgrade, biscuits, a bottle of wine and complimentary breakfast. I was told that one guest is selected every day – so hopefully one of my readers will also get lucky!
There's an 18-metre outdoor pool that's heated for winter and, I suspect, will also turn into a party spot when it warms up.
For dining, Dolly is the basement restaurant, named for the zoom camera technique used by Hitchcock in his 1958 film Vertigo. I haven't eaten dinner there, but I had to drag myself away from the pastries at breakfast. For something more casual, the lobby is home to Intermission, where you can unwind with a coffee or a cocktail. Staying here, you're also in the heart of Melbourne's dining scene, so just step outside to explore the city's restaurants.
This is another Marriott Bonvoy hotel, so a chance to earn some points towards a free stay.
What past guests say:
"A relaxing and well appointed room, centrally located and very good value for money. Public transport outside the door. The location at the Paris end was great. Close to Theatres, the sports precinct and nearby Parks. Staff were very helpful and the coffee bar served exceptionally good coffee."

– Joe (read more reviews)
Rating: 8.7 | Location: Melbourne CBD | View on Booking.com
Melbourne's newest luxury hotel, The Ritz-Carlton takes it up a whole new level, billing itself as a six-star hotel – Melbourne's first.
As Australia's tallest hotel, here you don't simply check in at ground level – you whizz up to the 80th floor to the Sky Lobby for views over the city and the Yarra River as the staff check you in for what's bound to be a luxurious stay.
The design is grand, with glass panels, chandeliers, and local and international artworks. Wake up in the morning to the incredible views of the city through the floor-to-ceiling windows – you're almost in the clouds up here! Rooms and suites are generously sized, with the smallest a comfortable 46 square metres.
Savour those views again in the heated infinity pool on the 64th floor, or indulge in a spa treatment at The Ritz-Carlton Spa.
When you're ready for a meal or a drink, nab a seat at the 19-metre bar at Atria, which – those views again! – overlooks the city. Cameo is the hotel's speakeasy, while The Ritz-Carlton Lounge offers all-day dining options.
While it's at the opposite end to the "Paris end" of the city, it's easily accessible by public transport.
This is certainly a hotel that should be at the top of your special occasion list – book a suite for a milestone anniversary or birthday and prepare to be blown away.
What past guests say:
"The staff were amazing and extremely attentive! The actual hotel was amazing, room was perfect, worked for a few days and the table in the room was great. Bed was so comfortable. View was breathtaking."

– Sarisha (read more reviews)
Rating: 9.1 | Location: Melbourne CBD | View on Booking.com
Just a stone's throw away from the CBD and overlooking St Patrick's Cathedral, the Park Hyatt is one of the best 5-star hotels in Melbourne. Known for impeccable service, it's perfectly located for those in town for a weekend at the theatre or for dining.
This luxury Melbourne hotel has a day spa (I'll take the Calming Shea Butter Cocoon please!) as well as a gym, sauna and indoor pool.
Rooms are some of the largest of Melbourne hotels, with the smallest rooms starting at a spacious 48 square metres. Rooms are expertly designed, featuring an art deco style infused with Ottoman elegance that provides the ultimate in comfort and luxury. Bathrooms feature Italian marble, and the beds are some of the comfiest in the city. All rooms have large windows letting in tonnes of natural light, and some suites have terraces overlooking the city.
There's a gorgeous restaurant and chic bar, in case you don't feel like wandering too far for a meal or a quick drink (although there are so many amazing Melbourne restaurants nearby, it'd be rude not to try a few!).
What past guests say:
"We had a King Room with a view and it was stunning! We had a full view of the cityscape and the room was a great size. There was everything that we needed and it was very comfortable. The location was great, a short walk to everything on your doorstep, some great coffee places just around the corner! Would definitely stay again."

– Sam (read more reviews)
Rating: 8.7 | Location: Melbourne CBD | View on Booking.com
When it comes to the most luxurious hotels in Melbourne, the Mövenpick manages to celebrate Melbourne's eclectic art scene while simultaneously providing top-quality, elegant accommodation – and CHOCOLATE.
With 172 rooms of different sizes and styles, the hotel features collections of renowned photographers such as Steve Scalone and Sean Mcdonald – a true feast for the eyes.
Rooms are undeniably cool, with bold patterns and pops of colour, along with eye-catching artworks. Room sizes range from 20 to 50 square metres. The suites are the rooms to pick if you want to soak in one of the huge bathtubs.
Relax and rejuvenate with a dip in the hot tub, a refreshing swim in the pool, or a soothing session in the sauna. Stay on top of your fitness routine with access to the 24-hour gym, where you can work up a sweat at any time of the day or night, if you're so inclined.
Onsite restaurant Miss Mi received a Good Food Chef's Hat within months of opening, and features modern Asian cuisine. But now back to the chocolate – this wouldn't be a Mövenpick without chocolate, and chocolate you shall receive here. There's a daily "choc o'clock" where you can indulge in all things sweet and tasty for an hour.
What past guests say:
"One of the best hotels I've ever had the pleasure of staying at! Did an incredible job of accommodating me and my wife! It was her birthday and we were surprised to find a plate of chocolate and personalized happy birthday note in the room when we arrived. Would definitely make a return trip here in the future!"

– Bryan (read more reviews)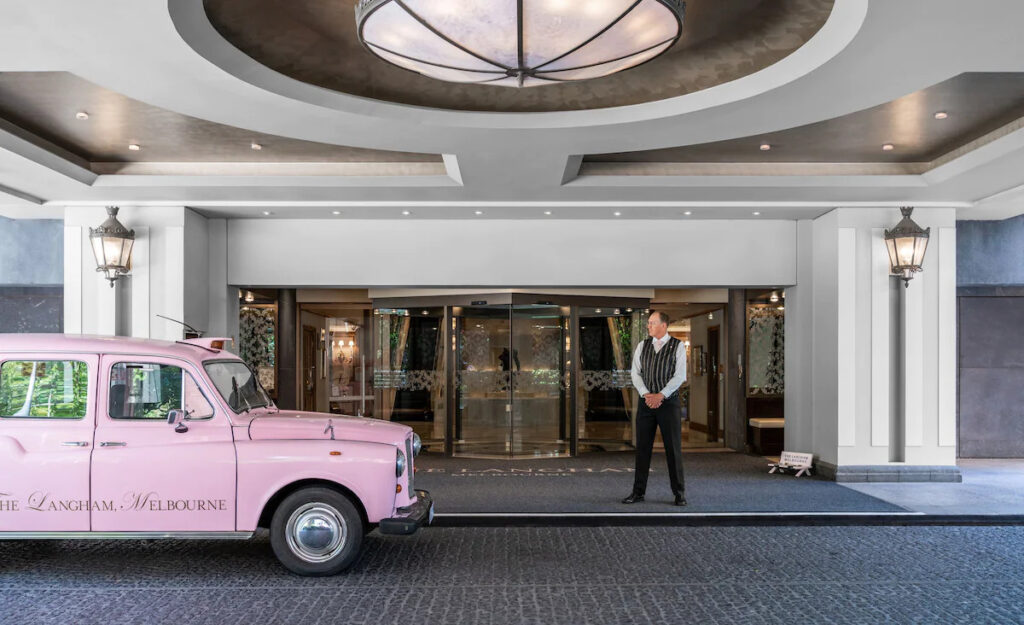 Rating: 8.7 | Location: Southbank | View on Booking.com
The pinnacle of elegance, the Langham Hotel is situated on the banks of the Yarra River in Southbank, just a short stroll from Flinders St Station. With some rooms boasting breathtaking views of the city skyline and the tranquil Yarra River, guests are treated to an extraordinary visual experience.
Upon entering the hotel, you'll be wowed by the sweeping staircase, elegant chandelier and marble interiors. Rooms feature plush furnishings and very comfortable beds with the softest sheets. While the room décor isn't what I'd describe as modern, it does have an old-world charm that is endearing and does feel luxurious.
Melba Restaurant's breakfast, lunch and dinner buffets are outstanding, with mounds of fresh seafood, sushi stands, freshly cooked pastas and the famous chocolate fountain. For something extra special, the hotel's daily afternoon tea is famous and a must-book.
I stayed here frequently when I travelled back to Melbourne when I lived overseas, because it was close to my former office. My tip is to book a river-facing room for the best views.
What past guests say:
"Fantastic stay at a hotel where excellence comes as standard."

– David (read more reviews)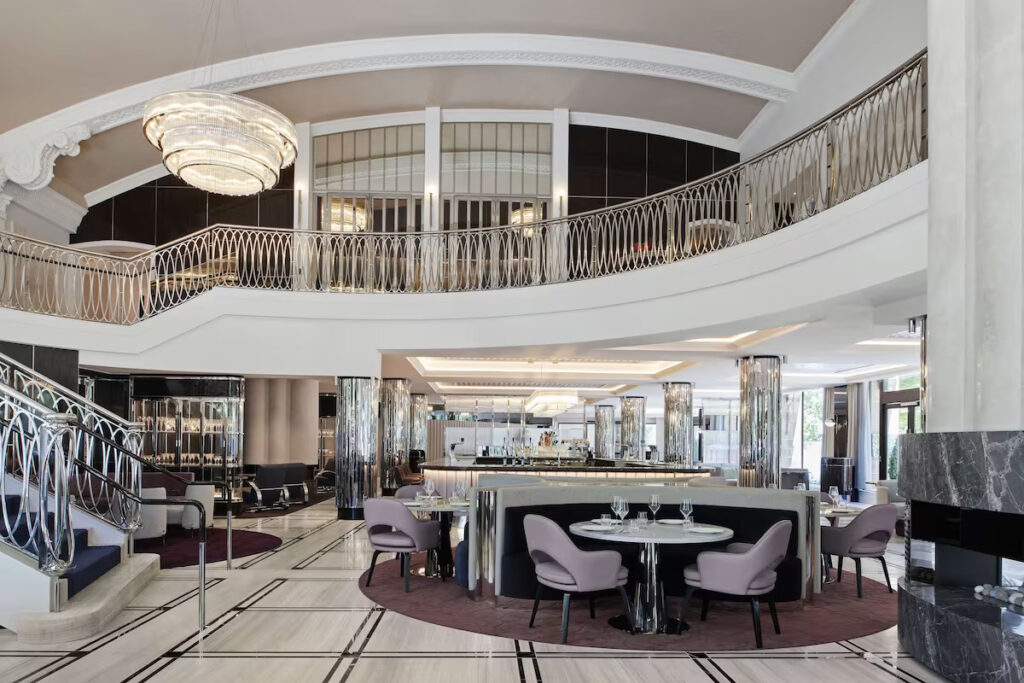 Rating: 8.8 | Location: Melbourne | View on Booking.com
Located in a heritage building on St Kilda Road in what used to be a Rolls Royce workshop – hence the name – this is the newest 5-star contender on the Melbourne hotel scene.
The Royce takes its inspiration from the golden era of hotels – a time of gala events, secret rendezvous and discreet concierges. The spaces are swanky, with marble, chrome, and classical black and white bringing the glamour – the result of a years-long refurbishment that has been worth the wait. They've paid attention to every little detail, from the stylish furniture to the stunning artwork hanging on the walls. I can guarantee you'll walk away from here with a few styling ideas for your own home.
Many of the 94 guest rooms have a balcony with views of Melbourne's CBD, along with enormous freestanding bathtubs in the monotone bathrooms.
Enjoy a meal and a drink beside the crackling open fire at the Showroom Bar, or stop by The Conservatory for brunch (which The Royce insists should begin with bubbles!).
And that old-world glamour of course means amazing service. The staff here are seriously on top of their game and will go above and beyond to make sure your stay is absolutely amazing. Need a restaurant reservation? They've got you covered. Want insider tips on the best spots in town? They've got those too.
If you're looking for a luxury hotel in Melbourne that makes you think you've stepped back in time to 1920s Hollywood, then this is the pick for you.
What past guests say:
"My jaw dropped when I walked into the lobby. The recently completed renovations have completely transformed what was already a beautiful hotel. The restaurant and bar looked so luxurious and shiny. The rooms are well appointed. Very comfortable bed. Well lit bathroom and to my joy a Dyson hair-dryer! I can't wait to come back."

– Shell (read more reviews)
Rating: 8.9 | Location: Southbank | View on Booking.com
Perched high above the city, Crown Towers Melbourne commands stunning vistas of Melbourne. A true gem among luxury accommodations, this opulent establishment proudly bears the prestigious Forbes 5-star rating – the only hotel to do so in the city.
This hotel is grand by all means – chandeliers, marble and glass abound, and the staff will make you feel special as soon as you step inside.
One of the most well-known luxury hotels in Melbourne, rooms at Crown Towers are spacious and offer all the amenities you could possibly need. Despite the busy casino and promenade down below, up here you'll be enveloped in a cocoon of absolute tranquility. All rooms have floor-to-ceiling windows so you can take in the sensational views.
To really up the luxury of a stay here, book a treatment at the famous Crown Spa. The spa menu is extensive and designed to truly relax and rejuvenate. If you book a service of an hour or longer, you'll also get access to the Aqua Retreat's vitality spa and steam room.
What past guests say:
"My husband and I stayed here as part of my birthday celebrations. The staff were incredibly welcoming and kind. Our room was very nice, the view was spectacular! Bed was huge and super comfortable, not super firm like a lot of hotel beds. The rain shower was luxurious. We had a very pleasant stay and would happily return."

– Wendy (read more reviews)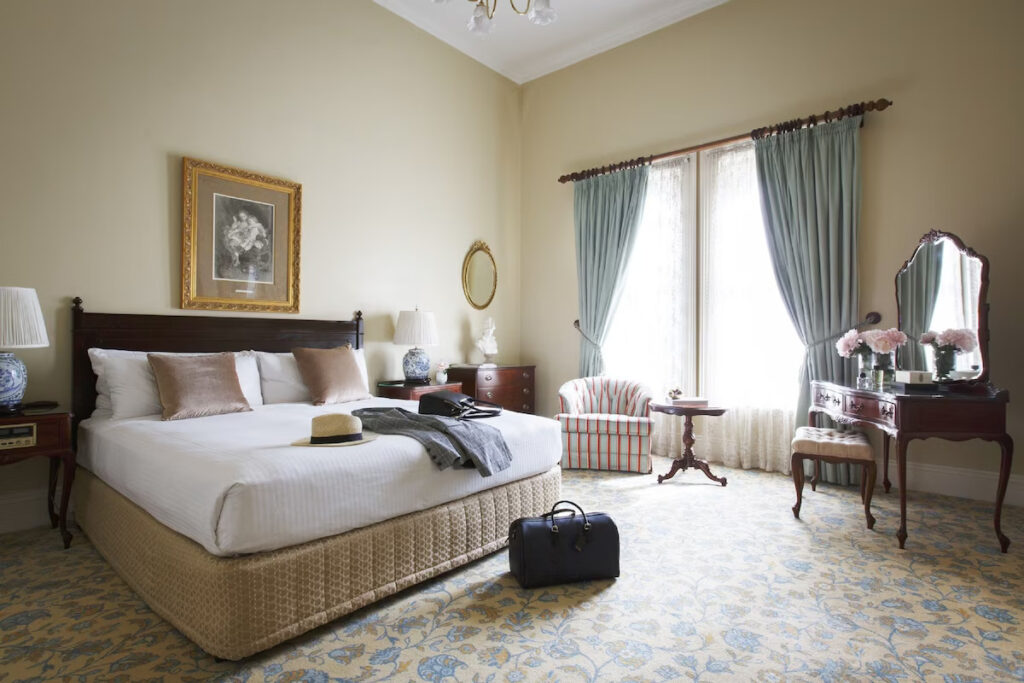 Rating: 7.9 | Location: Melbourne CBD | View on Booking.com
Known by many as one of the most iconic luxury hotels in Melbourne, The Windsor oozes classic elegance and charm in a historic building.
This hotel is situated in the CBD, a hop, skip and a jump away from the city's theatre district and cool neighborhoods like Fitzroy, Collingwood and Carlton.
The Windsor has a range of room options to suit every taste. Rooms have old-world charm – think floral-patterned carpets and heavy drapes – but are all beautifully light and bright. Rooms start at 22 square metres, with the Royal Suite a whopping 120 square metres.
One of the hotel's gems is its afternoon tea – they've been serving up this delightful tradition for over 140 years! It's the longest-standing afternoon tea in all of Melbourne. You won't want to miss out on this timeless experience.
What past guests say:
"Very friendly and helpful staff, the building is absolutely gorgeous, old and well maintained."

– Bahar (read more reviews)
Rating: 8.5 | Location: Melbourne CBD | View on Booking.com
Right in the heart of Melbourne, you'll find the fabulous Grand Hyatt Hotel on Collins Street. In this prime spot, you'll be just steps away from the iconic Flinders Lane and the legendary Regent Theatre, not to mention a tonne of other cool Melbourne attractions.
Even though this hotel has been on the scene for a good 30 years, it's managed to maintain a modern feel. Many of the hotel's 550 rooms have floor-to-ceiling Melbourne skyline or Yarra River views.
Hungry? There are several dining options to choose from, including Collins Kitchen and Ru-Co Bar (tucked away in a laneway in an oh-so-Melbourne way, of course).
Fancy a swim? They've got a fantastic swimming pool waiting for you. And if you're feeling sporty, why not hit the rooftop tennis court? Plus, you'll have access to all the facilities at the hotel's gym.
While I haven't stayed here in a long time, I have run events here and the staff are incredibly accommodating and willing to go the extra mile.
The Grand Hyatt Melbourne is a classic luxury hotel and a brilliant choice for a special occasion or staycation.
What past guests say:
"The beds were very comfortable and everything was very clean. The location was perfect too – easy to access everything."

– Lauren (read more reviews)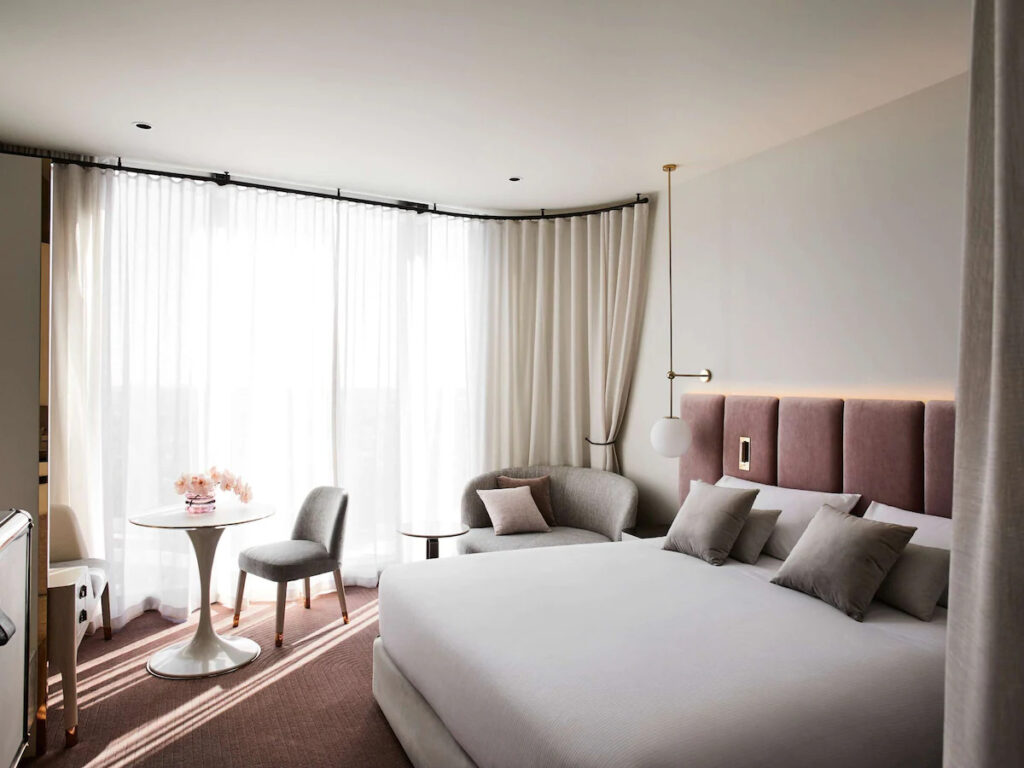 Rating: 8.5 | Location: Chadstone | View on Booking.com
A 5-star hotel at a shopping centre? In Melbourne, anything is possible. Located at "Australia's fashion capital", Chadstone, just a 30-minute drive from the CBD, this hotel screams glamour as soon as you walk in the lobby.
Rooms at Hotel Chadstone feature a blush or teal colour scheme, with velvet, brass and leather creating warm, comfortable rooms. The plush bedding will guarantee an amazing night's sleep.
It'll be hard to leave the room – but you're probably here for some shopping as well, and you won't have to go far at all to access Chadstone's incredible range of retailers. The largest shopping centre in Australia and one of the biggest in the Southern Hemisphere, there's nothing you won't find here.
When you're exhausted from shopping, come back to the hotel to enjoy Victorian produce and great drinks at Altus Rooftop Bar or Pastore.
Or relax at the pool or book a treatment at the spa (the massages all sound divine).
For a luxurious girls' weekend away, you really couldn't go past Hotel Chadstone.
What past guests say:
"A great hotel to stay at and explore Chadstone the Fashion Capital. The Altus Rooftop Bar is perfect for an evening cocktail plus good choice in restaurants for all meals."

– Mel (read more reviews)
Rating: 8.5 | Location: Melbourne CBD | View on Booking.com
Located right on Collins Street, the Sofitel Melbourne couldn't be more central or classy. You'll be in the heart of it all, with easy access to all the top attractions and the coolest spots in town.
A recent refurbishment has upgraded the rooms, bringing in chic, modern décor that channel's the Sofitel's French identity. Plush beds, soft linens and amazing city and river views combine to make cosy spaces you won't want to leave.
If you really want to splurge, go for one of the Celestial Suites. These rooms on Level 50 (which means 150 metres above Collins St, imagine the views!) come with a personal butler service, personalised pillow slips and bathrobes and exclusive access to Club Sofitel. Now that's a luxe weekend in Melbourne.
They've got not one, but two sophisticated restaurants that offer breathtaking views over the Yarra River. No35 Restaurant celebrates French food (make sure to book one of the window tables for the best views) and also serves up Sunday High Tea (Melbourne's "Highest High Tea"), while Atrium Bar has handcrafted cocktails, as well as wine and light meals.
What past guests say:
"Always a great experience, the location is perfect, the rooms are amazing and the staff are very welcoming and accommodating. 5 stars! I will be staying here every time I visit Melbourne!"

– Rebecca (read more reviews)
Rating: 8.2 | Location: Melbourne CBD | View on Booking.com
Perfectly located in the Paris End of Collins Street, the Sheraton Melbourne is, without a doubt, one of the most luxurious hotels in Melbourne.
Picture yourself sinking into a cloud-like bed, surrounded by stylish décor and a bathroom that screams elegance. And let's not forget the little things that matter, like LED smart TVs, high-speed Wi-Fi, and those famous Sheraton signature beds. They know how to treat you right and create a 5-star stay.
Little Collins Kitchen serves French cuisine and offers breakfast, lunch and dinner. You can relax with a refreshing cocktail at The Terrace Bar, which boasts stunning city views and a cosy fireplace.
When it's time to relax, take a dip in their sparkling indoor swimming pool. It's the perfect spot to unwind for a few lazy laps and escape the hustle and bustle of the city. And if you really want to treat yourself, book a pampering session at the spa. You deserve it!
What past guests say:
"Staff were so welcoming and accommodating, room was spacious and comfortable, bathroom was modern and clean."

– Taylah (read more reviews)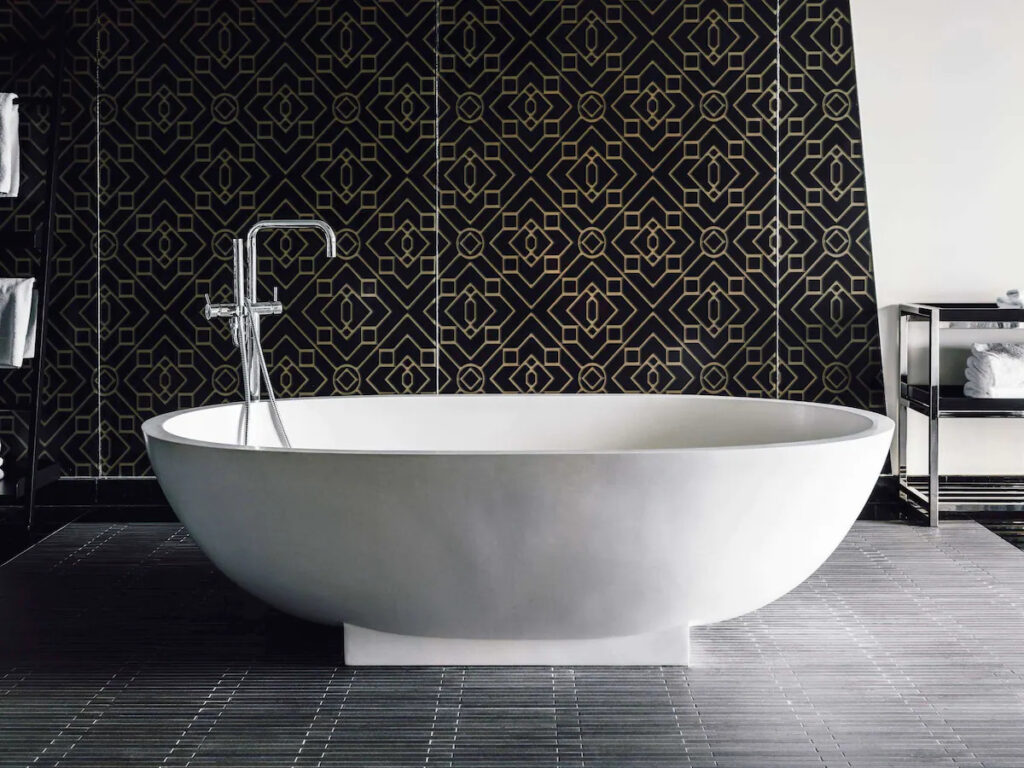 Rating: 8.6 | Location: South Yarra | View on Booking.com
In a city with no shortage of 5-star luxury hotels, The Como Melbourne stands apart from the crowd, offering an experience that is nothing short of extraordinary. Located on famous Chapel Street, this hotel is a haven of privacy, discretion and unparalleled service.
While basking in the tranquility of The Como, you'll find yourself just a leisurely stroll away from one of Melbourne's hot spots, with an array of sensational dining options, bars and cafés to choose from – as well as nightclubs if a night on the town takes your fancy.
Rooms are luxurious and modern, with oodles of space and plenty of natural light. Colour palettes are minimalist and neutral.
Ascend to the rooftop and discover a sanctuary in the form of a sparkling pool, inviting you to take a refreshing dip while soaking in the views. For those seeking to stay active or unwind, the well-equipped gym and sauna provide the perfect haven.
What past guests say:
"Perfect location, great room, very clean. Staff are super attentive and very nice to deal with. Love the welcome drink on arrival."

– Jenni (read more reviews)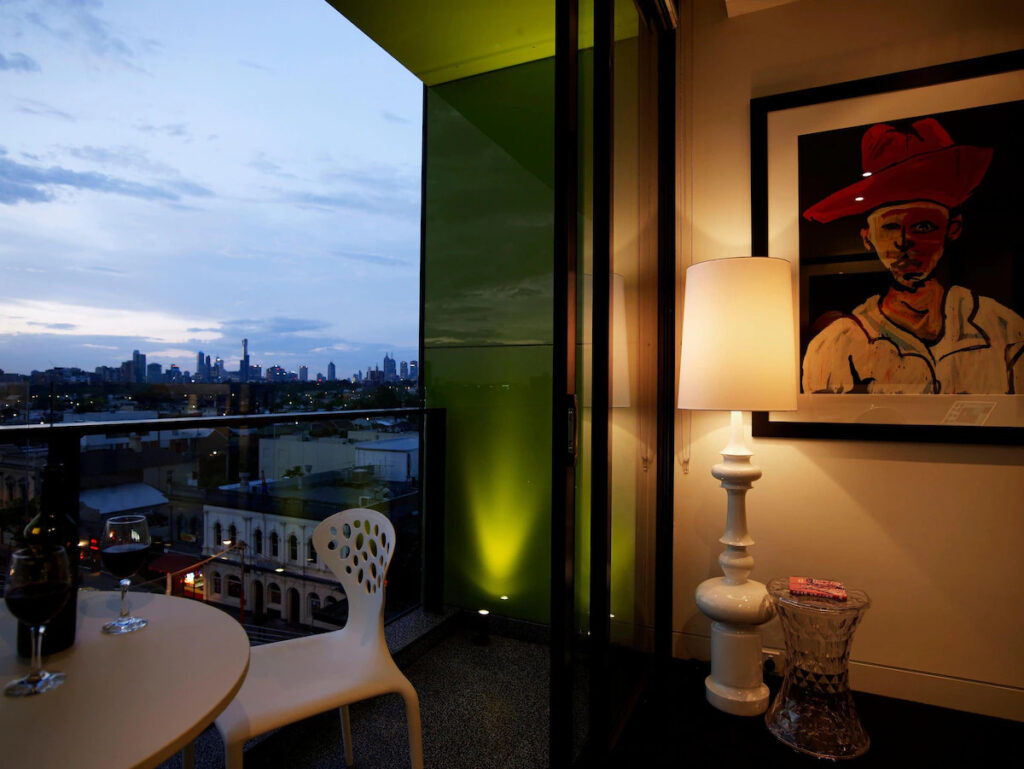 Rating: 8.5 | Location: Prahran | View on Booking.com
The Cullen Hotel, a charming boutique establishment in Prahran, draws its inspiration from the renowned Australian artist Adam Cullen. Art enthusiasts will appreciate the unique décor that graces the entire building, including fascinating interior design touches in the bedrooms.
As one of Melbourne's premier 5-star hotels, the Cullen offers a range of amenities designed to enhance your stay. With a 24-hour reception, luggage storage facilities, Wi-Fi access, and a well-equipped gym, convenience and comfort are at your fingertips. Each room is thoughtfully equipped with a kitchenette, adding a practical touch to the luxurious experience.
Conveniently located just off Chapel Street, The Cullen places you in the heart of a vibrant neighborhood brimming with things to do. Across the street lies the bustling Prahran Market, where you can immerse yourself in a sensory feast. Around the hotel you'll find plenty of restaurants and bars, including HuTong Dumpling Bar conveniently located within the hotel itself.
What past guests say:
"As always a treat to stay in the Cullen. The fantastic and comfortable beds are a guarantee for a good rest at the Cullen. The art in the room complements the relaxed vibe."

– Arjen (read more reviews)
5-Star Hotels in Melbourne, Australia: Frequently Asked Questions
What are the best 5-star hotels in Melbourne?
All of the hotels in this curated list are five stars. Some of the top luxury hotels in Melbourne include Le Meridien, W Hotel, The Ritz-Carlton, Park Hyatt and The Langham.
Are these 5-star hotels centrally located?
Yes, many of the best 5-star hotels in Melbourne are centrally located, offering convenient access to major attractions, shopping districts, Melbourne dining options, and cultural landmarks. All the hotels in this list are in the CBD or in close proximity in popular neighborhoods like South Yarra and Prahran.
Are 5-star hotels in Melbourne suitable for families?
Absolutely! Many 5-star hotels in Melbourne offer family-friendly accommodations and amenities, such as spacious suites or interconnecting rooms, babysitting services and special menus for children.
What amenities can I expect at a 5-star hotel in Melbourne?
5-star hotels in Melbourne offer a range of luxurious amenities, including spacious and elegantly designed rooms, high-quality bedding and linens, ensuite bathrooms with premium toiletries, state-of-the-art fitness centres, swimming pools, fine dining restaurants, spa and wellness facilities, concierge services, and high-speed Wi-Fi.
What about fine dining restaurants in Melbourne when I'm there?
Melbourne does fine dining well – you'll be spoilt for choice! Take your pick from Attica, Gimlet at Cavendish House, Society Dining Room, Vue de Monde, Sunda and so, so many more amazing Melbourne restaurants.
What should I do when I'm in Melbourne for a weekend?
A weekend is a great amount of time to spend in Melbourne – plenty of time to try our restaurants and bars, check out the different neighbourhoods and explore museums and galleries. For inspiration, have a look at my guides to a weekend in Melbourne or, if you can squeeze in a little longer, my 3 days in Melbourne itinerary.
Do 5-star hotels in Melbourne offer airport transfers?
Many 5-star hotels provide airport transfer services. Check the hotel website for this info or enquire in advance about their transfer options and any associated fees.
Melbourne luxury accommodation: Final thoughts
Melbourne has an abundance of luxury accommodations to choose from and create an amazing five-star experience around. Whether for a special occasion or a cheeky weekend away or because 5-star is always how you travel, each of the luxury hotels in this curated list promises a unique and unforgettable experience.
So, make your next visit to Melbourne a luxury one – you deserve it!
Looking for more Melbourne and Victoria accommodation guides? You might like these:
PIN IT FOR LATER