Looking for the best Melbourne Airport hotels so you can travel stress-free? Here's our round up of the best and closest hotels.
Travelling can be hectic at times, especially when it involves air travel. Dealing with taxi drivers or figuring out public transport options or trying to avoid traffic jams all add to the stress of getting to the airport on time.
Which is why sometimes you just need to stay right near the hotel and eliminate that stress altogether. And these Melbourne Airport hotels mean you can do just that. They're all conveniently located near Tullamarine so you can enjoy a good night's sleep before you fly. Or, if you've only got a short layover in Melbourne, it's a great way to get out of the airport and freshen up before your next flight.
I'm one of those people who's always at the airport early, just in case. My husband has given up on arguing with me about what time to leave and just goes with the flow – he knows now that it's just better for everyone. So I am totally on board with staying as close to the airport as possible if it means a smoother, happier journey.
Read on for our guide to Melbourne Airport hotels and get ready for your next trip now!
This blog post may contain affiliate links, meaning if you book or buy something through one of these links, I may earn a small commission (at no extra cost to you).
Best Melbourne Airport hotel
⭐️⭐️⭐️⭐️⭐️
Don't have time to read the whole article?
Our hands-down favourite pick of the best Melbourne Airport hotels is the conveniently located Holiday Inn Melbourne Airport.
Quick guide: Best hotels near Melbourne Airport
Holiday Inn Melbourne Airport
#1 pick
---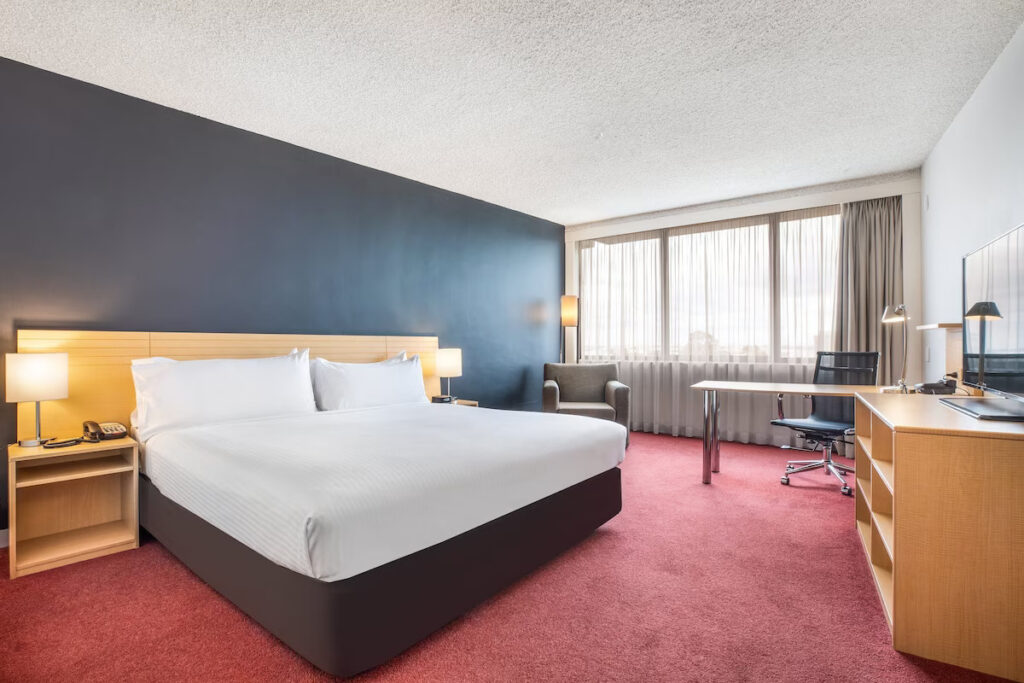 ✔️Within walking distance of airport terminals
✔️ Onsite restaurant – and kids eat free!

Quest Melbourne Airport
#2 pick
---
✔️ Kitchen and laundry facilities
✔️ 24-hour reception
Best Western Airport Motel
#3 pick
---
✔️ Complimentary shuttle between airport and hotel
✔️ Pool and BBQ facilities
Distance to airport: 400 metres | Rating: 8.2 | View on Booking.com
Just 400 metres from the airport terminals, Holiday Inn Melbourne Airport Hotel is a super conveniently located hotel. There's a free shuttle to and from the airport (available 5.30am to 1.30am), but if you're keen to stretch your legs, the walk to the domestic and international terminals should take only 10-15 minutes. 
Within the hotel itself, flight details are displayed in the lobby and, if necessary, guests can print boarding passes or other important documents in the 24-hour Business Centre. 
Block out the airport noise in your sound-proofed bedroom, get some exercise in the fitness centre and have dinner at Vargas Restaurant. Travelling with kids? Under 12s stay and eat free!
If you'd like to explore Melbourne while you're in town, the CBD is only 20 minutes away, so you can have the best of both worlds during your transit in the city. Simply catch the SkyBus to Southern Cross Station to discover some of the best things to do in Melbourne.
What past guests say:
"So close to the airport and the shuttle is a great service. Very comfortable beds and pillows."

– Amanda (read more reviews)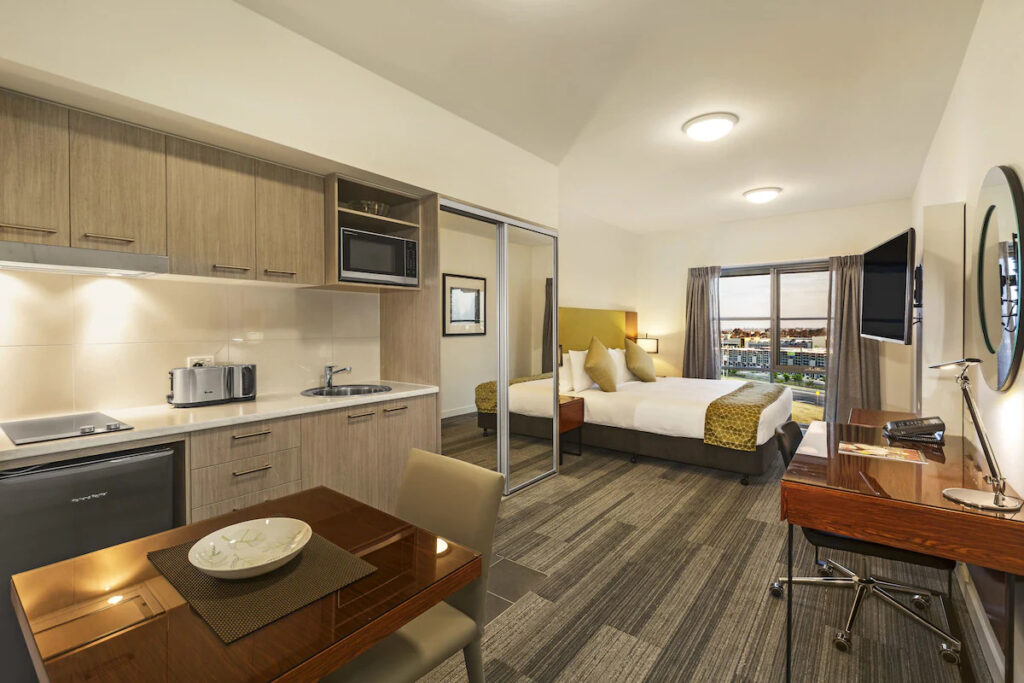 Distance to airport: 5 kilometres | Rating: 8.4 | View on Booking.com
Quest is one of the top-rated Melbourne airport hotels and aims to make your life easier during transit. The hotel has 96 rooms, ranging from single bedrooms to spacious three-bedroom apartments with kitchen and laundry facilities. So good to have the option to wash your dirty travel clothes and cook yourself a meal if you want!
Ideal for travellers arriving at all times of day, reception is open for check in 24-hours, and there's also secure on-site parking available. 
The hotel is only 10 minutes from the airport. There is a free shuttle – but it only operates at scheduled times on weekdays, with no weekend service, so factor that in to your plans.
What past guests say:
"Extremely helpful staff, handy to airport with free shuttle. Room was clean and comfortable and quiet. Easy breakfast facility and well priced. Would definitely recommend."

– Ric (read more reviews)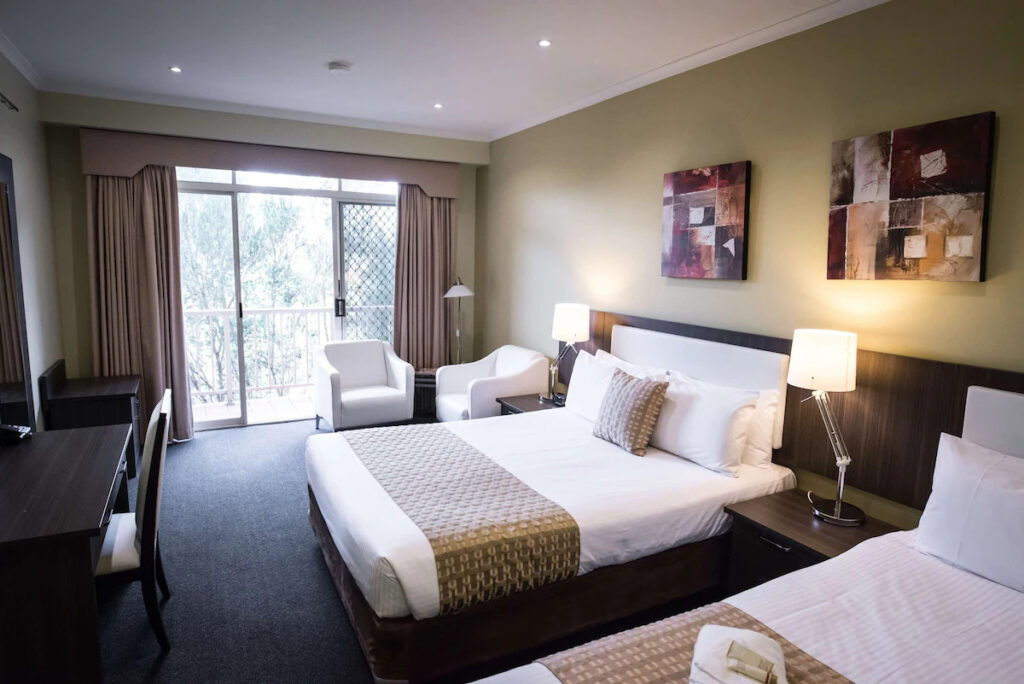 Distance to airport: 6 kilometres | Rating: 8.4 | View on Booking.com
Offering guests only the best in comfort and convenience, the 4-star Best Western Airport Motel is more than just a bed for the night. 
There's a choice of four different types of rooms, ranging from basic motel rooms to spa rooms. When it's time for a break, the hotel has a lovely swimming pool, spa, BBQ facilities, an outdoor leisure area and its very own restaurant. 
Best of all, the Best Western is located only a few minutes from Melbourne International Airport and a short drive from the CBD, making travelling a breeze. 
There's a complimentary, 24-hour shuttle between the hotel and the airport so you don't have to worry about organising a taxi. Driving? There's short- and long-term parking onsite for only $10 a day.
What past guests say:
"A first class experience. I have stayed previously and will certainly return. Shuttle on time. Room very clean & comfortable. Meal in dining room excellent as good as I have had anywhere in Australia or Overseas."

– Richard (read more reviews)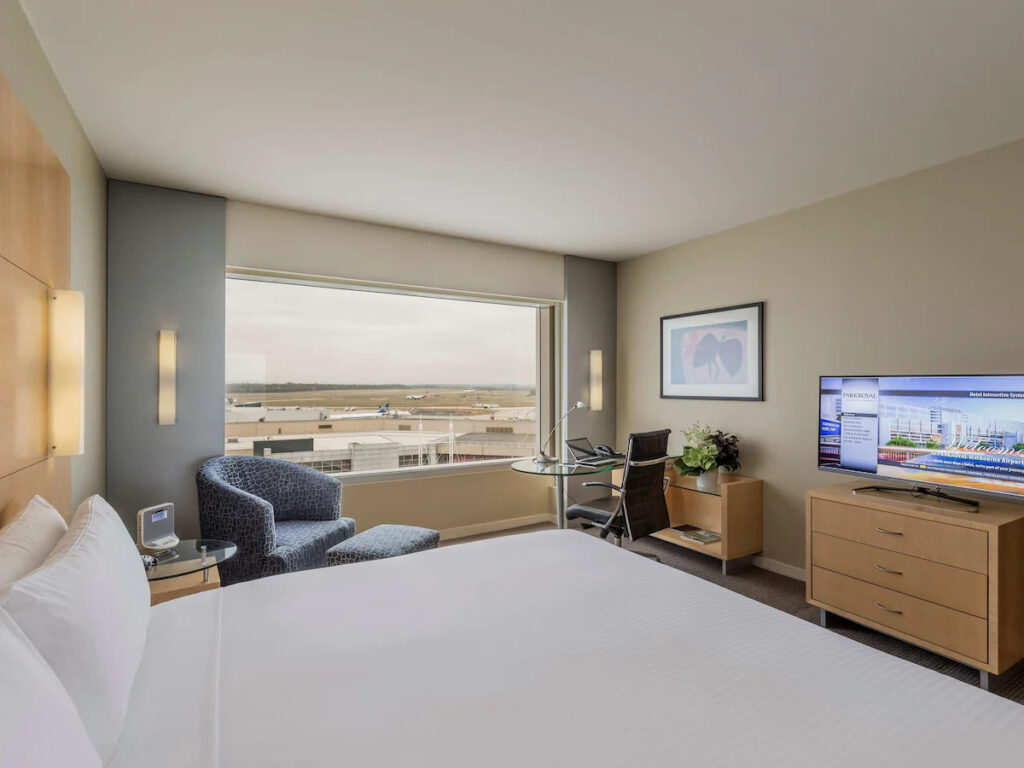 Distance to airport: 150 metres | Rating: 7.6 | View on Booking.com
You really can't get much closer to Melbourne Airport than the ParkRoyal Melbourne Airport. It's literally a 2-minute walk via a covered walkway. It's the most convenient of all the Melbourne Airport hotels.
With a choice of six different types of rooms, you're sure to find exactly what you need at ParkRoyal Melbourne Airport. Some rooms even have views of the runway!
ParkRoyal has three restaurants and bars as well as a handy room service menu, so you can get a meal at any time of the day. And if your flight is early, don't worry about having to skip the most important meal of the day – the hotel can provide a delicious and convenient takeaway breakfast. 
The hotel also has fitness facilities, an indoor pool and a sauna so that you can keep active and healthy while in transit. 
Of course, this hotel is likely to be a bit pricier than the others on this list – you'll pay for the convenience.
What past guests say:
"Hotel is a very short walk from T1 to T4. Great size rooms, with amazing view of the airfield behind the terminal building."

– Bryan (read more reviews)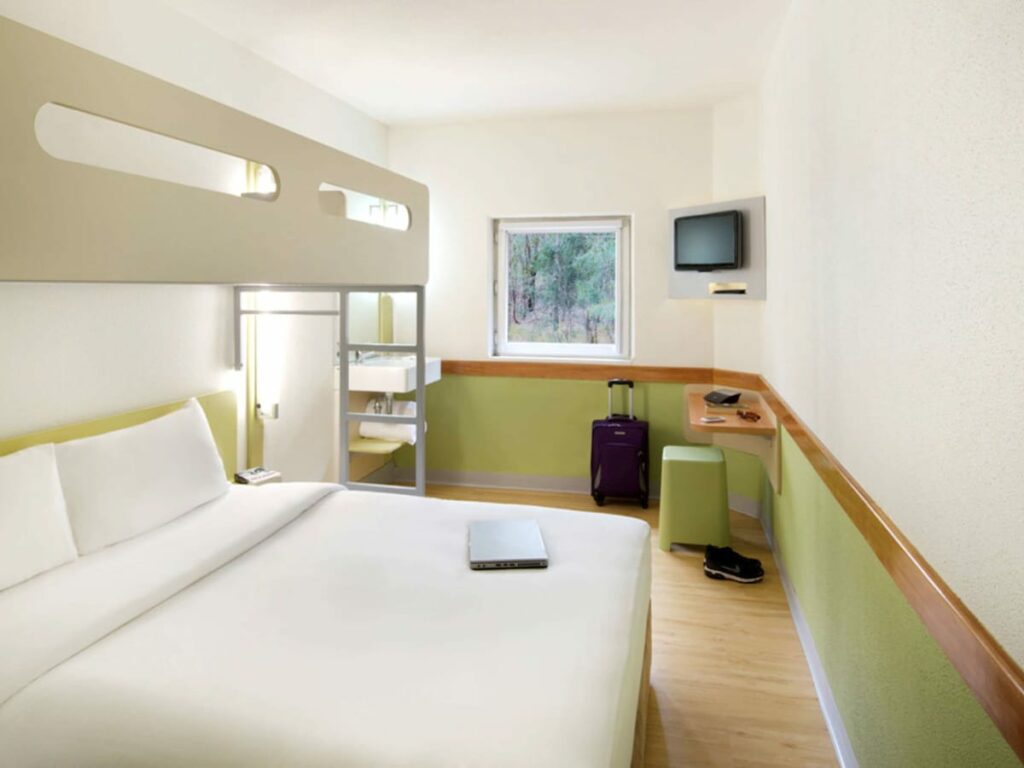 Distance to airport: 500 metres | Rating: 6.2 | View on Booking.com
Also located within walking distance of the hotel (if you're so inclined), the ibis Budget Melbourne Hotel is another Melbourne airport accommodation option for those looking for something that won't cost an arm and a leg. 
The hotel provides free Wi-Fi, 24-hour self-service check in and on-site parking. Rooms are pretty basic, but they're sound-proofed and affordable for the convenient location. 
Disappointingly, however, there's no shuttle service provided, so your only option is to walk – or try to order a rideshare or taxi (and hope that they'll pick you up from there…).
What past guests say:
"The room was small and basic but perfect for what we needed. Close to the airport easy walking distance."

– Michelle (read more reviews)
Distance to airport: 4 kilometres | Rating: 7.9 | View on Booking.com
If you're on the hunt for the best airport hotels in Melbourne, Ciloms Airport Lodge is the place for you. It's ideal for solo travellers as well as hard-working professionals on business trips.
From a convenience perspective, the hotel offers a free, 24-hour shuttle service to and from the airport, long- and short-term car parking, a restaurant, a swimming pool, and high-speed Wi-Fi. 
What past guests say:
"Was for one night only but we were very satisfied and will definitely satay again. Airport shuttle was v good."

– Peter (read more reviews)
Distance to airport: 5 kilometres | Rating: 8.2 | View on Booking.com
With 68 rooms, the Quality Hotel Melbourne Airport offers top-notch service, comfortable accommodation and affordable prices. Just a few kilometres from Melbourne Airport, the Quality Hotel is conveniently located and nicely decorated.
There's 24-hour reception and a free shuttle bus between the airport and the hotel, as well as off-street parking and free, reliable Wi-Fi. 
So, if you're in the city briefly on business and you're looking for Melbourne Airport hotels that can give you a bed for the night plus all the amenities and facilities you require – including a restaurant within the hotel – the Quality Hotel is the place for you. 
What past guests say:
"Efficient check in and departure. Airport shuttle was efficient and on time. Restaurant and bar staff were friendly and food was excellent. And fairly priced."

– Gordon (read more reviews)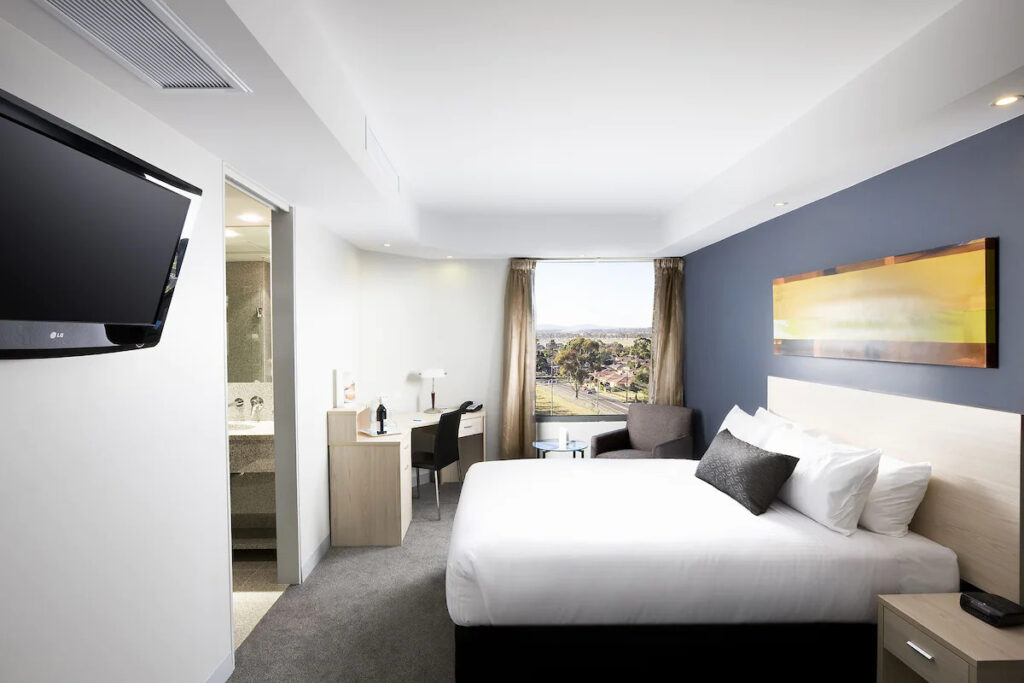 Distance to airport: 5 kilometres | Rating: 7.7 | View on Booking.com
Boasting a long list of facilities and amenities that'll suit a business person or somebody travelling for leisure, the Mantra Tullamarine is one of the most versatile hotels near Melbourne airport. 
Not only is it conveniently located for short layovers and late night or early morning flights, but this hotel also has its very own heated pool, gym, sauna and restaurant. There's a complimentary, 24-hour shuttle (although note that they can't take children under 6 months).
The rooms are modern and spacious, providing guests with exceptional comfort – a real home-away-from-home. 
If you're into outdoor activities, URBNSURF Melbourne – the country's first-ever surf park – is just up the road, so chuck on your boardies and hit the waves!
What past guests say:
"Good shuttle service from Melbourne airport, easy to organise. Good size room with tea/coffee facilities and reasonable breakfast available at extra cost."

– Michael (read more reviews)
Distance to airport: 14 kilometres | Rating: 10 | View on Booking.com
Melbourne airport accommodation isn't only a bunch of stuffy hotels – at the Overnewton Castle, you can enjoy a gorgeous location while still being near the airport. 
This hotel was originally built in the 19th century by a Scot in Victorian Tudor-style, and has undergone many changes to become the quaint castle in the trees that it is today. 
It's primarily used for weddings, but could provide a lovely stay before or after a long flight!
What other guests say:
"Loved the architecture and open space."

– Strydom (read more reviews)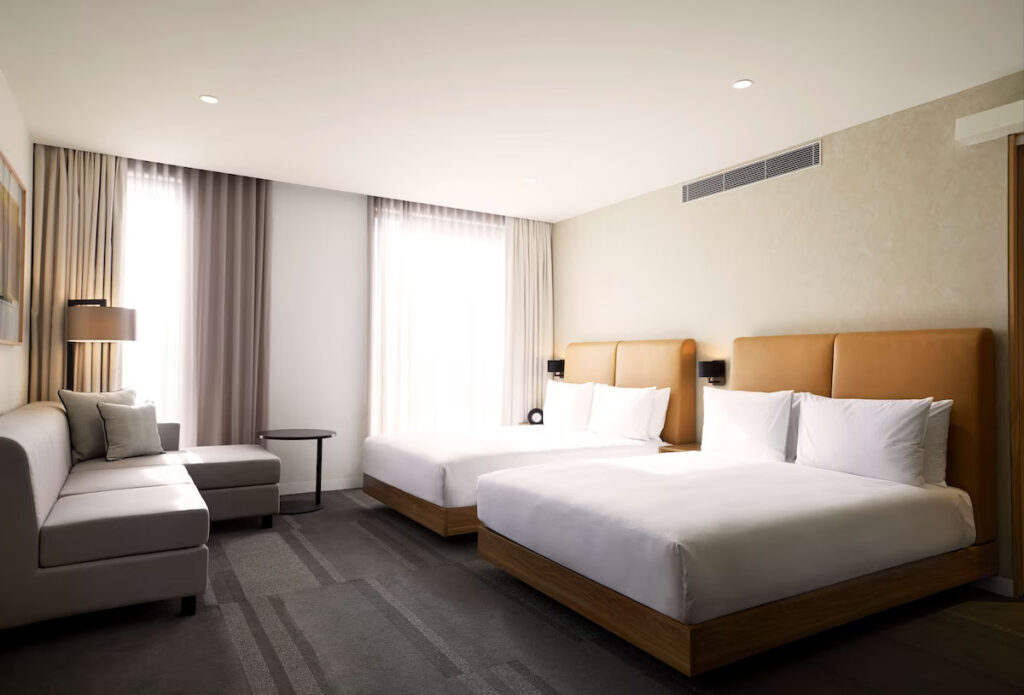 Distance to airport: 8 kilometres | Rating: 8.6 | View on Booking.com
A little bit further away than the other Melbourne Airport hotels on this list, Hyatt Place at Essendon Fields is still conveniently located. It's 10 minutes away from Melbourne International Airport, a few steps away from Essendon Fields Airport and 20 minutes from the Melbourne CBD. 
The hotel is modern and new, and the rooms are equipped with flat-screen televisions and comfortable Hyatt Grand beds. 
There's a free shuttle to the airport (operating between 6am and 10pm), a fitness centre and 24-hour reception. No need to leave the hotel for meals, as the onsite kitchen serves breakfast, lunch and dinner, as well as light meals 24/7.
What past guests say:
"Excellent help at front desk. Shuttle driver very accommodating. Great choice for staying in the airport area."

– Lance (read more reviews)
Map of best Melbourne Airport hotels
Best Melbourne Airport hotels: Frequently asked questions
What are the advantages of staying at a hotel near Melbourne Airport?
Staying near Melbourne Airport offers convenience, especially for early morning or late-night flights. It reduces travel time and allows you to easily reach the airport without any hassles.
How far are the hotels from Melbourne Airport?
The distance varies, but all the hotels on this list are within a 15-minute drive – some are even within walking distance!
Are there any budget-friendly hotel options near Melbourne Airport?
You're always going to pay a little extra for the convenience of being close to the airport, but there are a few hotels in this list that offer comfortable accommodations at affordable rates. Click through the links provided throughout this article to get the latest prices and make your choice.
Do hotels near Melbourne Airport provide shuttle services?
Most hotels near Melbourne Airport on this list offer complimentary shuttle services to and from the airport terminals. This allows guests to easily transfer without needing to arrange separate transportation. BUT do check in advance, as some don't operate 24 hours a day.
Can I find hotels with long-term parking options near Melbourne Airport?
Yes, some hotels near Melbourne Airport offer long-term parking facilities. These packages often include accommodation for a night as well as extended parking options, making them ideal for travellers leaving their vehicles while they are away. Do compare them against Melbourne Airport parking prices, though, to make sure you're getting the best deal.
Where can I eat near Melbourne Airport?
Luckily, most hotels on this list have on-site restaurants and dining options, ranging from casual cafés to sit-down meals. Additionally, some hotels offer room service for added convenience. Outside of the hotels, there are a few fast food options or the many restaurants and cafés within Melbourne Airport itself.
Hotels near Melbourne Airport: Final thoughts
When it comes to choosing the best hotels near Melbourne Airport, convenience and comfort are paramount. Whether you're a frequent traveller, have an early morning flight, or simply want to ensure a stress-free journey, these hotels are a great solution. You can bid farewell to the anxiety of missing your flight and enjoy a relaxed and seamless travel experience instead.
I would recommend checking the shuttle service hours and fees, if that's something you'll need when you check in, as it does vary from hotel to hotel.
Bon voyage!
PIN IT FOR LATER