Looking for somewhere a little special or a little unique to stay in when you visit Melbourne? Then one of these very cool boutique hotels in Melbourne may be just what you need.
First up, what is a boutique hotel? Well, according to Oxford English Dictionary, it's "a small stylish hotel, typically one situated in a fashionable urban location." They're usually smaller and have a personality or some style that sets it apart from larger hotels, particularly chain hotels. They're hotels you'll remember for the service and design.
Here, I've rounded up some of the best boutique Melbourne hotels, ones that ooze style and character and will make your stay in Melbourne memorable.
This blog post may contain affiliate links, meaning if you book or buy something through one of these links, I may earn a small commission (at no extra cost to you).
Best boutique hotel in Melbourne
⭐️⭐️⭐️⭐️⭐️
Don't have time to read the whole article?
Our hands-down favourite pick of boutique hotels in Melbourne is the very hip QT Melbourne.
Quick guide: Best boutique hotels in Melbourne
QT Melbourne
#1 pick
---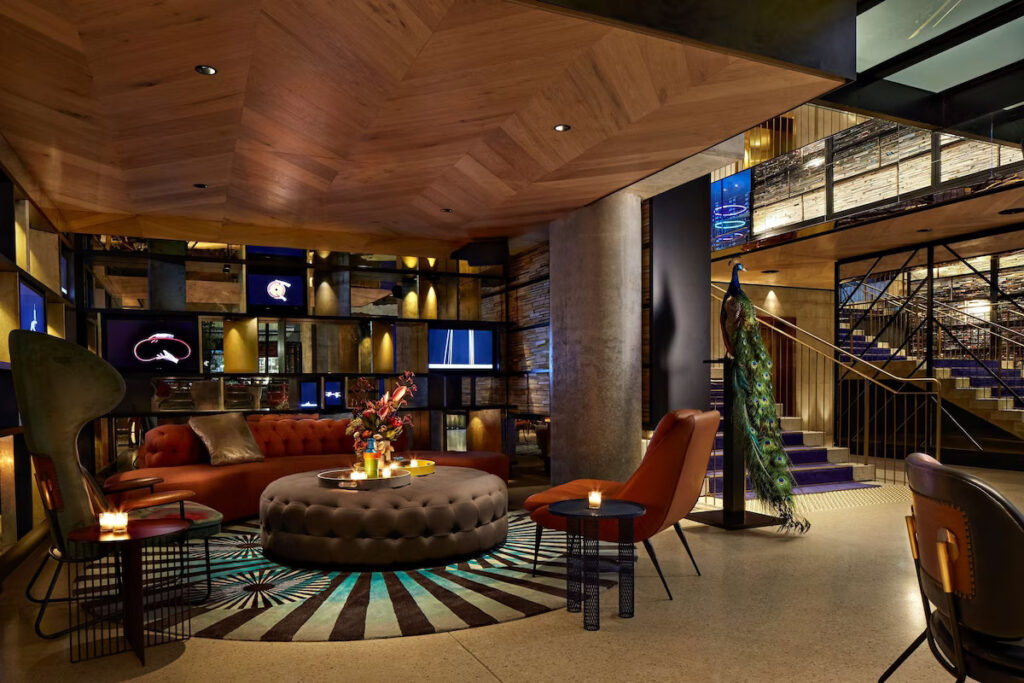 ✔️ On-site restaurant
✔️ Funky vibe
Ovolo Laneways
#2 pick
---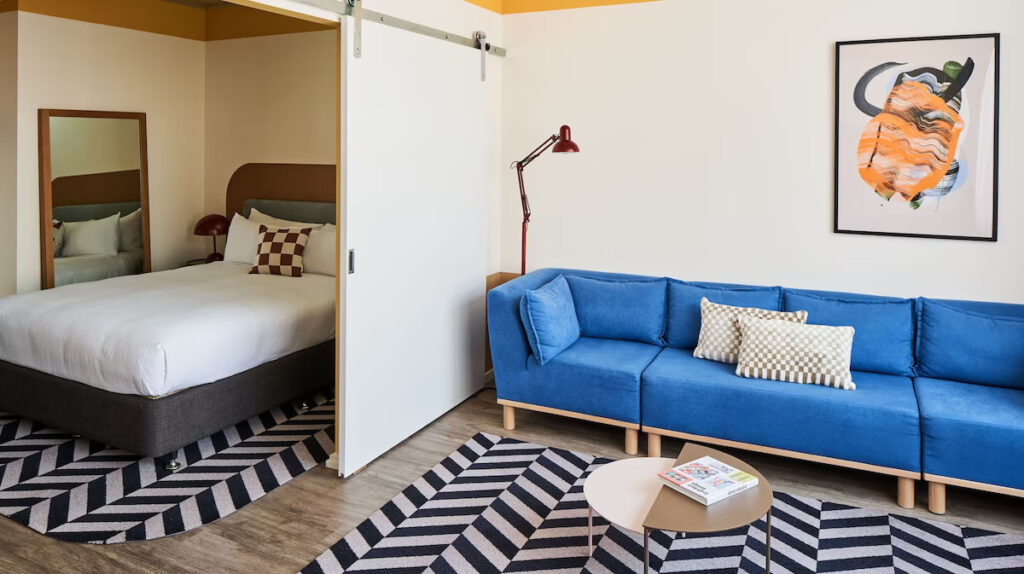 ✔️ Complimentary minibar
✔️ Awesome location
Adelphi Hotel
#3 pick
---
✔️ Cool swimming pool
✔️ Central location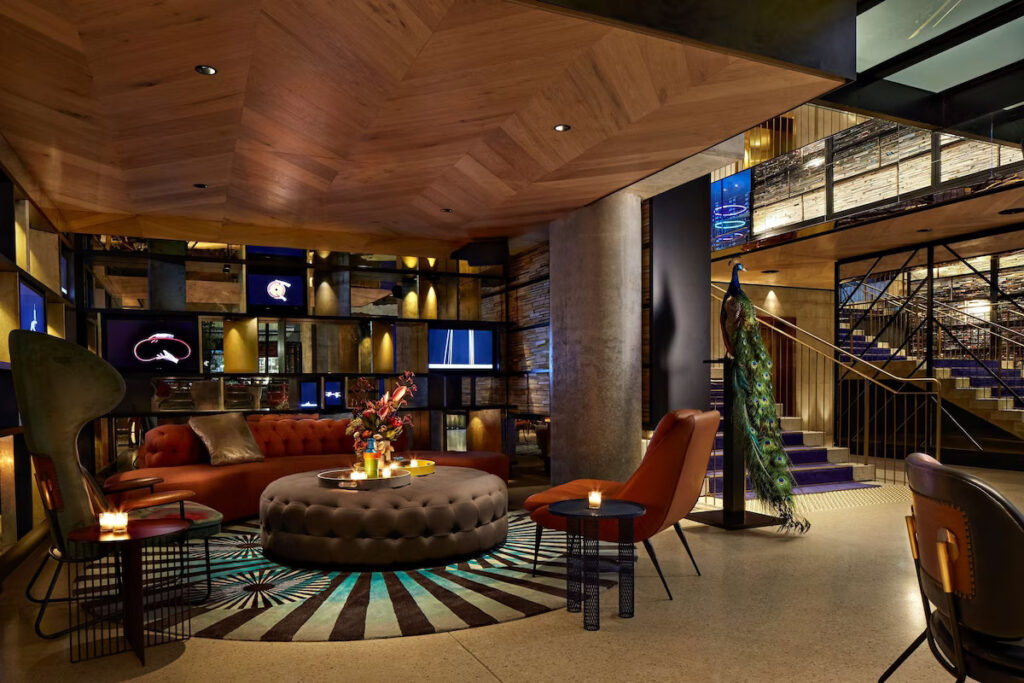 Rating: 9.0 | Location: Melbourne CBD | View on Booking.com
The rooms at QT Melbourne are sleek and stylish and the boutique hotel gives off a very cool Melbourne hotel vibe.
There are neon signs, a stuffed peacock, the bellmen are called "Directors of Chaos", and the lifts talk – this is one quirky hotel that's both cheeky and elegant at the same time.
If you don't feel like going very far for a drink or a meal, why not pop into the Rooftop Bar at QT for a cocktail and then head down to Pascale Bar & Grill for a scrumptious three-course meal?
Or, if you don't even want to leave your room (and why would you when the rooms are so freaking stylish?!), then indulge in the top-notch room service and have a lazy day in.
Located on Russell Street, QT Melbourne is right in the centre of all the action. With around 200 rooms, it's on the larger side of boutique hotels, but it makes up for that in pizzazz, personality and personalised service.
If you're looking for chic yet comfortable boutique accommodation in Melbourne, look no further than QT.
What past guests say:
"Decor and design were fabulous. Location was perfect … this is the kind of place you really want to come back to."

– Nancy (read more reviews)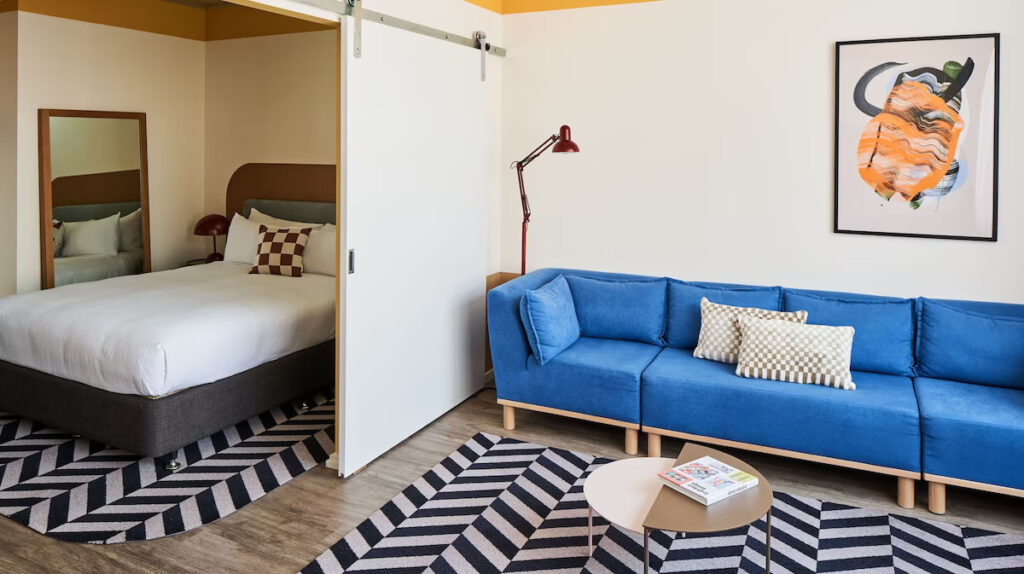 Rating: 8.9 | Location: Melbourne CBD | View on Booking.com
A hotel that comes with a complimentary mini bar and free-flowing lollies? Sign me up.
Situated on the corner of Little Bourke Street in the Melbourne CBD, Ovolo Laneways is conveniently located nearby Melbourne's most popular attractions – including must-see museums, exquisite art galleries and a plethora of must-try Melbourne restaurants and fun bars.
Ovolo Laneways is one of the best boutique hotels in Melbourne due to its modern and spacious suites, some of which offer a rooftop terrace for unbeatable views of the city below.
Want to go baller? There's even a penthouse suite with a pinball machine and jacuzzi.
Stylish rooms coupled with down-to-earth service and affordable pricing (by Melbourne standards) – you've got the perfect weekend in Melbourne made.
This boutique hotel boasts practicality as well as comfort, making it ideal for solo travellers, a cheeky weekend away or those in town for business.
What past guests say:
"Staying at Ovolo was the affordable but luxurious mini escape to Melbourne we Brisbanites needed!"

– Amanda (read more reviews)
Rating: 8.2 | Location: Melbourne CBD | View on Booking.com
Easily one of the best boutique hotels in Melbourne, the Adelphi Hotel is known for its sleek, modern design and top-class service and amenities.
Located on Flinders Lane, this boutique hotel is situated right in the mecca of the city's most popular laneways, including nearby Hosier Lane. Surrounded by hip bars, incredible restaurants, and well-known street art, you don't need to go far.
While there are hundreds of restaurants and bars on the hotel's doorstep, you can't stay here without a meal at the hotel restaurant, Om Nom. Known for its desserts, they also have a killer weekend high tea.
If you're wanting to enjoy some downtime, you'll be blown away by the Adelphi's rooftop pool and deck area. The glass-bottomed pool extends two metres beyond the edge of the roof so that guests can gaze down on the hustle and bustle of Flinders Lane below.
What past guests say:
"Unique and vibrant, an experience we will treasure for years to come!"

– Victoria (read more reviews)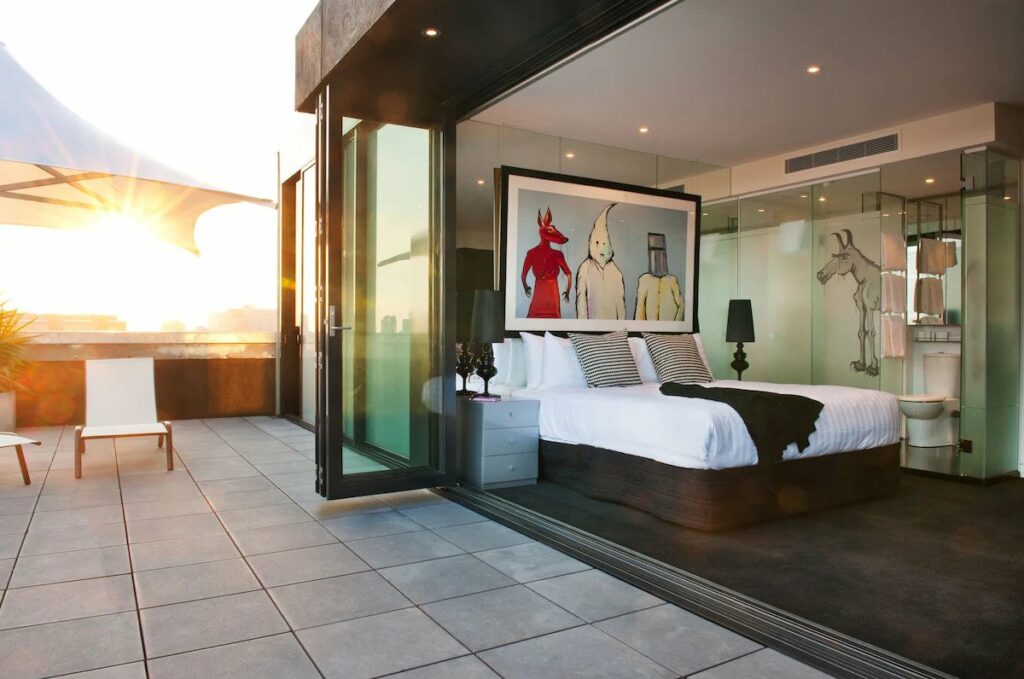 Rating: 8.6 | Location: Prahran | View on Booking.com
Boutique hotels in Melbourne aren't hard to come by, but The Cullen has something very special to offer art lovers.
One of the renowned Art Series hotels, the rooms feature unique, bold artworks, all created by Australian contemporary artist Adam Cullen – none other than the hotel's namesake.
Even the beds are specially designed to ensure the perfect combination of comfort and aesthetic.
Book one of the balcony suites at this art hotel in Melbourne for stunning views of the city.
Situated in the boho chic suburb of Prahran, you can grab a bite to eat at the renowned HuTong Dumpling Bar at The Cullen or cook up a storm in your room's own private kitchenette.
What past guests say:
"The Cullen will remain my go-to choice for accommodation for as long as I'm travelling to Melbourne."

– Russell (read more reviews)
Rating: 8.9 | Location: Carlton | View on Booking.com
In the heart of the historic Carlton neighbourhood, Zagame's House is a true masterpiece of design and hospitality.
With 97 rooms, every inch of this hotel has been carefully designed and meticulously thought out.
Its sublimely modern interior is decorated with exquisite art, and the staff are ready and waiting to cater to guests' every beck and call.
Dine at 1851 Coffee + Kitchen or visit the Lord Lygon Wine Shop and Bar, both within Zagame's House. The food will tantalise your tastebuds and the wine list is full to the brim with amazing Australian wines.
What past guests say:
"My room was spacious and tastefully furnished. Nice linens, comfortable bed, plenty of storage. Exceptionally clean. Not just scrubbed clean, but with perfectly clean grout and corners and etc. The staff is truly exceptional. I interacted with four different people there, and they were all great."

– Alexis (read more reviews)
Rating: 8.6 | Location: South Yarra | View on Booking.com
Boasting luxurious, modern rooms with oodles of space and plenty of natural light, The Como Melbourne is chic, elegant and stylish.
The iconic luxury hotel is located on Melbourne's famous Chapel Street in South Yarra, making it the perfect place to stay whether you're visiting for work or for leisure. And with options for rooms with a kitchenette (or even a full kitchen), it's a good option if your stay in Melbourne is longer than just a weekend.
The staff is top-notch and know how to provide professional, discreet service – a must given all the celebrities that have stayed here (keep your eyes peeled!).
Services include, among other things, a 24-hour reception, in-room dining and same-day laundry and valet service.
Other facilities the 5-star Como Melbourne has to offer are a gym and sauna, a rooftop heated swimming pool and a sun deck so you can stay active on your visit to Melbourne.
You don't have to go far for food, with The Brasserie offering breakfast onsite, including their famous pulled duck eggs benedict. Of course, you're also just a few steps away from some of Melbourne's best dining.
What past guests say:
"Great ambience from the moment we arrived at the front desk. All the staff we communicated with were very professional and so helpful. Our room was spotlessly clean."

– Lee (read more reviews)
Rating: 8.4 | Location: St Kilda | View on Booking.com
One of Melbourne's most iconic pubs and music venues is also home to a gorgeous boutique hotel.
Striking the perfect balance between pristine, Art Deco architecture and design, and rooms that feel like home, The Prince Hotel in St Kilda is one of Melbourne's most sought-after boutique hotels.
The rooms are flooded with welcoming, natural light and decorated with custom furniture and unique photography that represents the local community and culture.
It's located close to St Kilda's best attractions, popular dining establishments and, of course, the beach. On site, you'll find fitness facilities and an indoor pool.
The hotel also has several of its very own dining and entertainment venues, including the Prince Dining Room for delicious Mediterranean cuisine, the Prince Public Bar for a pub-grub meal and Little Prince Wine for a special glass of your favourite varietal. Or rock out to a performance at the Prince Bandroom.
What past guests say:
"The location was amazing, a short walk to the beach and night life! The new restaurant was very nice and the staff were helpful, even shipping a top we had left behind!"

– Westwood (read more reviews)
Rating: 8.7 | Location: South Melbourne | View on Booking.com
More than just gorgeous boutique accommodation in Melbourne, the Coppersmith Hotel is actually a celebration of the heritage of South Melbourne, recognising the coppersmiths who once lived in the area.
Today, the building's design amalgamates modern interiors with 1800s heritage and materials, including bits of copper found all around the hotel.
The rooms' simple palette allows for these historical features to shine through, while also providing modern amenities including a Nespresso coffee machine and air conditioning.
The hotel is also home to an excellent bar and bistro, serving delicious pub food and a wide variety of craft beers on tap, earning its place in the list of the best boutique Melbourne hotels.
The Coppersmith Hotel is close to the South Melbourne Market (try the famous dim sims!) and a short tram ride into the CBD area.
What past guests say:
"Everything about it was excellent. Beautiful building, very comfortable, lovely bathroom, great staff."

– Melinda (read more reviews)
Rating: 8.5 | Location: Melbourne CBD | View on Booking.com
You'll find Southeast Asian luxury in the heart of Melbourne when you stay at the Quincy Hotel.
With 241 rooms and an incredible 29 stories, it's a little larger than a boutique hotel – but its eclectic design and customer-first approach is what puts it firmly on this list of the best Melbourne boutique hotels.
The centrepiece of each room is the eye-catching headboard featuring pops of colour. The hotel has a huge variety of rooms to choose from, ranging from standard to the Hosier Club rooms that come with awesome benefits.
At the Quincy, it's all about the amenities. A few of the hotel features include access to your very own espresso machine, top-class Samsung TVs with access to Chromecast and on-demand movies, a rooftop swimming pool, a gym, and a pillow menu – yes, a pillow menu –for the ultimate comfort.
To entice you to stay even longer, the Quincy has three dining and drinking options: The Q (a reimagined club lounge and bar), SingSong (a café serving everything from Asian-inspired breakfasts, bubble tea and wine) and Salted Egg (the hotel's signature dining experience serving breakfast, lunch and dinner). 
What past guests say:
"One of the best hotel experiences I had. Everything is well organised. The room is excellent, staff is professional, location is central. They respond to messages pretty fast too."

– Max (read more reviews)
Rating: 8.5 | Location: East Brunswick | View on Booking.com
One of the most eclectic boutique hotels in Melbourne, book a stay at the East Brunswick Hotel to experience a luxurious stay with a dash of rock 'n roll.
This historic pub has been completely renovated – but it still celebrates its past as one of Melbourne's most iconic music venues, hosting some of the best-known Australian and international rock music acts in the business.
Boasting only 12 one-bedroom studio apartments, the hotel offers an intimate stay in luxe surroundings.
While it's located a bit further out of the city, it's a great opportunity to experience one of Melbourne's hippest suburbs and all the pubs, music venues and restaurants Brunswick has to offer.
What past guests say:
"Super cute and classy room, all the nice little features and touches as well. Set above a gorgeous boutique pub. The rooms match the pub. Awesome food and solid craft selection of beers too. All out cracker of a place!"

– Dylan (read more reviews)
Rating: 8.0 | Location: South Yarra | View on Expedia
United Places Botanic Gardens Hotel has earned its stripes as one of the best boutique hotels in Melbourne, offering a bold design and personalised experience so that every stay here is unique.
With just 12 rooms, this sophisticated hotel is in one of Melbourne's greenest spaces, overlooking our beautiful Royal Botanic Gardens. Rooms are inspired by Scandinavian design, and the bigger ones have deep soaking tubs with garden views.
This boutique hotel in the gorgeous suburb of South Yarra has a focus on sustainability, with products sourced from socially responsible enterprises, renewable energy sourced from solar, and careful building design that considers natural heating and cooling.
When it comes to dining, United Places offers a top-notch experience at the downstairs Matilda 159. The restaurant, led by Melbourne celebrity chef Scott Pickett, offers delicious food that's mostly sourced locally, with an ambience that reflects the calm and quiet atmosphere of the hotel.
If you prefer, you can even request in-room dining for a special, private experience, although all rooms do have their own kitchen facilities.  
What past guests say:
"The bedroom suite is everything and more beautiful layout and features. Excellent service and a great location."

– Past guest (read more reviews)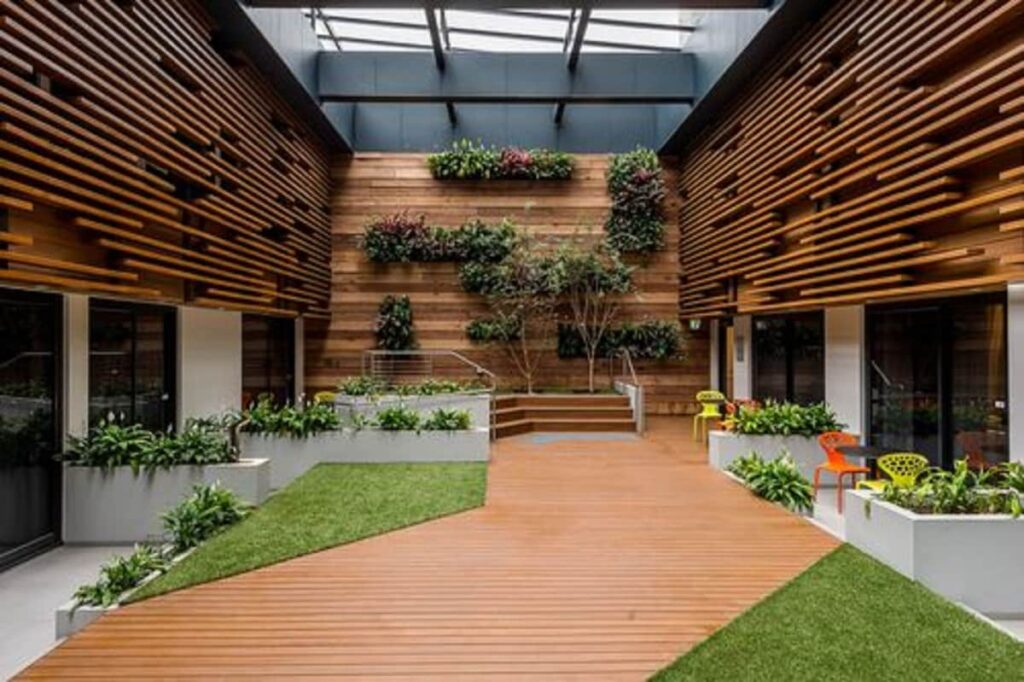 Rating: 7.9 | Location: Melbourne CBD | View on Booking.com
Located adjacent to Queen Victoria Market, the Jasper Hotel is a recently refurbished hotel boasting four-star accommodation.
Rooms are minimalist with pops of colour and large beds, and it's ideal for both business travellers and leisure visitors.
The courtyard access and balcony rooms are the top picks at this hotel. There are also family suites that can sleep up to 5 and have an enclosed courtyard with views over Elizabeth Street.
It's located within the Melbourne city centre, with convenient proximity to transport options and shopping districts. The Queen Vic Market is just a 3-minute walk away.
The Jasper Hotel has an on-site gym or you can access the Melbourne City Baths for free.
What past guests say:
"Hotel was great! The staff were super friendly and the breakfast was delicious. The hotel is in a good location with plenty of amazing restaurants nearby. I really liked the rainfall shower."

– Maggie (read more reviews)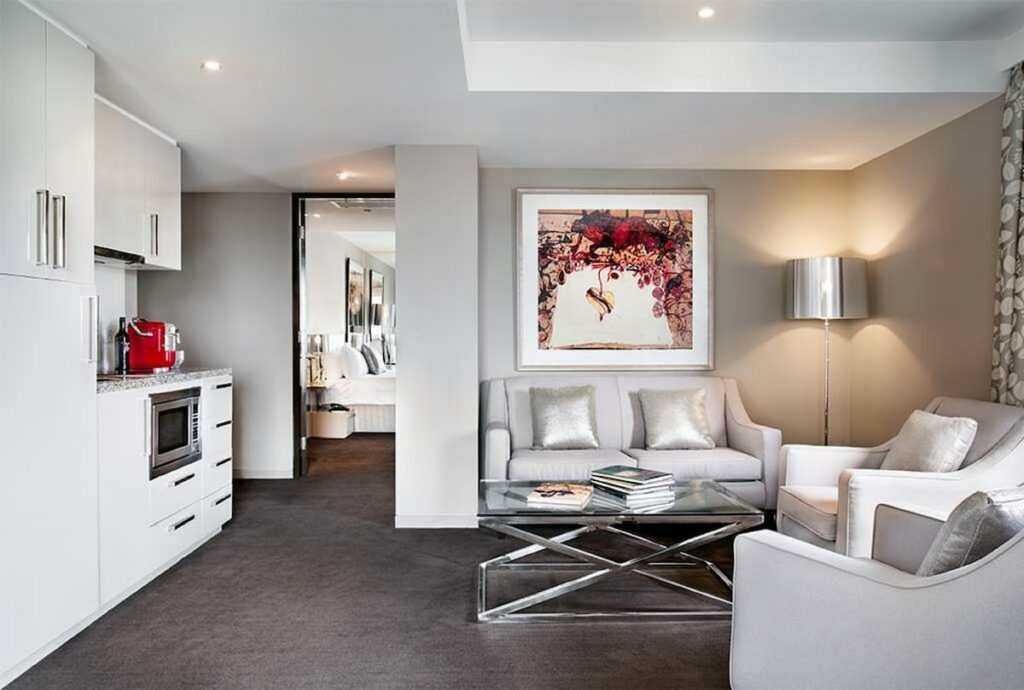 Rating: 7.7 | Location: South Yarra | View on Booking.com
Stay at The Olsen on Chapel Street in South Yarra and enjoy the experience of being immersed in the world of art.
Another of the incredible Art Series hotels, the interior décor of this boutique accommodation is centred around the artworks of Australian artist John Olsen, making it truly unique.
The rooms are elegant and strike the perfect balance between the refinement for which Olsen's work is known, and the eclectic energy of Chapel Street. There's a variety of room sizes and styles on offer, ranging from studios to penthouses, depending on your preference.
Splurge on a spa treatment at the Norbu Urban Retreat Day Spa or taste regional Victorian produce at Spoonbill Restaurant and Bar.
What past guests say:
"The Olsen was in a great location, walking distance to the areas we were visiting. The property was lovely, fresh décor, clean rooms and friendly staff."

– Cathy (read more reviews)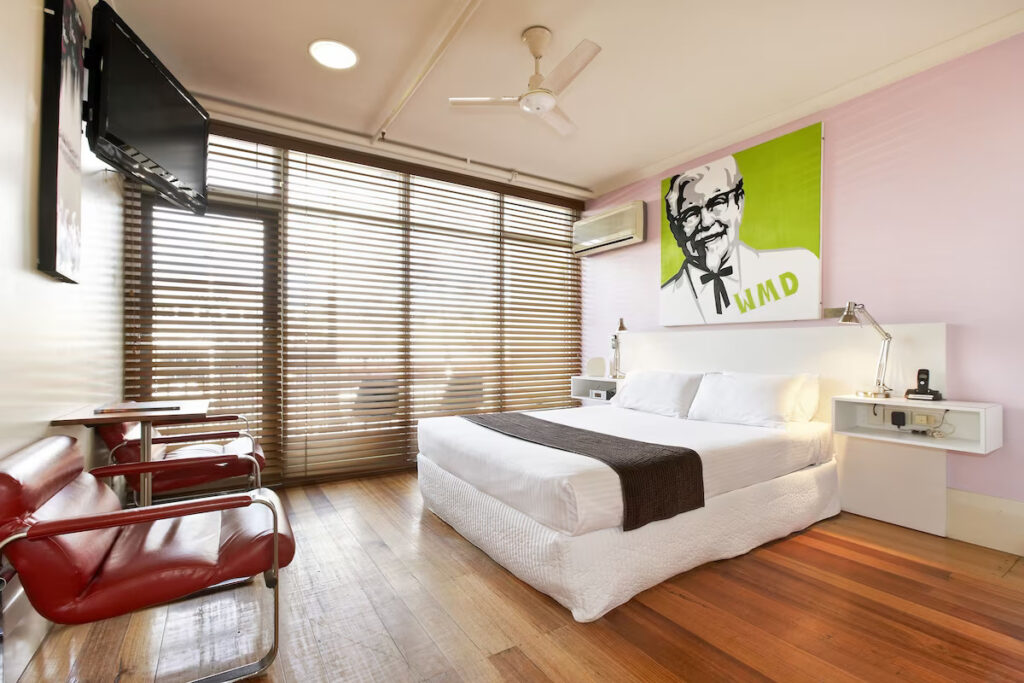 Rating: 8.1 | Location: St Kilda | View on Booking.com
Tolarno Hotel is a cultural, historical and artistic experience in itself, and staying here will be quite unlike any other accommodation experience you've ever had.
Established by renowned artist Mirka Mora when she arrived in Australia after fleeing Poland during World War II, Tolarno Hotel quickly became a social hub in the neighbourhood.
Today, it's easily one of the most unique and best boutique hotels in Melbourne.
Each room boasts an individual design, centred on a focal art piece and decorated with comfortable but unique furniture, making the overall aesthetic playful and fun.
The hotel is located in the iconic St Kilda neighbourhood, with access to beaches and St Kilda's famous nightlife. It's just a short tram ride into the Melbourne central business district (CBD), so you get the best of both worlds.
One important thing to note is that because it is an older building, there is no lift in this hotel, so you will have to climb stairs to most rooms – although the staff will help you with your luggage.
What past guests say:
"A fantastic hotel that is exceptional value with outstanding staff."

– Jeremy (read more reviews)
Best boutique hotels in Melbourne: FAQ
Where to stay in Melbourne?
If you're wondering where to stay in Melbourne, there are a great range of areas to choose from to suit everyone.
Melbourne CBD
If it's your first time in Melbourne, then the CBD (central business district) is a good choice so you're close to the main attractions. QT Melbourne, Ovolo Laneways and Adelphi Hotel are my top picks for boutique hotels in the Melbourne CBD.
Fitzroy, Collingwood and Carlton
These areas are close to the city centre but also have their own personalities and identities. It's here that you'll find live music, pubs, unique shopping and great food. Zagame's House is a good option here, as well as these other hotels in Fitzroy.
St Kilda
Melbourne's beachside suburb, St Kilda has great restaurants and nightlife. It's a great area for everyone – couples, business travellers and families alike. The Prince and Tolarno Hotel are the best boutique hotels in St Kilda.
South Yarra and Prahran
Stylish bars and restaurants and great shopping are what these suburbs are known for. They're hip, but in an entirely different way to Fitzroy and Collingwood. Book a stay at The Como Melbourne, United Places Botanic Gardens or The Cullen are good options in these areas.
You can read more in my guide to where to stay in Melbourne.
Map of Melbourne boutique hotels
If you're more visual and want to see where these Melbourne boutique hotels are located throughout the city, this map will help.
How many days do I need in Melbourne?
To experience Melbourne, you need at least two or three days. This city is all about soaking up the atmosphere, enjoying our restaurants and bars, and exploring at your own pace.
If you need some Melbourne itinerary inspiration, I have guides to help you out!
Got a bit longer? Try these day trips from Melbourne to get out into our gorgeous regional areas.
Final thoughts: Best boutique hotels in Melbourne
So there you have it – some of the coolest boutique Melbourne hotels.
All of these are guaranteed to have style, class and personality, with excellent service to match.
Regardless of where you stay in Melbourne from this list, you can also be safe knowing that all of these boutique hotels are in the coolest Melbourne neighbourhoods.
PIN IT FOR LATER