Wondering where to eat in Melbourne when you visit? No offence to the rest of the world, but Melbourne has THE best food scene.
In Melbourne, the influence of Australia's multicultural history is clearly illustrated in the diverse dining options available. You truly can eat your way around the world in this city, with everything from Afghani to Italian to Yiddish food on offer, and everything else in between.
While that means a world of choice, it can also mean overwhelming decisions about where to eat in Melbourne. If you're only visiting Melbourne for a few days, how do you decide which restaurants deserve your stomach space? There's so much good food in Melbourne, you'll have some tough choices to make!
Never fear, I have you (and your tastebuds) covered with my Melbourne food guide. Melbourne's my home city, and after returning here after spending 8 years away as an expat, I've been combing the city going back to my old faves and trying new restaurants.
Here are my recommendations for where to eat in Melbourne. I update this guide every few months as I try new places and remove old favourites.
About this guide to the best restaurants in Melbourne
There are thousands of restaurants in Melbourne and while I haven't tried them all I am working on it! This guide lists restaurants that I've actually eaten at and recommend. I've of course eaten at waaayyy more restaurants than are listed here, but if I didn't rate it, I haven't included it here.
I've organised this guide by suburb/area, but I have also listed the type of cuisine for easy reference. I think by location is best, as it means you can figure out which restaurants fit into your Melbourne itinerary (I've got ideas for how to spend a weekend in Melbourne, 3 days in Melbourne and 5 days in Melbourne), or even plan your day around a specific eatery.
You'll see that I favour some suburbs over others, and that's only because they're the ones I spend most of my time in. I'm working to update areas.
Each listing has a rough price guide (from $-$$$$) so you can see straight away which Melbourne restaurants fit into your budget.
There's no doubt that eating out in Melbourne ain't cheap, but there are still some bargains to be devoured.
Melbourne restaurants pricing guide
$ – Under $15 per person
$$ – $16-$25 per person
$$$ – $26-$50 per person
$$$$ – $50+ per person
This pricing guide is based on the price of a main meal, no drinks included (or dessert or an entrée). It's based on enough food to fill your stomach for a dinner out (so, for example, if a tapas bar is listed here, it's not the price of one tapas dish, but rather the number of tapas dishes required to fill your tummy).
Prices (all in Aussie dollars) may have changed since I updated this guide, so use it as just that – a guide.
And I'd love to hear from you! If you're a Melburnian with a fave that you think I should check out, or a visitor who tried somewhere that's not on this list, please let me know.
Map of best Melbourne restaurants
So you can plan your Melbourne itinerary, here's a map that shows all my recommended Melbourne restaurants.
CBD
Most visitors, especially first-time visitors to Melbourne, will spend a lot of time in the central business district, aka the CBD. There are plenty of restaurants here to satisfy all tastebuds. This list covers restaurants in the Melbourne CBD, Docklands and Southbank.
Supernormal (180 Flinders Lane, Melbourne) – Asian – One of celeb chef Andrew McConnell's many Melbourne restaurants, this is a great spot for lunch or dinner. Famous for the lobster roll, but you really can't go wrong with anything on the menu. One of the best eats in Melbourne $$$
Maha (21 Bond St, Melbourne) – Middle Eastern – Prepare for a flavour bomb from chef Shane Delia. Diners are treated to a set menu, and the lamb shoulder is to die for $$$$
HuTong (14-16 Market Lane, Melbourne) – Asian – As the owners say on the website, you don't need to go overseas to try authentic dumplings, just head to HuTong. This is dumpling heaven. They also have another restaurant in Prahran $
Tim Ho Wan (206 Bourke St, Melbourne) – Asian – A franchise of the Michelin-starred Hong Kong dim sum shop, come here with a group to order up a big yum cha spread. I love the slippery vermicelli roll with shrimp and the barbecue pork buns (always a winner – although these ones are baked not steamed). The interior is light and bright $
Operator Diner (Shop 2, 130 Lonsdale St, Melbourne) – Diner – Solid breakfast options for decent prices. There's nothing fancy here, just good food in an American diner-style space. I loved the sausage patty on a breakfast roll (although I had to scrape off the excessive BBQ bacon chutney), while other breakfast faves include eggs on toast, pancakes and fried chicken. Address is Lonsdale St, but the entry is actually on Little Lonsdale (in Wesley Place). $
Shujinko (225 Russell St, Melbourne) – Japanese – This ramen shop is small so it's usually packed – but you shouldn't have to wait too long for a table. Choose from half a dozen types of delicious ramen, a rice bowl or other dishes like karaage. There are a handful of locations around Melbourne $
Mesa Verde (Level 6, 252 Swanston St, Melbourne) – Mexican – Upscale Mexican with a focus on authentic cuisine. My picks are the smoky potato flautas and the light, deliciously crunchy fish tacos. Plenty of tequilas and mezcals on the menu here. Staff are incredibly friendly and welcoming. The restaurant is in Curtin House so start with a drink at Rooftop Bar before your meal $$$
Cookie (252 Swanston St, Melbourne) – Asian – Grab a group of friends so that you can share several of the dishes on the menu at Cookie. This place is always buzzing. It's great for a night out because you can eat dinner here, and then head upstairs to The Toff to see a gig or to Rooftop Bar for more cocktails $$
Izakaya Den (118 Russell St, Melbourne) – Japanese – Head into the bunker-like basement for sophisticated Japanese. Choose from the a la carte menu or, if that's too difficult, there are set menus offered at both lunch and dinner $$$
Farmers Daughters (95 Exhibition St, Melbourne) – Australian/farm-to-table – The fresh produce of the Gippsland region is transported to Melbourne's CBD. There are three levels of deliciousness. I recommend the Chef's selection to make the choice easier! Fantastic service as well $$$
Miznon (59 Hardware Lane, Melbourne) – Israeli – Melbourne's laneways are where you'll find some of the best food in Melbourne, and Miznon is no different. Grab a table inside or sit outside on a nice sunny day and soak up the atmosphere. The roasted whole head of cauliflower is a particular favourite here $$
Journal Cafe (253 Flinders Lane, Melbourne) – Café – A firm favourite of mine from my days working in the city, this relaxed café is the perfect spot for a light lunch. The menu changes regularly and you can't leave without one of their brownies or muffins $$
Pinchy's (Level 1, 200 Bourke St, Melbourne) – Seafood – Champagne and lobster? Yes please! Despite the very Instagrammable, very pink surroundings, this place is really relaxed and fun, with friendly staff. The menu has more than champers and lobster $$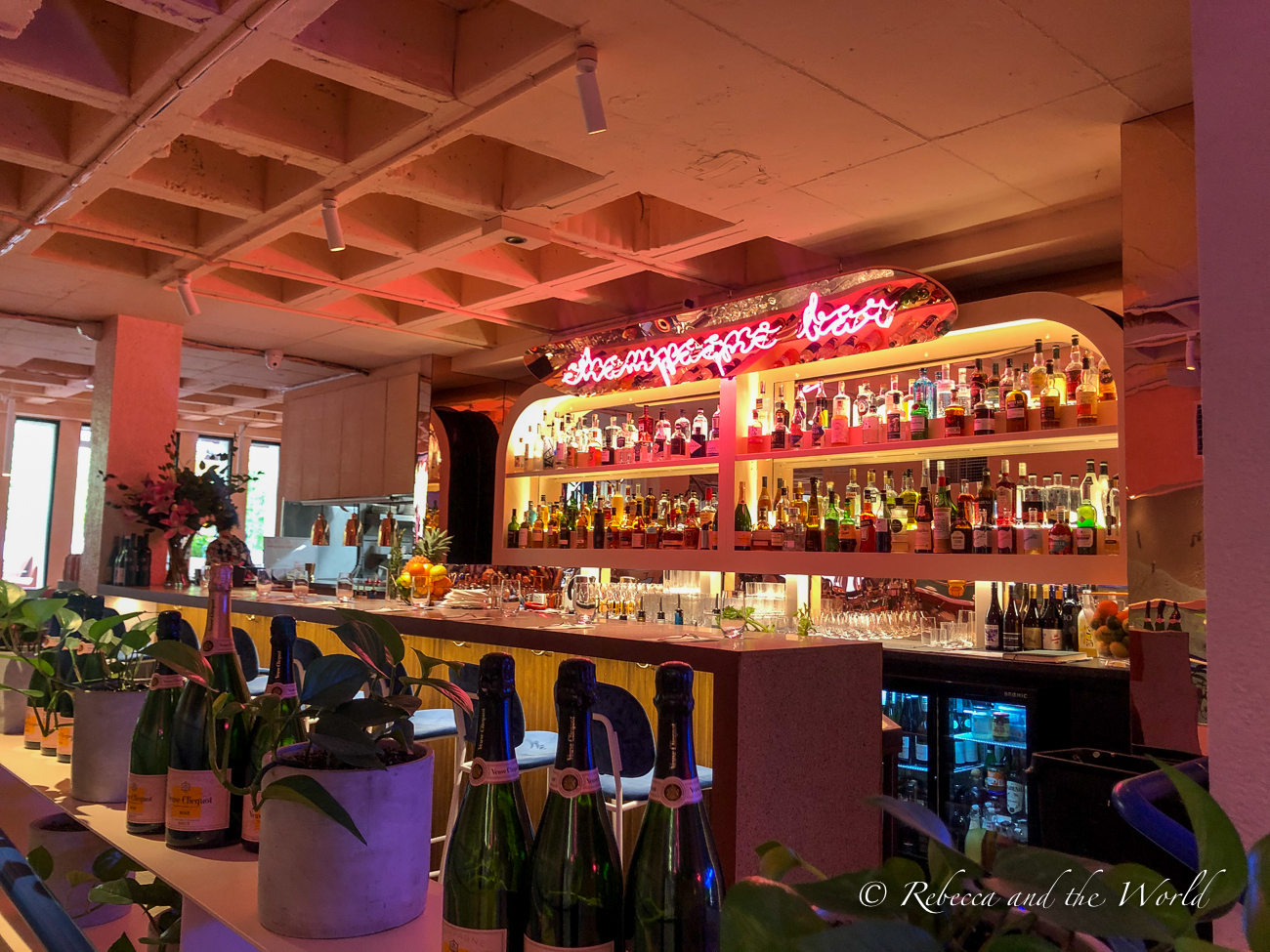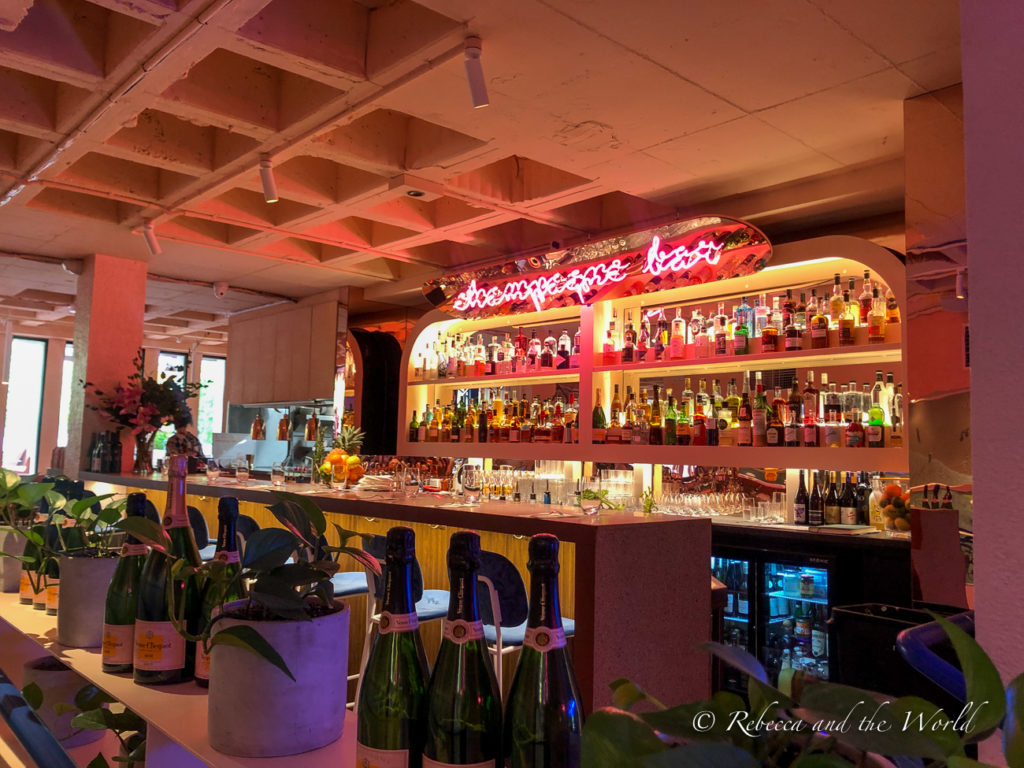 MoVida (1 Hosier Lane, Melbourne) – Spanish – This iconic Melbourne restaurant is where I first started my love affair with Spanish food. Dine to your heart's content on tapas or larger raciones. If you can't snag a table here, there are several outposts nearby that have similar menus $$$
Pellegrini's (66 Bourke St, Melbourne) – Italian – This Melbourne staple has been here since the 1950s and serves up Italian comfort food in a diner-style environment $$
Lucy Liu (23 Oliver Lane, Melbourne) – Asian – This sexy Asian restaurant can be found down a dodgy laneway and through a pipe-lined tunnel. Everything on the menu is top-notch, but if you can't decide, there's an express lunch menu or larger set menus $$$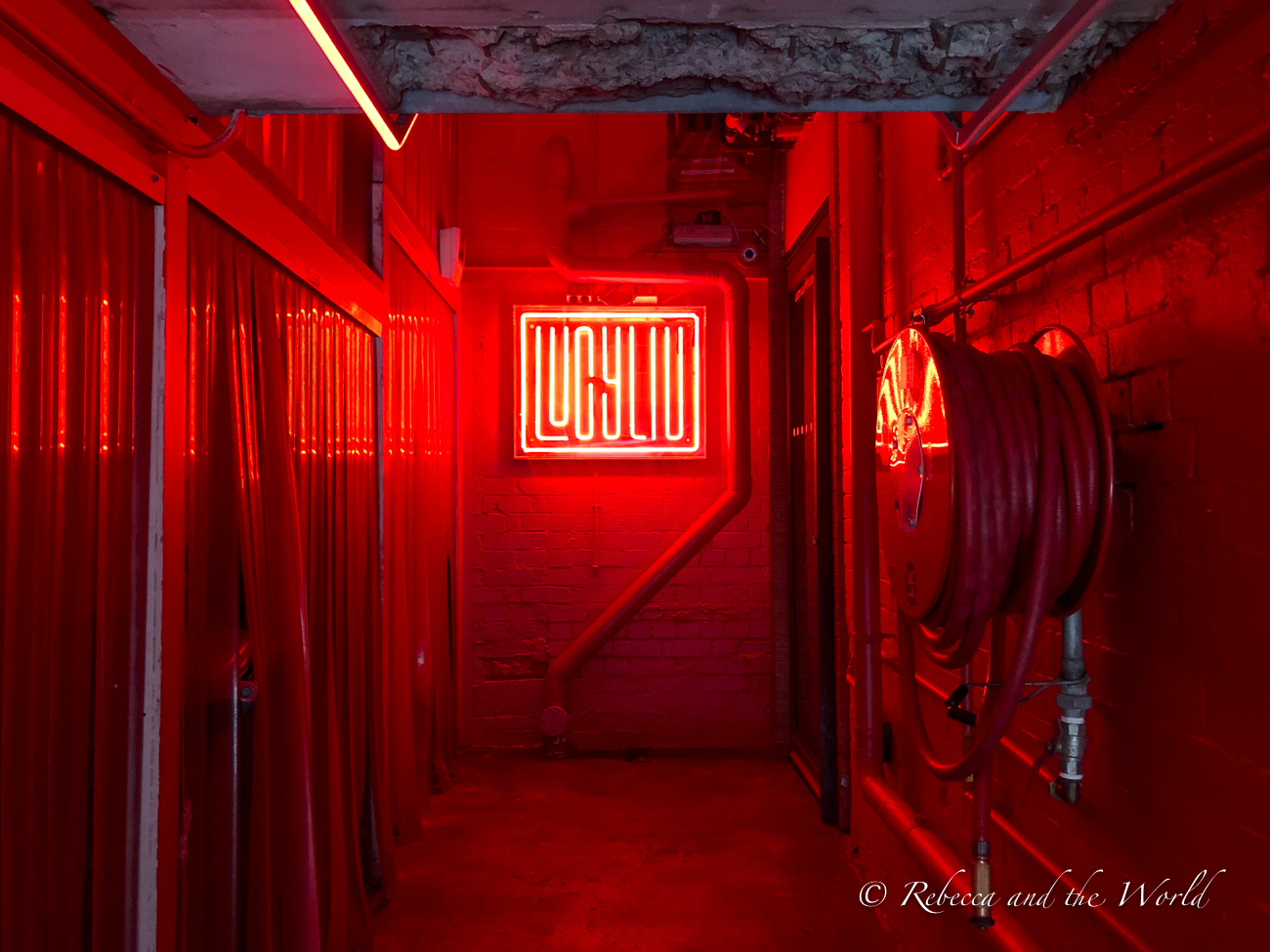 Mamasita (Level 1, 11 Collins St, Melbourne) – Mexican – Melbourne never really had many good Mexican restaurants until Mamasita came along. This hip spot serves up Mexican with a modern, fresh twist. It also has a pretty decent tequila and mezcal selection $$$
Chin Chin (125 Flinders Lane, Melbourne) – Asian – Years after this funky Asian restaurant opened, people still clamour to line up for a table in one of the most popular places to eat in Melbourne. I find it too challenging to pick just a few things from the huge menu, so I always go with the "feed me" option! $$$
Society Dining Room (80 Collins St, Melbourne) – Fine dining – A must for a special occasion, the food here is superb and focuses on seafood. The decor is absolutely stunning $$$$
Bodega Underground (55 Little Bourke St, Melbourne) – Mexican – Fun Mexican joint with a modern take on Mexican food. I recommend the Feed Me menu to make the decision-making process easier – or sign up for the Bottomless Brunch for a boozy visit! $$$
Bomba (103 Lonsdale St, Melbourne) – Spanish – This lovely tapas restaurant also has a rooftop bar. Stop here for their well-priced Worker's Lunch menu (weekdays only) and then finish off with sangria on the rooftop $$
Soi 38 (38 Mcilwraith Pl, Melbourne) – Thai – Squeezed into an underground carpark, the soups here are rich in flavour and spice. Yes, it may not be the "hidden gem" it once was and it's probably one of the busiest places to eat in Melbourne, but I still think queuing up is worth it $
Gingerboy (27-29 Crossley St, Melbourne) – Asian – Here, you'll find Southeast Asian street food in a contemporary setting. You'll want to try everything, so bring a group of friends so you can share $$$
Koko Black (Royal Arcade 4, 335 Bourke St, Melbourne) – Chocolate – For those afternoons when you need a sugar fix after wandering the city all day, stop by one of Koko Black's lounges for a pick me up. While technically not a restaurant, it's the place to go for deliciously rich chocolate desserts – and my favourite, the hot chocolate affogato $
Tres a Cinco (3-5 Hosier Lane, Melbourne) – Mexican – Fun, colourful new addition to the MoVida family. The chef is from Guadalajara. Make sure you order the meatballs! And more than one taco – they're on the smaller side $$$
Cumulus Inc (45 Flinders Lane, Melbourne) – Modern Australian – Melbourne institution that's a must on any Melbourne itinerary. All you need to know is to order the lamb $$$$
Pastuso (19 AC/DC Lane, Melbourne) – Peruvian – I'm a huge fan of the fresh flavours of Peruvian food and Pastuso serves this up in spades with a fancy twist. The tasting menu is a good option if you're not familiar with Peruvian cuisine $$$$
San Telmo (14 Meyers Place, Melbourne) – Argentinian – I used to live in Argentina so I can sniff out a parrilla from a mile away. Almost everything on the menu is cooked over the parrilla (a raisable BBQ that cooks food over hot coals and wood). Everyone should try the provoleta (fried cheese) and your favourite cut of meat $$$$
Big Esso (Federation Square, Melbourne) – Indigenous – Torres Strait Islander chef Nornie Bero is passionate about sharing Indigenous food, and this is her second restaurant. Big Esso is an expression from the Torres Strait that means "the biggest thank you" and you will be very thankful after eating here – think ingredients like saltbush, wattleseed and pepperberry mixed with crocodile and emu $$$
Daughter in Law (37 Little Bourke St, Melbourne) – Indian – Stepping into this place is like stepping into a riot of colour, with pastel pink walls, royal blue furniture and flowers everywhere. The restaurant bills itself as an unauthentic Indian restaurant and bar. The food is delicious – I highly recommend the "feed me" menu so you can try something of everything. Warning: at night, the music can be quite loud! $$$
Carlton / Fitzroy / Collingwood / Abbotsford
I love this part of Melbourne because there are so many places to eat and so much variety in the cuisines available. Check out everything to see and do beyond food in my guide to Fitzroy.
Alimentari (304 Smith St, Collingwood and 251 Brunswick St, Fitzroy) – Café – Be awed at the piles of delicious pastries, cakes, paninis, salads, wraps and sandwiches in the glass cabinet. Take a seat for lunch or grab something to take away $$
Bodriggy Brewing Co (245 Johnston St, Abbotsford) – Brewery – This fantastic brewpub has a small but rather decent menu of Mexican food to pair with your beer $$
Dingo Ate My Taco (various locations) – Tex Mex – Mouth-watering, I-want-more birria tacos coming atcha. Their tacos are the most delicious things to eat in Melbourne. The food truck pops up at various locations throughout the week, so check the website, but you can usually find them in Collingwood from Wednesday to Sunday. $$
Easey's (3/48 Easey St, Collingwood) – Burgers – Burgers served in old train carriages on top of a building overlooking the city. Is there anything more Melbourne than that? $$
Pidapipó (299 Lygon St, Carlton) – Gelato – Get your gelato fix at this hip gelato spot. There are also shops in Windsor, Fitzroy and the CBD. I highly recommend the bacio flavour drizzled with Nutella (i.e. chocolate and hazelnut on more chocolate and hazelnut) $
Milk the Cow (323 Lygon St, Carlton) – Fromagerie – Take a seat at this lovely little spot and order a cheesy lunch or a cheese and wine flight. There's another location in St Kilda $$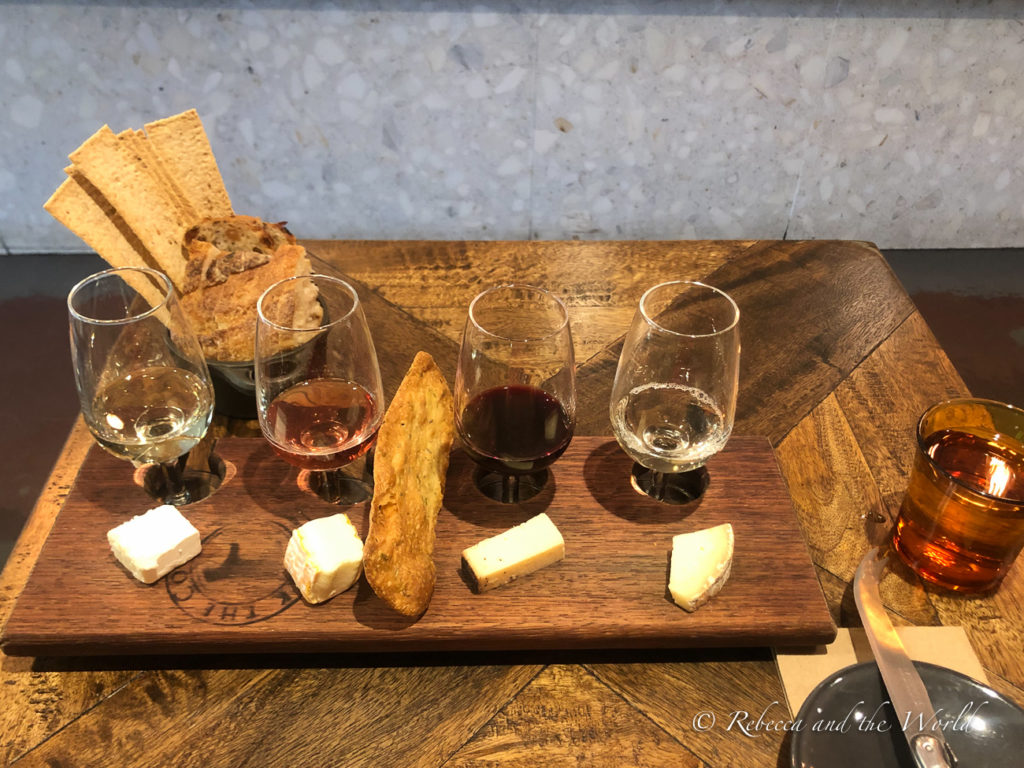 Lune Croissanterie (119 Rose St, Fitzroy) – Bakery – The lines of people outside this cult bakery are here before this store opens, waiting for the buttery, flaky goodness that comes out of this beautiful glass-enclosed kitchen. The croissants here have been described as the best in the world by the New York Times, so they always make the list of must try food in Melbourne for most visitors. There's also a store in the CBD $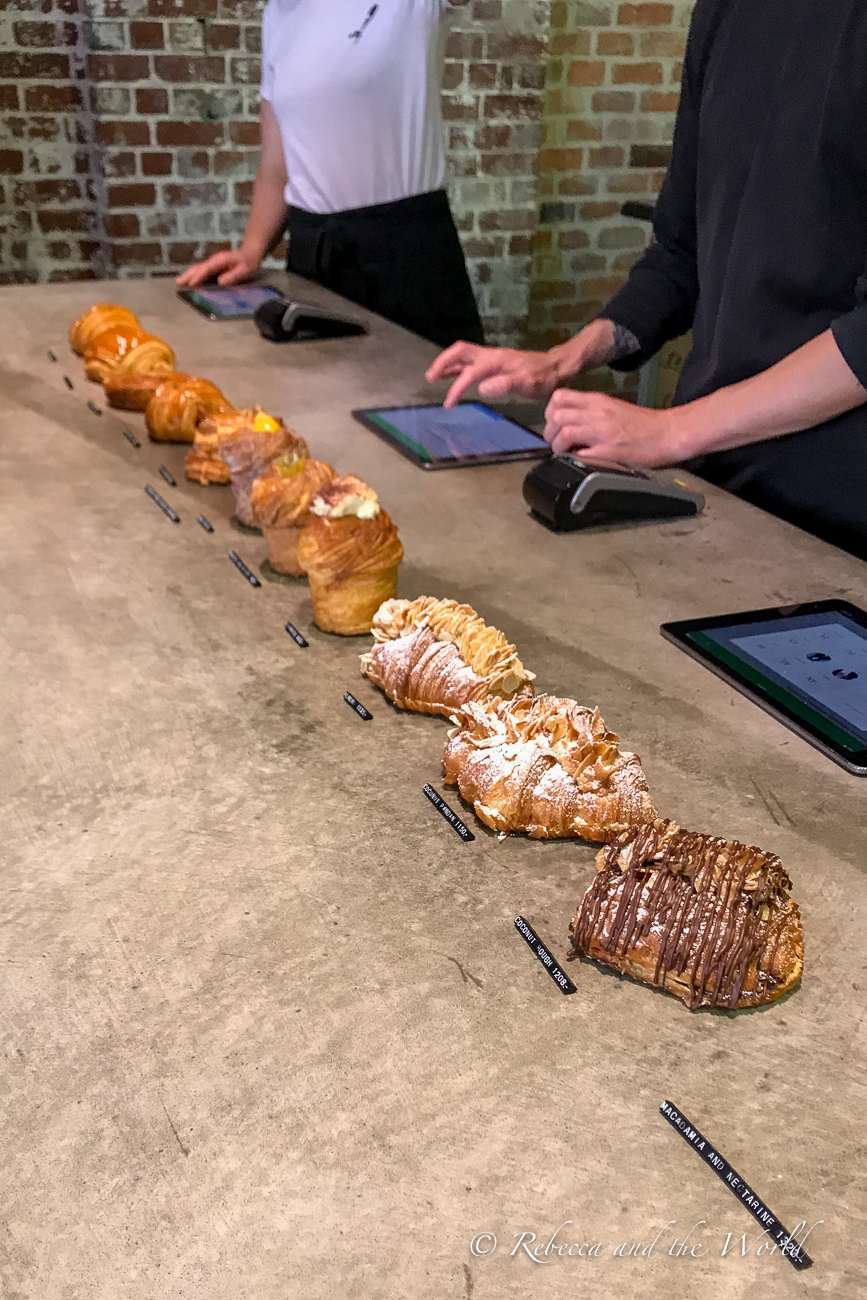 Builders Arms Hotel (211 Gertrude St, Fitzroy) – Gastropub – Another of Andrew McConnell's creations, this pub has friendly staff, an extensive wine list and a menu full of comforting food that's a little fancier than the usual pub fare $$$
Frankie's Tortas and Tacos (30 Johnston St, Fitzroy) – Mexican – This super casual street food joint serves tacos (including al pastor) and tortas that remind me of the Mexican food I used to eat when I lived in Dallas, Texas $
Hotel Jesus (174 Smith St, Collingwood) – Mexican – Stepping into the cavernous space of Hotel Jesus is exactly like stepping into a cantina or taqueria in Mexico City. The owners have done a great job with the fit-out, and the food is also worth your time. The fish tacos are crispy perfection and the tostadas are just the right texture so they don't break apart messily when you bite into them $$
Gelato Messina (237 Smith St, Fitzroy) – Gelato – All your sugary dreams come true at the self-proclaimed best gelato in Australia. Flavours range from apple pie to milk choc with choc peanut fudge, and everything is deliciously creamy $
Belle's Hot Chicken (150 Gertrude St, Fitzroy) – American – Fun spot in an American-style diner. You can expect perfectly fried chicken and mac and cheese $
Archie's All Day (189 Gertrude St, Fitzroy) – Café – One of my favourite places to eat in Melbourne. I could eat the Huevos Sucios every day – tater tots with fried eggs and chipotle sauce $$
Epocha (49 Rathdowne St, Carlton) – European – Fine dining but in a homely (literally – the restaurant is in an old terrace house from the late 1800s that's been renovated), unpretentious environment $$$$
Panama Dining Room & Bar (Level 3, 231 Smith St, Fitzroy) – Modern Australian – The first thing you'll notice when you step out of the lift are the huge arched windows. This warehouse restaurant is super stylish, and the food is also classy $$$
Transformer (99 Rose St, Fitzroy) – Vegetarian – Even carnivores will love this restaurant. Not only is it absolutely gorgeous inside with its greenery-covered walls, but the food is beyond delicious. You won't even notice that nothing has meat! $$$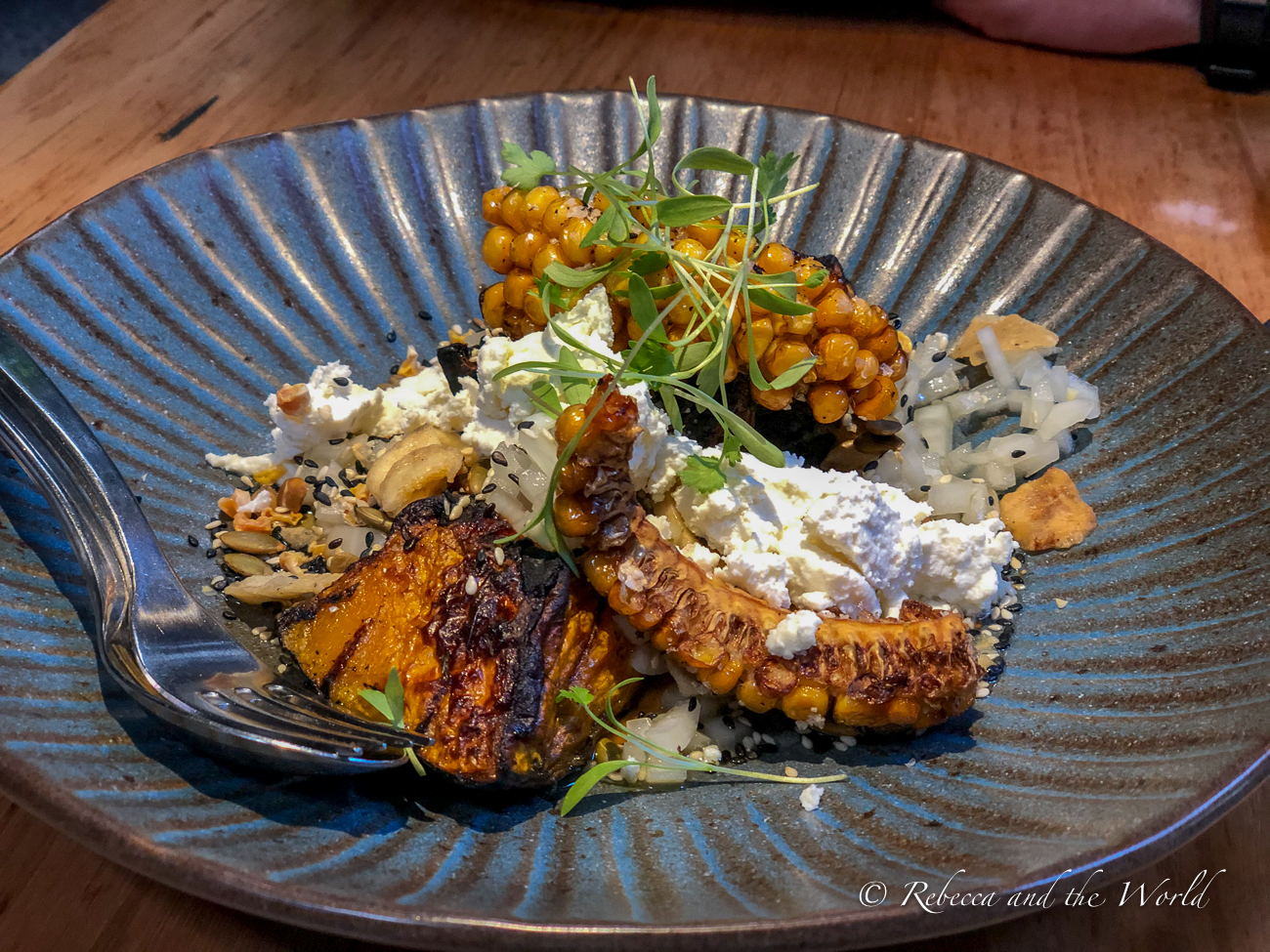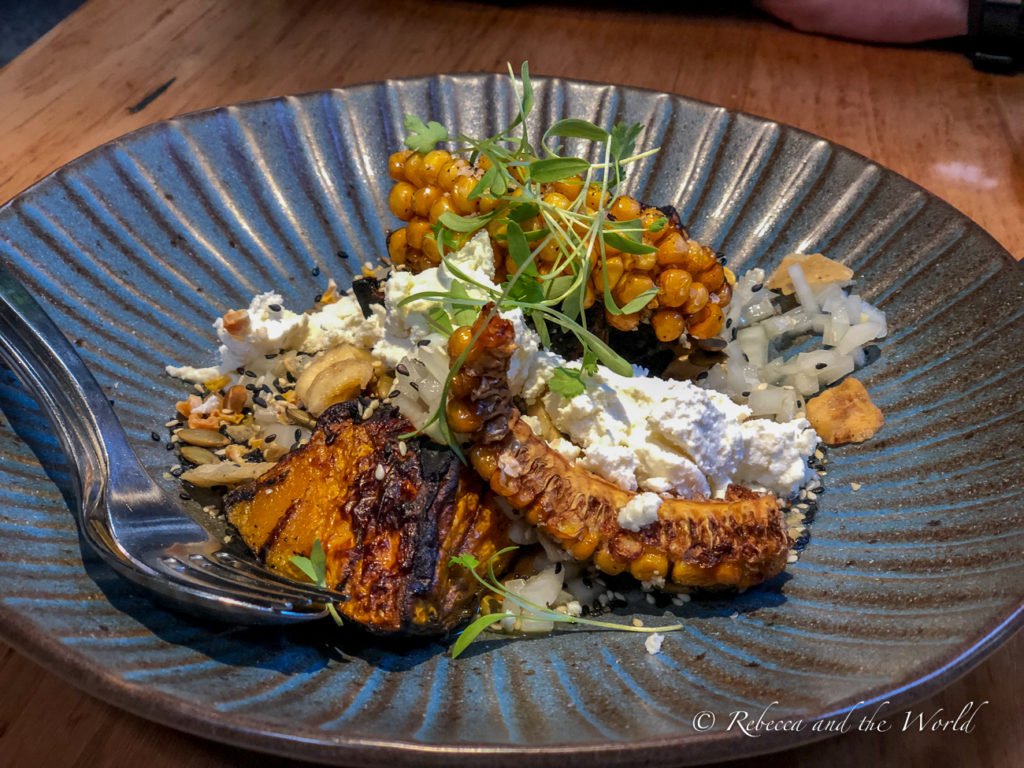 Stomping Ground (100 Gipps St, Collingwood) – Brewpub – Huge brewery, so it's a great spot for groups of friends and families (there's even a play area for the little'uns). Shareable food $$
Rice Paper Scissors (307 Brunswick St, Fitzroy and 15 Hardware Lane, Melbourne) – Asian – The perfect place to head with a group. Grab a bunch of dishes like steamed pork buns, wagyu beef with a spicy dipping sauce or Malaysian BBQ chicken with peanut sauce to share $$$
Kewpie (376 Brunswick St, Fitzroy) – Pub – Students and backpackers descend on this pub that's been here for what feels like forever. The drawcard is the $5 pizzas served all day, every day. One of the best cheap eats around the city and must try food in Melbourne if you're on a budget $
Terror Twilight (11-13 Johnston St, Collingwood) – Café – All-day, delicious breakfasts. Come here to experience one of the creative brunch dishes that regularly change $$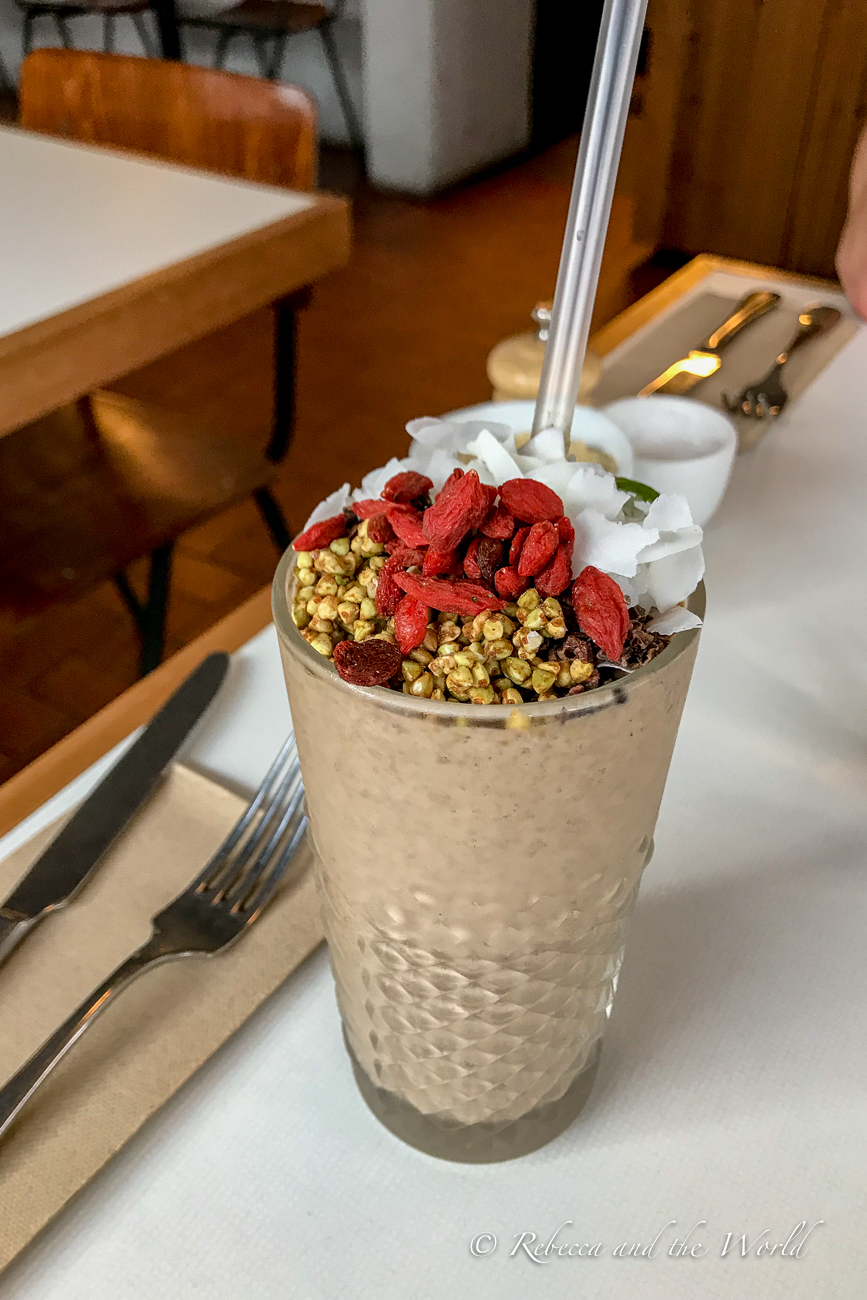 The Standard Hotel (293 Fitzroy St, Fitzroy) – Pub – Grab a seat in the front bar or the huge beer garden and then order yourself a classic chicken parma $$
Vegie Bar (380 Brunswick St, Fitzroy) – Vegetarian – Get your veggie fix at this Melbourne staple. Everything's stuffed with freshness – it was the first place I discovered tempeh! $$
The Marquis of Lorne (411 George St, Fitzroy) – Pub – This great pub steps up the game with classic pub meals with a slightly gourmet twist. I highly recommend the potato cakes here, they're one of the best Melbourne eats $$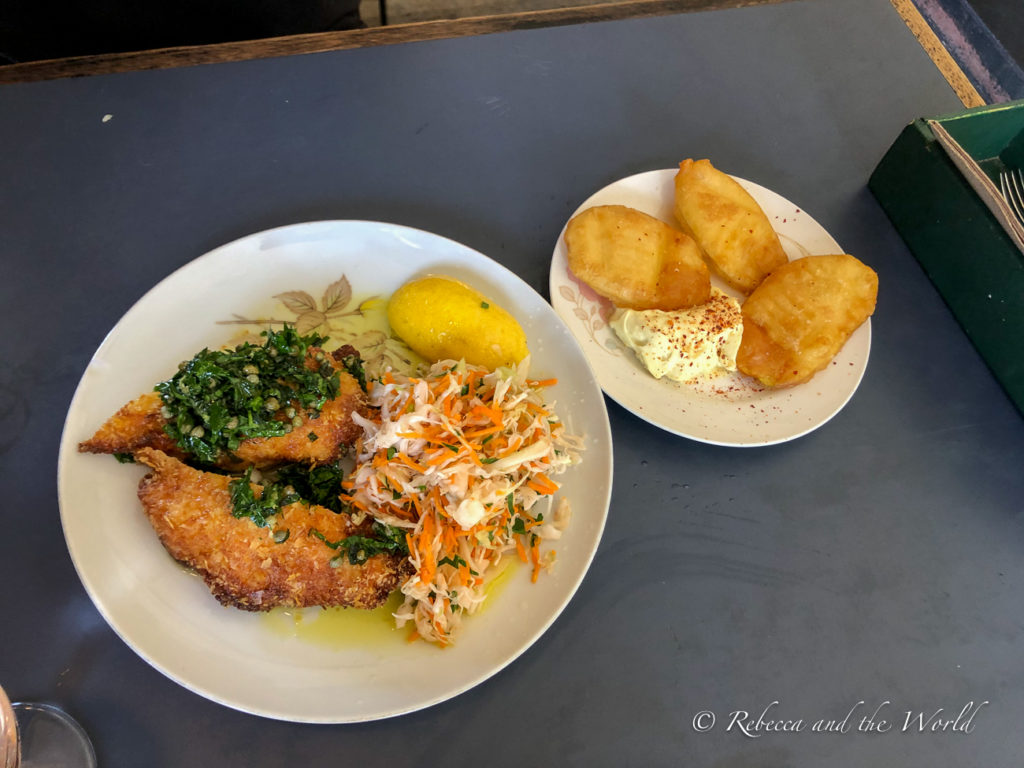 Richmond
Richmond is home to some of the best Vietnamese food in Melbourne, but there's much more on offer here. Things have really changed in this area, so I'm excited to discover more of the new Melbourne restaurants that have opened up around here during the time I was living overseas.
New Quarter (79 Swan St, Richmond) – Vietnamese – Stylish restaurant that serves up flavour-packed Vietnamese dishes $$
The Corner Hotel (57 Swan St, Richmond) – Pub – The Corner Hotel is one of Melbourne's premier live music venues, but you should start off the night with a classic pub meal $$
South Yarra / Windsor / Prahran
This is another area I need to spend more time exploring – let me know if you have recommendations I should check out.
Borsch, Vodka & Tears (173 Chapel St, Windsor) – Polish – This long, thin bar restaurant is dominated by the bar and the wall of liquors (lots of vodka as you can imagine). Try the blintzes and pierogi, or go for the "zakusi", a spread of the Polish version of tapas $$
The Kettle Black (50 Albert Rd, South Melbourne) – Café – Grab a great brunch in this trendy spot inside a beautiful terrace building squeezed between modern high-rises $$
St Kilda
A popular area with backpackers and families, you can find plenty to eat here to suit all budgets. This is another area I need to spend more time eating in so that I can expand this list.
Attica (74 Glen Eira Rd, Ripponlea) – Modern Australian – One of the world's 50 best restaurants. The multi-course meal (17 courses when I ate there) from Kiwi chef Ben Shewry will have you nibbling on dishes like the most expensive avocado on toast you're likely to eat, kangaroo tartare, wattleseed "tacos" and damper. You'll walk away a few hundred dollars lighter but so, so happy. Despite the price tag and the fine dining tag, the experience is really relaxed and fun $$$$
The Esplanade Hotel (11 The Esplanade, St Kilda) – Pub – The Espy has recently had a massive reno and it's gorgeous. There are two restaurants on-site here – the front bar and Mya Tiger, so take your pick of pub classics or Asian dishes $$
Northern suburbs
Head further north than Fitzroy and Collingwood and you'll stumble upon some equally cool Melbourne neighbourhoods to enjoy.
La Pinta (791 High St, Reservoir) – Spanish – Small and buzzing restaurant focused on creating Spanish tapas dishes from whatever's available locally. This would be a great date night spot! Try to get a seat at the horseshoe-shaped bar (the seats along the wall are a bit squishy). Bookings are only for groups of 5 or more, so get there early if you're a smaller group – there's always a line out the front $$
Poke the Bear (2A Mitchell St, Northcote) – Café – Cute little café with yummy smoothies and juices and all-day breakfast $$
Moon Dog World (32 Chifley Dr, Preston) – Brewery – Ignore the industrial area because once you're inside the brewery it's a whole different world. The expansive place resembles a tiki bar with its separate bar areas and pool (not for swimming) $$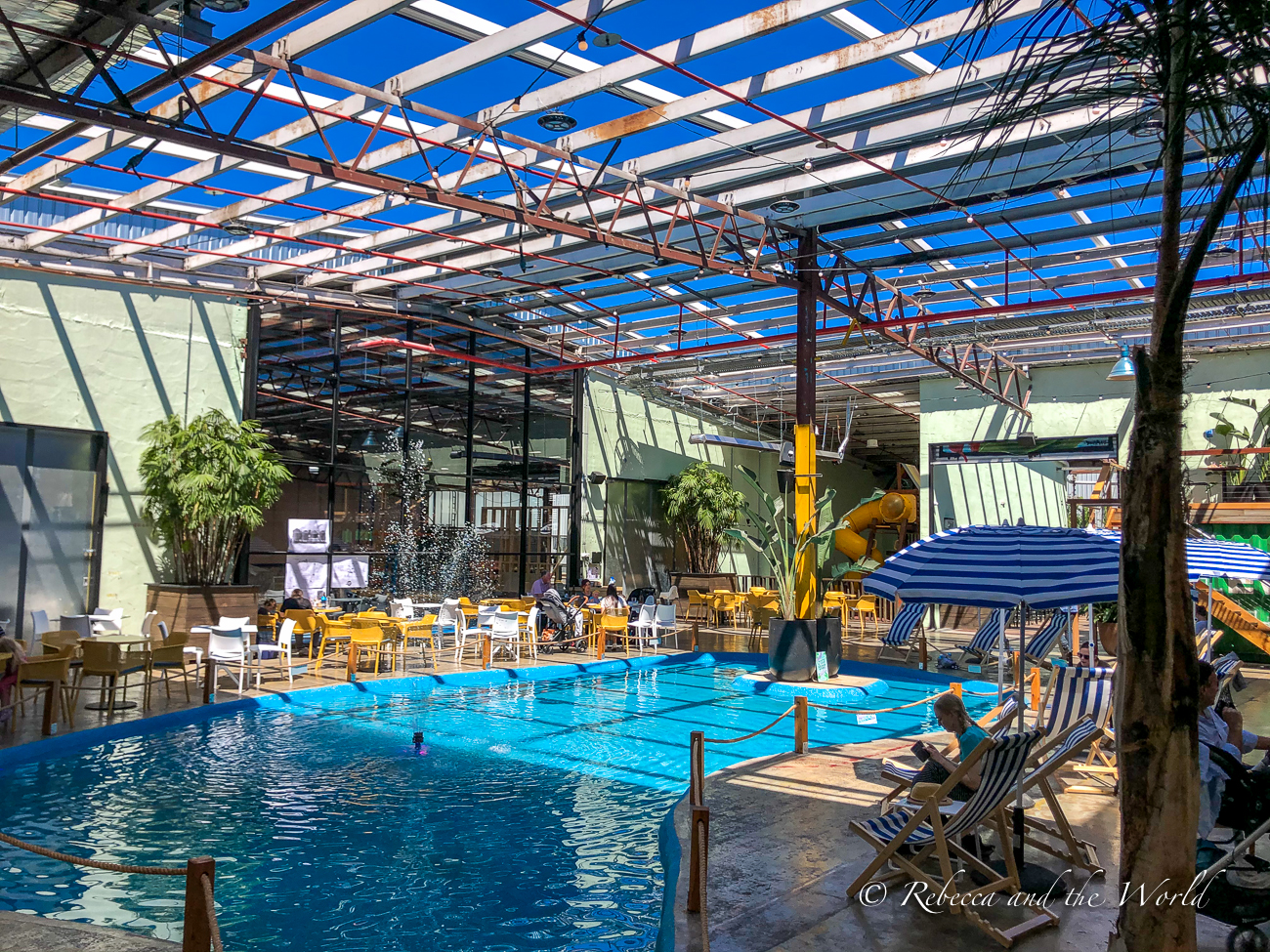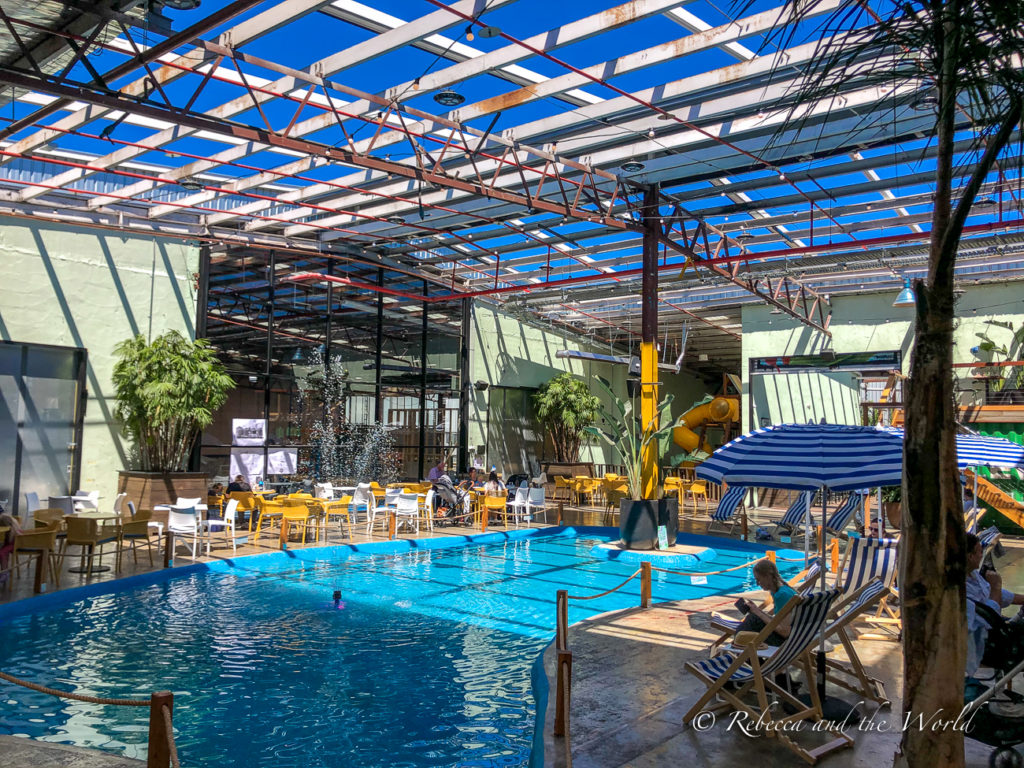 A1 Bakery (643-645 Sydney Rd, Brunswick) – Lebanese bakery – Come here for delicious breads, pizzas and baklava $
Neruda's (6/210 Albion St, Brunswick) – South American food – Craving Colombian arepas, Chilean sopaipillas or Argentine empanadas? This small and friendly café will satisfy $
Northcote Social Club (301 High St, Northcote) – Pub – Another of Melbourne's must-visit live music venues, the kitchen also whips up decent pub meals $$
Estelle (243-245 High St, Northcote) – European – The classiness of the décor extends to the dishes. Lovely spot for a low-key date night or special occasion $$$$
Very Good Falafel (629 Sydney Rd, Brunswick) – Middle Eastern – Hot, crispy falafels stuffed into soft pita bread and smothered in sauces = perfection $
Wesley Anne (250 High St, Northcote) – Pub – A pub in a former church, it's fun to sit inside in one of the intimate areas made up of old pews. This is a great spot, especially during winter when it's so cosy and the meals are comforting $$
Pizza Meine Liebe (231 High St, Northcote) – Pizza – Our local pizza joint when we used to live in Northcote, the crust here is light and charred and de-lic-ious $$
Eastern/southeastern suburbs
This is my current 'hood. It doesn't have the must-visit restaurants that the CBD and the north have, but it is the place to be if you're after Asian food.
The Hills Wine Bar (141 Union Rd, Surrey Hills) – Wine Bar – Our lovely, cosy little local, this small bar is a wine connoisseur's wet dream. To go with the wine, there are several pizzas and appetisers $$
Piccino (359 Canterbury Rd, Surrey Hills) – Café – Cute café that takes avocado on toast and fried eggs to a different level. There's a lovely outdoor area that's dog-friendly $$
BurgerBurger (135 Union Rd, Surrey Hills) – Burgers – Huge range of burgers from fried chicken to lamb to satay chicken to Wagyu to chickpea. The names of the burgers are fun takes on local suburbs $$
Zimt Patisserie (171 Union Rd, Surrey Hills) – Café/bakery – The cakes and goodies here are almost too beautiful to eat. They offer a high tea menu $
Miss Frank Café (200 Through Rd, Camberwell) – Café – Miss Frank is yet another example of why Melbourne does breakfast so, so well. They take the standard breakfast dish and turn it into something unique and fresh $$
Indochine (51 Carrington Rd, Box Hill) – Vietnamese – Fast, fresh Vietnamese, even if the service can be a bit lax. The Banh Xeo (Vietnamese crepes) is a standout, and the bún bowls are more-ish (make sure to add spring rolls) $$
Tien Dat (3 Carrington Rd, Box Hill) – Vietnamese – My go-to Vietnamese spot, I usually order takeaway from here a couple of times a month, but the restaurant itself is very stylish. The lemongrass chicken bún bowl is always my pick $$
Dunyazad (329 Doncaster Rd, Balwyn North) – Lebanese – Prepare to roll yourself out the door at this friendly Lebanese restaurant. My recommendation is to not even bother looking at the menu, do yourself a favour and choose one of the banquets and you'll have dish after dish arrive at your table. BYO with corkage $$$
Old Kingdom (683 Canterbury Rd, Surrey Hills) – Chinese – There's one thing that keeps people coming back to this place time after time: the Peking duck. Call in advance to make a reservation and book the number of ducks you need for your group $$
David and Camy Dumpling Restaurant (605 Station St, Box Hill) – Chinese – Fantastic dumplings and the Dan-Dan noodles are deliciously spicy! $
Mr Hendricks (469 Whitehorse Rd, Balwyn) – Café – This lovely spot for brunch always has a line on weekends, so get here early. Great menu that goes beyond simple eggs $$
Pho 888 (552 Station St, Box Hill) – Vietnamese – Famous for their pho, which you can order with thinly sliced beef, seafood or grilled chicken $$
The Independent Gembrook (79 Main St, Gembrook) – Argentinian – The outer suburb of Gembrook is the last place I'd expect to find Argentinian food, but I can confirm the meals out here are legit. Owner Mauro Callegari brings the food of Argentina to suburban Melbourne and it's definitely worth making the trek out here $$$
Maria Cafe (56 Main St, Upwey) – Café – One of the cutest cafés out this way, the food is Mexican fusion with plenty of delicious cakes and pastries to follow. This is a must-visit brunch spot in Upwey $$
Ranong Town (73 Dorset Rd, Ferntree Gully) – Thai – Unassuming little restaurant that packs a punch. This is legit Thai food so make sure you check how spicy your dish is! $
Lorna (1053 Burwood Hwy, Ferntree Gully) – Café – One of Maria's sister cafés, this is a great spot for brunch. Think chicken waffles, avo on toast with creamy feta – everything you need for the perfect start to Saturday morning $$
Western suburbs
I have to admit, I haven't spent a lot of time eating out in the western suburbs. But there are so many great Melbourne eats here – and it's a multicultural area where you can get Ethiopian, Vietnamese, and everything in between. Plenty of places over this side that are on my list!
La Tortilleria (72 Stubbs St, Kensington) – Mexican – No-frills, colourful, legit Mexican eatery known for its tacos and tostadas. You can also buy tortillas and sauces to take home $$
Khartoum Centre Restaurant (143-145 Nicholson St, Footscray) – Sudanese – Family-owned restaurant a quick walk from Footscray Station and the Footscray Market. Sop up delicious bamia mafruka (okra and lamb soup) with kisra (fermented bread) or dig into the ful (spice fava beans) $$
Konjo Ethiopian Restaurant & Craft (89 Irving St, Footscray) – Ethiopian – The doro wat (chicken stew) here is divine and the plates are huge. Choose a platter so that you can try a little of everything $$
Three Blue Ducks (309 Melrose Drive, Tullamarine) – Modern Australian – If you've got time to kill waiting for a flight, you can catch a wave and grab a delicious bite right by the airport. Three Blue Ducks is located at URBNSURF, a man-made surf spot just a few minutes drive from Melbourne Airport. The food is farm-to-table style and great for sharing with a group $$$
T. Cavallaro & Sons (98 Hopkins St, Footscray) – Bakery/pastry shop – If you're ever in Footscray, you can't leave the suburb without a box of T. Cavallaro & Sons' cannoli. These sweet treats have been perfected over four generations of the Cavallaro family and everything is handmade. The shop is teeny-tiny, but the flavours are huge. $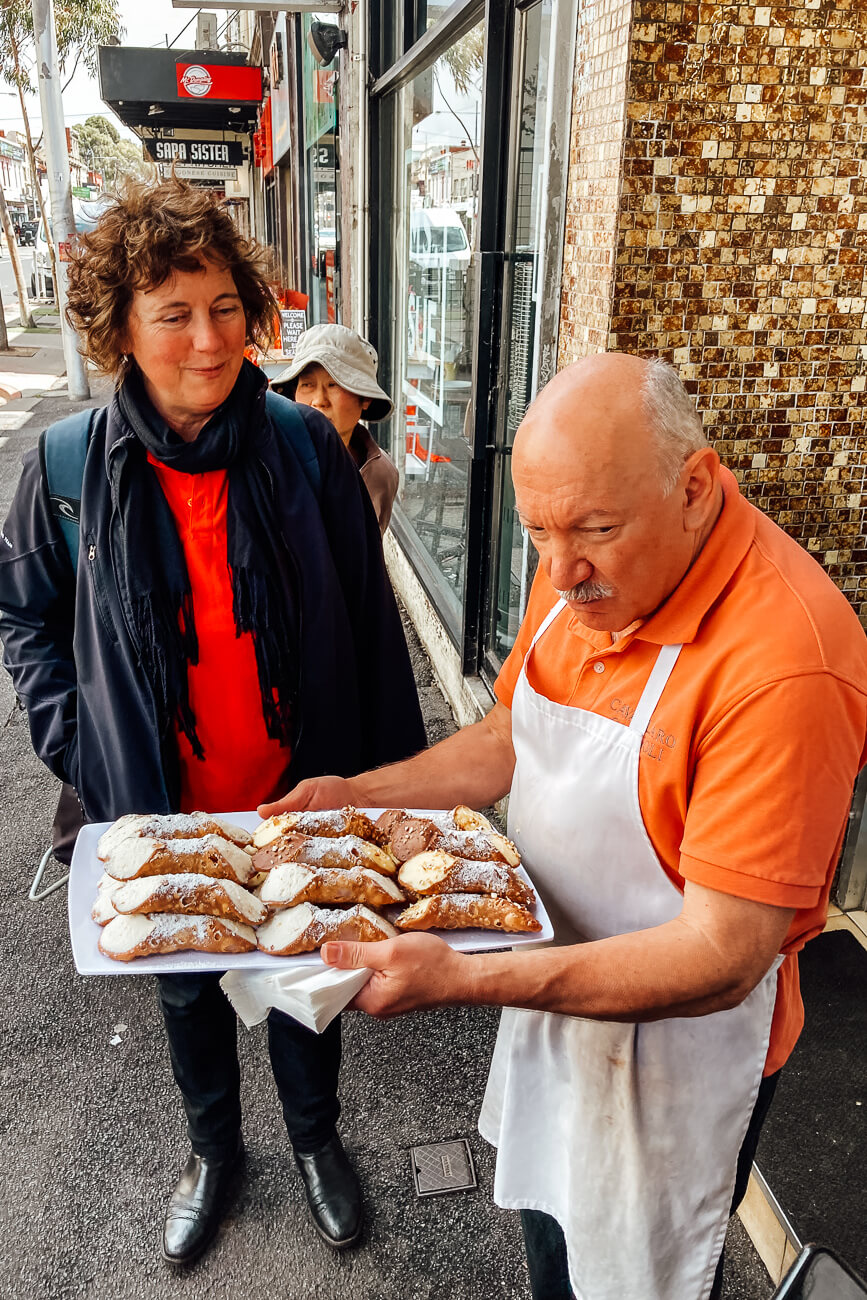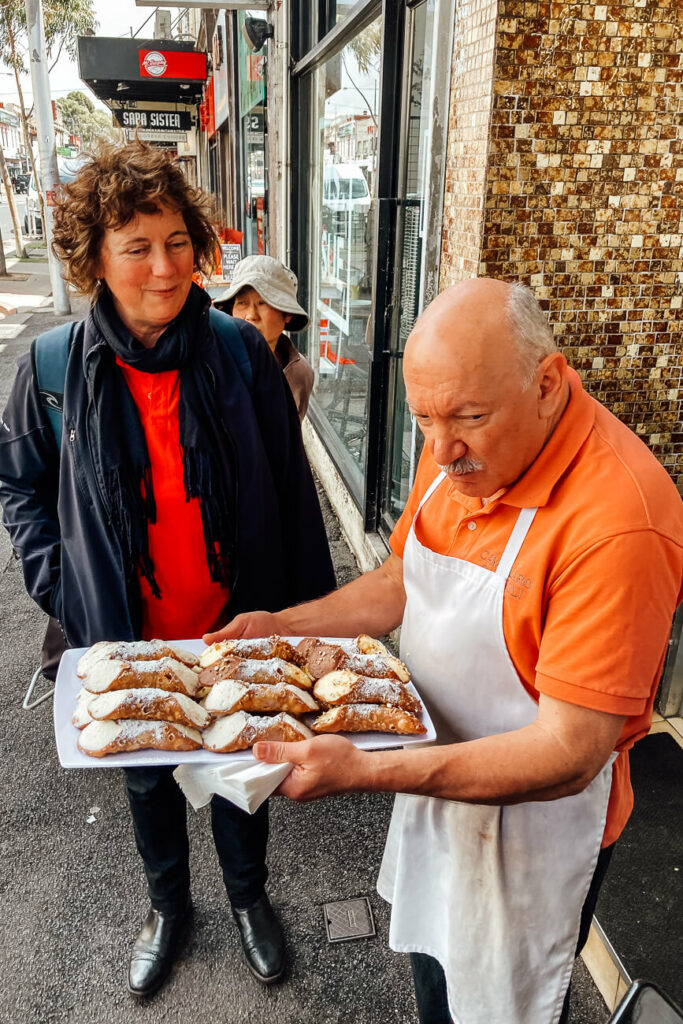 I hope this guide to where to eat in Melbourne has you hungry! What are you looking forward to eating when you visit Melbourne? Let me know in the comments below.
---
What to eat in Melbourne: Related posts
Before you go… you might like these Melbourne travel blogs:
PIN IT FOR LATER
Save this guide to where to eat in Melbourne so you can start planning your foodie adventures!