Melbourne, Melbourne, Melbourne. You could spend a lifetime here and not see everything. But if you're visiting and you've only got 5 days in Melbourne, then you are still going to have a ball. Five days is a great amount of time to see the main city attractions, explore a few neigbourhoods and even get out of the city on a day trip.
It also means you can take your time savouring the city, planning leisurely days full of experiences. 
So, read on for my suggested 5-day Melbourne itinerary and let's get planning your trip!
This blog post may contain affiliate links, meaning if you book or buy something through one of these links, I may earn a small commission (at no extra cost to you).
At a glance: 5 days in Melbourne itinerary
Day 1 – The CBD: Street art, laneways and Chinatown
Day 2 – The CBD: Great galleries, First Nations culture and gardens
Day 3 – Fitzroy and Collingwood: Hip cafés, breweries and boutique shopping
Day 4 – St Kilda: Beaches, bathing boxes and penguins
Day 5 – Beyond Melbourne: A day trip outside of the city
Melbourne 5 day itinerary mapped out
Melbourne travel tips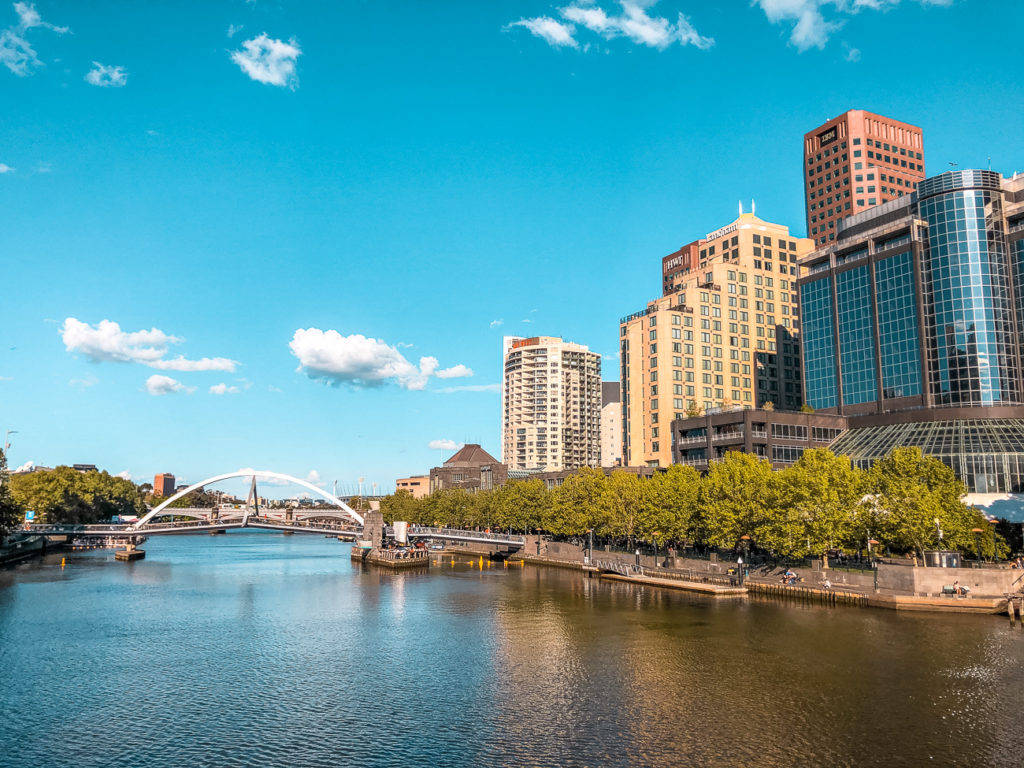 Melbourne itinerary: Day 1
The first day of this 5 day Melbourne itinerary focuses on the CBD – the central business district. Acquaint yourself with the layout of the heart of Melbourne and explore the city's laneways and arcades.
Highlights:
Melbourne's famous street art and laneways
Food in Chinatown
The grandeur of the State Library
Breakfast
Start your first day in Melbourne with brunch, something Melbourne is known for. If you're in the CBD, Higher Ground and Hardware Société have menus that'll have you umming and ahhing about what to choose. 
Of course, you can't start the day without a (second or third?) coffee. Melbourne is known for its coffee scene and snobbery. Brother Baba Budan, Pellegrini's, Industry Beans and Axil Coffee Roasters will all serve you up a good cup.
Walking tour
Next up, join a free walking tour to familiarise yourself with the layout of the city and get some insights into history, food and culture. 
On Tuesdays, Thursday, Saturdays and Sundays at 10.30am, I'm Free runs a 2.5-hour Melbourne Sights walking tour. The tour covers Indigenous history through to colonisation up to modern events and includes handy information on coffee and food culture. The tours are free – but of course you should tip at the end of the tour.
Wander the arcades and laneways
If you prefer to explore by yourself, then that's easy to do. 
Start at the Bourke Street Mall, a pedestrian-only block that's chockers with shopping options, including iconic Australian department stores, Myer and David Jones. From Bourke Street Mall, enter Royal Arcade and then pass over into Block Arcade. Both arcades are decked out with high ceilings and ornately tiled floors – the spoils of Melbourne's wealth during the gold rush of the 1800s.
Just a few steps from the lavish arcades you'll find Melbourne's grids of grimy laneways. These laneways were originally used for horse and cart access. Now, they're gritty galleries for Melbourne's famous street art scene. 
Pop into a few of these. Hosier Lane is always packed with people trying to snap the perfect Instagram selfie but has some of the most current street art. ACDC Lane (which leads into Duckboard Place) has plenty of works in amongst the dumpster bins, including a small Banksy. I also love the picture framed street art and sculptures in Presgrave Place.
The artworks are always being painted over, so no matter how many times you wander down these alleyways, you'll always see something new.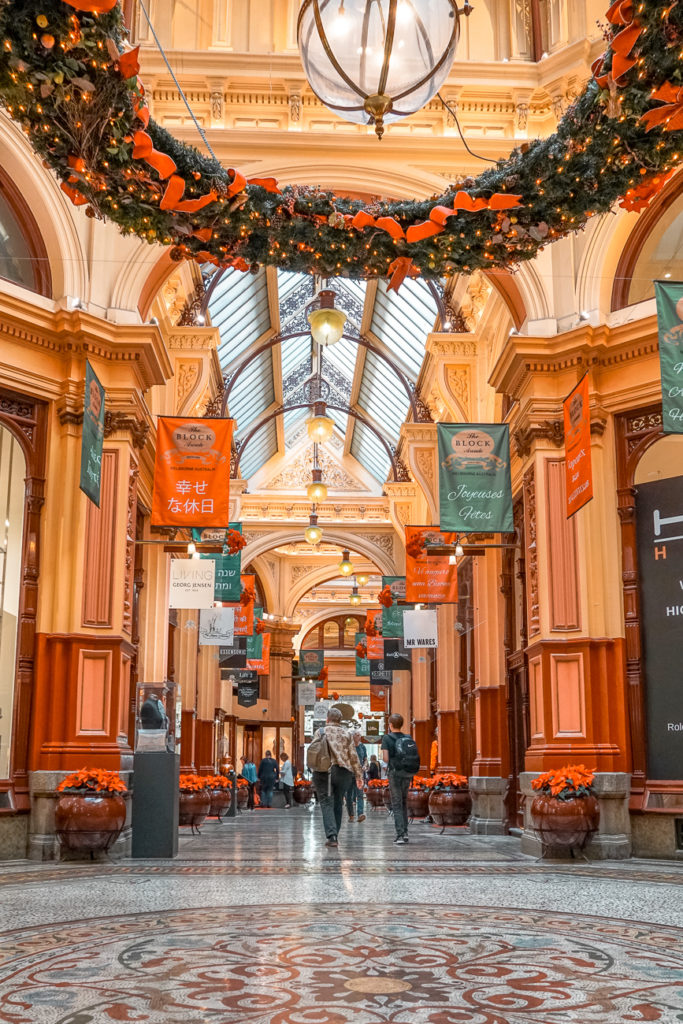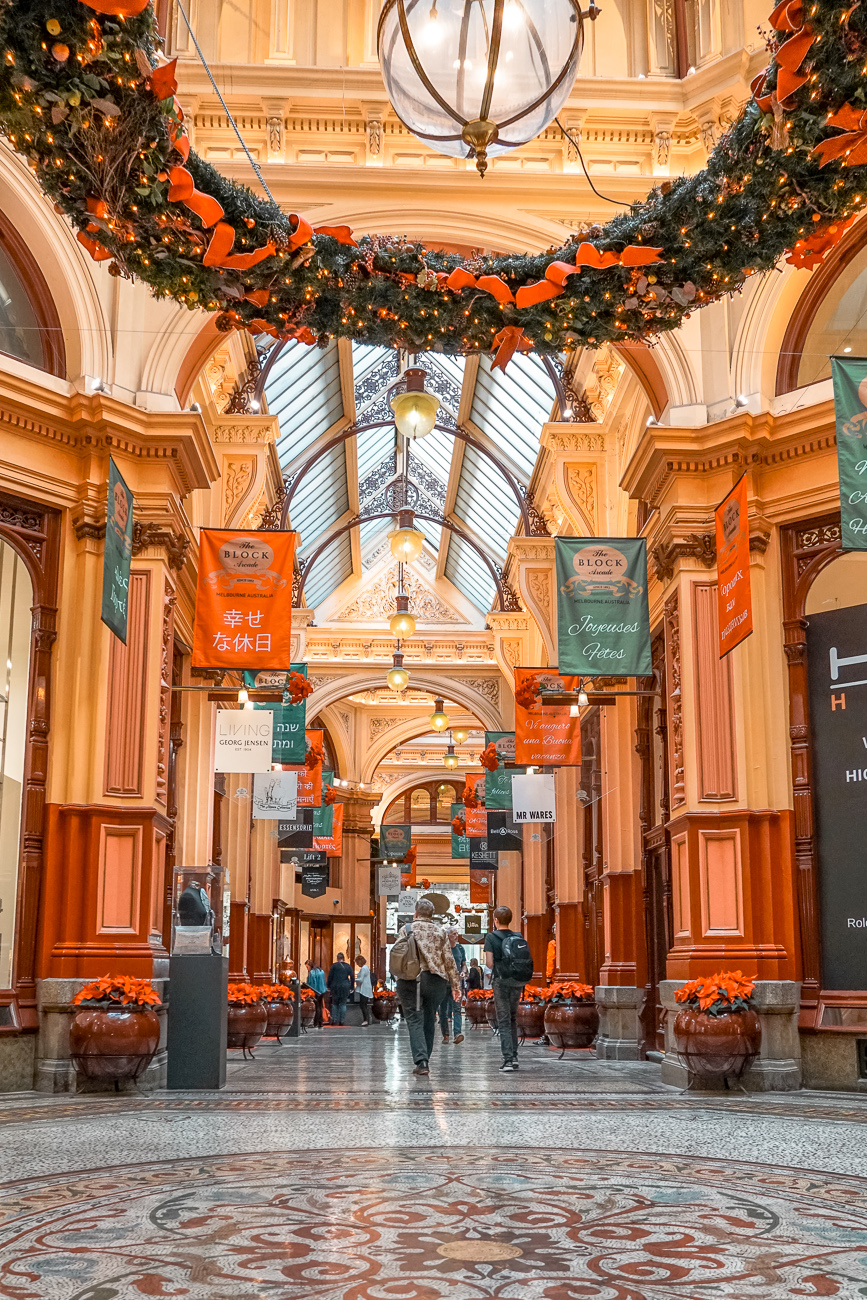 Chinatown
Melbourne's Chinatown isn't as big as other cities' but it packs a lot of punch with its food. Stop here for lunch and chow down on dumplings at Shanghai Dumpling House, HuTong or ShanDong Mama. Or go upscale at Gingerboy or Flower Drum.
State Library Victoria
If you didn't do the walking tour in the morning, stop by the State Library to admire this grand building. From the outside it's pretty awesome, but inside you'll find incredible rooms like the newly reopened Queen's Hall and the domed La Trobe Reading Room.
Exhibitions here house Ned Kelly's armour and important Australian artworks.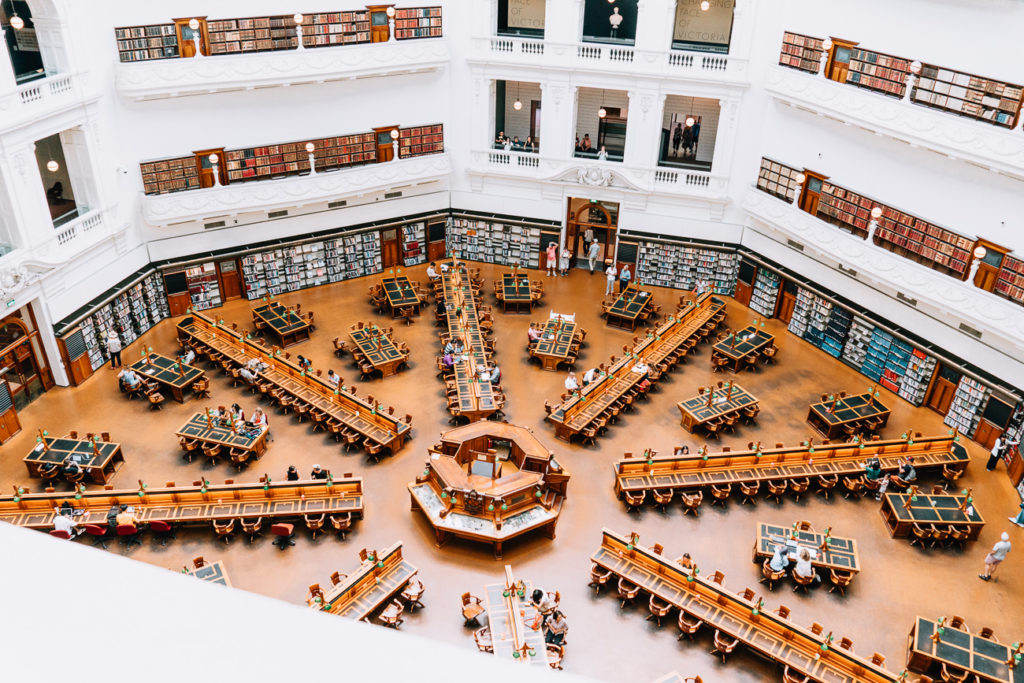 Rooftop bar
It's probably time to rest your feet by now, so grab a drink at one of Melbourne's rooftop bars. Rooftop Bar is a short walk from the library, or Loop Bar or Good Heavens are also good options nearby.
Eureka Tower
As the sun starts to go down, head up to the Skydeck at Eureka Tower. At 285 metres, you'll get fantastic views of the city's sparkling lights.
There's also The Edge, glass cube that projects from the 88th floor of the Eureka Tower. One for the daredevils!!
Dinner 
For dinner, grab a table at MoVida (Spanish) or Supernormal (Japanese). 
5 day Melbourne itinerary: Day 2
Today, explore more of the CBD. There's a mix of art and culture and outdoors experiences, as well as some Indigenous history.
Highlights:
Great galleries
Indigenous Australian culture and history at the Koorie Heritage Trust and Birrarung Marr
The stunning Royal Botanic Gardens
An afternoon drink in the middle of the Yarra River
Breakfast
If you're staying in the CBD, then grab breakfast from the day 1 options.
Fed Square
After filling up, start at Fed Square. Federation Square is an open-air venue with art galleries, museums, cafés, restaurants, bars and shops. It's a bit of a hub in the city, given its proximity to Flinders Street Station and the fact that it has so many Melbourne attractions in one place. 
Spend a while here either enjoying a free event if there's something on, or exploring one of the museums:
ACMI: ACMI celebrates all things visual: cinema, television, video games and more. Entry is free.
Ian Potter Centre: NGV Australia: One of Melbourne's most important galleries, featuring Aboriginal and Australian artworks.
Koorie Heritage Trust: Learn more about the oldest continuous living culture in the world, Australia's First Nations people.
Birrarung Marr
In the Woiwurrung language of the Wurundjeri people, Birrarung Marr means "river of mists", a name that reflects the traditional name of the Yarra River – Birrarung – and the mist – marr – that often floats over the river.
Birrarung Marr is just next door to Fed Square and it's a great spot to people watch, stroll along the Yarra River and admire the sculptures and Aboriginal artworks that are dotted here and there.
If you'd like to learn more about Aboriginal Australia culture and history, this guide to Indigenous Melbourne lists several things to do.
NGV International
If Melbourne's weather isn't suitable for outdoor activities, then stay indoors and enjoy the NGV International's considerable art collection. 
This museum is Australia's oldest, largest and most visited gallery. The NGV is free to enter, although special exhibitions have an entry fee. You'll need to book free tickets online in advance.
Plan for around 1-2 hours to wander through the museum's free exhibits, longer if you're visiting a paid exhibition as well.
Royal Botanic Gardens
If Melbourne has put on a nice day, then head toward the Royal Botanic Gardens.
Across 36 hectares, you'll find rainforests, cacti, native plants, glasshouses, rose gardens, a "volcano" and ornamental lakes. The Royal Botanic Gardens is a beautiful place to take a respite from the city and learn about some of Australia's unique native flora.
Wander around by yourself or take one of the daily free, guided walks.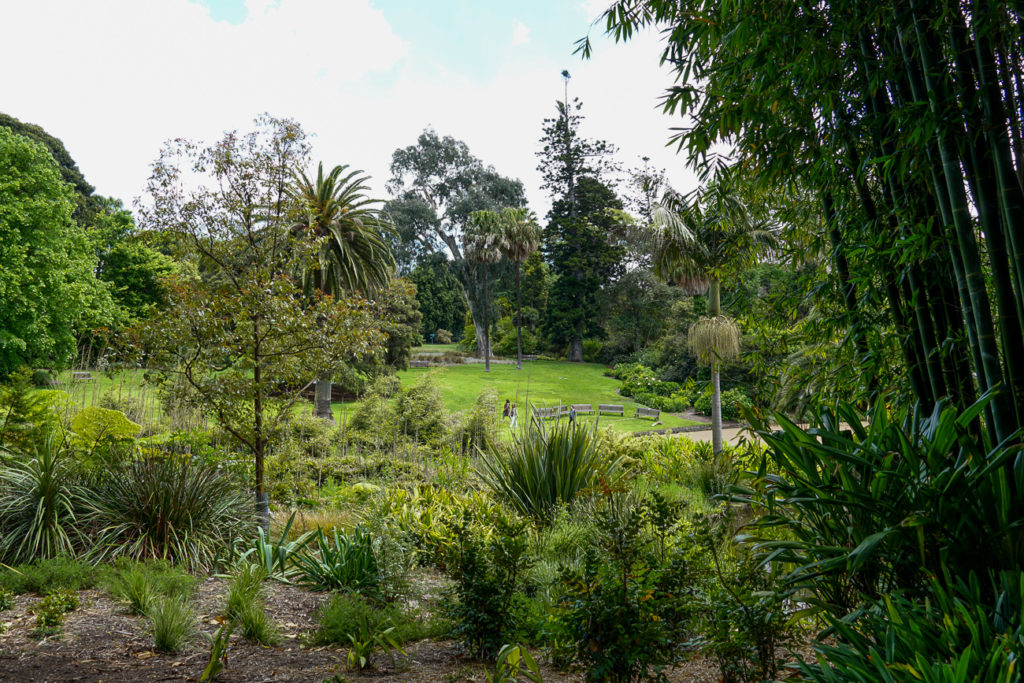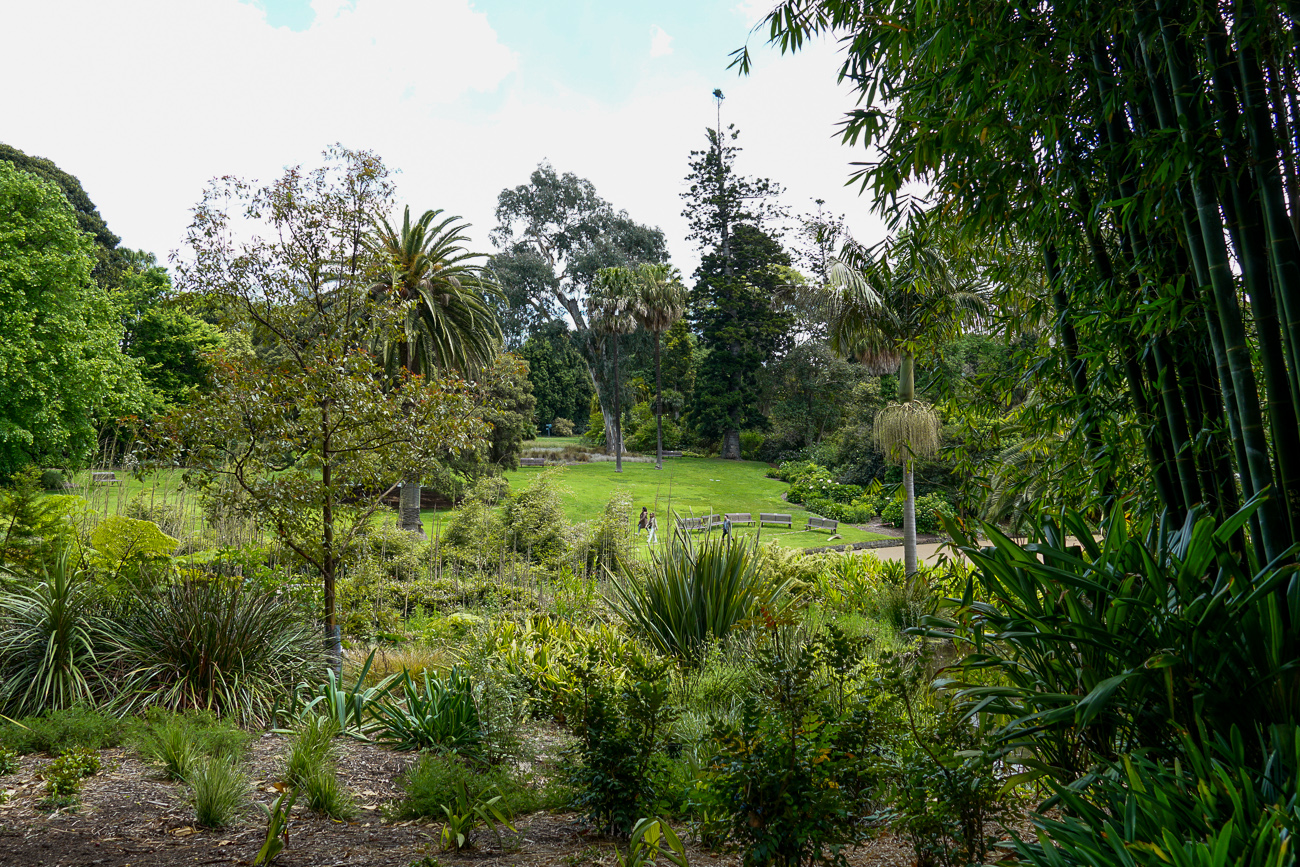 Shrine of Remembrance
The Shrine of Remembrance memorial honours those Australians who have served and sacrificed their lives for their country. 
Inside, you'll find the Sanctuary, along with the Stone of Remembrance for all those buried overseas and in unmarked graves. Come by at 10.30am to see the ray of light shine on the Stone of Remembrance at 11am (symbolising the end of fighting of the First World War in 1918 at the 11th hour on the 11th day of the 11th month).
Entry is free, and there are daily guided tours (currently $20 per adult and $10 for children).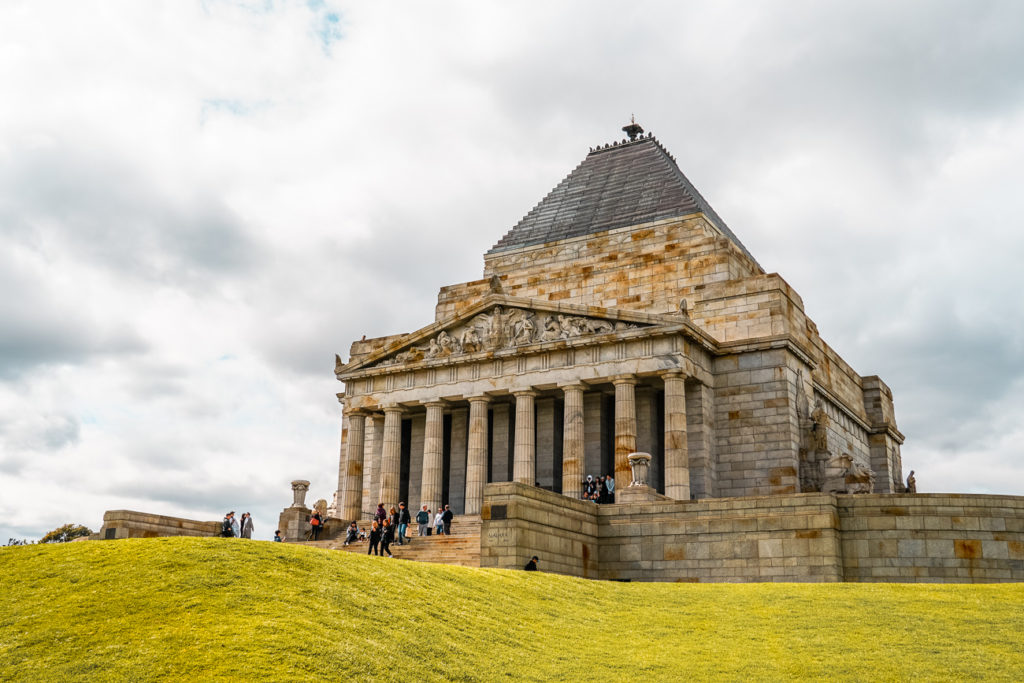 Ponyfish Island
Head back toward the city and along Southbank. Halfway across the Evan Walker Bridge, take the steps down and have a drink at Ponyfish Island, a "floating" bar on the Yarra River.
Dinner
For dinner tonight, I'd recommend Tres a Cinco (Mexican) or Coda (upscale Vietnamese). Or peruse the many other suggestions in my guide to where to eat in Melbourne.
Melbourne 5 day itinerary: Day 3
On day 3, head out of the city to explore some of my favourite neighbourhoods in Melbourne: Collingwood and Fitzroy. But first, a stop at Melbourne's most famous market.
Highlights:
Delicious produce at the Queen Vic Market
Learning about Melbourne's history at the Melbourne Museum
Exploring the hip suburbs of Collingwood and Fitzroy
Queen Vic Market 
Established in 1878, the Queen Victoria Market sits on 7 hectares and is one of the largest markets in the Southern Hemisphere.
Spend some time wandering the shops along String Bean Alley, grab a coffee and check out the locally made goods. Continue along the outdoor sheds and explore the undercover specialty shops and fruit and veg stands.
At the end of I Shed, join the queue to purchase some fresh, piping-hot jam doughnuts from the American Doughnut Kitchen van. This van has been operating here since the 1950s and is still in the hands of the original family. 
If it's a Friday or Saturday, book ahead for the Ultimate Foodie Tour, a 2-hour tour that explores the market's food and history. The tour starts at 10am and there are plenty of samples on the tour, so don't eat breakfast beforehand!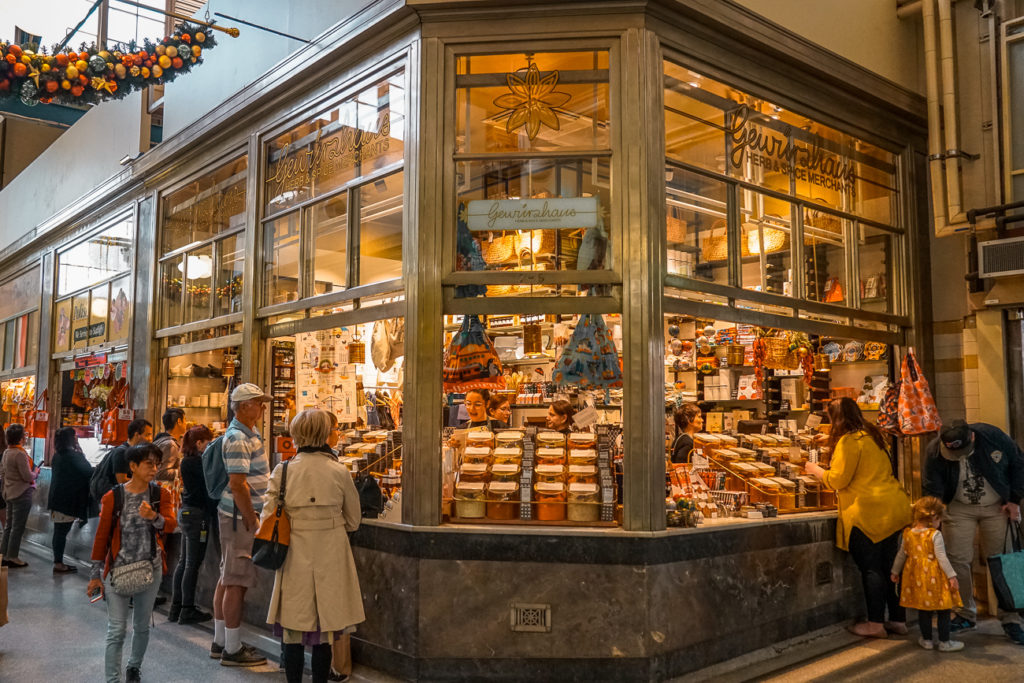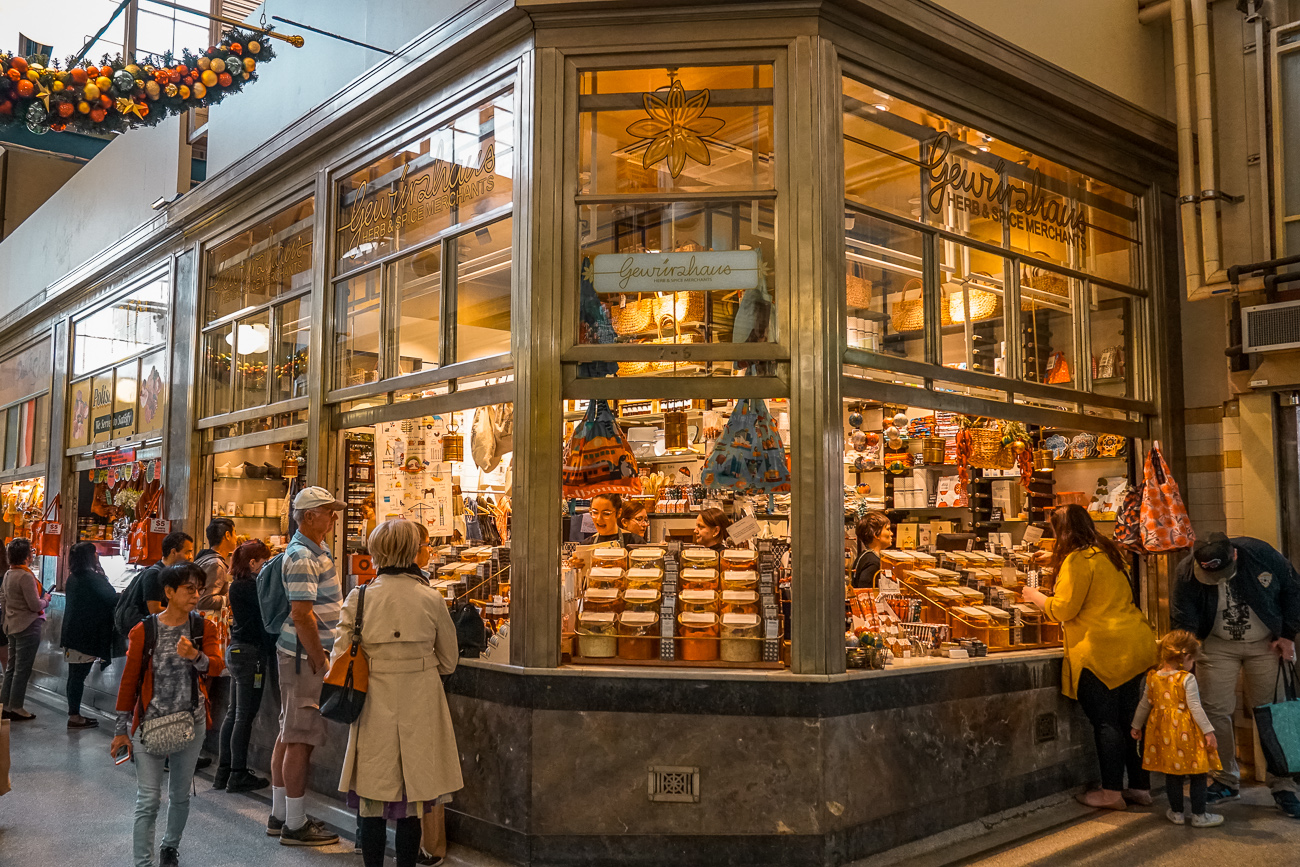 Lunch in Carlton 
If you've been on the Ultimate Foodie Tour you may not have space for lunch just yet, but if you do, Carlton has some great restaurants to choose from. Milk the Cow is a cheese lover's heaven, D.O.C. Delicatessen and the Pizza and Mozzarella Bar are simple, classic Italian joints, and Brunetti is a Melbourne institution.
Save room for gelato at Pidapipó – I love the hazelnut gelato topped with swirls of Nutella!
Melbourne Museum
If you feel like wandering around another museum, head for Melbourne Museum next.
This museum holds the title of the largest museum in the Southern Hemisphere, and it's a great place to learn more about natural and cultural history.
At Bunjilaka Aboriginal Cultural Centre there's plenty of incredibly fascinating First Peoples knowledge, stories, culture, objects and images.
Kids will love the dinosaur and natural history exhibits.
There are fascinating stories about influential and impactful Victorians, Pacific Island culture, and the history of immigration to Victoria.
Have a look at the nearby Royal Exhibition Building as well – it's a beautiful building outside and inside.
Fitzroy and Collingwood
Spend the afternoon and evening around Collingwood and Fitzroy, two hip neighbourhoods that are still a bit grungy in areas. Wondering what to do in Fitzroy and Collingwood while you're there? Read on.
If it's a Saturday or Sunday, the Rose Street Market will be taking up several blocks. More than 100 vendors sell handmade earrings, clothing, handbags and artworks.
Check out the street art around Fitzroy and Collingwood. Duck into the stores along Brunswick and Smith Streets to find vinyl, books, clothing and homewares.
Head over to the Abbotsford Convent. Wander through the studios and galleries of what was once a former convent and orphanage.
In the afternoon, stop for a pint at Stomping Ground Brewery or Fixation.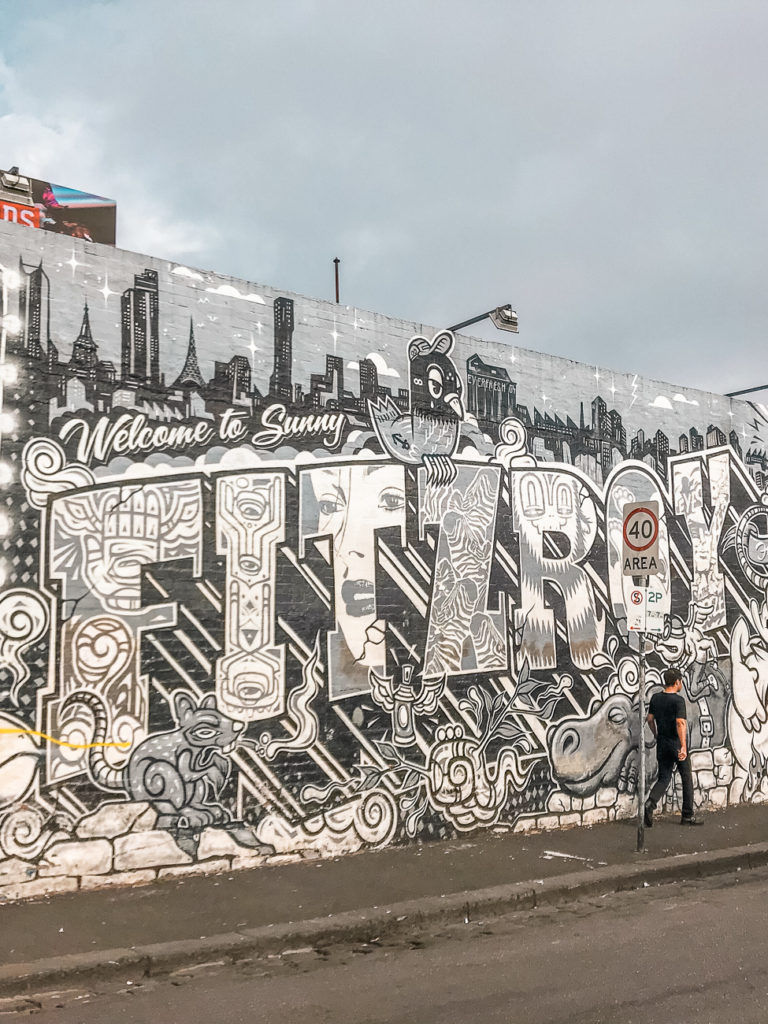 Dinner
Stick around the area for dinner because there's plenty to eat here. A few personal faves are Easey's (burgers in an old train carriage on a rooftop), a pub meal from the Marquis of Lorne (try their potato cakes, they're so good!) or the $5 bargain pizzas from Kewpie.
Vegetarians will love what's on offer at Vegie Bar, Smith and Daughters or Transformer. 
For something fancier, try the modern Australian at Cutler & Co.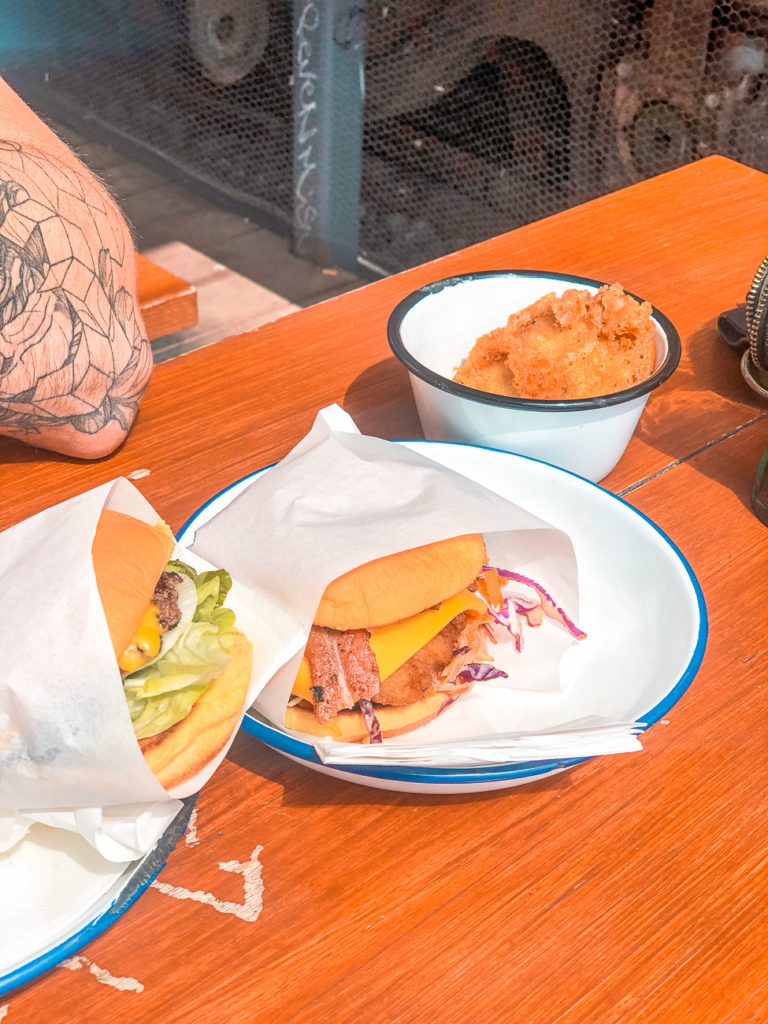 Night time entertainment 
Wander along Smith, Brunswick and Johnston Streets to see what takes your fancy – cocktail bars, pubs and live music will keep you entertained until the early hours!
5 day Melbourne itinerary: Day 4
Your second-last day in Melbourne takes you out to Melbourne's beaches – where you may even spot a penguin.
Highlights:
The colourful bathing boxes at Brighton Beach
Hanging out in chill St Kilda
Spotting little penguins
Breakfast
It's been a busy few days, so have a sleep in and then a leisurely breakfast at your hotel.
Brighton beach boxes 
Head south to Brighton, an affluent suburb that has a lovely stretch of coastline. One of the most iconic images of Melbourne is the colourful bathing boxes on Brighton Beach.
These boxes were once used as changing rooms and have been passed down from generation to generation. When they go up for sale – which doesn't happen too often – they can sell for more than $300,000!
Take a few fun snaps here at the Brighton Beach boxes and if the weather is decent, sunbathe for a while on the sand.
Walk to St Kilda 
If you have the energy, walk from Brighton Beach to St Kilda Beach. It'll take about 1-2 hours along the Bay Trail, where you'll get great views.
St Kilda
Spend the rest of the day in St Kilda. This beachside suburb has a mix of bay views, palm trees, music, gritty side streets, and plenty of restaurants and bars.
Start with lunch at Fitzrovia or Babu Ji. Then, stroll around St Kilda. If it's a Sunday, take some time to check out the arts and crafts stalls at the St Kilda Esplanade Market.
Alternatively, plan your lunch around this very fun Mystery Picnic. Solving riddles and clues, you'll pick up everything you need for a lovely picnic lunch. There are options in St Kilda for couples (what a great date idea!), families or friends. (Read my full Mystery Picnic Melbourne review for more info.)
Wander along the St Kilda Foreshore, sunbathe on St Kilda beach, watch the kitesurfers on the water, and walk out along St Kilda Pier. This area is one of the most popular Melbourne attractions for locals and visitors alike, so it'll be packed on a sunny day and on weekends.
Have some fun at Luna Park. Brave the rickety rollercoaster, which is more than 100 years old! Visiting Luna Park is one of the best things to do in Melbourne with kids – but adults will have just as much fun.
As the sun goes down, head back to St Kilda Pier to watch the cute little penguins waddle out of the water at dusk. There's a viewing area above the breakwater at the end of St Kilda Pier.
Dinner
Hang around St Kilda in the evening and grab dinner at Lona. If you've got some cash to burn, try the multi-course tasting menu at Attica. It's regularly voted one of the world's best restaurants. And yes, it's expensive, but it's also unpretentious. 
After dinner, if you've still got some energy, head to The Espy for another drink or to catch a gig. Or see if there's a show on at the Palais Theatre or Prince Bandroom.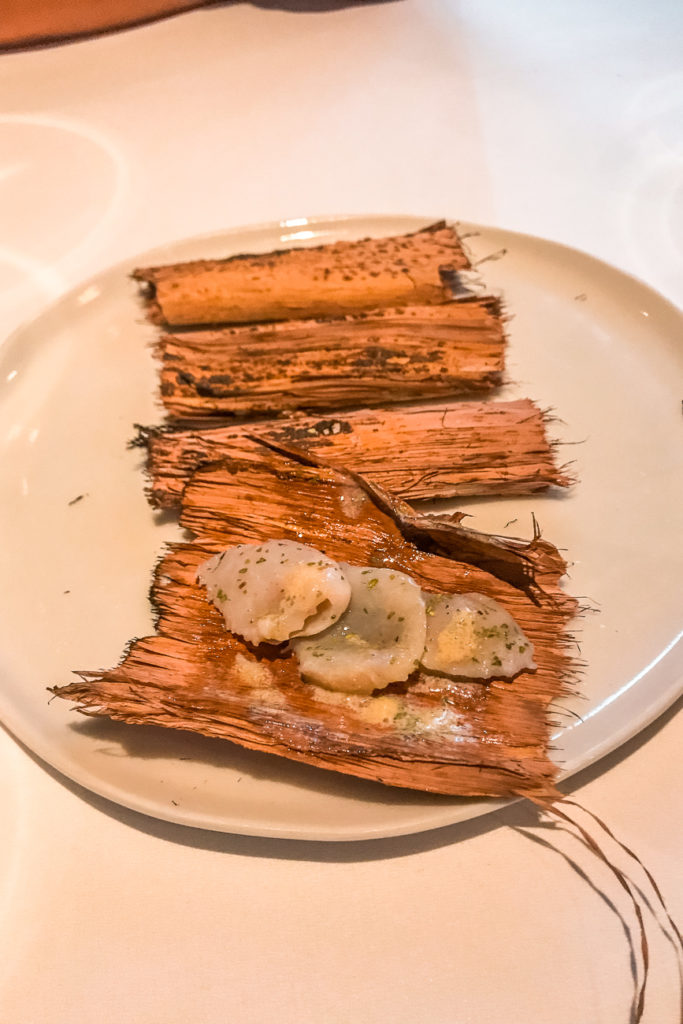 Melbourne itinerary: Day 5
On your final day in Melbourne, take a day trip out of the city. Or, spend the day ticking off other Melbourne bucket list items that you may have missed over the past few days.
To enjoy a day trip, you can rent a car or take one of the tours I've suggested below.
I've got a whole guide to day trips from Melbourne, but a few of my recommended ones are:
Yarra Valley – Just a short drive from Melbourne is one of Australia's premier wine regions. | This full-day tour includes visits to wineries, cheese producers and a gourmet lunch.
Healesville Sanctuary – This is where you can see Australia's cute and cuddly animals. | This day tour combines a visit to the wildlife park and a ride on the Puffing Billy train, so it'd be a great trip if you've got kids.
The Great Ocean Road – An iconic Australian road trip. In my opinion, you need at least 2 days for a Great Ocean Road itinerary, but you can see the highlights on a (busy!) day trip. | This day tour runs the opposite way that most tourist buses do. You'll see the 12 Apostles and maybe even some cute koalas.
Phillip Island – If you loved seeing the penguins at St Kilda, head to Phillip Island for even more cuteness. | On this day trip, you'll get to see penguins and kangaroos and koalas.
Mornington Peninsula – This area just outside of Melbourne is known for its beaches, great short hikes and wineries. | This day trip includes a photo stop at the colourful bathing boxes.
Ballarat – One of the Victorian goldrush towns, Ballarat is filled with history. It's a great day trip with kids.
Dandenong Ranges – Close to Melbourne, the Dandenong Ranges are a lush forested area with hikes like the 1000 Steps trail and family-friendly activities like riding Puffing Billy.
Feel like you can squeeze more into your Melbourne in five days itinerary? Alright, well I've got more ideas in this guide to the top 25 things to do in Melbourne, including:
Where to stay in Melbourne
I've got a full guide to where to stay in Melbourne, but for this Melbourne 5 day itinerary I'd recommend basing yourself in the CBD so that you can easily access everything that I've included here. 
Here are a few recommended hotels in the Melbourne CBD (also check out my guide to the best hotels in Melbourne CBD for more options):
Budget
ibis Melbourne Central – This budget hotel is just behind Melbourne Central, so you know you're staying in a great spot. The rooms may be on the small side, but they've got a minimalist design and are clean. Book a stay online | Read reviews of ibis Melbourne Central online
Mid-range
Novotel Melbourne on Collins – The rooms at the Novotel are spacious and the beds get top marks for comfort. Each room has a view over the hotel's glass atrium or down onto Collins Street below. Book a stay online | Read reviews of Novotel Melbourne on Collins online
Ovolo Laneways – Fun boutique hotel in the heart of the city. Most rooms come with breakfast included plus snacks and goodie bags. Book a stay online | Read reviews of Ovolo Laneways
Luxury
Adelphi Hotel – Because this hotel has only 34 rooms, you can be sure you'll get first-class attention at one of the funkiest hotels in Melbourne. The rooftop pool has a see-through bottom so you can spy on the people walking in Flinders Lane below. Book a stay online | Read reviews of Adelphi Hotel online
Check out more Melbourne hotels in the CBD
Alternatively, you could set yourself up in one of the many serviced apartments in Melbourne, where you'll have access to a kitchen and laundry facilities during your stay.
While you won't be able to see everything that Melbourne has to offer with just 5 days in Melbourne, I still think it's a good amount of time to visit to get a feel for what makes this city so awesome. 
Don't have 5 days? See my 3 days in Melbourne itinerary instead, or my guide to a weekend in Melbourne.
If you've got any questions about crafting the perfect 5 days in Melbourne itinerary, then leave me a comment below or get in touch via email.
5 DAYS IN MELBOURNE: PIN IT FOR LATER
Save this guide to Melbourne in 5 days so you can start planning your Melbourne itinerary.