Melbourne is known for its live music scene, its amazing restaurants and its nightlife. But you don't have to leave the kids at home to enjoy this city. There are lots of things to do in Melbourne with kids if you just have a look around. And parents will probably end up enjoying most, if not all, of them as well. 
I'm not a parent myself, so I consulted a few experts (aka, my friends with little ones) for their thoughts on entertaining kids in Melbourne. Here's what they'll love doing, looking at, and even eating while you're visiting Melbourne with kids.
This blog post may contain affiliate links, meaning if you book or buy something through one of these links, I may earn a small commission (at no extra cost to you).
1. Explore the Royal Botanic Gardens
The Royal Botanical Gardens in Melbourne are huge, and you could spend days there. But even if your kids don't like trees or beautiful, open spaces, there are displays in the gardens that are designed precisely for restless young ones. 
The Ian Potter Foundation Children's Garden is one of the best things to do in Melbourne for kids who love to get messy. It offers lots of places to explore, like the Ruin Garden, plant tunnels and the kitchen garden.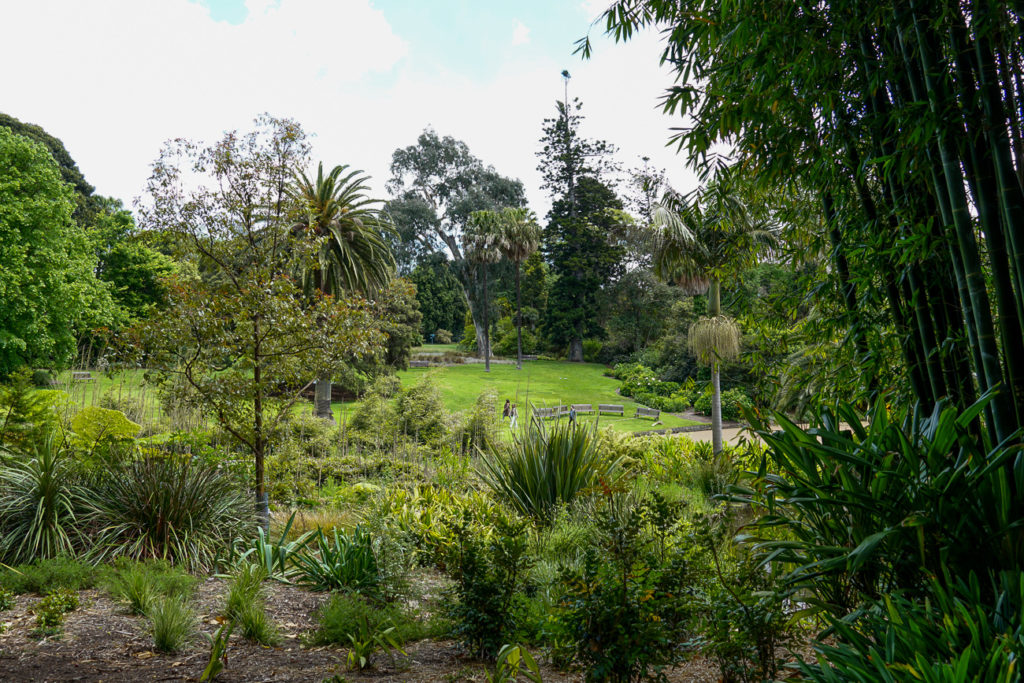 Visiting the Royal Botanic Gardens
Cost: Free
Opening hours: 7.30am to 7.30pm, daily; Children's Garden is open Wednesday to Sunday from 10am until gardens closure
2. Spend a day at Luna Park 
Luna Park is one of the most fun activities in Melbourne for kids – and for adults who haven't quite left their childish excitement behind. 
As soon as your kids walk through the slightly nightmarish clown face at the entrance, they'll love the old-world carnival atmosphere and especially the junk food, which is available everywhere (I personally am a sucker for hot chips doused in vinegar). 
Luna Park offers roller coasters, of course, but there are also gentler, slower rides to suit every age group and courage level.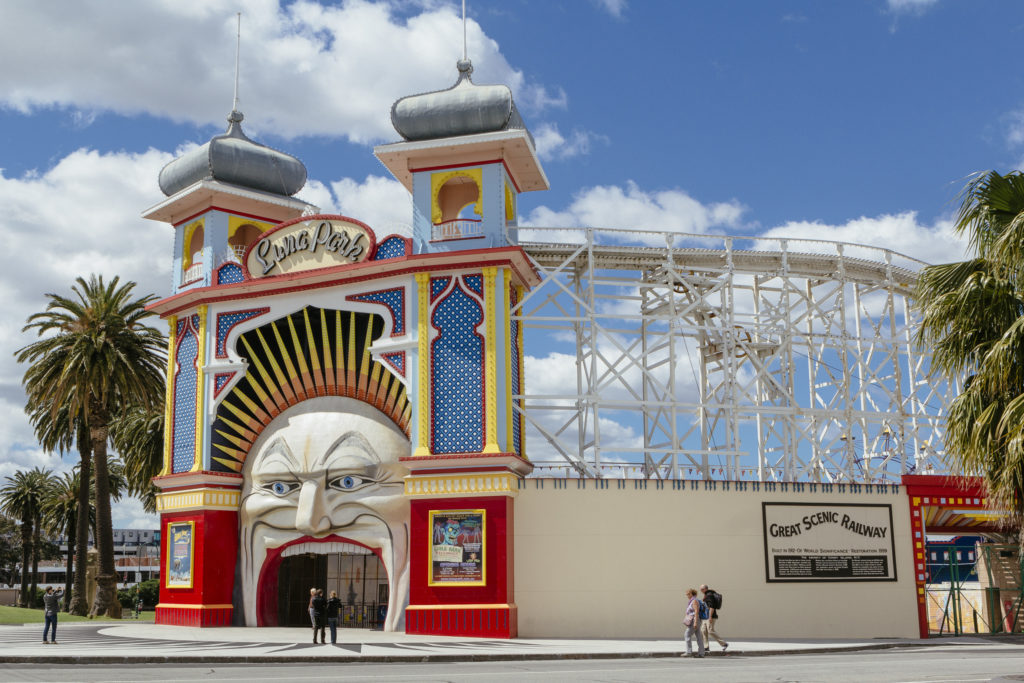 Visiting Luna Park
Cost: Free to enter, single rides cost from $5 per child (aged 0-3), unlimited rides packages and family packages available 
Opening hours: Open every weekend, daily during school holidays, public holidays except Christmas day; opening hours vary throughout the year so check the website
3. Encourage their inner artists at ArtPlay 
ArtPlay is an art space for kids up to the age of 13. It's located on the banks of the Yarra River near Federation Square, so it's easily accessible no matter where you're staying in Melbourne. 
At ArtPlay, you'll find a range of fun, creative workshops aimed at children. Your kids will learn to express themselves and burn up a lot of energy at the same time. There are also regular events aimed at kids as well as exhibits that will let them get up close and personal with the artwork. 
Classes at ArtPlay are popular though, so make sure you book your child's spot ahead of time. 
4. Cycle the Yarra River
If you have really active kids and want some activities for kids in Melbourne that will tire them out, why not cycle along the Yarra River with them? There are several places where you can hire bikes in the area so you can enjoy the shared bicycle and pedestrian path stretching from the CBD along the Yarra River. 
Along the way, you'll see the Royal Botanic Gardens and other attractions, so you can always stop if you're getting tired of cycling. The Burnley Bouldering Wall is a particularly good place to stop if you want to encourage your kids to burn even more energy. 
You can go as far as you want along the Yarra River, so it's ideal for little ones of all ages and ability. As a bonus, it will help you burn off all that amazing food that you're probably eating in Melbourne.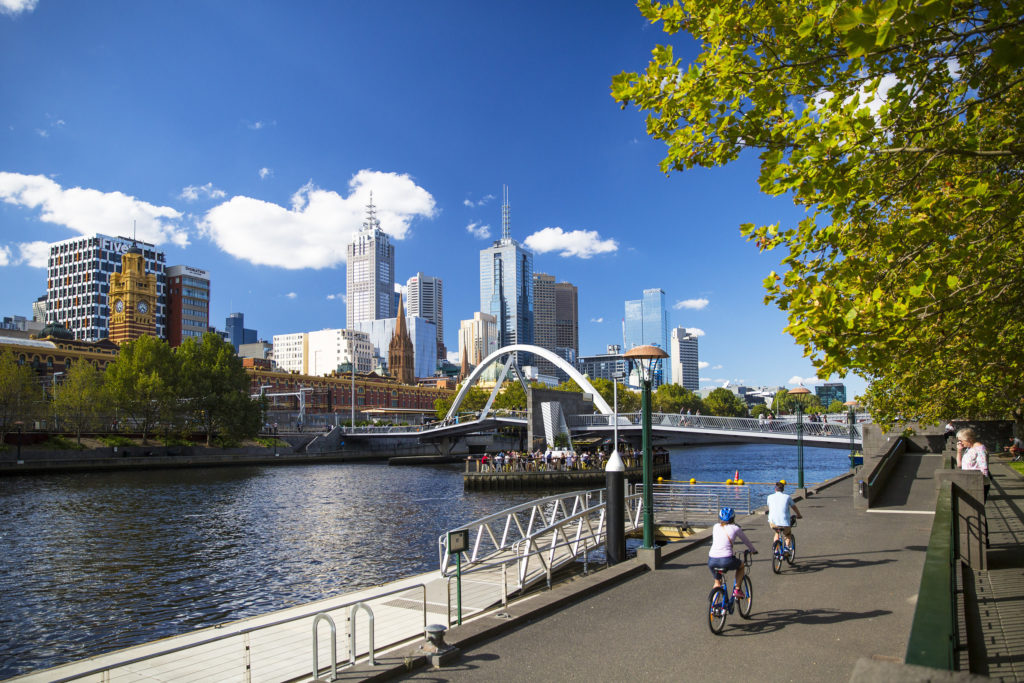 Hiring bikes in Melbourne
Rentabike has regular bikes and e-bikes, as well as buggies, tagalongs and child seats.
Note that helmets are compulsory in Australia.
5. Have a splash at St Kilda Beach 
What kid doesn't love to hang out on the beach? St Kilda beach is just 20 minutes from the heart of the city. It offers long stretches of sand and lots of amenities close by where you can grab a snack or a drink. 
It also has gentle waves, so it's a safe place to let the kids enjoy some swimming. (Although Melbourne's beaches aren't as lovely as the beaches in other Aussie cities!)
And if you time it right, you can watch the sunset over the water. It truly is a magnificent sight.
Getting to St Kilda
From the CBD, take the #16 tram from Swanston Street, the #96 from Bourke Street or the #12 from Collins Street.
You're heading out of the free tram zone when you go to St Kilda, so you will need to have a myki card for each person in your group. Kiddos under 4 travel free and don't need a myki.
6. Enjoy some child-friendly meals 
Melbourne is famous for its amazing food scene. The best part is that you don't have to resign yourself to lousy fast food just because you're here with the kids! One of the best family activities in Melbourne can be simply enjoying a meal together.
There are lots of restaurants and cafes that not only welcome kids, but cater to them specifically. Some restaurants go above and beyond the usual fare found on kids' menus (chicken nuggets, spaghetti bolognese). While the family is enjoying the atmosphere and the kids' food, you can snack on more adult delicacies. 
Some of the best child-friendly eating options in Melbourne are: 
Cowderoys Dairy for milky treats that even picky mouths will enjoy 
Republica for a meal on the beach before you see the penguins
Mr Wolf for pizza and a dedicated kids' menu
Easey's to thrill the kids with eating burgers in a train on top of a building
Transport Public Bar, for a kid-friendly menu in a place the adults can relax with a drink
Emporium food court, for when everyone wants something different – you'll find plenty of food options here from sushi to sandwiches to Italian
Koko Black for a chocolatey pick-me-up (I'm personally a fan of their rich, velvety hot chocolate)
Dumplings in Chinatown – take your pick from all the yummy restaurants
7. See the penguins at St Kilda Pier 
How many kids don't like penguins? In fact, how many people – children and adults – don't think that these flightless, waddling birds are absolutely adorable? 
You probably don't think of penguins in a big city, but penguin watching is one of the most popular things to do in Melbourne with kids. 
Head down to St Kilda Pier just before sunset and you'll be treated to the sight of a colony of penguins heading home after a long, hard day of fishing. It's free and the kids will fall in love. (Check out more free things to do in Melbourne.)
8. Get them thinking at Scienceworks 
While Scienceworks is a little way from the Melbourne CBD, the range of interactive exhibits for kids makes the trip worthwhile. It will keep them occupied for hours and sneaks in a little learning at the same time. It's also a great kids indoor activity in Melbourne if the weather isn't so great. (Check out the best time to visit Melbourne and my guide to indoor activities in Melbourne for when it's raining.)
If you have younger kids, they'll love the learning, storytelling, and shows at Little Kids' Day In as well as the exhibits at the Ground Up: Building Big Ideas Together display. 
Older kids can explore the universe at the Planetarium or learn about energy at the Lightning Room Game Show. 
No matter what their age or what your child is interested in, Scienceworks has an exhibit that will excite their inquisitive little minds!
Visiting Scienceworks
Cost: $15 for adults, free for kids up to 16; some exhibits like the Lightning Room and Planetarium have an additional entry fee (check out more cheap things to do in Melbourne)
Opening hours: Open daily, 10am-4.30pm, closed Good Friday and Christmas Day
9. Take tricky pictures at ArtVo 
Have you ever been to a trick museum? These museums have galleries of famous paintings or scenes where you can actually become a part of the image. And now the fun has come to Australia, which is why ArtVo is one of the best things to do in Melbourne with kids. 
ArtVo in Melbourne stretches over 1,400 square metres and has more than 11 themed zones to discover. Even the most jaded child will find it amusing to take the strangest pictures possible, and you'll enjoy looking at the photos as a memento for years to come.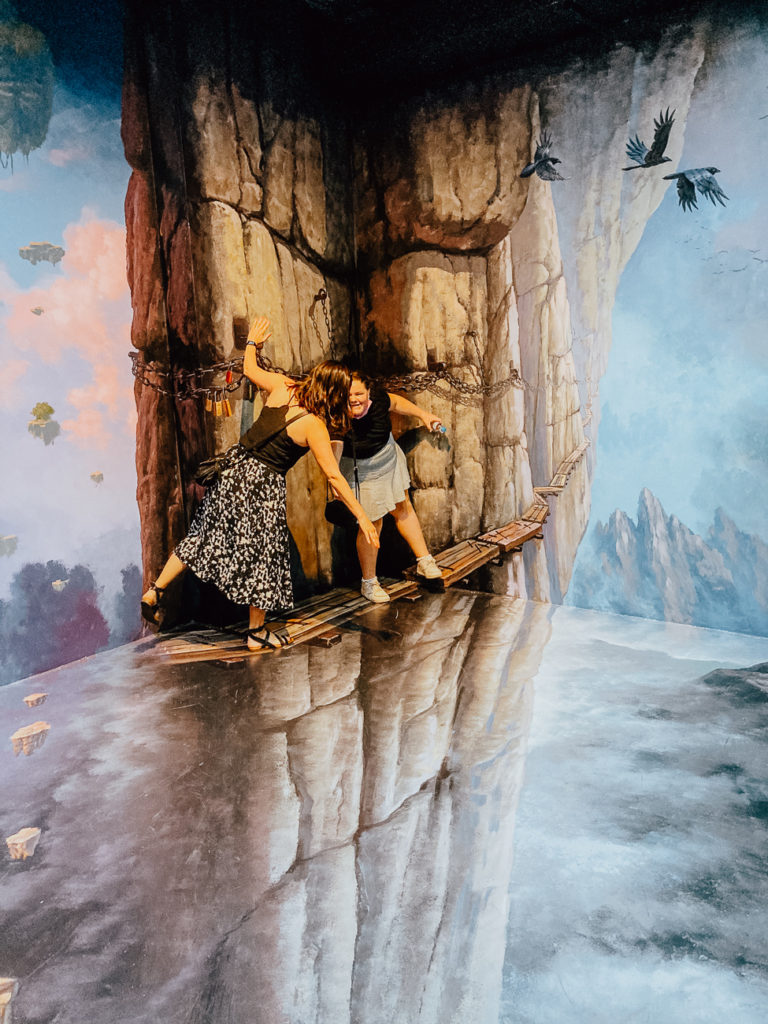 Visiting ArtVo
Cost: Adults $28, kids 5-15 years $18, kids 0-4 years free; family packages also available; skip the queue and buy tickets online here
Opening hours: Daily, 10am to 6pm
10. Spend a morning at Southbank 
Sometimes when you're on holiday, all you want to do is wander, people watch, and find relaxing places to have a drink and a snack. And that's exactly what you'll be able to do at Southbank, which is why it's one of the best things to do in Melbourne with kids. 
Located south of the Yarra River, Southbank is an area full of cafes and culture. As you wander along, you'll be able to stop and listen to buskers and street performers and have a cool drink overlooking the water at a cool café. Basically, Southbank is the ideal destination for a lazy afternoon with kids. 
11. Get sporty at the Australian Sports Museum 
Melbourne has a vibrant sports scene, so don't think you'll get away with not exploring it while you're in the city! The Australian Sports Museum is located inside the Melbourne Cricket Ground (the MCG) and it's highly interactive and designed to engage everyone. 
The museum is home to the largest collection of sporting memorabilia in Australia as well as 3D holograms of AFL stars. Almost everything at the museum is interactive, so your kids will get to kick, throw, and play their way through the biggest moments in sport. 
You can even tack on a tour of the MCG while you're there.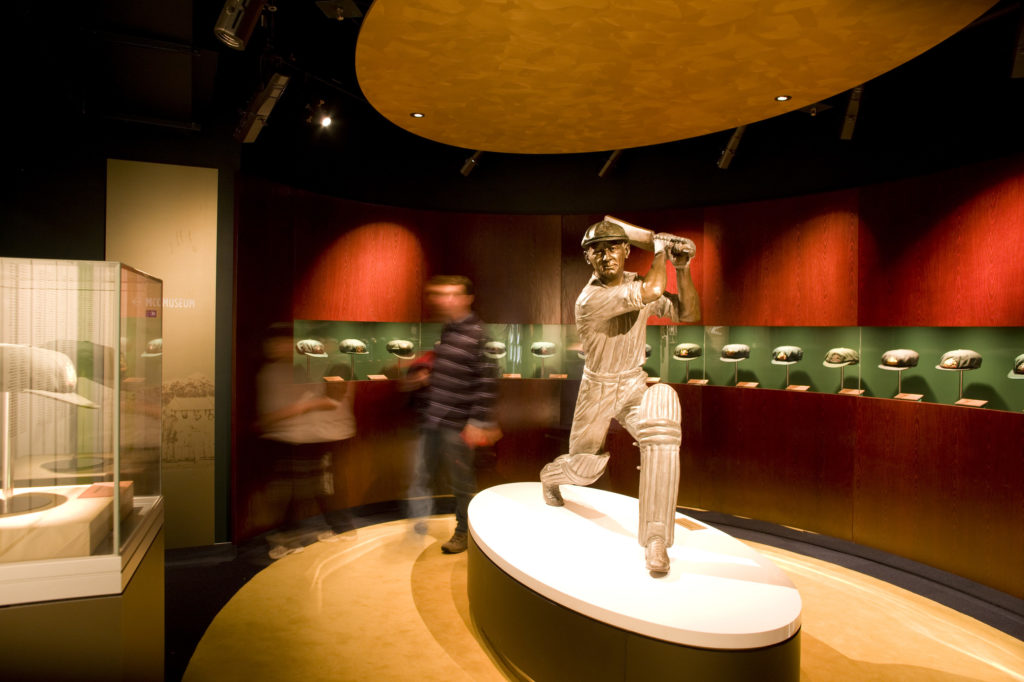 Visiting the Australian Sports Museum
Cost: Adults $30, child 5-15 years $15, kids under 5 free; family packages available; book tickets online here
Opening hours: Australian Sports Museum open daily 10m to 5pm; MCG tours also daily but depend on events
12. Have a bounce
For an hour of sheer kid-style adrenalin, take the family to one of the trampoline parks that are springing up around the city. Some of them are huge and offer not only rooms full of trampolines, but other activities like rock climbing, obstacle courses, and indoor play centres for very young children. 
Some of the best trampoline parks in Melbourne are: 
13. Build at the LEGOLAND Discovery Centre
LEGO's popularity has exploded throughout the world in the last few years, so you might enjoy the LEGOLAND Discovery Centre as much as your kids do. 
Located in Chadstone in Melbourne, it boasts a 4D cinema, build and play zones, and an indoor playground and rides. While you're there, you can also see a tiny Melbourne at MINILAND or enrol your kids in some workshops. This is one of the fun things to do in Melbourne with toddlers, but also older kids.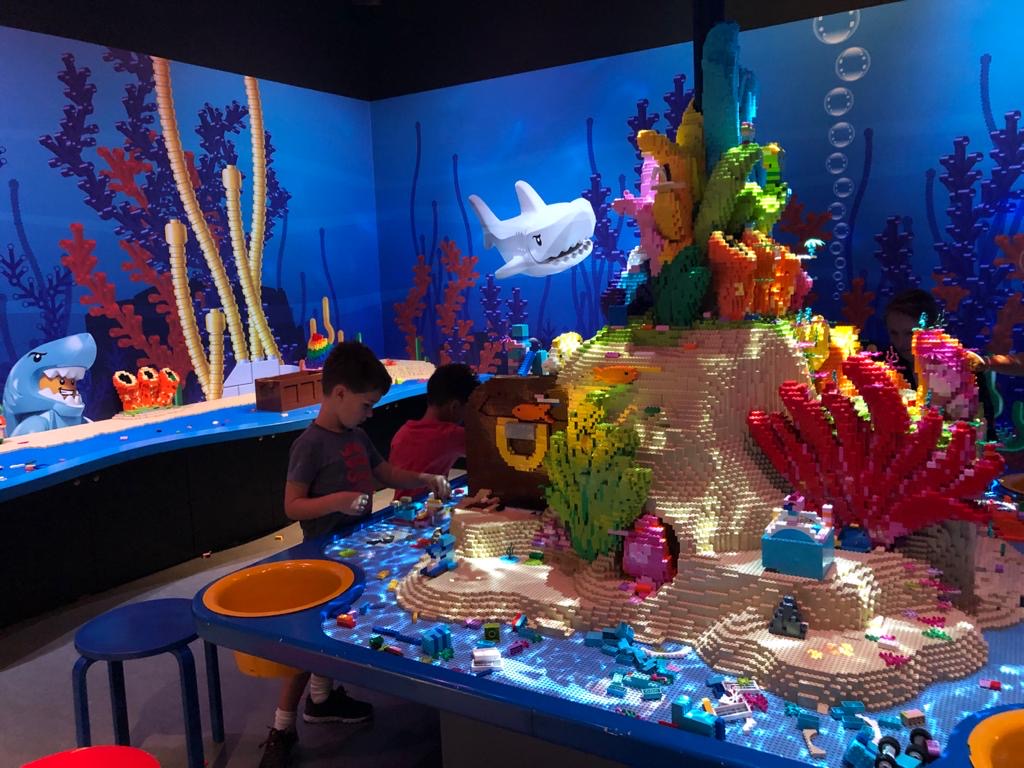 Visiting LEGOLAND Discovery Centre
Cost: Buy tickets online to save, adults and kids $27.60, kids under 2 free; family packages available; adults must be accompanied by a child to enter; buy tickets online here in advance 
Opening hours: Monday to Wednesday: 10am to 5pm; Thursday to Sunday: 9.30am to 6pm
14. Learn at the Melbourne Museum 
Some kids don't like museums very much. In fact, you're likely to hear a chorus of groans if you even suggest it. But Melbourne Museum is different and is one of the best things to do in Melbourne for kids. Not only does Melbourne Museum offer free entry to kids of all ages, it also has lots of exhibits and activities aimed directly at the smallest members of your family. 
For younger kids, you have the Children's Gallery, which is for children under the age of five. 
Older children will love the giant fossils on the Dinosaur Walk, the creepy crawlies in Bugs Alive!, and the bright stones in the 600 Million Years exhibit. They can also watch films at the IMAX theatre or wander through a forest in the middle of the city.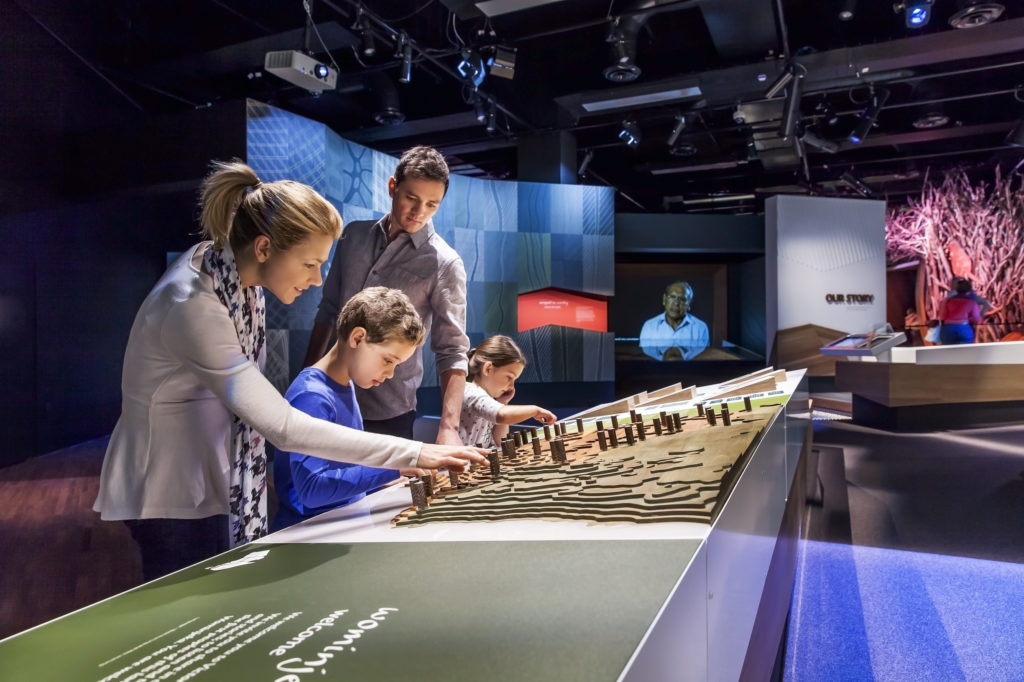 Visiting Melbourne Museum
Cost: Adults $15, kids up to 16 free
Opening hours: Open daily from 9am to 5pm, closed Good Friday and Christmas Day
15. Explore the world of television at ACMI
Do your kids love watching movies? Then take them to ACMI to learn more about them in interactive displays. They'll learn about how film is made and about its history without ever realising that they're learning at all. 
Located in Federation Square, ACMI features regularly changing 3D films as well as galleries that explore modern digital culture. Basically, ACMI is interactive enough to entertain the kids and interesting enough to have you thinking and asking questions too. One of the most entertaining things to do in Melbourne with family.
Visiting ACMI
Cost: Free – although some exhibits and cinema sessions have a cost, check the website for details 
Opening hours: Monday to Friday 12pm to 5pm, weekends 10am to 6pm
16. Take a ride on a historic steam train
You'll need your own car or you'll have to work out the public transport system to get out to Puffing Billy, but the delight on your kids' face will be worth the effort. This is definitely one of the most classic and beloved things to do for kids in Melbourne.
Located in Belgrave in Melbourne's east, the century-old steam train puffs its way through the stunning Dandenong Ranges, past lush ferns and huge Mountain Ash trees.
Make a day of it and explore a bit more of the Dandenong Ranges. You can take a day trip from Melbourne and hike through the national park, enjoy high tea and wander through the charming towns of Olinda and Sassafras.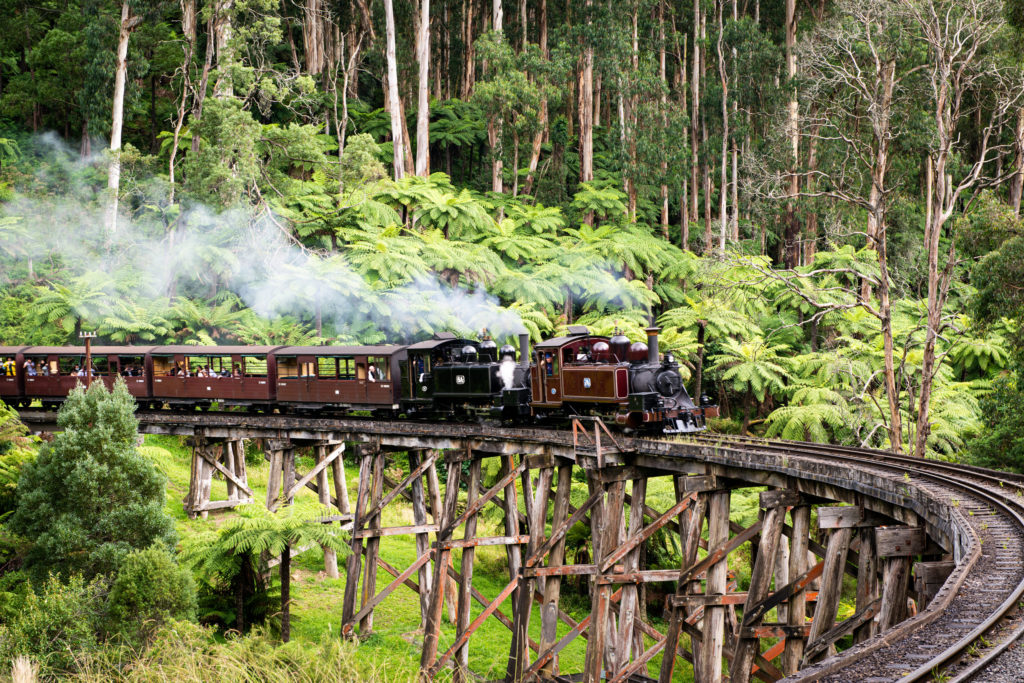 Visiting Puffing Billy
Cost: Prices vary, starting at around $31.50 for children, $61 for adults and $153.50 for families
Opening hours: Puffing Billy operates daily (except Christmas Day), check the timetable for details
17. Be wowed by the fireballs at Crown
You can hear the whoosh of the Crown fireballs from far away, and close up you'll feel the heat. 
Technically called the Gas Brigades, these 8 towers along Crown Casino in Southbank shoot fireballs into the night sky every night, wowing anyone waiting to see them – and shocking people who aren't expecting them!
They are quite loud, so this probably isn't a great activity for young kids who may scare easily.
NB. The Gas Brigades show is currently suspended.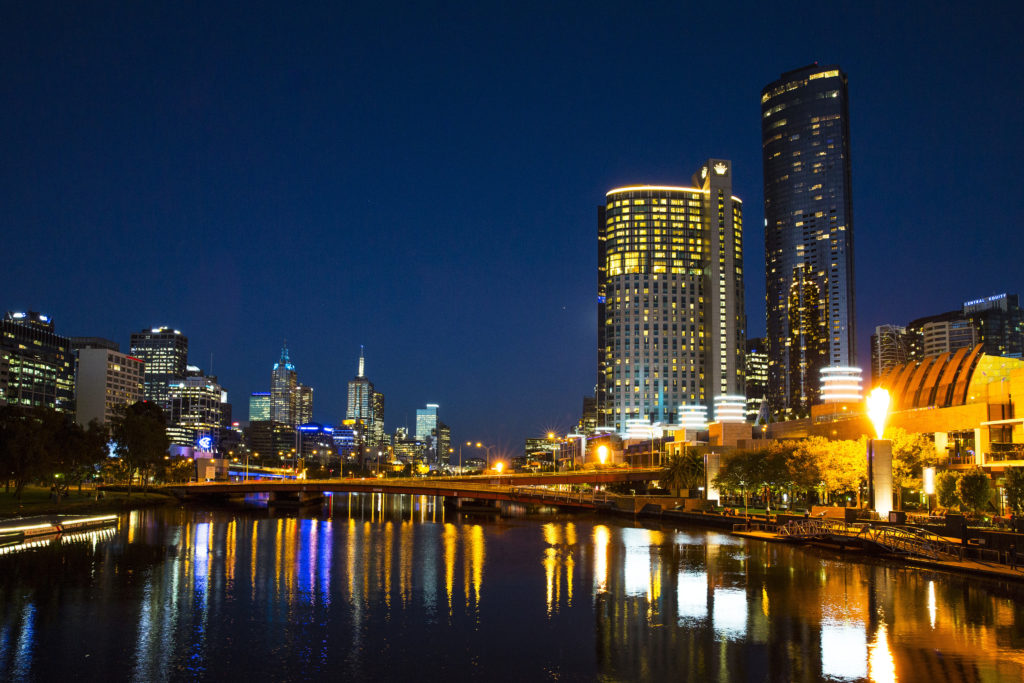 Watching the Gas Brigades
The Gas Brigades evening show is on the hour until midnight (Sunday to Thursday) and 1am (Friday and Saturday)
Starting times vary throughout the year:
From 1 December – first show at 9pm
From 1 March – first show at 8pm
From 1 April – first show at 6pm
From 1 October – first show at 8pm
Note that the show doesn't happen on days of Total Fire Ban.
18. Solve riddles on a Family Mystery Picnic
Kids who love solving riddles and puzzling over clues will love this Family Mystery Picnic. To get the delicious goodies that will make up your family's picnic, you'll need to solve each clue so that you can find the next shop holding your lunch items.
It's a fun way to gather your meal, before unwinding and enjoying it together in a mystery location. Read my Mystery Picnic Melbourne review for more info.
Booking a Family Mystery Picnic
---
If you were wondering what to do in Melbourne with kids, hopefully you've now got some ideas. Keeping the family occupied while you're in Melbourne is easy, because there are lots of things to do with kids in Melbourne. In fact, the only worry you'll have is trying to convince them that it's time to leave the city and head back home again!
PIN IT FOR LATER
Save this guide to the best things to do in Melbourne with kids so that you can plan your trip soon.