Melbourne is known for its live music scene, its amazing restaurants and its nightlife. But you don't have to leave the kids at home to enjoy this city. There are lots of things to do in Melbourne with kids if you just have a look around. And parents will probably end up enjoying most, if not all, of them as well. 
I'm not a parent myself, so I consulted a few experts (aka, my friends with little ones) for their thoughts on entertaining kids in Melbourne. Here's what they'll love doing, looking at, and even eating while you're visiting Melbourne with kids.
1. Explore the Royal Botanic Gardens
The Royal Botanical Gardens in Melbourne are huge, and you could spend days there. But even if your kids don't like trees or beautiful, open spaces, there are displays in the gardens that are designed precisely for restless young ones. 
The Ian Potter Foundation Children's Garden is one of the best things to do in Melbourne for kids who love to get messy. It offers lots of places to explore, like the Ruin Garden, plant tunnels and the kitchen garden.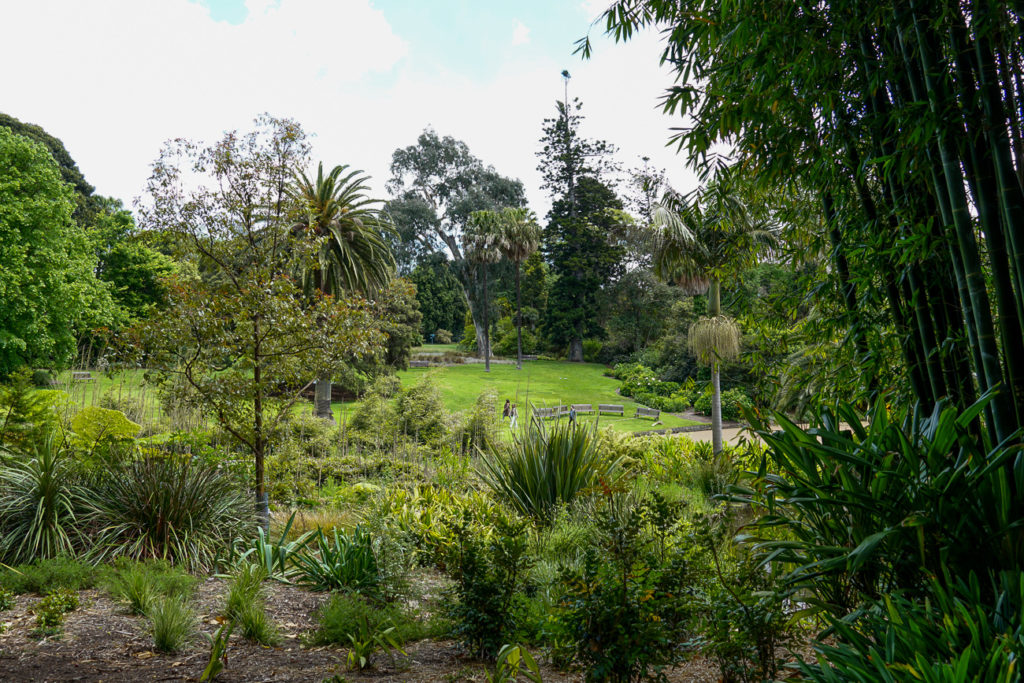 2. Spend a day at Luna Park 
Luna Park is one of the most fun activities in Melbourne for kids – and for adults who haven't quite left their childish excitement behind. 
As soon as your kids walk through the slightly nightmarish clown face at the entrance, they'll love the old-world carnival atmosphere and especially the junk food, which is available everywhere (I personally am a sucker for hot chips doused in vinegar). 
Luna Park offers roller coasters, of course, but there are also gentler, slower rides to suit every age group and courage level.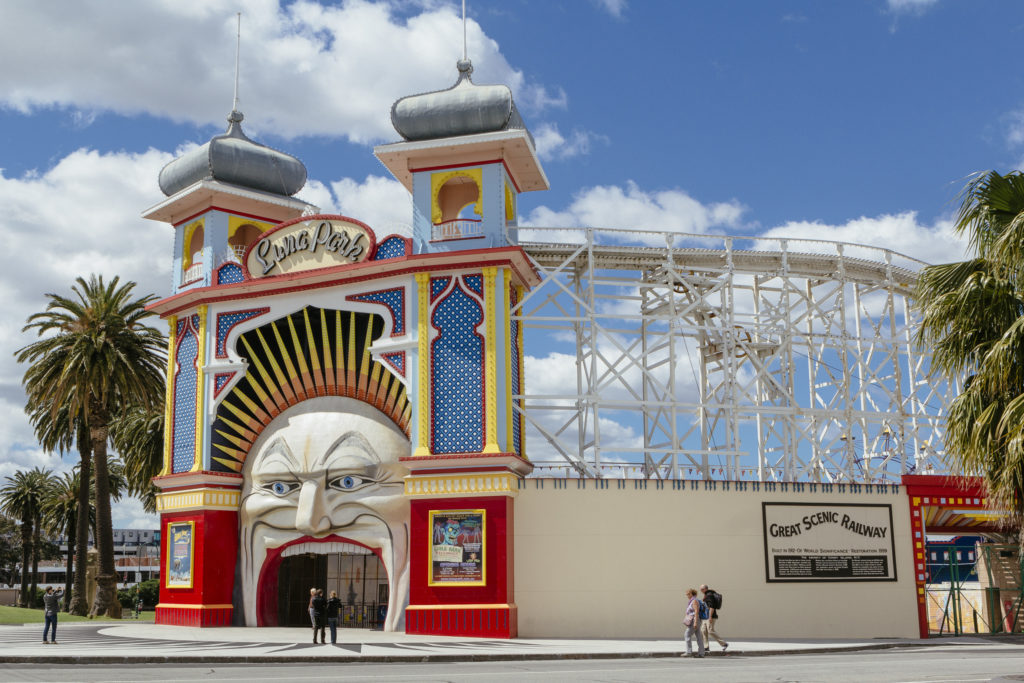 3. Encourage their inner artists at ArtPlay 
ArtPlay is an art space for kids up to the age of 13. It's located on the banks of the Yarra River near Federation Square, so it's easily accessible no matter where you're staying in Melbourne. 
At ArtPlay, you'll find a range of fun, creative workshops aimed at children. Your kids will learn to express themselves and burn up a lot of energy at the same time. There are also regular events aimed at kids as well as exhibits that will let them get up close and personal with the artwork. 
Classes at ArtPlay are popular though, so make sure you book your child's spot ahead of time. 
4. Cycle the Yarra River
If you have really active kids and want some activities for kids in Melbourne that will tire them out, why not cycle along the Yarra River with them? There are several places where you can hire bikes in the area so you can enjoy the shared bicycle and pedestrian path stretching from the CBD along the Yarra River. 
Along the way, you'll see the Royal Botanic Gardens and other attractions, so you can always stop if you're getting tired of cycling. The Burnley Bouldering Wall is a particularly good place to stop if you want to encourage your kids to burn even more energy. 
You can go as far as you want along the Yarra River, so it's ideal for little ones of all ages and ability. As a bonus, it will help you burn off all that amazing food that you're probably eating in Melbourne.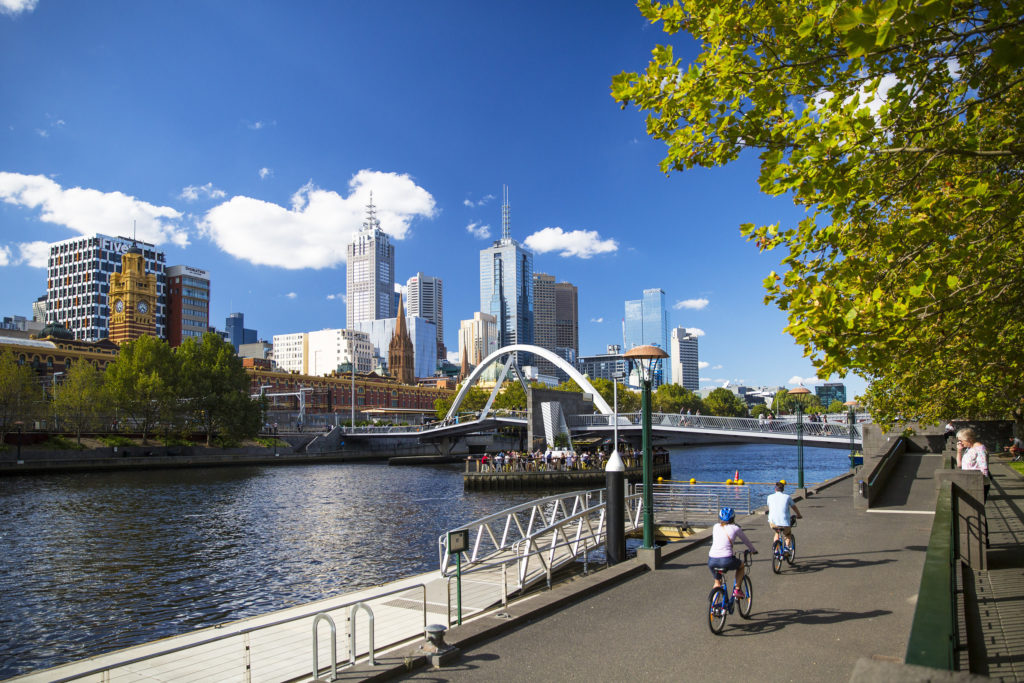 5. Have a splash at St Kilda Beach 
What kid doesn't love to hang out on the beach? St Kilda beach is just 20 minutes from the heart of the city. It offers long stretches of sand and lots of amenities close by where you can grab a snack or a drink. 
It also has gentle waves, so it's a safe place to let the kids enjoy some swimming. (Although Melbourne's beaches aren't as lovely as the beaches in other Aussie cities!)
And if you time it right, you can watch the sunset over the water. It truly is a magnificent sight.
6. Enjoy some child-friendly meals 
Melbourne is famous for its amazing food scene. The best part is that you don't have to resign yourself to lousy fast food just because you're here with the kids! One of the best family activities in Melbourne can be simply enjoying a meal together.
There are lots of restaurants and cafes that not only welcome kids, but cater to them specifically. Some restaurants go above and beyond the usual fare found on kids' menus (chicken nuggets, spaghetti bolognese). While the family is enjoying the atmosphere and the kids' food, you can snack on more adult delicacies. 
Some of the best child-friendly eating options in Melbourne are: 
Cowderoys Dairy for milky treats that even picky mouths will enjoy 
Republica for a meal on the beach before you see the penguins
Mr Wolf for pizza and a dedicated kids' menu
Easey's to thrill the kids with eating burgers in a train on top of a building
Transport Public Bar, for a kid-friendly menu in a place the adults can relax with a drink
Emporium food court, for when everyone wants something different – you'll find plenty of food options here from sushi to sandwiches to Italian
Koko Black for a chocolatey pick-me-up (I'm personally a fan of their rich, velvety hot chocolate)
Dumplings in Chinatown – take your pick from all the yummy restaurants
7. See the penguins at St Kilda Pier 
How many kids don't like penguins? In fact, how many people – children and adults – don't think that these flightless, waddling birds are absolutely adorable? 
You probably don't think of penguins in a big city, but penguin watching is one of the most popular things to do in Melbourne with kids. 
Head down to St Kilda Pier just before sunset and you'll be treated to the sight of a colony of penguins heading home after a long, hard day of fishing. It's free and the kids will fall in love. (Check out more free things to do in Melbourne.)
8. Get them thinking at Scienceworks 
While Scienceworks is a little way from the Melbourne CBD, the range of interactive exhibits for kids makes the trip worthwhile. It will keep them occupied for hours and sneaks in a little learning at the same time. It's also a great kids indoor activity in Melbourne if the weather isn't so great. (Check out the best time to visit Melbourne and my guide to indoor activities in Melbourne for when it's raining.)
If you have younger kids, they'll love the learning, storytelling, and shows at Little Kids' Day In as well as the exhibits at the Ground Up: Building Big Ideas Together display. 
Older kids can explore the universe at the Planetarium or learn about energy at the Lightning Room Game Show. 
No matter what their age or what your child is interested in, Scienceworks has an exhibit that will excite their inquisitive little minds!
9. Take tricky pictures at ArtVo 
Have you ever been to a trick museum? These museums have galleries of famous paintings or scenes where you can actually become a part of the image. And now the fun has come to Australia, which is why ArtVo is one of the best things to do in Melbourne with kids. 
ArtVo in Melbourne stretches over 1,400 square metres and has more than 11 themed zones to discover. Even the most jaded child will find it amusing to take the strangest pictures possible, and you'll enjoy looking at the photos as a memento for years to come.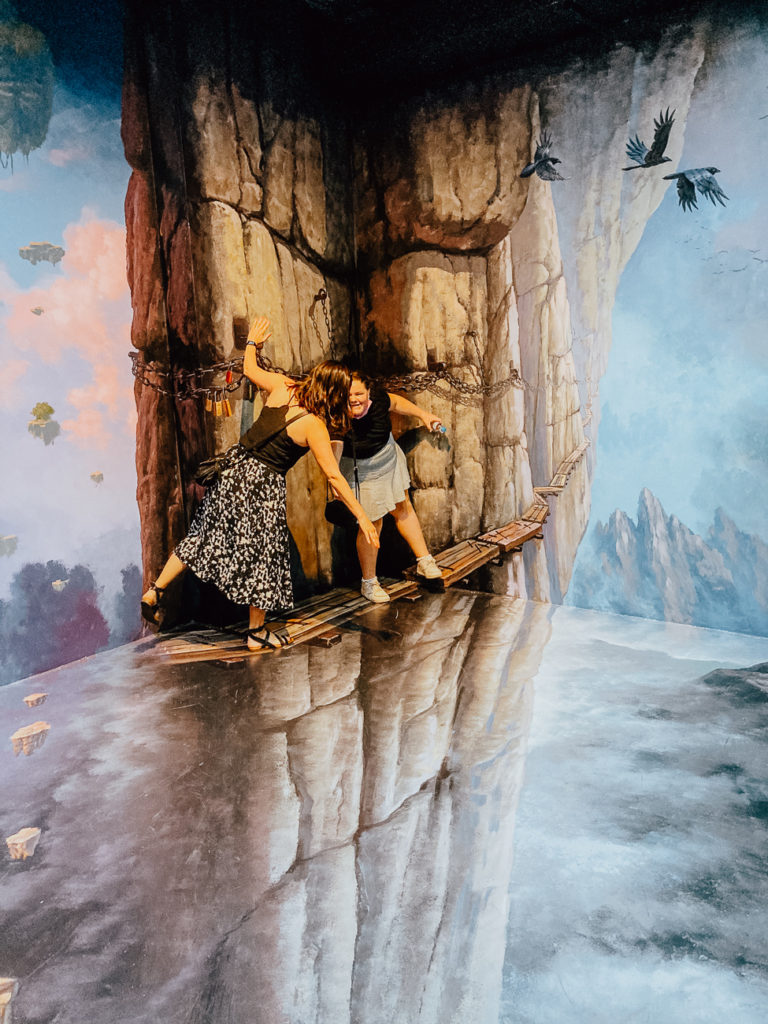 10. Spend a morning at Southbank 
Sometimes when you're on holiday, all you want to do is wander, people watch, and find relaxing places to have a drink and a snack. And that's exactly what you'll be able to do at Southbank, which is why it's one of the best things to do in Melbourne with kids. 
Located south of the Yarra River, Southbank is an area full of cafes and culture. As you wander along, you'll be able to stop and listen to buskers and street performers and have a cool drink overlooking the water at a cool café. Basically, Southbank is the ideal destination for a lazy afternoon with kids. 
11. Get sporty at the Australian Sports Museum 
Melbourne has a vibrant sports scene, so don't think you'll get away with not exploring it while you're in the city! The Australian Sports Museum is located inside the Melbourne Cricket Ground (the MCG) and it's highly interactive and designed to engage everyone. 
The museum is home to the largest collection of sporting memorabilia in Australia as well as 3D holograms of AFL stars. Almost everything at the museum is interactive, so your kids will get to kick, throw, and play their way through the biggest moments in sport. 
You can even tack on a tour of the MCG while you're there.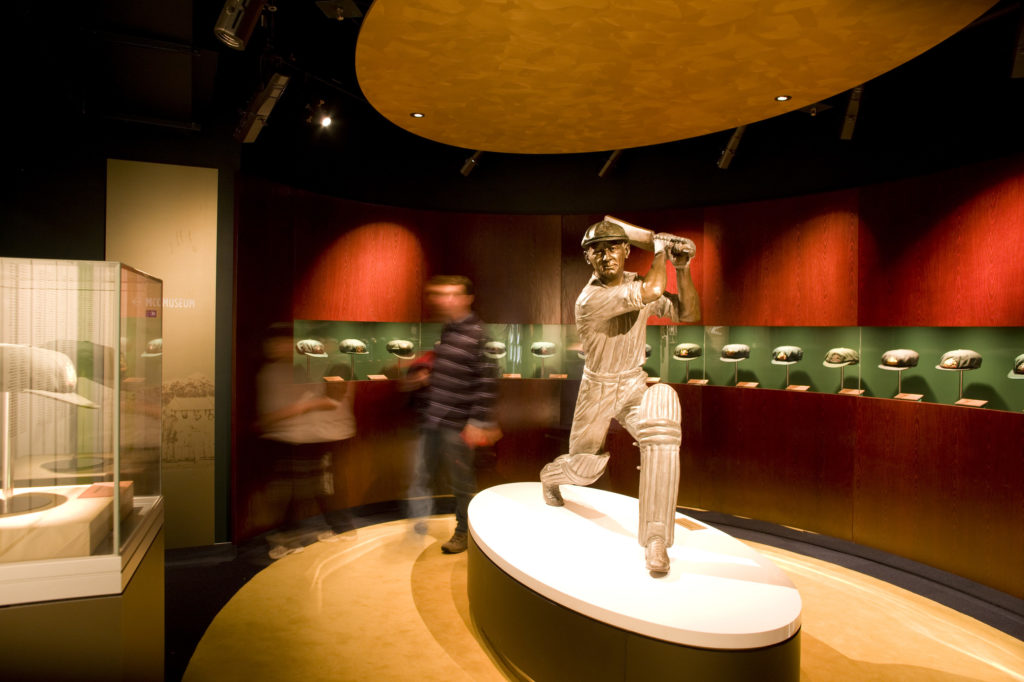 12. Have a bounce
For an hour of sheer kid-style adrenalin, take the family to one of the trampoline parks that are springing up around the city. Some of them are huge and offer not only rooms full of trampolines, but other activities like rock climbing, obstacle courses, and indoor play centres for very young children. 
Some of the best trampoline parks in Melbourne are: 
13. Build at the LEGOLAND Discovery Centre
LEGO's popularity has exploded throughout the world in the last few years, so you might enjoy the LEGOLAND Discovery Centre as much as your kids do. 
Located in Chadstone in Melbourne, it boasts a 4D cinema, build and play zones, and an indoor playground and rides. While you're there, you can also see a tiny Melbourne at MINILAND or enrol your kids in some workshops. This is one of the fun things to do in Melbourne with toddlers, but also older kids.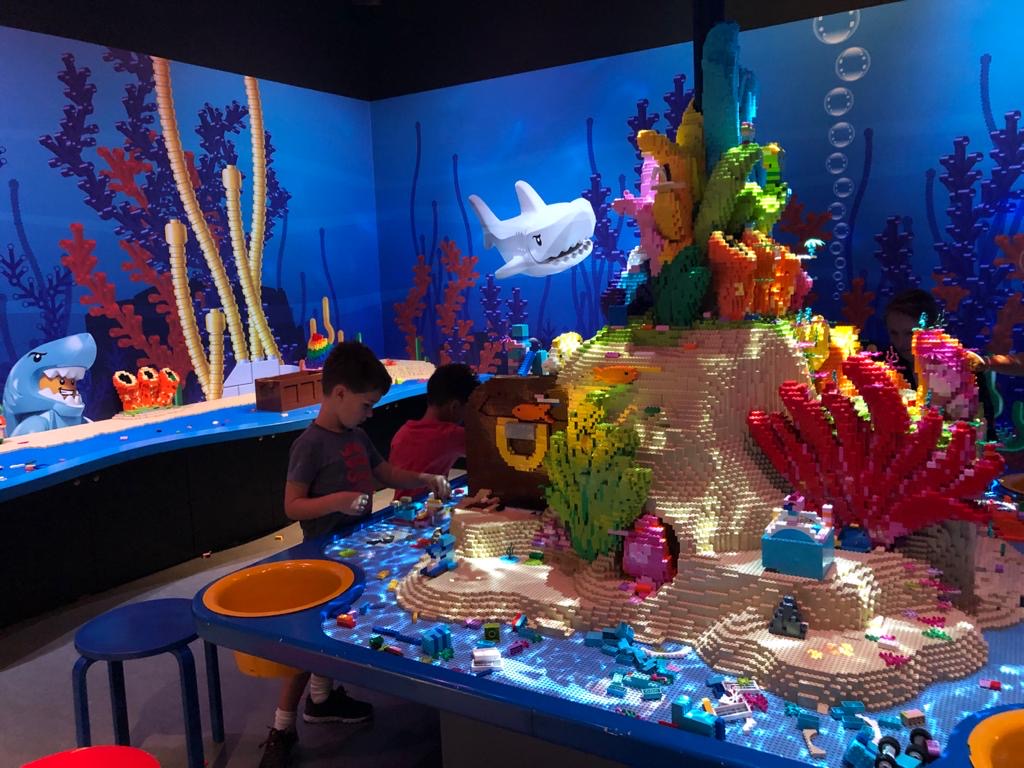 14. Learn at the Melbourne Museum 
Some kids don't like museums very much. In fact, you're likely to hear a chorus of groans if you even suggest it. But Melbourne Museum is different and is one of the best things to do in Melbourne for kids. Not only does Melbourne Museum offer free entry to kids of all ages, it also has lots of exhibits and activities aimed directly at the smallest members of your family. 
For younger kids, you have the Children's Gallery, which is for children under the age of five. 
Older children will love the giant fossils on the Dinosaur Walk, the creepy crawlies in Bugs Alive!, and the bright stones in the 600 Million Years exhibit. They can also watch films at the IMAX theatre or wander through a forest in the middle of the city.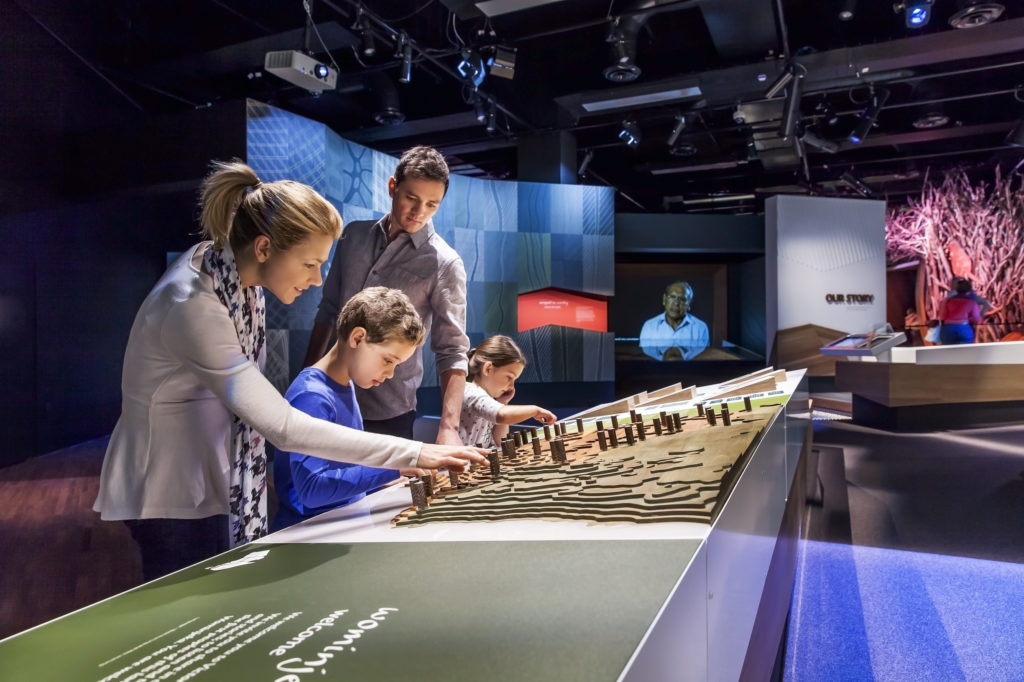 15. Explore the world of television at ACMI
Do your kids love watching movies? Then take them to ACMI to learn more about them in interactive displays. They'll learn about how film is made and about its history without ever realising that they're learning at all. 
Located in Federation Square, ACMI features regularly changing 3D films as well as galleries that explore modern digital culture. Basically, ACMI is interactive enough to entertain the kids and interesting enough to have you thinking and asking questions too. One of the most entertaining things to do in Melbourne with family.
16. Take a ride on a historic steam train
You'll need your own car or you'll have to work out the public transport system to get out to Puffing Billy, but the delight on your kids' face will be worth the effort. This is definitely one of the most classic and beloved things to do for kids in Melbourne.
Located in Belgrave in Melbourne's east, the century-old steam train puffs its way through the stunning Dandenong Ranges, past lush ferns and huge Mountain Ash trees.
Make a day of it and explore a bit more of the Dandenong Ranges. You can take a day trip from Melbourne and hike through the national park, enjoy high tea and wander through the charming towns of Olinda and Sassafras.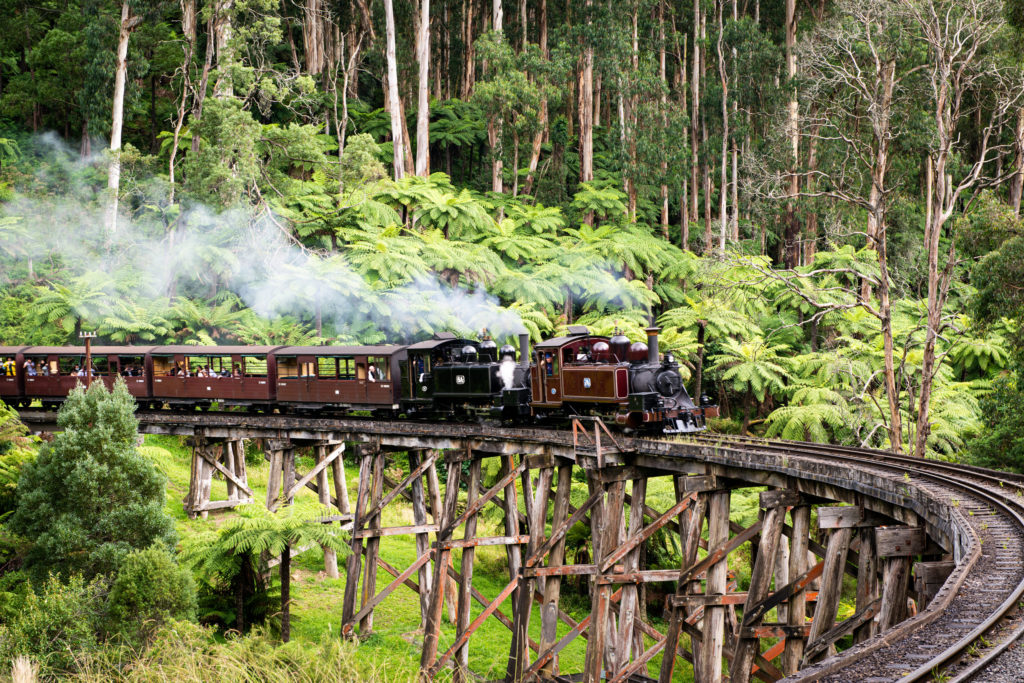 17. Be wowed by the fireballs at Crown
You can hear the whoosh of the Crown fireballs from far away, and close up you'll feel the heat. 
Technically called the Gas Brigades, these 8 towers along Crown Casino in Southbank shoot fireballs into the night sky every night, wowing anyone waiting to see them – and shocking people who aren't expecting them!
They are quite loud, so this probably isn't a great activity for young kids who may scare easily.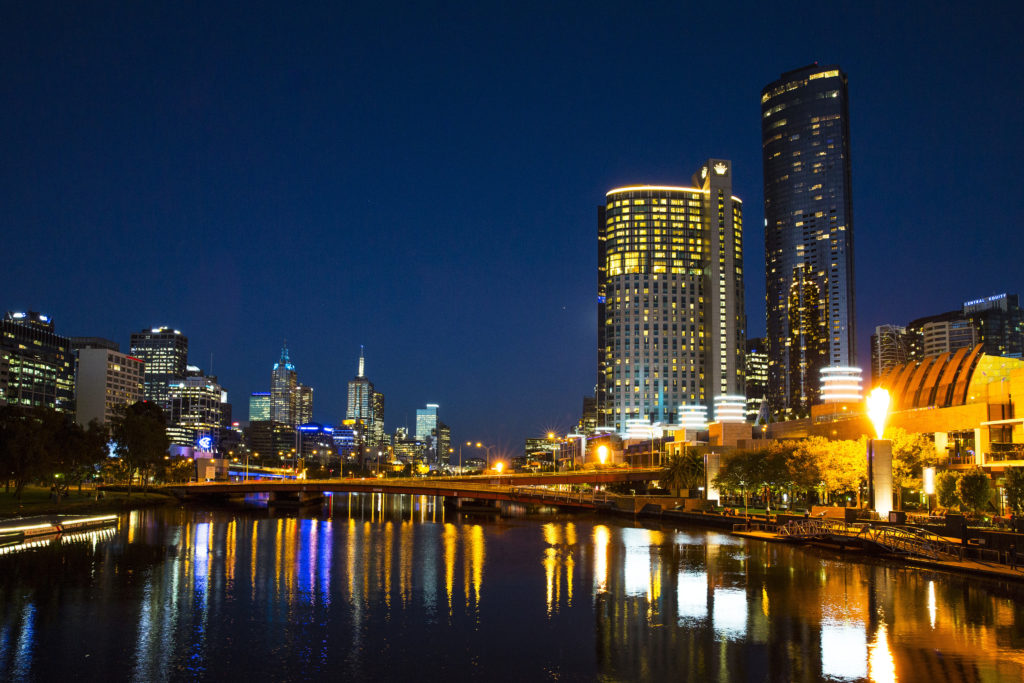 18. Solve riddles on a Family Mystery Picnic
Kids who love solving riddles and puzzling over clues will love this Family Mystery Picnic. To get the delicious goodies that will make up your family's picnic, you'll need to solve each clue so that you can find the next shop holding your lunch items.
It's a fun way to gather your meal, before unwinding and enjoying it together in a mystery location. Read my Mystery Picnic Melbourne review for more info.
19. Look for fairies
Another fun thing to do in Melbourne with kids is to visit the Fairies Tree at the Fitzroy Gardens. This whimsical tree is a must-see for children and adults alike. It was carved in the early 1930s by artist Ola Cohn and features intricate carvings of fairies, gnomes, and other woodland creatures.
Beyond the Fairies Tree, Fitzroy Gardens has plenty of other activities for families. There's a playground, a conservatory with a variety of plants, and even a miniature Tudor village. It's also a great place for a picnic with the kids.
Fitzroy Gardens is conveniently located at the top end of Melbourne, easily accessible by public transport or on foot, depending on where you're coming from. It's a great way to spend a nice day outside with your kids, and who knows – they might even learn a thing or two about nature and conservation along the way.
20. Hang out at the NGV
For kids of all ages, NGV Kids connects them to creative experiences. Pick up some of the activity sheets that accompany kids' exhibitions or check out what family events are on. If they love their experience, they can even continue the fun at home – the NGV website has plenty of videos, games and online activities.
During the school holidays, the NGV is the place to go to keep your kids busy. They put on workshops and activities designed specifically for kids and teenagers, including immersive experiences that explore a variety of topics from fashion design, printmaking, and ceramics, to coding, robotics and 3D printing – they change from year to year so it's something you can keep taking your kids back to every school holiday period.
Best of all, the NGV is free to visit, so you can experience all the art and culture Melbourne has to offer without breaking the bank. (I have more ideas for cheap things to do in Melbourne to save money!)
21. Get your skates on
For kids who like to keep active, head to O'Brien Icehouse. This indoor ice rink, located in the Docklands, is a favourite among families and for good reason.
Even if you've never stepped on the ice before, fear not. O'Brien Icehouse offers skating aids to help younger kids and beginners get started. And for more experienced skaters, there's plenty of room to practice and show off your moves.
O'Brien Icehouse offers more than just ice skating. With ice hockey programs, figure skating lessons and even curling, it's a great place to try something new with your kids and experience the thrill of sliding (and slipping over!) on the ice.
There's a café on site, so you can warm up with some hot coffee or a snack while watching your kids glide on the ice.
I recommend going on a Tuesday night where prices drop dramatically – and always buy your tickets online as they're cheaper than purchasing at the rink!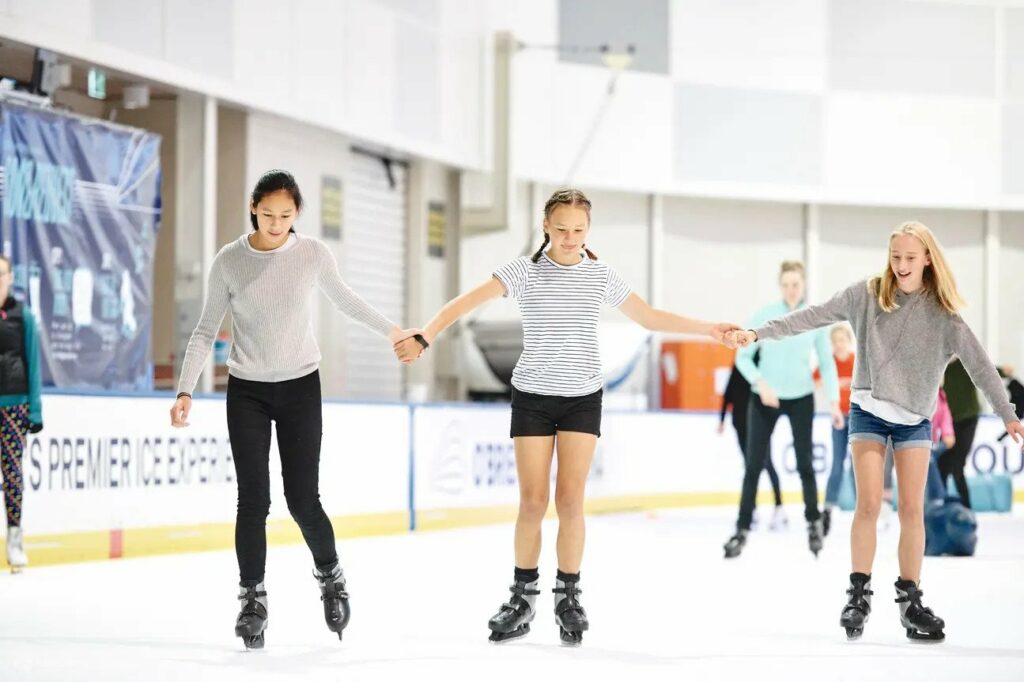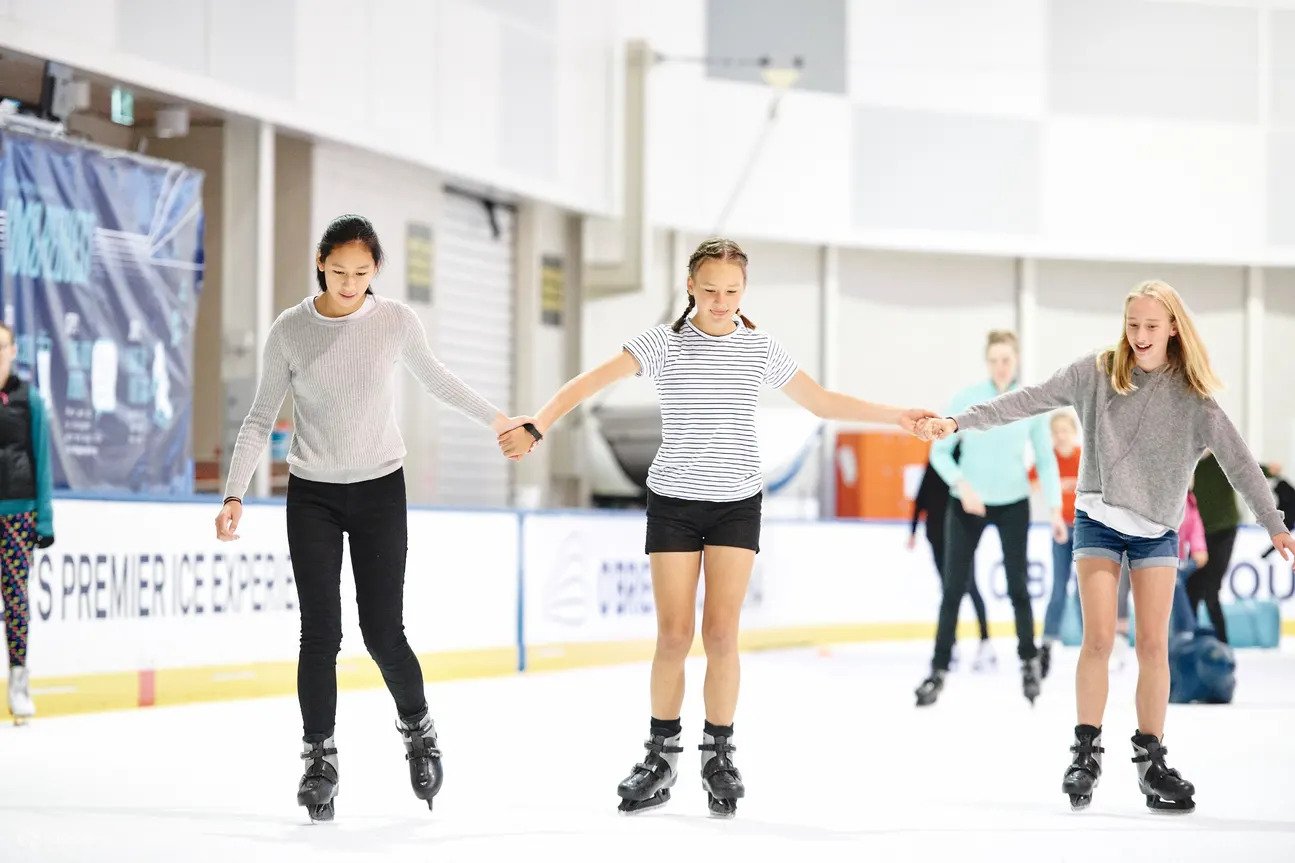 22. Play mini golf
One activity that is sure to be a hit with kids and adults alike is mini golf. Two of the best places to play mini golf in Melbourne are Glow Golf and Holey Moley.
Located in the Docklands, the entire course at Glow Golf is lit up with black lights, and all the obstacles and decorations glow in neon colours, creating a surreal and magical atmosphere – you'll feel like you're playing mini golf in outer space! Make your way through each hole, navigating around aliens, planets, and other cosmic obstacles.
Holey Moley, on the other hand, is located in the CBD and has a more traditional mini-golf vibe – with a twist. The course is filled with pop-culture references, featuring themes like Game of Thrones, The Simpsons and even Stranger Things.
Note that kids are allowed at Glow Golf at any time of the day, while kids under 18 are only able to play at Holey Moley up until 5pm due to liquor licensing laws.
23. See some farm animals
Located a stone's throw away from the hustle and bustle of the city, the Collingwood Children's Farm is a gem that offers city kids the opportunity to get up close and personal with farm animals and connect with nature.
The farm covers 7 hectares and is home to cows, goats, sheep, chickens, horses, ducks, and pigs. Your kids can learn about these animals, feed them and even help put them to bed. They can also take part in seasonal activities such as sheep shearing demonstrations, cow milking, and egg collecting – check the website for what's going on.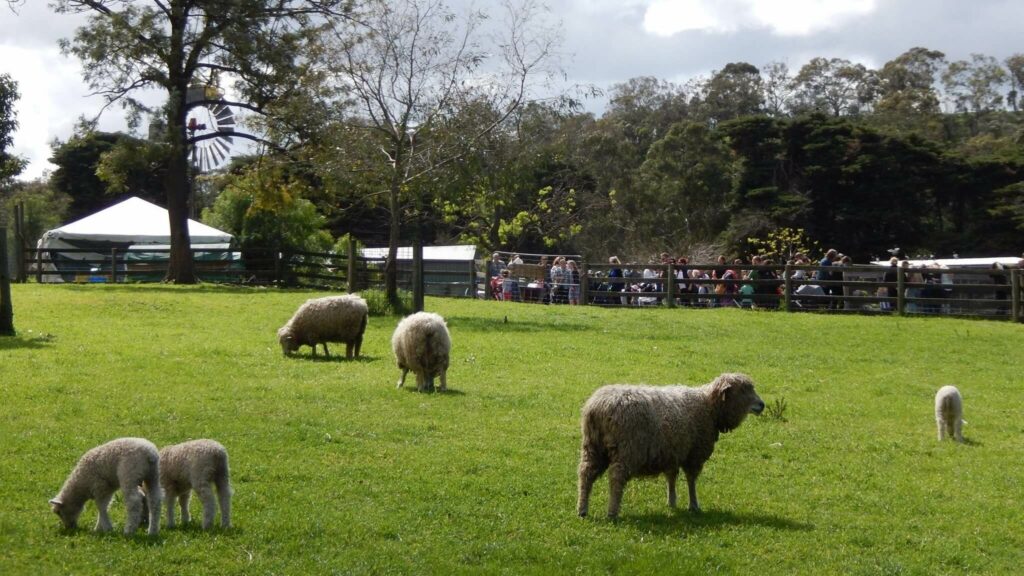 24. Check out street art
Melbourne is known worldwide for its vibrant and ever-changing street art and graffiti scene – it's like a constantly evolving outdoor art gallery that's always open and free. And while it's usually adults who can be found snapping Instagram pics of graffiti, checking out the city's street art can also be a fun thing to do with kids.
One of the coolest things about street art in Melbourne is that it's constantly changing. Artists regularly update their work, and new pieces pop up all the time. So, even if you've visited a laneway before, there's a good chance that you'll see new art the next time you go back.
But street art is not just about aesthetics, it's also a great way to teach your kids about social issues, history and artistic expression. You can also use it as an opportunity to talk to them about respecting public property and the difference between legal and illegal graffiti!
Hosier Lane is the most famous street art laneway in Melbourne, located in the heart of the CBD, while AC/DC Lane – named after the famous Aussie band – is a narrow lane off Flinders Lane, full of music-inspired murals and stencils. Your kids will love the bright colours and the overall gritty vibe.
Whether your family loves art or not, checking out the street art scene in Melbourne is a must-do activity. It's a cheap, fun and engaging way to explore the city's unique culture and creativity with your kids.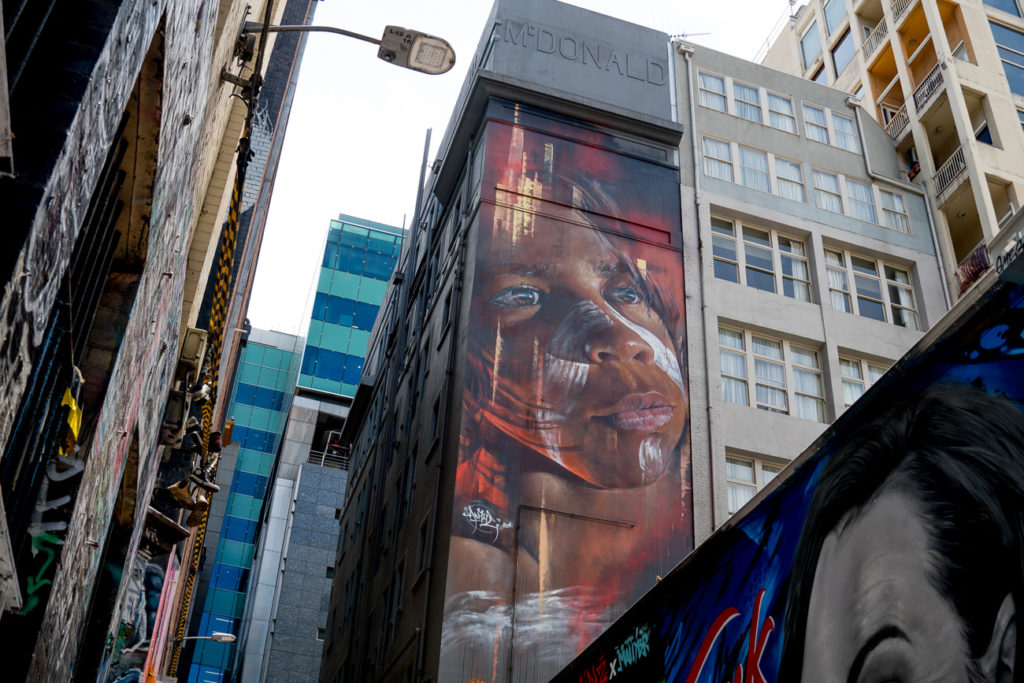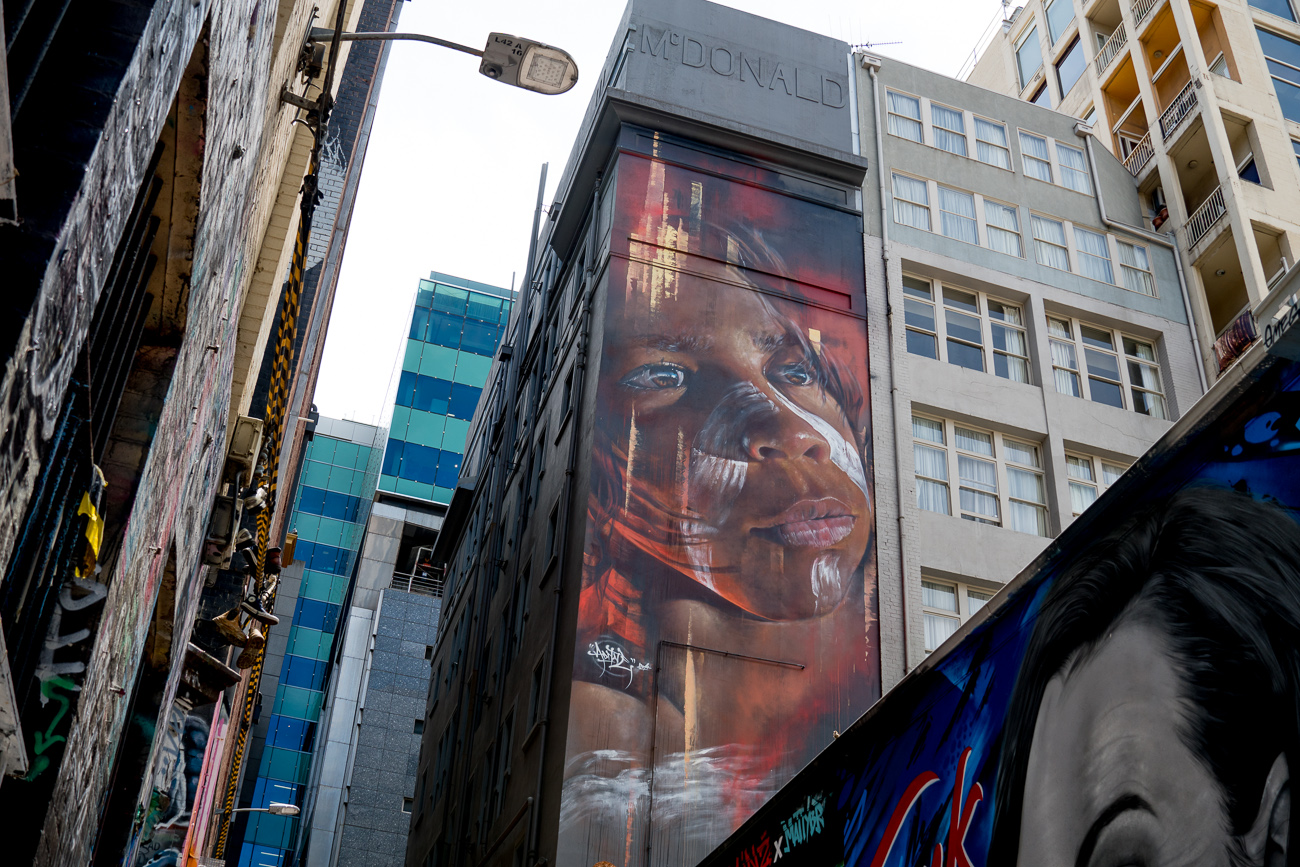 25. Ride the City Circle tram
If you're looking for a fun and unique way to explore Melbourne with your kids, then riding the City Circle tram should definitely be on your list. This free tram service operates in a loop around the CBD, taking you past some of the city's most iconic landmarks and attractions.
The tram passes by major attractions like the Melbourne Aquarium, the Princess Theatre, the State Library of Victoria and Melbourne Central Shopping Centre. Your kids will get a chance to see these landmarks up close and learn more about Melbourne's history and culture via the onboard commentary.
The City Circle trams are vintage W-class carriages that have been restored to their original glory. Riding the tram feels like stepping back in time, and your kids will love the novelty of it all.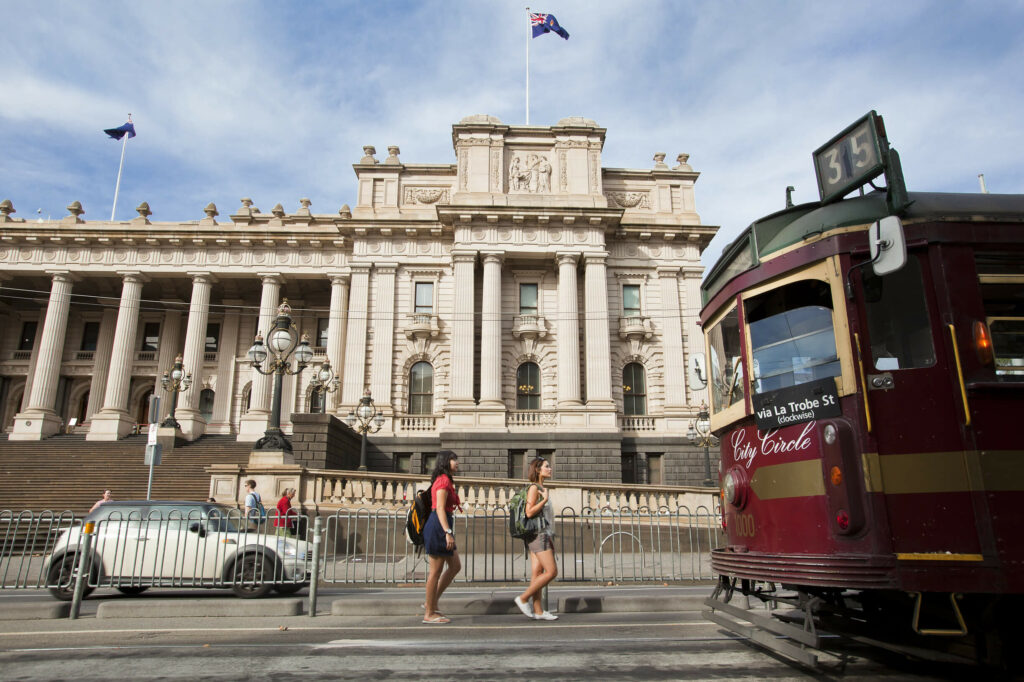 26. Take a cruise on the river
The Yarra River is the heart of Melbourne, and there are few things more relaxing or enjoyable than taking a leisurely boat ride down the Yarra. It's an experience that kids will love.
There are a number of operators offering river cruises, ranging from short sightseeing tours to longer dinner cruises. Some of the most popular cruises take in the city's iconic landmarks such as Flinders Street Station, the Royal Botanic Gardens and Federation Square.
Your kids will get a chance to see Melbourne from a different angle and appreciate its natural beauty. Your onboard guide will most likely share interesting facts and stories about the city's development, making it an educational experience for your kids, too.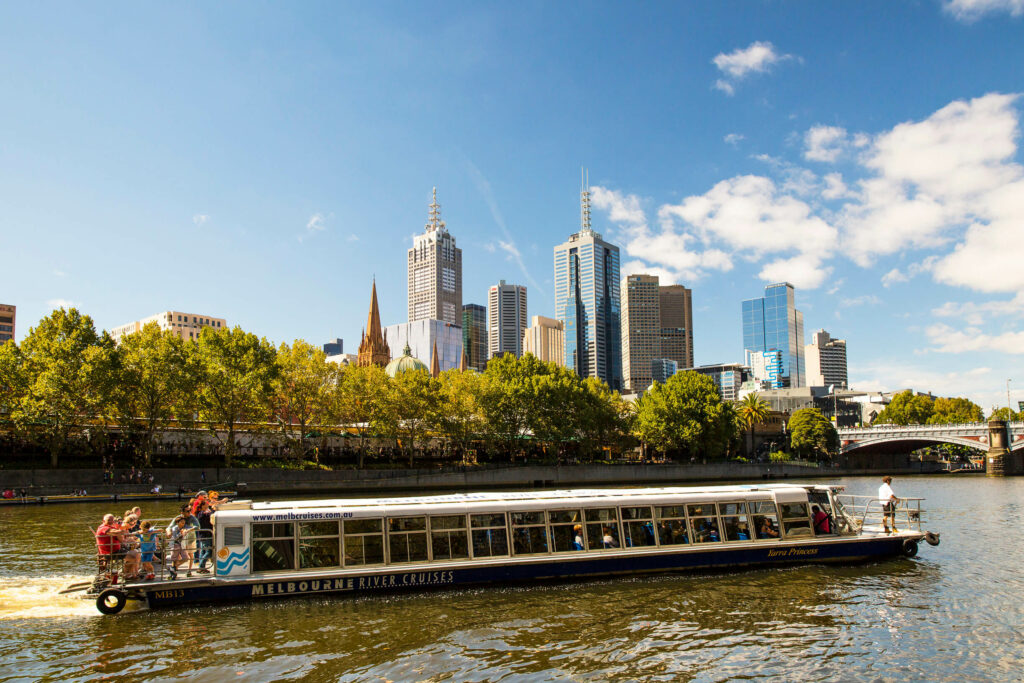 27. Head up 300 metres for amazing views
For kids who aren't afraid of heights, take them up to the observation deck of Melbourne Skydeck. Located on the 88th floor of the Eureka Tower – the third tallest building in the Southern Hemisphere – up here you're almost 300 metres above the ground!
Your kids will love the incredible experience of ascending 297 metres in under 40 seconds in one of the fastest elevators in the world. And once you're at the top, the panoramic views are simply jaw-dropping. Don't forget the camera.
The Skydeck offers 360-degree views, and on a clear day, you can see up to 80 kilometres away. Your kids will be able to see some of Melbourne's most iconic landmarks such as the MCG and the Shrine of Remembrance. At nighttime in Melbourne, the skyline lights up as the city goes dark.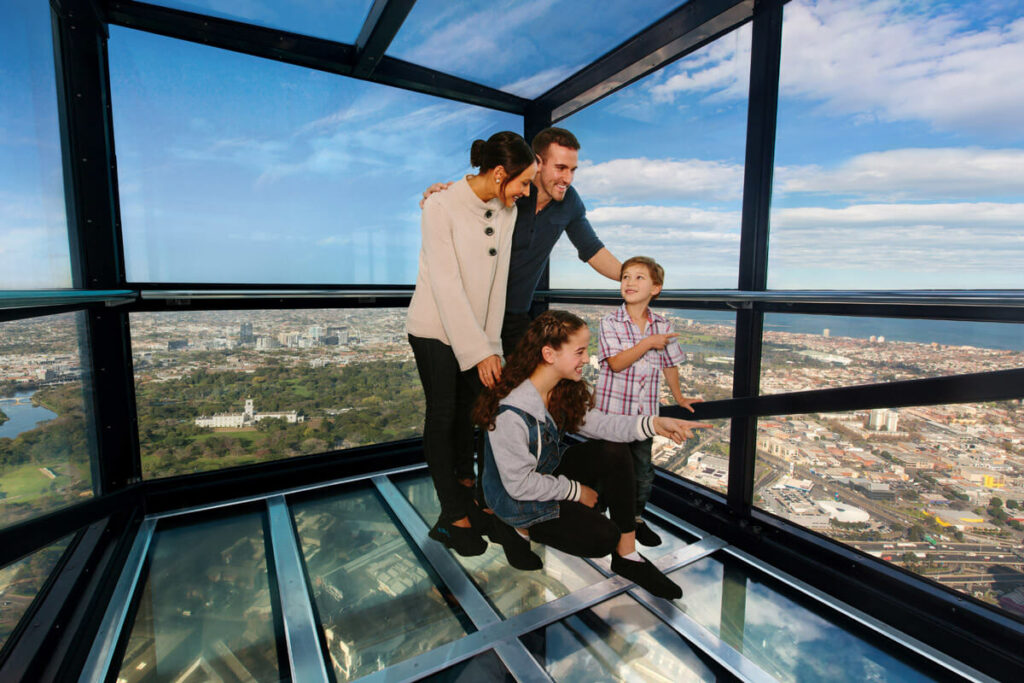 28. Learn about history at the Old Melbourne Gaol
If your family loves history, consider a trip to the Old Melbourne Gaol. This former prison is now a museum that allows visitors to learn about Melbourne's fascinating past.
The gaol was operational for over 70 years and housed some of Australia's most infamous criminals, including the notorious bushranger Ned Kelly. Your kids will love the spooky and eerie atmosphere of the gaol, as well as the exhibits that bring its history to life.
Your family can take guided tours to explore the prison cells, the gallows and the exercise yard. You can sit in the governor's chair and imagine what it would have been like to be in charge of such a tough institution.
Given the sometimes-scary content at the museum, there are age restrictions, so check these before booking.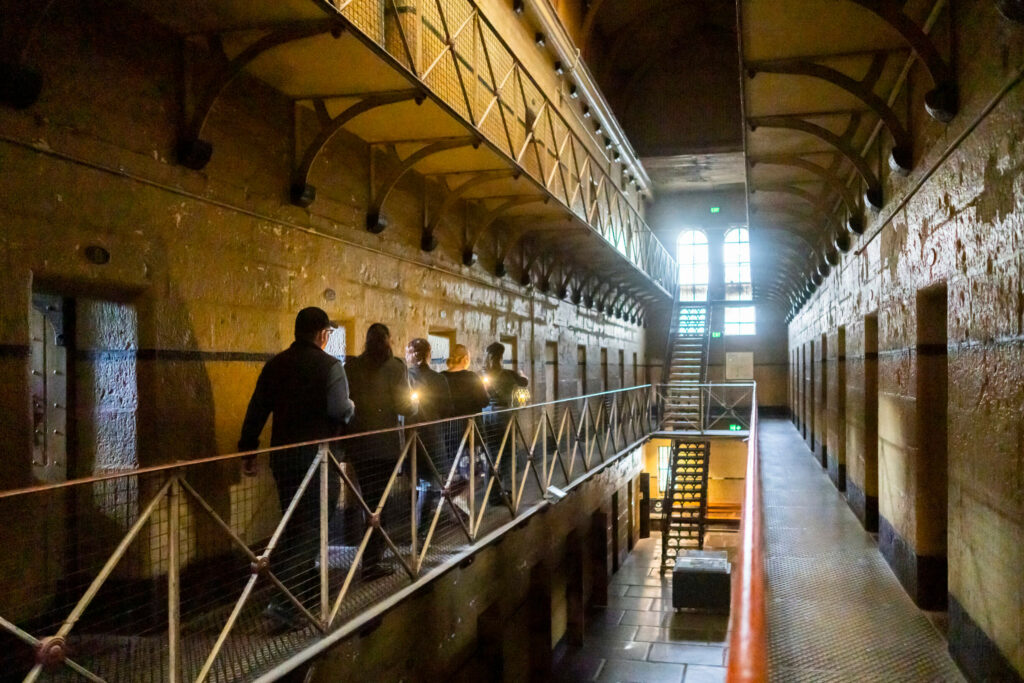 29. Play some games in an ice bar
If you're looking for a unique and fun experience to enjoy with your kids while in Melbourne, consider visiting IceBar Melbourne.
Yes, it may be a bar with ice-cold temperatures (a great way to escape the heat of summer in Melbourne!), but there's also a variety of games and activities to keep your kids entertained for the hour or so that you'll be inside. Along with Connect 4 and air hockey, there's also an ice throne that makes for a great photo opportunity.
While the kids play, the adults can relax with a drink in hand. The bar serves up a variety of cocktails and mocktails served in glasses made of ice, adding to the Arctic experience.
And don't worry, the bar provides warm coats and gloves to keep everyone comfortable!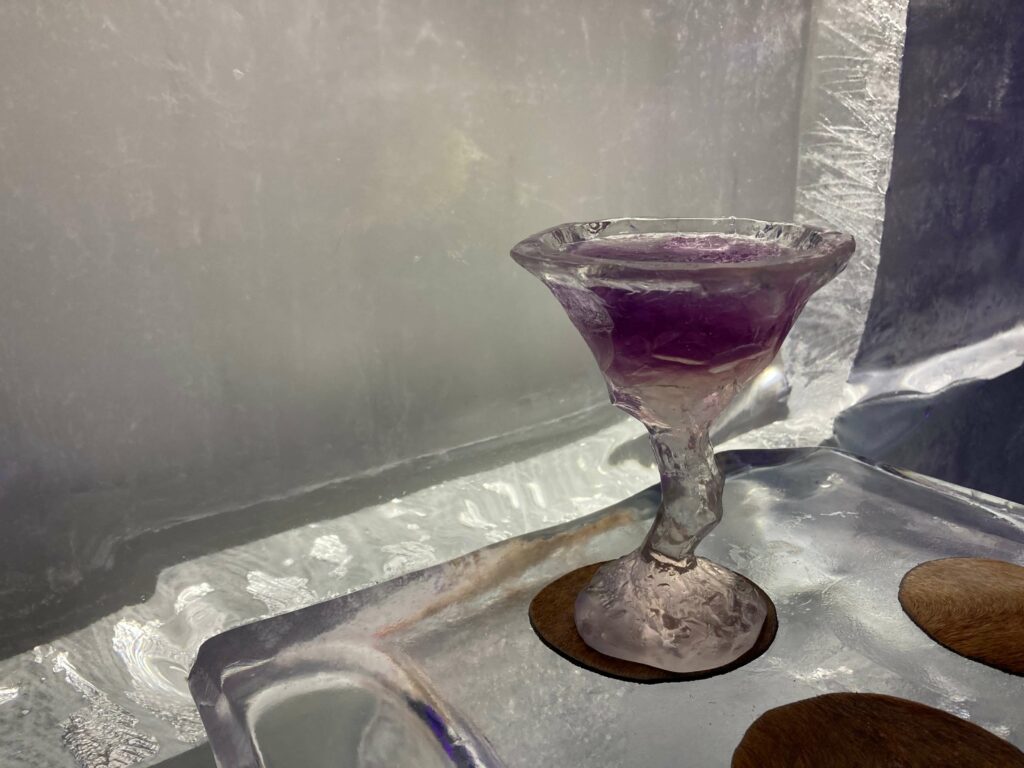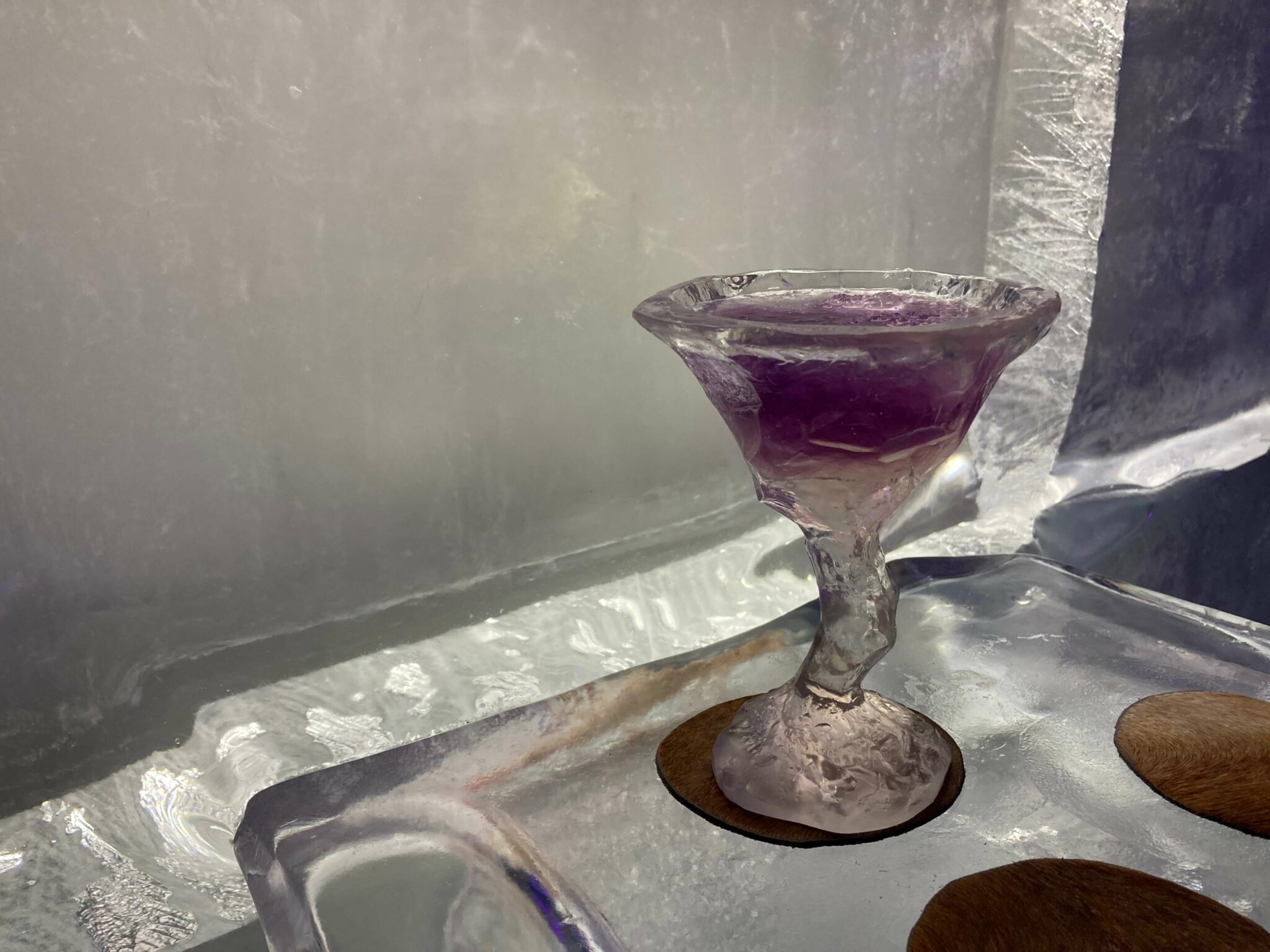 30. Watch a movie at IMAX
For a fun and educational activity to do with your kids in Melbourne, we highly recommend checking out IMAX Melbourne.
With its massive screen and state-of-the-art sound system, the IMAX experience immerses you in the movie like no other theatre can. And, with a wide variety of educational and entertaining films to choose from, there's something for everyone. Whether your kids are interested in animals, space or superheroes, they're sure to have a blast at IMAX Melbourne.
No need to settle for a regular movie theatre when you can take your family to IMAX!
31. Enjoy High Tea
If you're looking for a special treat for you and your kids, why not try high tea in Melbourne? This elegant and sophisticated tradition will be a memorable experience.
In Melbourne, you can find a variety of cafés, hotels and restaurants that offer high tea, but some of the most popular places include The Langham, The Hotel Windsor and The Tea Room at the NGV. Many of these also put on specially themed high tea events to coincide with children's theatre productions and other events.
32. See Little Penguins at Phillip Island
When it comes to family-friendly activities in Melbourne, going to Phillip Island to see the Little Penguins is an experience that simply cannot be missed. Of course, it's not in Melbourne, but it's definitely worth getting out of the city to see these adorable creatures – the smallest species of penguins in the world.
There's nothing quite like seeing these cuties waddle out of the water and onto the shore to return to their burrows as part of their nightly ritual.
The Phillip Island Penguin Parade is run by Phillip Island Nature Park, which does amazing things for conservation, so getting out here is also a great opportunity to teach your kids about environmental conservation and the importance of protecting vulnerable wildlife.
There's no flash photography allowed during the Penguin Parade, so please do respect all the rules and follow the guidance of the rangers.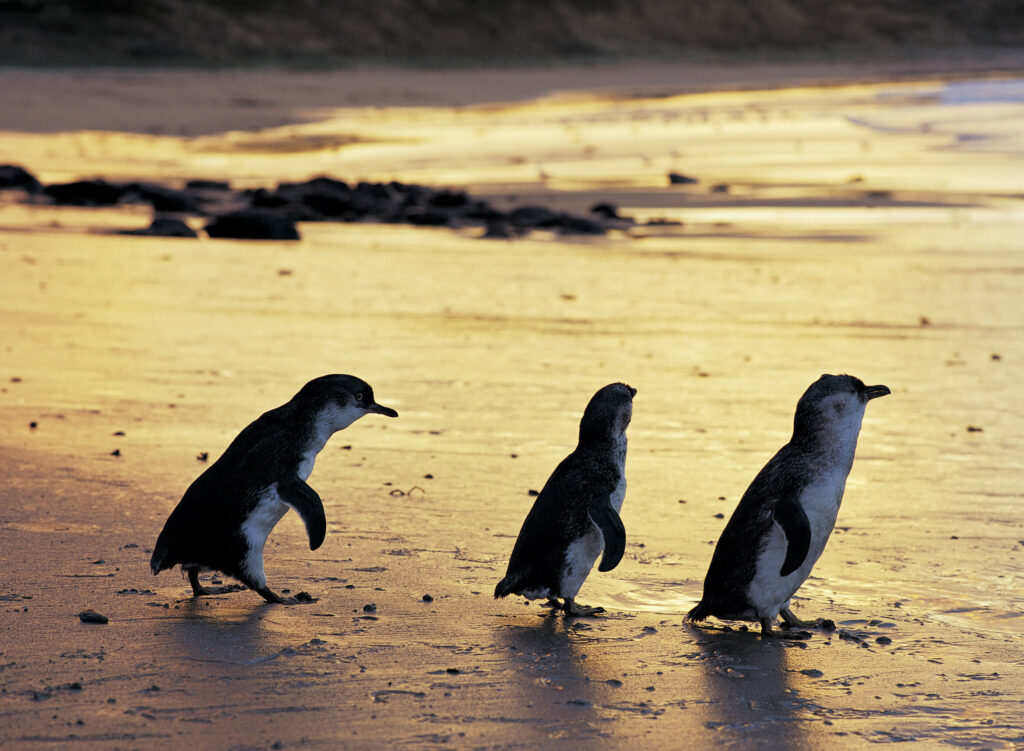 33. Pretend to be a pirate
Moored in the city's South Wharf precinct is the Polly Woodside, a ship built in Ireland in the late 1800s. And very third Sunday of the month, it's your kids' chance to become a pirate.
Kids are encouraged to dress up and then come aboard to scrub the deck, play on the rope swing, join the treasure hunt and get a (washable!) pirate tattoo. For any kid who's ever dreamed of the pirate life, this is a fun day out.
Tours of the Polly Woodside are only offered on the first Sunday of each month, so you do need to plan your visit here in advance.
34. Become a Parks Victoria Junior Ranger
The Parks Victoria Junior Rangers program is one of the most enriching and interactive experiences for children in Melbourne.
Emphasising the importance of environmental education and sustainability, kids can join ranger-guided activities across the state, including rock pool discovery, spotlight night walks, walks and talks to discover different animals and their environments including koalas, birds and sea creatures, and environmental craft sessions. The program is designed for kids aged between 6 and 12.
Sign up to the mailing list to find out what events are coming up.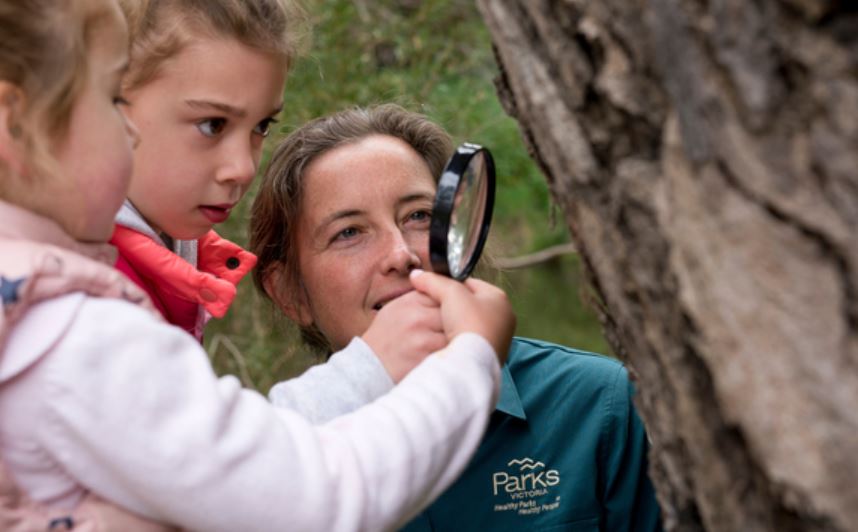 ---
If you were wondering what to do in Melbourne with kids, hopefully you've now got some ideas. Keeping the family occupied while you're in Melbourne is easy, because there are lots of things to do with kids in Melbourne. In fact, the only worry you'll have is trying to convince them that it's time to leave the city and head back home again!
PIN IT FOR LATER
Save this guide to the best things to do in Melbourne with kids so that you can plan your trip soon.