While Melbourne is a fairly big city, spread out over almost 10,000 square kilometres and with just over 5 million people, it's actually an easy city to get around. Tourists especially will find the options for Melbourne transport will get them to most of the places they need to go quite easily.
While we Melburnians like to complain about trains being late and trams blocking the road, we have a decent public transport system. This is especially so if you're sticking to the inner city and major tourist areas. We also have plenty of other methods of getting around, so you'll rarely be stuck anywhere.
In this Melbourne transport guide, I'm sharing all the ways to get around this wonderful city of ours.
This blog post may contain affiliate links, meaning if you book or buy something through one of these links, I may earn a small commission (at no extra cost to you).
How to get from the airport to the city
Let's start off with how you get to the city from the airport if that's how you're arriving here.
Melbourne has actually two airports: Melbourne Airport and Avalon.
Melbourne Airport (code: MEL, often referred to as Tullamarine) is the largest airport in Melbourne (and second-busiest in Australia) and it's where international flights arrive. This is the closest airport to the city, although it's still a 30-minute drive into the central business district (CBD).
The second airport is Avalon (code: AVV), which is further from the city, near Geelong. Right now, only domestic flights are operating here.
How to get to the city from Tullamarine Airport
Melbourne is still without a train to and from the airport, so to get from Melbourne airport to the city, your options are Uber or taxi, renting a car, or taking the SkyBus.
An Uber or taxi will cost you around $45-$75. There are two taxi ranks, one outside of Terminal 1 and the other at the end of Terminal 4. You can estimate your fare with this handy online calculator. There's a dedicated Uber pick up area outside of Terminal 2.
The SkyBus is a bus transfer that operates 7 days a week. It goes from Melbourne Airport to Southern Cross Station (it also has services to St Kilda and Southbank/Docklands, and eastern, western and peninsula services but all of those are currently disrupted). One-way fares cost from $19.75. You can buy tickets online here.
Other companies offer private transfers, which you can book online here.
Ask your hotel if they offer an airport shuttle. Some hotels do, but they're rarely complimentary.
Rental cars are easily accessible from the airport. All the rental companies are located outside Terminal 2. During peak periods, it can be really slow to pick up a car. I compare car hire on Rentalcars.com and Discover Cars to shop around and get the best price. 
You should definitely book a car in advance rather than turning up and hoping there'll be one available. Although, as I'll share later, a car really isn't necessary, unless you're taking day trips from Melbourne or plan to spend more time in the outer suburbs.
How to get to the city from Avalon Airport
If you decide to book a flight into Avalon because it's super cheap, remember that you need to also factor in the cost of then getting from the airport to Melbourne.
As the airport is around 50 kilometres from Melbourne, an Uber or taxi will set you back $100-$135.
A far more affordable option is the SkyBus, which costs $24 one way and takes around an hour to get to Southern Cross Station in the CBD.
Melbourne public transport
Melbourne's public transport system includes trains, trams and buses, and I'll explain each of these.
Download the Public Transport Victoria app to figure out how to get from A to B on the Melbourne public transport network.
Melbourne myki card
To use public transport in Melbourne, you'll need a myki card. This is a hard plastic card that you "tap on and tap off".
For visitors, the best option is to pick up a myki Explorer Pack at the SkyBus ticket booth or at a major train station like Southern Cross Station. Some hotels also have them available. 
As well as a myki card, a myki Explorer Pack comes with $10 of myki money ($5 for concession and kids' cards), a map and some discount coupons. The myki Explorer Pack costs $16 for full fare, $8 for concession and $8 for children (aged 5-18, kids under 5 travel free).
Or you can buy just the myki card at one of the major train stations. If you buy just the card, you'll need to load it with money.
There are two ways of loading money on your card: myki Money and myki Pass. Myki Money is best if you're only in town for a few days, but a seven-day myki Pass will be more cost effective if you're visiting for a week or longer.
You can check fares using the myki fare calculator. There's even an option to compare myki Money with myki Pass.
Recharge your myki at 7-Eleven stores, ticket offices at train stations or the myki machines that are at some tram stops.
When travelling on public transport, you simply tap your myki on the green readers when you get on the tram, or tap it to enter the train station. It'll then deduct the fare for your trip. You can check your myki card balance at the top-up machines.
When you leave Melbourne, gift your myki card to someone else or leave it at your hotel, as it's reusable. You can even donate it to charity – there are donation bins at Station Pier and Southern Cross Station. Or just hold on to it if you're planning to return to Melbourne in the near future (come back, there are so many things to do in Melbourne that there's no way you did everything in just one trip!). 
There is a myki app but it's currently only available on Android phones (come on Melbourne, where's the option for iPhones?!).
Trams in Melbourne
Trams are great – and can be fun for first-time visitors! Melbourne has the largest tram network in the world.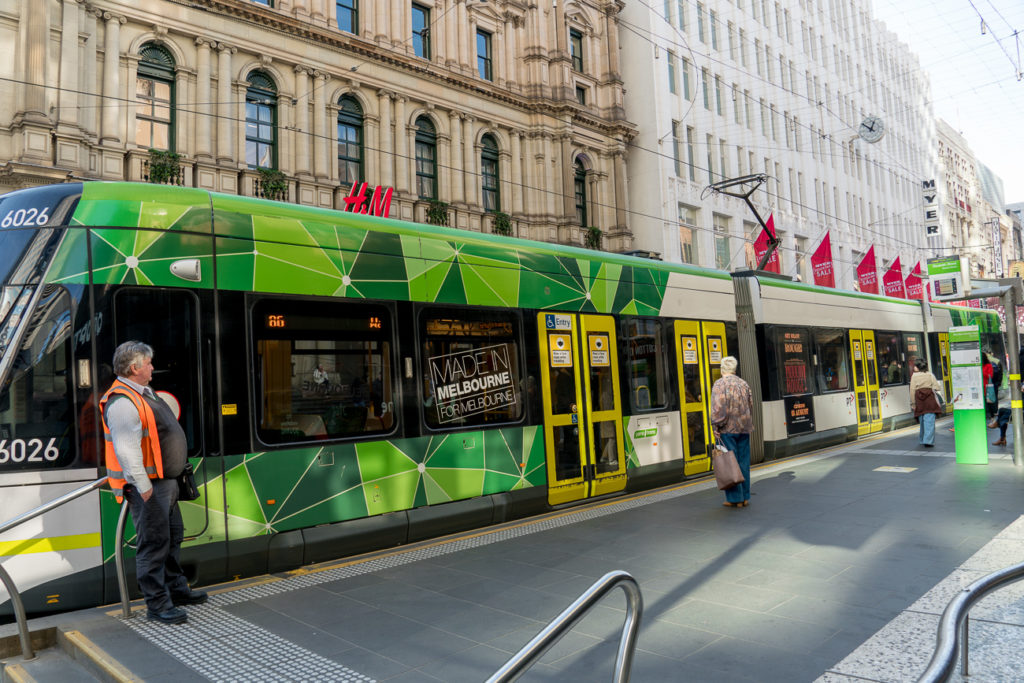 There's a Free Tram Zone within the Melbourne CBD; the Free Tram Zone map online shows you where you can get around for free. If you're sticking to the CBD on your visit to Melbourne, you can effectively travel for free if you use trams and your feet.
As soon as you head outside this free zone on the trams you'll need to get a myki travel card. There are many tram routes in Melbourne, and you can check out the Melbourne tram map here.
You need to tap your myki card against the green card reader inside the tram doors (you'll hear a beep), but you don't need to tap when you get off the tram. If you're in the Free Tram Zone, you don't need to tap at all.
Warning: trams can stop suddenly, so hold on!
There's also a Melbourne City Circle Tram that handily passes by some of the major Melbourne tourist attractions (check out the top 25 things to do in Melbourne). These trams are historic, and come with commentary, and they're also free.
PS. Looking to save money? Check out my guides to free things to do in Melbourne and cheap things to do in Melbourne.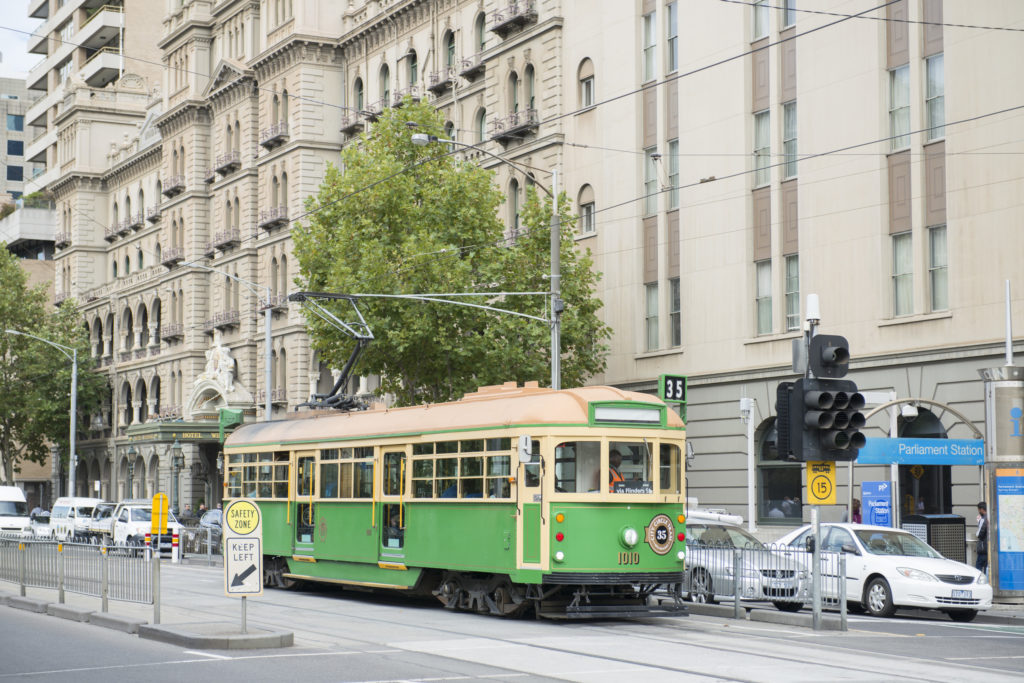 Trains in Melbourne
Melbourne has an extensive train network with links from the city to the outer suburbs. There are 15 train lines on Melbourne's grid and services seven days a week. See a map here.
The major train stations within the city are Flinders Street Station, Parliament, Melbourne Central and Southern Cross Station, along with Richmond. 
To enter the platforms, you'll need to tap your myki card to go through the gates, and then tap to exit. 
One downside of our train network, though, is if you're in the outer suburbs and trying to travel to another outer suburb, there'll rarely be a direct train connection. You'll need to go into the city and then back out, which is a pain, or find a suitable bus route. 
Trains can also be packed like sardines during the morning and evening rush hour, so avoid these times.
And don't be surprised if there's a service delay. There are a lot of upgrades going on at the moment, so trains can be delayed frequently, and sometimes trains are replaced with buses on sectors.
V/Line
There's also a train network that connects Melbourne to various regional cities and towns in Victoria. These V/Line trains depart from Southern Cross Station and can be a convenient way to explore Victoria. (Check out these day trips from Melbourne for inspiration!)
Your myki card won't work on V/Line services; you have to buy a separate ticket. 
Buses in Melbourne
Melbourne's bus network crisscrosses the city and can sometimes be the only way to get from some areas to another by public transport. Buses will get you further than a tram will. Check out the network map and bus routes here.
Use your myki card to pay for bus services – tap both on and off.
If you're checking out Melbourne nightlife, there are also great night services on the weekend.
Keep in mind that buses share the roads with cars, so travelling around Melbourne by bus will be longer than driving – especially during peak hour traffic.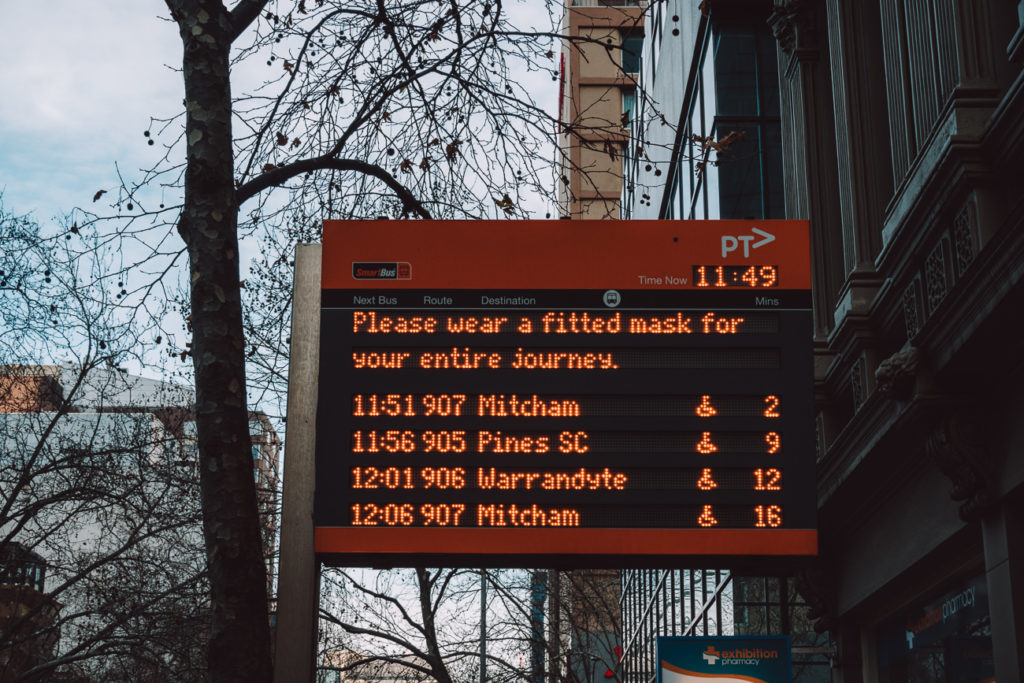 Ride share in Melbourne
In Melbourne, the major ride sharing companies/apps are Uber, DiDi and Ola. 
They work exactly the same way as in other cities. Simply download the app of the ride share company you prefer and off you go.
The same safety precautions also apply. Always check the registration of the vehicle and confirm the driver's name before you get in. I always like to share my trip with my husband if I'm travelling alone.
Taxis in Melbourne
You can easily hail a taxi, find one at a designated taxi rank, call directly or book a trip using an app. Taxi ranks can usually be found in front of hotels and out the front of major train stations. Drivers must display their identity card at all times.
The two taxi services in Melbourne I prefer are 13Cabs and Silver Top. Both have apps so you can pre-book a ride or plan a trip on the fly.
If you're in a taxi between 10pm and 5am you'll need to pay an upfront estimated fare. That's thanks to all the drunken passengers skipping out on paying!
Estimate your fare using an online calculator. Tolls are added to fares.
Car rentals in Melbourne
If you're just sticking to the inner city when you visit Melbourne, a car won't really be necessary. You can rely on public transport to get around. 
But if you want to do some day trips from Melbourne or get to the outer suburbs, then renting a car can be an affordable way to do it. Check out Rentalcars or Discover Cars for rental options that you can pick up from the airport or at other locations in the CBD.
A few things to note is that parking can be expensive. In inner city areas, many streets have permit-only parking for residents.
We have these weird things called hook turns in the CBD that will confuse the hell out of you! I don't think they're anywhere else in the world? But they're there to avoid disrupting trams.
You will also need to remember to stop for trams.
Only need some wheels for a few hours? Try car sharing through companies like Popcar or GoGet. They have designated parking spots around the city. 
Getting around Melbourne by bike
If you want to burn some energy, it's easy to get around Melbourne by bike. There are several marked bike lanes around the CBD and inner city. 
But do keep an eye out, because some Melbourne drivers are aggressive when it comes to cyclists. By law, helmets must be worn.
Melbourne's bike-sharing system was unfortunately scrapped some time ago, but you can rent a bike from a private company like Rentabike.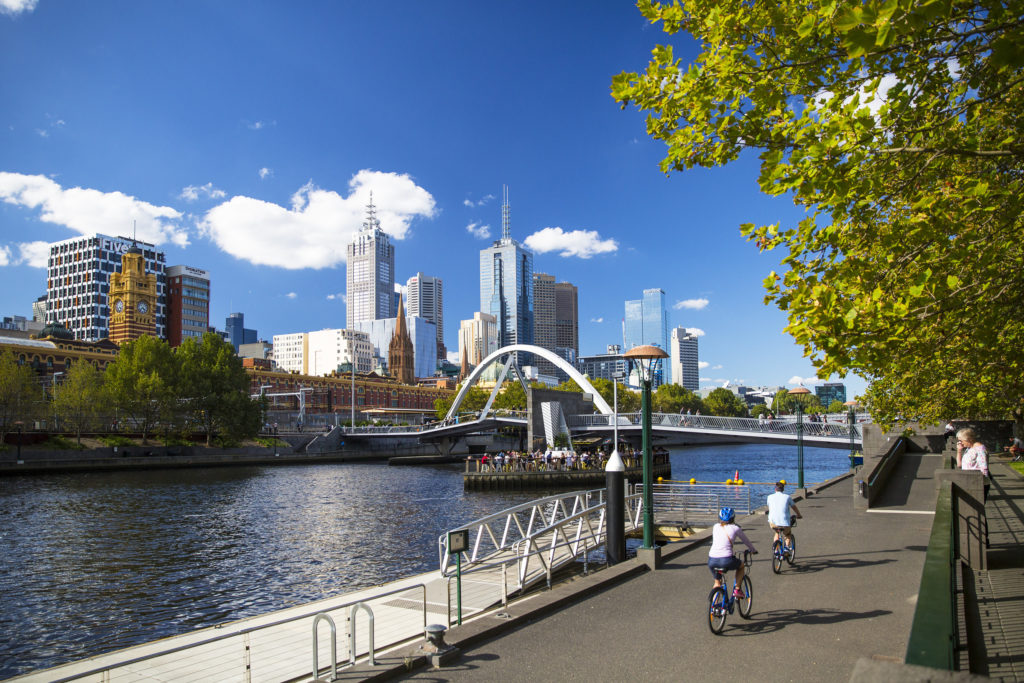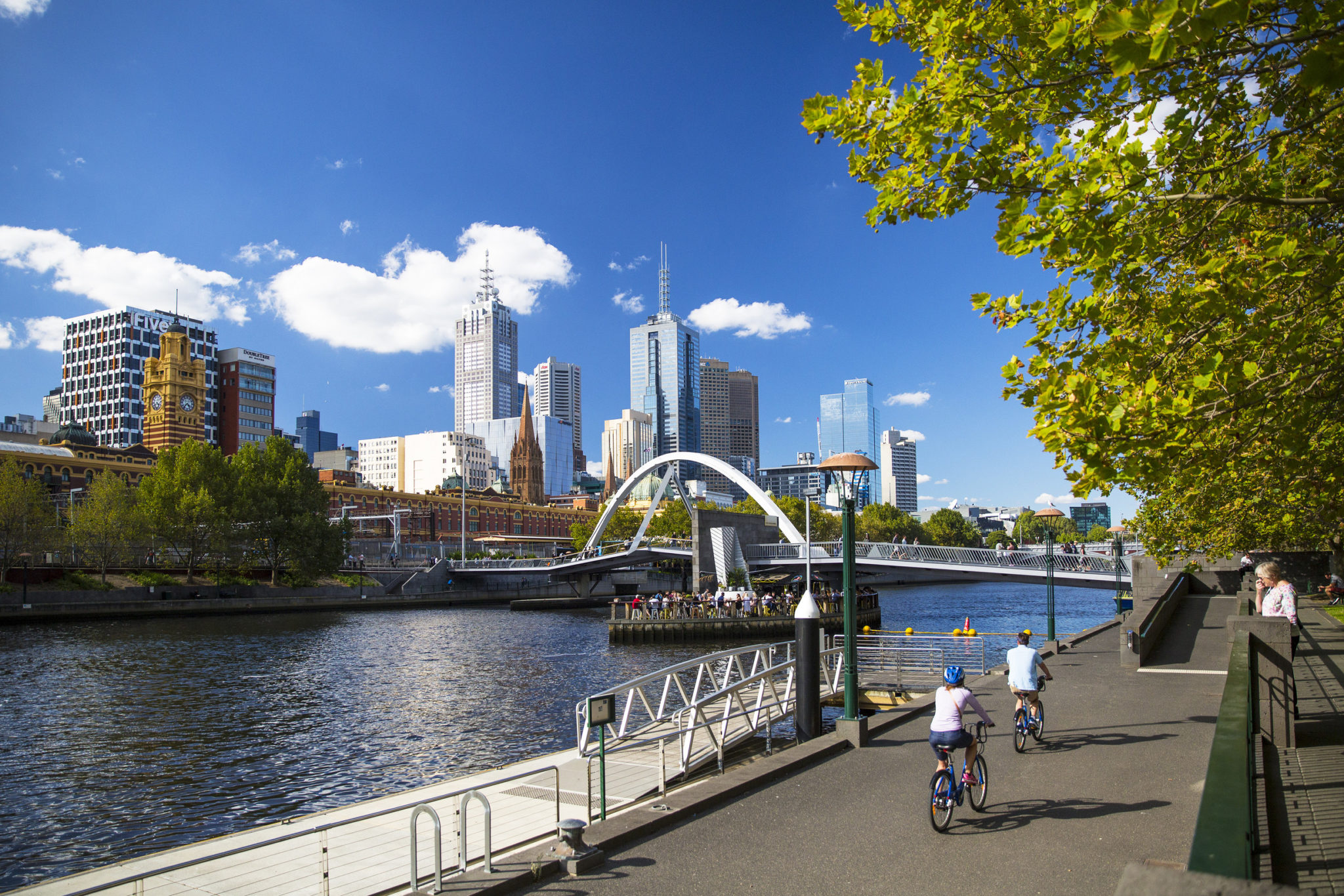 Walking around Melbourne
One of the best ways to get around Melbourne is on foot! The CBD and inner-city areas are fairly flat, with wide footpaths and plenty of pedestrian crossings and traffic lights to keep you safe.
The CBD is laid out in a grid, so once you've taken a look at a map and seen the layout of the major streets, it's hard to get lost. 
I always think that you see so much more of a city on foot. You can duck into our famous laneways and arcades and explore shops at your leisure.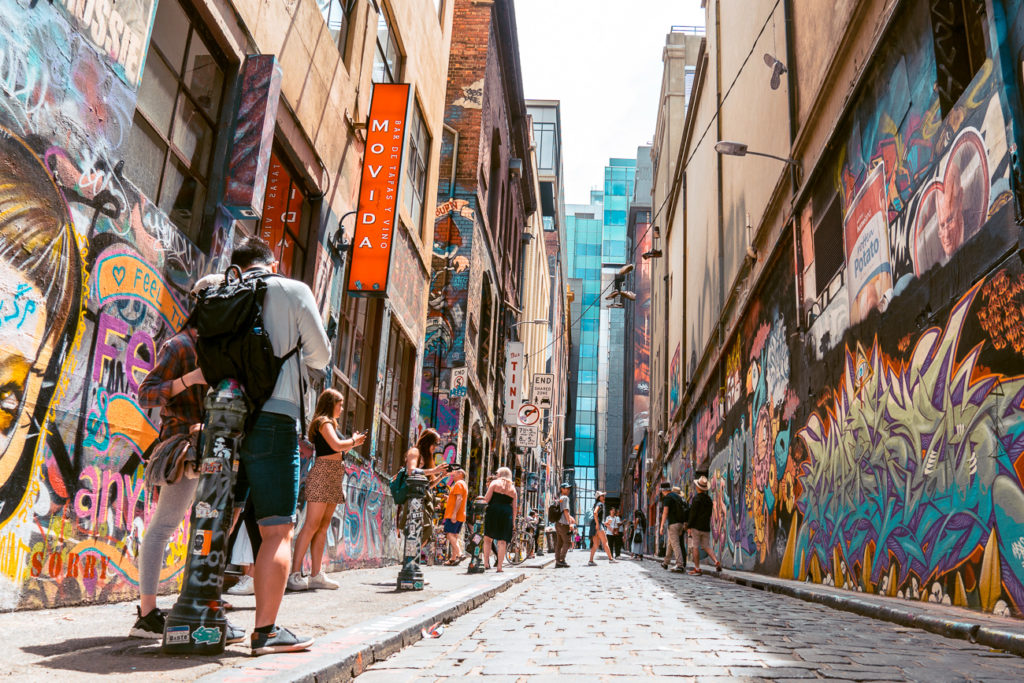 Final thoughts on getting around on Melbourne transport
Despite being a large city, Melbourne is easy to get around. With multiple modes of transport available, including an extensive public transport system, with a bit of planning you can get from A to B easily. 
PIN IT FOR LATER
Visiting Melbourne? Save this guide to Melbourne transport options so you can get around the city.