Looking for some handy Melbourne travel tips to make sure you have a smooth stay?
I've spent some time putting myself into "traveller mode" to think about some of the things I'd want to know if I was visiting Melbourne, particularly for the first time. So, here are a few travel tips and tricks to help you plan the perfect Melbourne trip.
This blog post may contain affiliate links, meaning if you book or buy something through one of these links, I may earn a small commission (at no extra cost to you).
1. Consider the seasons
While Melbourne is a great city to visit year-round, if you're flexible with your travel plans it's definitely worth spending some time taking a look at the pros and cons of each season. I outline these in my post about the best time to visit Melbourne, but here's a quick and dirty:
If budget is driving your trip to Melbourne or you're particularly averse to crowds, then it may be worth considering the high and low seasons:
High/peak season: The summer months of December to February are the peak travel periods for Melbourne. School holidays begin in mid- to late-December and last until the end of January. This time of the year means higher accommodation prices and more crowds. You'll need to book hotels and tickets to attractions in advance.
Shoulder season: March to May and September to November are usually the shoulder seasons, so you can likely nab some good accommodation deals.
Low season: June to August bring lower prices and fewer crowds – a benefit offsetting the cooler weather.
Make sure you also check what events are on when you visit. This can either help you decide to time your visit with one of our fantastic events – OR it can totally do the opposite and help you avoid picking a weekend when a major event (like the Australian Open or Grand Prix) is on and thus hotels are booked out or prices have totally skyrocketed.
2. Plan ahead 
Outside of the peak travel season (December to February), you can usually rely on being able to book events and attraction tickets a few days beforehand.
But no matter what time of the year, it pays to seriously think through your Melbourne itinerary and book your must-do activities, whether that's seeing a show or dining at a particular restaurant, to avoid disappointment. Melbourne is a popular city for tourists, and locals love getting out and about.
Need itinerary ideas? I've got guides to:
3. Choose where you stay wisely
If you've only got a short time in Melbourne, then make sure you pick your neighbourhood carefully. 
If you want to be hanging out with the cool kids in Fitzroy and Collingwood, then it doesn't make sense to book accommodation in St Kilda – you'll end up spending most of your time on public transport or in an Uber.
Think about the things you absolutely must do on your trip to Melbourne: do you want to be by the beach? Do you want to stay up all night drinking in cool bars? Do you need somewhere quieter so your kids sleep at night?
Each of the Melbourne neighbourhoods I recommend visitors stay in have their various pros and cons, so it's definitely worth having a think through before you book. I think the Melbourne CBD is a great area to base yourself, and you can check out my guide to the best hotels in Melbourne CBD.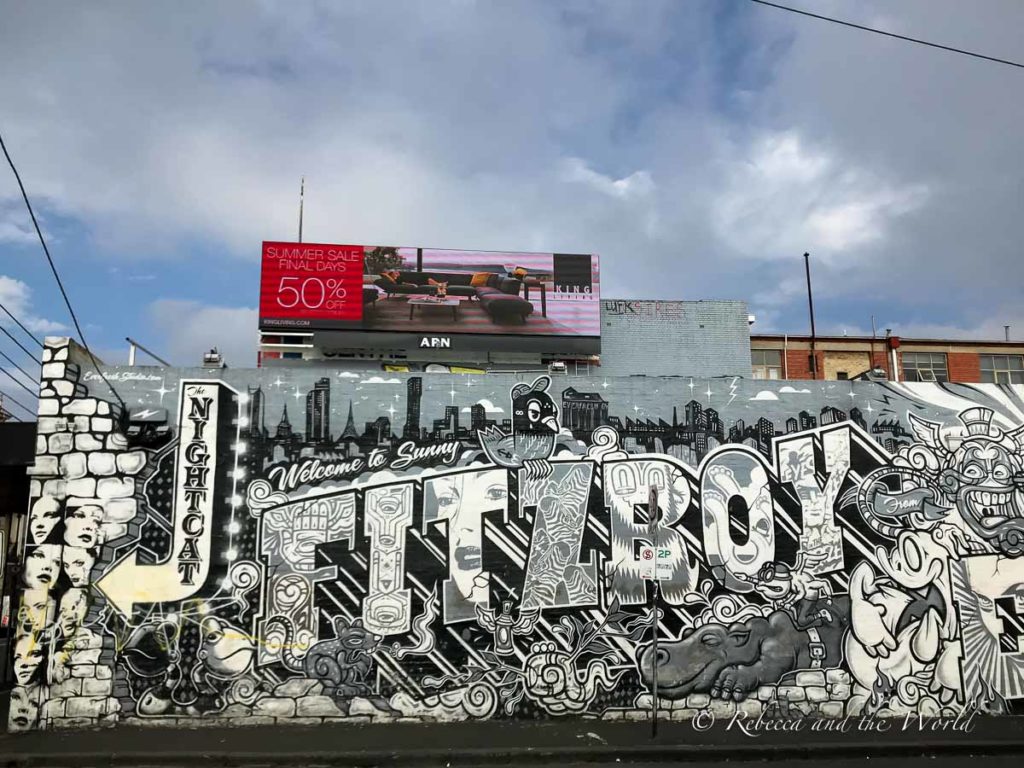 4. Use public transport to get around
If you're not walking around Melbourne, then the best way to get around is by public transport. If you've only got a short amount of time in Melbourne, a car won't be necessary – and will probably be more trouble than it's worth.
Despite Melburnians' regular complaints about our public transport system, it's actually quite decent. As a visitor to Melbourne, it'll get you to most places you need to go fairly directly.
We've got a range of trams, trains and buses to get you from A to B. You'll need to purchase a myki, which is a pain for short-term visitors because it does cost a one-off fee of $6. A good option for visitors is a myki Explorer, which includes myki Money. The maximum you'll pay on public transport is $9 a day. You can calculate fares online.
If you're sticking to the inner city, take advantage of the Free Tram Zone.
Read more in my full guide to Melbourne transport.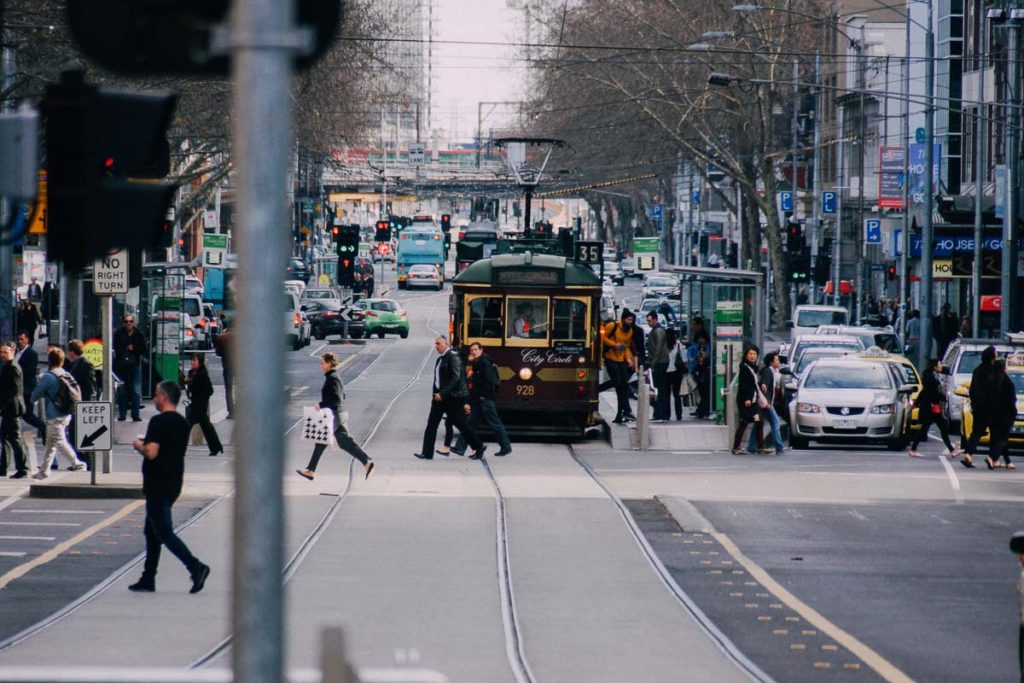 5. Don't just stick to the CBD
Melbourne's central business district (CBD) is where you'll find many of the city's main attractions. But you're doing yourself a disservice if you don't explore outside of this area.
Neighbourhoods like Fitzroy, Collingwood, Carlton, St Kilda, Prahran and South Yarra – and even further out like Brunswick and Northcote – are where you'll experience "local" Melbourne life. Outside of the city is where the majority of Melburnians live and play, so there are plenty of cool cafés and restaurants to discover, bars to drink in, live music venues to enjoy and shops to spend money at.
Check out my guide to the best Melbourne neighbourhoods to find something that suits your style.
6. Pack appropriately
There's an adage that all Melburnians live by: this city has four seasons in one day. 
It's not uncommon to wake up to a cloudy day with a chill in the air, before it hits 35°C by midday, ending with a thunderstorm and wild winds at night.
This means you need to pack appropriately. Always carry an umbrella and a light, packable rain jacket. Wearing layers is a great idea!
7. Come hungry
Melbourne is a foodie's paradise. In this city you can eat your way around the world, from Afghani food to Italian dishes to Yemeni cuisine. There's something for every budget, as well. I highly recommend planning your itinerary around food! I've got a guide to 75+ of my favourite restaurants in Melbourne.
There was a trend in Melbourne not to accept reservations at one point (which was very frustrating and meant either dining at 5pm or waiting in a long line!) but this has obviously changed as restaurants, cafés and bars have had to limit capacity. Check restaurant websites to find out their reservation processes.
Many restaurants have also had to introduce securing reservations with a credit card because people were booking and then not turning up – resulting in significant lost income to already struggling businesses. Even if you don't need to leave a credit card with your reservation, if you change your mind, give the restaurant 24-48 hours' notice so that they can open up your reservation to someone else. Hospitality in Melbourne has been hit hard, so show them some love and respect!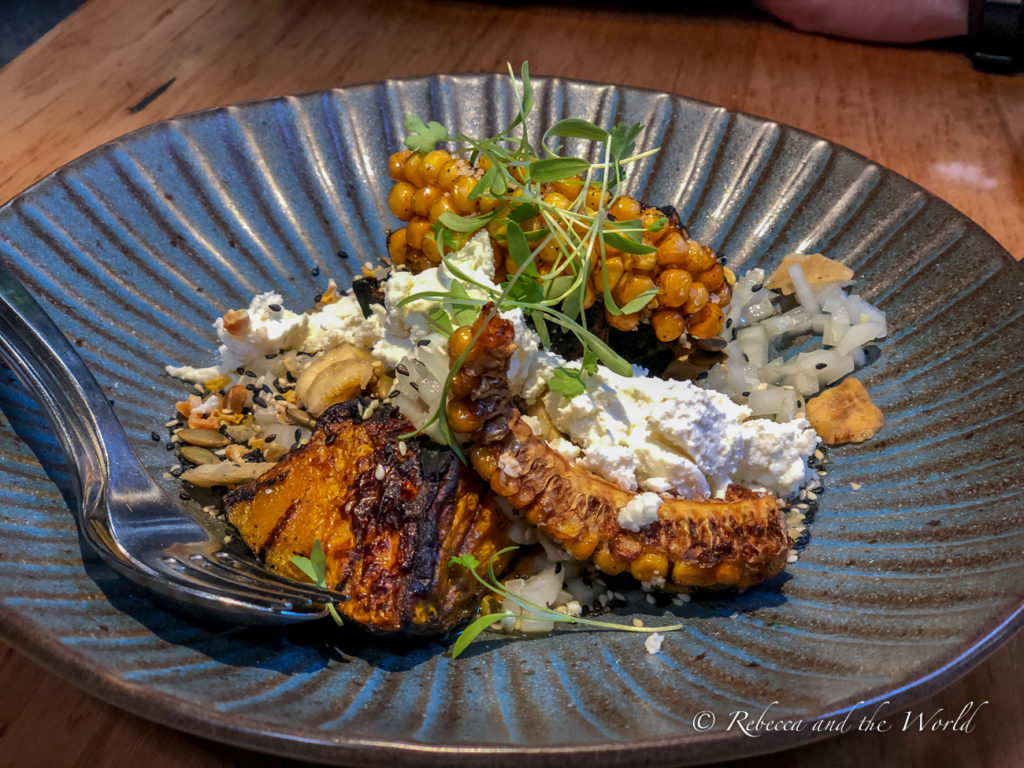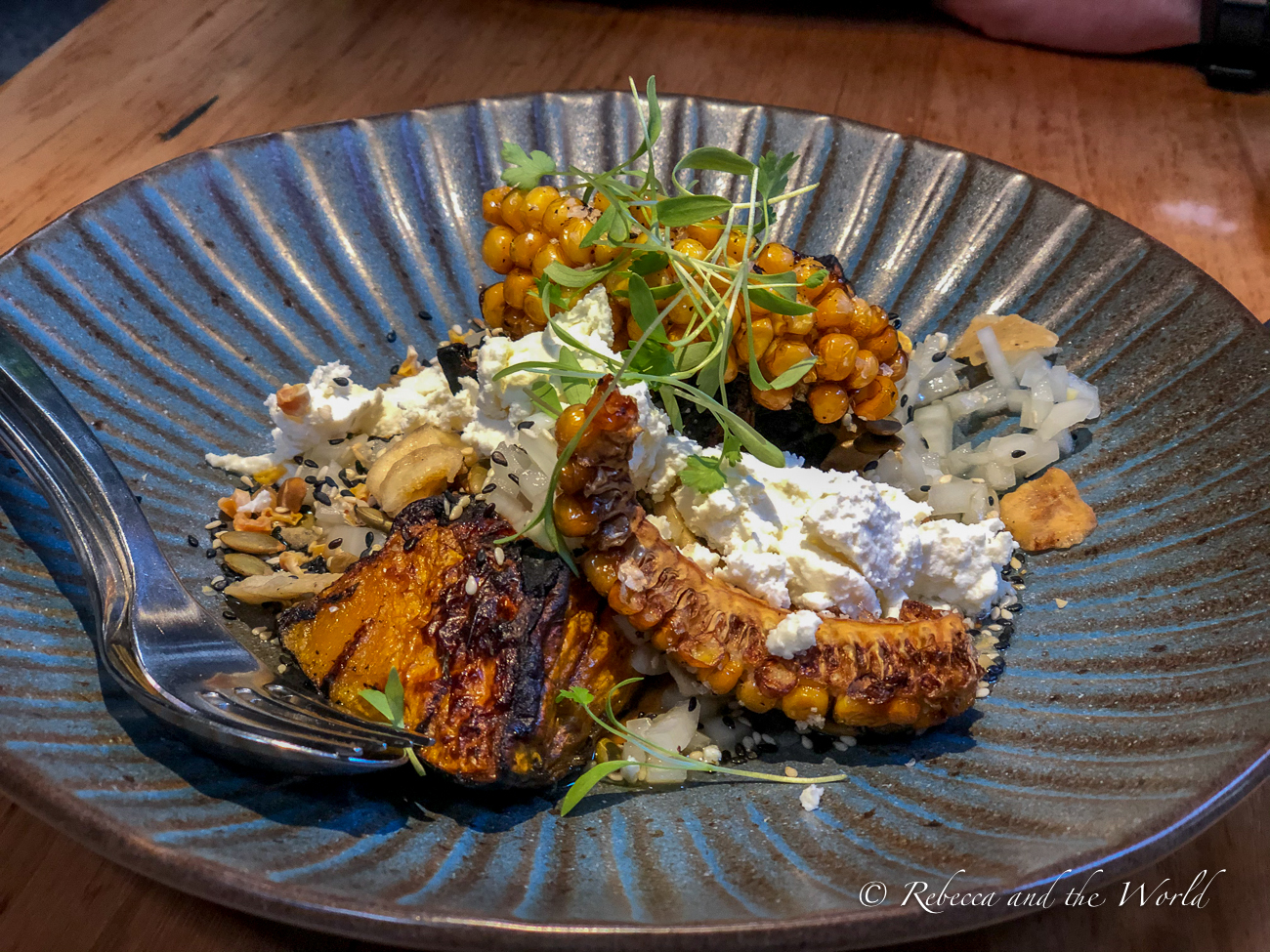 8. Pay at the counter
Speaking of food, if you're visiting Melbourne from overseas, you may be confused about how to pay at the end of a meal. In cafés and more casual restaurants, the staff will usually leave the bill on your table once you've finished eating but you need to pay it at the counter.
In more upscale restaurants, they'll bring the bill and an EFTPOS machine to you.
I wanted to include this tip here because I have lived in multiple countries and I had completely forgotten this was how things happened in Australia when we moved home! It took me a while to get used to, and even now I still ask where to pay.
9. Take a tour for local insights
I used to avoid tours and preferred to explore on my own – that's how I'd discover those local secrets and hidden gems, right?
Wrong. Having a local guide when you visit a new city can open up your eyes to history, culture and hidden secrets that you'll never discover on your own. 
In Melbourne you can join some amazing tours that celebrate our city's Indigenous culture, food, street art and history. I've got a guide to the best Melbourne tours (including some free ones).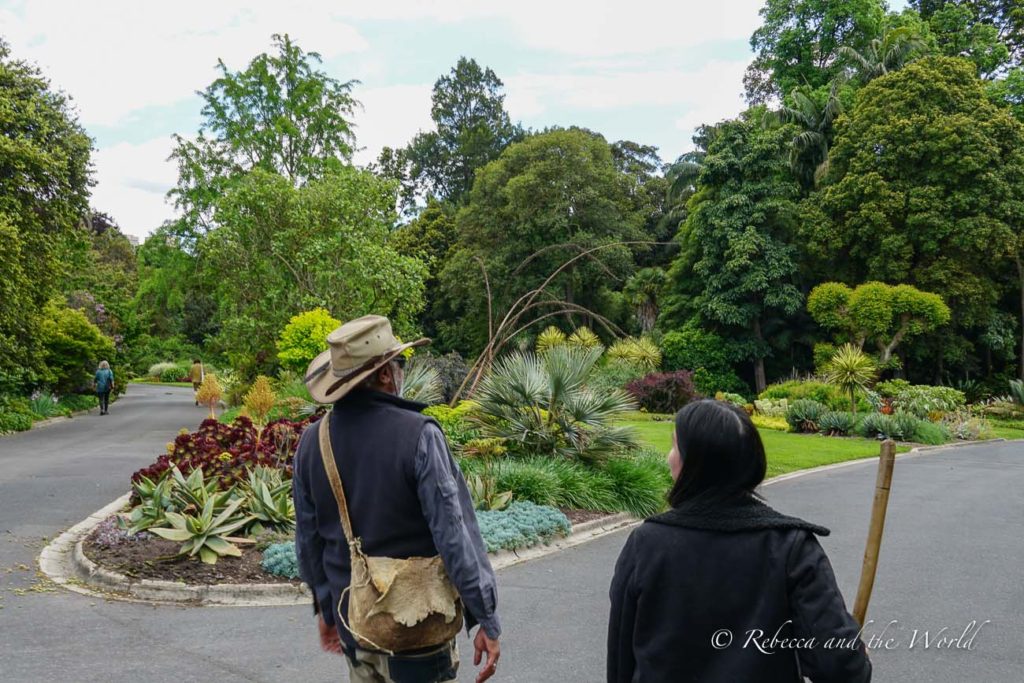 10. Save some money
Melbourne is expensive, there's no doubt about that! But there are ways to save money here.
11. Learn the road rules
If you're only in Melbourne for a short time, you really don't need to rent a car. The only time you'd need to rent a car is if you're planning to take a day trip from Melbourne and want to drive yourself (rather than take a day tour).
If you do decide to drive in Melbourne, there are a few unique rules you'll need to know about:
You'll be sharing the road with trams. Trams can't swerve or get out of your way. They're also a lot heavier than your rental car, so don't mess with them. If you're behind a tram, only overtake when they are not stopped. You'll know passengers are alighting from a tram when the doors open (with big "STOP" signs on them) and the tram lights are flashing. NEVER drive past a tram when the doors are open because you could hit someone.
In the CBD, we have a unique thing called a hook turn when you want to turn right into some streets. Instead of sitting in the right lane and waiting until it's clear for you to turn, you sit in the left lane and then turn right as the lights turn orange (and if no cars are oncoming). These hook turns can be very complicated if you've never done one. I still plan my trips in the city to avoid them!!
There's usually plenty of parking available in the city, but it can be quite expensive. Especially if you're using hotel parking which can cost $55 or more overnight. 
The PayStay app can help you find parking. You can load money on the app so you don't need coins for meters.
I hope these Melbourne travel tips help you plan your Melbourne trip. Let me know if you have any more must-know tips for visitors!
MELBOURNE TRAVEL TIPS: PIN IT FOR LATER
Save these Melbourne travel tips to Pinterest so you can plan your trip to Melbourne later.