Looking to save money while visiting Melbourne – but also don't want to compromise on the number of attractions you see?
Then a Melbourne attractions pass might be for you!
There are a handful of passes available, each of which bundles up various Melbourne tourist attractions into one ticket with the goal of saving you money.
In this post, I'm reviewing each of the available attractions passes so you can get an overview of what each is and make a decision about which one is right for you.
So let's try to save you some money when you visit Melbourne!
This blog post may contain affiliate links, meaning if you book or buy something through one of these links, I may earn a small commission (at no extra cost to you).
Overview of each Melbourne attractions pass
In my research, I've found three Melbourne attractions passes, and in this first section I'll walk you through what each one is, how much it costs and how long it's valid for.
Klook Melbourne and Beyond Pass
The Melbourne and Beyond Pass is the bundle pulled together by global tour company Klook.
I have a full review of the Klook Melbourne and Beyond Pass, but here's a brief overview.
The Klook Melbourne and Beyond Pass bundles together up to 23 Melbourne attractions. These are as varied as Eureka Skydeck, Melbourne Zoo, and Old Melbourne Gaol.
This pass also includes several attractions outside of the Melbourne metro area, so it's great for people who want to explore further (hence the "beyond" in the package's name!). These include Sovereign Hill in Ballarat, the Otway Fly Treetop Walk on the Great Ocean Road, and Enchanted Adventure Garden on the Mornington Peninsula.
Because attractions can change, check the website for the full list of attractions.
The pass is easy to use. You simply purchase the Melbourne pass based on how many attractions you want, activate it by reserving individual activities on your chosen dates and then enjoy some fabulous Melbourne sightseeing.
| | | | | |
| --- | --- | --- | --- | --- |
| | 2 Attractions | 3 Attractions | 4 Attractions | 5 Attractions |
| Adult | $52 | $80 | $110 | $139 |
| Child | $39 | $50 | $65 | $85 |
Note that these prices as are of November 2022; always check the website for the latest pricing and information.
The pass is valid for 60 days from when it's activated, giving people plenty of time to use it. You have to activate it within 30 days of purchase – which is easily done by reserving an activity.
Pros
You can save a lot of money – provided you pick your activities right!
There are plenty of activities to choose from.
It's a good option for visitors who want to explore beyond the city.
There's a 60-day validity period, which is quite generous.
The website is really easy to use to book the Melbourne pass and then to reserve individual activities – and most activities provide an instant confirmation.
Klook has a responsive online customer service team.
Cons
You need to commit to your dates: once you've reserved an individual attraction that's it – you can't change the date or time, which leaves little room for flexibility if your plans change.
Not every combination of activities saves you money – check out my spreadsheet to help you see how you can save money.
There are several attractions outside of Melbourne, most of which will require a car to access.
Some of the Melbourne tourist attractions weren't available when I made my bookings – they weren't ones I wanted to do, anyway, but that could be disappointing if you miss out on an attraction that you really wanted to experience.
You can only visit each attraction once.
Buy the Klook Melbourne and Beyond Pass
iVenture Card
The next pass we're looking at is the iVenture Card, which claims you can save up to 40% on the top attractions, experiences and tours in Melbourne.
The iVenture Card has two packages available:
This gives you the option of deciding based either on the number of days you want to use the pass or by the number of attractions you want to visit.
The cost of each pass is below.
 
Adult
Child
Melbourne Unlimited Attractions Pass
2 Days
$175
$129
3 Days
$239
$179
5 Days
$329
$259
Melbourne Flexi Attractions Pass
3 Attractions
$99
$79
5 Attractions
$149
$119
7 Attractions
$199
$159
Note that these prices as are of November 2022; always check the website for the latest pricing and information.
The website lists 18 activities that you can experience with either package, including Legoland, Melbourne River Cruises, Healesville Sanctuary and Melbourne Skydeck.
Some activities require advance bookings, so you will have to plan out your visit and can't leave some activities to chance.
Pros
Options for two different packages, so you can choose based on number of days you're visiting Melbourne or on the number of attractions you want to see.
If you choose the unlimited attractions pass, you could fit in a lot if you plan your day well!
The website has lots of information about each attraction and even some suggested itineraries.
Cons
More expensive than some other Melbourne attractions passes – you will need to do the maths to see which one works best for you.
You will need to cram in a lot each day on the Melbourne Unlimited Attractions Pass to get the best value.
Some attractions are outside of Melbourne metro, meaning you'd need a car to visit them.
You can only visit each attraction once.
Melbourne City Card
The final card we're reviewing is the Melbourne City Card.
The Melbourne City Card allows you to visit an unlimited number of attractions with either a 2-day or 3-day pass.
| | | |
| --- | --- | --- |
|   | Adult | Child |
| 2 Day Pass | $170.10 | $98.10 |
| 3 Day Pass | $224.10 | $134.10 |
Note that these prices as are of November 2022; always check the website for the latest pricing and information.
Once you've purchased your chosen pass, you need to then download an app which will have your vouchers.
The pass is valid for consecutive days, not 24-hour periods, so you need to plan to activate it early in the day to take advantage of it.
Attractions included are Melbourne Zoo, Eureka Skydeck, Icebar Melbourne, Werribee Open Range Zoo, Ashcombe Maze & Lavender Gardens, Cook's Cottage, Healesville Sanctuary, Melbourne River Cruise, Moonraker Dolphin Swims, and Melbourne Cricket Ground (MCG) Tour.
Pros
Allows you to choose the number of days you want to spend visiting Melbourne's attractions.
The number of attractions you can visit over the 2 or 3-day period is unlimited.
The website lists a few ideas for itineraries so you can squeeze as much in as possible.
No need for paper tickets, you just use the app.
Cons
The Melbourne City Card information lists the hop-on hop-off bus as an inclusion – but this bus hasn't operated since 2018!
I don't think the range of attractions offered is as good as the other two passes.
Need to download an app to access your vouchers, which may not be everyone's preference for accessing tickets.
The Melbourne City Card website is also a bit glitchy and is sometimes down, which doesn't instil a huge amount of trust!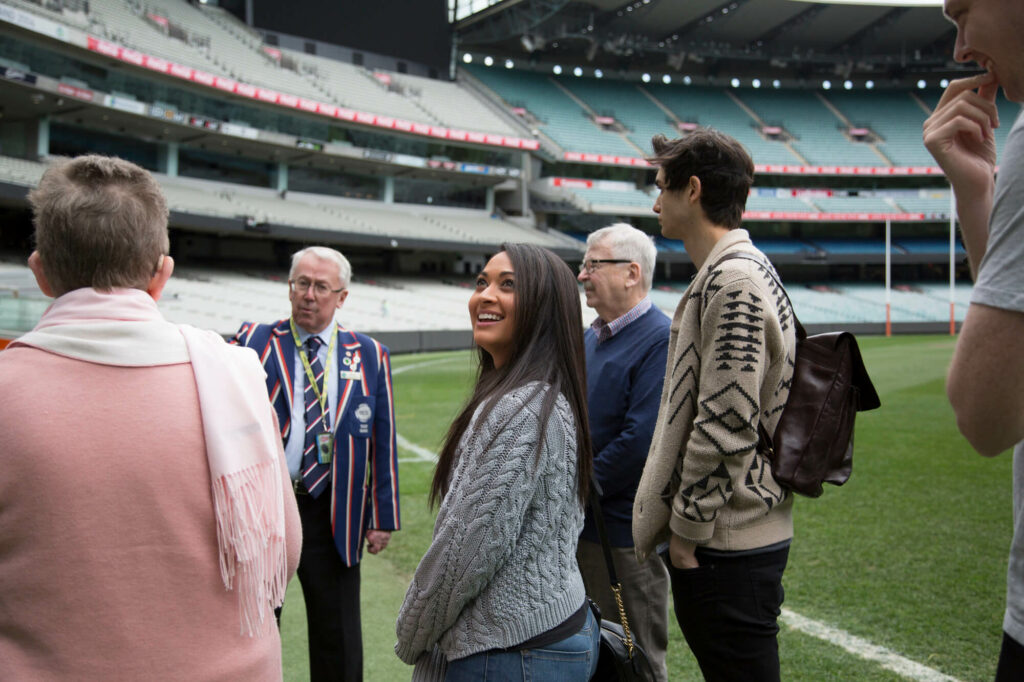 What's the best Melbourne attractions pass?
So, now that you know a bit about each of the Melbourne attractions passes, which one is the best?
That's actually a tricky question to answer, because it depends on so many things!
So, I've considered a few different situations and made recommendations.
Tips for purchasing a Melbourne attractions pass
The biggest thing to consider when purchasing a Melbourne attractions pass – regardless of which one you choose – is are the attractions actually ones you want to visit? Don't just purchase something if it doesn't include stuff that you actually want to see and do!
Make sure you do the maths and add up whether you actually will save money. Not every combination of attractions saves you money, so you will need to do some research to figure it out.
Looking for more ways to save money when you travel to Melbourne? Check out these helpful articles:
Final thoughts – Melbourne attractions pass
A Melbourne attractions pass can be a great way to see Melbourne and save some money. But it does require a bit of effort to figure out which one is best for you and your visit!
Will you purchase a Melbourne attractions pass? Which one do you think is best for you?
PIN IT FOR LATER
Liked this post? Don't forget to save it to Pinterest!