Looking for fun things to do in Melbourne at night? You've come to the right place! I'm a Melbourne local who absolutely loves this city's nightlife. Here are my recommendations for how to spend an evening in our awesome city.
During the day, Melbourne is known for its food, culture and fashion. But as the sun sets, Melbourne undergoes a subtle transformation. The city's bright lights soften the harder edges and the Yarra River shines. Bars burst open and restaurants fill with people wanting a bit of our amazing cuisine.
You can find something to do in Melbourne at night to keep the kids entertained but in bed by 8pm, or you can dance until the wee hours of the morning.
To help you make the most of your evenings in the city, here's a curated list of things to do in Melbourne after dark.
What to do in Melbourne at night
Here's my guide to the best activities in Melbourne for adults and kids alike.
1. Take in the views at the Melbourne Skydeck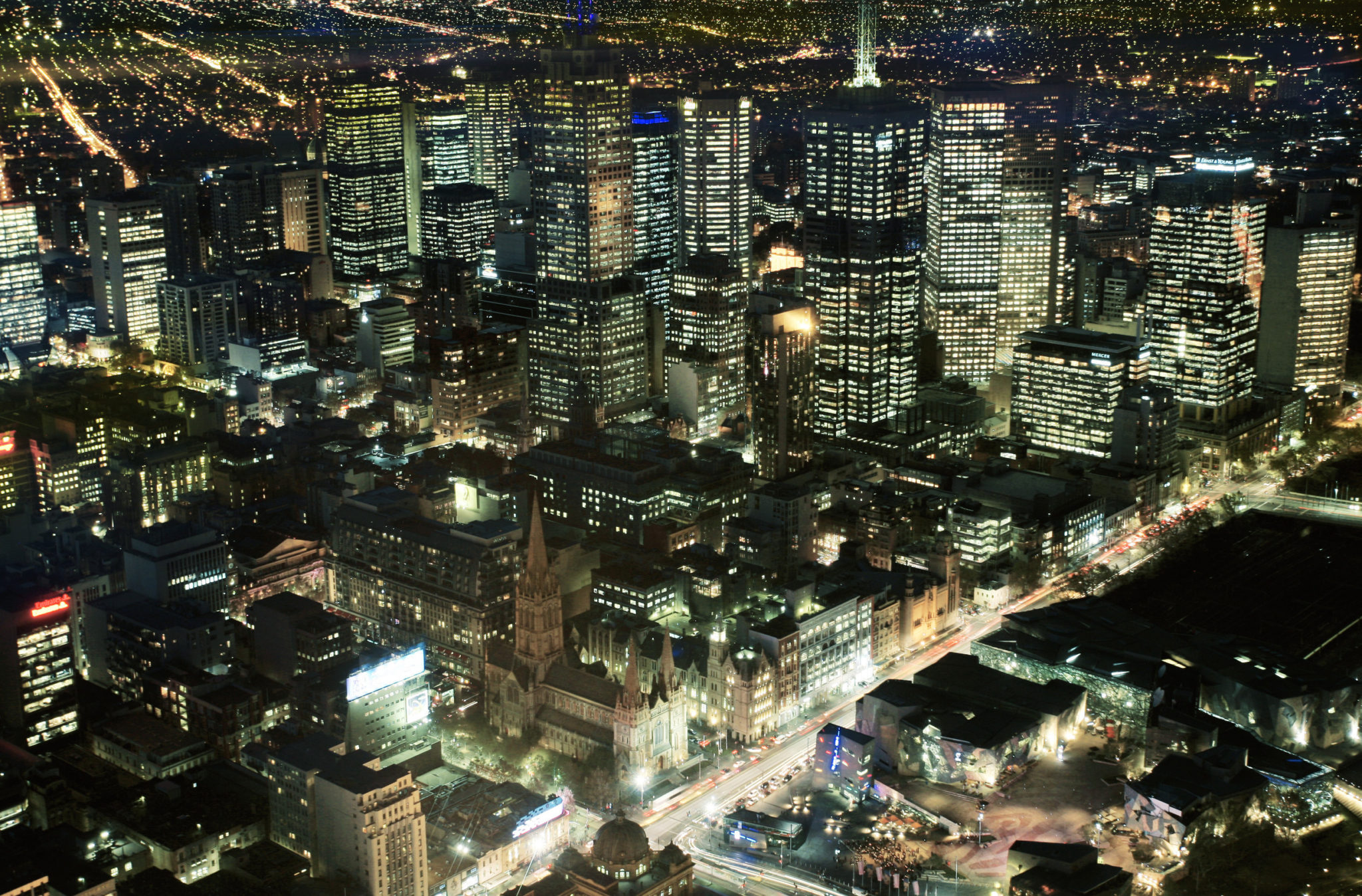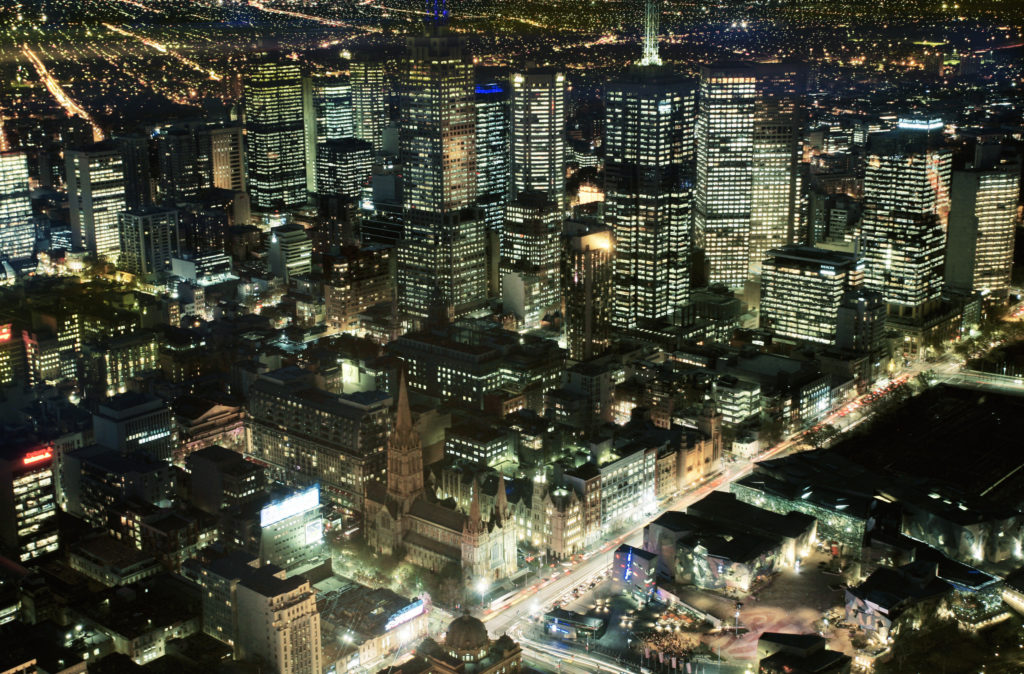 I mentioned the lights already, and there's no better place to see them than from the Melbourne Skydeck. 
Located on the 88th floor of the Eureka Tower, the Skydeck offers stunning views of Melbourne at night. While the views are awesome during the day, it's at nighttime that you'll be wowed.
If you're really brave, take your turn on the "Edge". Edge your way out into the glass cube where you can take in unobstructed, 360-degree views of the city. It hangs 300 metres above street level so you can see straight through the floor to the ground. Eeek!
On safer ground is the Voyager Theatre. Here you'll find virtual reality pod chairs where you can experience the best of Melbourne's festivals, laneways, sporting events and scenery. By all accounts, it's incredibly immersive and realistic!
Insider tip: If you want the best night views without the crowds, come during the week. Aim to arrive well before sunset to stake your spot!
2. See a show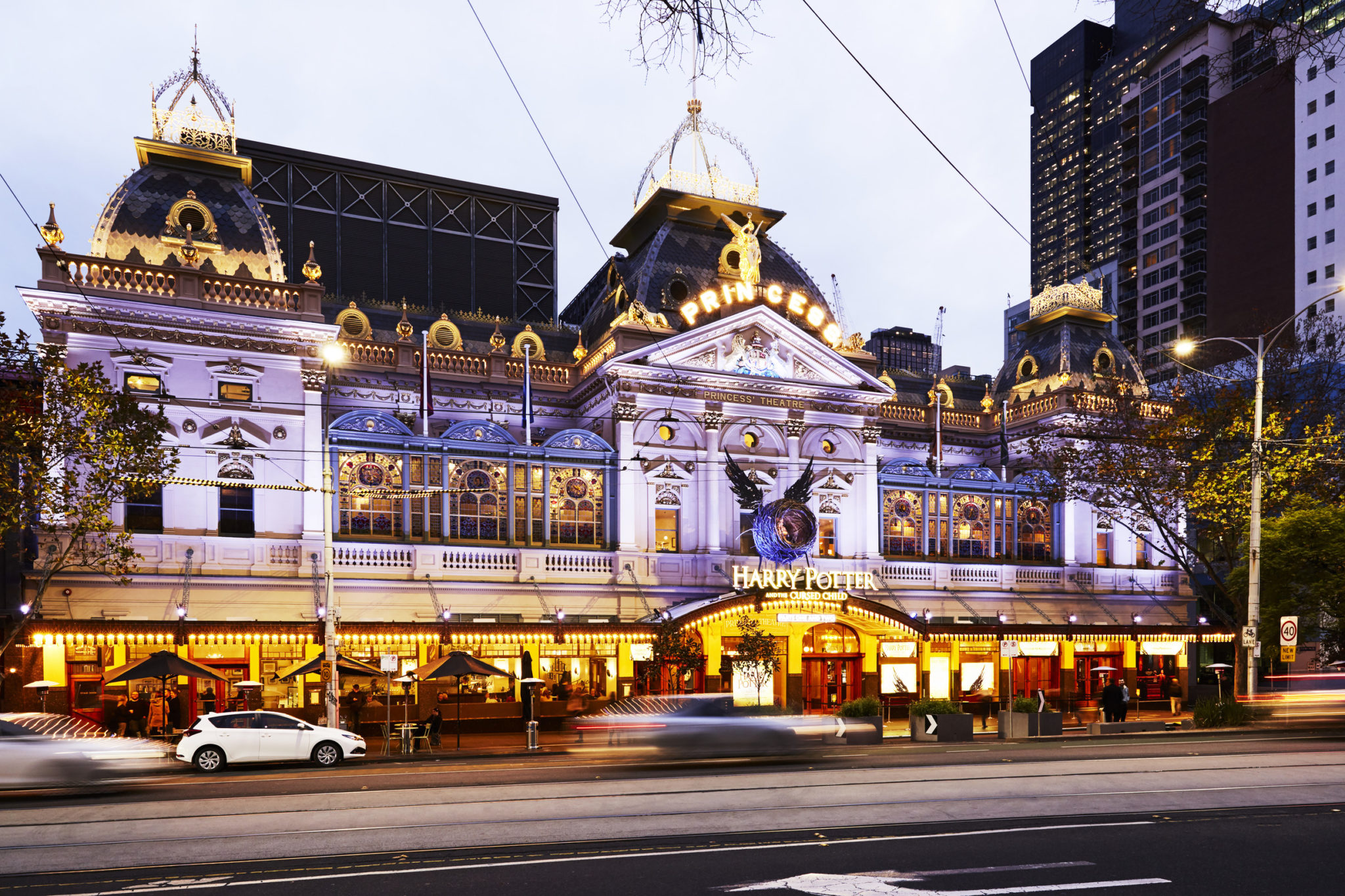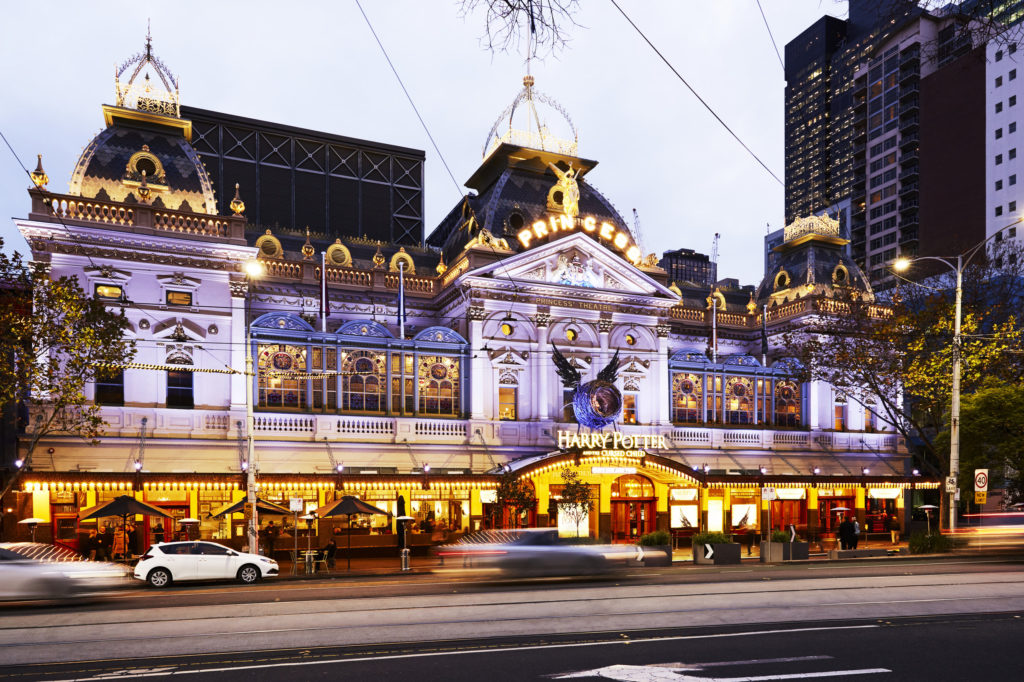 Indulge your arty side and see a show while you're in Melbourne. There are a lot to choose from, because Melbourne gets all the best shows that come to Australia (as well as the amazing local productions). 
The most famous theatres in Melbourne are the Princess Theatre, which is where huge shows like Harry Potter have played. Or try the Athenaeum Theatre, the oldest in the city offering everything from comedy acts to Shakespeare. 
Her Majesty's Theatre is another popular choice, offering the city's best dance performances and musicals. The Regent Theatre is the place for blockbuster shows coming to Melbourne.
For more experimental productions, try the Malthouse Theatre, with its focus on cultural and artistic diversity, La Mama, an independent theatre in Carlton, or Union House for edgy student productions.
Shows rotate in and and out regularly, so check each theatre's website for the latest program.
3. Laugh until your belly hurts 
Laughing is good for your mental, emotional, and physical health and it's never been more important. So, for the good of your health, make sure that you include a comedy show or two when you're planning your night in Melbourne. 
While Melbourne is home to Australia's largest comedy festival, you can catch great acts year-round.
Comedy venues in Melbourne included Comedy at Spleen, for new and old talent, or Local Laughs, located in a European-inspired tavern in St Kilda East. 
If you like a more intimate setting, try Lido Comedy for a show every Tuesday night in the jazz room of an old cinema. Comedy at the Coopers Inn is also a great place to spend a Friday night. 
Love improv? Check out The Big Hoo-Haa on Friday and Saturday nights. I'm always in awe of comedians who can do improv – and these guys are incredible.
4. Scare yourself at the Old Melbourne Gaol
If you're travelling with young kids, this probably isn't the best choice of late-night Melbourne activities. But if your travelling companions are a little older and braver, then it's a spooky but interesting way to spend a couple of hours. 
The Old Melbourne Gaol was built in the mid-1800s and closed in 1929. In that time, it housed not only dangerous criminals but also the mentally ill and homeless. Inmates who died there would make for very unhappy ghosts. And that's before you add in the 133 prisoners who were hanged there for their crimes. 
It's considered one of the most haunted places in Melbourne. And once you're inside, you'll feel it, trust me! Even if you don't spot a ghost or hear something strange, there's something odd about this place.
The gaol offers a few different tours, so have a look what's on in the city and prepare to be creeped out.
5. Catch a movie 
If you're really struggling to find things to do at night in Melbourne (although, really – have you read this whole list??), then why not fall back on an old favourite? Melbourne has plenty of cinemas that show everything from the latest blockbusters to obscure arthouse releases, so you really can take your pick. 
Check out the Astor Theatre for classic movies and double features in Art Deco surroundings. Or try the Palace Westgarth, almost universally known as the most beautiful cinema in the city. 
I love Cinema Nova in Carlton – it's great if you even want to see a movie solo, as I've done a few times.
The ACMI is a good choice for foreign films and documentaries, and for blockbusters and arthouse films, try the Palace Cinema Como for the latest films with a touch of luxury. 
6. Gorge at the Queen Vic Market night markets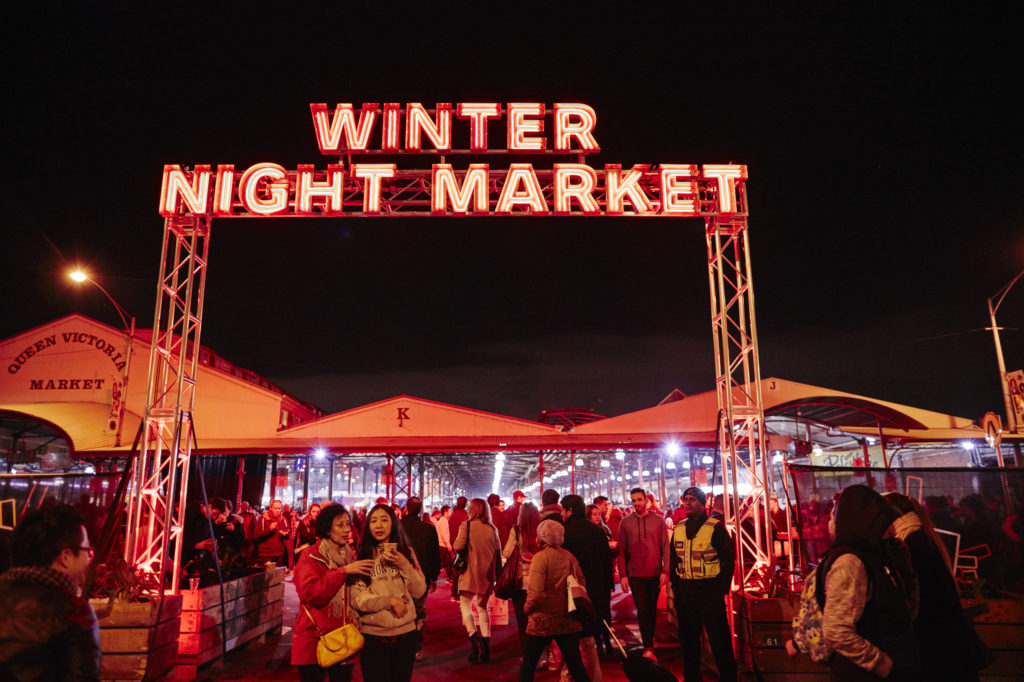 The Queen Victoria Market first opened in 1878, and locals have been visiting for food, trinkets and socialising ever since. It's spread over two city blocks and offers everything from fresh produce to food trucks and clothing. 
If you're in Melbourne on a Wednesday night, check out the Queen Vic Market, as there are themed night markets throughout the year. I love the summer and winter night markets, but there are also street food markets and other celebrations at other times of the year.
No matter the time of year, you can guarantee that there'll be a LOT of food – usually from all around the world – as well as live music and entertainment.
7. Relax on St Kilda Beach and take in the sunset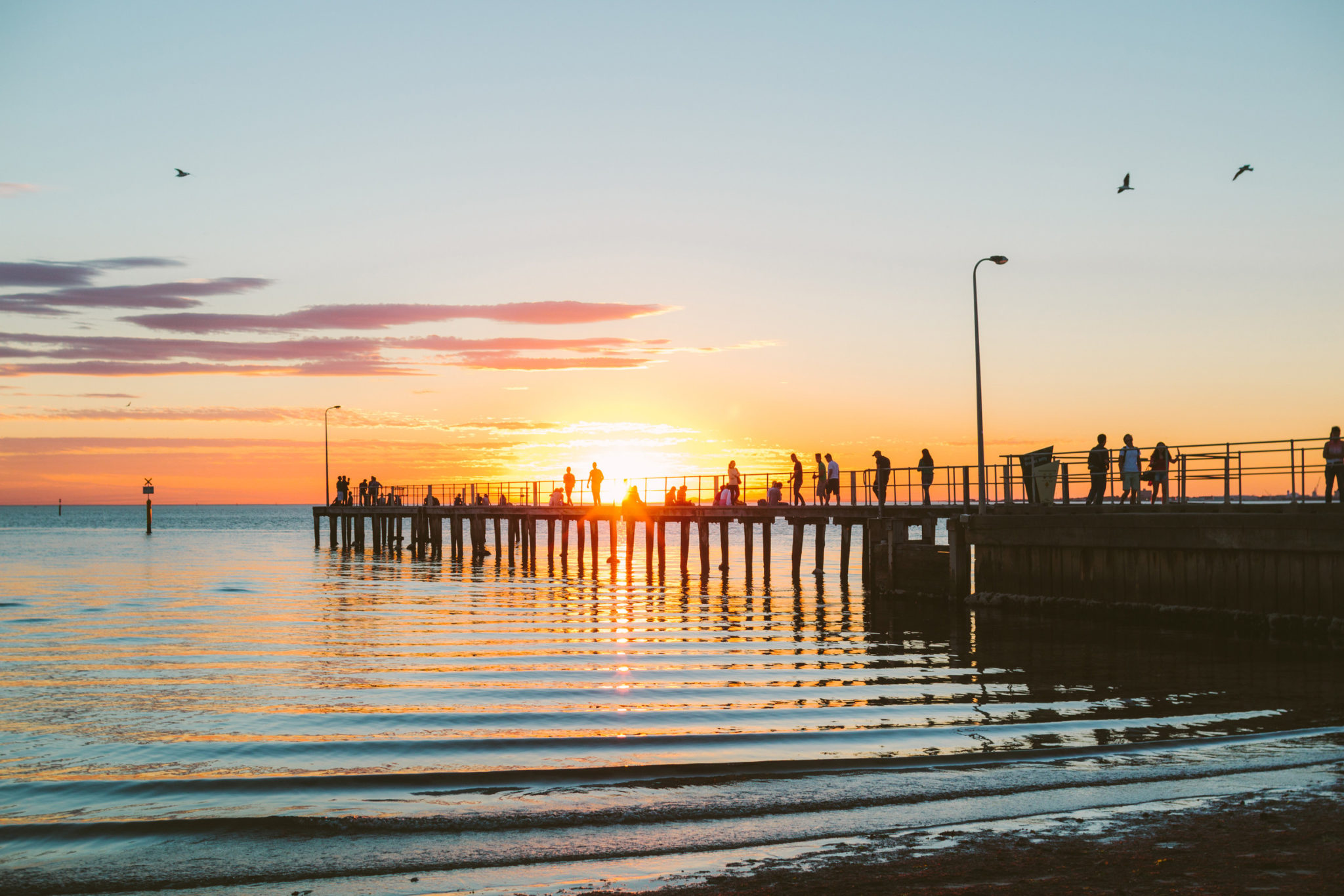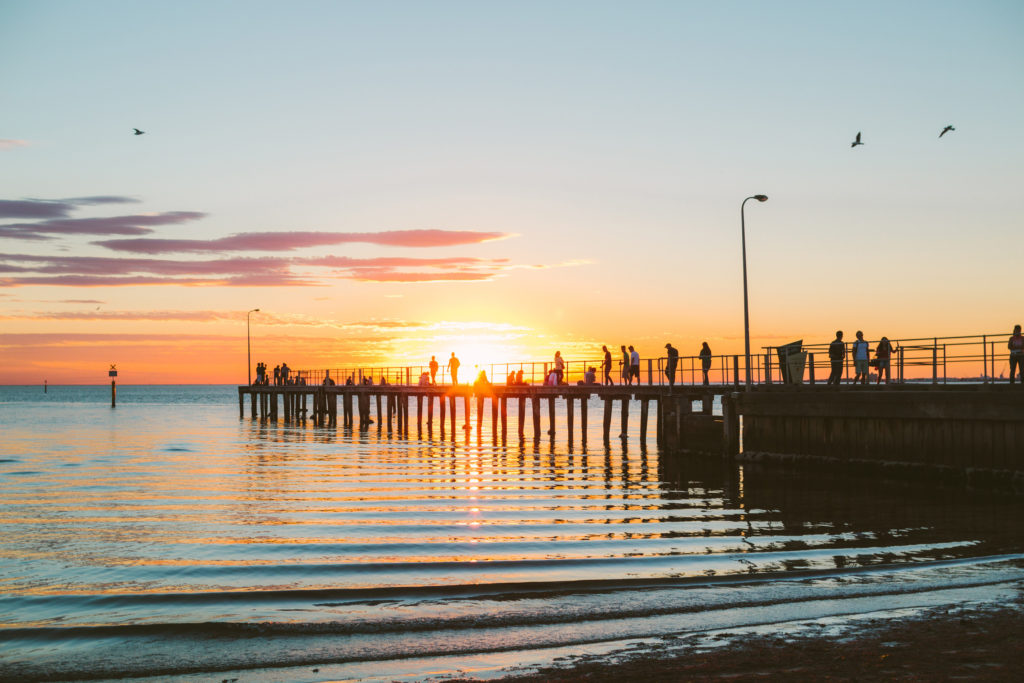 While I don't recommend ocean swimming as one of the Melbourne attractions to try at night, watching the sun setting over St Kilda Beach is a stunning way to cap off a day exploring Melbourne. 
I love grabbing some fish and chips from one of the local shops and enjoying them right there on the beach.
No matter the time of year, there are always people wandering along the foreshore so it's a great spot for people watching
8. Say hi to the Little Penguins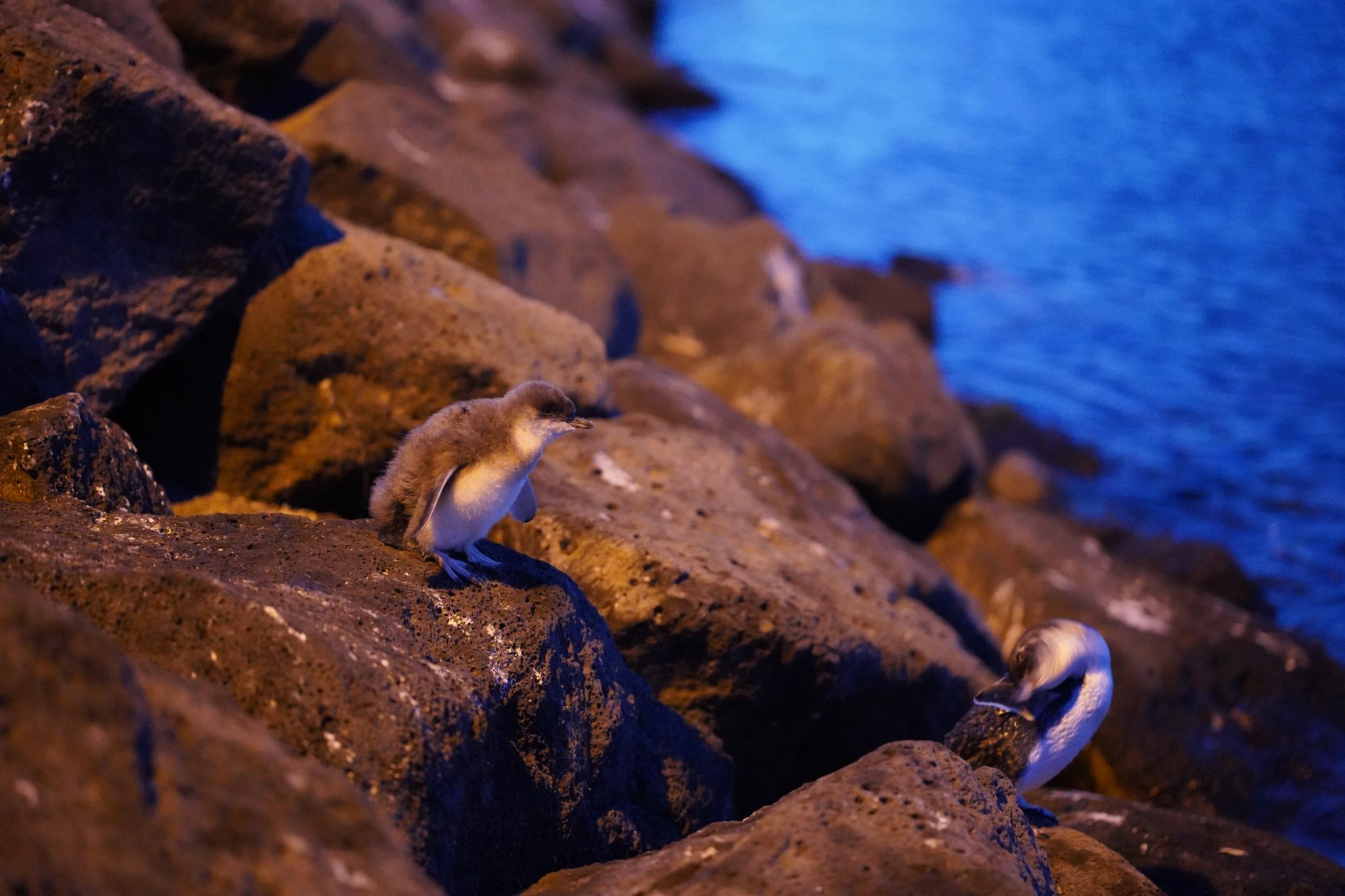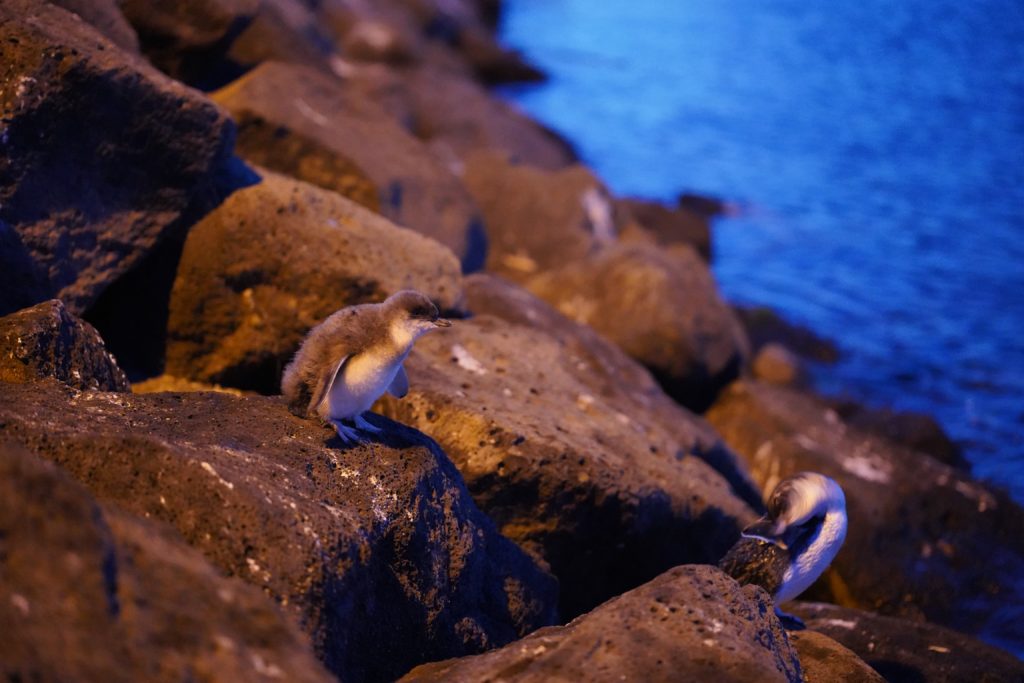 Stick around St Kilda and get yourself in position before sunset for an added bonus.
St Kilda Pier is home to a colony of around 1,300 Little Penguins who come back to nest just after the sunset. Watching them waddle to their nests has to be one of the cutest things to do in Melbourne at night for free. (Check out my guide to free things to do in Melbourne for more budget-friendly activities.)
Update: The penguin viewing area is currently closed as part of the redevelopment of St Kilda Pier.
9. Sing your heart out
If your idea of a great night out involves a drink in one hand and a microphone in the other, then plan your next night out in Melbourne with a round of karaoke. No matter your song of choice, you'll find plenty of karaoke bars around Melbourne – some even serve up food as well.
I LOVE a good karaoke night out! (My song of choice? Whitney Houston's I Wanna Dance with Somebody.) Here are some of the most fun karaoke bars in Melbourne:
10. Take the kids to Luna Park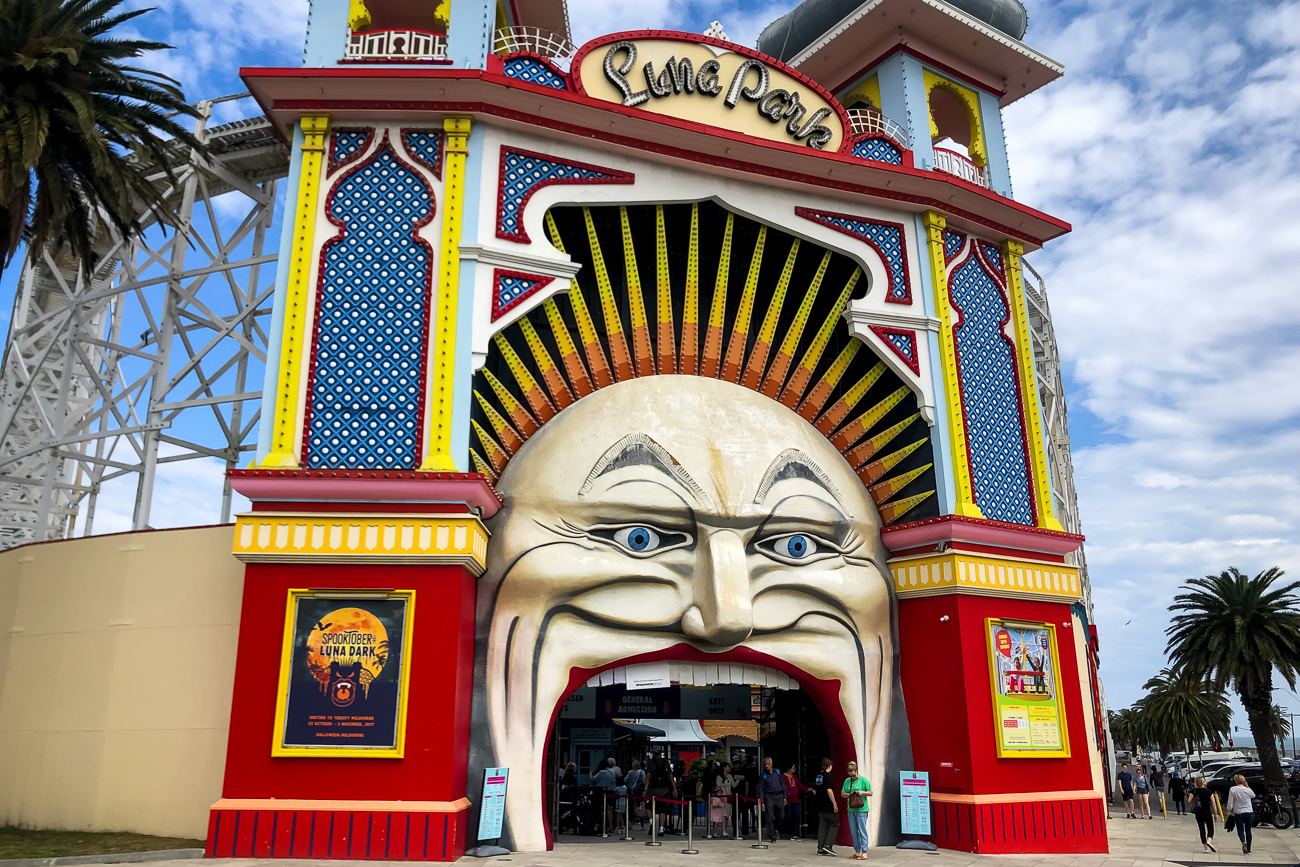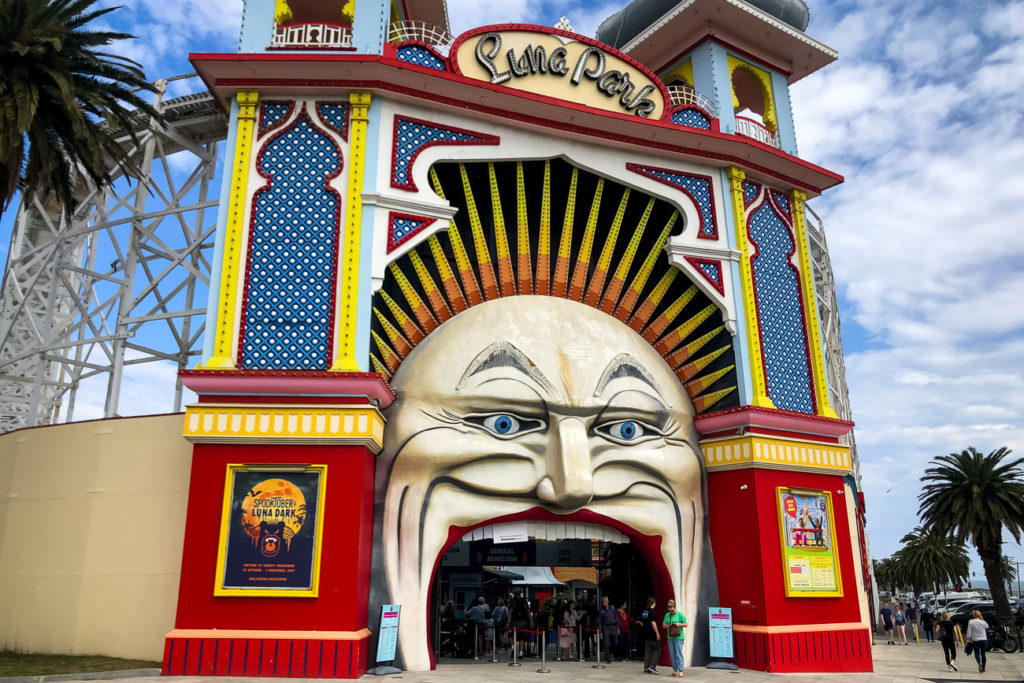 Need to keep the kids occupied for a few hours? Then take them to Luna Park. With everything from dodgem cars to carnival games and carousels, this is the oldest continuously running theme park in the country. 
During the spring and summer months, Luna Park is open until 10pm on Friday and Saturday nights, so it'll keep the kids happy until way past their bedtime. 
Check out more things to do with kids in Melbourne.
11. Check out a few Melbourne bars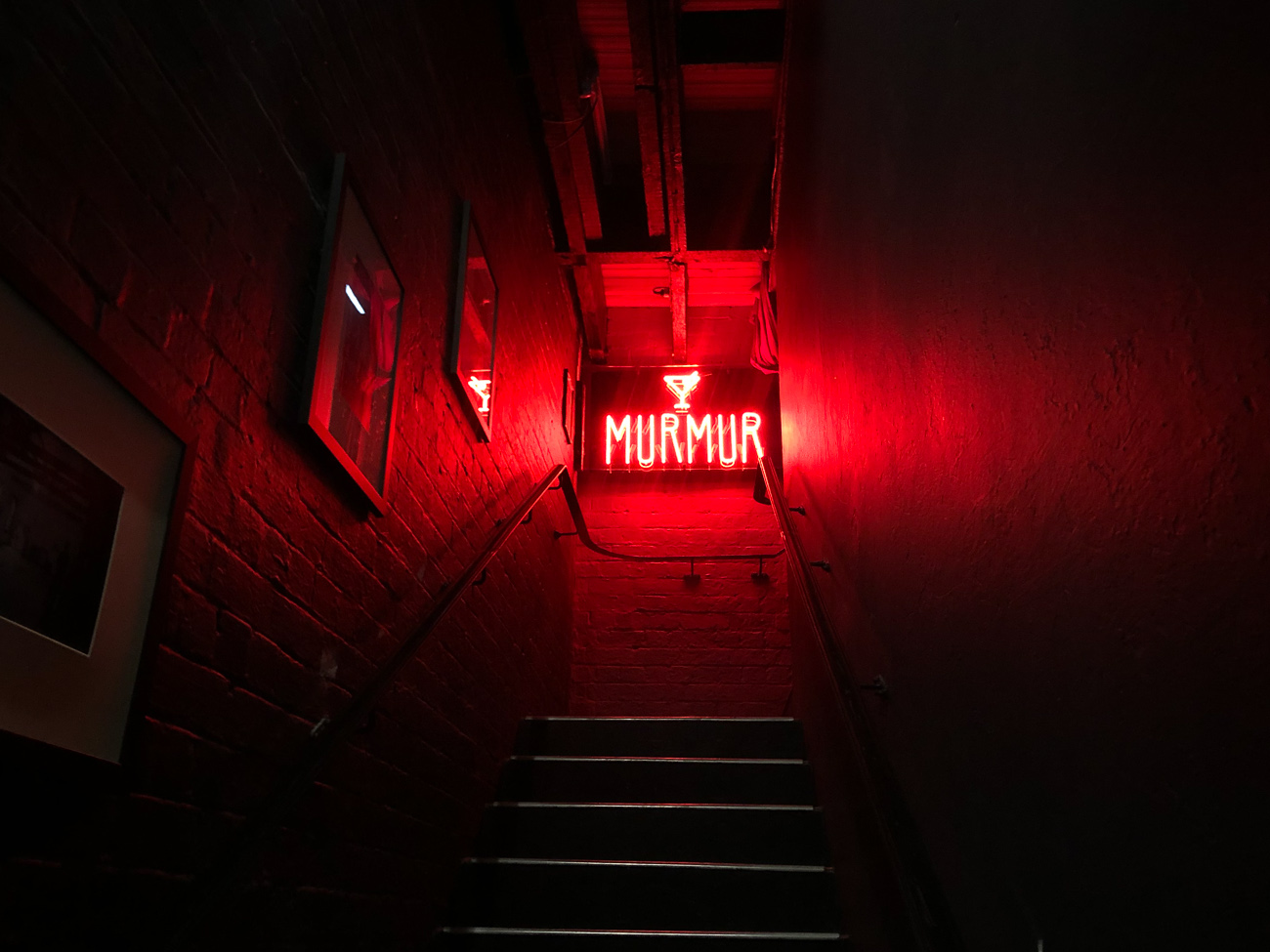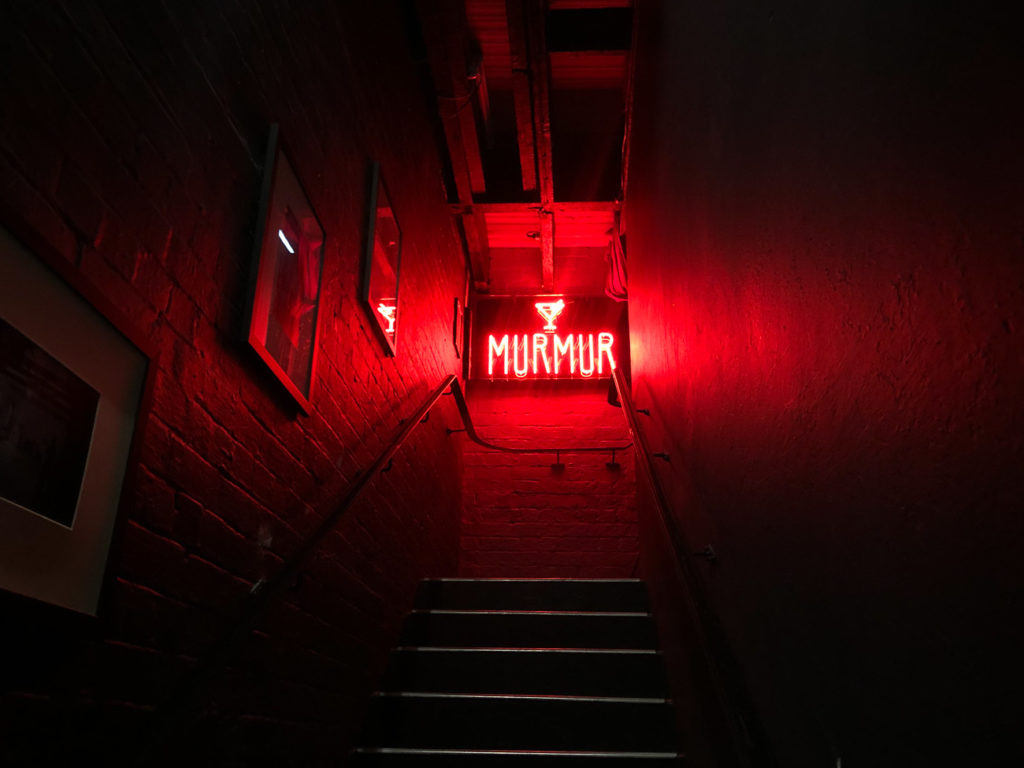 You can't talk about Melbourne nightlife without including our bar scene. Melbourne has a lot of them, some on rooftops and in hidden alleyways, others tucked away in historic buildings.
If you want to have a drink with friends at some of the coolest places in the city, here are a few options: 
This list, of course, barely touches the breadth of what we have to offer here in Melbourne, but they're starting points for a good night out!
12. Take a dinner cruise on the Yarra River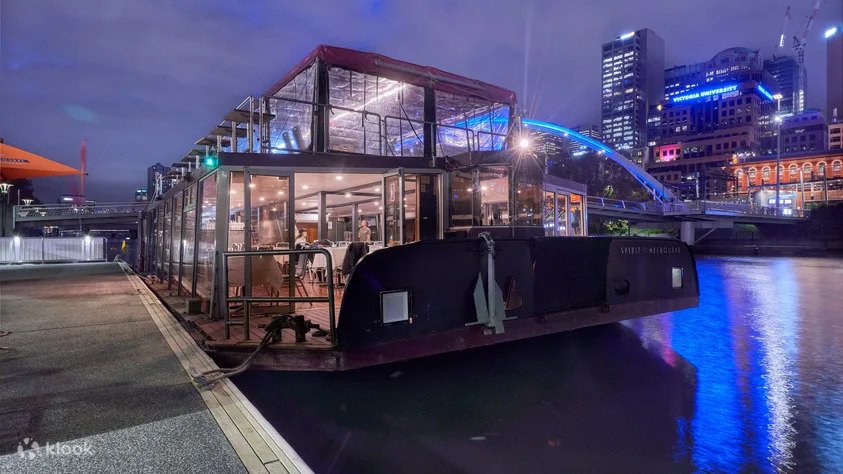 Taking a cruise along the river is one of the best things to do in Melbourne at night – it's beautiful to see the city sparkling from the water. The lights reflect off the river and you'll cruise past people also having an awesome night out.
There are several different cruise companies offering evening meals on the water. Some are buffets, some are multi-course menus, some include drinks and some don't.
Whichever tour operator you choose, it's such a lovely way to see the city. Book tickets online.
13. Watch a movie under the stars 
If you were born before technology exploded, then you probably remember the wonder and excitement of drive-in theatres. There's just something special about watching a movie under the stars that even Gold Class can't match. 
Here's where to go in Melbourne city at night for an outdoor cinema experience: 
Just remember that most of the cinemas aren't open in the colder months, and understandably so – it's just too hard to focus on the movies when you're shivering! 
14. Stroll Southbank Promenade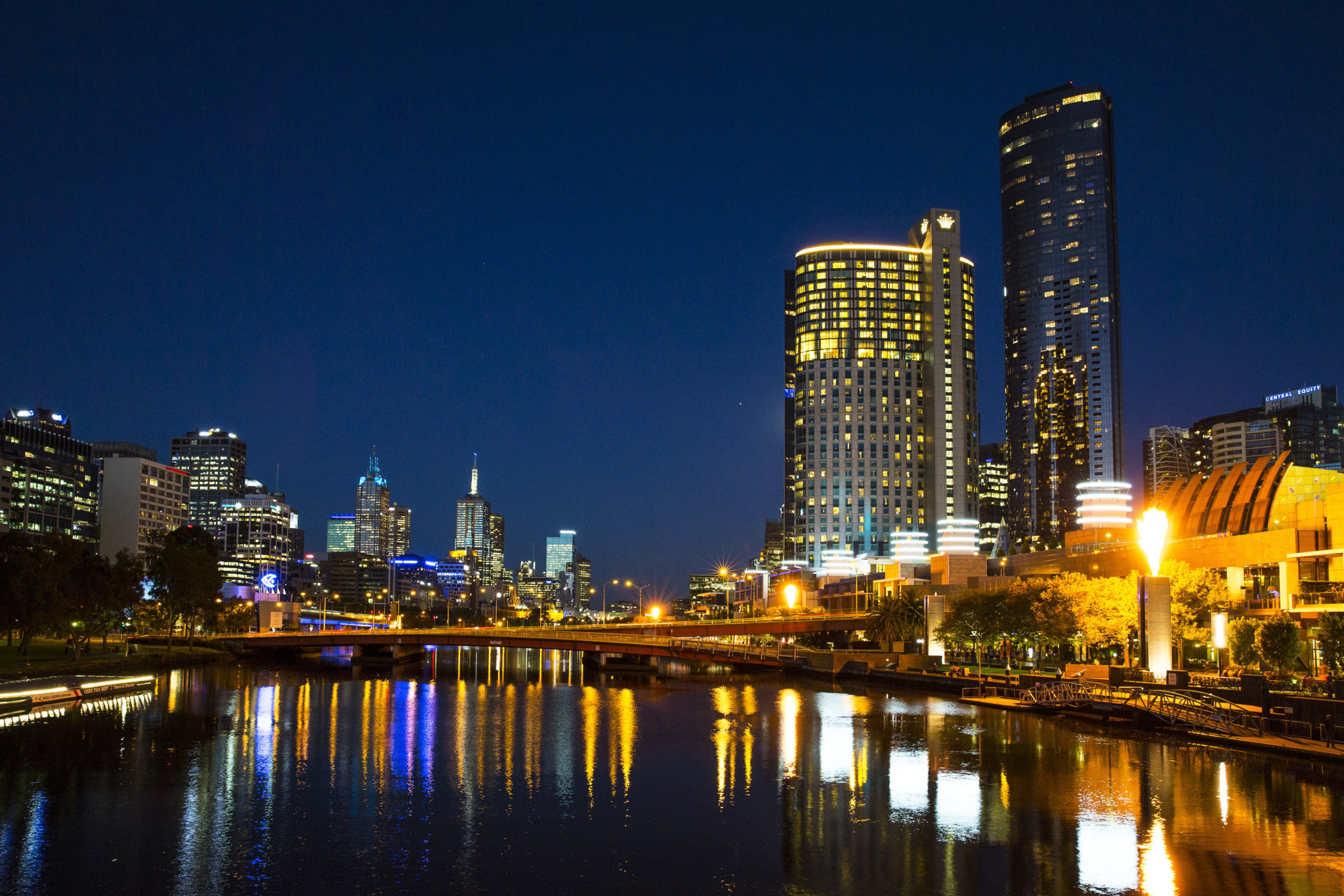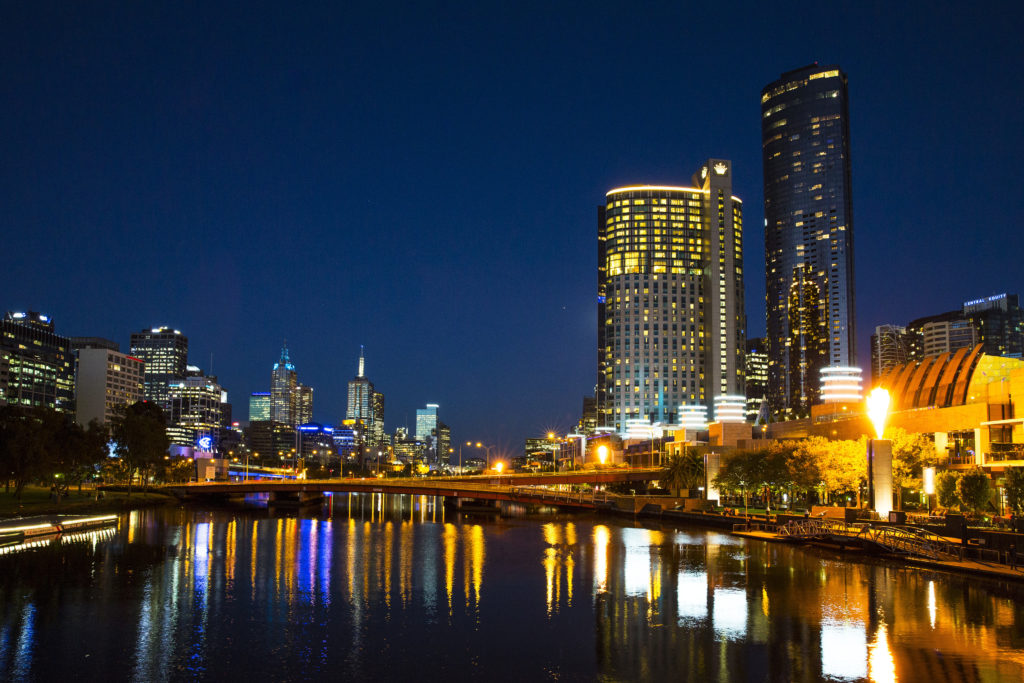 Close to the city centre, Southbank Promenade extends along the Yarra River and is a popular night-time destination. The views are beautiful and there are lots of restaurants and bars where you can stop in for a meal or a drink.
There are also the famous Gas Brigades, the towers that shoot fireballs into the night sky every night. They're loud and you can feel the heat from them. I always jump a mile if I'm walking down here and not expecting them!
Southbank is also home to Crown Casino, which has heaps of restaurants, bars and Melbourne night activities like mini golf and 10-pin bowling to keep you entertained all night.
15. Catch an AFL match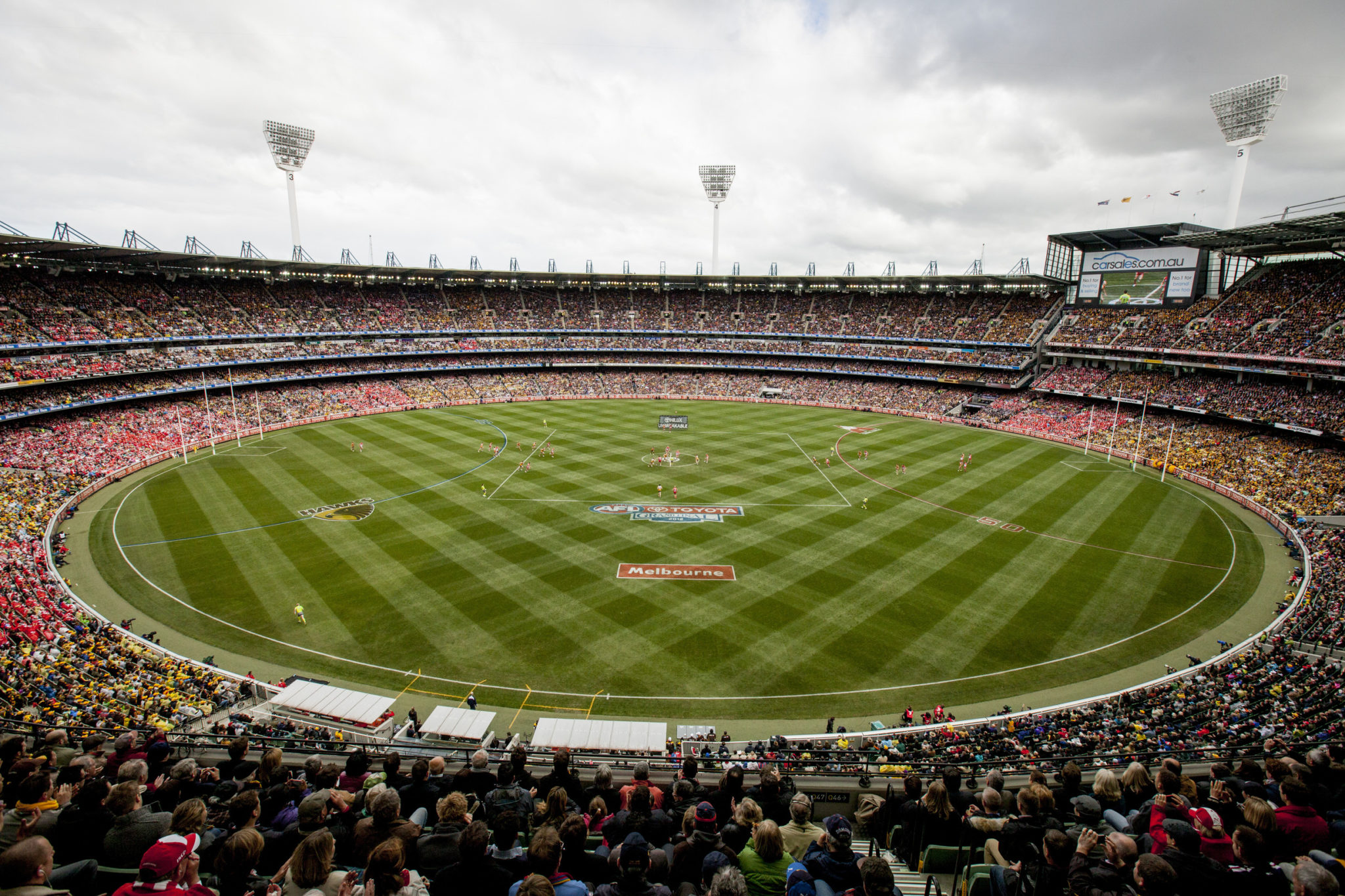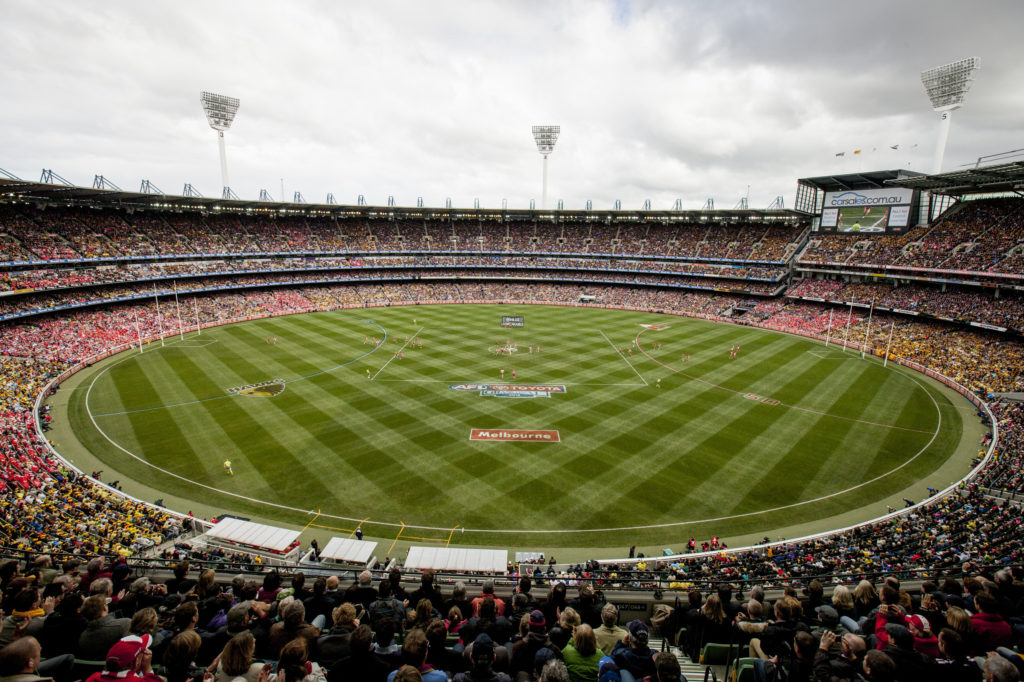 One of the best things to do in Melbourne at night if you're here at the right time is to watch an AFL match. 
While I'm not a footy fan, I can't help but get caught up in the spirit of being among the cheering (and jeering) crowds. If it's your first time at a game, someone around you will usually be helpful in explaining the rules.
AFL games are played at a few stadiums around Melbourne, but try to time your visit with a game at the MCG, one of the city's most iconic sporting venues.
16. See a cabaret show at the Butterfly Club
Hidden away in a narrow alley, the Butterfly Club can be hard to find. But visitors and locals alike flock to this Melbourne night life institution to see their quirky cabaret shows, so make sure that you do the same. 
Insider tip: The club is small and tickets are limited, so book early to get your spot.
17. Take a moonlight kayak ride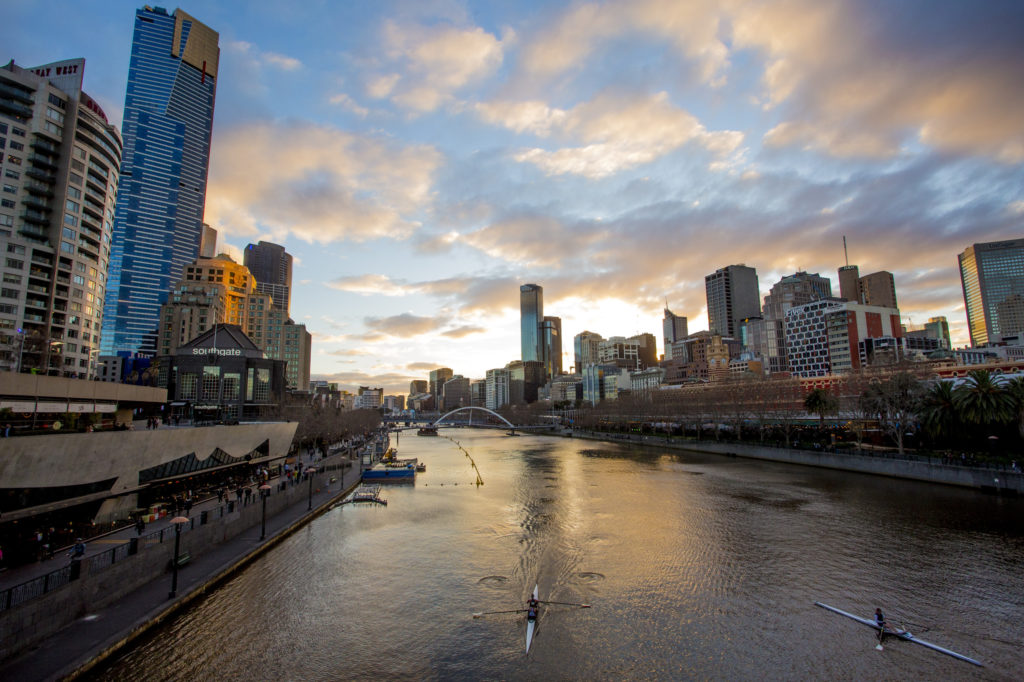 If you enjoy seeing a city from the water but want a more personal experience, then take a sunset kayak tour along the Yarra River.
These tours leave from the Docklands at sunset and include a stop for fish and chips along the way. Book tickets online.
18. Test out your night-time photography skills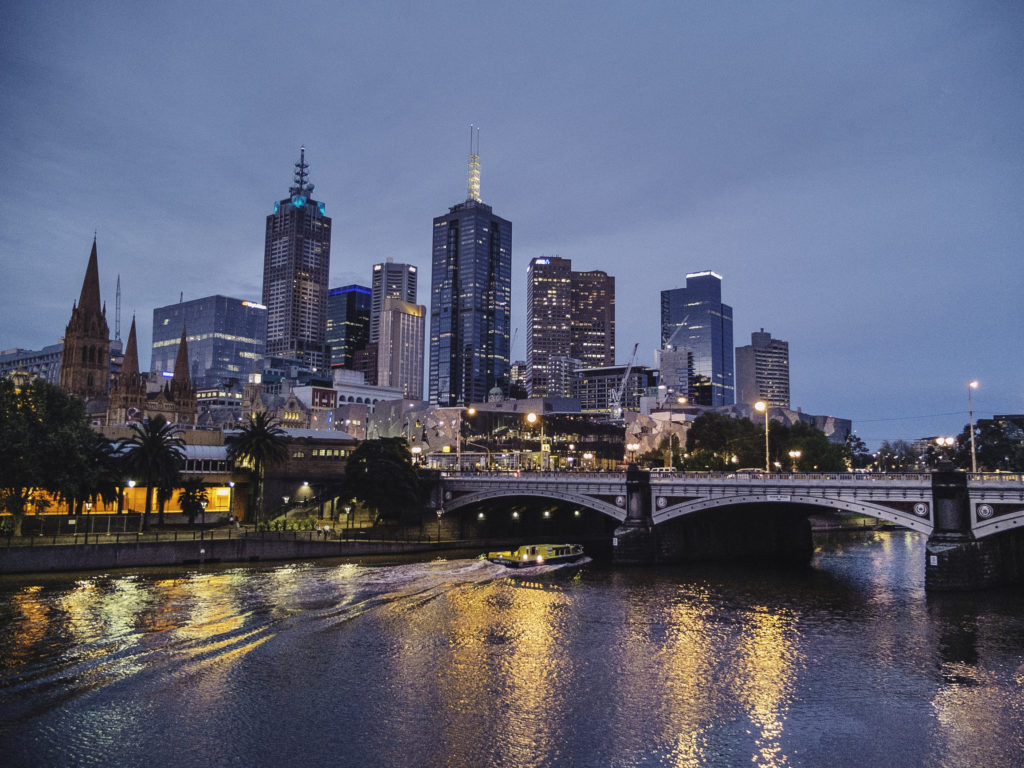 Melbourne nightlife isn't all parties and eating and drinking. Sometimes it's nice to just observe. 
If you're at all arty or good with a camera, then test your night-time skills and see the city from behind a lens. You'll be amazing at how different everything looks when you examine it with an artist's eye. 
Some great locations to take photos at night are: 
Flinders Street Station 
Birrarung Marr for sunset shots over the water 
St Kilda Pier after sunset for penguins
Brighton Beach Boxes at sunset for amazing light 
The Yarra River with a wide lens
Luna Park 
Crown Casino on the Yarra River
19. Play Holey Moley Golf 
Remember playing mini golf as a kid? Holey Moley has taken that to a new level with unique holes and landscapes that bring back the best and the worst of the '80s and '90s. With several locations throughout the city, it's a little bit crazy and a lot of fun for kids of all ages. 
There's a full-service bar and snacks to round out the night.
20. Listen to some live music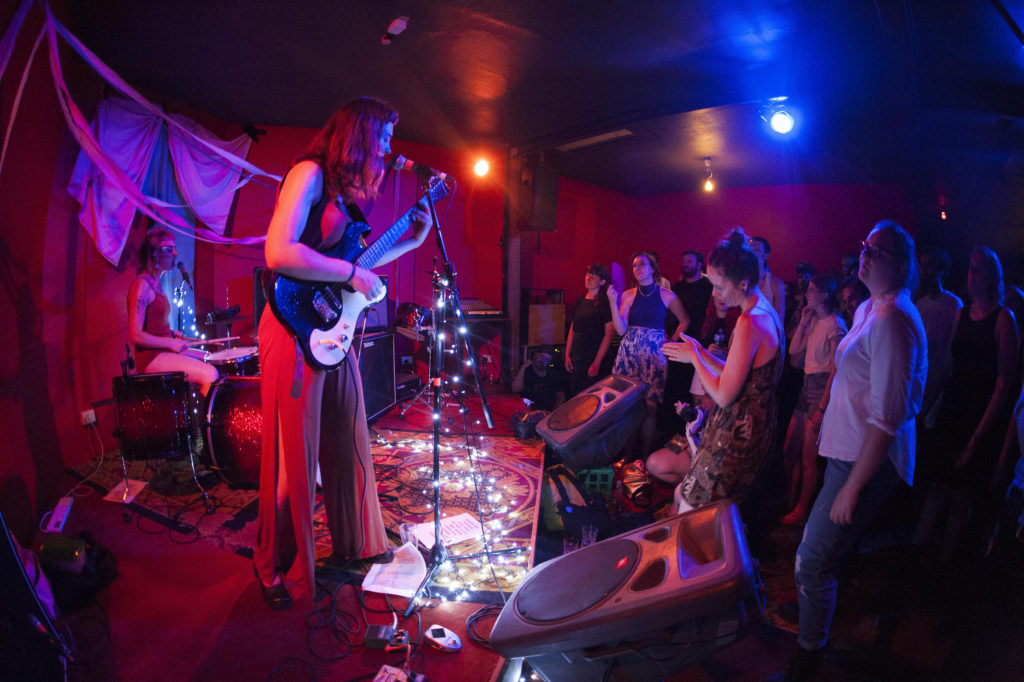 Melbourne is famous for its live music. Every night, music venues and pubs showcase the best the city has to offer as well as up and coming talent. So, if you want to see some old favourites or discover new ones, here's where to go: 
The Tote or The Curtin or the Corner Hotel – classic Melbourne music venues that play every kind of genre you can think of
Forum for big-name bands from Australia and overseas
The Jazzlab or the Paris Cat Jazz Club for the best jazz in the city 
The Prince Bandroom at the Price of Wales Hotel for local and international acts 
The Retreat Hotel for blues on weeknights and headliners on the weekend
Bars all along Johnston and Brunswick streets for Latin, rock, jazz and indie music on any night of the week
21. Eat out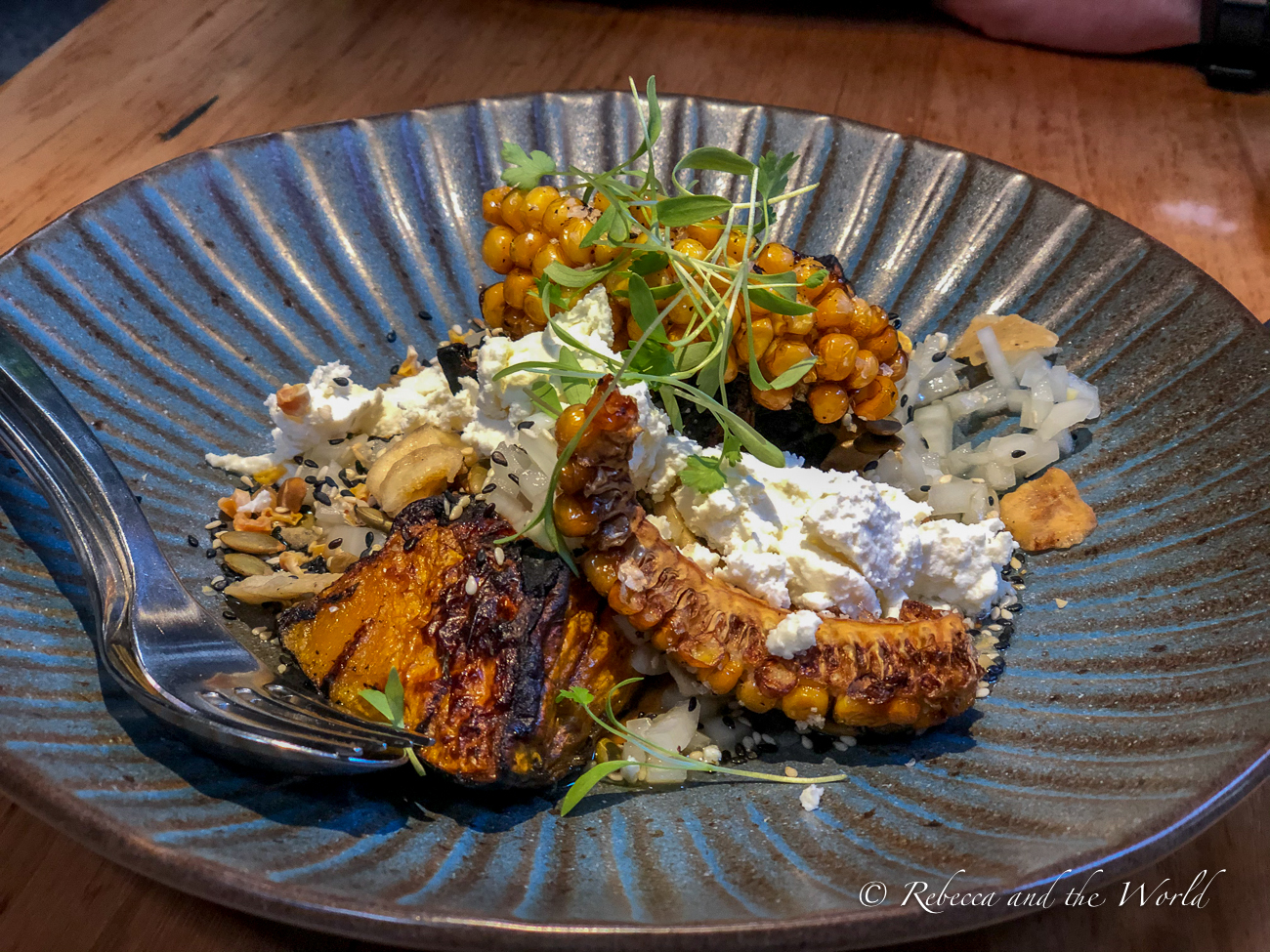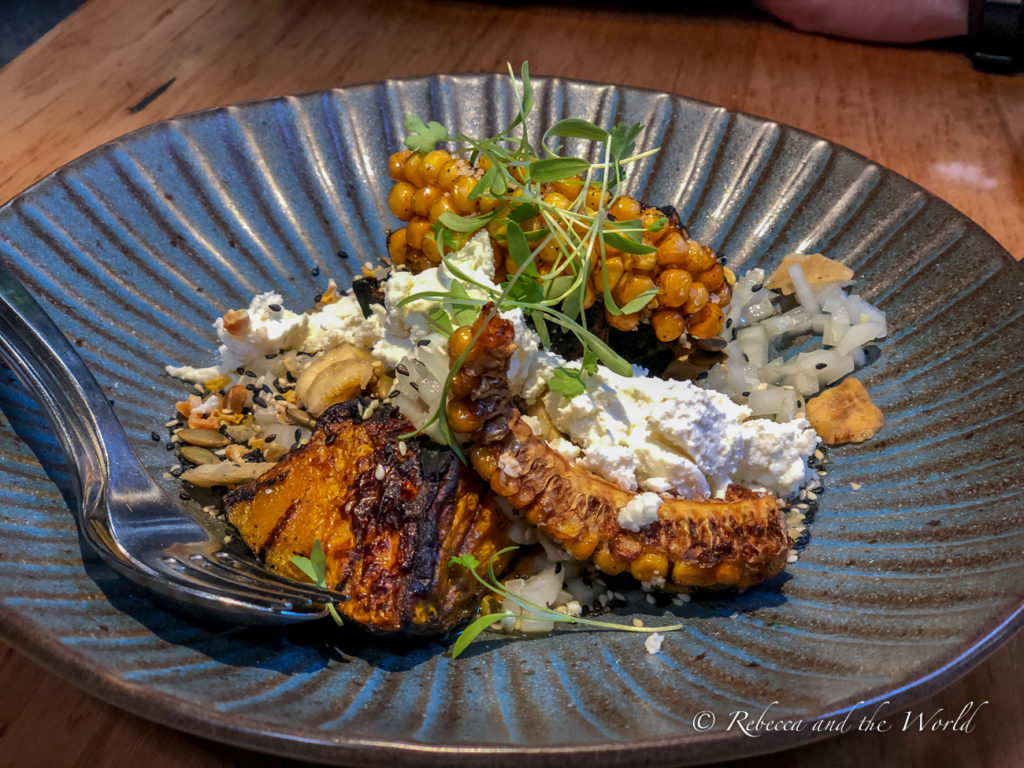 Do you need to be sold on the Melbourne food scene? Eating is one of the most popular and rewarding things to do at night in Melbourne.
And best of all, there's no end to this activity. There are literally thousands of restaurants in Melbourne to try. Every time you visit Melbourne, you'll find new restaurants, so no matter how many times you visit, there'll be something new on the scene.
I've got a guide to where to eat in Melbourne which covers multiple neighbourhoods across the city. You won't go hungry here!
22. Explore the amazing-ness of the planet
If you're constantly astounded by the stars, planets and such science-y subjects, then head to Scienceworks on a Friday night for an adults-only interplanetary extravaganza.
The exhibits and films at Planetarium Nights change each month, but what you can always expect is a mind-blowing learning experience – plus a bar.
There are two sessions each night at 7.30pm and 9pm, each featuring different shows.
23. Hang out in a museum after hours
As the "capital of culture", Melbourne is home to some world-class museums and galleries. While NGV International may be Australia's oldest gallery, it doesn't mean that it's operating in the past. In fact, this gallery is always up to date with incredible exhibitions – and very hip after-hours events.
Depending on the season, on Friday nights the NGV opens its doors and welcomes visitors with DJs, live music, drinks and dining. The entertainment accompanying your gallery browsing changes each week.
24. Test your skills in an Escape Room
Best played with a group of clever friends, escape rooms combine the thrill of the unknown with the heart-pounding anxiety of physical confinement.
It's all in good fun, of course, you're not actually in peril. But when they're done well, these rooms do a good job of suggesting otherwise. And that's half of the fun of them, isn't it! 
I've visited a few escape rooms and always had a good time – even though I'm super competitive. Some of the most popular escape rooms in Melbourne are:
25. Learn about Melbourne's ghostly past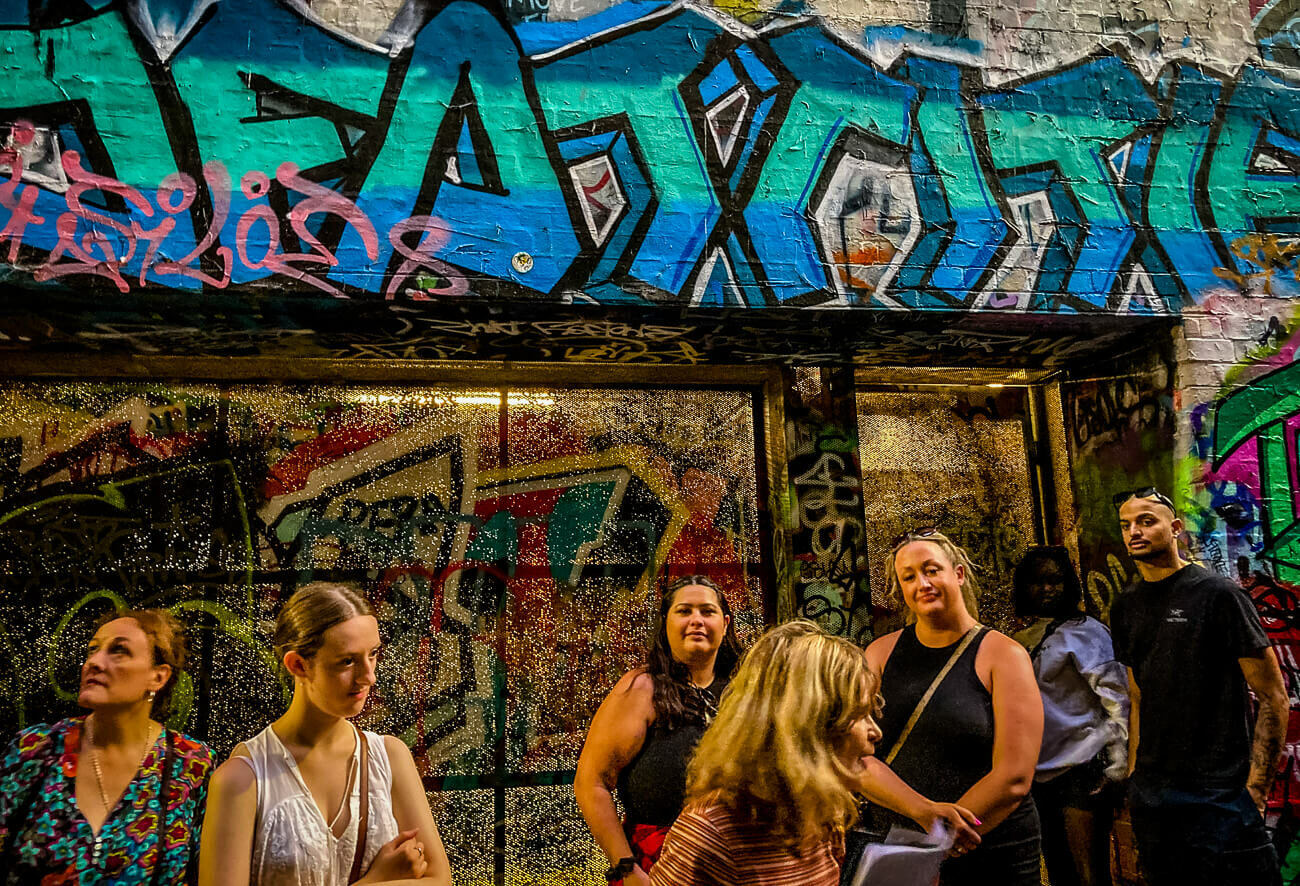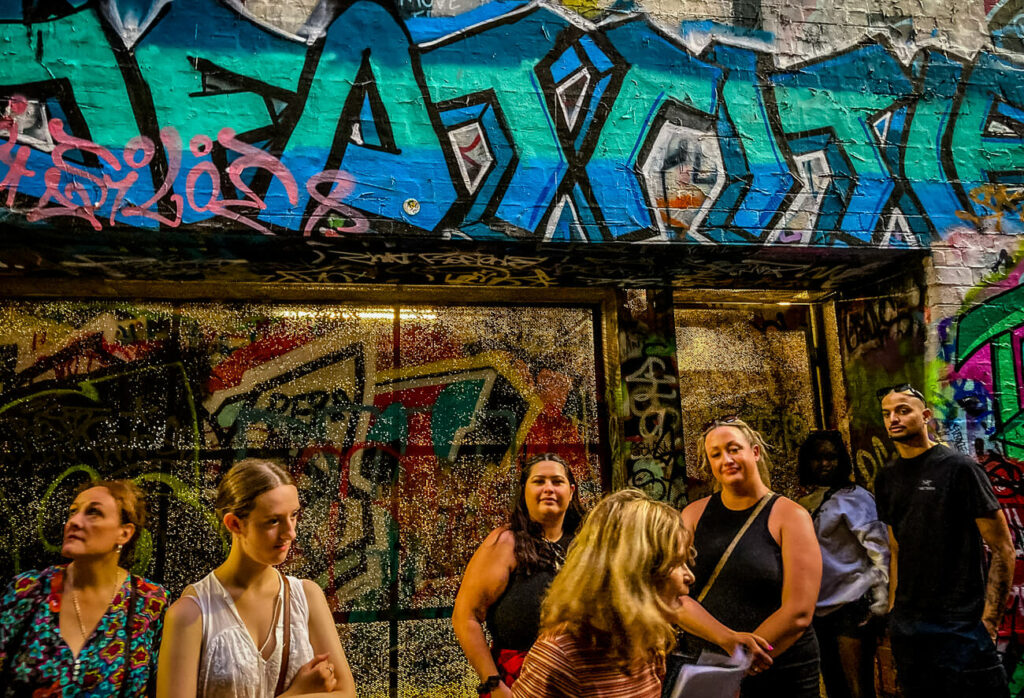 Melbourne is apparently haunted by many, many ghosts. Whether you believe or not, joining a spooky ghost tour is a great way to learn some fascinating stories about Melbourne's previous inhabitants – and maybe squeal a few times.
I joined a tour a few months ago and despite the mix of sceptics and believers, we all had such an interesting time, with a few shivers and laughs along the way.
Some of the best ghost tours in Melbourne are:
26. Chill out in an ice bar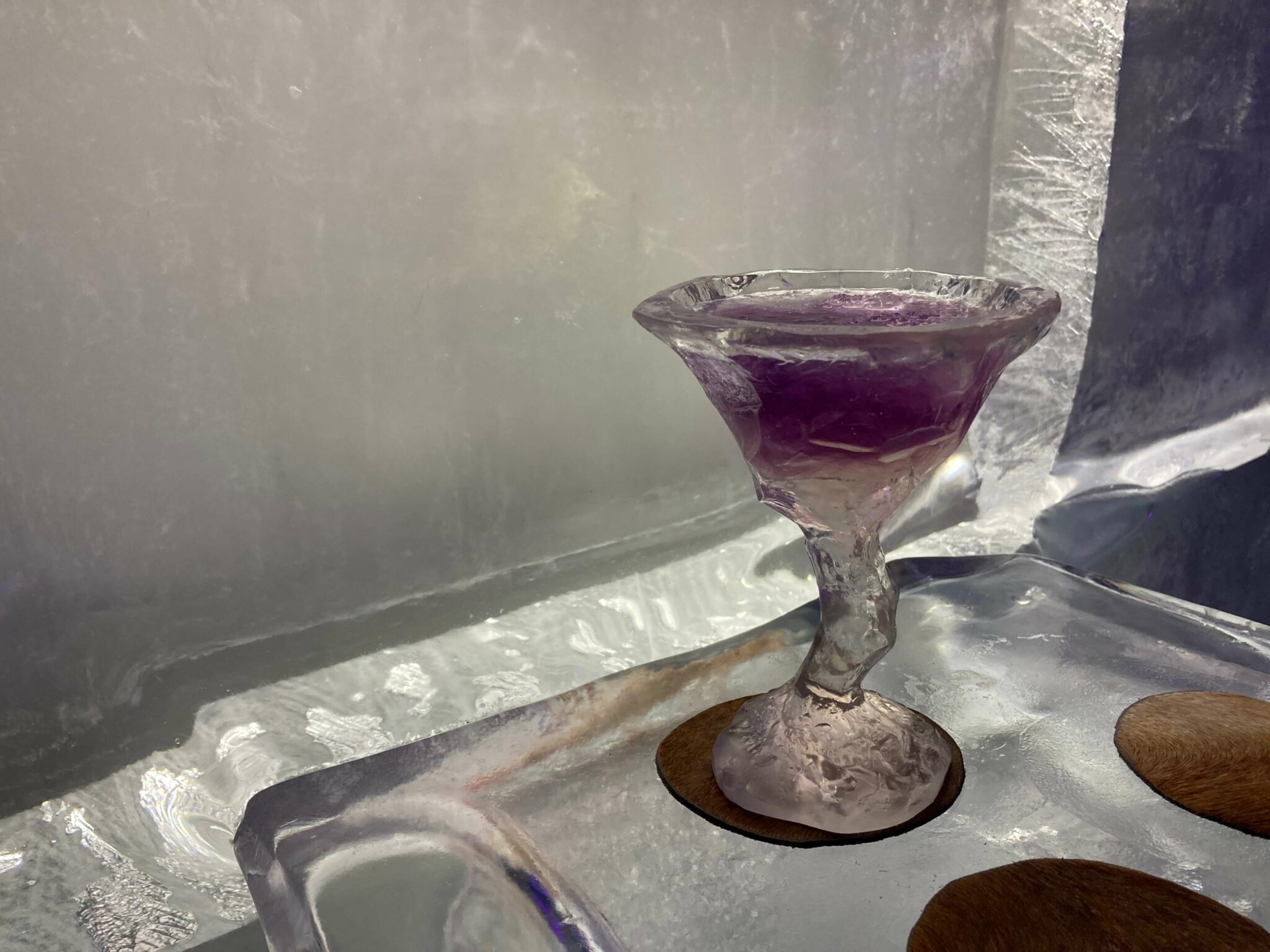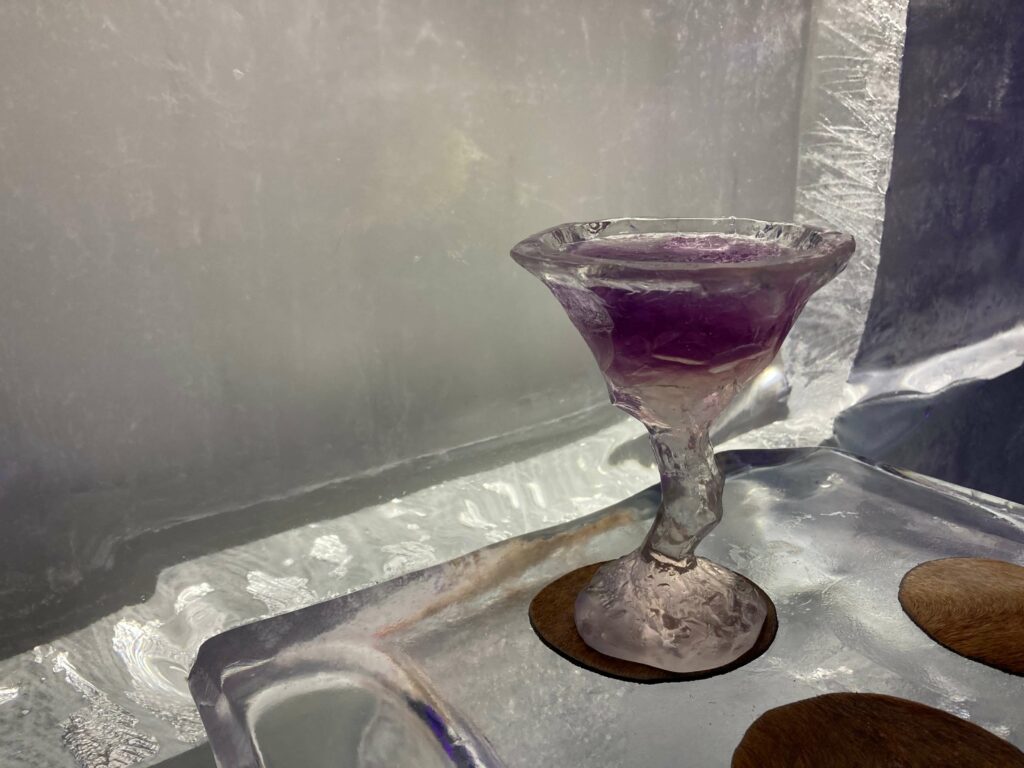 Rug up and enter a space where everything – including the drinks glasses – is made of ice!
Located in Fed Square's Atrium, IceBar Melbourne gives you gloves, a snow cape and Ugg boots to stay warm.
Grab a drink and explore the (small) bar made of ice – the whole bar area is carved out of 30 tonnes of dry ice! There are games to play and photo screens to capture your experience. The staff are really friendly, and regularly pop around to guests for a chat.
It's not cheap, but it is a unique night out. Book tickets for IceBar Melbourne here.
27. Take a boozy tour of Melbourne
With so many bars in Melbourne to choose from, it can be hard to narrow down which ones to visit when you come to Melbourne. So, why not leave it up to someone else – and learn a thing or two along the way?
These boozy Melbourne tours take you to the best bars in Melbourne with commentary about the things you need to know about Melbourne, whether that's history or street art.
Whisky Bar and Gin Joint Tour in Melbourne – learn about Victoria's early spirit-making past to its modern craft scene on this tour that stops at three of Melbourne's coolest whisky and gin bars
Melbourne Hidden Bars Tour – discover Melbourne bars like a local, sipping drinks in tucked-away cocktail bars, shipping container bars, and hidden speakeasies
Melbourne Boozy History and Bars Tour – combine a few drinks with a history lesson and learn about Melbourne's love affair with drinking, the persecution of barmaids and the booziest Police Commissioner
28. Get your (ice) skates on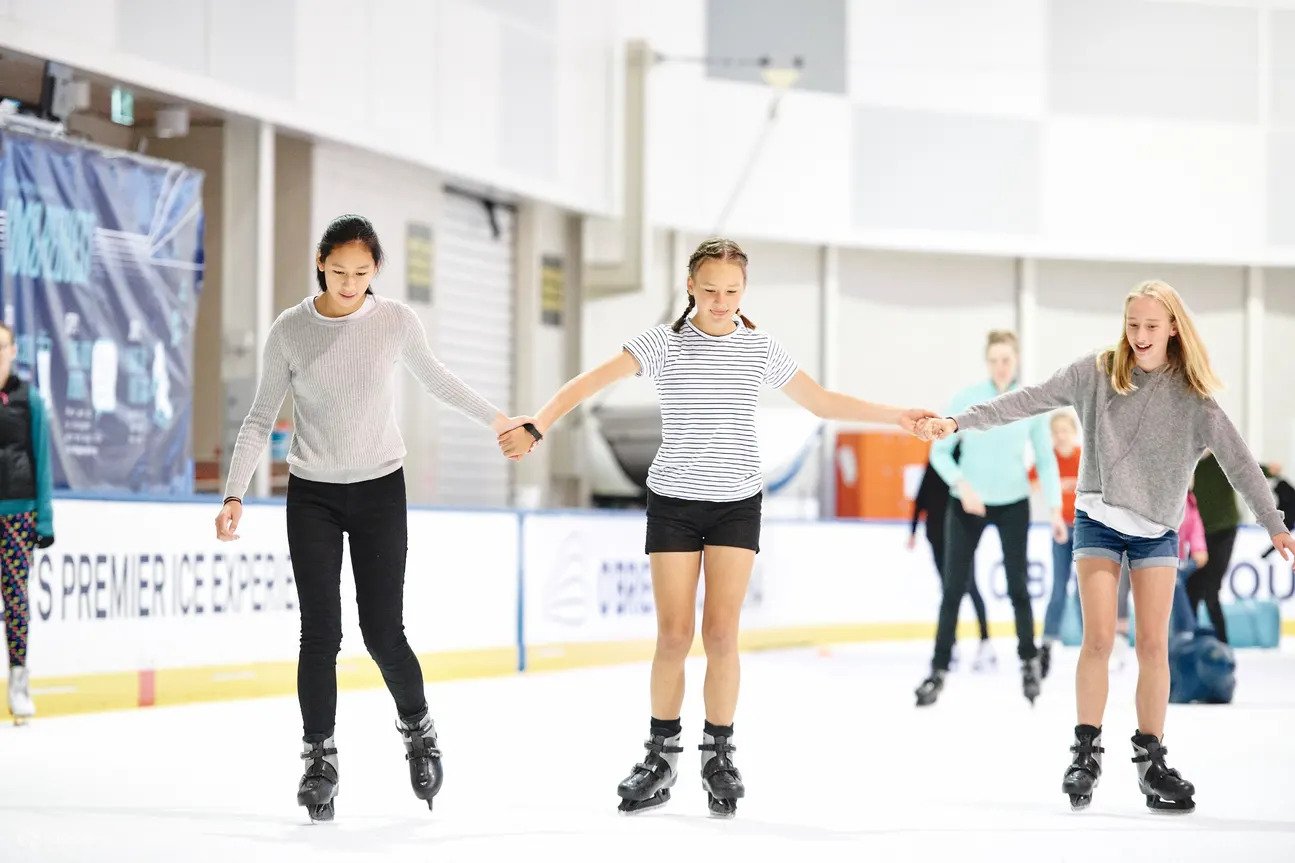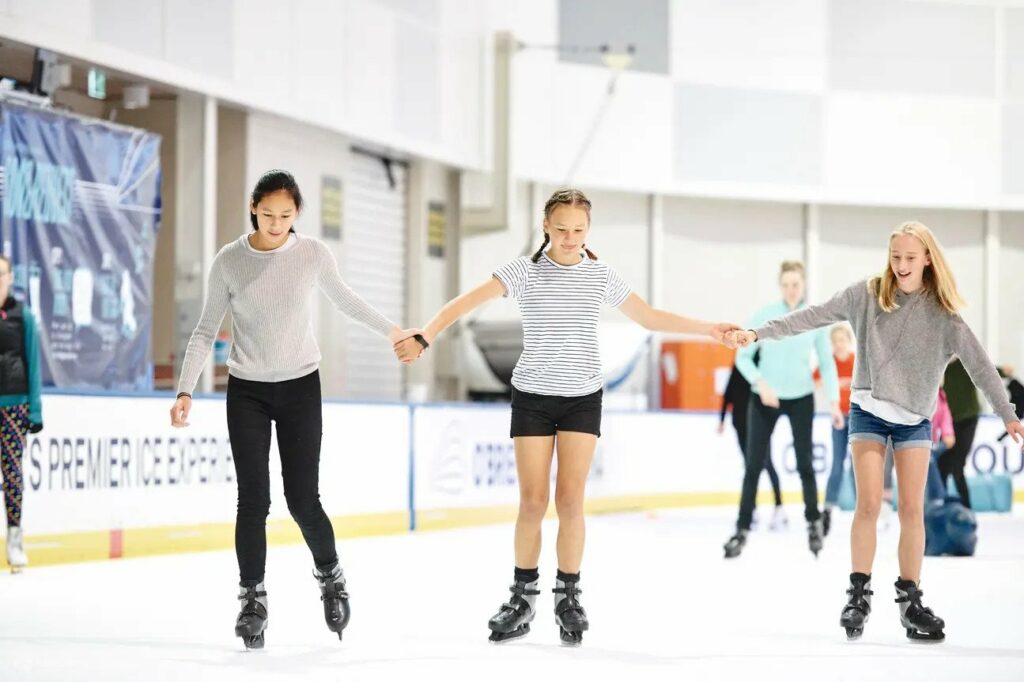 No matter your skill level, a night out on the ice can be a lot of fun. Glide around and show off, or fall, get up and fall over again! 
Go ice skating at O'Brien Icehouse near the Docklands for a family-friendly venue that's safe for all ability levels. This venue has two rinks and is open 364 days a year. It's also open late most nights, until 10pm or 11pm on Friday and Saturday nights.
29. Throw some axes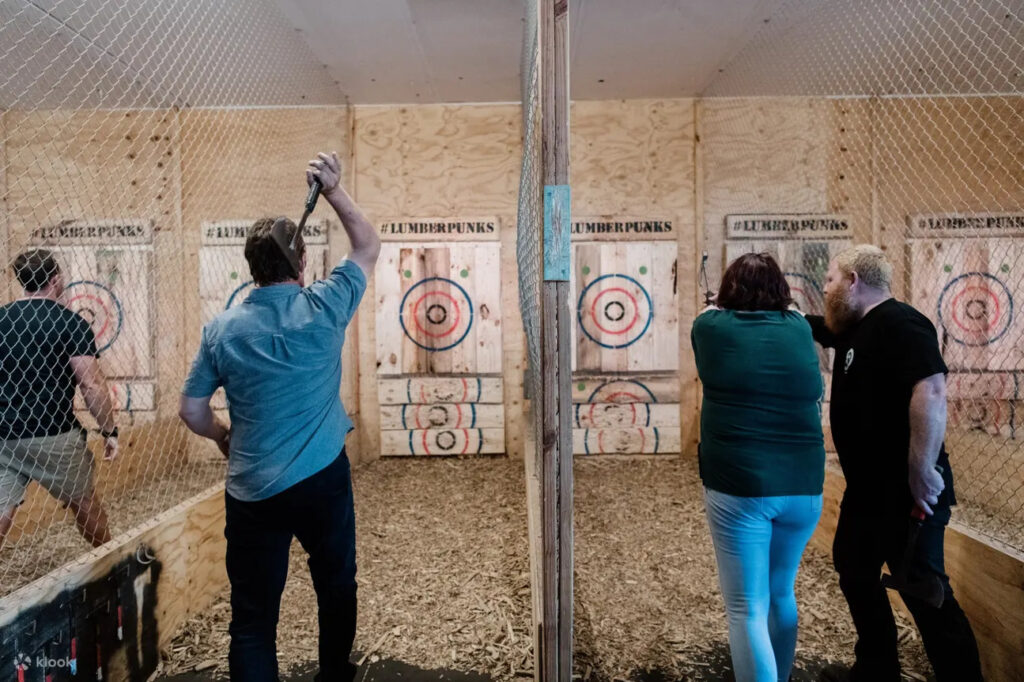 The axe-throwing craze sweeping the world has landed in Melbourne. Test your Viking skills by throwing axes at wooden blocks – it's actually a lot of fun!
There are a couple of axe-throwing joints for an amusing night out:
Grab a group of friends and find out who's got the better axe-throwing skills!
30. Have some fun at the Hijinx Hotel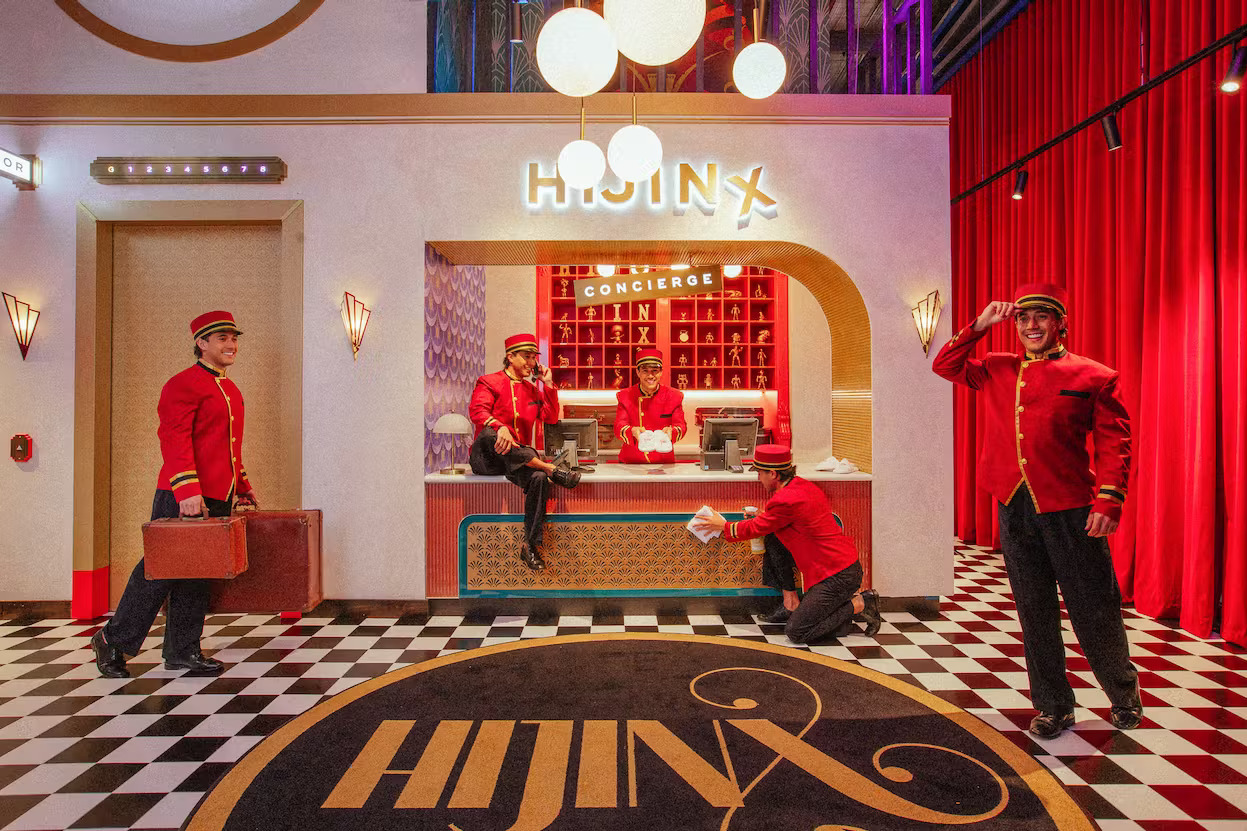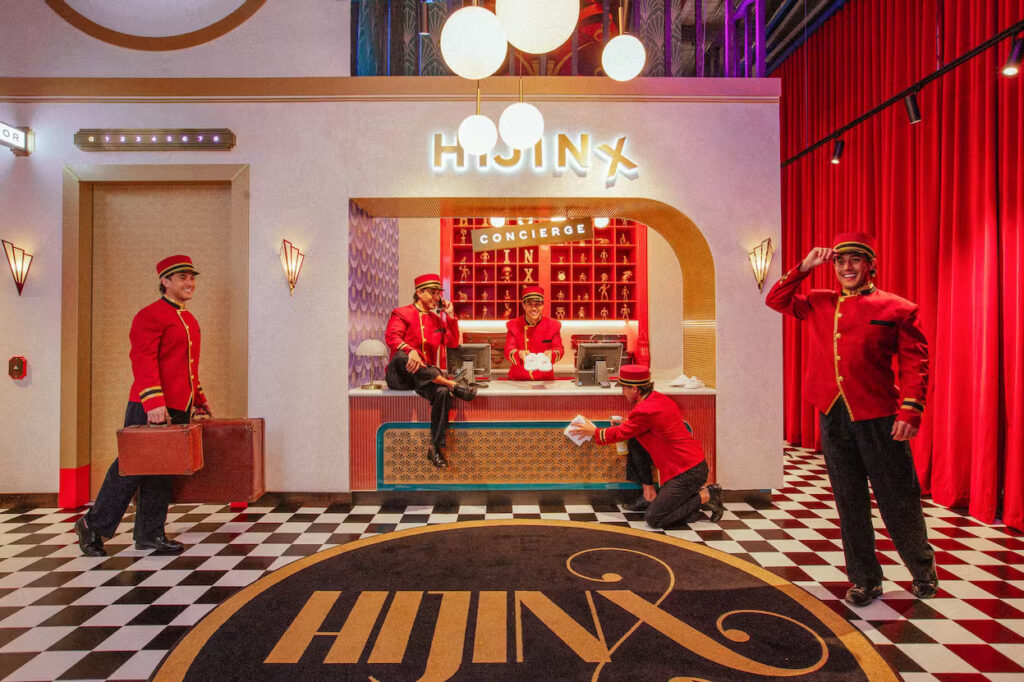 One of Melbourne's newest after-dark offerings, the Hijinx Hotel at Chadstone isn't a hotel – it's an immersive, quirky entertainment centre. This fun place is open all day but comes alive as the sun sets, with a mix of games, food and drinks.
Grab some friends and try the "Challenge rooms", where you'll work together to complete challenges and earn points before moving on to the next room. Not with a group? Then try your luck at the arcade games, bowling or mini golf.
There's also plenty of food, with burgers and pizzas to complement the cocktail and beer and wine menu.
31. Be amazed by some magic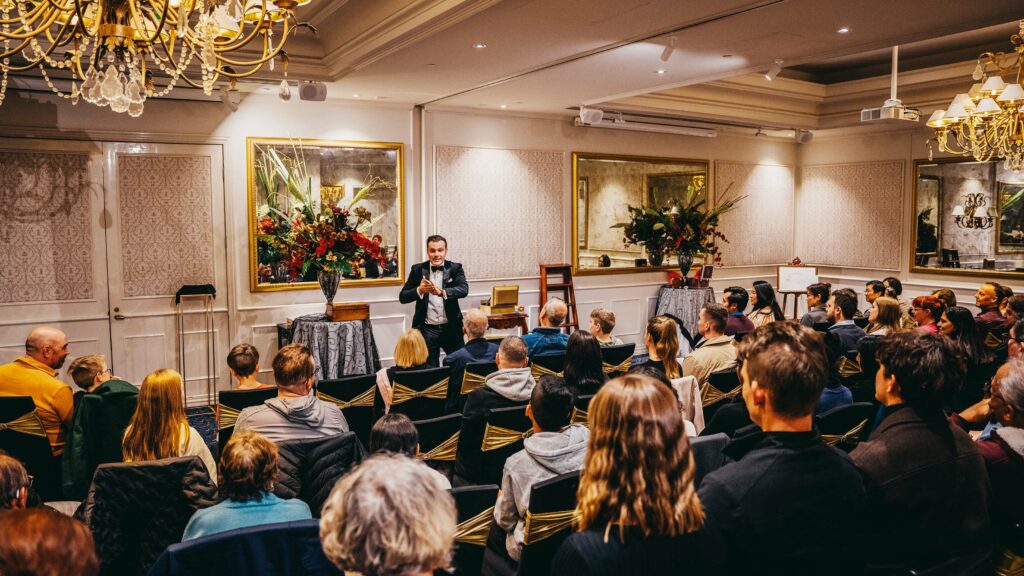 I've always been amazed by magicians but I had no idea we had a great magic show in Melbourne! Running every Friday night (and select Saturdays), magic happens just inches from your eyes at Impossible Occurrences.
Host Luke Hocking is a local modern-day magician who fuses illusion and mind reading into a theatrical magic experience. Audiences are small with only 50 people each show. There are dinner and show packages if you want to make a night of it.
I reckon even deep-seated sceptics would turn into believers after watching his magic show!
32. Try your luck at the casino
Crown Casino in Melbourne has great restaurants and all the gaming action you could want. Obviously, you shouldn't spend all your time throwing your money after a big win. But a couple of hours of eating and trying your luck can be a fun addition to your Melbourne at night activities. 
Insider tip: The casino can get a bit grubby in the early hours of the morning, so just watch out for fights and drunk people!
33. Get crafty (with drink in hand)
Looking for something completely different to do at nighttime in Melbourne? Why not try a class where you'll make something to take home.
BYO booze to one of Melbourne's and paint and sip classes. It's exactly as it says on the label: you learn to paint while sipping some adult beverages. I've done this on a hen's night and it was really fun (and our model was naked…). Two options in Melbourne are Pinot & Picasso and Cork & Chroma. You don't have to know anything about art to join in and have a good time.
Beats and booze more your thing? At Drip Splash you'll learn to paint Biggie, Tupac and Lauryn Hill while bopping along to their music.
Haus of Dizzy is an Indigenous-owned jewellery company that does "sip and bling" events. Under the watchful eye of Wiradjuri designer Kristy Dickinson, you'll learn how to make earrings or bracelets.
Wanna get your Patrick Swayze and Demi Moore on? Then try a Slow Clay Wheel Taster pottery class. Suitable for beginners, classes are held in Collingwood so you can hit up the nearby bars and restaurants afterwards.
34. Stay overnight with some lions
One of the more unique things to do in Melbourne is camp overnight at Melbourne Zoo.
I've done this (although it was years ago) and it's very cool to hear the animals roaring and chattering during the night!
There are a couple of options: Roar 'n' Snore Overnight Camp or Swags Under the Stars.
Both operate throughout the year except in June, July and August – for obvious reasons. No one wants to be roughing it in the cold Melbourne winter!
35. Play Mario Kart while sipping cocktails
Have some good old-fashioned fun at one of the many arcades and game houses around Melbourne.
At Ballers Clubhouse, you've got ping pong, darts and shuffleboard to keep you going all night. There are venues in the CBD and in Carlton.
If arcade games are more your thing, then Archie Brothers Cirque Electriq is the place to go. Win some prizes on the arcade games or try laser tag or the dodgem cars. Or play arcade games under the neon lights at B. Lucky & Sons.
Out in Preston, The Keys is a retro bowling alley with arcade games, a beer garden and pizzas for the coolest night out with friends.
36. Grab a late-night snack
Peckish as you head home or back to your hotel after an awesome night out in Melbourne? Don't fret, there are some great late-night eats. Here are the places to go in Melbourne for that final meal before bed.
Supper Inn is a classic hospo after-work spot. My husband's chef friends used to bring home Chinese food from here and it's delicious no matter the time of day.
Grab a slice of pizza from Pizza Pizza Pizza – you can't miss the neon sign down Meyers Place.
The famous burgers at Bar Margaux are on the menu until the wee hours, or grab some Thai from BKK Melbourne.
37. Explore the world of wine
Want to learn more about wine but think it's intimidating? Welcome to Good Booze. Blind, a community that's all about teaching wine enthusiasts, from novices to connoisseurs, the art of tasting and talking about wine.
Hosted by passionate owner and self-proclaimed 'cork dork' Nathen Doyle, what sets Good Booze. Blind apart is its ego-free environment. Here, it's all about discovering the joys of wine in depth. You'll get a chance to develop your palate, understand different flavour profiles, and learn how to pick out the subtle nuances in wines.
Wrap up: What to do in Melbourne at night
Melbourne's nightlife is vibrant and eclectic, with something for everyone, regardless of your age and what time you have to go to bed.
From enjoying the city's skyline at the top of the Melbourne Skydeck to laughing until your belly hurts at a comedy show to savouring our bars and restaurants, you won't be bored here at night.
Things to do in Melbourne at night: FAQs
Is Melbourne safe at night for tourists?
Melbourne is generally safe for tourists at night. Like any major city, exercise basic precautions, such as staying in well-lit areas and being aware of your surroundings. The central areas are generally safe for a night out.
What time do most Melbourne nightlife venues close?
Most bars and nightclubs in Melbourne close around 3am, while some venues may operate until dawn on weekends. However, there are late-night eateries and 24-hour diners.
What are some family-friendly activities in Melbourne at night?
Families can enjoy nighttime strolls along Southbank Promenade, visit the Queen Victoria Market night markets (seasonal) or take a dinner cruise on the Yarra River. St Kilda Beach also offers a beautiful sunset view and the chance to spot penguins after dark.
So, what's on your list of fun things to do in Melbourne at night when you visit?
PIN IT FOR LATER
Save this guide to the best things to do in Melbourne at night for later.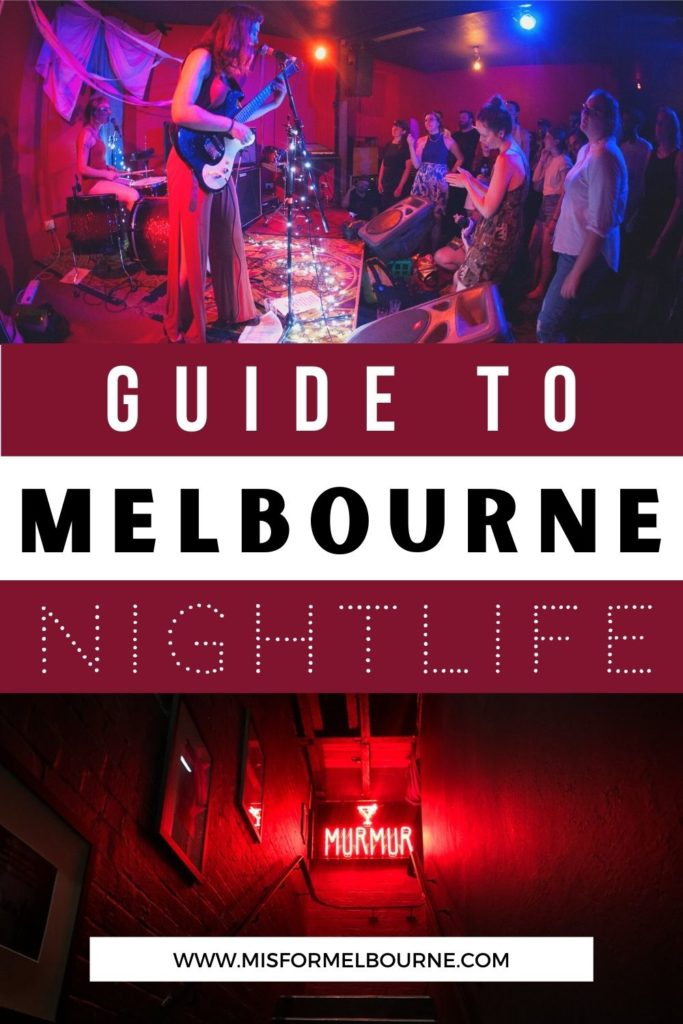 Featured image by Roberto Seba