Looking for the spookiest ghost tours in Melbourne? A Melbourne local who knows this city well (and who scares easily!), I've got you covered with my top picks for tours.
With a rich history spanning centuries, Melbourne is no stranger to the supernatural. The city has had its fair share of eerie tales and hauntings stretching back centuries.
One of the best ways to learn about this spooky history is by taking a ghost tour in Melbourne. These tours take visitors to the most haunted places in Melbourne and tell the tales behind the tragedy there.
Buildings and laneways that look fairly innocuous by day gain a whole new level of spookiness once the sun goes down and you begin to learn about the murderers, heartbreakers and criminals who once strolled these streets.
And even if you don't see a ghost, you'll definitely learn a whole lot about Melbourne's history.
I'll admit that I'm not the bravest person, but I occasionally enjoy a good scare, and these ghost tours tick that box perfectly. I've been on some of these tours and definitely got goosebumps at times!
So, if you're up for a bit of adventure and don't mind a few creepy moments, let's dig into Melbourne's spookiest ghost tours.
This blog post may contain affiliate links, meaning if you book or buy something through one of these links, I may earn a small commission (at no extra cost to you).
My top 3 Melbourne ghost tour picks
#1 pick
---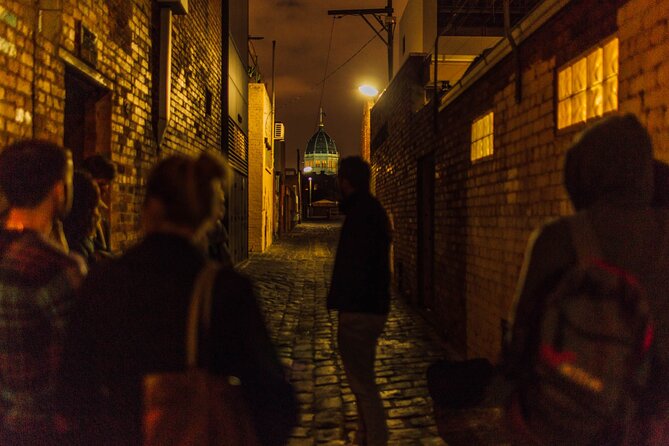 ✔️ Great storytelling
✔️ Visit to 3 pubs
#2 Pick
---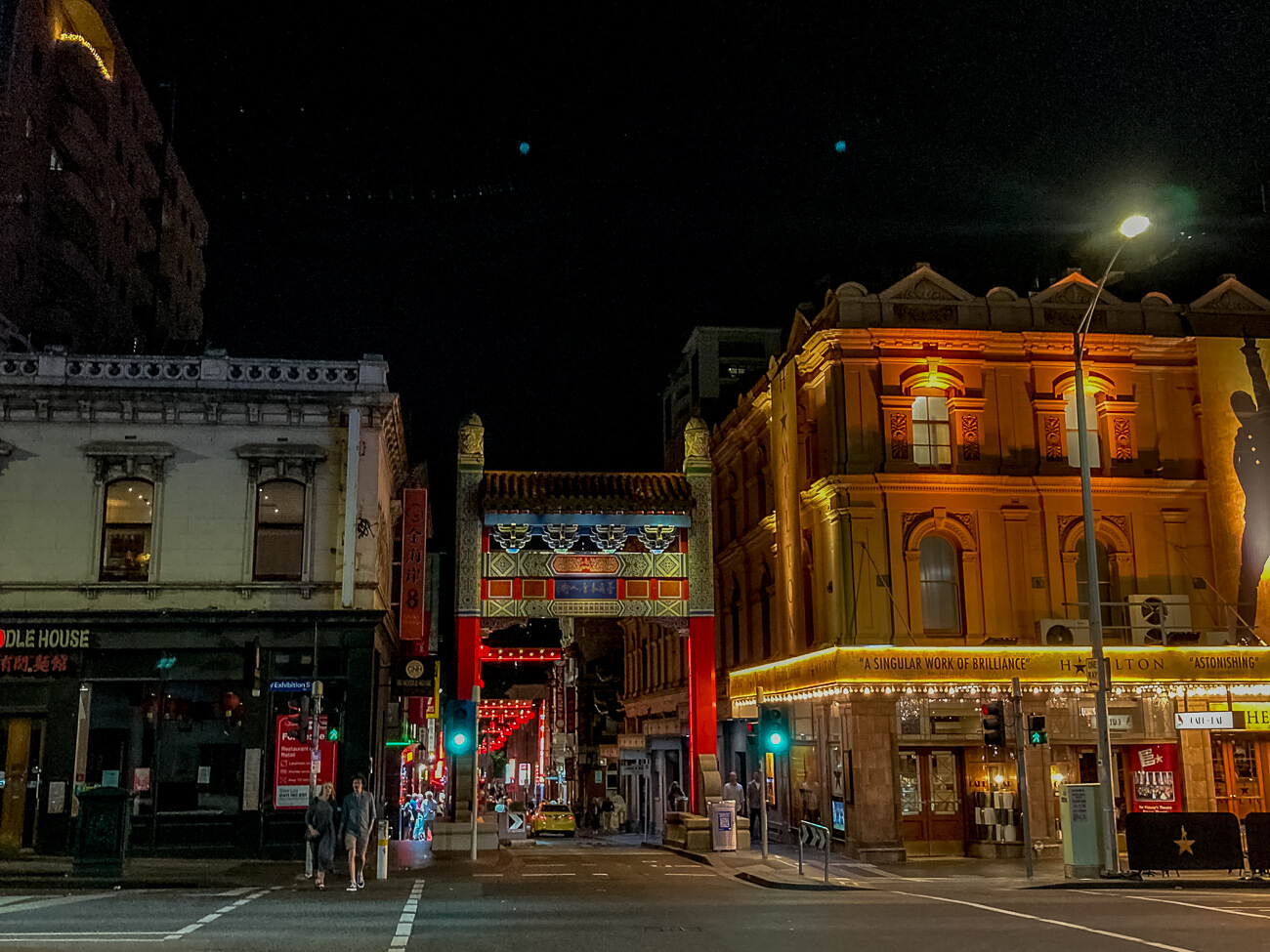 ✔️ Operator specialises in ghost tours
✔️ Use of ghost-hunting equipment!
#3 Pick
---
✔️ Notorious Melbourne prison
✔️ Plenty of stories shared
What to expect on a ghost tour
If you've never done a ghost tour before, you can expect a blend of history, horror and often humour. The tour guides are usually excellent storytellers and they really know how to set the mood.
It's all done with a healthy dose of dramatic flair – think shadows dancing on walls, sudden cold spots and maybe even a ghostly apparition if you're lucky (or unlucky, depending on how you see it).
Some tours up the ante by offering you the chance to play ghost hunter with some pretty spooky gadgets. One of the Melbourne ghost tours I went on included dowsing rods – a method of divining spiritual energy that dates back centuries. It was very spooky watching the rods move on their own!
It's one of the more quirky things to do in Melbourne, but it can make for a fun night out in Melbourne.
Best ghost tours in Melbourne
Here are my picks for the best Melbourne ghost tours, guaranteed to give you goosebumps – and a dose of history.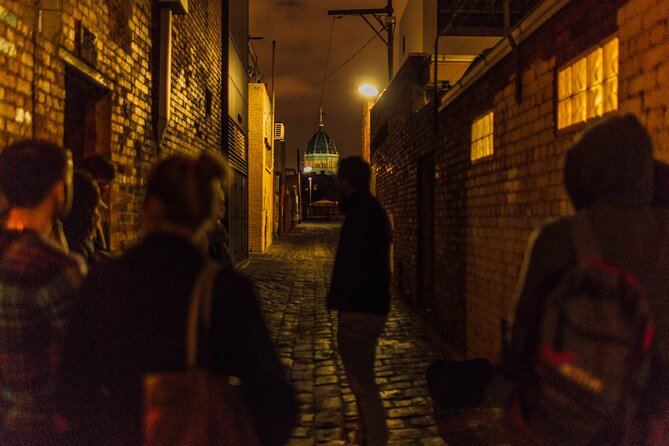 The itinerary includes a stroll past Melbourne's iconic laneways, Queen Victoria Market, Old Melbourne Gaol (now a top Melbourne museum) and Chinatown. You'll also visit lesser-known haunted places such as Pink Alley, the haunting grounds of a child whose murder remains a cold case.
During the tour, you'll visit three of Melbourne's most renowned and historical bars. A glass of wine or beer may help calm those nerves!
While there's no guarantee you'll encounter a ghost, you will get an engaging mix of ghostly narratives and historical insights into Melbourne.
The tour is run by Drinking History Tours, who have quite a reputation for delivering a potent blend of history and high spirits during their Melbourne walking tours. They'll leave you with a map of Melbourne's best bars so you can continue bar-hopping (and ghost-hunting).
Tour groups are small, so you'll get plenty of opportunities to ask your guide about ghosts in Melbourne.
Note that the tour cost doesn't include drinks, so you'll need to bring cash or a card to cover these.
Essential tour information: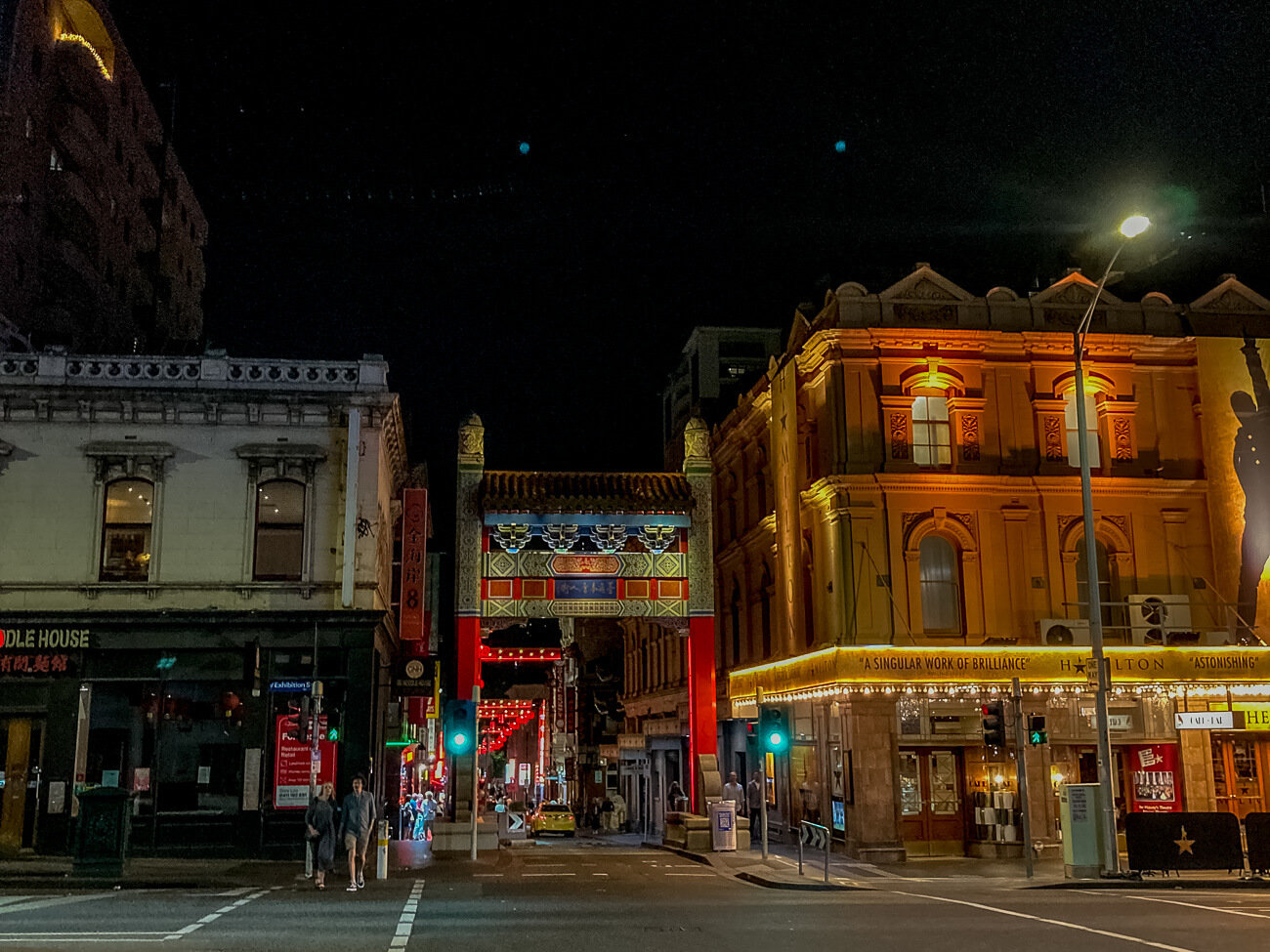 The Old Melbourne Ghost Tour is my second choice if you're looking for ghost tours in Melbourne. I recently did this tour, so I speak from personal experience when I say that you may squeal out loud at times!
Run by the acclaimed Lantern Ghost Tours, this tour is a phenomenal way to get up close and personal with Melbourne's often macabre history.
Starting at the Young and Jackson Hotel and winding your way to end in Chinatown, this ghostly expedition unravels some intriguing mysteries. Did Jack the Ripper ever prowl these streets? Who murdered that young girl and why?
Our guide was not just a skilled storyteller but also a psychic who shared her experiences of ghostly encounters.
She even brought her dowsing rods along, and it was quite freaky watching the rods move on their own when we were in particularly haunted places.
Others on our tour said they felt chills and hands on them in particular spots.
The tour is billed to last 1.5 hours, but our tour stretched a bit longer, as our group really got invested in the stories.
A word of advice from our guide: come with an open mind. This tour appeals to both sceptics and believers alike, and we certainly had both in our group.
The Old Melbourne Ghost Tour is included in the Melbourne and Beyond Pass, meaning you can save money by bundling it with other attractions. Read my full review of the Melbourne Pass to find out how it works. 
Essential tour information: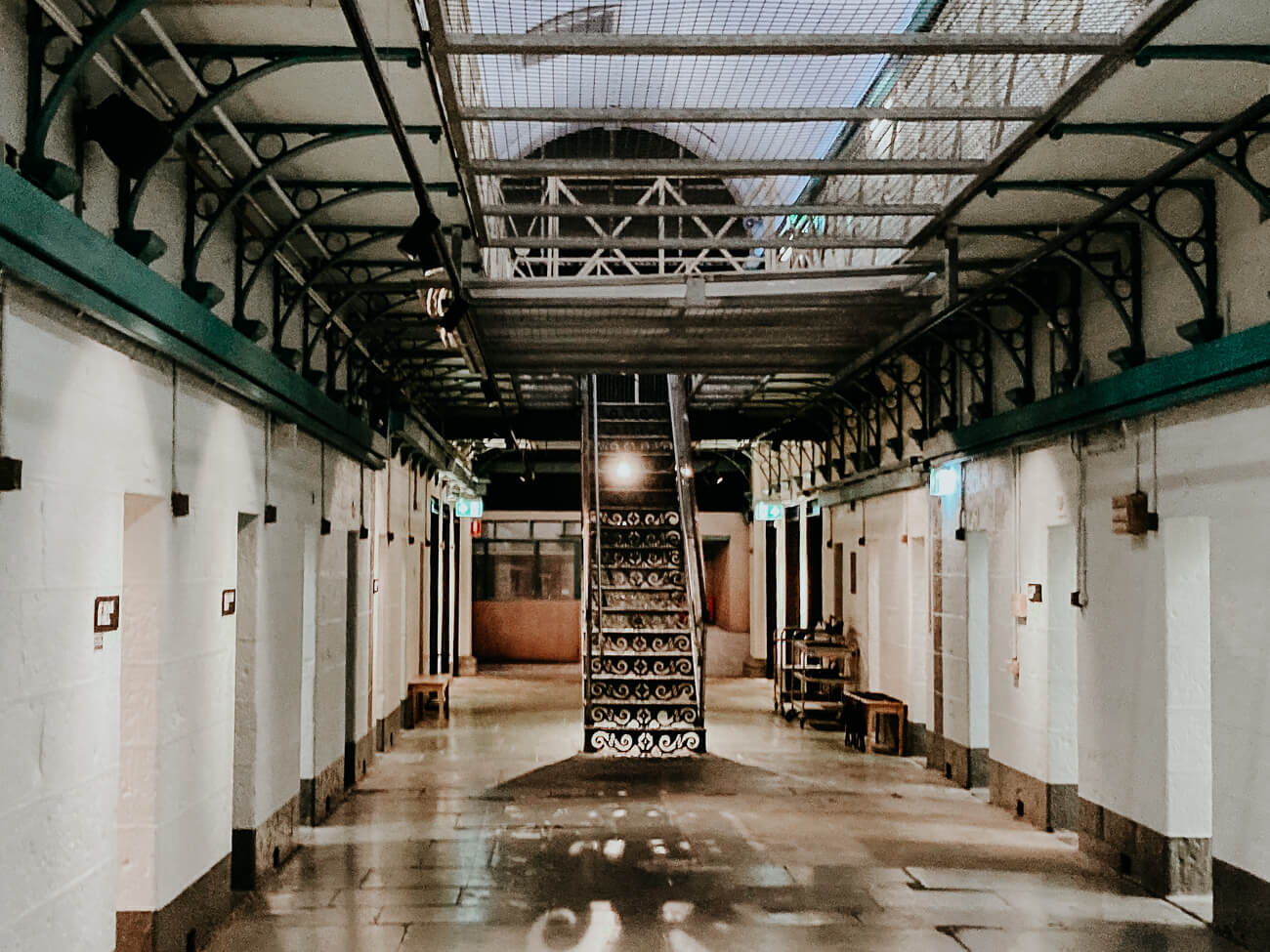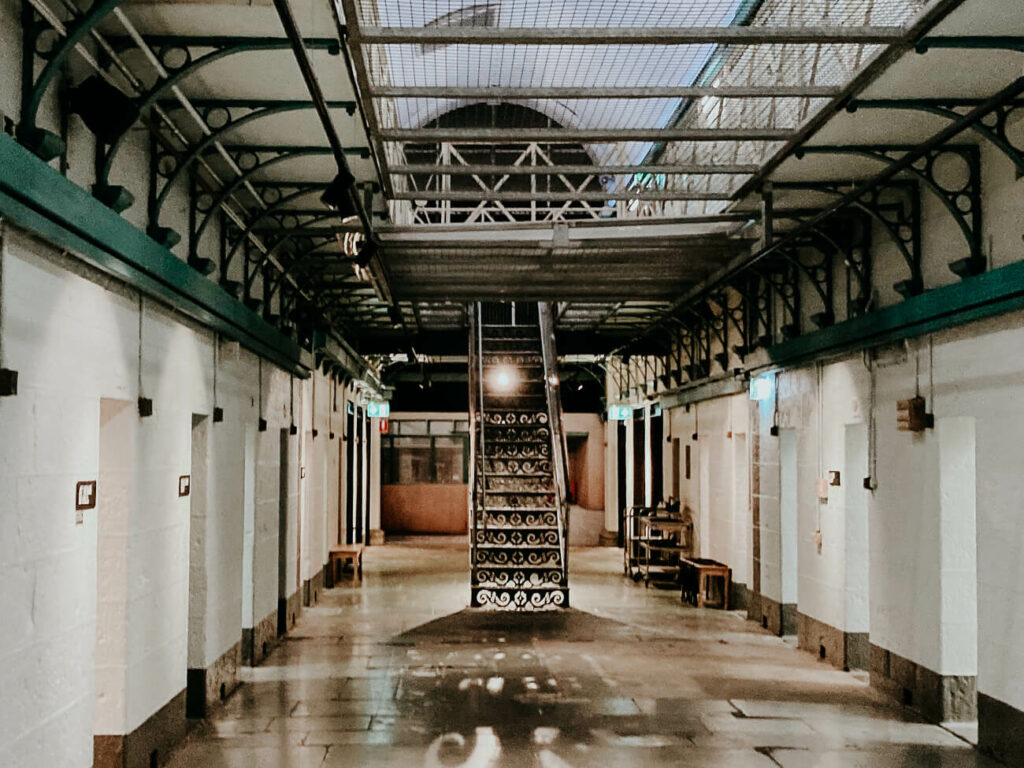 Once a formidable prison and now a site run by the National Trust of Victoria, you can take a peek at Pentridge Prison's grisly past on the Pentridge Prison Night Tour.
This after-dark tour in Melbourne offers a glimpse into the dark and troubled past of one of Australia's most notorious prisons. I recently headed to Coburg to take this tour on a Friday evening.
During the tour, you'll get an insight into life in the notorious H Division – more commonly called Hell Division – which was created in 1958 to deal with the baddest of prisoners. Infamous inmates like armed robber Mark "Chopper" Read, Ronald Ryan (the last person to be executed in Australia) and Shantaram author Gregory David Roberts, who escaped from this prison and fled to India, were all housed here during the almost 40 years it was open.
But this tour isn't some sort of glorified criminal fan club. The aim is to paint a realistic picture of Pentridge's brutal history from 1851 to its closure in 1997.
Our guide Michelle told fascinating stories – including her own experience of being at the prison when a prisoner escaped!
The first half-hour of the tour is spent outside learning about the history of the prison before heading inside H Division to explore the fascinating multimedia exhibits that share stories from former prisoners and prison guards.
While the tour isn't specifically focused on ghostly tales, there are 44 bodies buried at Pentridge – so it's no surprise that the prison is considered to be haunted. Get ready to be "incarcerated" at Pentridge Prison, home to Australia's hardest and longest-serving prisoners, some of whom may still roam the corridors…
Essential tour information:
Another tour run by paranormal professionals Lantern Ghost Tours, this spooky Spirits and Ales Haunted Pub Walking Tour combines history, ghosts and pubs for an informative and spooky night out. This is a new offering from the company, so I haven't tested out the creepiness level of this tour yet.
As you traipse through Melbourne's shadowy lanes and dimly lit pubs, your guide will bring the city's past to life.
One highlight of the tour is a visit to a former police station that's now a haunted pub. Grab a pint and soak in the eerie atmosphere – the venue's infamous for a chilling murder that remains unsolved.
Later, step into a dark alley where the ghost of a tragic love affair is said to roam.
The tour also includes tales about the Rialto Intercontinental and the Olderfleet Building, as well as the mysteries of one of Melbourne's most scandalous member clubs.
The journey concludes at the iconic Young and Jackson Hotel, where a young lady is said to haunt patrons, showing off her slashed throat.
Important to know about this tour is that drinks aren't included in the price, so make sure to bring enough for a pint or two.
Essential tour information: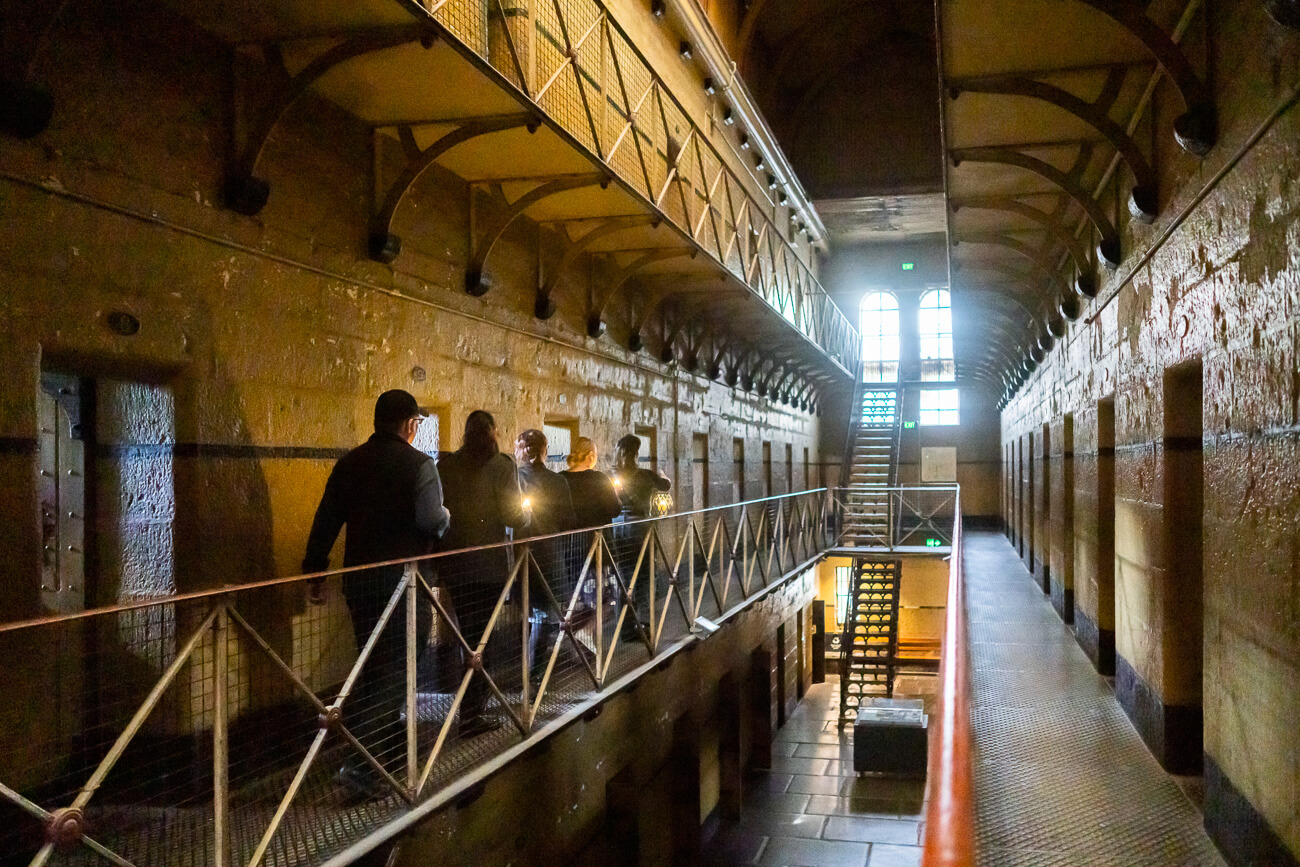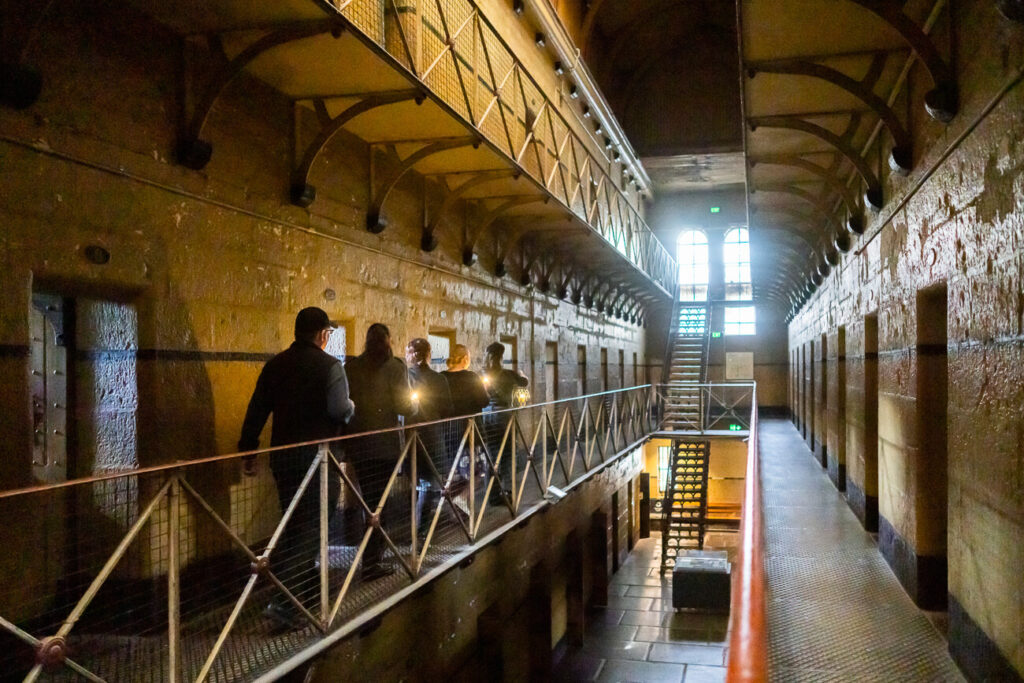 The Old Melbourne Gaol is said to be one of Melbourne's most haunted places, so it's no surprise that it offers its own ghost tours.
On this 90-minute Old Melbourne Gaol Ghost Tour, you'll explore the gaol in the darkness of night and hear chilling tales of prisoners who met their end at the gallows.
Here, petty criminals lived alongside vicious murderers between 1845 and 1929. As the setting for 133 hangings, including that of infamous bushranger Ned Kelly, the gaol's walls echo with tales of despair and death.
As you wander through the prison's cold, cramped cells, tales of ghostly sightings and unexplainable occurrences will send shivers down your spine – you'll definitely be looking over your shoulder!
Keep in mind that the gaol does get chilly at night, so dress warmly. This tour also isn't recommended for kids under 12, so if you have young ones who are interested in the gaol, it might be better to visit during the day.
Essential tour information:
About 25 minutes southwest of the Melbourne CBD is the bayside suburb of Williamstown. This historic seaport town, once the original capital of Victoria, has a vibrant past teeming with colourful ladies, convicts and drunken sailors, so it has its fair share of stories to tell – including some ghostly ones.
This Ghosts of Williamstown Guided Walking Tour kicks off at the Hobsons Bay Visitor Information Centre and covers about 2 kilometres of walking over 2 hours.
One of the tour's highlights is a visit to Victoria's oldest morgue. Here you might meet the ghosts of children and young men believed to still linger in this abandoned place.
Then, step into an opium den straight out of Miss Fisher's Murder Mysteries, where you'll get a taste of 19th-century decadence and decay.
In an interesting twist, the tour also includes a visit to one of the last remaining operational time ball tower, a navigational aid. Here you'll encounter the spirits believed to protect this important historical monument.
To make your ghost-hunting experience more authentic, you can even use dowsing rods to see if you can detect any paranormal beings on the tour.
To join this tour, you'll need to make your own way to Williamstown, as the company doesn't offer hotel pick-ups.
Essential tour information:
Located to the west of the CBD, the Altona Homestead has a rich past dating back to the 1840s.
During the day, it's home to the Altona Laverton Historical Society, but at night it's the paranormal that attracts visitors.
Many visitors and paranormal investigators, drawn by the countless stories of supernatural sightings, have spent nights here.
On this Altona Homestead Ghost Tour, you can step inside each room of this historical home, and you might just meet a ghost or two. While a ghost encounter can't be guaranteed, given the homestead's history the paranormal activity level here is high.
The tour doesn't include transport to Altona, so you will have to make your own way there. But if you're up for an eerie evening, the trip will be worth it.
Essential tour information:
Best time to take a ghost tour in Melbourne
Melbourne's rich history and abundant ghostly tales make any time of the year a great time for a ghost tour.
The darker Melbourne winter months of June, July and August add an extra layer of chill to your ghostly encounters, while the summer months offer milder weather for those who'd rather not bundle up for their paranormal pursuits.
While Australia may not officially celebrate Halloween, the spirit of the spooky season is alive and well, and some might argue that it's the ideal time to take one of these ghost tours in Melbourne. Some tour companies host special events and activities to coincide with Halloween.
Haunted hotels in Melbourne
Want to spook yourself even more and stay the night in a haunted hotel? Here are some of Melbourne's most haunted hotels…
The Hotel Windsor: Known as Australia's most haunted hotel, The Hotel Windsor has been a hotbed for ghostly encounters, largely attributed to its long-standing history since 1883. Today it's one of Melbourne's best 5-star hotels.
Hotel Sophia: This hotel, located in the heart of Melbourne, is renowned for its chilling tales of spectral guests who have never checked out.
Adina Apartment Hotel Pentridge: Located in Coburg, this hotel is situated on the former site of Pentridge Prison. The hotel beautifully protects the site's heritage… and maybe you'll see a ghost?
Final thoughts: Ghost tours in Melbourne
Whether you're a supernatural enthusiast, a history buff or a complete sceptic, a ghost tour in Melbourne can be a fun way to spend an evening.
They're more than just a spooky thrill ride: they offer a unique blend of history and storytelling – and maybe even an encounter with the supernatural.
But even if you don't see a ghost, you'll leave the tour with a whole lot of knowledge about Melbourne's sordid and often tragic history.
And you'll have a bit more appreciation for the buildings and alleyways you're exploring during the day. I know I now have a completely different view of the city after going on these Melbourne ghost tours.
---
FAQs about Melbourne ghost tours
Am I guaranteed to see a ghost on a ghost tour in Melbourne?
While the tours are designed to be entertaining and informative, encountering actual ghosts is not guaranteed. Many participants have reported eerie experiences, but the tours are primarily for storytelling and historical exploration. You never know your luck, though!
What should I do if I have a paranormal experience during the tour?
If you have a paranormal encounter during a tour, let your guide or fellow participants know. They'll be able to advise on what to do and how to document the encounter.
What do I need to bring on a ghost tour in Melbourne?
Be sure to wear comfortable shoes and dress appropriately for the weather. You may also want to bring a camera or recording device if allowed by the tour operator. Some tours provide torches, but it's always a good idea to bring your own just in case.
Are ghost tours suitable for children?
It ultimately depends on the specific tour and the child. Some tours may have age restrictions, while others may be more suitable for older children. Be sure to check with the tour operator before booking a tour with younger children. Don't worry, there are plenty of other kid-friendly activities in Melbourne.
Would you take a ghost tour in Melbourne?
---
Related posts
Before you go… you might like these Melbourne travel posts:
PIN IT FOR LATER
Save this list of spooky Melbourne ghost tours to Pinterest for later!