Are you planning to spend Christmas in Melbourne, Australia? Here's your guide to Christmas decorations, lights, events and Xmas Day dining.
As a city that's vibrant and fun year-round, we know how to celebrate the festive season in style. From dazzling Christmas decorations and festive events to family-friendly activities, the city really turns it on during the holiday season.
So, it's time to get into the Christmas spirit and discover what's happening around Melbourne over the holiday period with this mammoth list of Christmas activities, events and decorations (a list that's been checked twice!).
This blog post may contain affiliate links, meaning if you book or buy something through one of these links, I may earn a small commission (at no extra cost to you).
Weather for Christmas Day in Melbourne
Stay tuned for the 2023 Christmas Day forecast!
Best Christmas lights and decorations in Melbourne
Melbourne is famous for its Christmas lights and decorations. Here are the best ones to check out.
Myer Christmas windows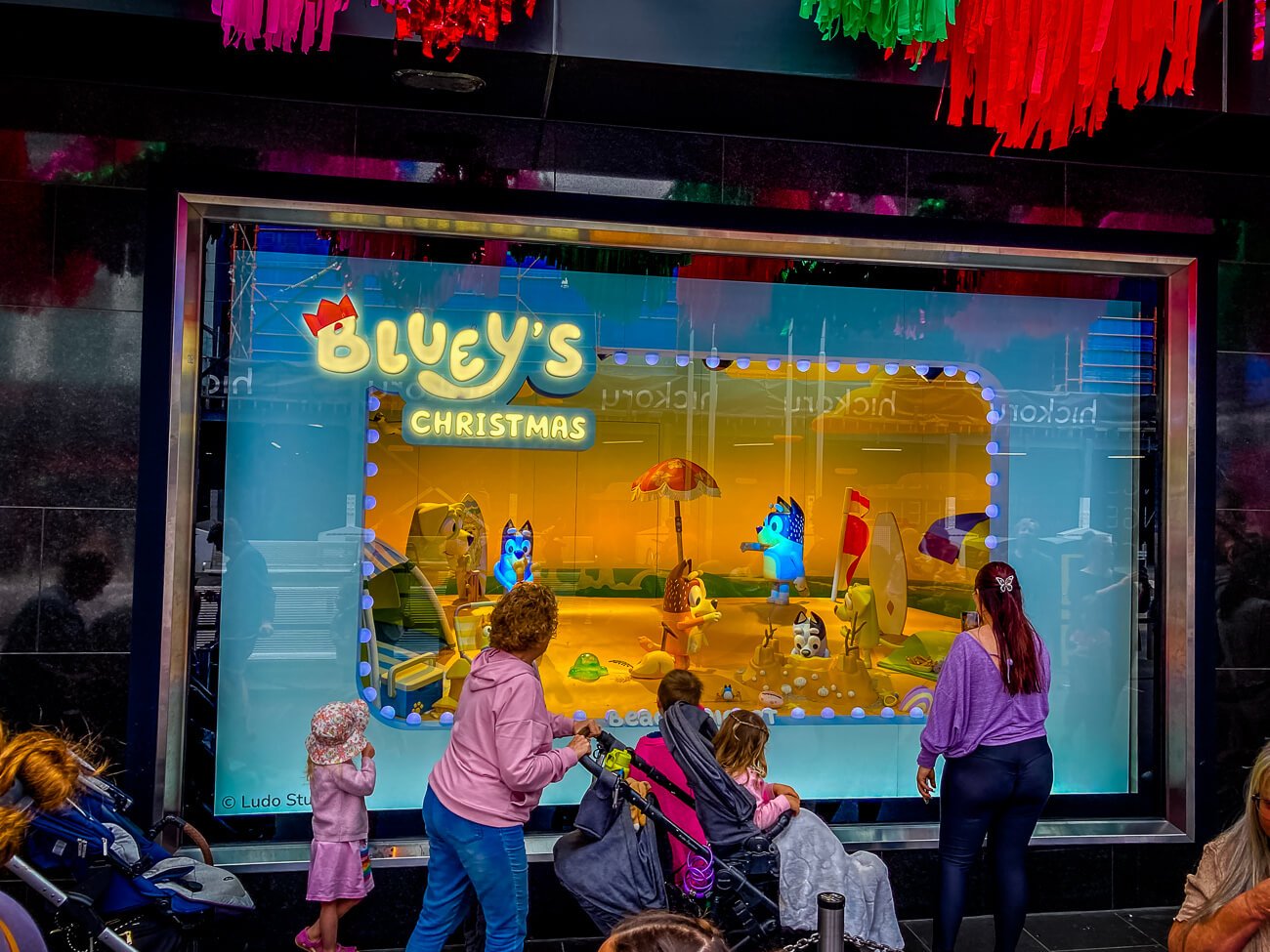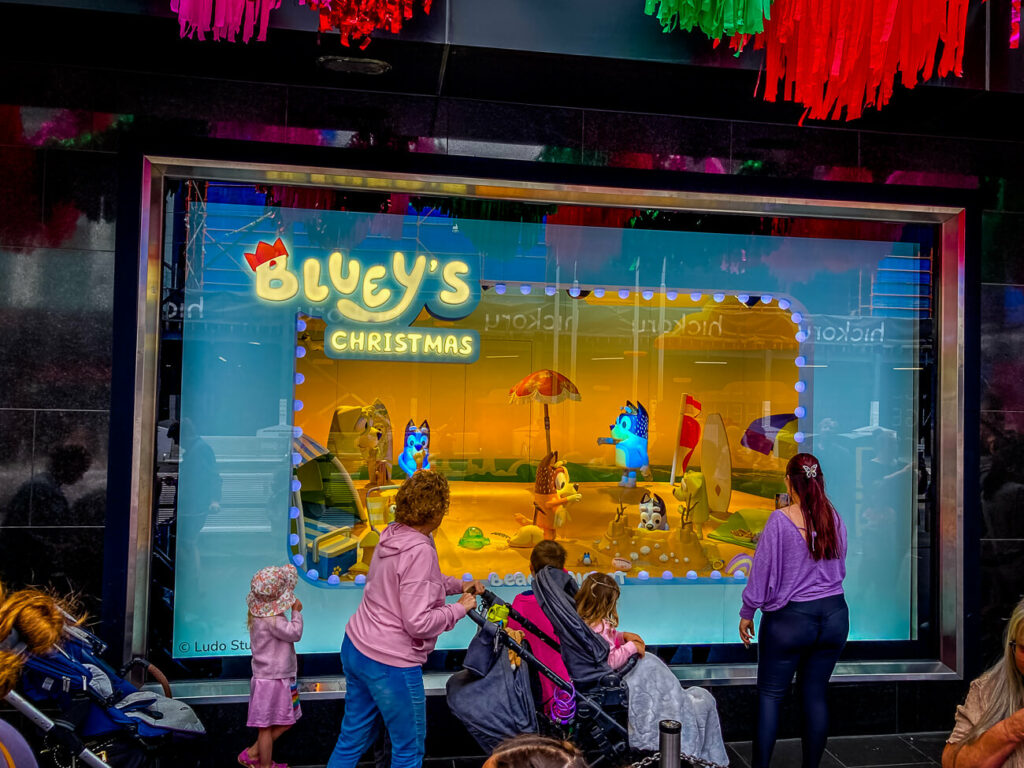 The Myer Christmas windows have been a tradition since 1956, when they were first unveiled at the department store's Bourke Street location. Every year, they launch in the weeks leading up to Christmas to the much-anticipated delight of Melburnians, who flock to view their creative designs.
From traditional fairy tales to pop culture homages, each window celebrates a different theme from one year to the next. It's become a beloved part of Melbourne culture that draws in visitors from all over Australia for this spectacular event.
This year, the Christmas windows are all about the characters in the beloved cartoon Bluey!
My expert tip: Plan to line up! The windows get busy, especially when they are first unveiled and on weekends.
Dates: 12 November – 6 January, 7.30am-10pm
Cost: Free
Where: Myer Bourke St
More information: Myer website
Federation Square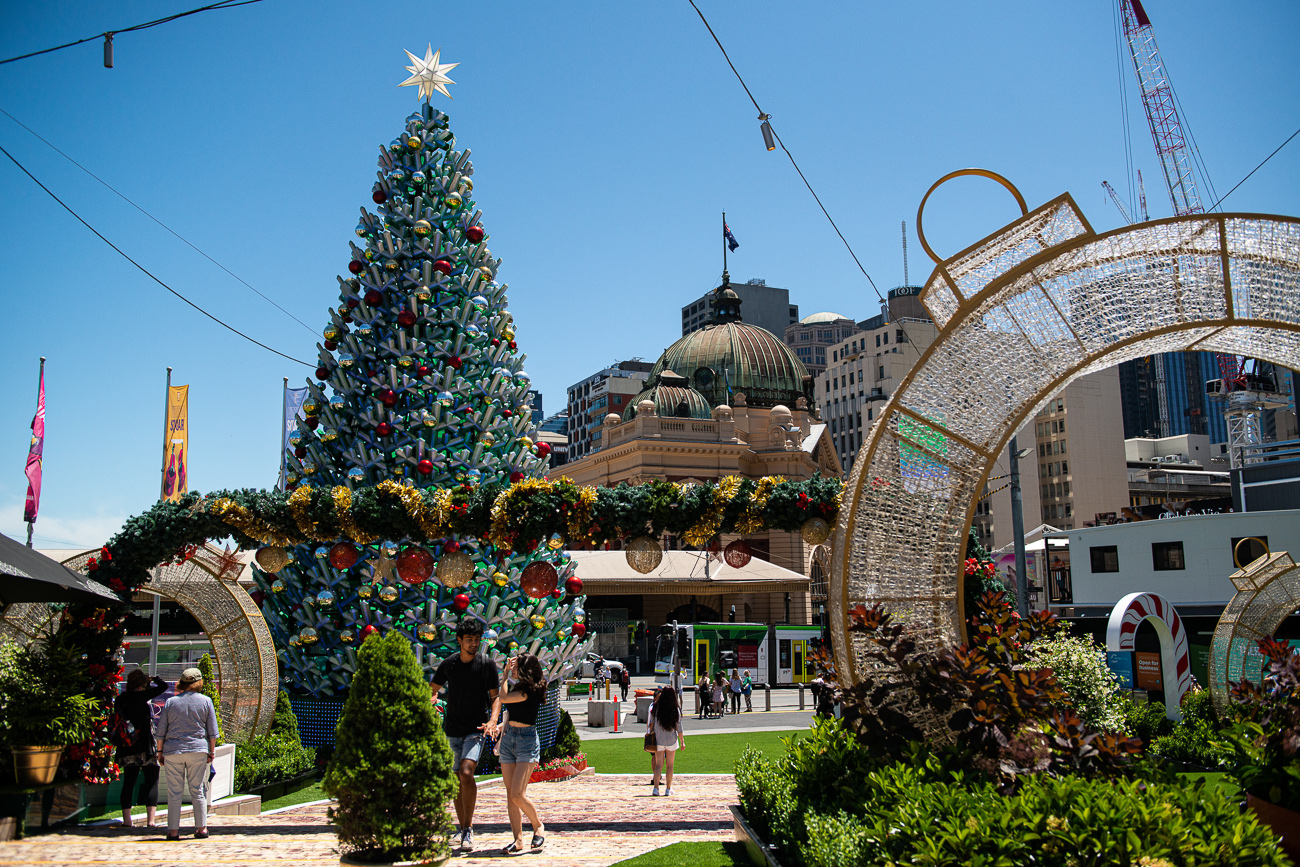 Fed Square is one of the best places to experience the magic of Christmas in Melbourne. The square is transformed into a Christmas wonderland, with a giant 16.5-metre-tall LED Christmas tree, festive lighting displays and a bustling Christmas market.
There are also plenty of family-friendly activities, including Christmas carols, live performances and visits from Santa Claus himself.
Every night, on the hour, there'll be a sound and light show that celebrates the Christmas spirit. There'll also be a screening of the adorable film "A Christmas Tale" on Fed Square's big screen at 5pm, 6pm and 7pm each night, with some screenings accompanied by a live choir.
Dates: 24 November-25 December, daily 10am-12.30am
Cost: Free
Where: Fed Square
More information: Fed Square website
Christmas projections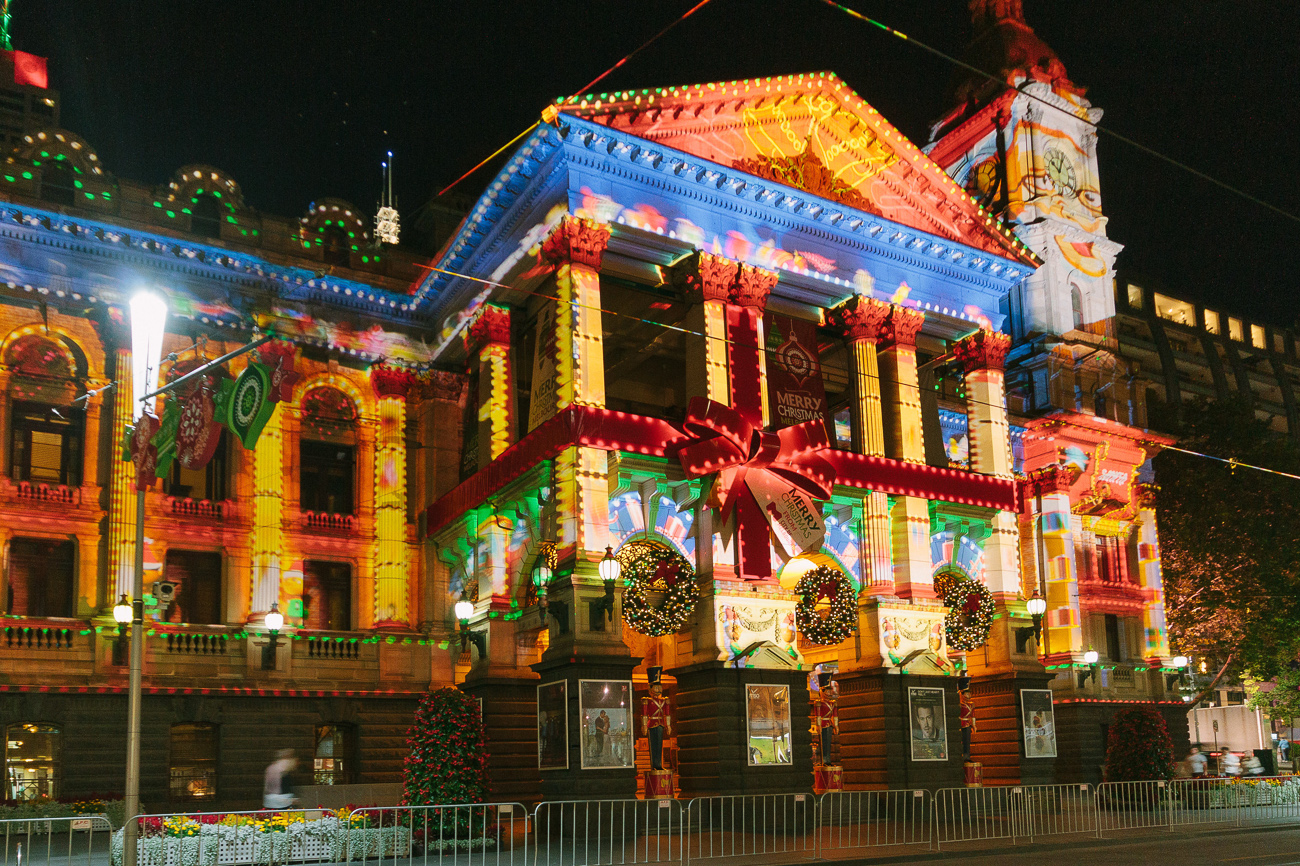 This year, Melbourne Town Hall and State Library Victoria will come alive with Christmas projections.
From November to December, the exteriors of these two buildings are lit up with festive animations and bright colours – all powered by wind power. There's something magical about walking around Melbourne at night and seeing Christmas ornaments, snowmen and colourful reindeer projected on the facades. The perfect spot for a Christmas selfie!
Dates: 24 November-25 December
Cost: Free
Where: Melbourne Town Hall, Hamer Hall, Chapter House Lane
More information: City of Melbourne website
Christmas tree at 333 Collins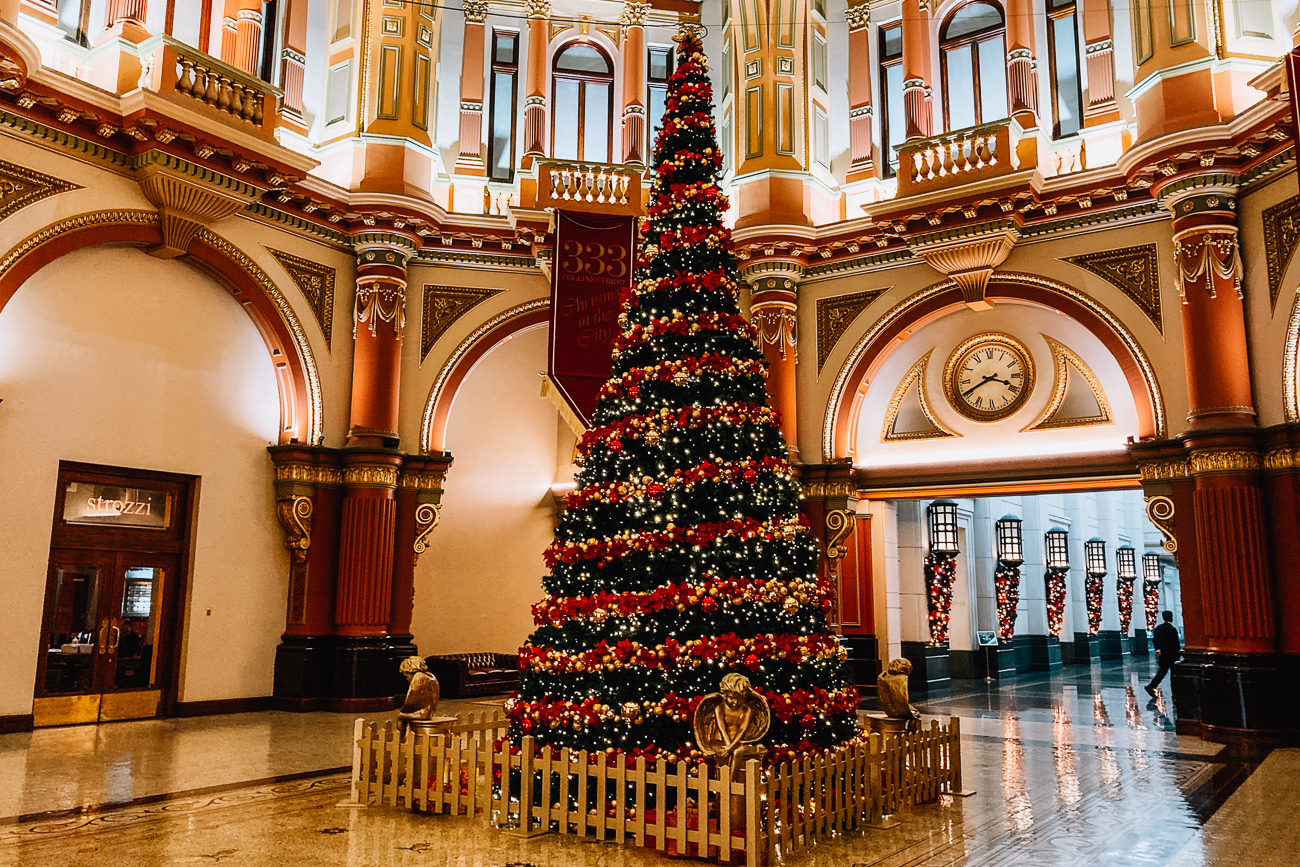 A particular highlight in Melbourne is the beautiful Christmas tree that's put up each year at 333 Collins St.
The 8-metre-tall beauty takes a whole weekend to put up. It's beautifully decorated with lights, ornaments and ribbons.
Dates: From 21 November
Cost: Free
Where: 333 Collins St, Melbourne
More information: The doors to 333 Collins are open between 8am and 6.30pm
Christmas River Show
Watch the Birrarung (Yarra River) light up this year with a spectacular light show.
The show is best watched from Southbank, where you'll catch water fountains, lasers and light projections alongside the sounds of Christmas songs.
The nightly show can be seen between the Princess and Evan Walker Bridges.
Dates: 24 November-25 December, 9-11pm
Cost: Free
Where: Southbank
More information: Website
Adventure Park Christmas Festival of Lights
For something really amazing, head to Adventure Park in Geelong. As usual, the park is going all out, with 3.3 million lights and more than 1000 installations and displays.
Among the highlights this year are astonishing light installations that promise to leave you in awe. Wander through a 100-metre-long maze, stand beside a majestic 4-metre-tall Reindeer, and be spellbound by the Ice Castle. Don't miss the 25-metre Candy Cane tunnel, a towering 15-metre Christmas Tree – and much more.
As if the dazzling lights weren't enough, there's a lineup of new Christmas-themed entertainment. Be thrilled by a high-flying Elf Trapeze Show and a life-sized, animated musical performance featuring polar bear characters, Santa's reindeer and a magical tree. There's also a chance to meet Santa himself and plenty of theme park rides.
My expert tip: Book early, as tickets go quickly!
Dates: 17 November – 31 December
Cost: From $34.50 (kids under 90cm free)
Where: Adventure Park, Geelong
More information: Adventure Park website
Best Christmas lights in Melbourne's suburbs
It's not just the city that lights up each Christmas. In the 'burbs you'll find plenty of festive cheer too.
From neighbourhoods in the east to suburbs in the west, homeowners decorate their homes with festive lights and decorations, creating a twinkling wonderland in residential streets. Take a stroll or drive around your local area at night to experience the joy of Christmas in Melbourne.
Here are some of the Christmas lights to check out this year:
Check out more displays in your neighbourhood.
Christmas events and festivals in Melbourne
As well as stunning Christmas lights and decorations, there are plenty of events around the city to get you into the holiday spirit.
Myer Santaland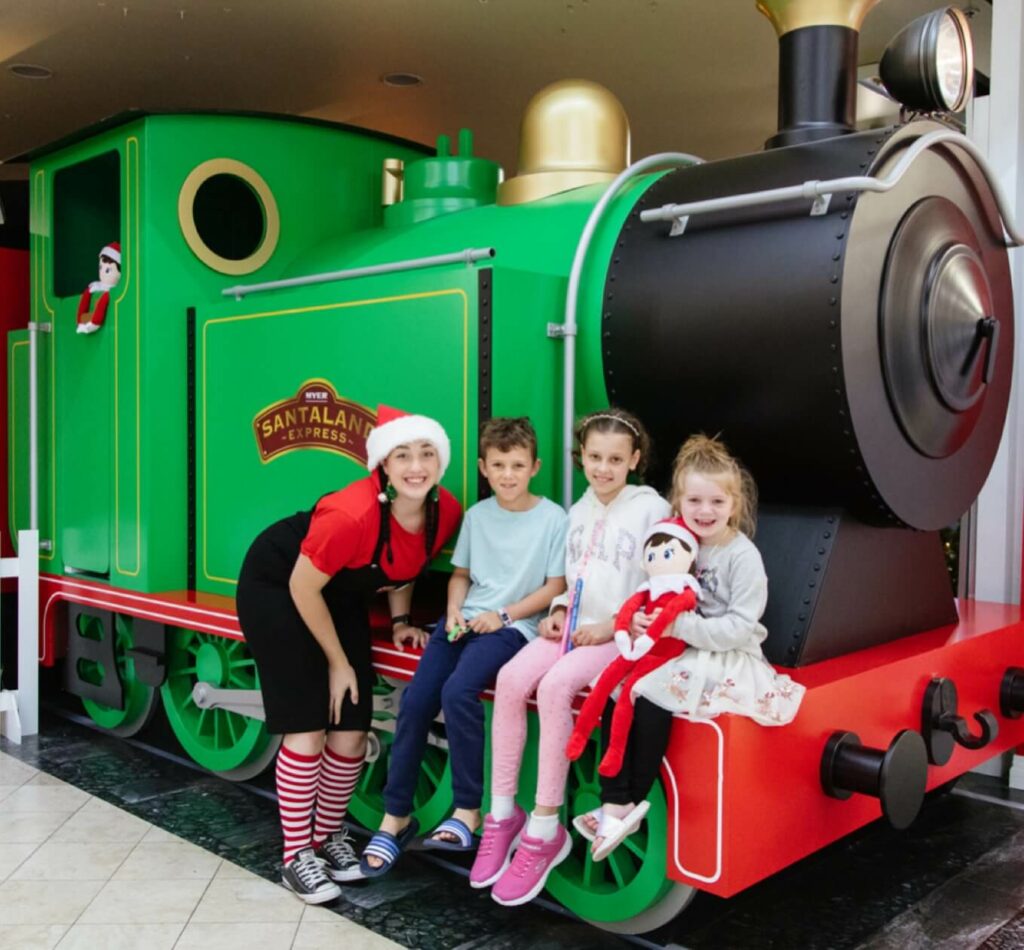 Myer's Santaland is back in 2023. Pop in to get a photo with Santa, take a ride on the train to the North Pole and post your Christmas letter to Santa. Your furry friend can even get a snap with Santa this year!
Santa is pretty busy, though, so make sure you book your photos ahead of time.
For families who need something special, there are Sensory Santa sessions with minimal music and quieter booking times.
Dates: From 12 November
Cost: Professional photo packages start from $25.95
Where: Myer, Bourke St, Melbourne
More information: Myer website
Tinseltown at The District Docklands
The District Docklands will be transformed into a Christmas wonderland with over-the-top Christmas decorations, Christmas tunes and even Christmas cocktails. Tinseltown is the adults-only pop-up bar with lots of Christmassy drinks to get you into the spirit.
For the kids, Santa's Village is also back. Here, you can join craft workshops, write that all-important letter to Santa and enjoy some Christmas-themed games. Santa and his elves will of course be there to say hello.
Dates: From 2 November
Cost: Tinseltown: $21pp (including themed drink on arrival); Santa's Village: $18 for adults and $12 per child
Where: The District Docklands, Docklands
More information: District Docklands website
A Very Naughty Christmas
For those looking for something not-so-family-friendly, A Very Naughty Christmas is a hilarious adults-only Christmas comedy. Think raunchy reindeer, carnal carols and (ahem) a long North Pole.
This Brisbane favourite is coming to Melbourne for the first time after rave reviews.
Dates: 7-23 December
Cost: From $48
Where: Alex Theatre, St Kilda
More information: Buy tickets online here
A Christmas Carol
The Tony award-winning production of the Charles Dickens classic is playing at the Comedy Theatre.
Game of Thrones star Owen Teale plays Ebenezer Scrooge, the miserly central character. Set in Victorian London, this timeless classic follows Scrooge as he is visited by four ghosts – The Ghost of Christmas Past, The Ghost of Christmas Present, The Ghost of Christmas Yet to Come and his old business partner Jacob Marley. Through these visits Scrooge is forced to confront his past and future, ultimately leading him to reassess his life.
Dates: 12 November – 7 January
Cost: From $54.90
Where: Comedy Theatre
More information: Website
Santa's Workshop
The CBD's Howey Lane will become a magical laneway, when Santa and his elves take up residence to make toys and presents in his Melbourne workshop.
Meet Santa and see his workshop at this free event.
Dates: 25 November-24 December, 10am-5.30pm
Cost: Free
Where: Howey Place, Melbourne
More information: Website
Christmas Maze
Santa's lost his elves again… help him find them! The Christmas Maze is at The District Docklands, with interactive games and plenty of prizes if you can find those missing elves.
Alongside the maze, between 1 and 23 December there'll also be roving entertainment from Santa, the spirited Christmas Tree and Rudolph.
Dates: 29 November-24 December
Cost: Free
Where: NewQuay Central Park, Docklands
More information: City of Melbourne website
Get a photo with Santa
You can't have Christmas without a photo with the big guy! Most major shopping malls around the city will have Santa stopping by to take photos with families – some even have photos with your furry pals.
Check out the opportunities for a photo with Santa at:
Christmas Roller Rink
Get your skates on and head to Carlton for the return of the Christmas Roller Rink. Skate around to festive Christmas tunes.
Skate hire is $10 or it's a completely free event if you bring your own.
Dates: 14-24 December, 11am to 10pm (until 9pm Sunday to Wednesday)
Cost: Free
Where: Argyle Square, Carlton
More information: City of Melbourne website
Puffing Billy Polar Express
Toot toot! All aboard the Polar Express!
Puffing Billy is bringing back its hugely popular Polar Express experience. Ride the historic train, accompanied by song and dance performances, Christmas carols and some of Santa's very own little helpers.
The big man himself will of course be there – so get ready to grab a photo with Santa.
Dates: 9-17 December
Cost: Adults (16+): $72; Child (4-15 years): $46; Toddler (1-3 years): $22
Where: Puffing Billy, Belgrave
More information: Website
Candelight Concerts
Events group Fever have designed two stunning Christmas-themed Candelight Concerts for this year. The concerts are all performed under the gentle glow of candelight, creating a truly magical experience.
A string quartet will perform classic Christmas songs like White Christmas, Have Yourself a Merry Little Christmas and Jingle Bell Rock (from Mean Girls) at the Fitzroy Town Hall on 9 December. Book tickets online here.
Discover the music of Christmas jazz featuring Frank Sinatra and Louis Armstrong classics at the Athenaeum Theatre on 22 December. Book tickets online now.
Candlelight: Tchaikovsky's Swan Lake & More ft. Ballet
Another beautiful instalment in the Candlelight series, two ballet dancers and a string quartet will perform Christmas classics like The Nutcracker Suite, Dance of the Sugar Plum Fairy and Swan Lake.
The performance will take place in Fitzroy Town Hall under the glow of candles, creating a magical Christmas experience. Book tickets online now.
Christmas Carnival
Get a dose of nostalgia at the Christmas Carnival on the banks of the Birrarung.
Ride the ferris wheel, drive the dodgem cars or spin 35 metres in the air on top of the Sky Flyer. There's also carnival games and carnival food.
Dates: 14-24 December
Cost: Free
Where: Birrarung Marr
More information: Website
Four Pillars Australian Christmas Gin Pop-Up Shop
For a last-minute gift or a tipple with friends, head to Victoria by Farmer's Daughters to check out the Four Pillars Christmas gin pop-up shop.
The restaurant's front gallery has been transformed by the Christmas spirit. Pick up a bottle or stop to try one of the Christmas gin cocktails or gin tasting paddles.
Dates: From 29 October
Cost: Cocktail prices
Where: Victoria by Farmer's Daughters, Fed Square
More information: Website
Koorie Krismas
Head to the Koorie Heritage Trust at Fed Square for the family-friendly, all-day festivities.
Celebrating Christmas the Koorie way, there'll be First Nations musicians, performers and comedians, market stalls with everything you need to finish off you Christmas shopping list, creative workshops and a visit from Koorie Klaus.
Dates: 2 December, 10am-3pm
Cost: Free
Where: Fed Square
More information: Website
Blender Studios Christmas Party 2023
Party all night with the Blender crew. Check out the artists' work while you enjoy drinks, bands and dancing. The studios will turn into an all-night warehouse art party.
Dates: 1 December, 6pm-midnight
Cost: Free
Where: Blender Studios, 33-35 Dudley St, West Melbourne
More information: Website
Rhys and Joel's Family Christmas
Join comedians Joel Creasey and Rhys Nicholson for a NSWF Christmas comedy special. As well as cracking their own camp jokes, they'll be bringing along some of their fave comedians and musicians.
Date: 9 December
Cost: From $36
Where: Thornbury Theatre
More information: Website
Christmas Melodies
Get into the Christmas spirit early at Hamer Hall. The Christmas Melodies extravaganza will feature a big band, choir and some special guests. The line up includes Michael Cormick, Etuate Lutui, Cherine Peck, the Salvation Army Melbourne Staff Band and the National Boys Choir.
Dates: 11 December
Cost: From $19
Where: Hamer Hall
More information: Website
Christmas Busking Boat
Ever wanted to cruise the Birrarung (Yarra River) on a boat? This Christmas you can do it for free – and with on-board entertainment!
The Christmas busking boat will shuttle people on a 30-minute tour along the river, with festive Christmas tunes playing while you enjoy the ride.
Bookings are essential.
Dates: 14-24 December
Cost: Free
Where: Federation Wharf
More information: Website
Classic Kids: A Symphonic Christmas
The MSO will perform a magical mixture of traditional carols, modern holiday favourites and selections from Tchaikovsky's The Nutcracker.
A separate Relaxed Performance (where the sensory elements of the show are adjusted) will also be held.
Dates: 16 December
Cost: $29
Where: Hamer Hall
More information: Website
The Ten Tenors Family Christmas
The ultimate family-friendly Christmas show, The Ten Tenors will perform all the Christmas favourites including "It's Beginning To Look A Lot Like Christmas", "It's The Most Wonderful Time Of The Year" and "Feliz Navidad". 
Dates: 20 December
Cost: From $103.65
Where: Hamer Hall
More information: Website
The Nutcracker
The classic ballet will transport you to a magical winter wonderland. Totally family-friendly event.
Dates: 21-22 December
Cost: From $54
Where: Hamer Hall
More information: Website
Love Actually in Concert
The now-classic Christmas movie celebrates 20 years in 2023! Come hear a live orchestra perform the soundtrack while the film is projected onto a huge screen.
Dates: 23 December
Cost: From $60.05
Where: Hamer Hall
More information: Website
Celebrating Christmas at Como: Family Festive Day
Come help the team at historic Como House celebrate Christmas. Step back in time to the 19th century and see classic toys and gifts, help decorate the Christmas tree and create a Christmas wreath.
There'll be specialty tours of Como House as well as delicious food from Stables of Como.
Dates: 17 December, 10am-4pm
Cost: Adults $20
Where: Como House
More information: Website
Melbourne Christmas markets
Get your last-minute Chrissie gifts at these Melbourne Christmas markets.
The Big Design Market, Royal Exhibition Building, Carlton, 1-3 December
Alliance Française Xmas Market, Madame Brussels Lane, 1-3 December
Boho Luxe Christmas Market, Fed Square, 10 December
Rialto Christmas Markets, Rialto, 525 Collins St, 13-14 December
The District Christmas Makers Market, The District Docklands, 17 December
Read my full guide to the best Christmas markets in Melbourne.
Best Christmas shops in Melbourne
Looking for some holiday decorations? Check out these Christmas shops in Melbourne for all your ornaments, Christmas trees and lights.
Ambiance Gifts
Famous for their home decor, Ambiance Gifts is even more well-known for Christmas decorations. Shop in-store at the Queen Vic Market shop or buy online. I love that they have a video online so you can peek inside their store and see their Christmas wonderland!
Address: 509-511 Elizabeth Street, Melbourne
Website
Christmas Elves
With two stores in Melbourne with a combined space of 1900 square metres, you'll find any Christmas decorations you need at Christmas Elves. Stores are open year-round.
Santa will be visiting the Preston store in December.
Preston: 10 Gower Street, Preston
Ferntree Gully: 827 Burwood Hwy, Ferntree Gully
Website
Christmas Kingdom
Get your Christmas trees, lights, decorations and more at Christmas Kingdom. With three shops in Melbourne and an online store, you'll find everything you need.
Mentone: 379-383 Lower Dandenong Rd, Dingley Village
Flemington: Cnr of Ascot Vale Rd & Duncan St, Flemington
Dandenong: 106-108 Frankston-Dandenong Rd, Dandenong South
Website
Christmas Mall
Got a Christmas decorating idea? Make it come to life with Christmas Mall. While they're online only, they've got detailed product information and a great customer service team willing to help.
Melbourne Christmas Tree Farm
Want to buy a real Christmas tree this year? Check out the selection at Melbourne Christmas Tree Farm. But get in quickly as there's limited supply.
Address: 319 Leakes Road Plumpton
Website
Melbourne Christmas carols
Vision Australia's Carols by Candelight
One of the most beloved Christmas traditions in Melbourne, Carols by Candlelight returns to the Sidney Myer Music Bowl on Christmas Eve. There's also a sneak peek performance on 23 December at the final rehearsal.
The event is a charity fundraiser for Vision Australia, and it's a great way to get into the Christmas spirit while supporting a good cause.
Sing along to your favourite Christmas carols and enjoy performances by popular Australian musicians and celebrities. Can't make it to the live event? Watch it at home on telly.
Dates: 23 and 24 December
Cost: From $22.20
Where: Sidney Myer Music Bowl
More information: Website
Where to eat in Melbourne on Christmas Day
Take the stress out of Christmas and let someone else do the cooking for you. Melbourne's dining scene is world famous, and many restaurants are putting on Christmas Day lunches. With everything from traditional roasts to fancy-schmancy spreads, there's something for all budgets.
Here are my personal picks for the best places to eat Christmas lunch in Melbourne this year.
My expert tip: Book well in advance as these restaurants tend to fill up quickly during the Christmas season!
Arbory Bar & Eatery
Grab a table by the river and celebrate Christmas at Arbory. You can book tables for 4-16 people with a minimum spend of $85 per person on food and beverages. There's a maximum seating time of 2 hours and 45 minutes.
Melbourne River Cruises
Float down the river in style and enjoy a massive hot and cold buffet. There's the usual roast meats and veggies, along with salads, fresh prawns and Tasmanian smoked salmon. Oh, and free-flowing drinks over the three-hour dining experience.
Adults: $285 per person
Children: 14-17 years – $155 per person, 2-13 years – $135 per person
See the full menu and book online.
Chancery Lane
Feast on oysters, prawns and Wagyu beef at Scott Pickett's Chancery Lane this Christmas. There's even a special menu for the little ones.
There are several sittings throughout the day: 11.30am, 11.15am, 2.15pm and 2.30pm.
Adults: $195 per person
Kids 12 and under: $60 per person
See the full menu and book a table online.
The Crafty Squire
Start off with a drink on arrival and then enjoy a 3-course share-style menu of seafood, meats and sides. There are two sittings at 11am and 2pm.
Adults: $140 per person
Kids 15 and under: $45 per person
Hotel Esplanade
The Espy is putting on a seafood banquet in the Main Bar. Enjoy oysters, prawns, Moreton Bay bug cocktail, baked scallops, crispy porchetta and king salmon. There's pav for dessert, of course.
A three-hour beverage package is included with tap beers, sparkling wine, house wines and soft drinks.
For walk-ins, there's also pizzas, seafood snacks and cocktails.
Adults: $175 per person
Children: $65 per person
The Hotel Windsor
Celebrate Christmas in style at The Windsor with a menu of oysters, burrata, hot-smoked trout, seafood platter, rum-glazed ham and wood-fired carrots. Dessert includes Christmas pudding with brandy custard and brûléed mango.
Accompanying the delicious food are free-flowing beverages.
Adults: $468
Children: $198
See the full menu and book online.
The Duke of Wellington
Share a 3-course Christmas feast with family and friends at The Duke. There are the usual turkey and leg ham served with traditional roast veggies on the side, along with oysters and prawns, and pav for dessert.
Book one of the two sittings: 11am and 2pm.
Adults: $145 per person
Kids 12 and under: $45 per person
Arbory Afloat
Chill out at Arbory Afloat on Christmas Day. Book a table for 2-20 people (with minimum spend) or book a banquet feast (10-40 people). There'll be Christmas crackers and plenty of music from the line-up of DJs.
Table reservations have a minimum spend of $95 per person (or $55 per child, with one kid per adult allowed).
Try one of the banquets. Banquete is from $70 per person for three shared courses, while the Seafood Fiesta Banquete is from $85 per person with three shared courses and seafood.
For something even fancier, book a day bed package which includes Mexican food and a magnum of rose for $457.
Conservatory
Celebrate Christmas in the elegant surroundings of Conservatory at Crown Melbourne. Christmas lunch includes Conservatory's famous buffet, with everything from seafood, hot meats, salads, Asian food and soups.
Finish your meal off with Christmas pudding, trifle and the chocolate fountain.
Live entertainment will accompany the meal.
Adults: $475
Child: $237.50
See the full buffet menu and book online.
Bistro Gillaume
Indulge in French luxury, with a five-course menu at Bistro Gillaume. Included in the menu are smoked salmon blinis with caviar, scallops, Wagyu beef and Parisian dessert, along with a glass of Veuve Clicquot NV.
For kids, pescatarians and vegetarians, there are special menus.
Price: $250 per person
See the menus and book online.
Where to volunteer on Christmas Day
Want to give back to the community this Christmas? Here are places you can volunteer your time on Christmas Day in Melbourne.
The Salvation Army has opportunities for Christmas wrapping in the lead-up to the holiday, as well as needs on Christmas Day. Check Seek for the latest opportunities.
Things to do on Christmas Day
In town and don't want to do the traditional Christmas lunch – or maybe you don't celebrate the Christmas holiday? Here are 7 things to do in Melbourne instead.
1. Head to the beach
If the weather's looking good, kick back on the beach with a picnic and some tunes. Check out St Kilda or Williamstown beaches.
2. Pack a picnic
Set up a picnic in one of Melbourne's many parks. Try the Botanic Gardens, Fitzroy Gardens or Edinburgh Gardens for a chilled-out day.
3. Visit the Melbourne Zoo
The zoo is open on Christmas Day, so spend the day surrounded by wildlife.
4. Volunteer your time
Many charity organisations need extra hands on Christmas Day. Check out The Salvation Army, Wesley Mission and Sacred Heart Mission for volunteer opportunities (although many do require you to have already put in a few volunteer shifts).
5. Head out for a hike
Strap on your hiking boots and hit one of the many hiking trails in and around Melbourne.
6. Grab a meal
Plenty of restaurants in Melbourne operate as normal on Christmas Day. Try Chinese food in Chinatown or a meal at a pub.
7. See a movie
Catch a flick without the crowds. Cameo Cinemas, The Lido and Classic Cinemas are open on Christmas Day.
Wrap up: Christmas in Melbourne
However you like to spend Christmas in Melbourne, there's plenty going on to keep you busy in the lead up – as well as events for Christmas Day.
I hope you have a memorable and festive Christmas in Melbourne!
Christmas in Melbourne: FAQs
Does public transport run in Melbourne on Christmas Day?
Public transport runs on a reduced timetable in Melbourne on Christmas Day. All metropolitan train services, the tram network and some bus services run on Christmas Day with regular weekday evening timetables. Public transport is free on Christmas Day. Check your route online.
What is the weather like in Melbourne at Christmas?
The weather in Melbourne at Christmas is usually mild and sunny during the day, with temperatures ranging from 14-24 degrees Celsius. However, it can also get hot, with some Christmas Days in the past seeing temps of 35 or even 40 degrees.
What can I do on Boxing Day in Melbourne?
On Boxing Day in Melbourne, get out and explore the city. Take advantage of sales across many stores, or even head out for a day of cricket at the Melbourne Cricket Ground. A lot of people head to the beach if the weather is good.
What are you doing on Christmas Day this year in Melbourne?
---
Related posts
Before you go… you might be interested in these Melbourne travel blogs:
PIN IT FOR LATER: MELBOURNE AT CHRISTMAS
Save this guide to the best things to do in Melbourne at Christmas to Pinterest!