Looking for things to do in Echuca and Moama? Read on my for my local's* guide to the best way to spend a weekend in these twin towns.
One of the best things about Victoria is our small country towns, each with their own history and personality. It's great to escape the city to explore more of our awesome state, and one of my favourite small towns are the twin towns of Echuca and Moama. I'm here to share a few recommended things to do in Echuca-Moama.
*While I consider Melbourne my home, I actually grew up in Echuca-Moama before I moved away when I was 17 to go to university. So, you're getting some (almost) local insights here! I still have family there so we visit many times a year.
Echuca is only 2.5 hours from Melbourne and sits right on the Murray River, the third-longest navigable river in the world, after the Amazon and the Nile rivers (yes, really!). But the Murray isn't our only river – we actually have two more: the Campaspe and the Goulburn Rivers. In fact, in the local Indigenous Yorta Yorta language, Echuca means "meeting of the waters" because these three rivers join together here.
The river draws a lot of tourists, especially in summer when the two towns' population swells beyond its regular 22,000 residents. And, with its relaxed vibe and its proximity to Melbourne, it's growing quickly as people make a tree change.
So, if you want a taste of country Victorian life, I highly recommend a weekend visit to Echuca. Here's my local's guide to what to do in Echuca.
This blog post may contain affiliate links, meaning if you book or buy something through one of these links, I may earn a small commission (at no extra cost to you).
1. Take a trip down the Murray River on a paddlesteamer
The Murray River is the biggest Echuca attraction, and many activities revolve around the water.
One of the best ways to see the river is on a paddlesteamer. In fact, given that Echuca has the largest fleet of operating paddlesteamers in the world, I'd say that you can't visit Echuca and not take a ride on one.
Some of the historic paddlesteamers still function, offering visitors a chance to cruise down the river, passing by huge red gums filled with flocks of cockatoos and galahs.
Visit Echuca Paddlesteamers to learn more about cruises on the PV Pevensey (most recognisable as the star of Australian classic television miniseries All the Rivers Run) or the PS Alexander Arbuthnot. Both have their original steam engines.
Bonus: both are pet-friendly!
Alternatively, Murray River Paddlesteamers offers daily cruises on the PS Emmylou and PS Canberra.
Even if you don't take a ride on a paddlesteamer, going to down to the river to take a look at them should be top of your Echuca things to do.
And if a day trip just isn't enough, you can even book 3, 4 or 7 nights on the PS Emmylou. Check prices here for the 3-night, 4-night and 7-night options.
Cruises run daily and can be booked at the wharf or online – I'd recommend booking online for weekends and during peak seasons as seats can fill up
Murray River Paddlesteamers website
Echuca Paddlesteamers website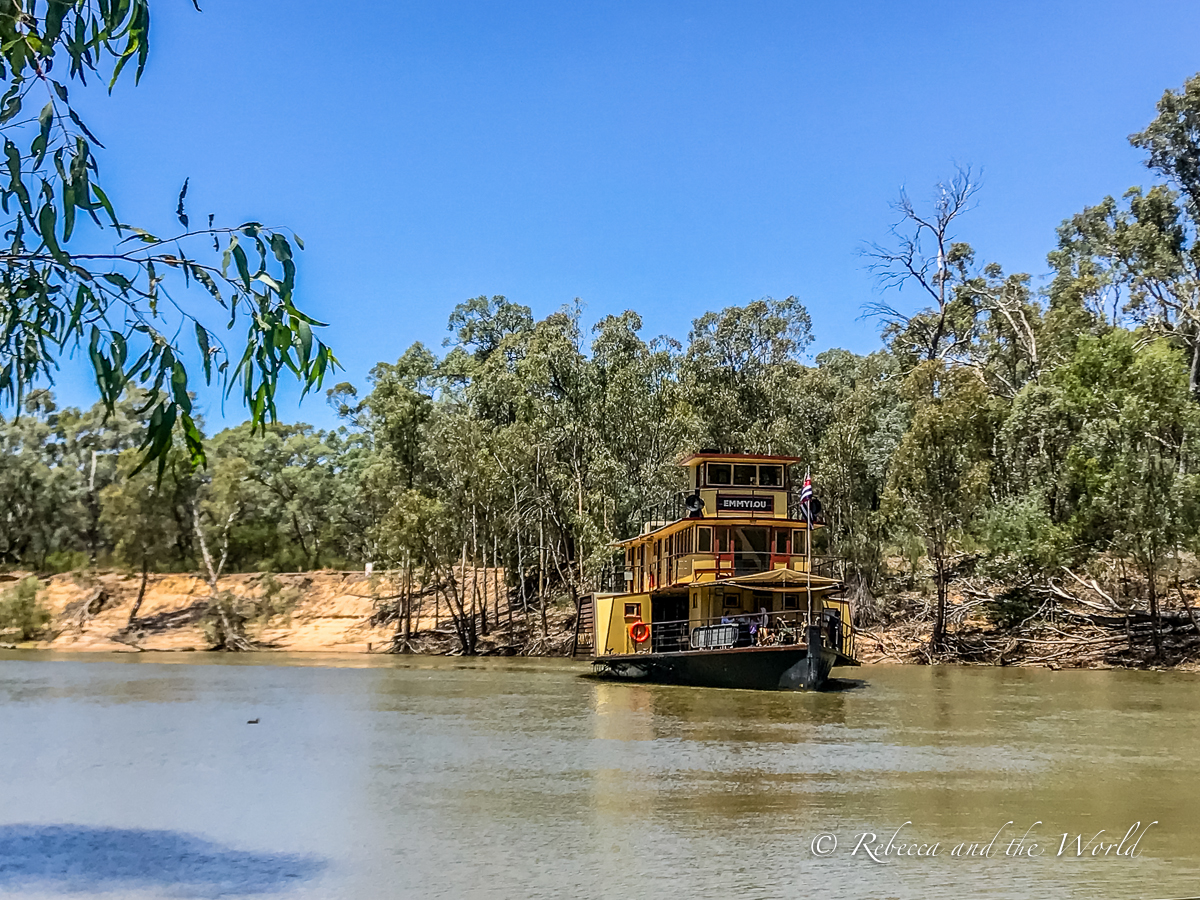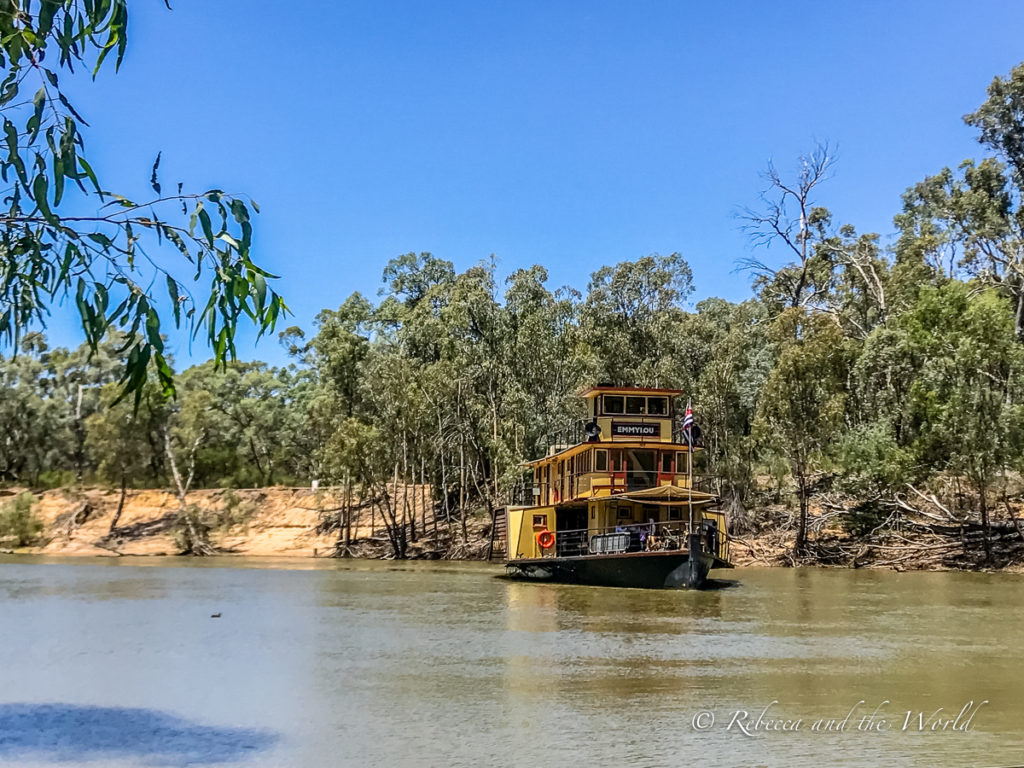 2. Dine on a paddlesteamer
Combine a paddlesteamer cruise with a visit to one of the local wineries – I highly recommend it!
I'd never done this until a friend came to see me while I was visiting family in Echuca, and since she'd never been on a paddlesteamer, I booked this trip for us. The two of us took a leisurely ride down the Murray River on the PS Emmylou to Morrisons Winery. We enjoyed a two-course lunch (including a glass of bubbles) and then wandered through the vineyard before returning to Echuca on the paddlesteamer.
The cruise to Morrisons Winery is now on the PS Canberra rather than the Emmylou.
3. Visit a winery
But you don't need to board a paddlesteamer to visit a winery.
Morrisons Winery is just a 15-minute drive from the heart of Echuca, just across the river in Moama. As I mentioned, it's a beautiful spot for lunch – so beautiful that it's also a popular place for weddings in Echuca-Moama.
St Anne's has a cellar door at its winery in Moama as well as a tasting room right in the heart of Echuca's historic district. You can also pre-order platters to go with your wine tasting at the winery in Moama. Tastings are free at both locations.
Restdown Wines is a bit further out of Echuca. It's located on wetlands, so you can have a wine tasting and explore the grounds. They're open Saturdays and Sundays, and you do need to pre-book a tasting. It's a 40-minute drive from Echuca-Moama. Make a day trip of it and take the Backroads Trail.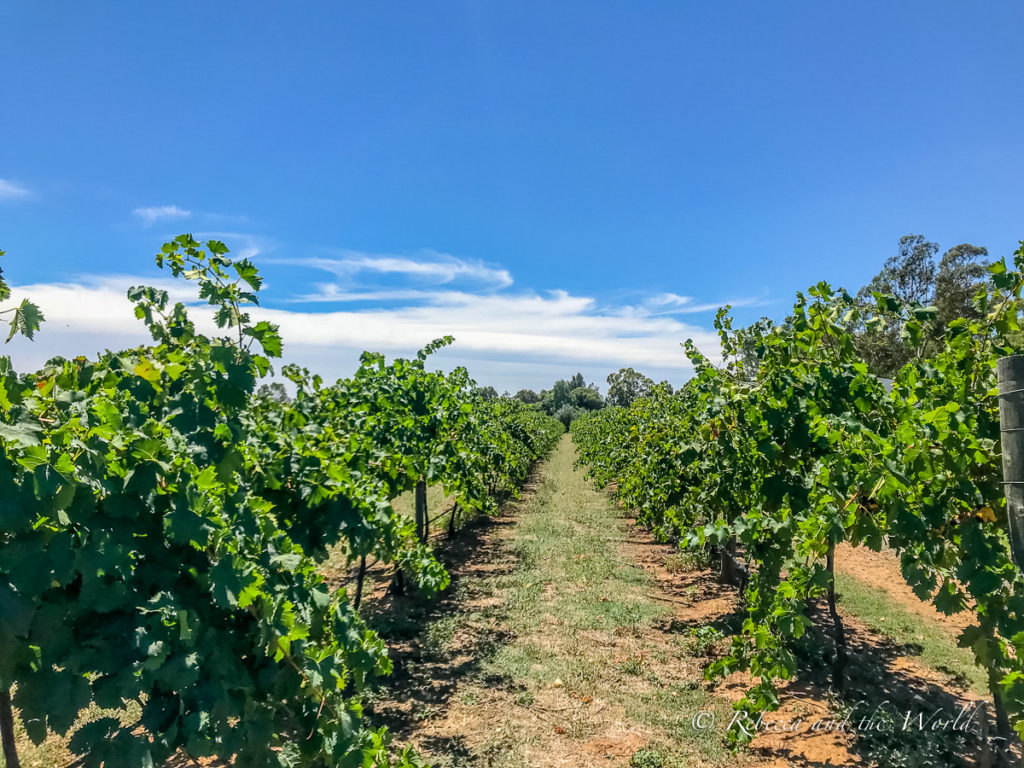 4. Have lunch or dinner on board a luxury cruiser
As well as meals on paddlesteamers, you can dine on a luxury cruiser in Echuca.
The MV Mary Ann is a luxury vessel, moored at the Riverboat Dock in the Port of Echuca. Book lunch or dinner and enjoy a meal while enjoying a river cruise.
Check menus, pricing and book online here.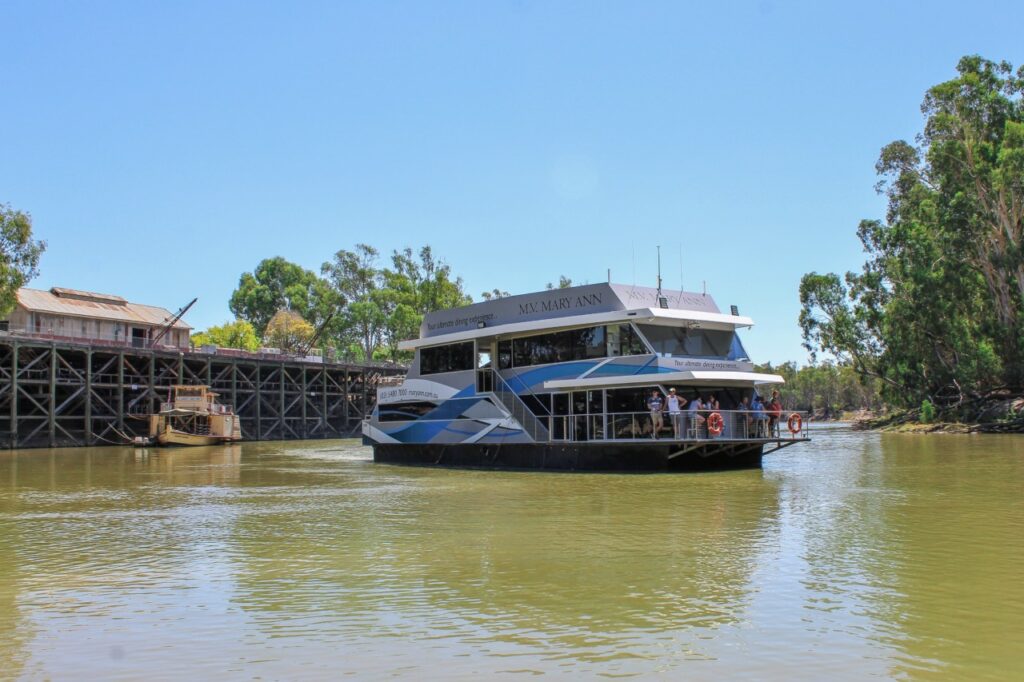 5. Tour the Port of Echuca
Echuca's history goes way, way back. As I mentioned earlier, the town's name comes from the language of the Yorta Yorta people, who have lived along the Murray River for tens of thousands of years. This video tells the story of how the Murray River came to be.
Much, much later, after the British invaded and colonised Australia, Echuca was founded in the mid-1800s by the ex-convict Henry Hopwood (how very Australian!). The town's position along the Murray River made it the perfect location for a hub on the inland river system, and Echuca's port became the largest inland trading port in Australia.
Two hundred years later, the port remains an important part of Echuca, but nowadays tourism is the trade you'll find here.
One of the best Echuca things to do is to explore this history with a visit to the Port of Echuca. Wander around the port district to learn about the blacksmith craft, take a trip back in time at Sharp's Movie House and Penny Arcade, or get dressed up for a vintage photo. Check out the steam display, the sawmill and the beautiful red gum wharf.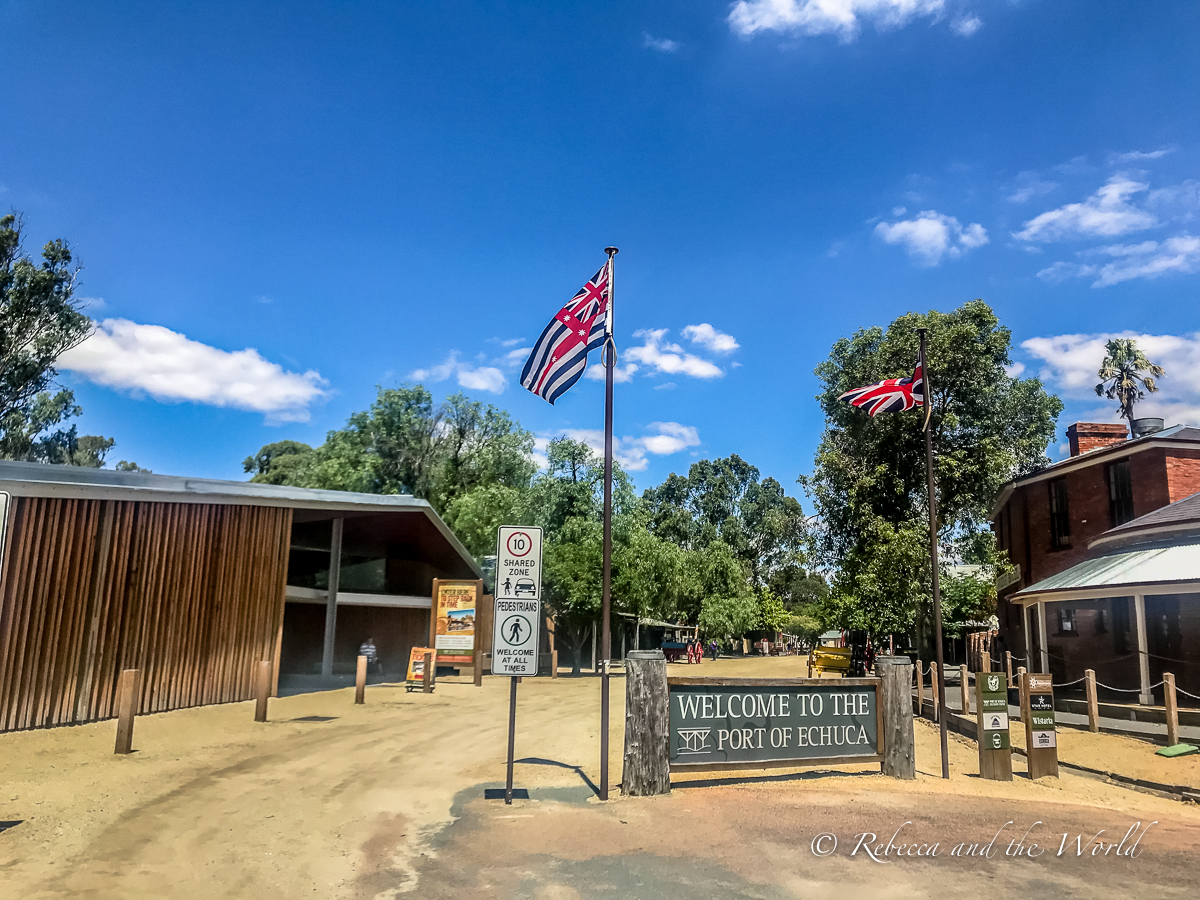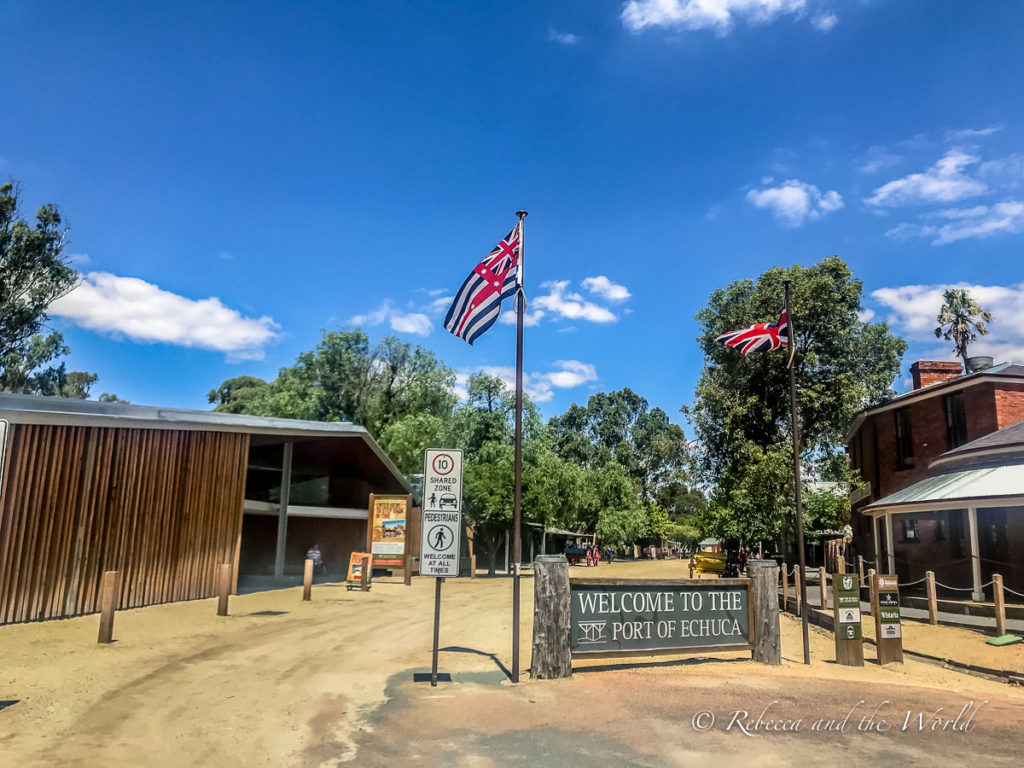 Don't forget to snap a pic of the unusual thong tree!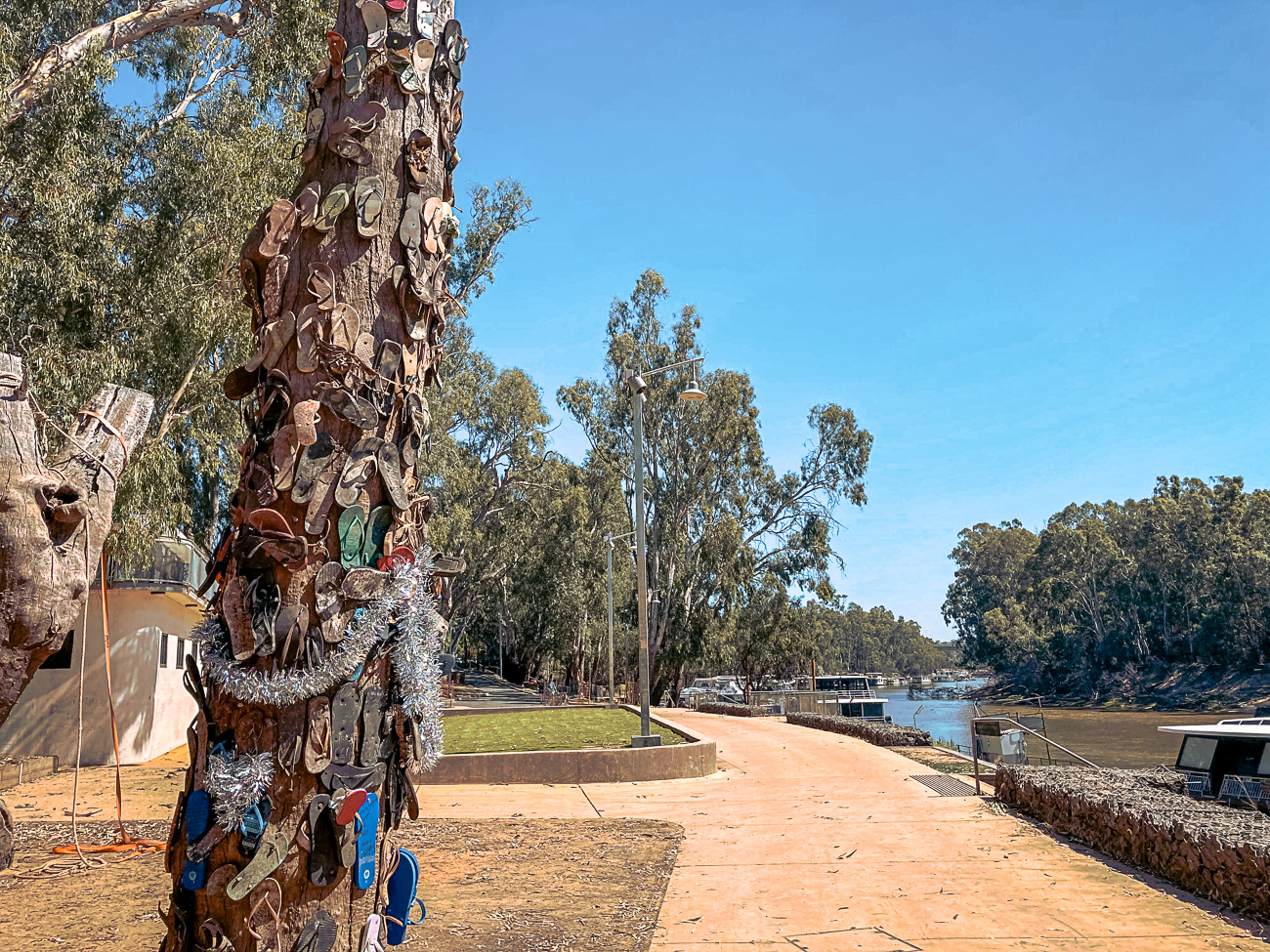 6. Visit the Discovery Centre
While you're at the Port of Echuca, make sure to stop by the Discovery Centre to learn about the port's influence and its importance in Australia's national trade.
This interpretive centre is free, and it's the best place to start your exploration of the Port.
It's also where you can buy tickets for the daily guided tours ($13 for adults, $6.50 for kids) or the spooky "Port after dark" tours ($22 per adult).
Address: 74 Murray Esplanade, Echuca
Opening hours: 9am to 5pm daily, closed Christmas Day
Cost: Free entry
7. Pick up some locally made goods
Just near the historic port district, High Street is the place to discover locally made chocolates, taste wines and explore the shops. You can pick up handcrafted souvenirs (edible and otherwise).
The Echuca Chocolate Company sells delicious handmade chocolates, all made on site. They also sell a range of chocolate liqueurs and ports.
Echuca Heritage Sweet Co is a sweet tooth's delight, with buckets spilling over with sweets, and chocolates and lollies piled to the ceiling.
You'll also find homewares, leather goods, a cute tea shop and other stores along this great little shopping district.
Don't forget to stop at The Port Ice Creamery for some delicious ice cream!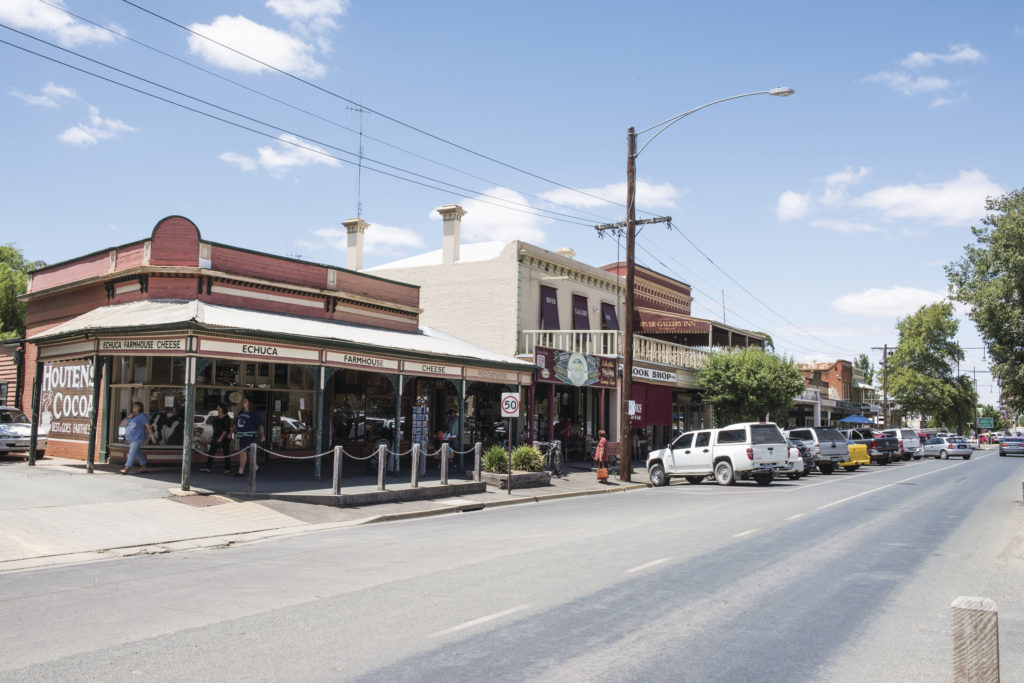 8. Sip locally made gin
It seems all the hip country towns are making their own gin, and now Echuca has its own distillery.
The Echuca Distillery is located in the historic Port of Echuca and here you can taste gins that are made on site. Gin is made in the copper still lovingly called Lavender, using locally sourced botanicals.
At the front of the distillery is Bar Lee, which serves up mean cocktails and food, and it's also where you can organise tastings of the gins.
Address: 555 High St, Echuca
Opening hours: Bar Lee is closed Monday and Tuesday, open 11 am to 4pm Wednesday, 12pm to 9pm Thursday, Friday and Saturday, 12pm to 5pm Sunday
9. Eat at some great cafes and restaurants
Echuca's food scene has certainly changed since I lived there. Sure, you can still pick up a chicken parma and chips at one of the dozens of pubs that line the streets of this small town, but nowadays you can also find fresh, wholesome, vegetarian food at delicious (and aesthetically pleasing) cafes like The Sweet Meadow.
I LOVE the Asian fusion food at Monkee & Co, and newcomer Niko Niko serves up great Japanese dishes.
Other good Echuca restaurants are Johnny and Lyle, The Mill, Port 53 Restaurant at Radcliffe's or Monkee and Co.
Over in Moama, Three Black Sheep does a great brunch and the Junction is a reliable venue.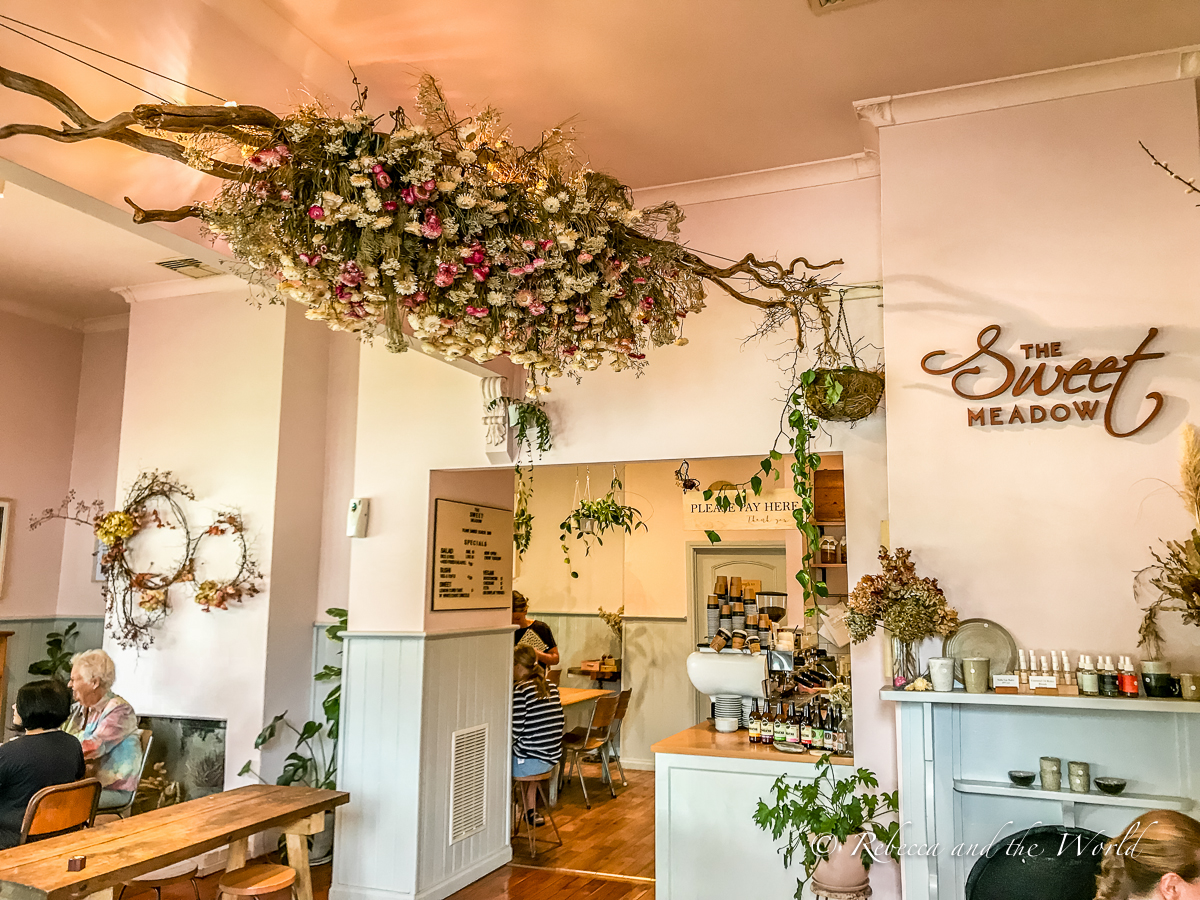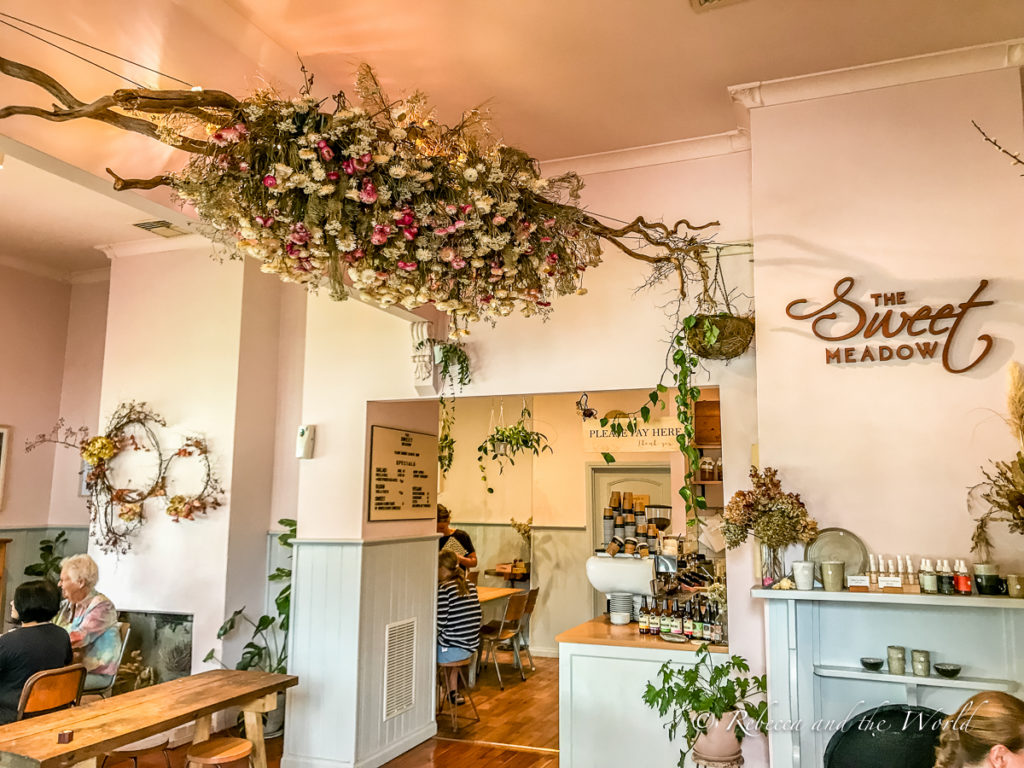 10. Have a pub meal
While in Echuca, you do have to stop by one of our many pubs for an afternoon pint or a pub meal. Given the heritage of the town, many of the pubs have been around since it was founded, so you'll be drinking and dining in a historic setting.
The American Hotel (better known as the Yank), the Shamrock Hotel and 1895 The Royal are all crowd pleasers. The Border Inn in Moama is also a classic.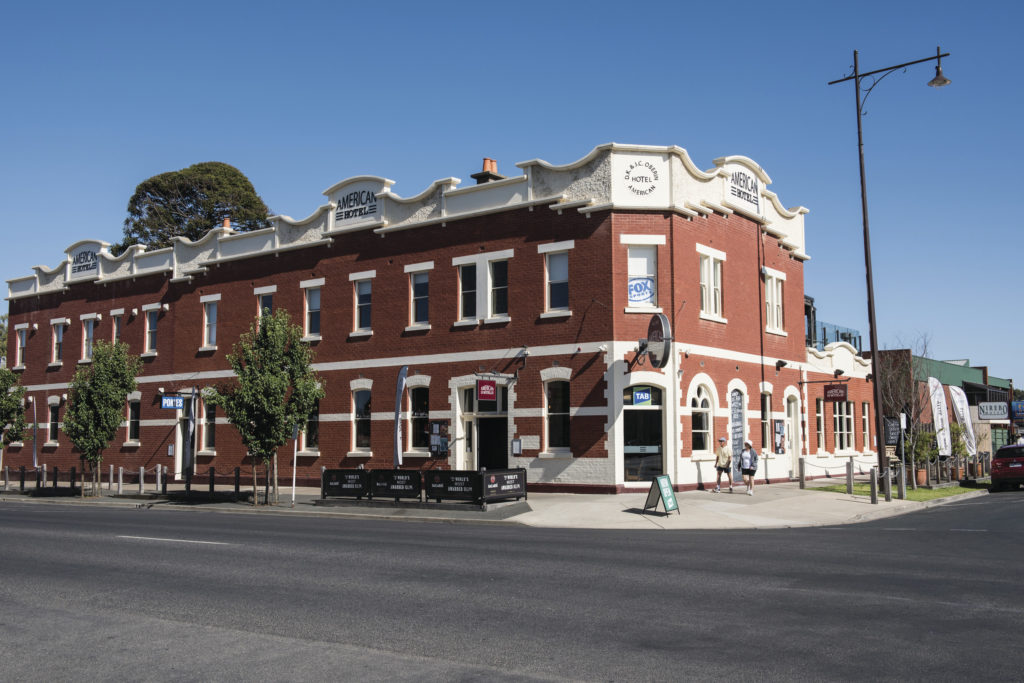 11. Visit the Great Aussie Beer Shed
Ever wondered how much space 17,000 beer cans take up? A whole shed, that's how much.
Along with the astounding number of beer cans, the space at the Great Aussie Beer Shed includes a heritage museum with a showcase of tap tops, handles, barrels, bottles, signs, brewery manufacturing equipment and machinery.
After touring the site, you can relax with a beer.
It's one of the more interesting things to do in Echuca, that's for sure!
Address: 377 Mary Ann Rd, Echuca
Opening hours: 9.30am to 5pm weekends, public holidays and school holidays
Cost: $15 for adults, $5 for kids
Get your tickets at the door, no online bookings
12. Go for a swim in the river
The murky brown colour of the river may not be too enticing, but on a hot summer day there's nothing better than taking a dip in the Murray River.
The best spot for a swim is Moama Beach. You'll need to cross the river via the old bridge and then take a left past the sound shell and down the dirt road to the beach.
Be water safe – the current can be strong in parts of the river!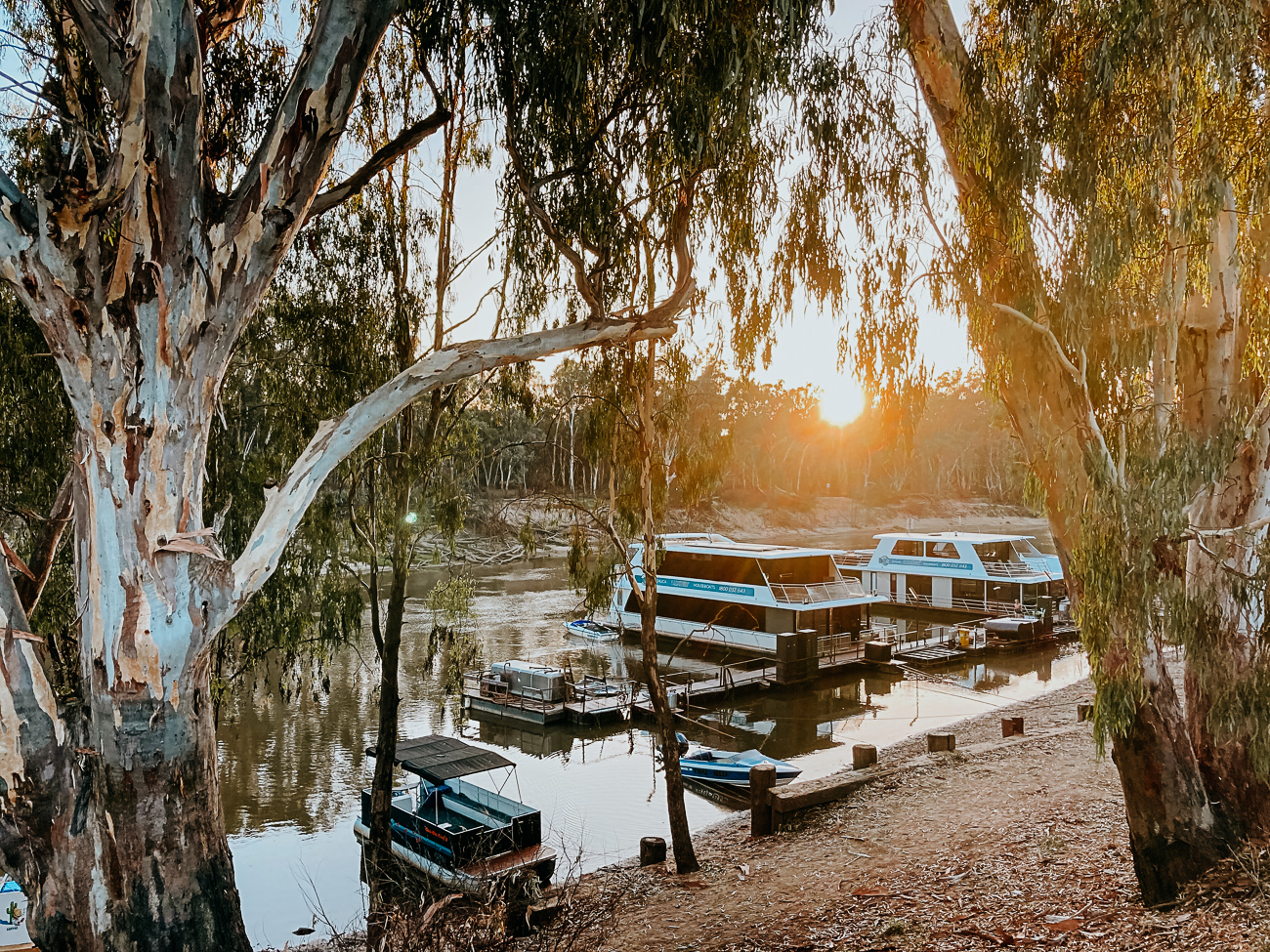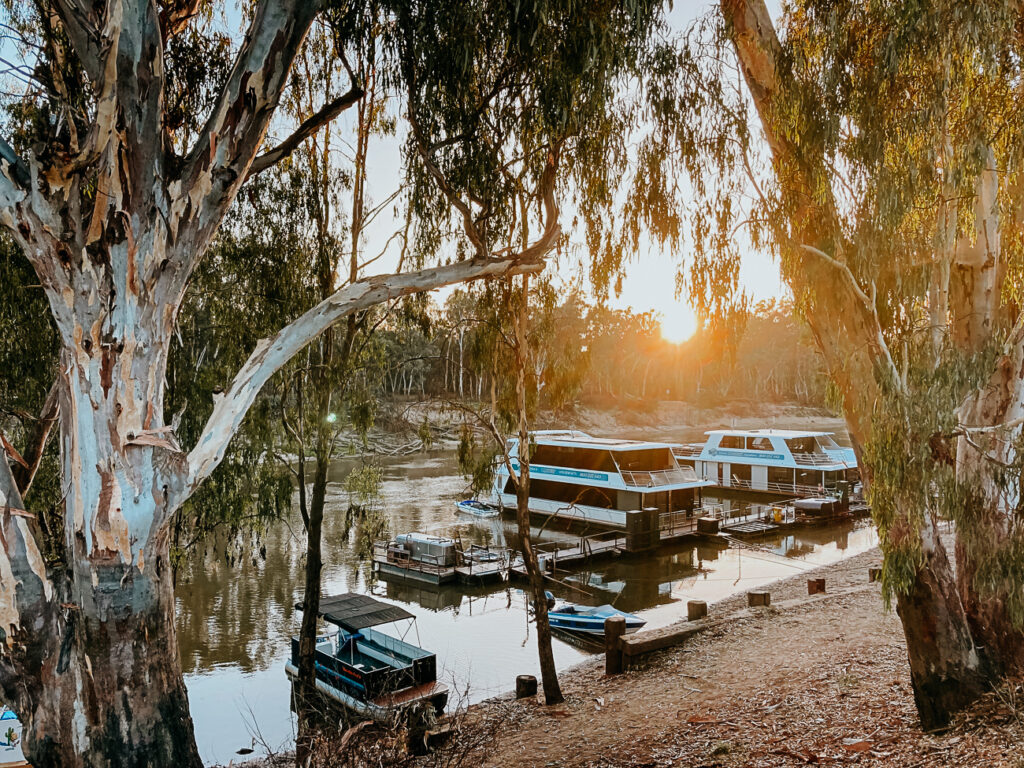 13. Go for a bike ride
Bring your bike with you or hire one from Green Pedal Cycles. They make it even easier by hiring out e-bikes, and include a map and helmet. Hire an e-bike for half a day or a full day.
They'll drop the bike to you or you can pick it up on weekends and during the busy holiday period from the Port of Echuca.
What I love about this company is that they also do some fun guided bike tours around Echuca and a bike tour to a winery.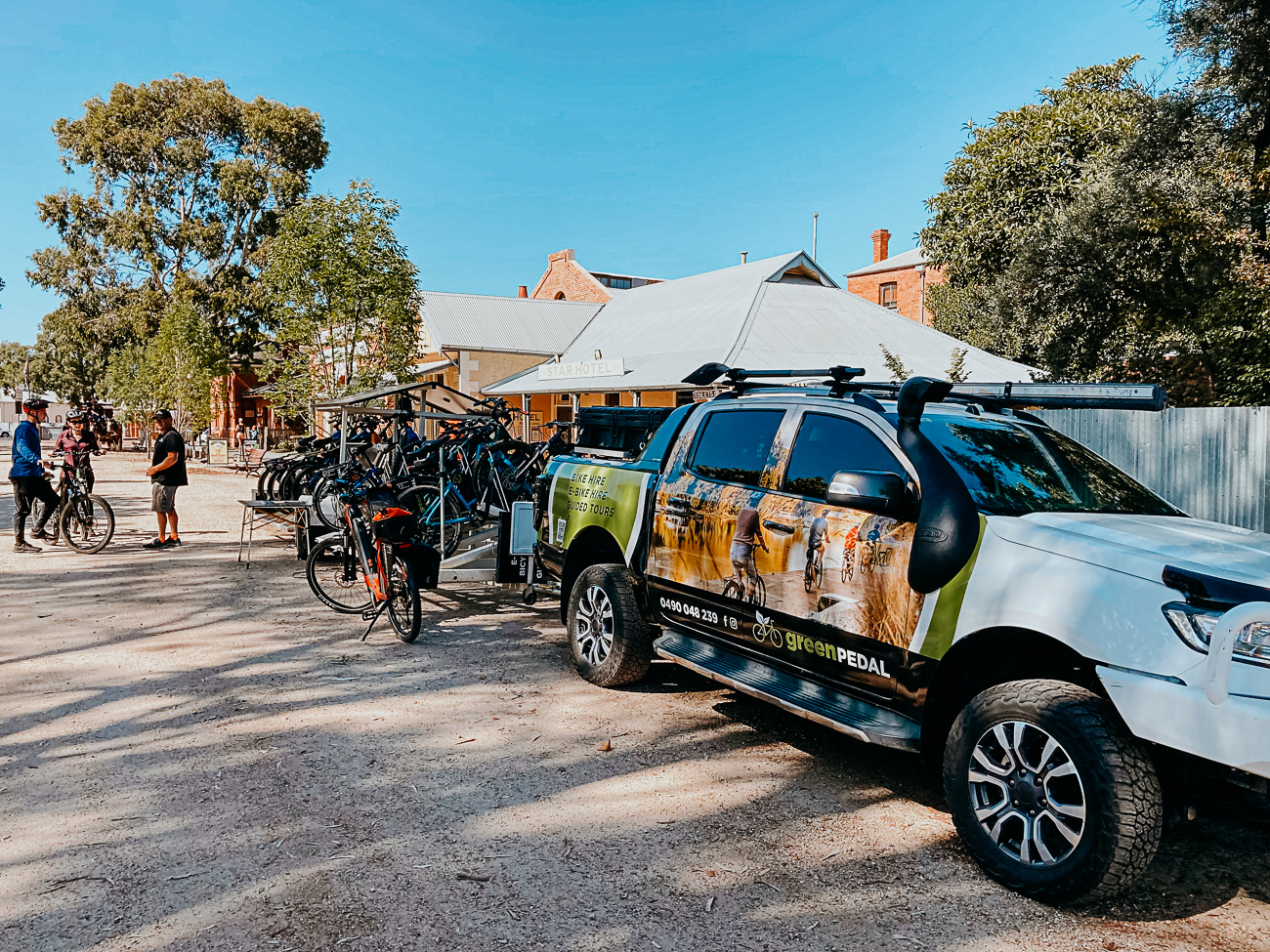 14. Check out some old cars at the National Holden Motor Museum
Tucked in a deceivingly small space is Australia's oldest continually operating Holden Museum. There are more than 50 cars on display, including several rare prototypes and concept cars that have been loaned by Holden to the museum.
Any car enthusiast will love the historic film footage, photographic exhibitions, memorabilia, souvenirs and car related merchandise – and of course the cars themselves!
The museum is within the Port of Echuca historic district. It's open daily for a bargain entrance fee of $10 for adults.
Address: 7-11 Warren St, Echuca
Opening hours: 9am to 5pm daily, closed Christmas Eve and Christmas Day
Cost: Adults $10, kids $5, kids under 5 free
Tickets: Book online or purchase entry tickets at the door
15. Learn more at the Echuca Historical Society Museum
This town is filled with history, and if you're curious to know more, then the Echuca Historical Society Museum is the place to visit.
Under the shade of an ancient, enormous Moreton Bay fig tree, the historical society museum is located in the former Echuca Police Station, built in 1869.
Fun fact: my grandfather-in-law was the police chief of Echuca many, many years ago and my mother-in-law lived here when she was very young!
Inside the museum you'll find various exhibitions that highlight the history of Echuca and Moama. It's small but interesting and clearly beloved by the historians and volunteers that work here. The museum is open daily from 10am to 2pm.
You can also download self-guided walks and audio guides from their website to explore more of the fascinating history.
Address: 1 Dickson St, Echuca
Opening hours: 10am to 2pm daily
Cost: Free entry
16. Check out some local artists
There are several small galleries around Echuca-Moama to explore, and most of them are filled with works from local artists – including my mother-in-law's gorgeous creations!
Customs House Gallery is located in the historic former customs house, and has several rooms of mostly paintings and photographs. When we were last in Echuca, my mother-in-law had an exhibition on here. Open daily 10am to 4pm.
The Foundry Arts Space is a more modern gallery with several revolving exhibitions. It's run entirely by volunteers and is open daily from 10am to 4pm.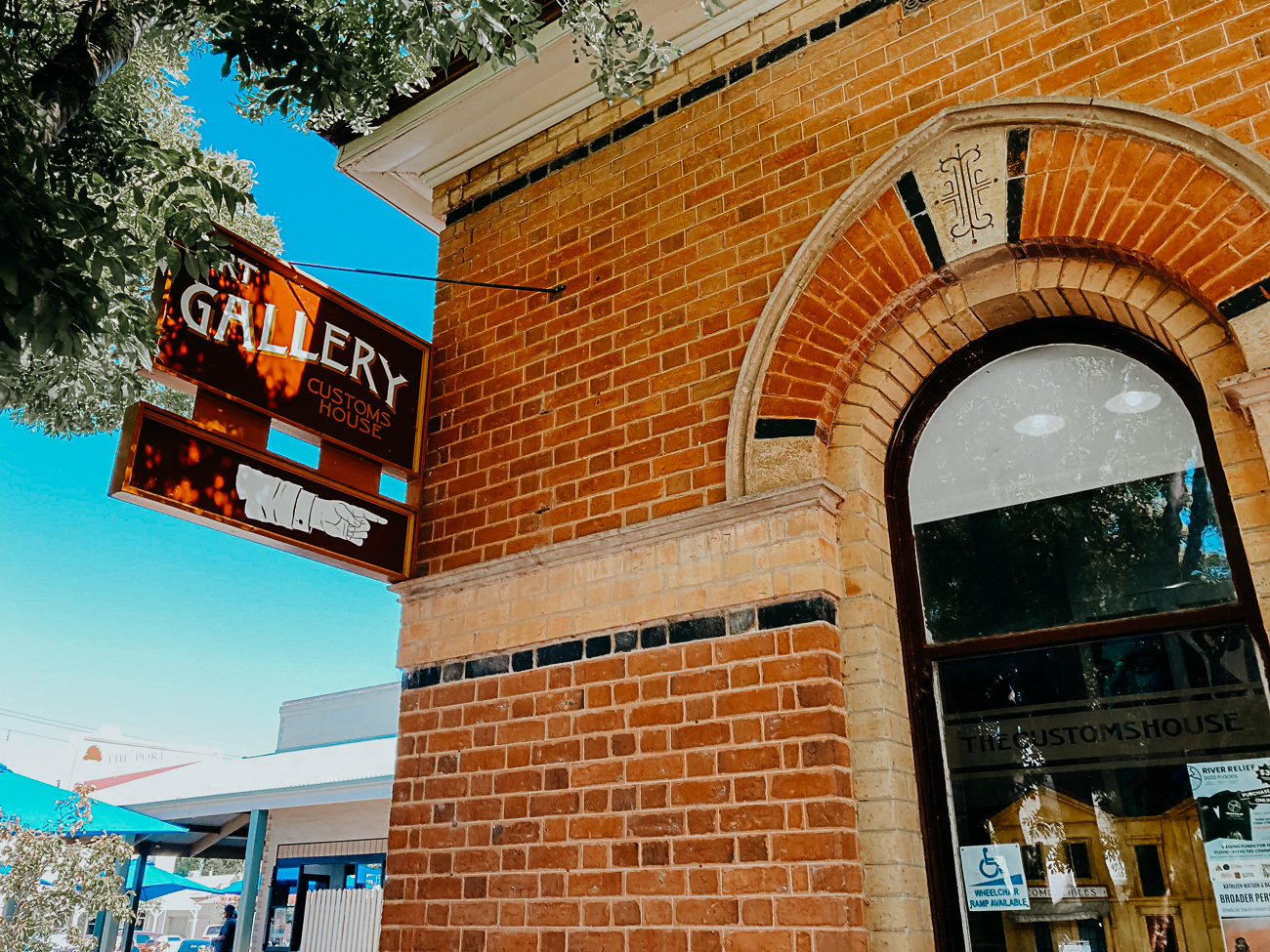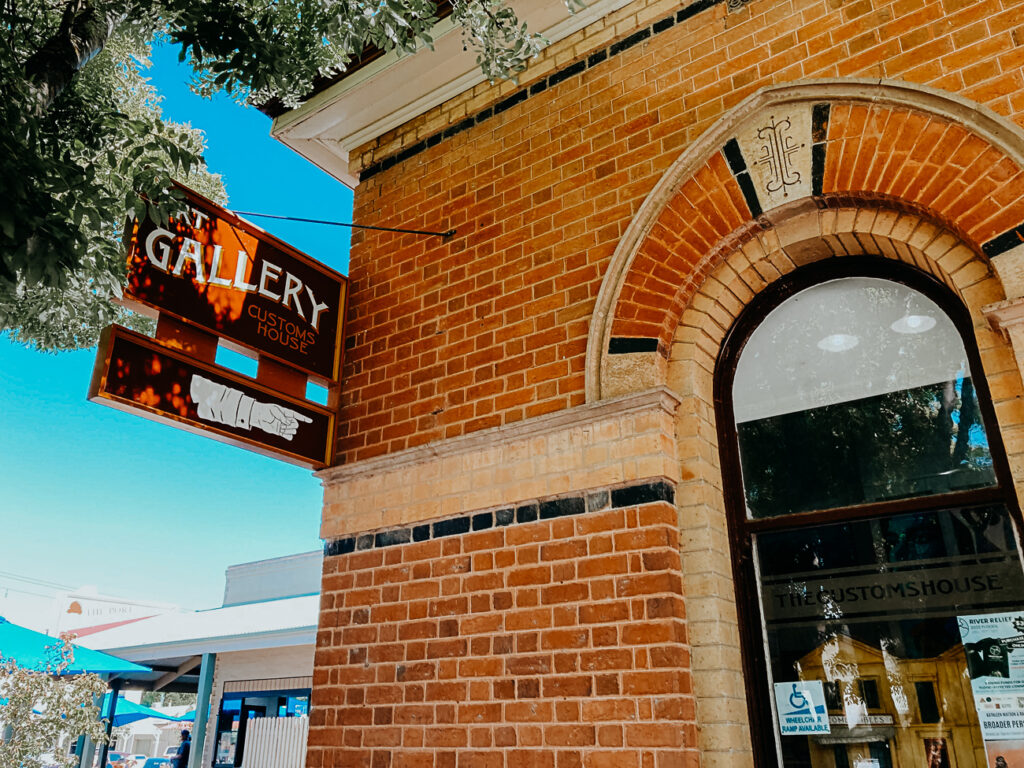 17. Visit a local market
If you want to pick up a souvenir from your Echuca trip, then look no further than one of the local markets. There's usually one on every weekend.
The most popular Echuca markets are:
Echuca-Moama Big General Market, held every second Sunday at the Kerrabee Soundshell in Moama, 8am to 2pm
Echuca Farmers' Market, held the first and third Saturday of each month at Alton Reserve, 8am to midday
Hopwood Gardens Market, held the second Saturday of each month at the Hopwood Gardens (at the entrance to the Port of Echuca), 2pm to 8pm
18. Time your trip with the Riverboats Festival
The Riverboats Music Festival is a fabulous reason to visit Echuca.
Big names in the Australian and international music world have headlined over the years, including Dan Sultan, Paul Kelly, Baker Boy, Kasey Chambers, and Neil and Liam Finn.
It's held in February each year, and the 2024 dates are 16-18 February. This year's line-up includes Missy Higgins, Peter Garrett & The Alter Egos, Regurgitator, Kasey Chambers and Tim Rogers & The Twin Set.
If you can nab tickets – they go quickly – jump on a paddlesteamer for one of the many sideshows.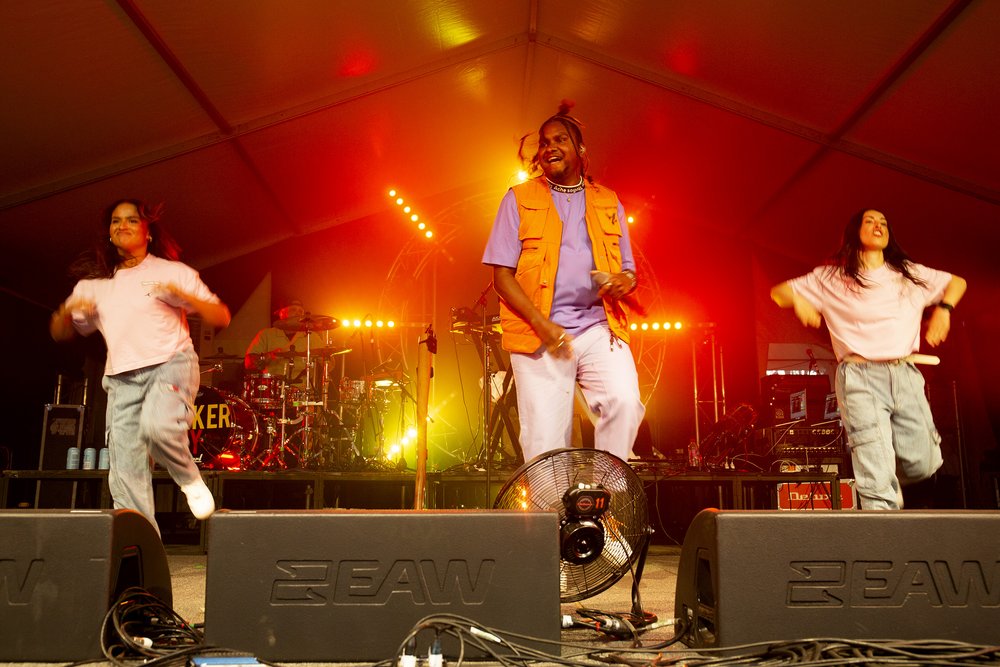 19. Spend the weekend on a houseboat
One of the best things to do in Echuca is hire a houseboat and spend the weekend floating down the river.
It's possible to hire a boat and – after a quick lesson! – take it for a relaxing cruise down the river for a few days or a week. Some houseboats even have rooftop spas so you certainly won't be giving up any luxuries.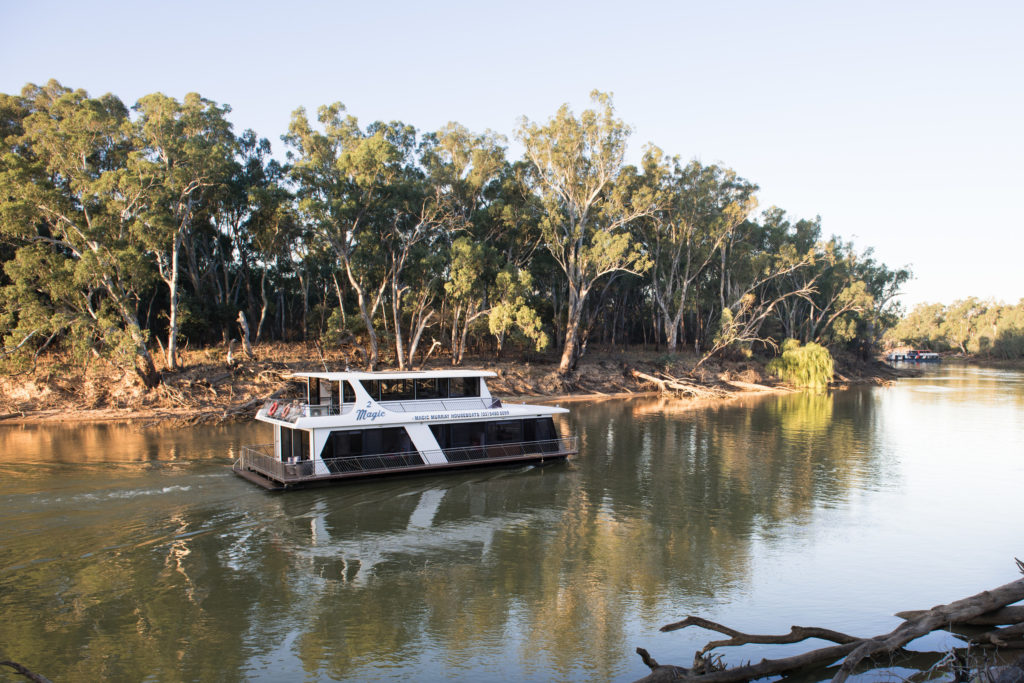 20. Learn how to waterski
In summer, the Murray River hums with speedboats with wakeboarders, skiiers and kneeboarders in tow. If you're visiting in summer, get out on the water and learn how to waterski or wakeboard. Try Brett Sands for lessons.
Even after so many years living in Echuca, I never mastered waterskiing, but I can wakeboard a bit.
One of the biggest events in Echuca is the Southern 80 ski race. Skiiers race between the Torrumbarry Weir and Echuca's Victoria Park in what is the biggest water ski race in the world.
The event is usually held the second weekend in February, and in 2024 it's scheduled for 9-11 February.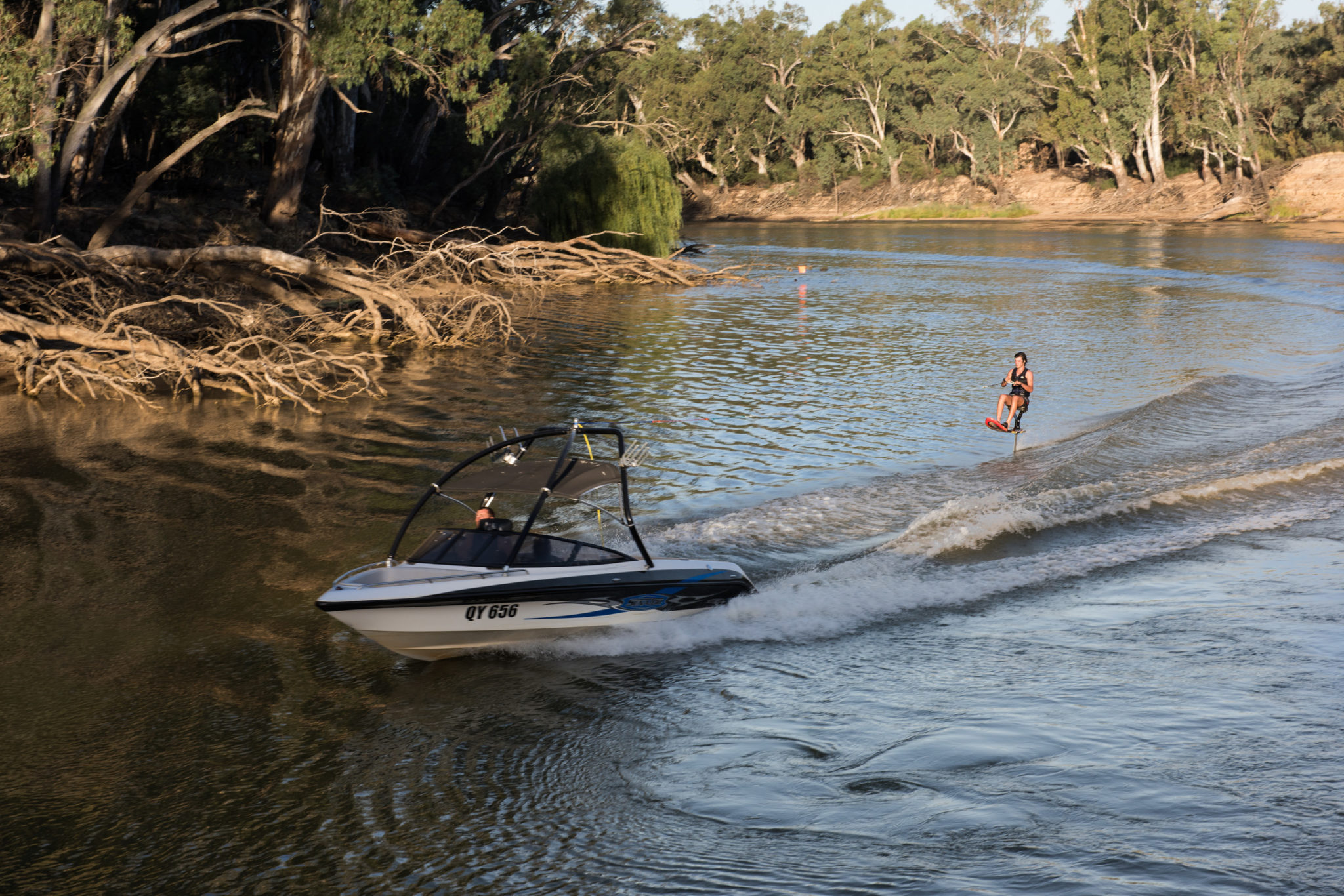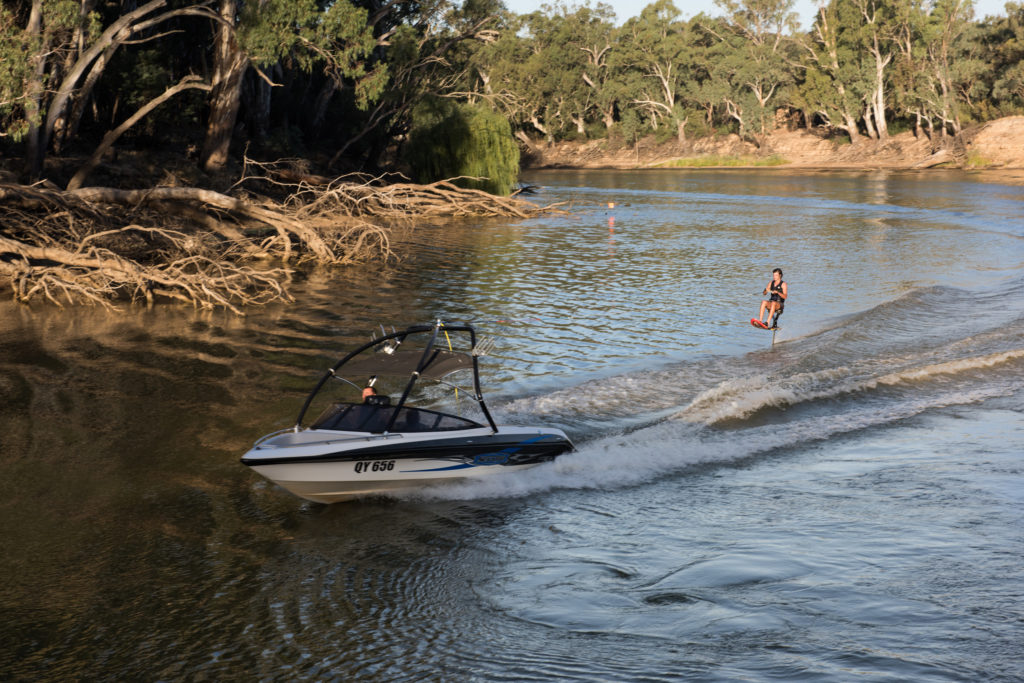 21. Canoe or stand-up paddleboard on the Murray
If waterskiing isn't your jam, there are plenty of other water sports to try, including canoeing and stand-up paddleboarding.
Echuca Moama Stand Up Paddle rents out boards and provides lessons. Seeing the sunrise over the river while paddleboarding is a gorgeous way to start the day.
For canoeing or kayaking, check out Echuca Boat and Canoe Hire. You can rent a kayak for a few hours, or even try out campanoeing – self-guided camping canoe trips from anywhere between two days to two weeks.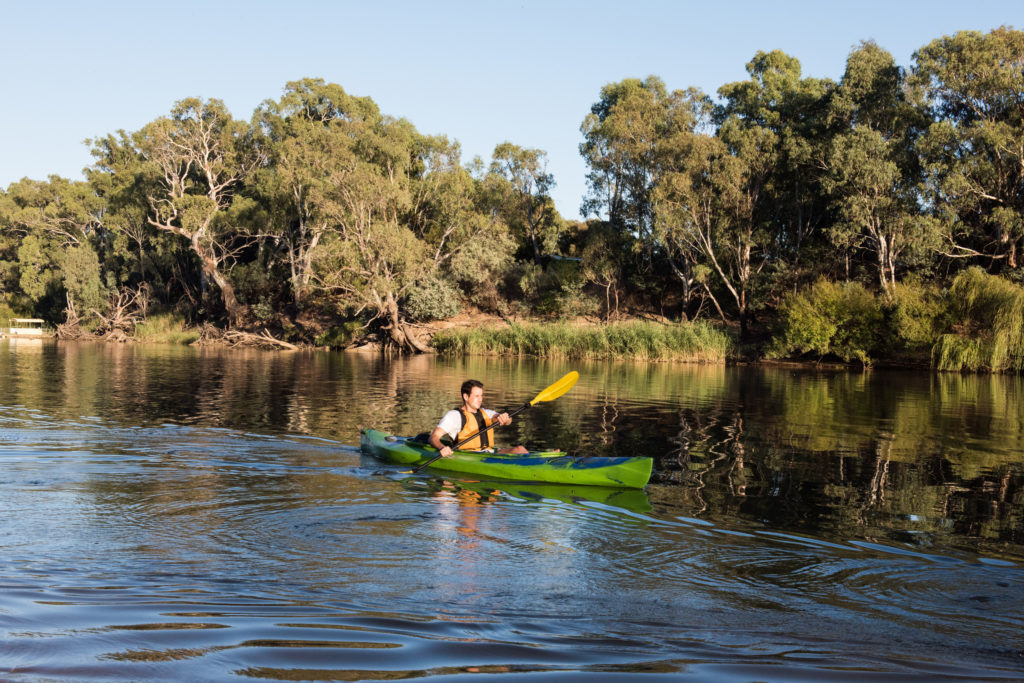 22. Play a round of mini golf at Rich River Golf Club
Great fun for kids and adults alike is the mini golf course at Rich River Golf Club.
You can play 9 or 18 holes for $11 or $16.50 respectively for adults, with kids' pricing at $8.80 and $13.20. So it's a pretty cheap and fun day out.
And when you're finished, you can head inside the club for lunch or dinner or a drink.
Address: Twenty Four Lane, Moama
Opening hours: 8am to 10pm daily
Cost: 9 or 18 holes for $11 or $16.50 respectively for adults, kids $8.80 and $13.20
Advance bookings not required
23. Have some water fun at Aqua Island
Looking for relief from the hot summer sun? Head to Aqua Island.
This enormous "floating playground" is filled with obstacles and looks like an incredibly fun thing to do with kids in Echuca. There's a giant slide, blast bags, a jungle gym, trampolines and balance beams – all floating on the water.
All the floating obstacles are on a dam. There are lifeguards on duty at all times and everyone has to wear a lifejacket.
The water park is open seasonally, usually from December to mid April. Each session is 3 hours long.
Address: 1725 Pericoota Rd, Moama
Opening hours: Varies, so check the website first
Cost: $30 regardless of age, no charge for spectators
Bookings only available online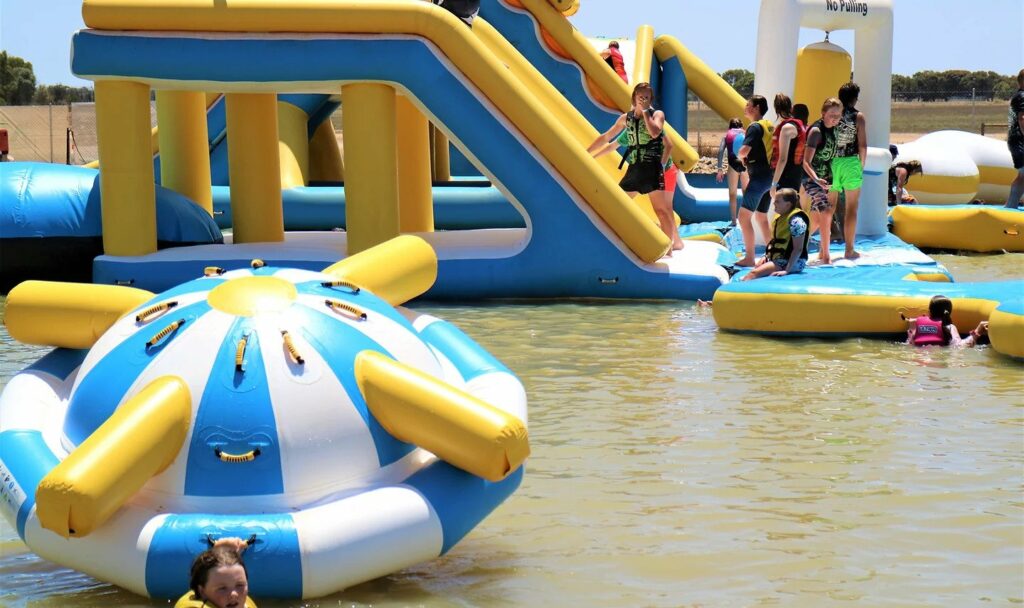 24. Have fun at TwistED Science
If you're looking for fun things to do in Echuca with kids, then look no further than TwistED Science.
This "science museum" is fun and educational, and everyone of all ages will enjoy it. There's fun science exhibits and stations that are all designed to be touched, moved and played with. Learn about bees, bugs or climb the very cool augmented reality climbing wall.
Address: 2 Radcliffe St, Echuca
Opening hours: During the school term, TwistED is open Wednesday to Sunday, and then opens 7 days a week during the Victorian school holidays. There are three sessions each day of 1.5 hours: 9.30-11.00am, 11.30am-1.00pm and 2.00-3.30pm
Cost: Kids from 6 (and adults) $19.80, kids aged 3-5 $10.20, kids 1-2 years $2
Book online here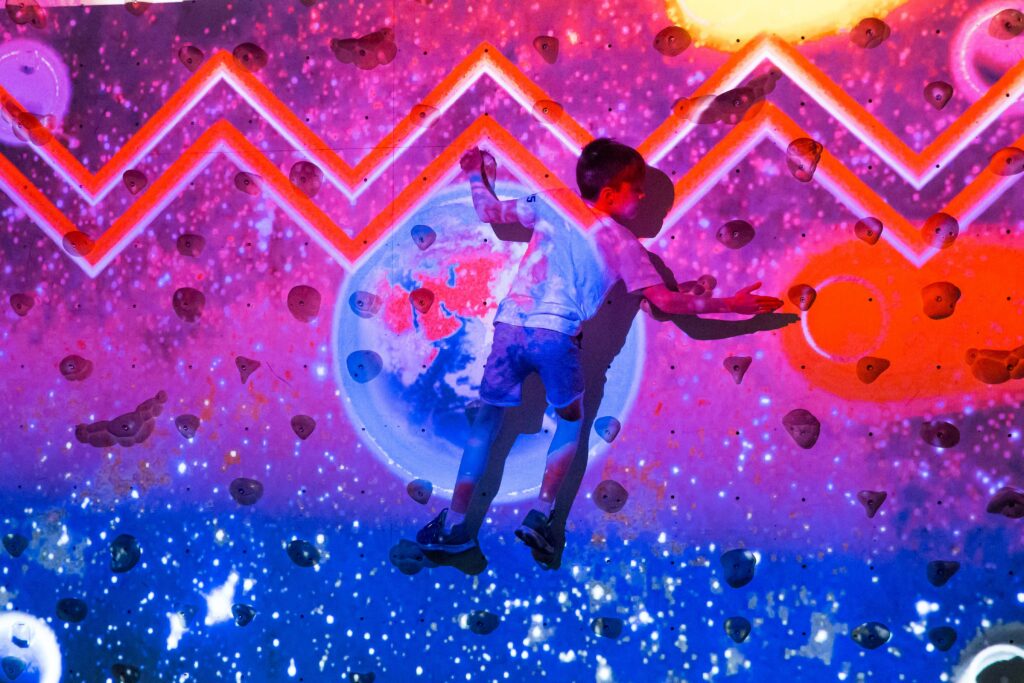 25. Play a game of barefoot bowls
Grab your family or a group of friends and hit the bowls the Moama Bowling Club.
Barefoot bowls is always a fun (and competitive!) way to spend a day, regardless of age. While you're playing, you can even have a BBQ and some drinks.
Never played before? No worries! One of the club's coaches can you give you a few pointers.
Address: Moama Bowling Club, 6 Shaw St, Moama
Opening hours: From 10am, but hours vary seasonally and can be affected by competitions, so check ahead
Cost: $10 per person, BBQ packages need to be arranged ahead of your session
Book online in advance
26. Try all the activities at Billabong Ranch
Looking for fun things to do with kids in Echuca-Moama? Billabong Ranch may be your answer.
Horse riding. Indoor mini golf. Pedal boats. Bouldering wall. Table tennis. Beach volleyball. Indoor archery. Bungy trampolines. Frisbee golf.
All guaranteed to keep your active little ones busy for several hours!
Address: Corner Glanville and Tehan Roads, Echuca
Opening hours: Monday to Saturday, 9am to 5pm, open daily during school holidays
Cost: Prices vary depending on activities, see website for pricing
Contact Billabong Ranch for bookings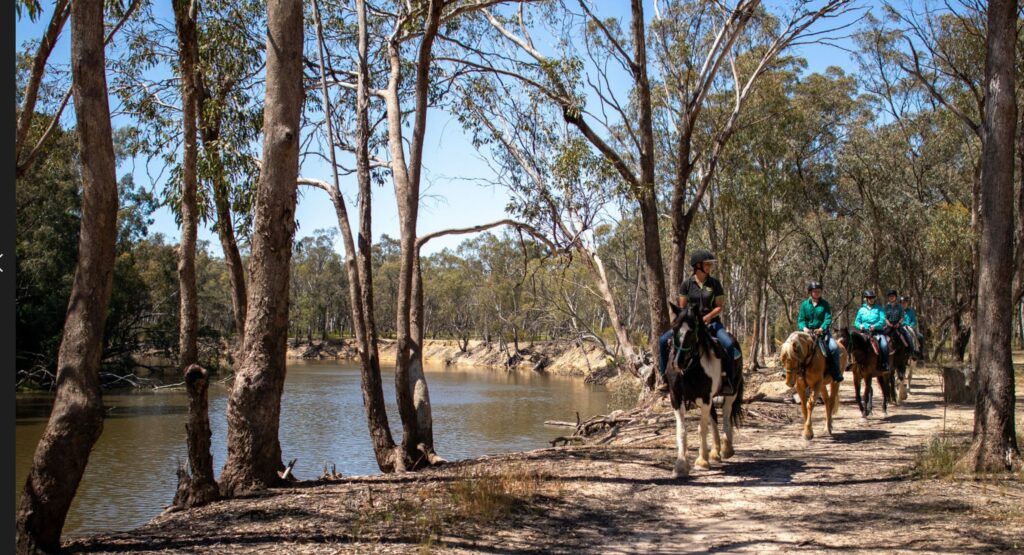 27. See Moama light up with the Moama Lights
A stunning light display hits Moama in July, lighting up the town in a spectacular way.
As the sun sets and the sky darkens, the bushland is completely transformed through light installations, projections and moving-light technology.
Address: Horseshoe Lagoon, Moama
Dates: 5-28 July 2024
Tickets: Ticket information can be found online
Things to do around Echuca-Moama
If you want somewhere to stop on your way to or from Echuca, here are a few fun ideas. Pop them into Google Maps as you plan your route from Melbourne to Echuca.
28. Kyabram Fauna Park
The Kyabram Fauna Park has more than 600 animals across 55 hectares, including plenty of native Australian animals, as well as a mob of meerkats who recently joined the zoo.
Time your visit with one of the free keeper talks, or book an encounter with a koala or cassowary.
Address: 75 Lake Rd, Kyabram
Opening hours: Daily 10am to 5pm, closed Christmas Day
Cost: Adults $30, kids (4-15 years) $15 – but kids visit free on weekends, public holidays and Victorian school holidays, kids under 4 free
29. Silo art at Rochester
Silo art has been popping up around Victoria, and you can't miss the giant artworks as you drive through Rochester. Stop for a pic or two as you make your way to Echuca.
Address: Corner of Gillies and Moore Streets – you can't miss it!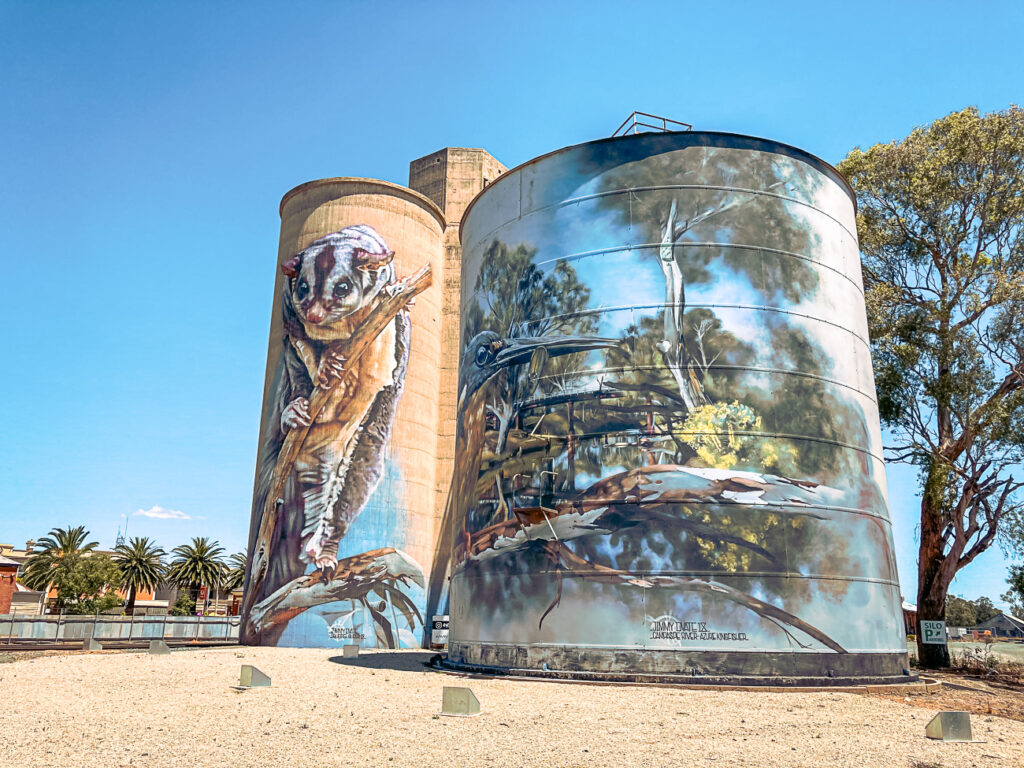 30. Cactus Country
One of the most popular attractions in Victoria is this Insta-worthy cactus farm, Australia's largest cactus farm.
The cacti here come from all across the world, and the farm is a labour of love turned tourist attraction. Download a guide from the website to learn about the cacti you'll see on the farm's 8 walking trails.
Hungry after those walks? Why not try some cactus ice cream or cactus cake?
Address: 4986 Murray Valley Highway, Strathmerton (3 hours from Melbourne, 1 hour from Echuca)
Opening hours: Open Wednesday to Sunday, 10am to 5pm
Cost: Entry $20 for adults, $10 for kids
Tickets can be purchased online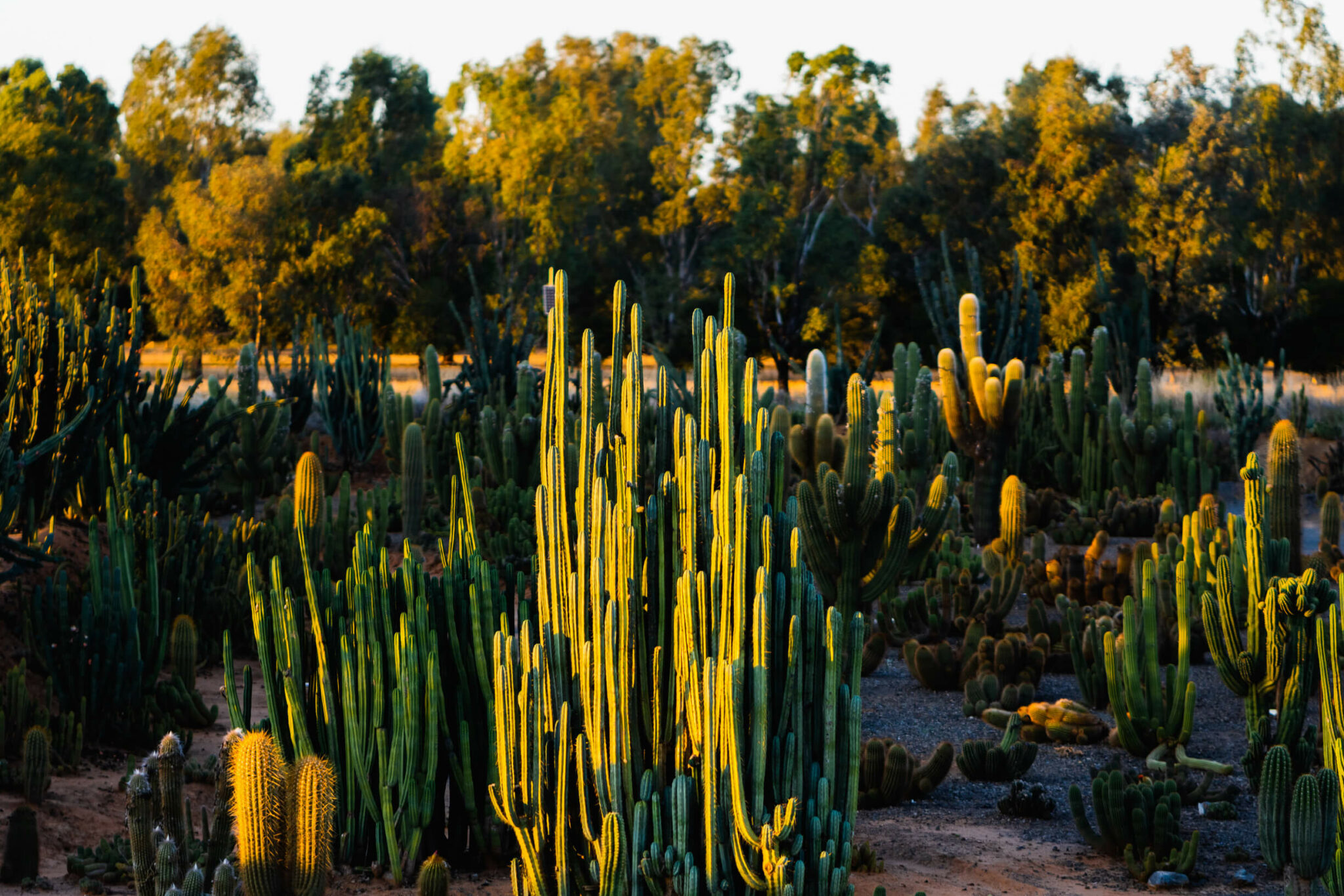 Useful information for visiting Echuca-Moama
If you want even more ideas for things to do in Echuca, stop by the Echuca-Moama Visitor Information Centre at 2 Heygarth Street.
A top tip is to pick up the quarterly "What's On" guide. You'll find a copy at the visitor centre as well as at restaurants and businesses around town.
How to get to Echuca from Melbourne
From Melbourne, it's a roughly 3-hour trip to Echuca. The quickest route is via the Northern Highway, which also runs through other lovely small towns like Heathcote and Rochester. This is the way we usually go.
Heading to Echuca on the Hume Freeway or Calder Freeway doesn't take that much longer, and there are some nice towns to stop for lunch or a snack.
V/Line operates daily trains and buses to Echuca.
How to get to Moama
If you're heading from Melbourne, you'll take the same route as if you're heading to Echuca. Then you'll cross over the bridge into Moama and NSW.
If you take V/Line, the train/bus terminates in Echuca, so you'll need to make your way over to Moama.
Where to stay in Echuca-Moama
Because it's a popular tourist town, there's plenty of Echuca accommodation – although you'll want to book well in advance during summer and holiday weekends.
A great self-catering option is Acacia Terraces, which has a spacious apartment with kitchen, laundry and comfy bed. My husband and I have stayed here before. Check prices and book online.
The Pevensey Motor Lodge is in a central location in Echuca, close to the main street. Check prices here.
Madison Spa is another popular hotel in Moama. It's adults only. Check rates and book your stay.
Echuca also has some of the best camping spots near Melbourne, making it a great spot to bring families. The NRMA Echuca Holiday Park is my pick of the caravan parks in Echuca – and there are also comfy cabins. There's a pool, laundry and BBQ areas. You can read my full NRMA Echuca Holiday Park review here.
When to visit Echuca
Echuca is usually a couple of degrees warmer than Melbourne, even more so in summer. Generally, Echuca's pretty nice to visit year-round although don't expect to do any water activities outside of summer because the river will be far too cold.
The busiest time to visit is summer and over holiday weekends. It doesn't snow in Echuca, although it can get quite frosty in the mornings during winter.
Final thoughts on what to do in Echuca and Moama
If you're looking for a great weekend break, then Echuca is a great destination. While it's a bit further from Melbourne than other Victorian towns, it's easily doable in a weekend.
I hope this guide helps you plan a great weekend break in Echuca!
Visiting Echuca-Moama: FAQs
Why is it called Echuca-Moama?
Like many Murray River towns, Echuca and Moama are twin cities. Echuca sits on the Victorian side, while Moama is on the opposite side of the river across the New South Wales border.
How far is Echuca-Moama from Melbourne?
Echuca is about 200km from Melbourne, so it's a 2.5 to 3-hour drive.
Can you fly to Echuca-Moama?
You can fly to Melbourne Airport and then drive to Echuca-Moama. If you're coming from Sydney, there are flights to Bendigo, and then it's just a 1-hour drive to Echuca-Moama.
Have you ever visited Echuca? Leave me a comment below with your favourite things to do in Echuca.
---
Related posts
Before you go… you might like these Victoria travel blogs:
PIN IT FOR LATER
Save this guide to the most fun things to do in Echuca so you can plan your own trip to Echuca-Moama.