Looking for an Echuca caravan park to stay in when you visit Echuca-Moama? The NRMA Echuca Holiday Park could be the place for you!
Echuca Holiday Park is located just a few hours north of Melbourne in the historic town of Echuca. There are plenty of great things to do in Echuca, so this town is definitely worth a weekend away.
I'm an Echuca-Moama "local" (I grew up here but haven't lived here for years) and we usually stay with family when we visit, but on a recent weekend in Echuca we stayed at the NRMA Echuca Holiday Park so we could test out our new camper trailer.
Here's my first-hand NRMA Echuca Holiday Park review, which covers the location, facilities, accommodation and more! Read on to see if this Echuca accommodation option is right for your visit.
This blog post may contain affiliate links, meaning if you book or buy something through one of these links, I may earn a small commission (at no extra cost to you).
NRMA Echuca Holiday Park review
We visited this Echuca caravan park in February 2023 – on a weekend when it was 36 degrees each day!
Here are my thoughts on the park, including what was good and what could be improved, so you can make an informed decision about where to stay in Echuca.
The location
The NRMA Echuca Holiday Park is located at 8 Crofton St, Echuca.
The location is fantastic, just a short walk from the Port of Echuca, which is where you'll find many of the best Echuca-Moama attractions. There are also several pubs, cafés and restaurants within walking distance if you don't want to cook while you're visiting. (To explore more of Echuca-Moama, however, you will need a car!)
And if you're looking for Echuca accommodation on the river, it doesn't get much better than this. The Echuca Holiday Park is right by the Murray River, and there's a lovely walking track that we strolled along each morning. You can access it via various gates around the caravan park. It's incredibly peaceful along the river on an early morning walk.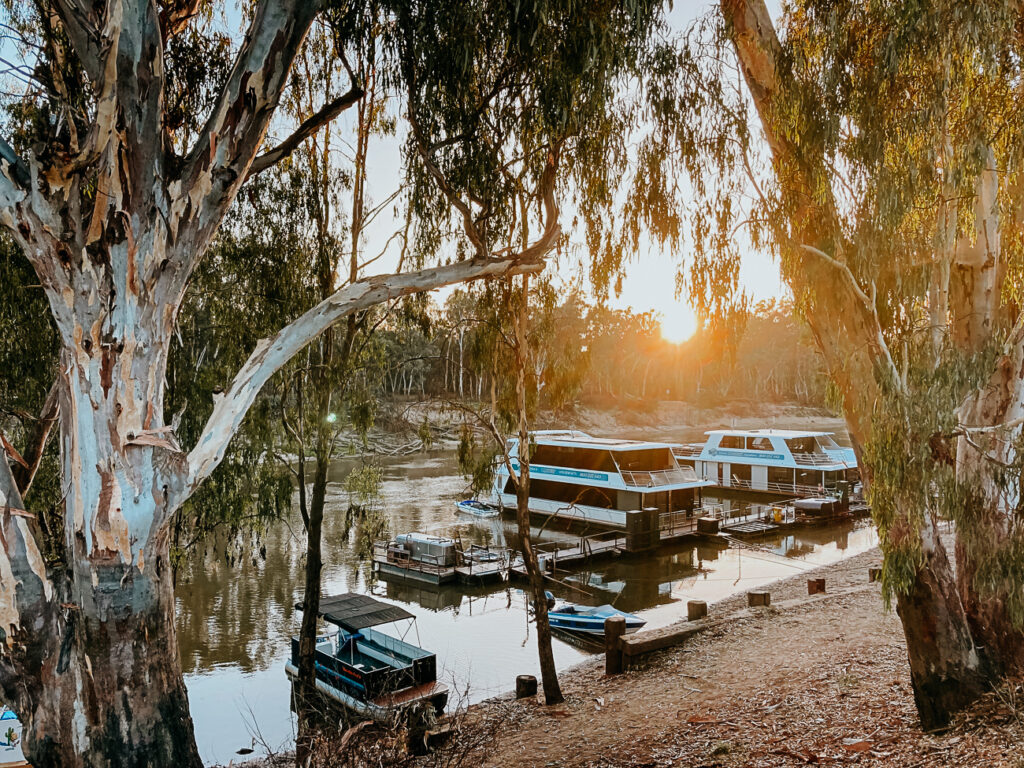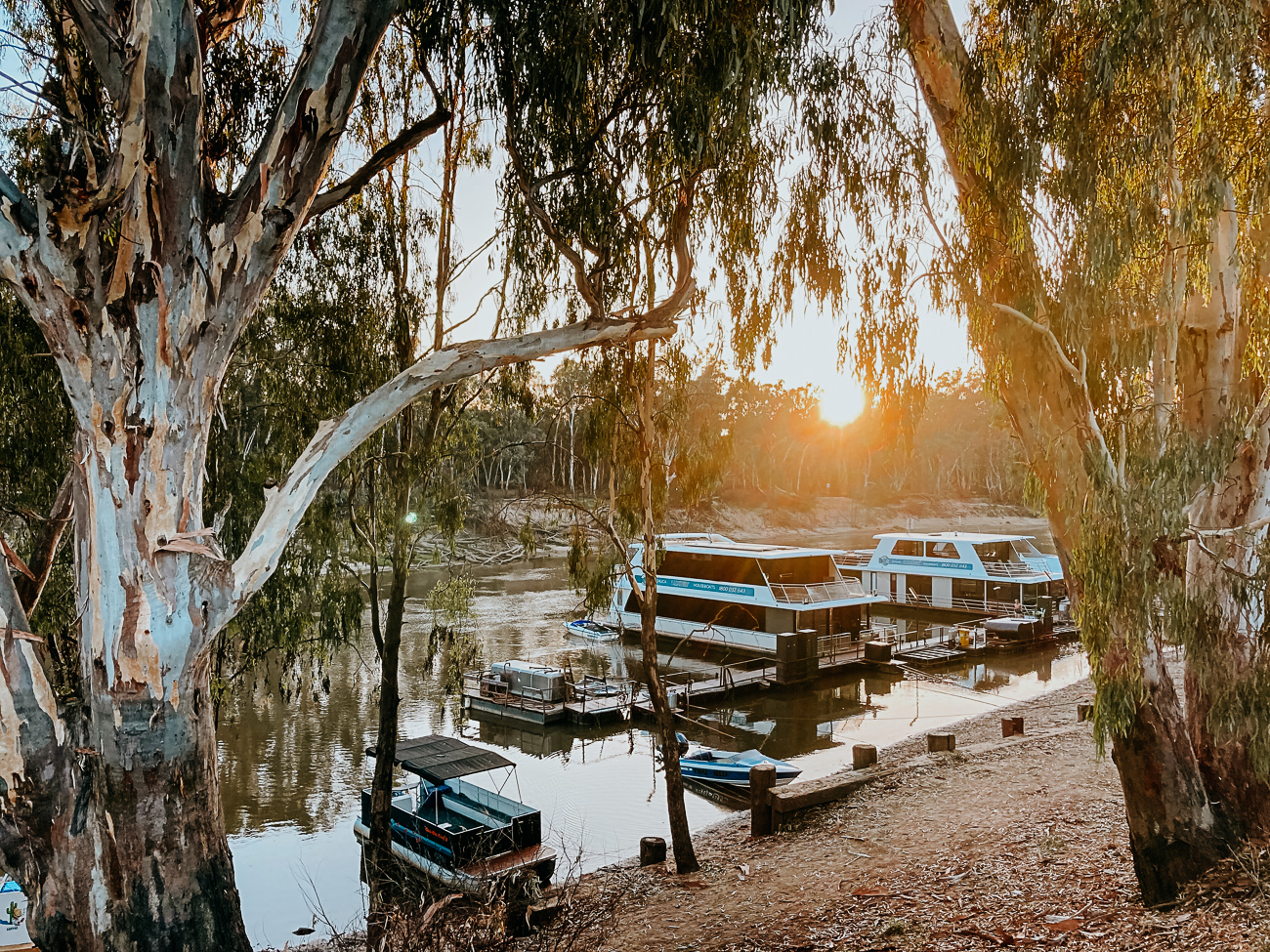 The accommodation
Echuca Holiday Park has several accommodation options. Given we had our camper trailer, we chose one of the campsites.
If you're camping or caravanning, you can choose from powered and unpowered sites, drive-thru sites, or mat, slab or synthetic sites.
It was our first time using the camper trailer, so we opted for the synthetic drive-thru site so we didn't have to do too much reversing! The synthetic sites have great fake grass mats. These are lovely to walk on barefoot, and they catch dirt and small stones so you're not traipsing them through your home on wheels.
Each powered site shares a power and water station with the next door camp site.
Our Echuca camping site was under a tree, which provided a little shade. But as I'll mention later, this also provided a roosting spot for the many noisy birds!
Our campsite (site number 40) was close to reception and a short walk to the nearest bathrooms and the pool. You can take a look at the site map online and call to see if you can request a specific site if you'd like to be closer to the bathrooms. There are almost 200 campsites at Echuca Holiday Park, but a significant number of these are annual sites, which are all toward the back of the property.
There are also more than 30 cabins which can sleep between 4 and 6 people. These are all centrally located. Each cabin has air conditioning, a full kitchen and bathroom. Some have verandahs with a dining table.
Options for cabins at this NRMA holiday park are:
Redwood Cabin: 2 bedrooms, sleeps up to 6
Boronia Cabin: 2 bedroom, sleeps up to 4
Waratah Cabin: 2 bedroom, sleeps up to 5 
Acacia Cabin: 2 bedroom, sleeps up to 6
Banksia Cabin: 2 bedroom, sleeps up to 6
Acorn Cabin: 1 bedroom, sleeps up to 5
Standard Cabin: 1 bedroom, sleeps up to 4
On the website you can check the layouts of each cabin to choose the right Echuca accommodation for you.
While I didn't have the chance to stay in one of the cabins, the reviews online are all very positive.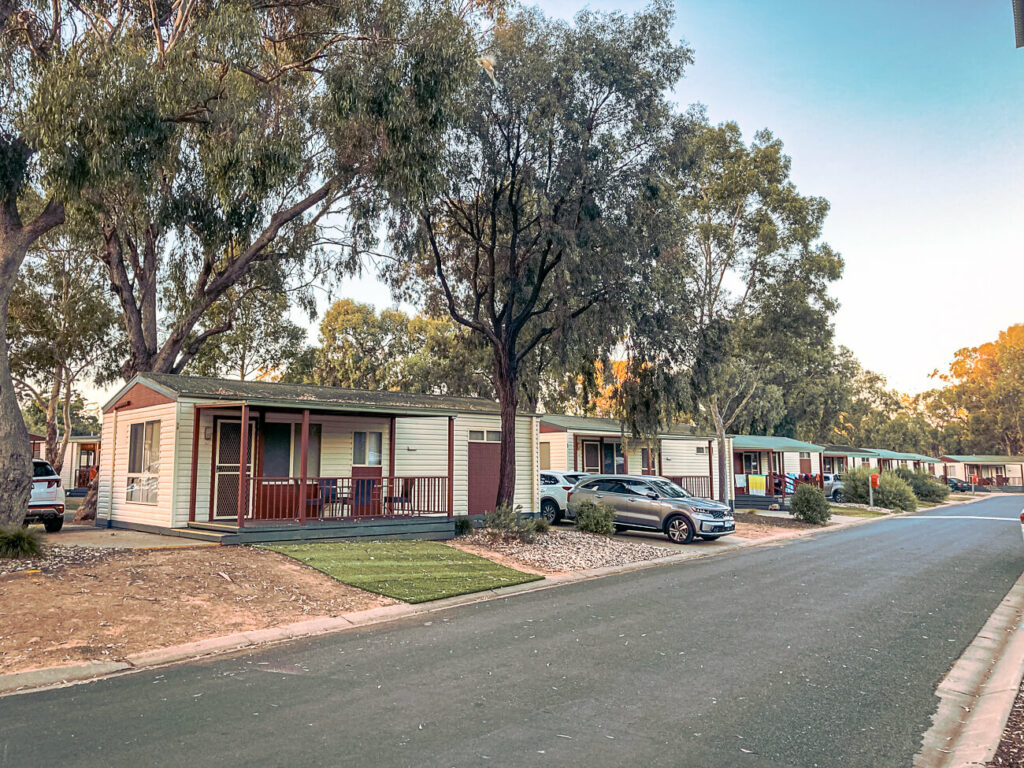 As I alluded to earlier, there are a LOT of birds here. We were woken up by the screeches of what seemed like a million cockatoos at 6am. Don't expect a sleep-in here!!
The facilities
The NRMA Echuca Holiday Park has all the usual facilities – a pool, playground, cooking areas, bathroom amenities and laundry facilities.
For the size of the caravan park, I was surprised at the small size of the pool, but it certainly did the job on a hot day! And surprisingly it actually wasn't always that full, even though it was blisteringly hot. My young niece loved it.
The pool is right in the centre of the caravan park so it's easily accessible regardless of where you're staying. It's a heated swimming pool, too, so visitors can still enjoy it in the winter months. The pool closed at 8pm, which seems pretty early in the summer months when the sun doesn't go down until later.
There's also a tennis court and small playground. I didn't see a whole lot of kids playing here – which could be put down to just how hot it was during the day.
Right next to the pool is a TV and games room. Unfortunately I didn't realise it was there, so I didn't check it out during our stay.
There are a handful of bathroom blocks located around the caravan park. In the one near our camp site, there were more than half a dozen toilets and showers. I didn't ever see them get full, even during peak times. They seemed to be cleaned pretty regularly and the toilets always had toilet paper.
The showers are a decent size. Each has a separate area to hang up clothes and your towel and a small bench seat, before stepping into the shower. There was plenty of hot water – and cold water when we needed to cool down before bed! One thing I liked about the showers was that each had its own drainage. There's nothing grosser than shower blocks that share drains and you can see other people's hair floating down it!! Yuck!
According to my husband, the bathrooms right next door to the swimming pool were the nicest.
The NRMA Echuca Holiday Park also has barbecues scattered around the property, as well as a camp kitchen. The kitchen has microwaves, stoves, ovens, kettles, toasters and washing up facilities. There are also fans and a TV – we saw plenty of people in there taking a break from the heat.
For caravanners, there's a dump station on site and a car and boat wash.
Overall, the caravan park was clean and well-kept, with plenty of rubbish bins with separate waste and recyclables.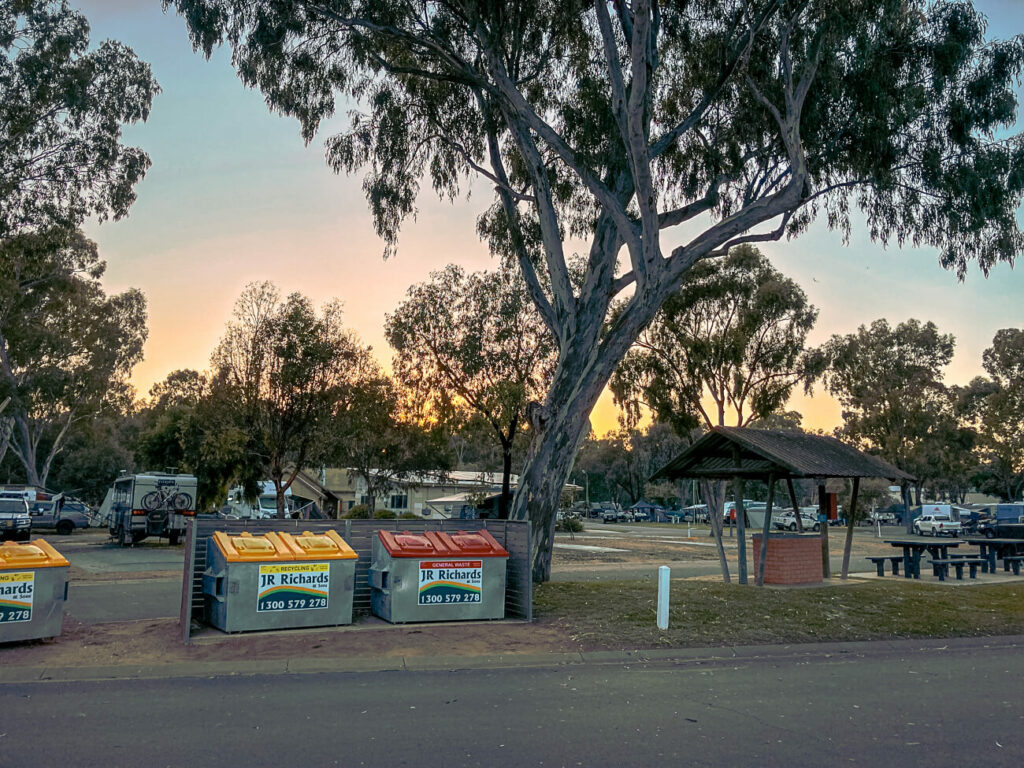 Dining
There are no dining facilities on site – you've either got to cook for yourself or eat out. As I mentioned earlier, there are some good pubs and restaurants within walking distance, so you won't go hungry. You will need to drive to get to a supermarket, however.
At reception there's a small store selling ice creams, soft drinks, snacks and the like. Reception closes at 7.30pm, so make sure to stock up before then.
The service
We booked online and found the process simple. We did have to call to arrange a pet-friendly site to complete our booking. When we arrived at the caravan park, all our paperwork was waiting for us. The staff were really friendly and efficient.
They provided us with a map of the park as well as a guide to what was on in Echuca-Moama over the weekend we were there.
All guests did receive a text message on the Saturday morning reminding people to drive at the speed limit because there were children around, so they also take safety pretty seriously. I'm sure they have a good emergency response system – which sadly would have been well tested during the recent floods in Echuca.
Is NRMA Echuca Holiday Park pet-friendly?
One of the best things about the Echuca Holiday Park is that it's pet friendly, so your furry friend doesn't have to stay at home.
Well, ours did unfortunately have to stay at home because it was just too hot for him (he's a French Bulldog who can't handle the heat), but we saw many other people with their dogs hanging out together.
If you are bringing a pet, note that you do need to contact the caravan park by phone to arrange a site. From what I could tell, our area was the area where travellers with dogs stayed.
Pets aren't allowed over the peak periods including the Easter weekend, school holidays, public holidays and over the summer season (26 December to 29 January).
Pets are also not allowed in cabins.
To encourage people to pick up after their dogs (really, who needs encouragement though, it should just be a given!) there are dog bags outside the toilet blocks. A nice addition, I thought.
Is NRMA Echuca Holiday Park a good place to stay?
We really enjoyed our time at NRMA Echuca Holiday Park and I highly recommend booking a stay here. While I can only speak to our experience staying at a camp site, overall this Echuca caravan park is really well maintained, has decent facilities, friendly staff and is in a fantastic location.
Looking for things to do in Echuca-Moama while you're there? Read the full guide.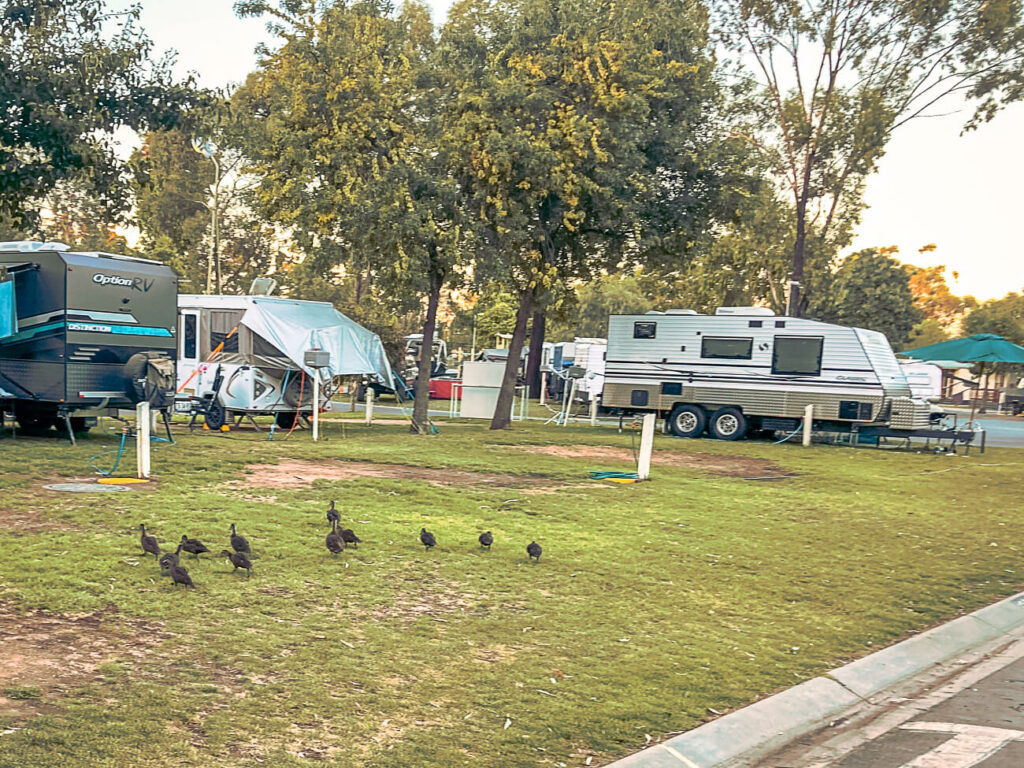 Useful information for visiting Echuca-Moama
The Echuca-Moama Visitor Information Centre is at 2 Heygarth Street if you want to chat the friendly staff there about things to do on your visit.
A top tip is to pick up the quarterly "What's On" guide. You'll find a copy at the visitor centre as well as at restaurants and businesses around town.
Why is it called Echuca-Moama?
Like many Murray River towns, Echuca and Moama are twin cities. Echuca sits on the Victorian side, while Moama is on the opposite side of the river across the New South Wales border. In the local Indigenous Yorta Yorta language, Echuca means "meeting of the waters" because it's where the Murray, Campaspe and the Goulburn Rivers all join.
How far is Echuca-Moama from Melbourne?
Echuca is about 200km from Melbourne, so it's a 2.5 to 3-hour drive.
How to get to Echuca
From Melbourne, it's a roughly 2.5 3-hour trip to Echuca. The quickest route is via the Northern Highway, which also runs through other lovely small towns like Heathcote and Rochester. This is the way we usually go.
Heading to Echuca on the Hume Freeway or Calder Freeway doesn't take that much longer, and there are some nice towns to stop for lunch or a snack.
V/Line operates daily trains and buses to Echuca.
Can you fly to Echuca-Moama?
You can fly to Melbourne Airport and then drive to Echuca-Moama. If you're coming from Sydney, there are flights to Bendigo, and then it's just a 1-hour drive to Echuca-Moama.
When to visit Echuca
Echuca is usually a couple of degrees warmer than Melbourne, even more so in summer. Generally, Echuca's pretty nice to visit year-round although don't expect to do any water activities outside of summer because the river will be far too cold.
Enjoy your visit to Echuca!
PIN IT FOR LATER
Save this NRMA Echuca Holiday Park review to Pinterest so you can plan your visit to Echuca!